Did you know that apart from being medicinal, poppy flowers can also make beautiful tattoos? If you're planning to get a tattoo and think of a poppy flower, this article has everything you need to know.
We'll share lots of different colorful poppy tattoo designs and their meaning. Also, if you're a woman and unsure which style to pick, we've excellent suggestions for you. Ready to enjoy some fun facts? Let's dive in!
Poppy tattoos Meaning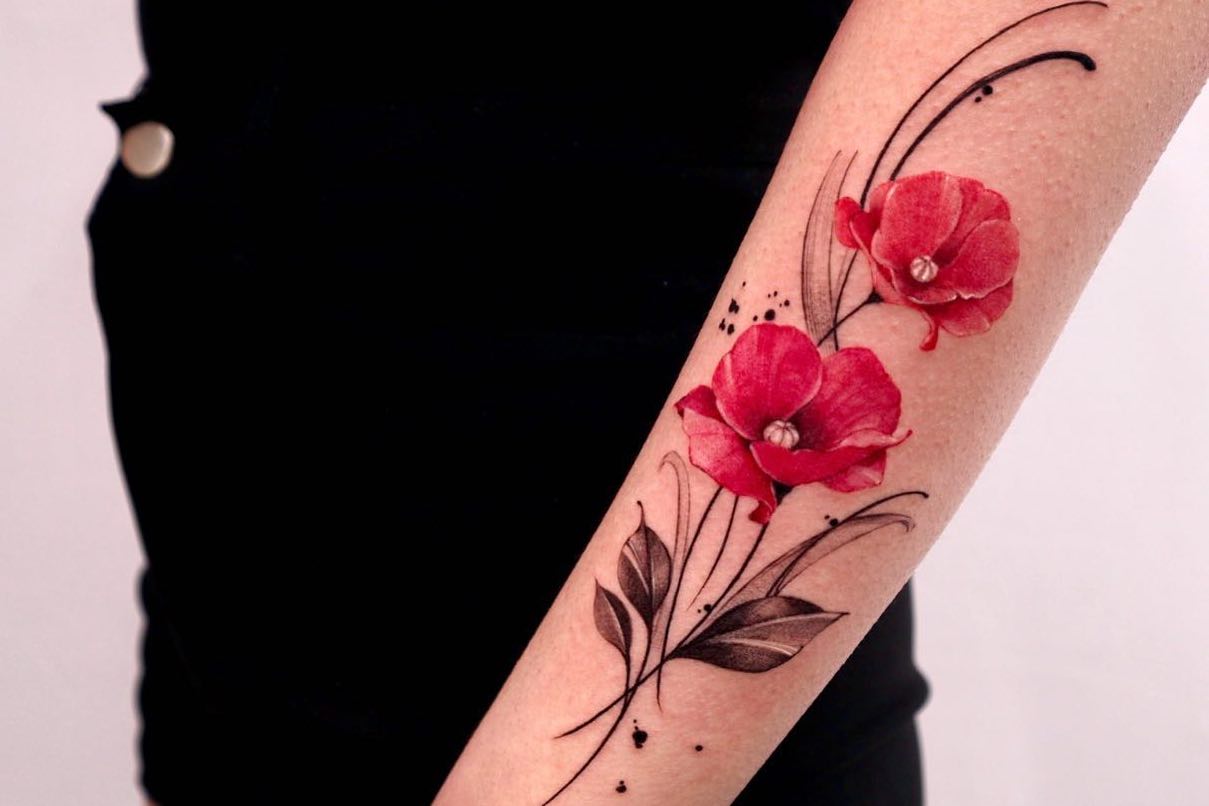 People get a poppy tattoo for different reasons. Some women will get it to show that they're strong and free-spirited. Others have it to pay their respect to a loved one who passed. So, you can have the poppy tattoo to bring out the wonderful things in your life.
Poppy flowers have long been used to symbolize peace, sleep, and death. But a specific poppy flower tattoo has a meaning. It can have a meaning based on the color and your chosen placement. Let's take a look at some of them:
Yellow poppy tattoo meaning
If your goal is to become successful and you want to achieve that, go for a yellow poppy tattoo. It means the need to prosper in life. Also, it is a sign that you're happy when finer things come your way. Since the yellow poppies are known to bring brightness to challenging situations, they are used to honor loved one who passed. With their joyful color, you'll only focus on the good times you had together.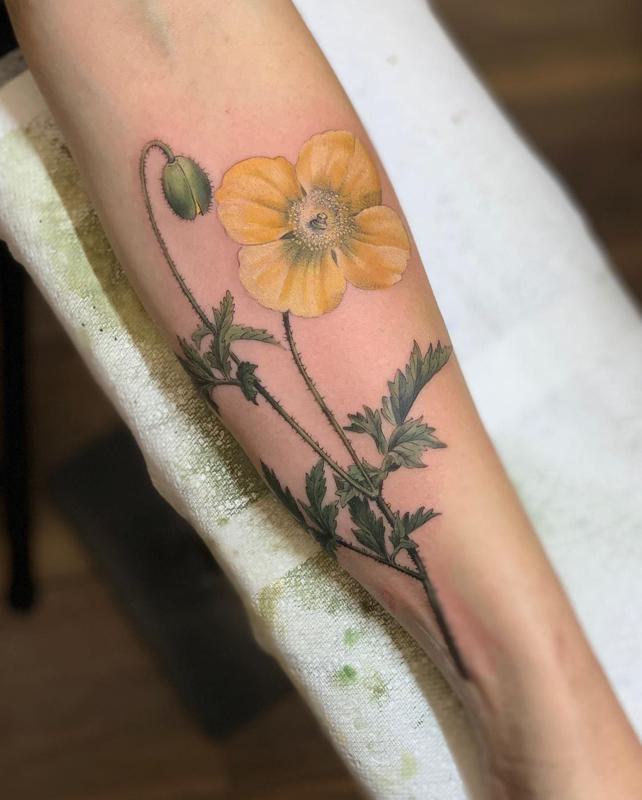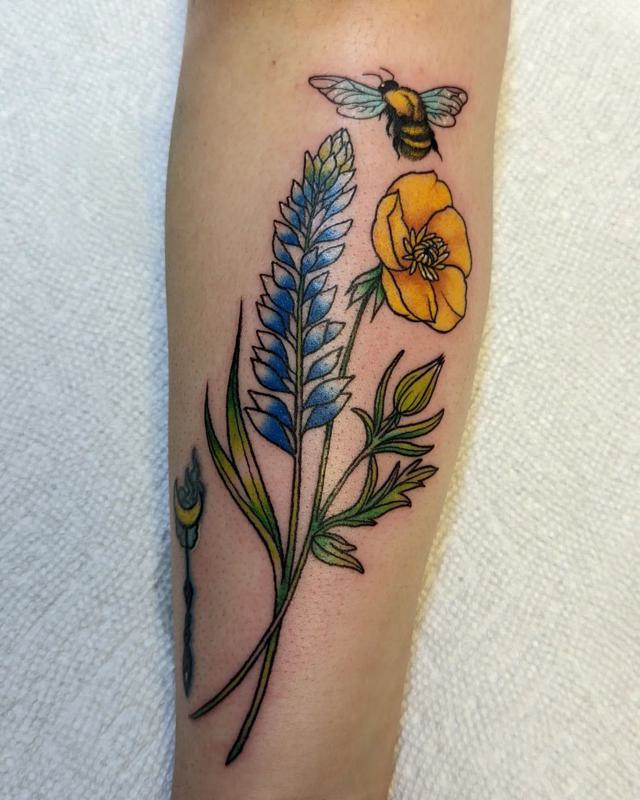 Red poppy tattoo meaning
A red poppy tattoo shows that you're a free-spirited and adventurous person. So, if you love traveling worldwide, you might want to get this tattoo. Being a perfect symbol of life and death, you may also use it to remember fallen soldiers. It can be a great way to remember their sacrifice.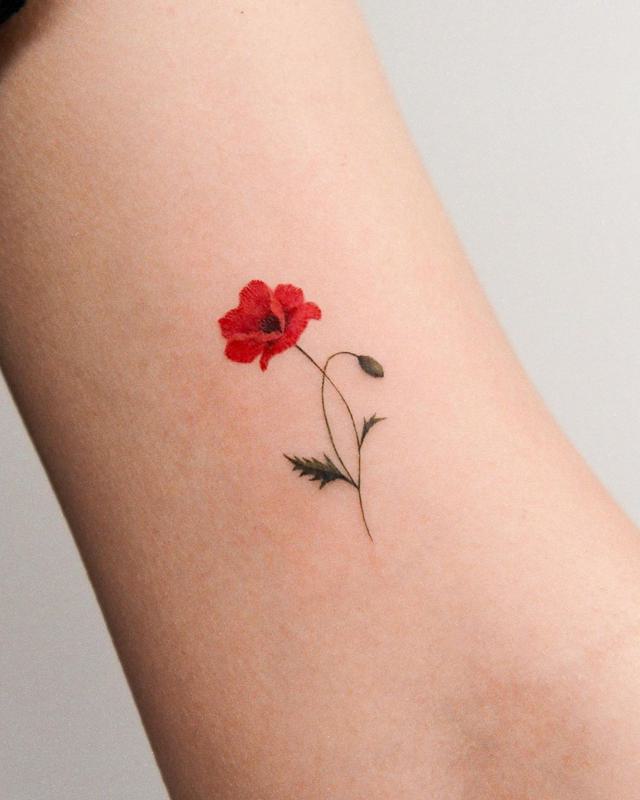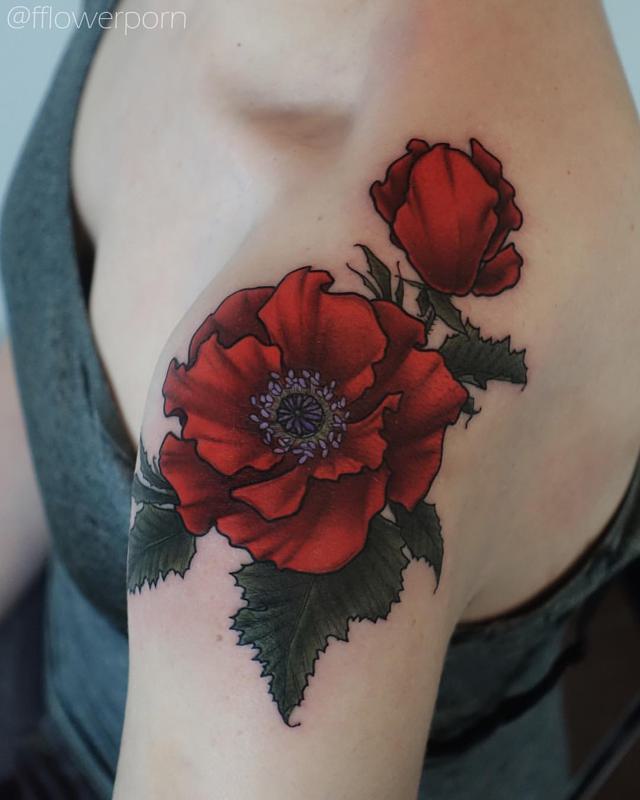 Blue poppy tattoo meaning
Blue means sadness. Hence, you can get a blue poppy flower tattoo to remember a loved one who has passed. It shows you're sad that they are no longer present in your life. Another meaning of the blue poppy tattoo is peace. You can have it if you are yearning for peace in your soul.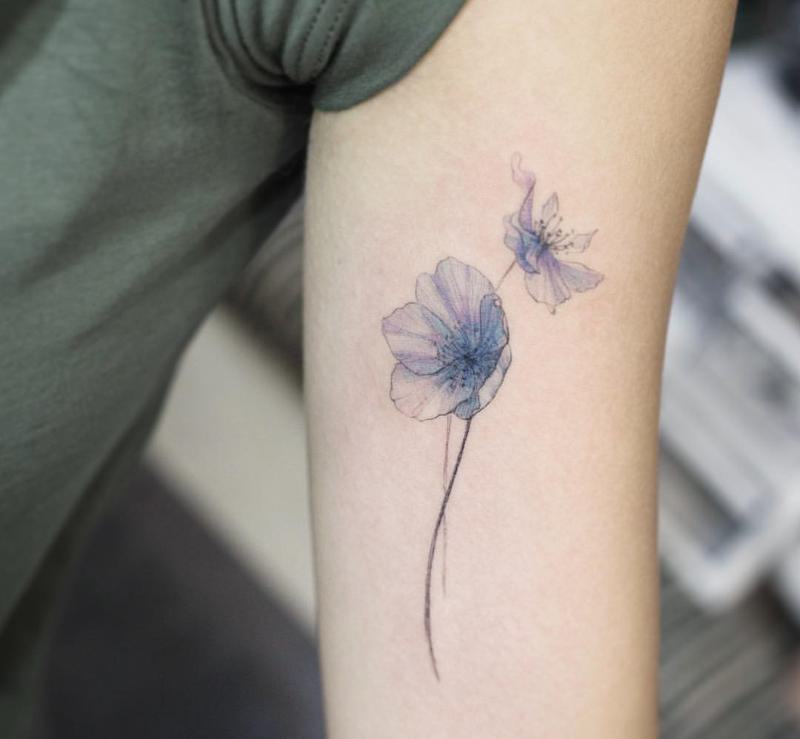 California poppy tattoo meaning
This poppy tattoo will suit you if you love California and its culture. The poppy flower with bright orange petals shows you have a free spirit, joyfulness, and strength. Also, it shows that you are a person who loves and is passionate about a given aspect. If you are a woman, it represents the full of power and confidence in your heart.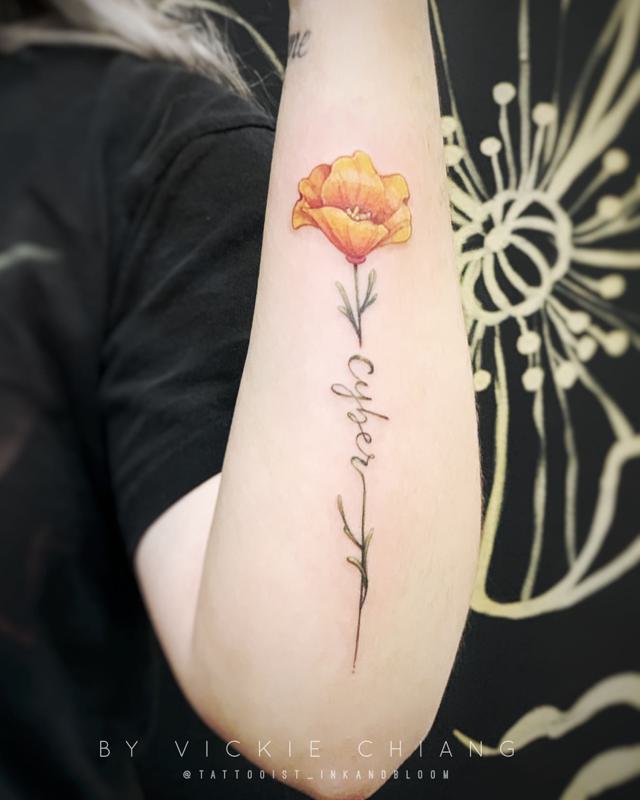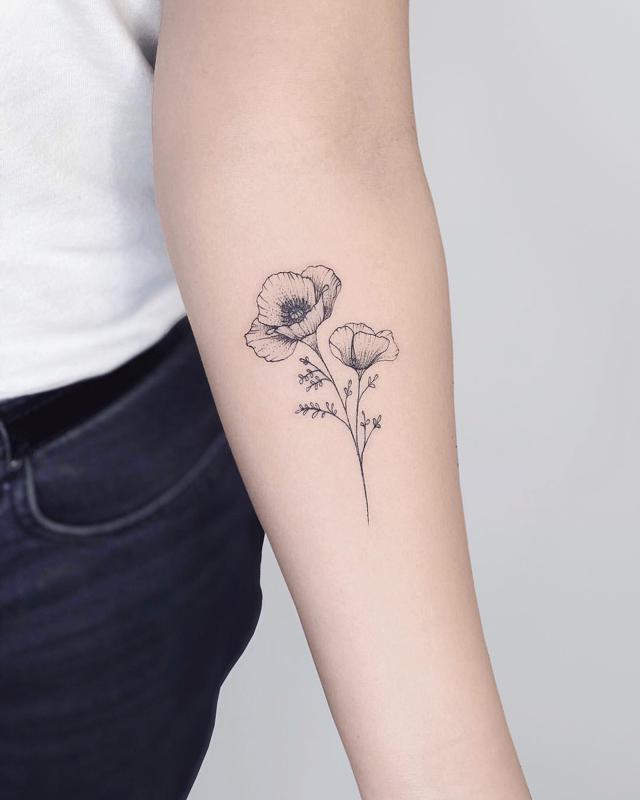 Gladiolus poppy tattoo meaning
Similar to the California poppy, the gladiolus poppy suits women and feminists. It signifies that you are a woman of love, elegance, and grace. Pick it if you love to prepare for the fashion and classy events because women who get this tattoo attract many eyes. Besides the beauty, having this tattoo means you are a person of free spirit and strong since it represents the gladiator's character.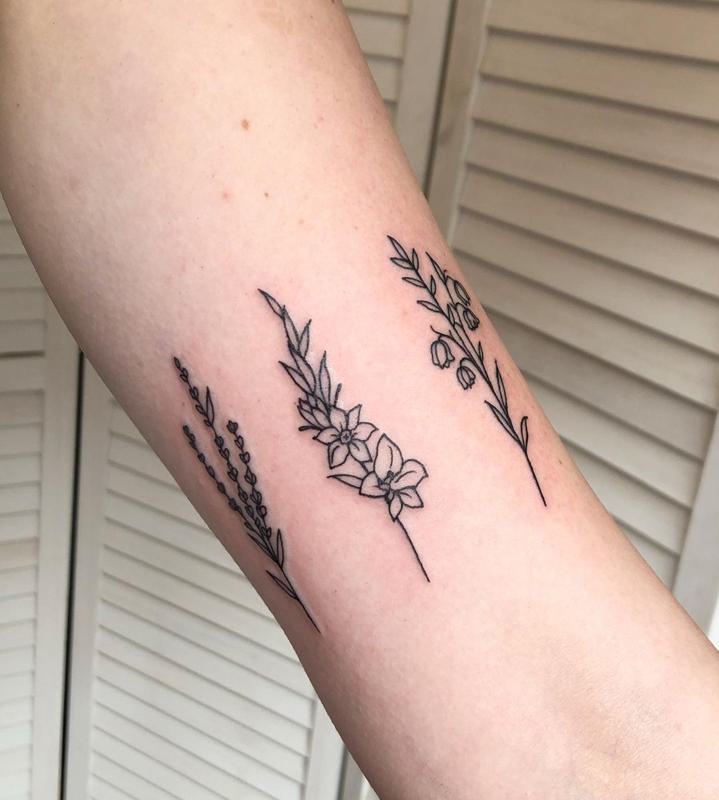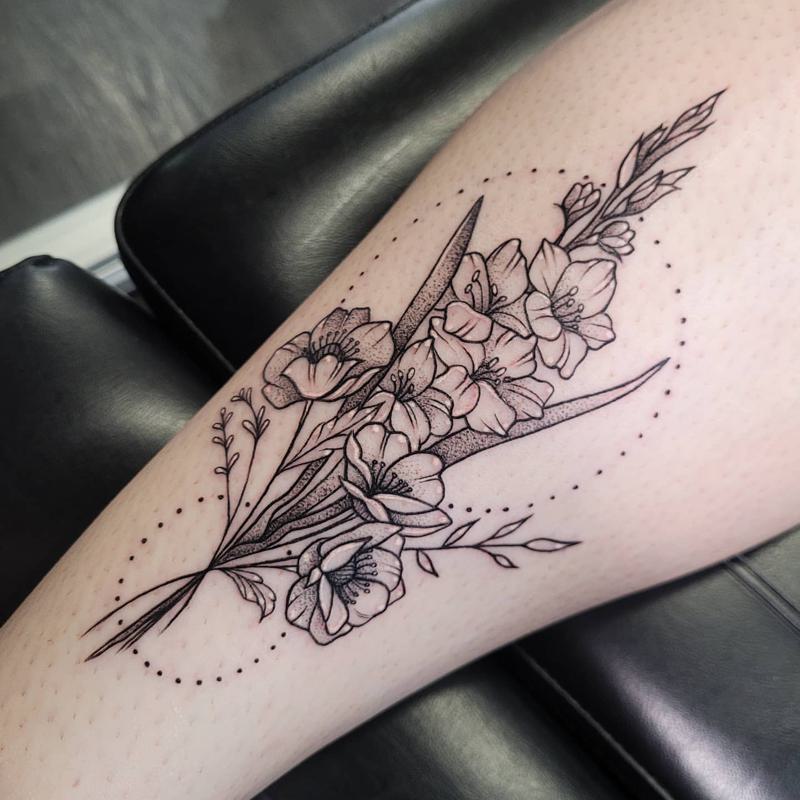 Poppy flower tattoo designs
Are you a lover of poppy floral design tattoos? These designs here carry different meanings that go beyond just being a flower. So, here are the thirteen poppy tattoo ideas that will blow your mind.
Poppy Shoulder Tattoo
Today, shoulder tattoos have become a trend in the fashion sector. You can have this tattoo on either of your shoulders, and you'll attract many eyes during style events. Also, you can add more art to this poppy tattoo design to make you stand out. Your designer can make it small or large, but either way, it looks beautiful when it's bold.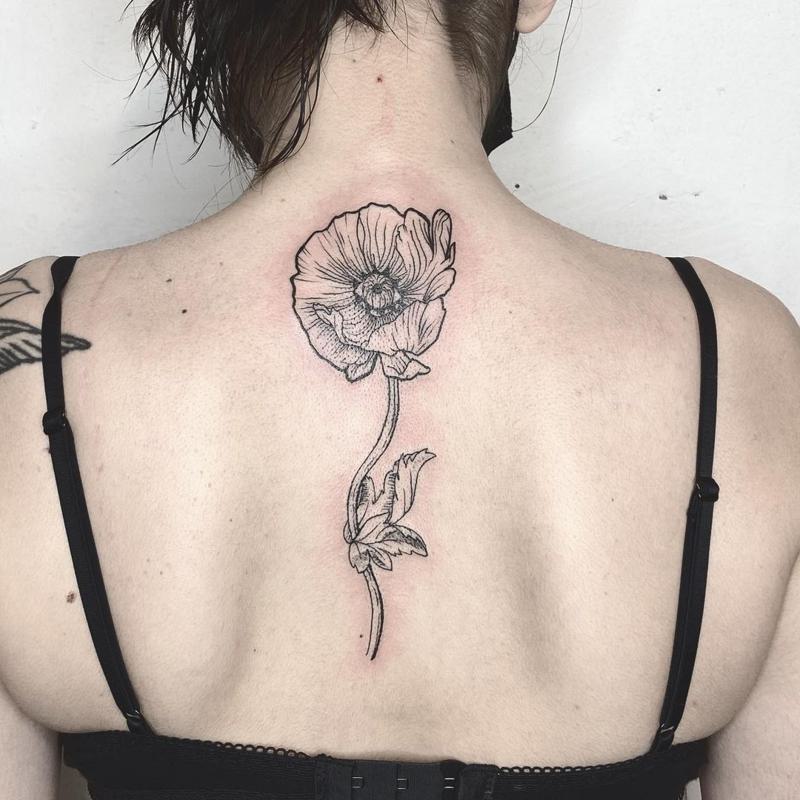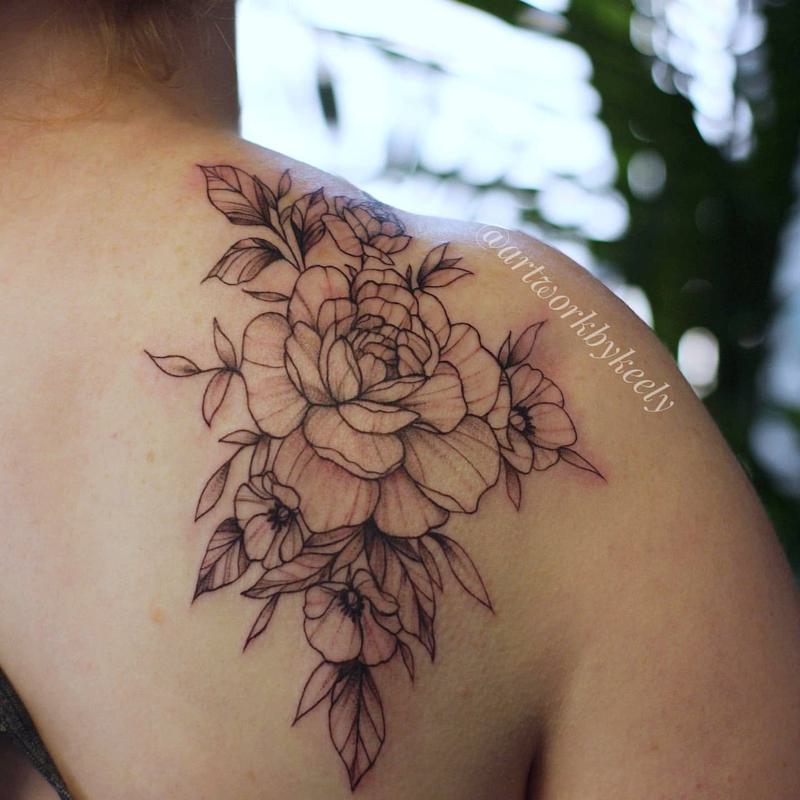 Poppy Flowers with a Ladybug
Having this tattoo shows that you are a person full of good luck. The art is unique, and most cultures believe that ladybugs prepare you for the future good things. So, anyone can have this tattoo on any part of your skin to encourage you in great and sad times.
This art is a sign that you'll look lovely everywhere you go. You can even have this tattoo when starting a new life chapter in life because of the goodwill it carries. These red petals and the ladybird signify that you'll always be safe.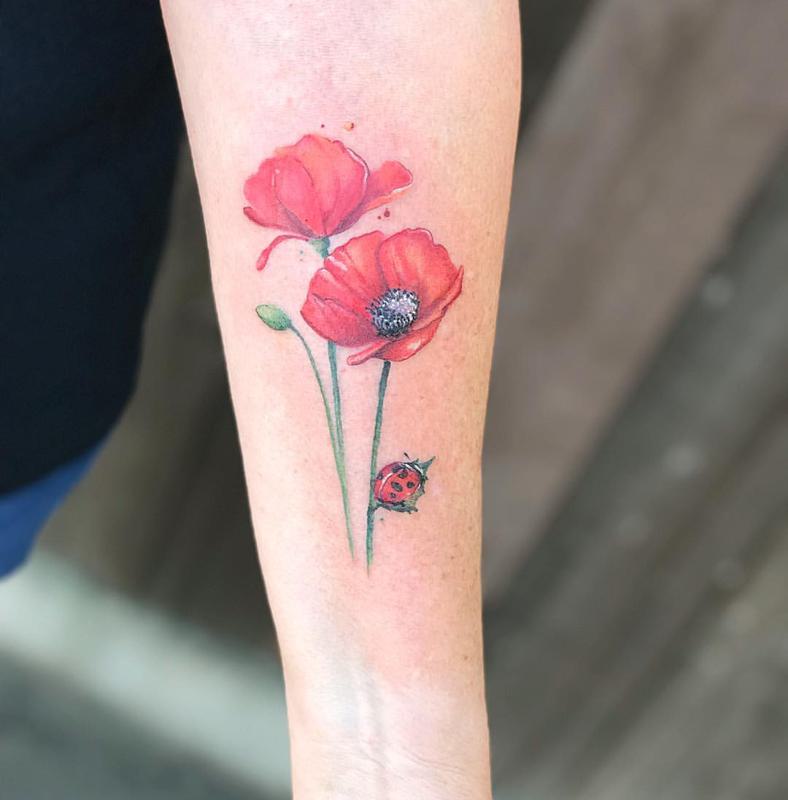 Poppy Ankle Tattoo
If you want a poppy flower tattoo to make your ankle look amazing, go for this design. It will look more beautiful with the purple flowers beside the red poppy petals. This art will suit you, especially if you have a scar on your ankle because it will make that area more enjoyable. As a woman, the tattoo encourages you to be ready for a new life after an old one.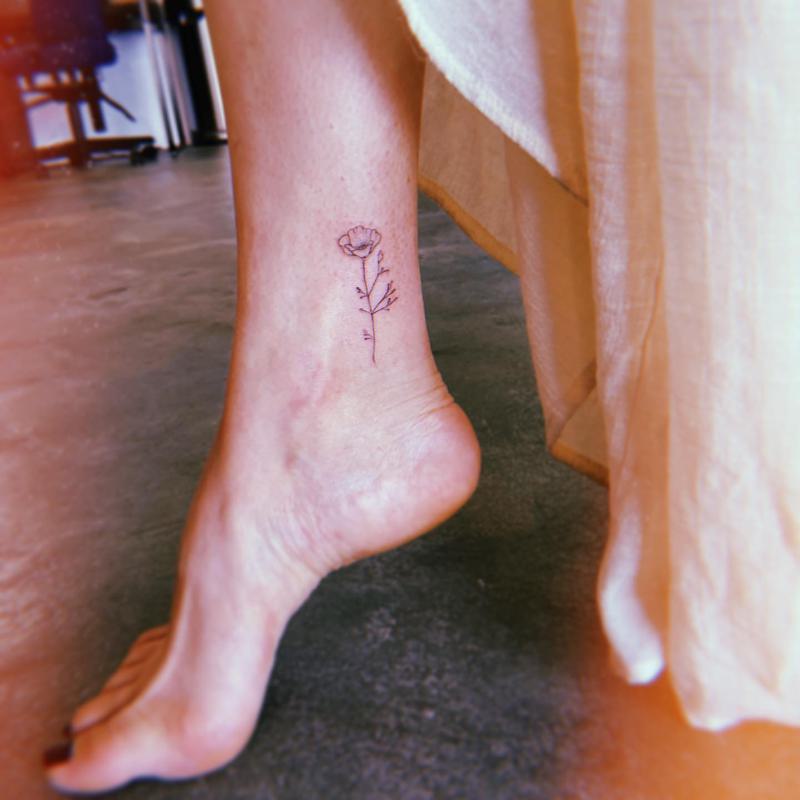 Poppy Flower Tattoo with Signature
Who wouldn't love to have a tattoo with their name tied to a poppy flower's stalk? This tattoo will draw more attention from people around you because of its uniqueness. Besides having your sign, you can have your loved one's name at the end of the stalk to make the art more special. It's an example of a minimalist simple poppy tattoo, especially when you want a less complicated art.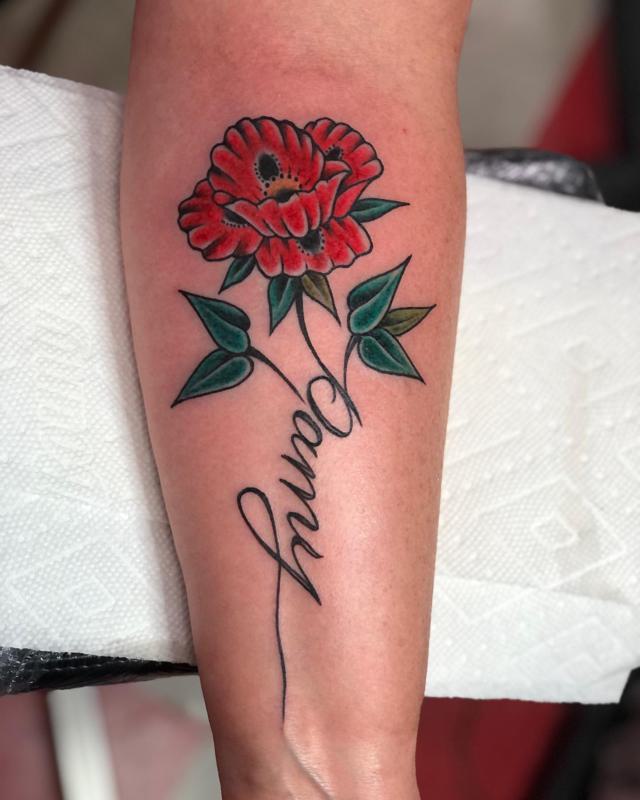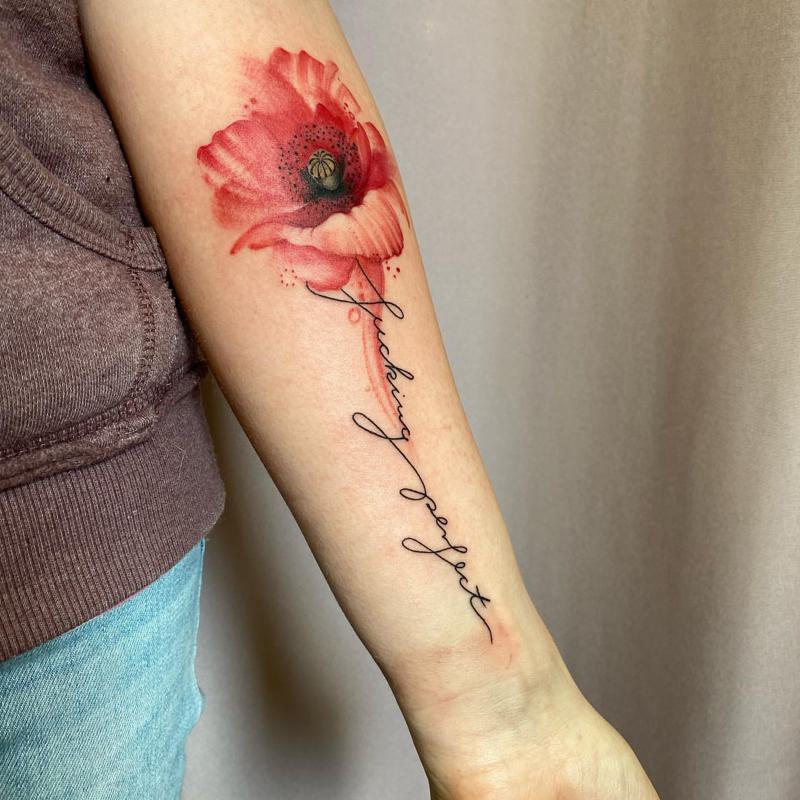 Remembrance Poppy Tattoo
As for men, this ink tattoo style will give you a unique charm without interfering with your manhood. The remembrance poppy tattoo might have a feminine taste because of the red petals but carries deep roots in the military world. Also, if you love history, having such a tattoo shows that you honor the fallen soldiers during Remembrance Day.
The deep maroon poppy petals show the high levels of testosterone in you. So, expect the poppy petals to bring out your deep, manly, and passionate feelings. It's a poppy tattoo that allows you to customize it with different arts and on your various body parts.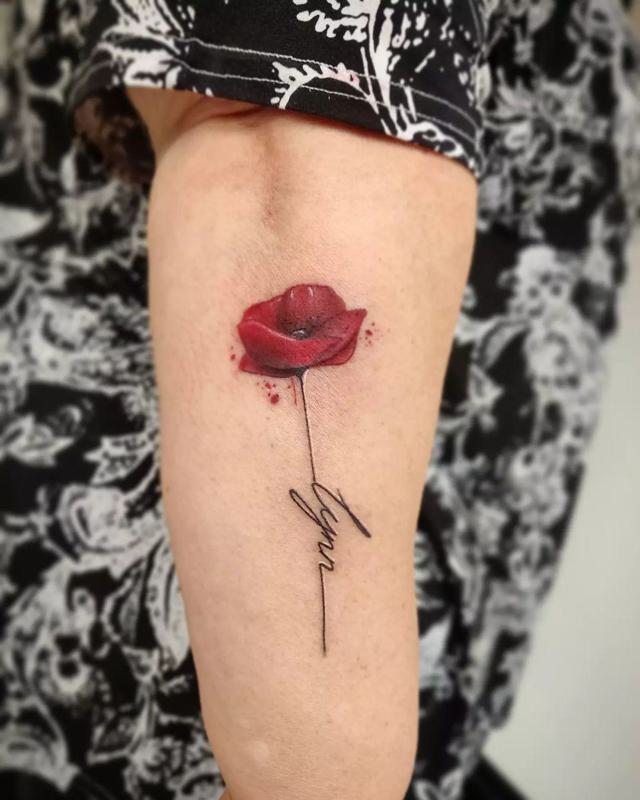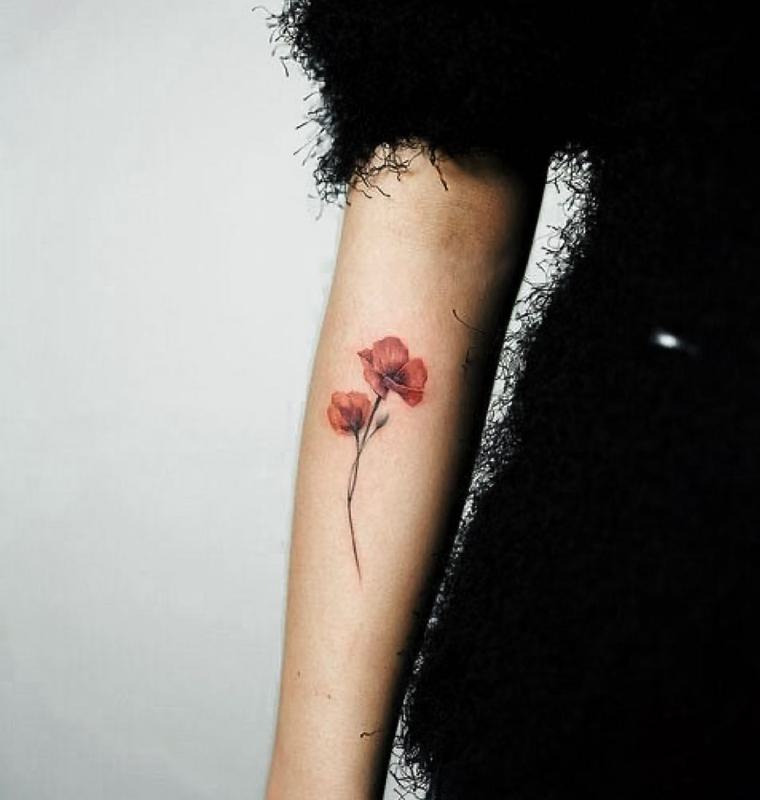 Butterfly and Poppy Flower Tattoo
Most women love this design of the poppy tattoo because butterflies own delicate beauty. Having this art on your skin represents life changes, freedom, and a rebirth in life. This tattoo will look much better when the color of the poppy petals matches the butterfly's wings.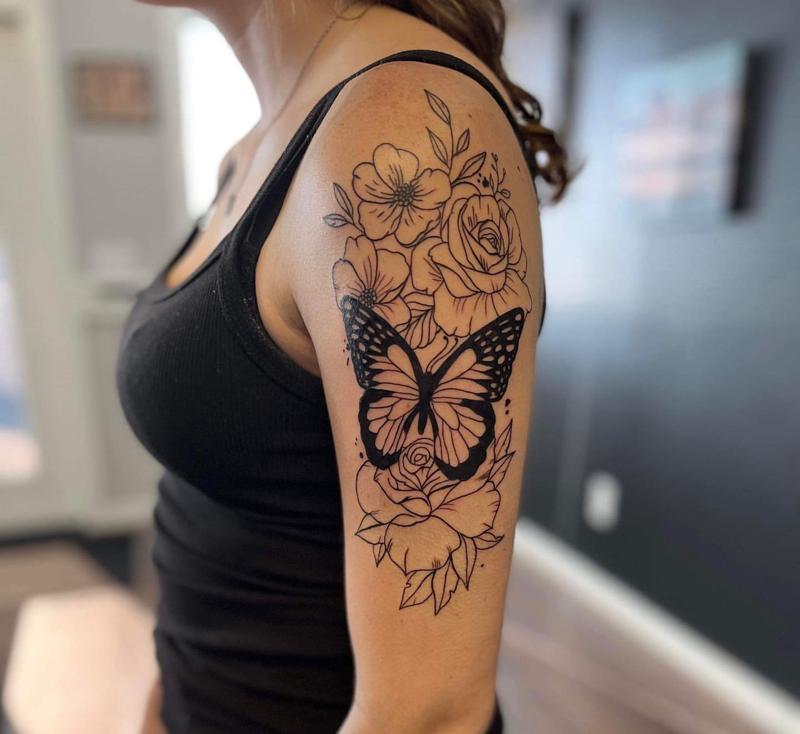 Watercolor Poppy Tattoo
This mix of solid pink poppy petals on your skin shows you have a beautiful heart. Expect the poppy petals to have a jet-black background and attractive leaves to make you look spectacular. The watercolor tattoo has a shade that will make your arm look more beautiful.
Go for this design if you love deep and distinct styles of poppy tattoos. It's one of the best poppy tattoos for ladies, and you can have it on your arm, chest, or back.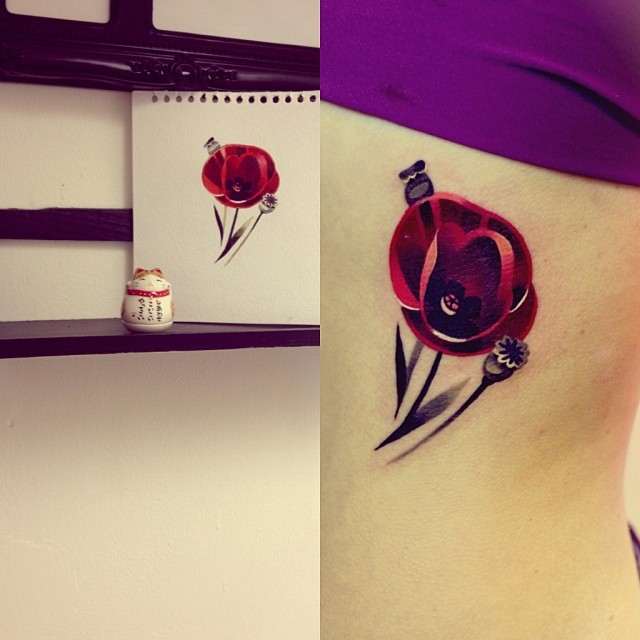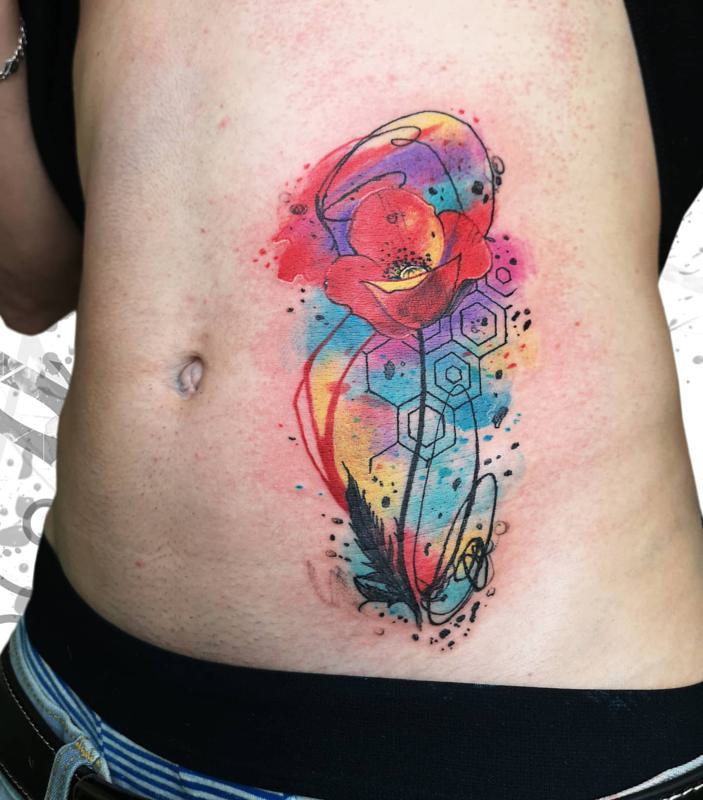 The Special Blue Poppy Tattoo
You'll love the uniqueness of the unique blue poppy because most come in red petals. With the inspiration of the Himalayan blue poppy, this tattoo reminds you of a lost loved one. Also, it's a sign that you desire peace in your soul and with those around you.
Also, the special blue poppy means that you strongly believe in someone or something. Remember, it suits any person, and you can have it on any part of your skin. Dressing your skin with the unique blue poppy petals shows there's much-unseen greatness in you. A poppy tattoo will look good on your sleeve, wrist, and ankles.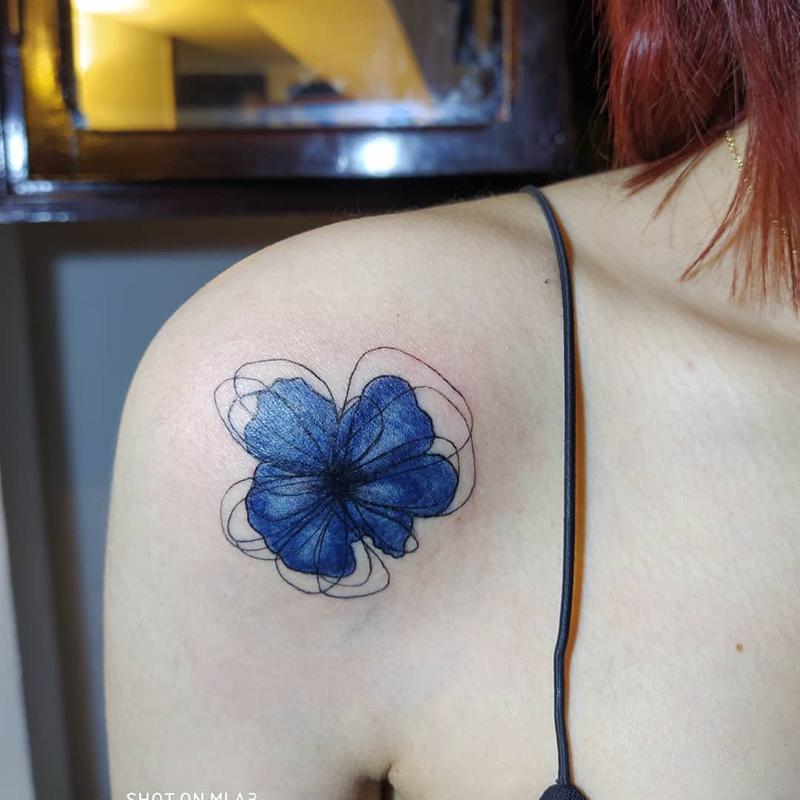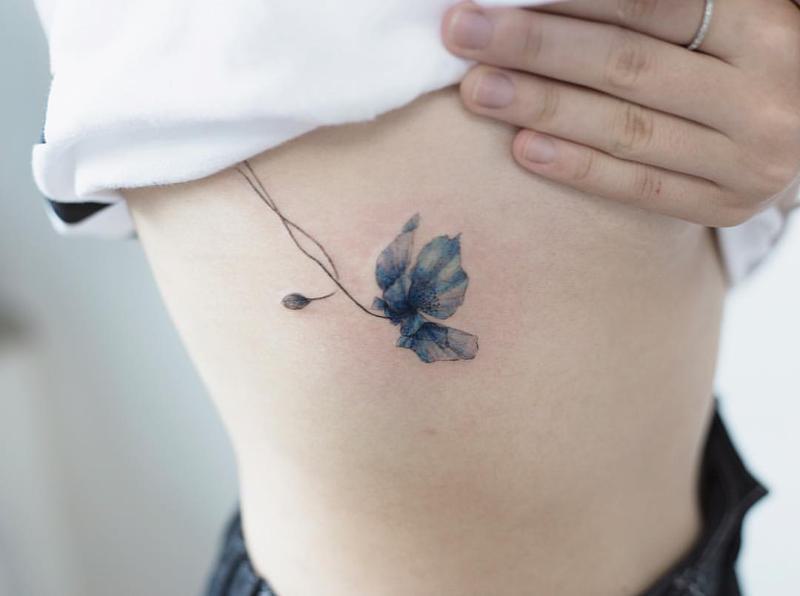 Creative Strip Pattern Poppy
Go for this poppy tattoo idea when you want to look unique and cute. The strip patterns come in different shades, which carry many meanings. Choose this beauty if you are a profound lover of art, as it will turn many necks when you grace events. Also, the design gives you more freedom to recreate a new idea from it, like adding on polka dots.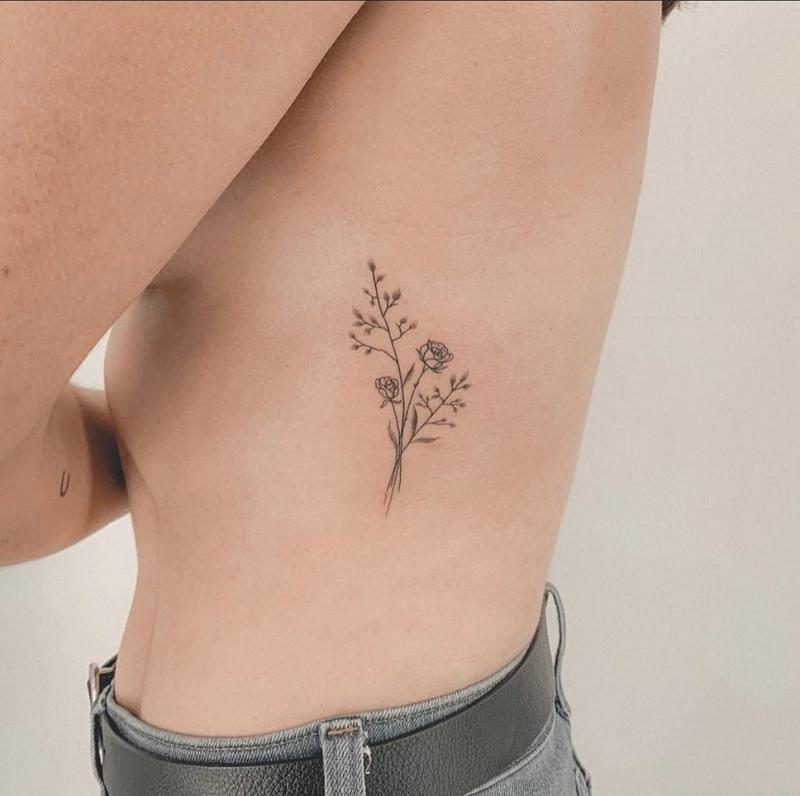 Simple Poppy Tattoo
The simple poppy tattoo design has many meanings, but the best one is being prosperous. Going for this easy and fantastic art shows that you won't give up on your dreams. This small delicate poppy tattoo brings more than beauty to your skin.
Also, being simple means you have a clean heart and eternal beauty that will never die. Anyone who values this poppy tattoo design will want to be close to you because they'll know you have a kind heart.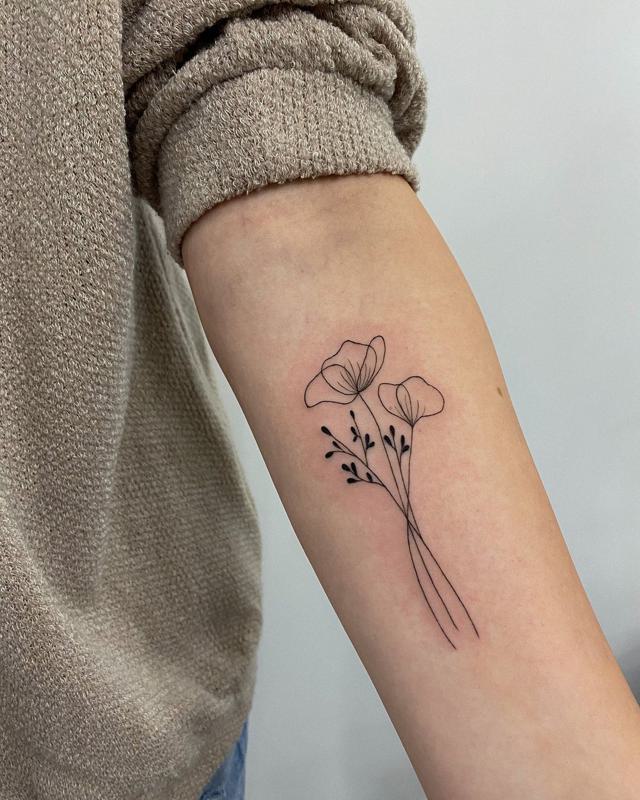 Bold Poppy Back Tattoo
This design suits you if you want a cute and vibrant red-looking poppy tattoo on your back. The dark red petals and black center represent life and death. So, you can remember your nation's fallen soldiers in the war using this style. Women can use it to grace historical events by wearing dresses that allow the tattoo to be visible on their back.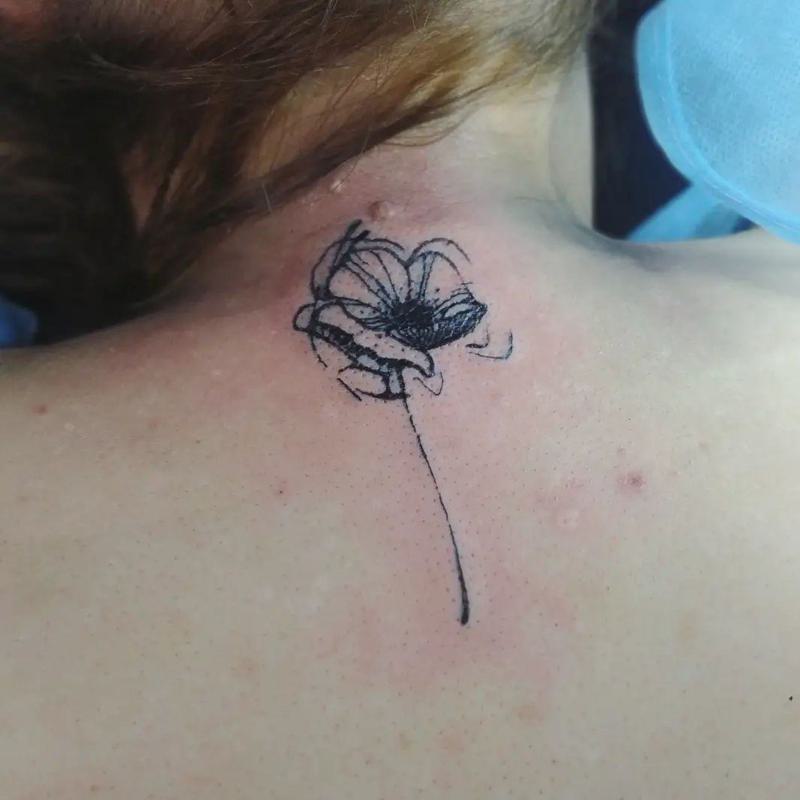 Bears and Poppies Tattoo
When you want a fantastic and humble tattoo, go for the one with bears and a poppy flower. The tattoo shows you are full of strength and courage to do many things. It's because the bears are strong and docile animals, particularly when looking for honey in the presence of many bees.
This style also shows that you treasure simple friendships like the bears. Also, the poppy flower will look great with red petals since it shows you are a person full of spirit.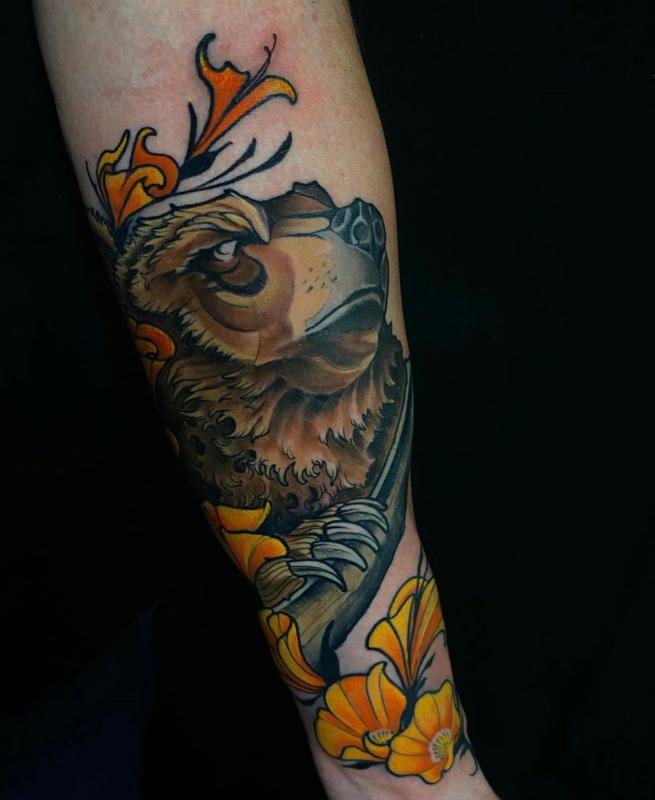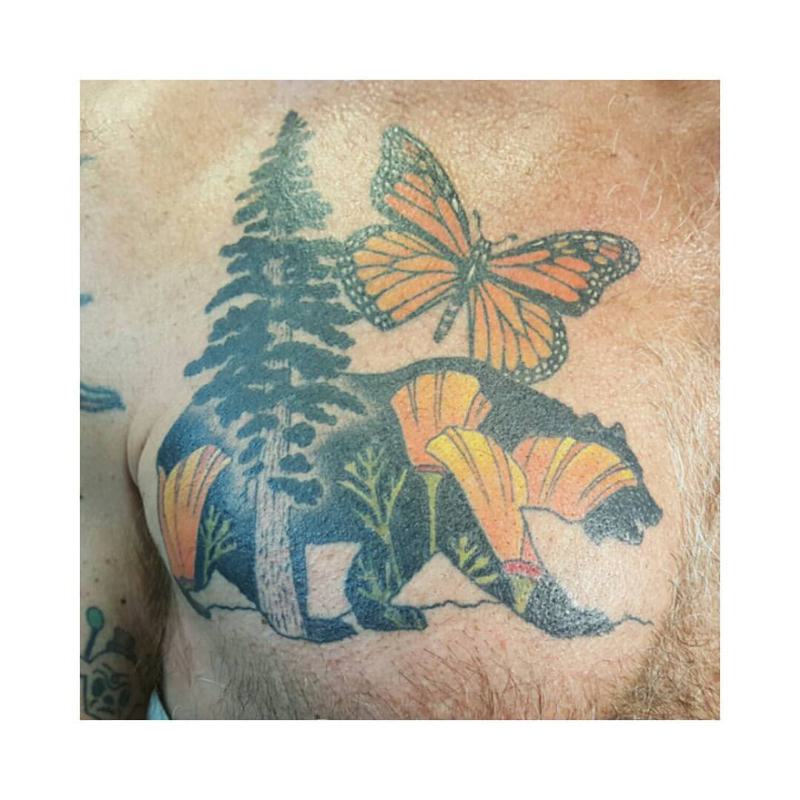 Artistic Black Ink Poppy
The poppy tattoo idea is fresh in the market and will make you look unique. Its special shade of black ink is attractive and suits many people. Also, it's a tattoo you can place on any part of your body because of the simple design. Here, the black color shows you are a brilliant person who can persist through many challenging events.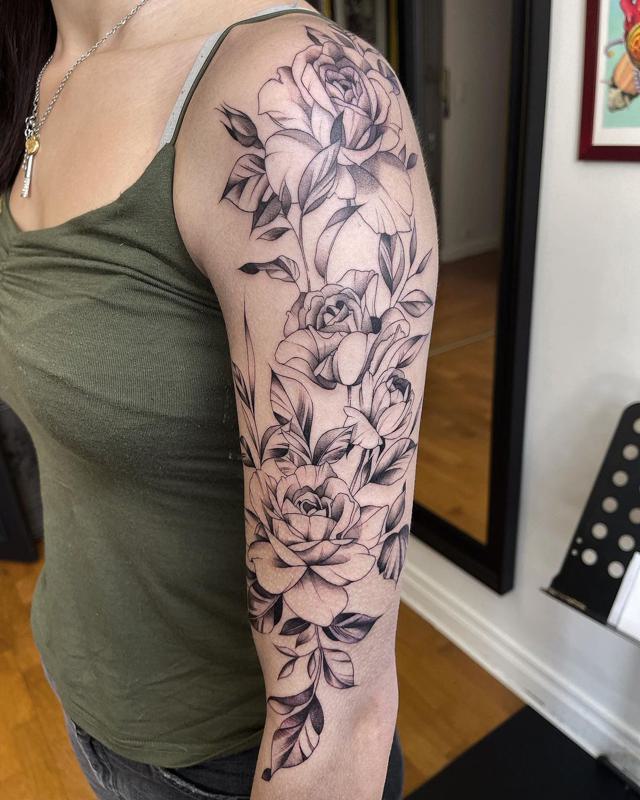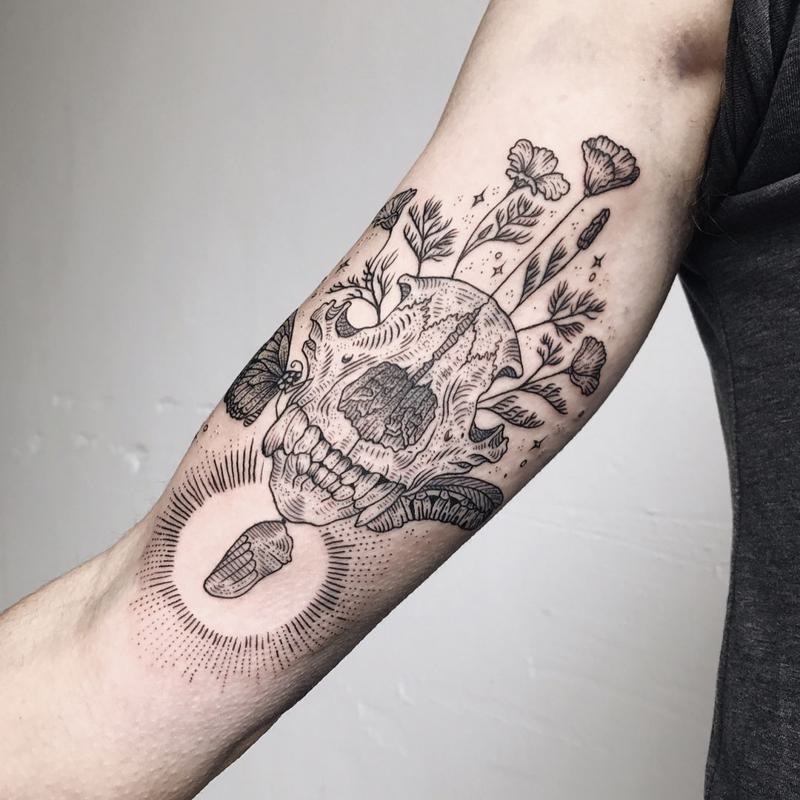 Poppy Flower Tattoo: FAQs
Is it OK for a man to get a poppy tattoo?
Yes, you can get any poppy tattoo if you are a man but stick to the remembrance poppy design. Also, choose the one with a black design.
Why are poppy flower tattoos so unique?
Depending on your interests, these tattoos carry different messages to improve your life.
Is it painful to get this tattoo?
The process is like getting a typical tattoo, so it doesn't hurt that much.
How much does it cost to get the cheapest poppy flower tattoo?
Expect to pay at least $100 for the simplest poppy flower design.
Conclusion
The poppy flower tattoo should be among your favorites if you love cute flower tattoo designs. It's a design that comes in many forms and has a rich history. Many poppy designs carry different meanings that can relate to your life events.
Every poppy flower design will make you stand out in many events because they are beautiful. Anyone who knows any poppy flower tattoo will see the value and message it carries. These tattoos are best for women but men can also grace some of the designs.
So, which poppy flower tattoo has touched your heart the most among all the styles? Please feel free to let us know your choices.