Knees are one of the most challenging parts for tattoo artists, but it is also a great part to showcase a bold and extravagant statement tattoo. And a great deal of toughness and rebelliousness is required for knee tattoos, which are usually associated with men. However, knee tattoos for men aren't an easy process.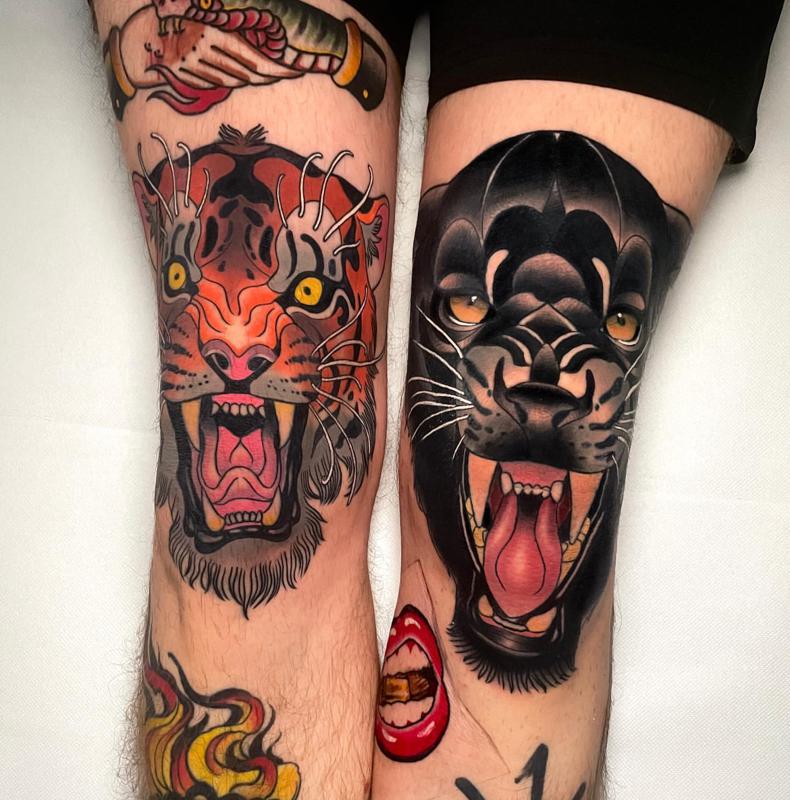 Celebrities like Post Malone and MGK even claimed to leave the knee tattoo midway because of the unbearable pain. So, go for the knee tattoos if you are ready and have the courage to get them done in one go. But despite the pain, the round area and tough skin on the kneecap are the perfect calls for ink creativity and brilliance, which gives you a fabulous tat to flaunt.
25 Epic Knee Tattoos for Men – Cool Knee Tattoos Ideas
Here are more than 25 thrilling big and small knee tattoos for men that you can consider for design inspiration and rock. We turned to social media (mainly Instagram) to discover the latest, trendiest, and most customizable knee tattoo ideas to give you daredevils accurate information about knee tattoos!
1. Traditional Knee Tattoo
The first and the trendiest knee tattoo design for men is the traditional tattoo that usually is highly saturated and that the artists create using primary-colored inks. Traditional knee tattoos for men are bold, stunning, and look good on all skin types.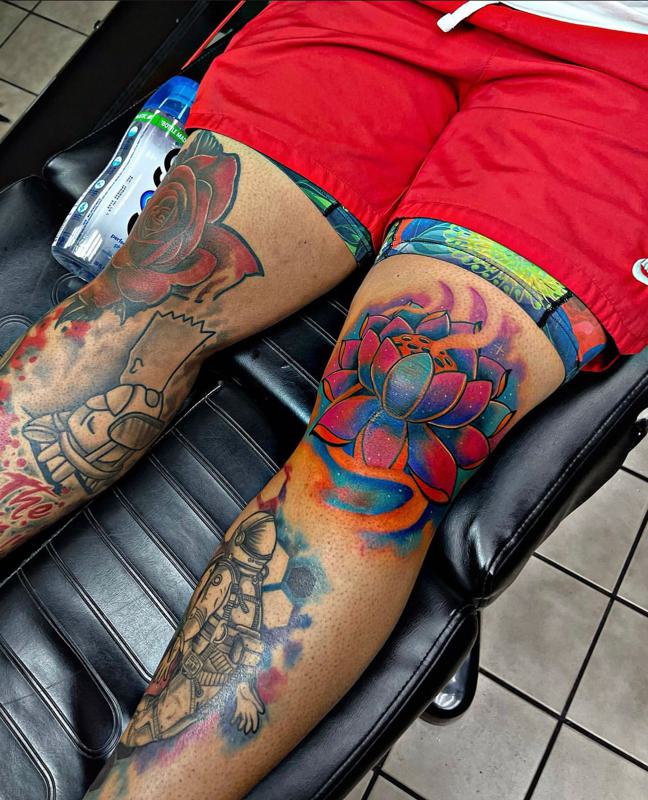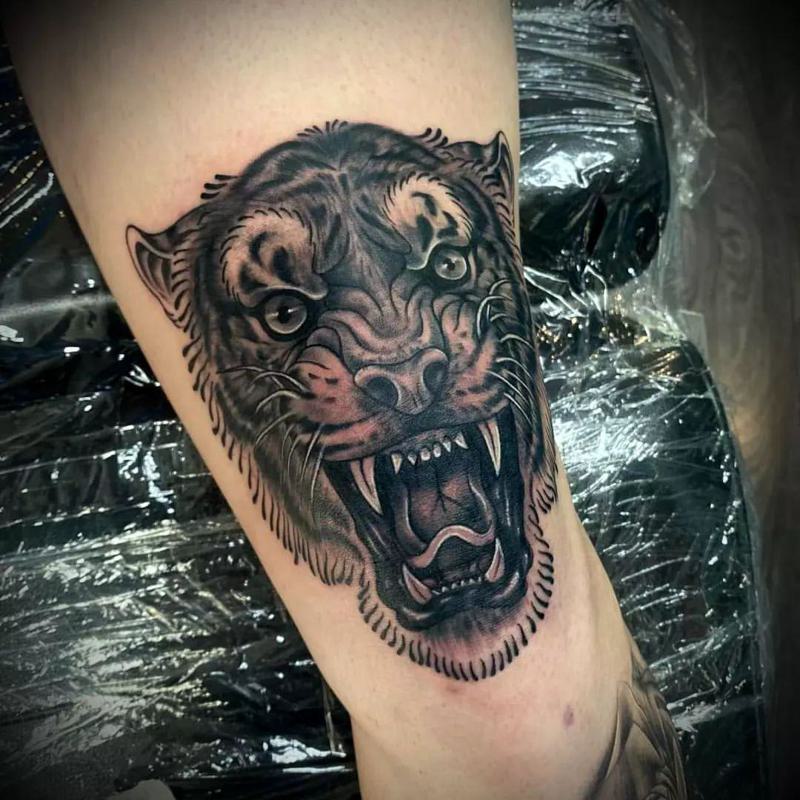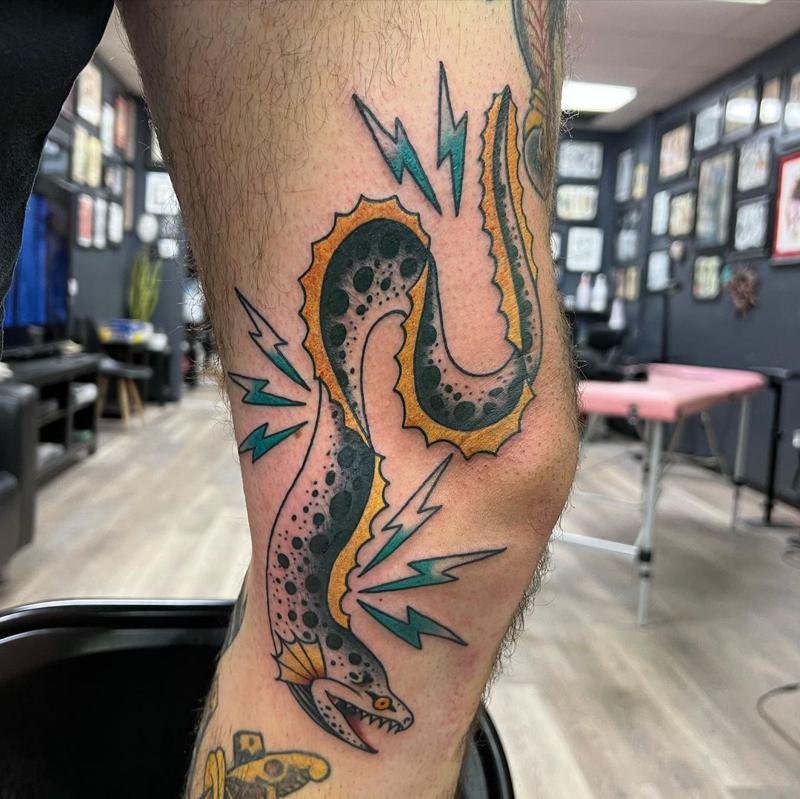 2. Geometric Knee Tattoos for Men
Geometric knee tattoos look pretty modernistic on men, but they go way back to when people practiced spiritual and religious activities using geometry. However, now the symbolism of geometrical patterns has completely transformed as they represent stability and balance in life.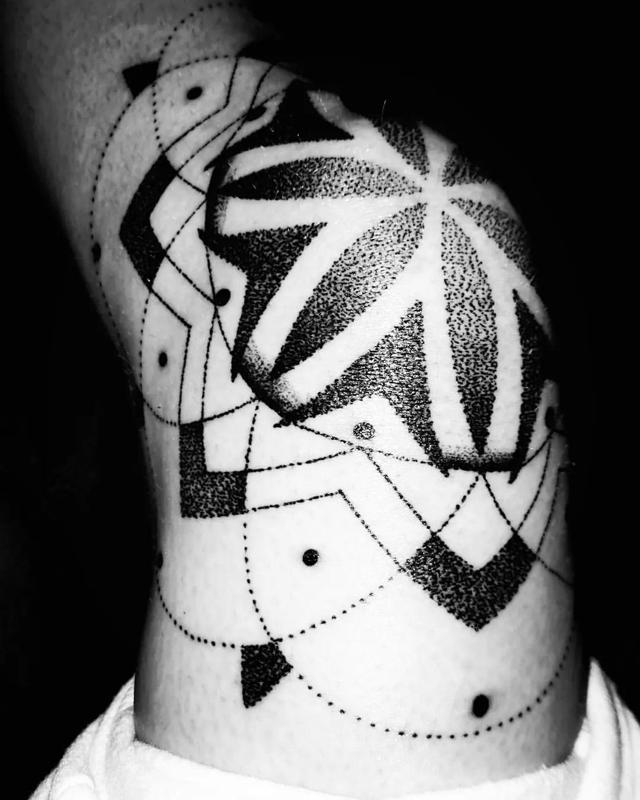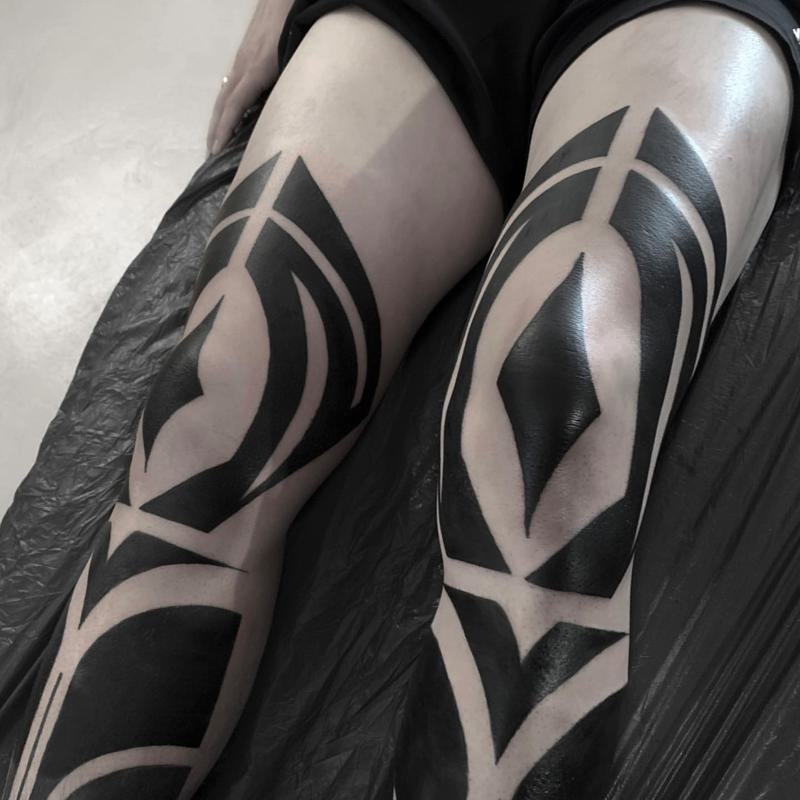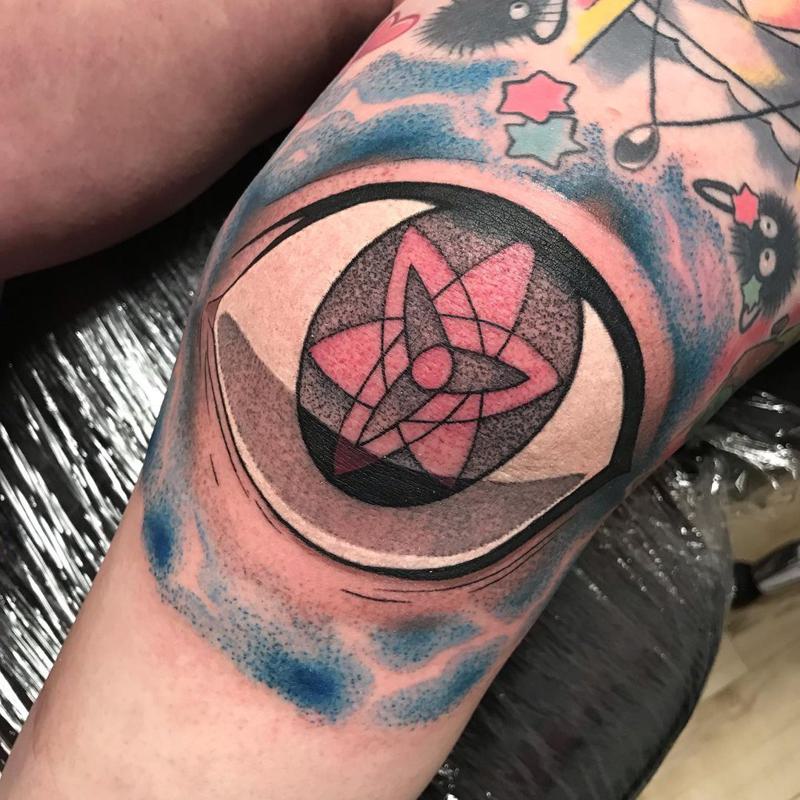 3. Skull Knee Tattoo
Even though a skull tattoo reminds everyone of death and misery, it actually symbolizes strength to overcome any obstacle, even death. Tattoos for men represent rebirth, as if the person has defeated the past and has become immortal.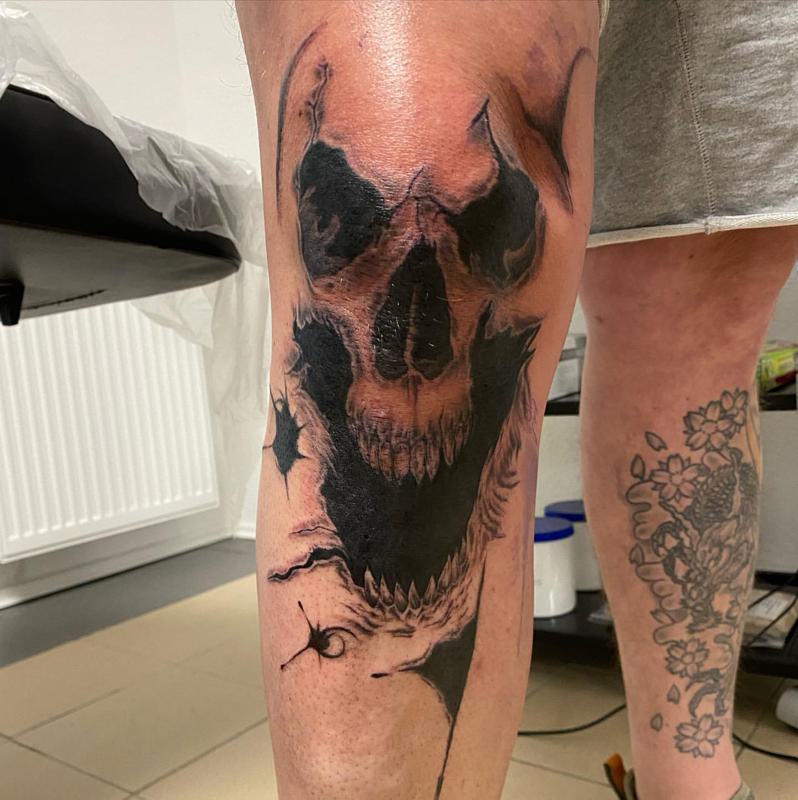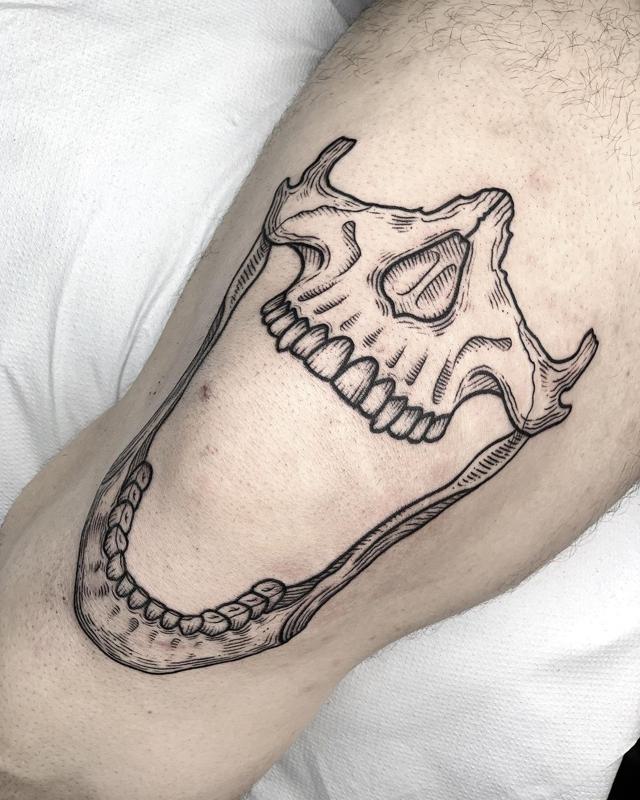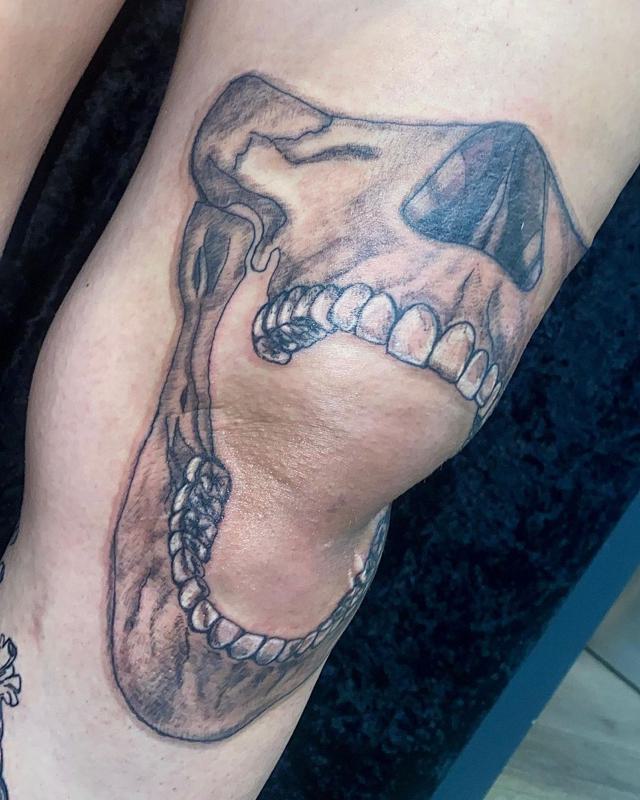 4. Butterfly Knee Tattoo
Butterfly knee tattoos are all over the internet because of their hidden symbolism and minimalistic outlook. Butterfly tattoos are associated with personal transformation and immortality. We have seen several men rocking butterfly tattoos on their wrists or chest, but now they are getting them on their knees.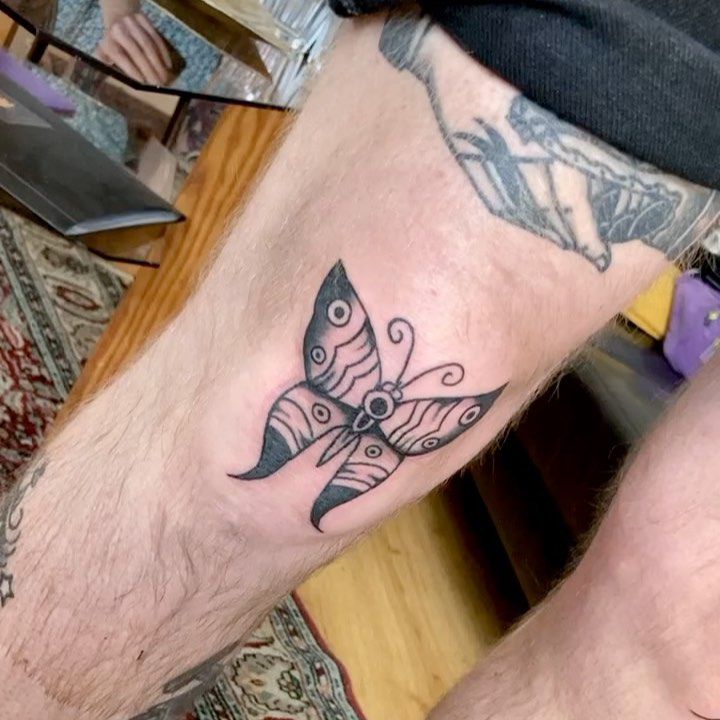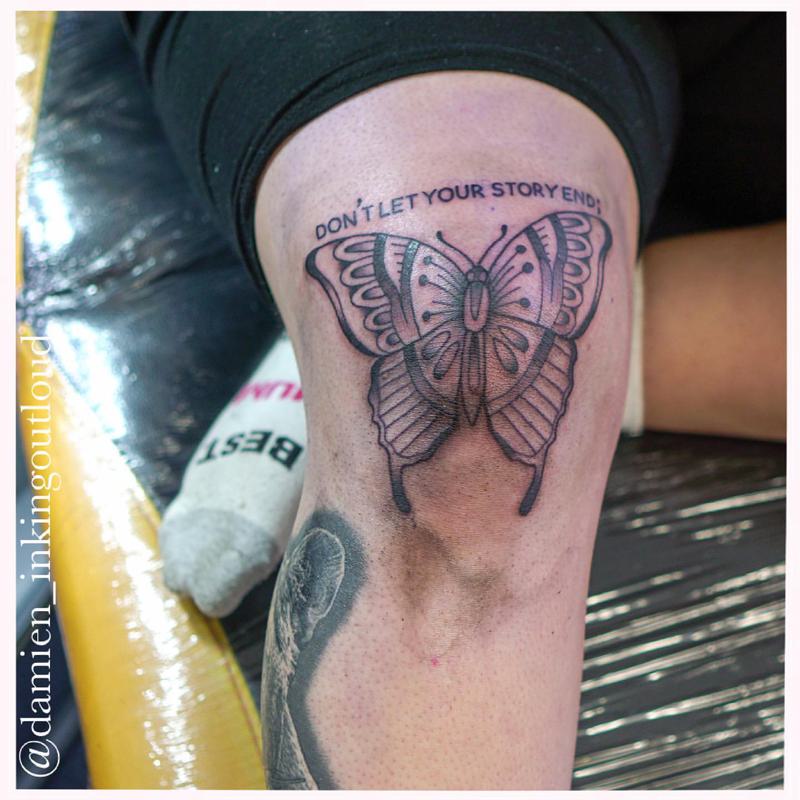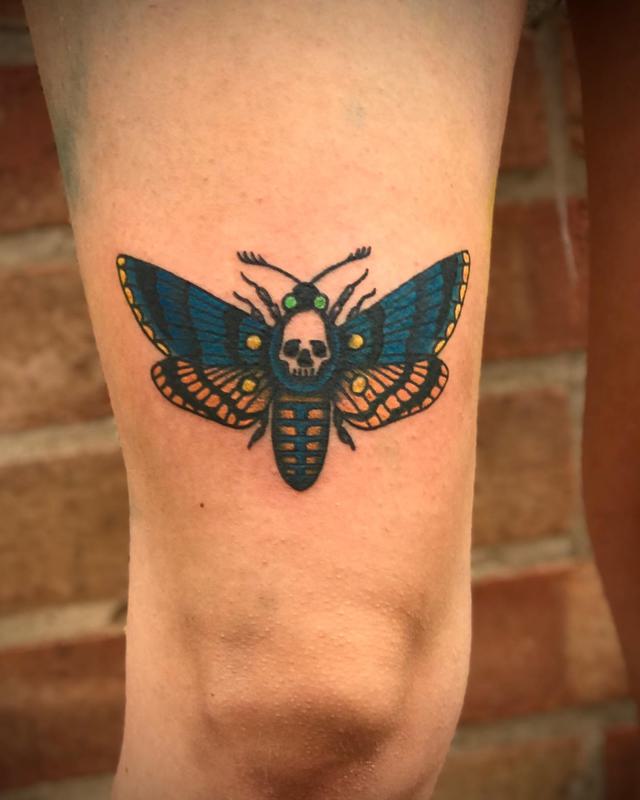 5. Japanese Knee Tattoos
Japanese knee tattoos are very popular with men because they include animals with open mouths, devilish faces, Japanese tigers and dragons, and several spiritual symbols. These are usually fusion tattoos because of their ancient history, submerged with modern inking patterns, and are thought to be a lucky charm.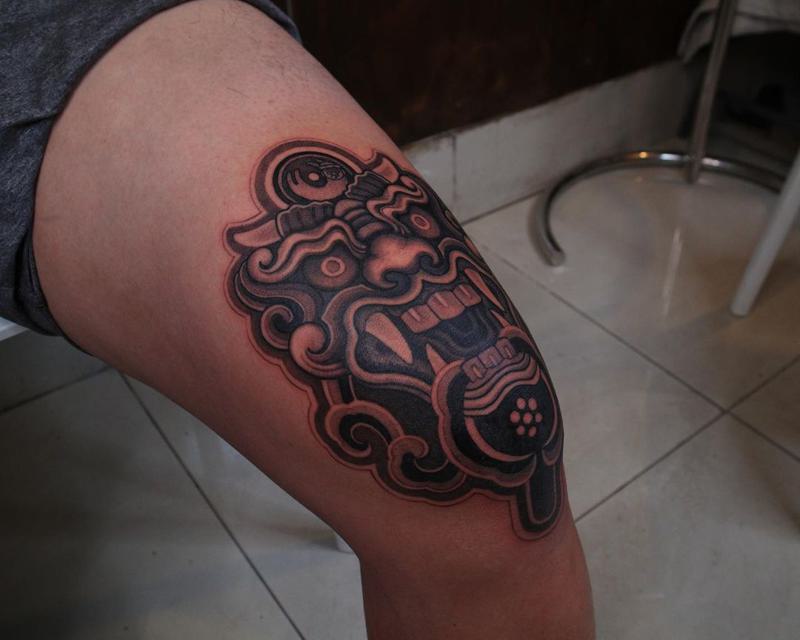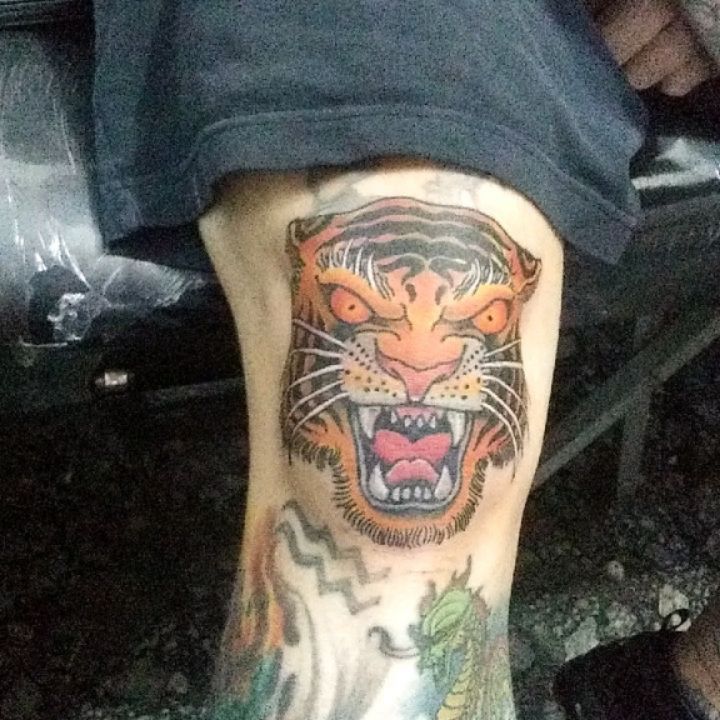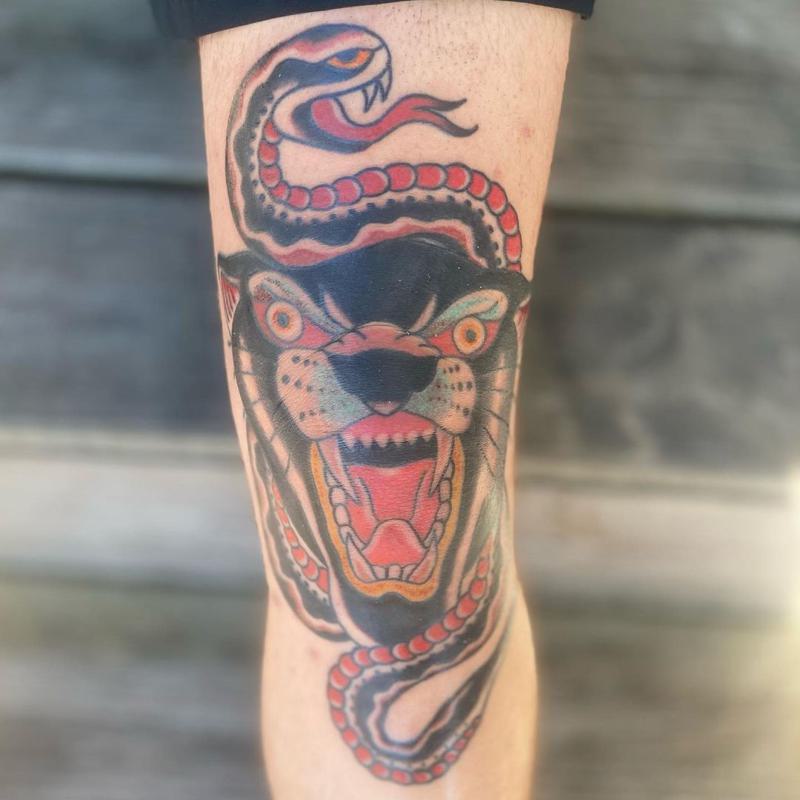 6. Peony Knee Tattoos for Men
Peony tattoos are one of the most iconic knee tattoos for men because they involve plenty of intricate flower shapes and patterns. Usually, the super vibrant or black and white peony tattoos shape your knee, even if it is fatty. The irony of these tattoos is that they look soft but are the most painful.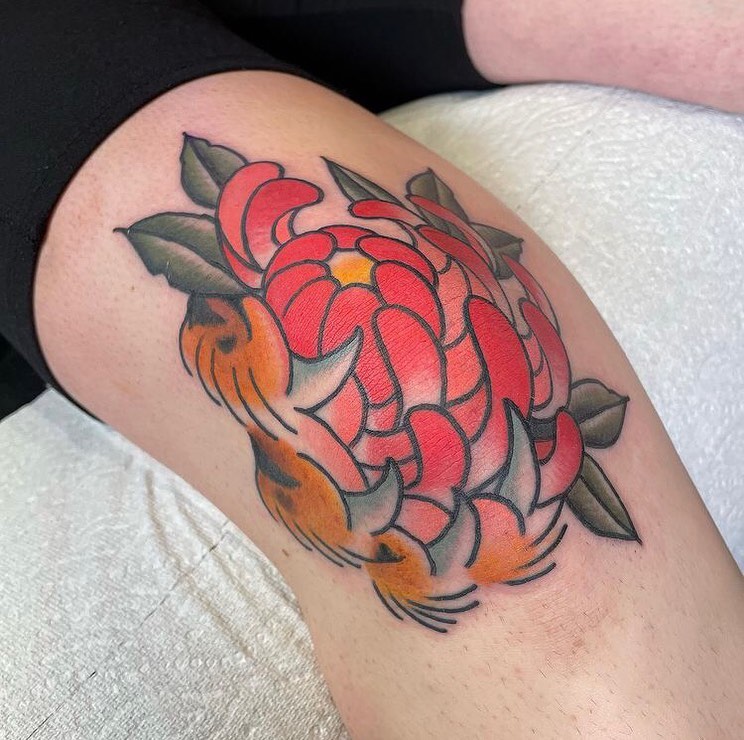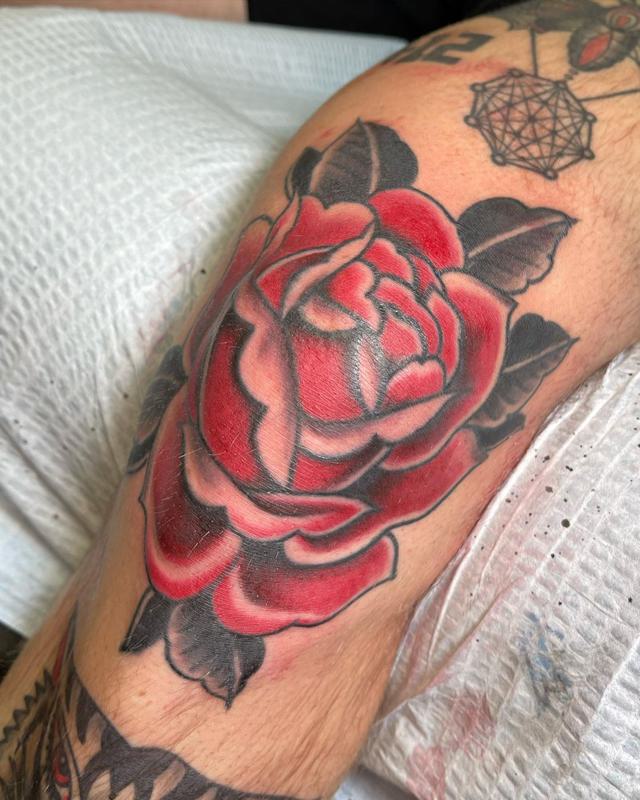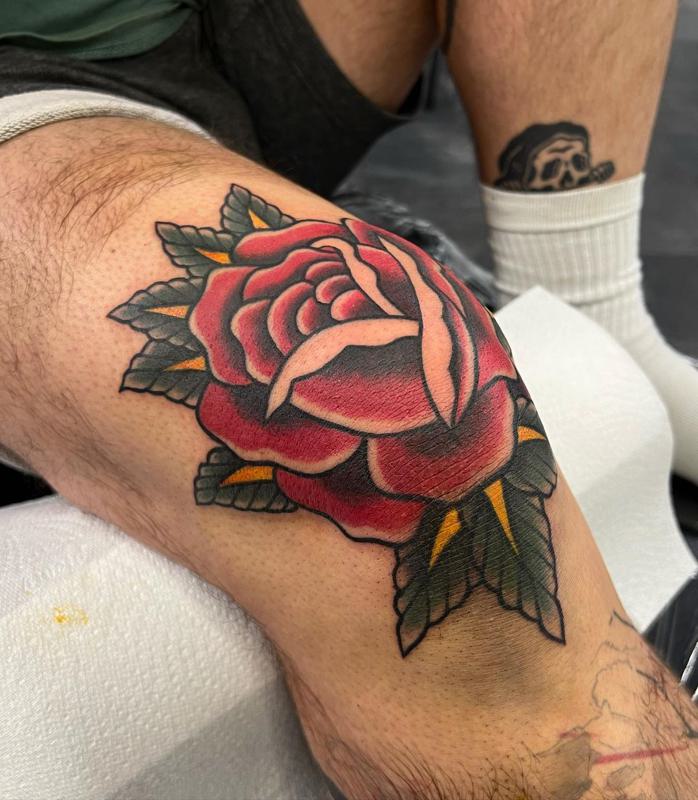 7. Black and Grey Knee Tattoos
If you don't want to go with vibrant colors and patterns, you can stick to subtle black and grey knee tattoos. Using a classic eye covered in petals would be a unique knee tattoo. However, you can also go funky in the black and grey range by choosing a funny face design with a mouth wide open or a scary-looking beast.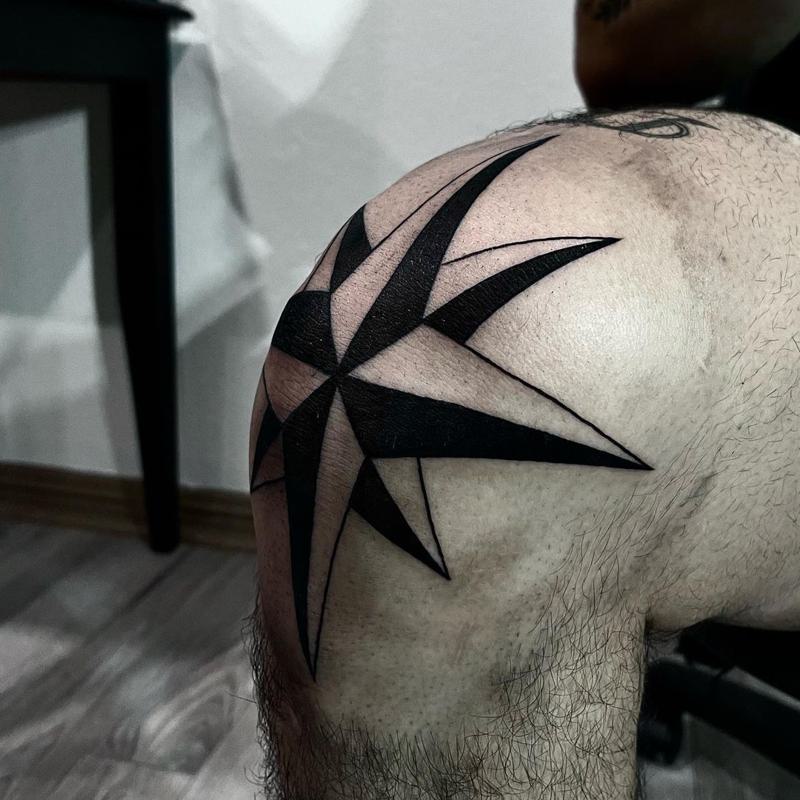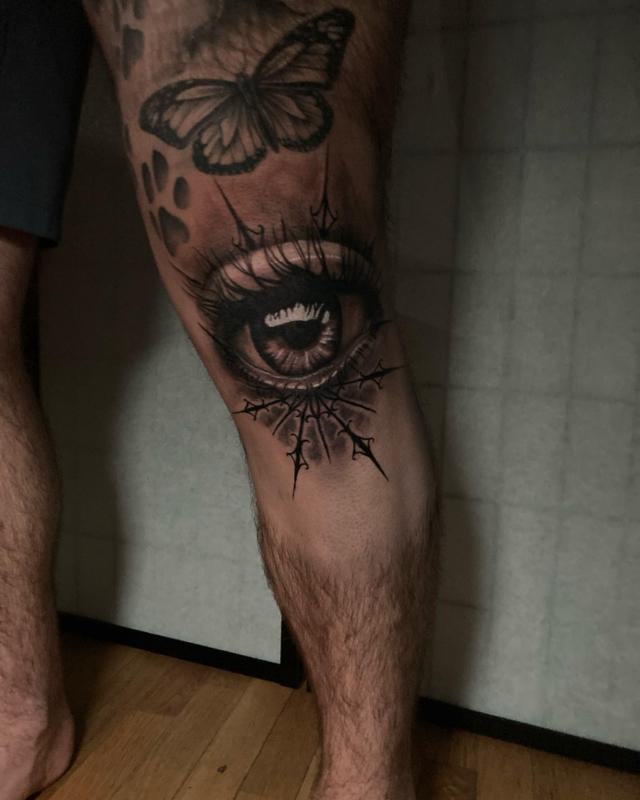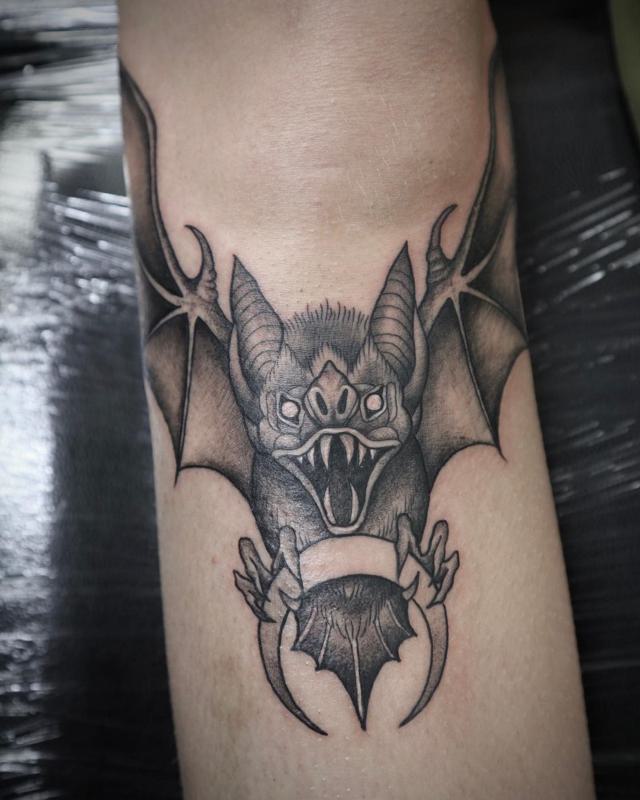 8. Classic Red Rose Knee Tattoo
The red rose tattoo on the knee or any other body part represents extreme love and unity. However, it also symbolizes passion for something deeply rooted, and for men, it means the trials that come with love and the nobility and strength it takes to go through them.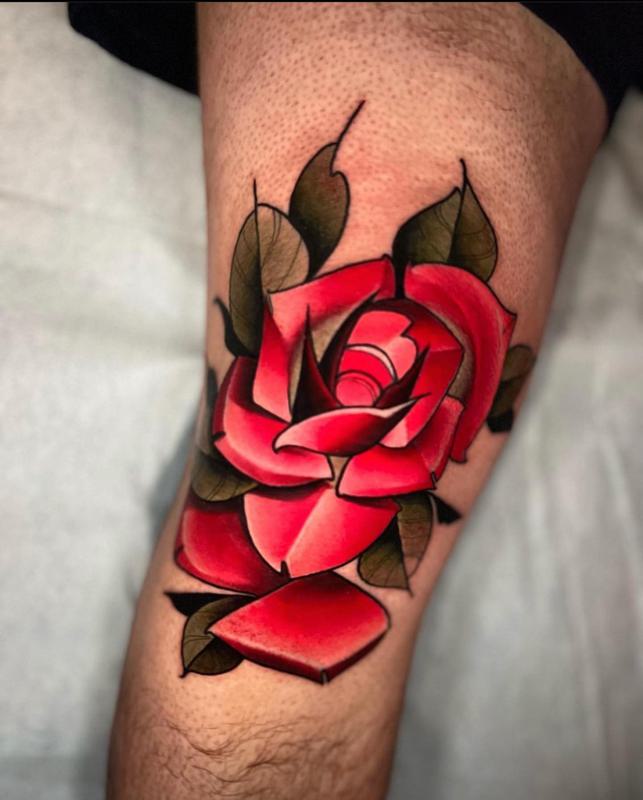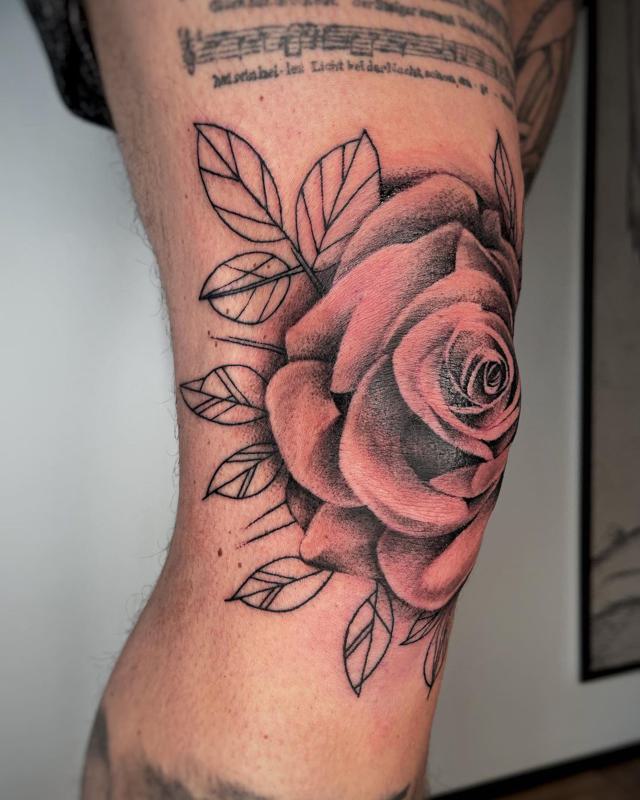 9. Under Knee Tattoo
Under-knee tattoos are a great area to get small tattoos with some message. Some remarkable examples of under-knee tattoos for men are a bull or markhor with horns, a crisscross leafy pattern, a phrase written in bold ink, or the bottom half of a skull.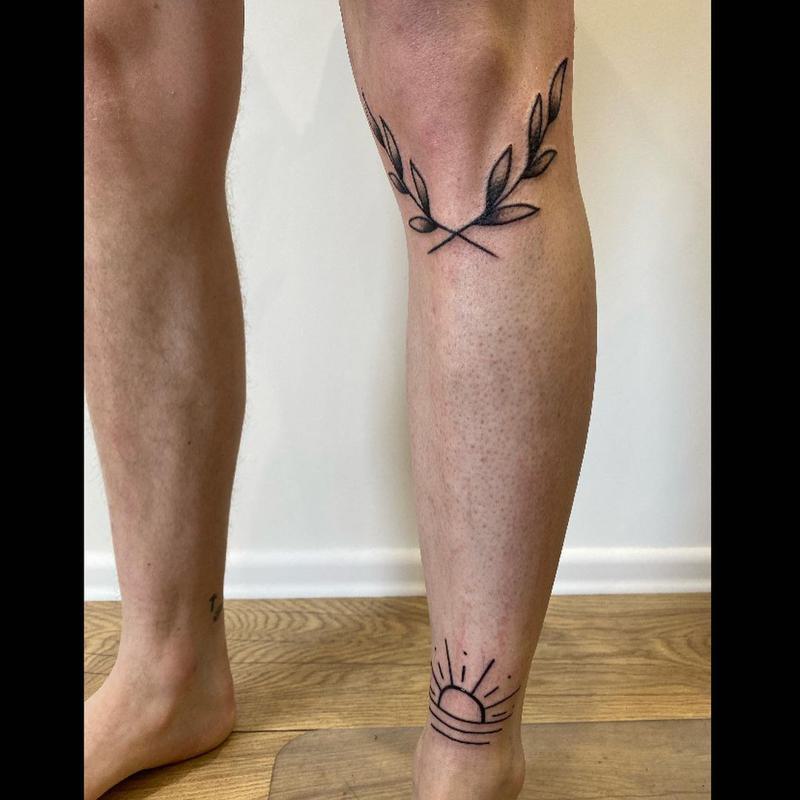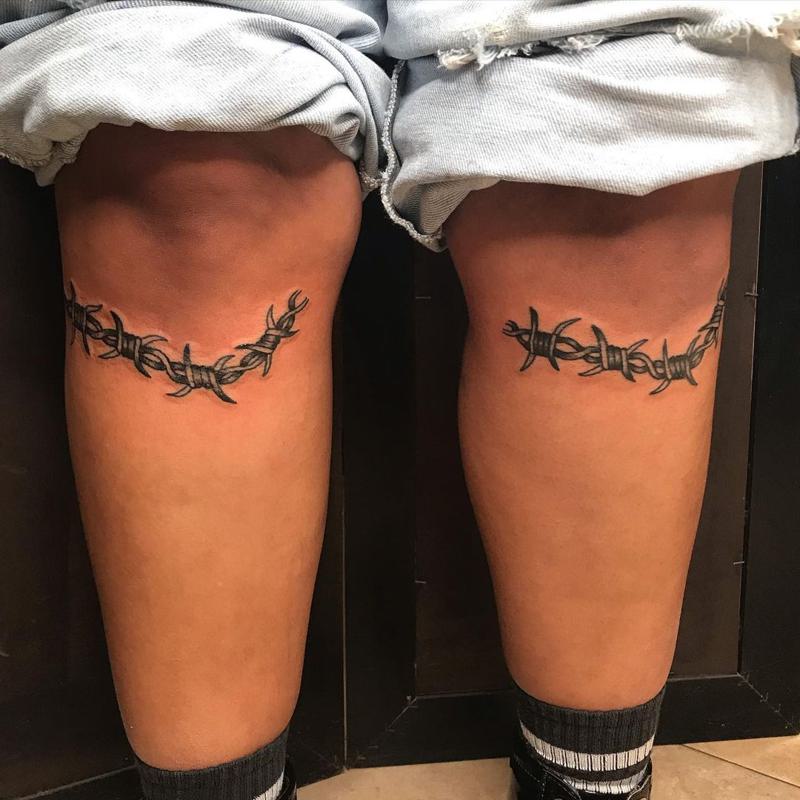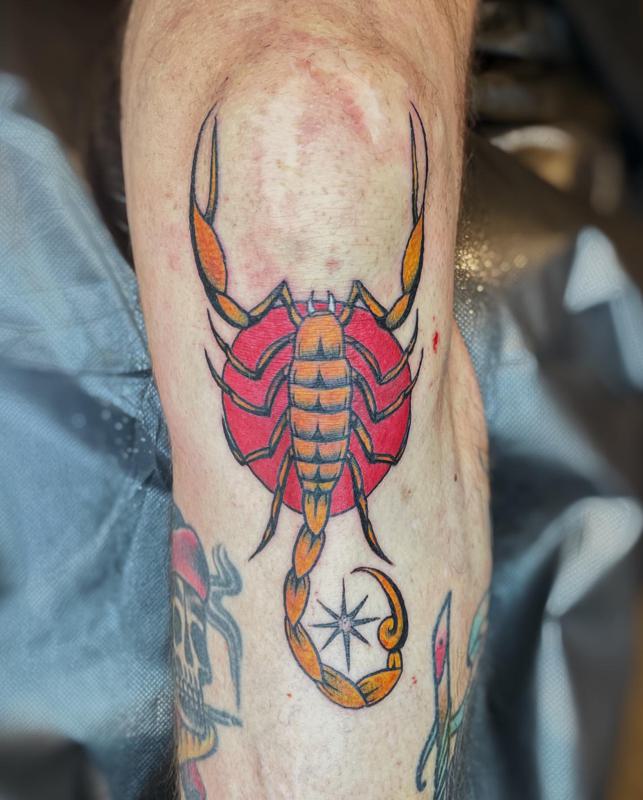 10. Honey Comb Men's Knee Tattoo
Are you looking for a minimalistic yet intricate and realistic knee tattoo idea that is not stereotypical at all? The honeycomb with yellow drops of honey and black and white bees will look super cool on your knees. The concept of this tattoo is to attract people like bees get attracted to the pollen grains.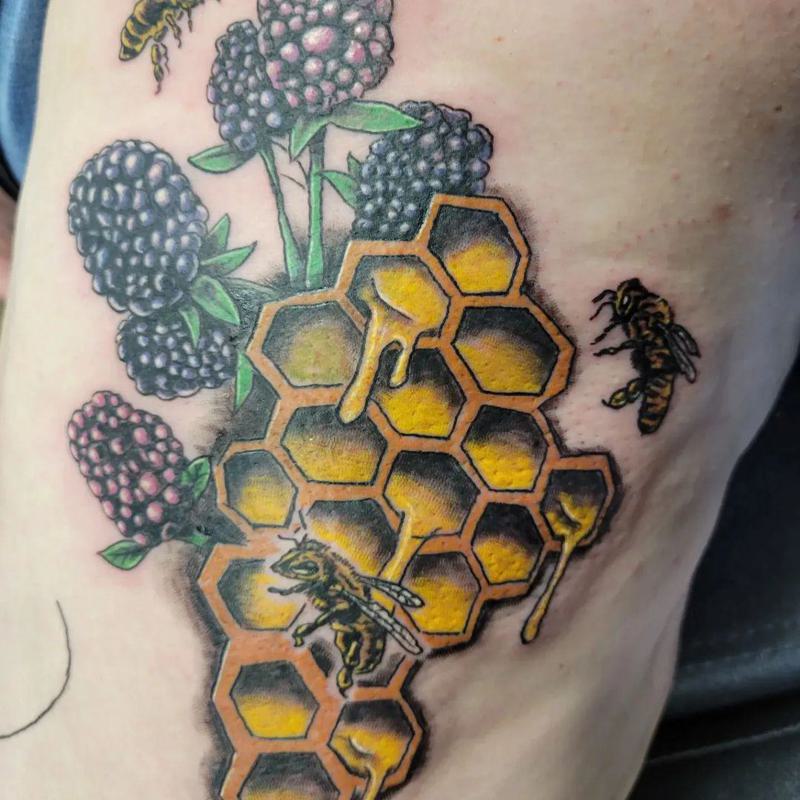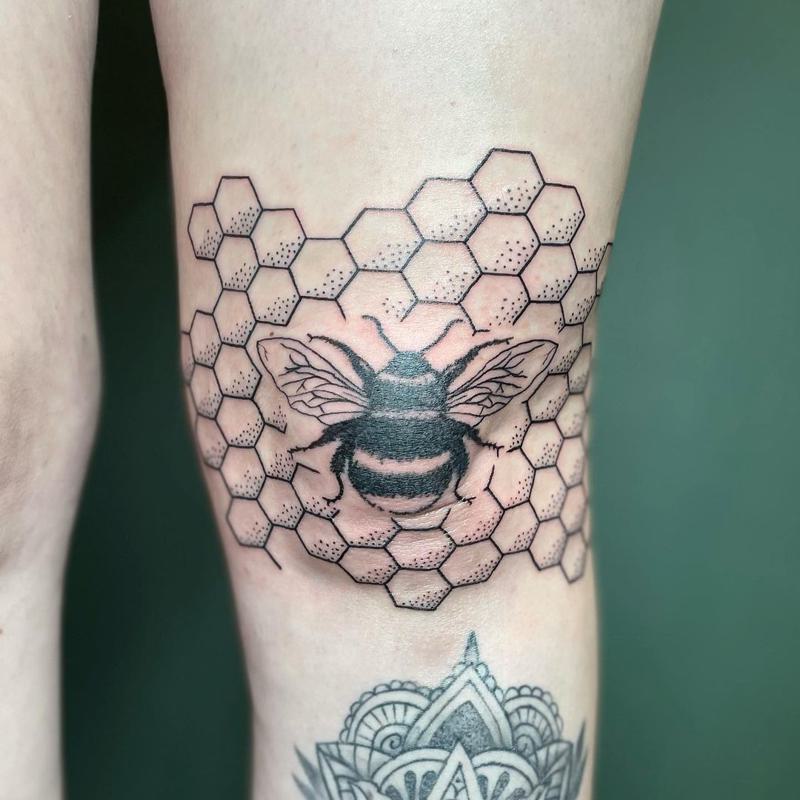 11. Webbed Knee Tattoo
Have you ever seen a spider web tattoo on someone? Imagine getting that intertwined design on your knees; however, make sure to get thick and bold lines to increase the tattoo's longevity. The spider web tattoos show the growth and power of moving forward despite the obstacles in the way, which is a great way to express yourself.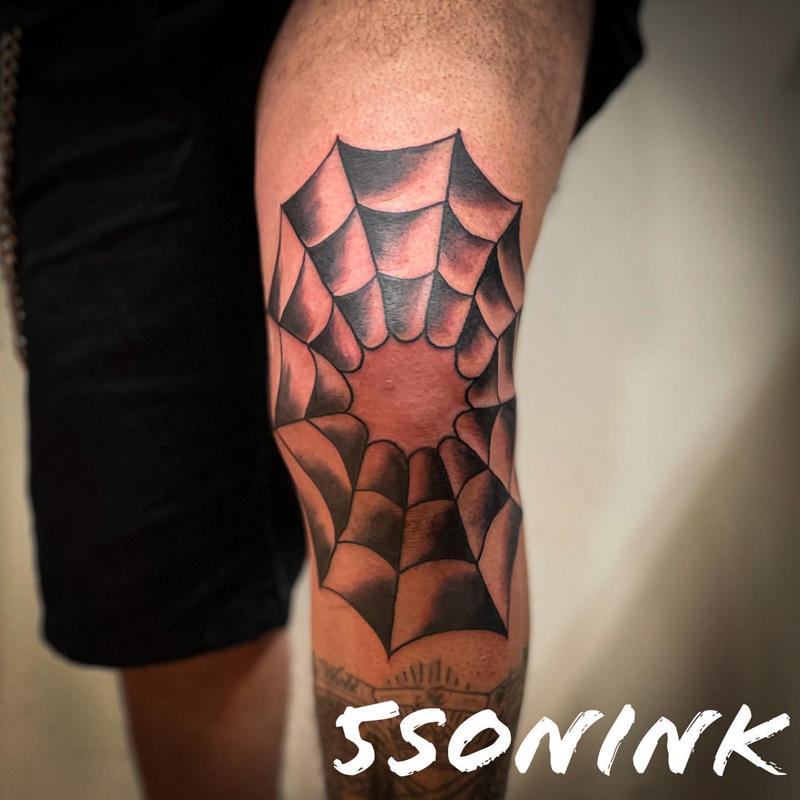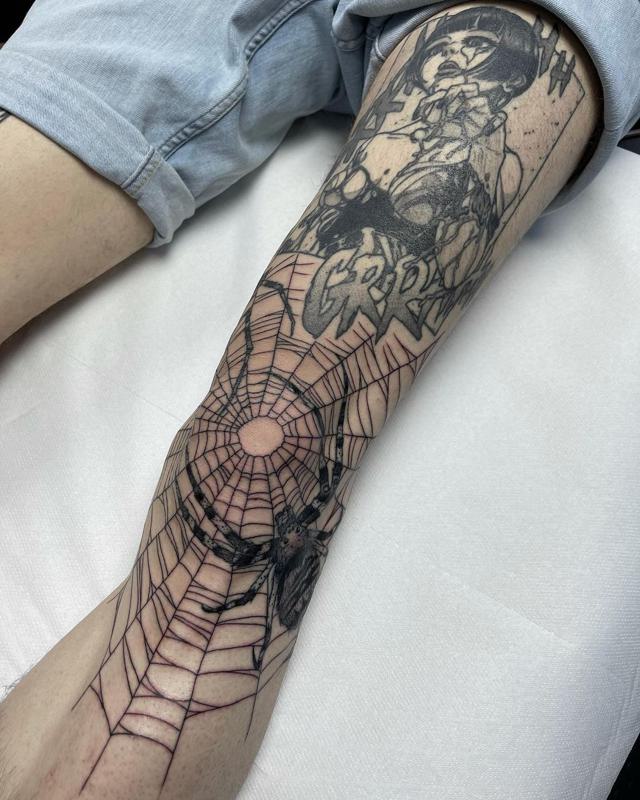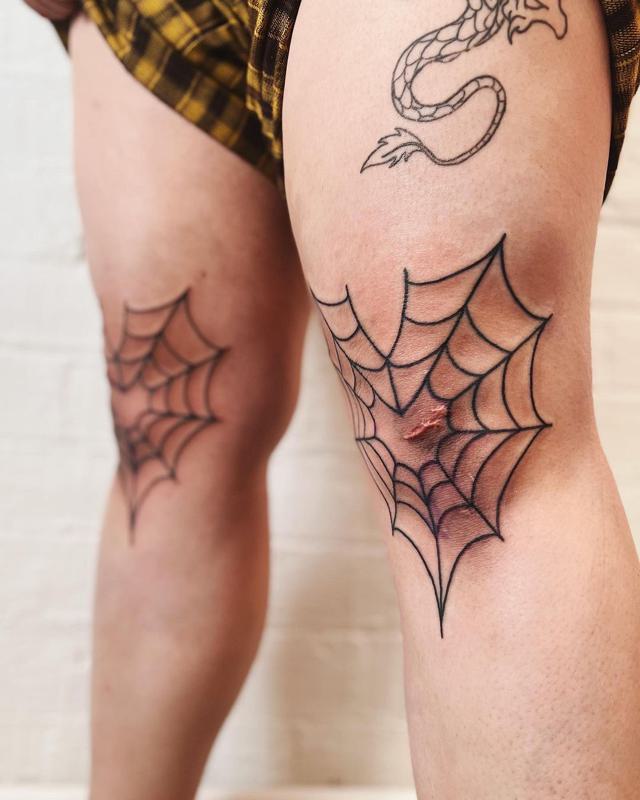 12. Black Rose Knee Tattoo
Getting a black rose tattoo that peaks through the hole in your ripped jeans look super cool and classy. However, it is one tattoo that looks good on both knees. The negative spaces in the black rose represent strength and resilience. And Irish soldiers used to display their strength using black roses, making it one of the perfect knee tattoos for men.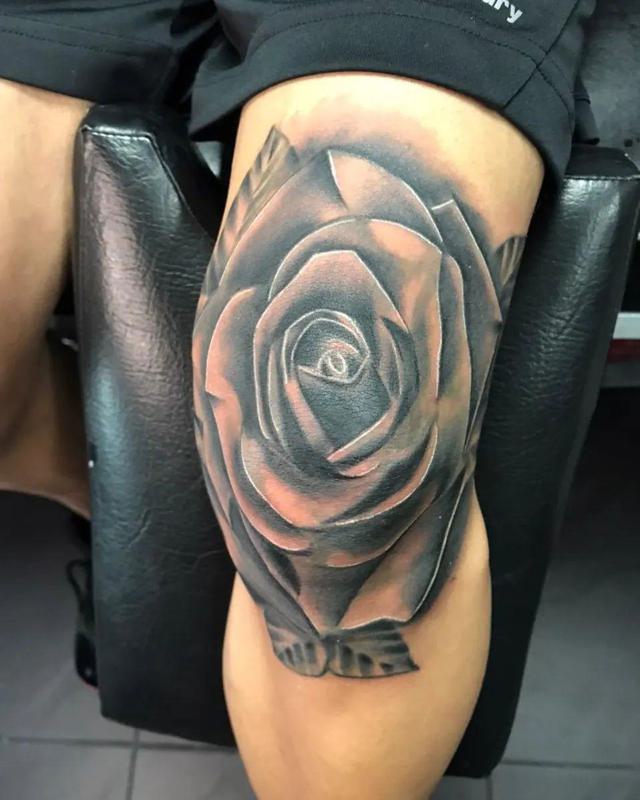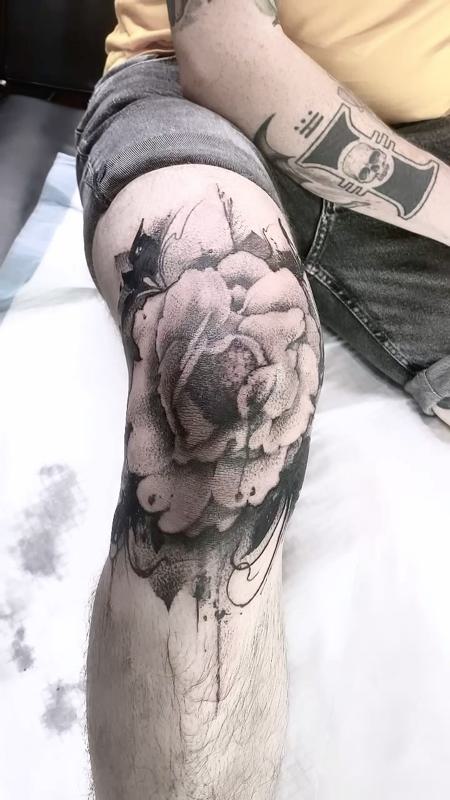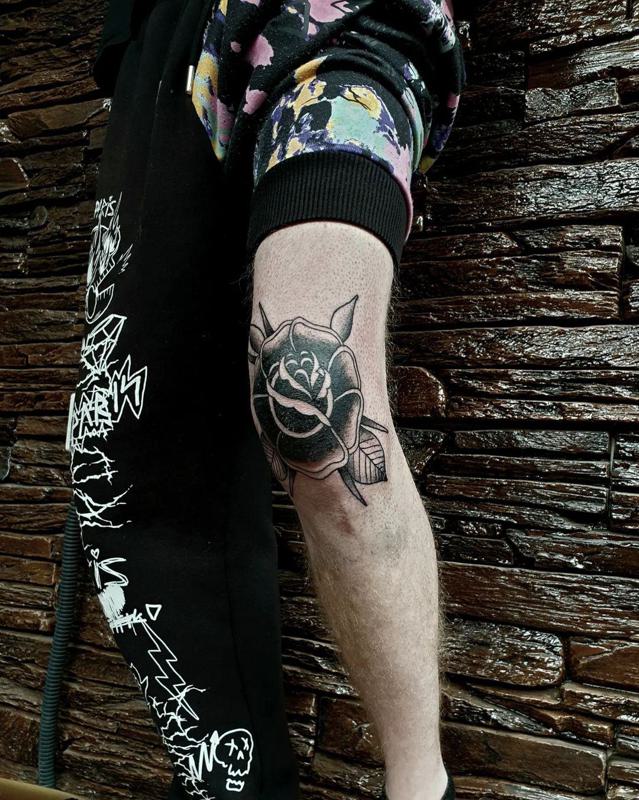 13. Side Knee Tattoo
Side knee tattoos for men are a true definition of badass, so get it and draw attention from anywhere you like. A side knee tattoo makes your legs super sexy and manly. And there are several designs and ideas that you can ask the tattoo artist to ink on your knee sides, like scorpion, fish, dagger, sword, or a minimalistic pattern.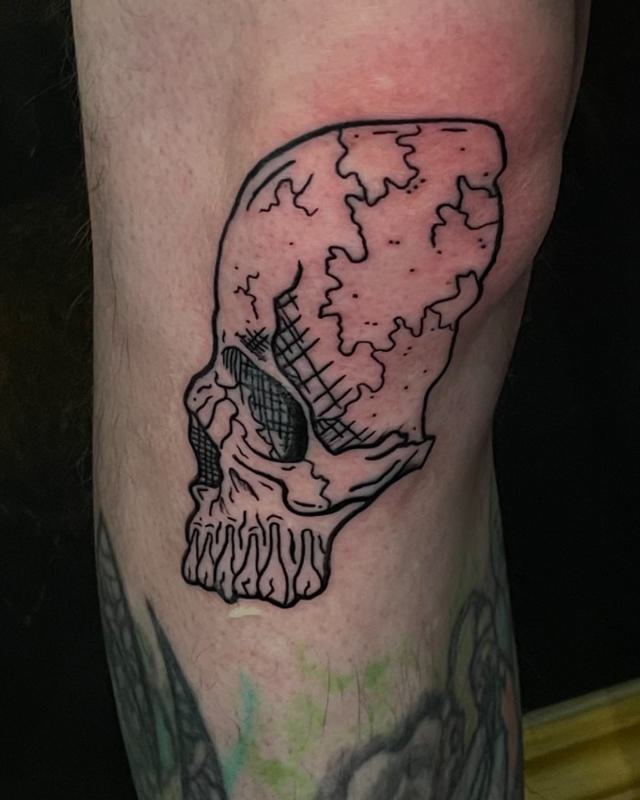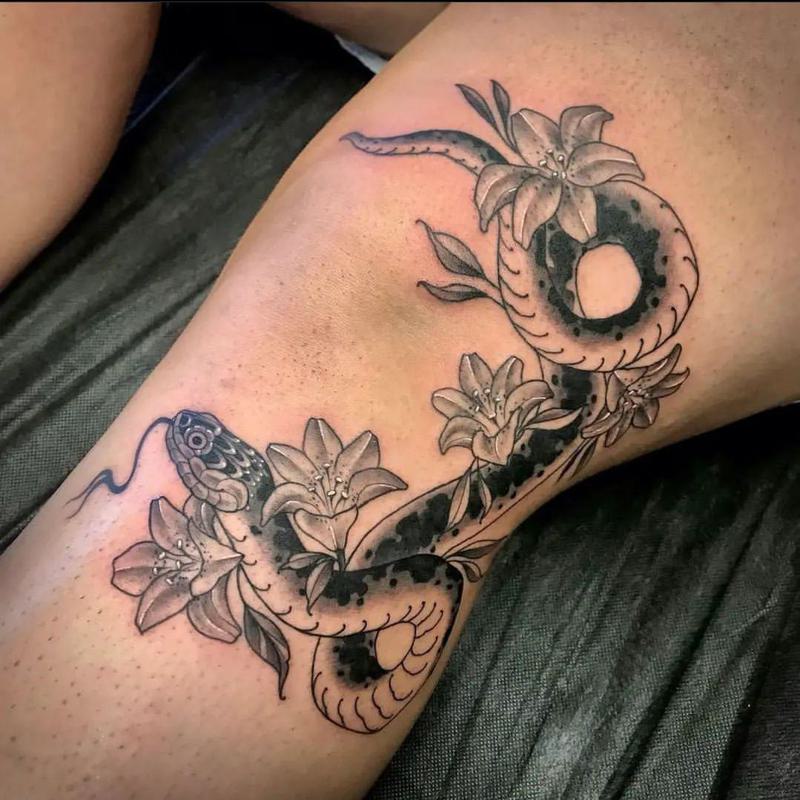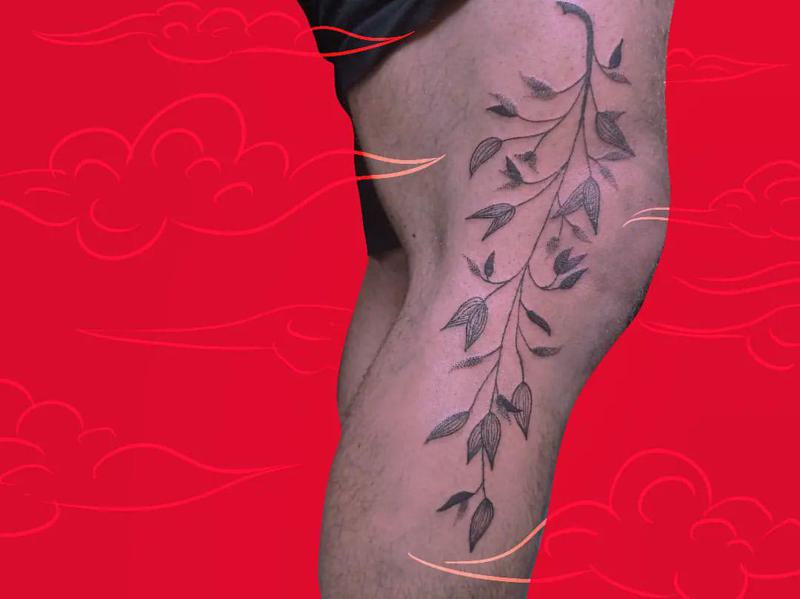 14. Fun Cartoon Knee Tattoos
Cartoon tattoos with your favorite characters from your favorite shows are an epic way to describe your personality. It is an excellent way of keeping your childhood memories alive and refreshed. Usually, people get tattoos with hidden meanings and symbolism, but getting a straightforward fun tattoo is rare.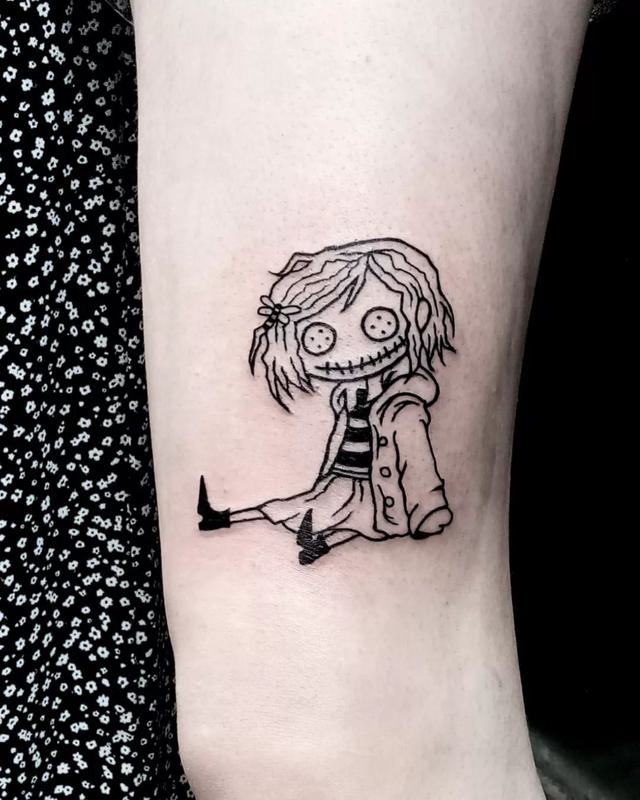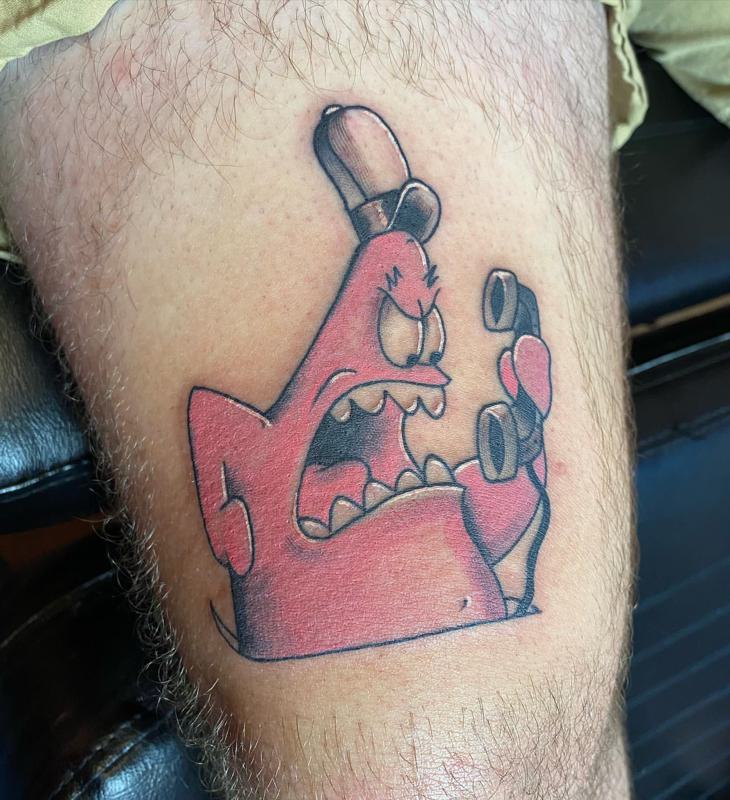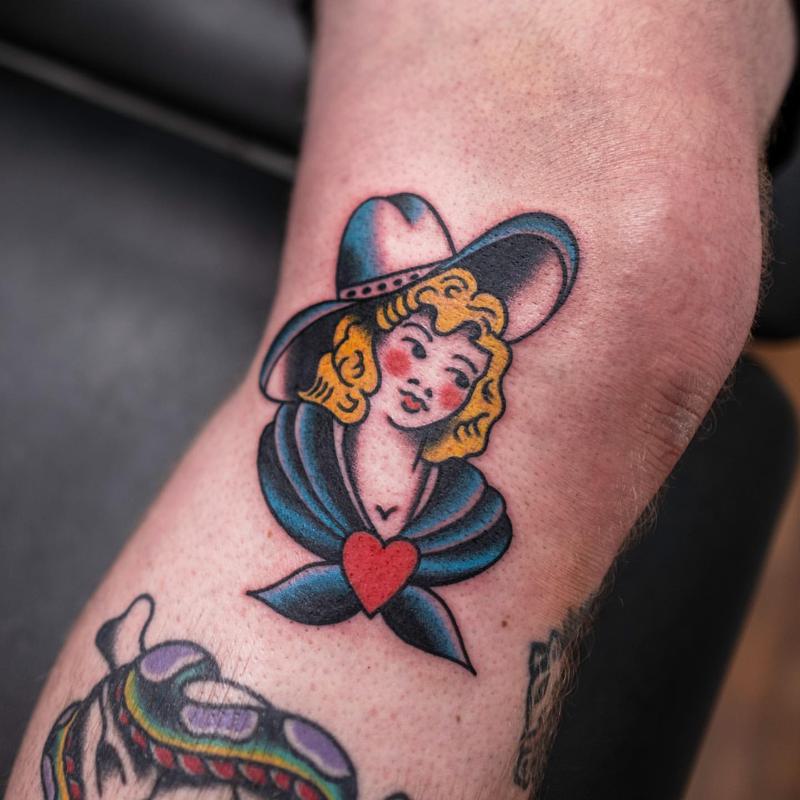 15. Black Wreath Knee Tattoos
Wreath tattoos represent perfection, triumph, and victory. We wanted to mention black wreath tattoos in our knee tattoos for men list because they look super good wherever you get them. Get ready to walk with a sense of achievement and a winning attitude if you get a black wreath tattoo on your knees.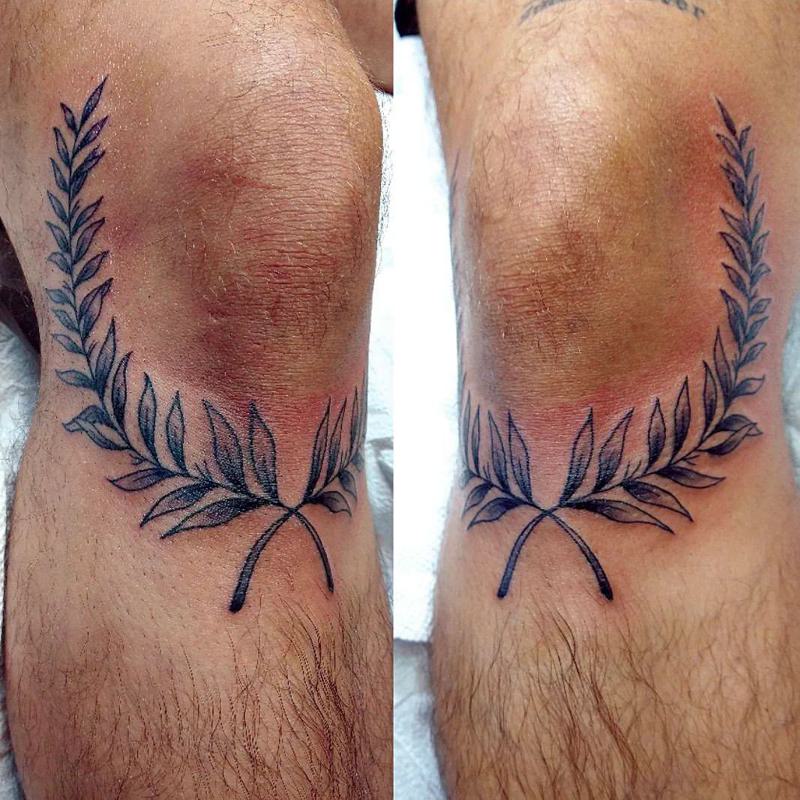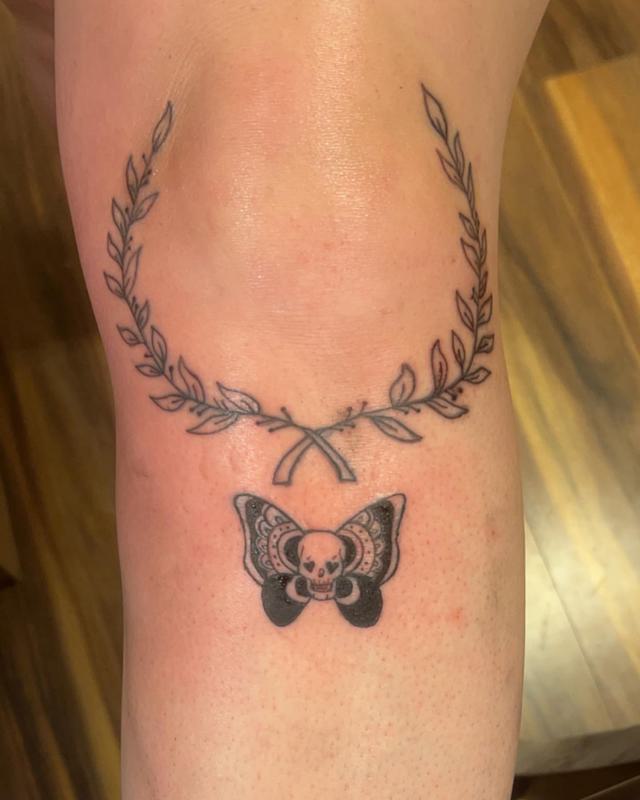 16. Shark Jaw Knee Tattoo
What better way to represent courage and strength than a shark jaw knee tattoo? In Polynesian culture, seamen got shark jaw tattoos to protect themselves against deep sea dangers, including sharks and other wild beasts.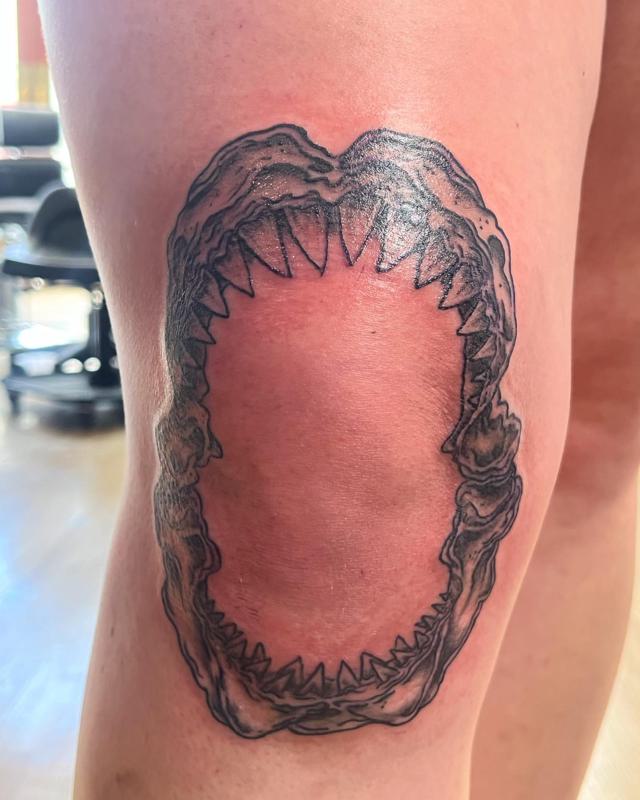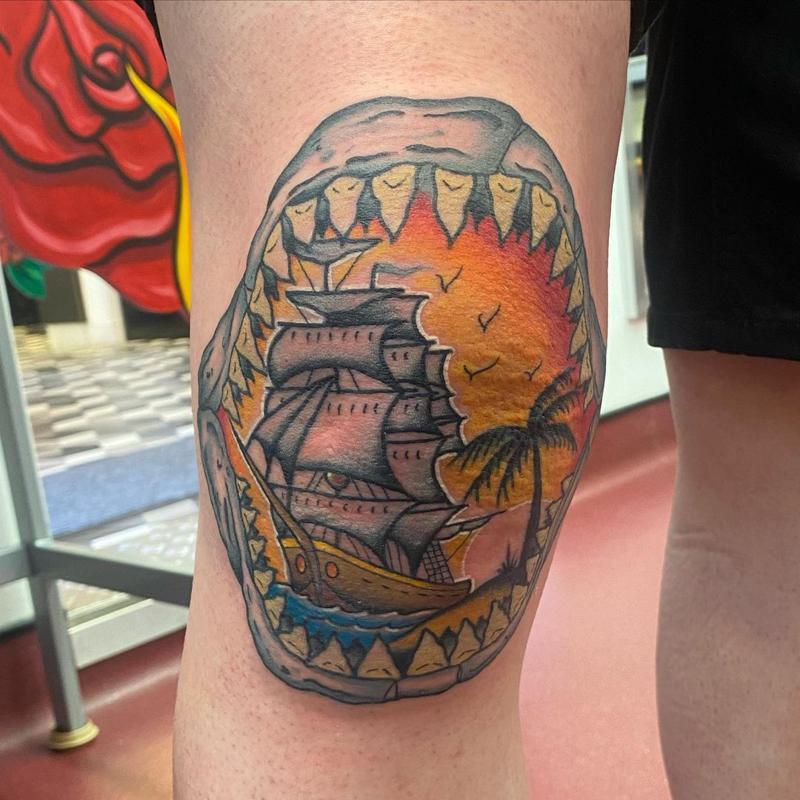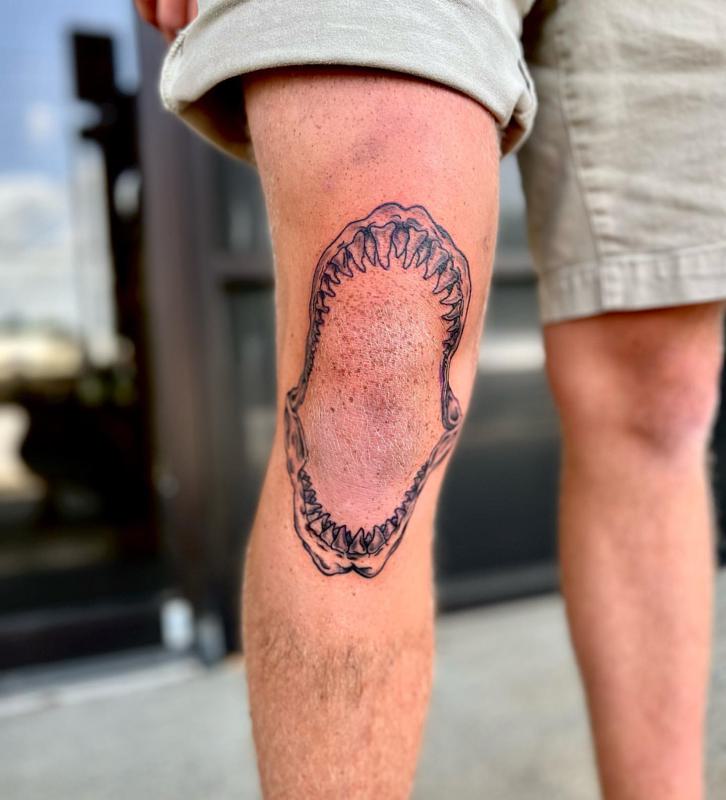 17. Floral Wreath Knee Tattoos for Guys
Floral wreath knees tattoos look so good on guys because they are summer-appropriate, vibrant, and add perfect color to your personality. In general, these tattoos stand for the beginning of something beautiful.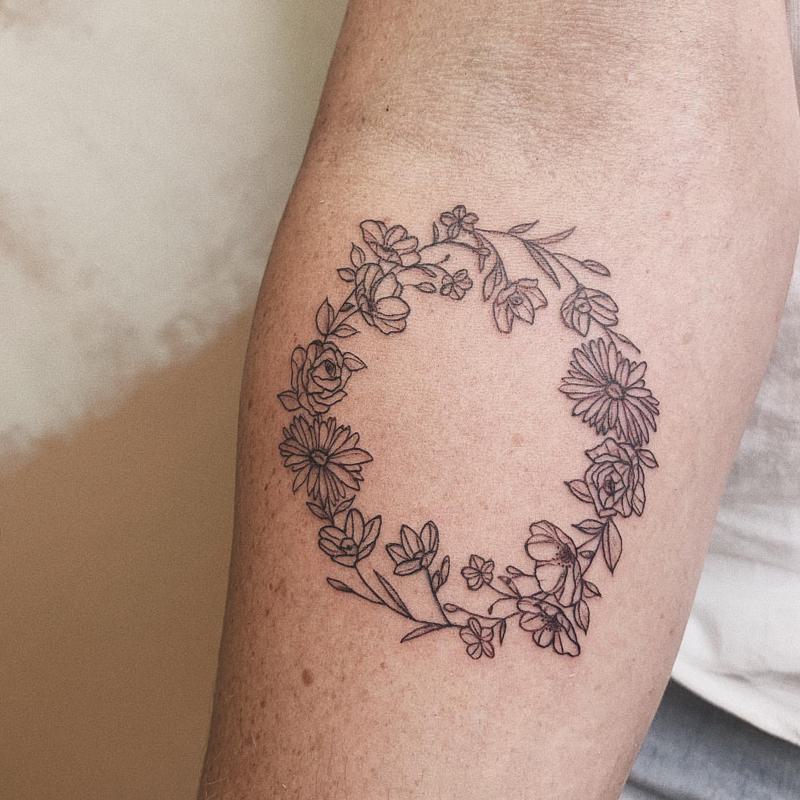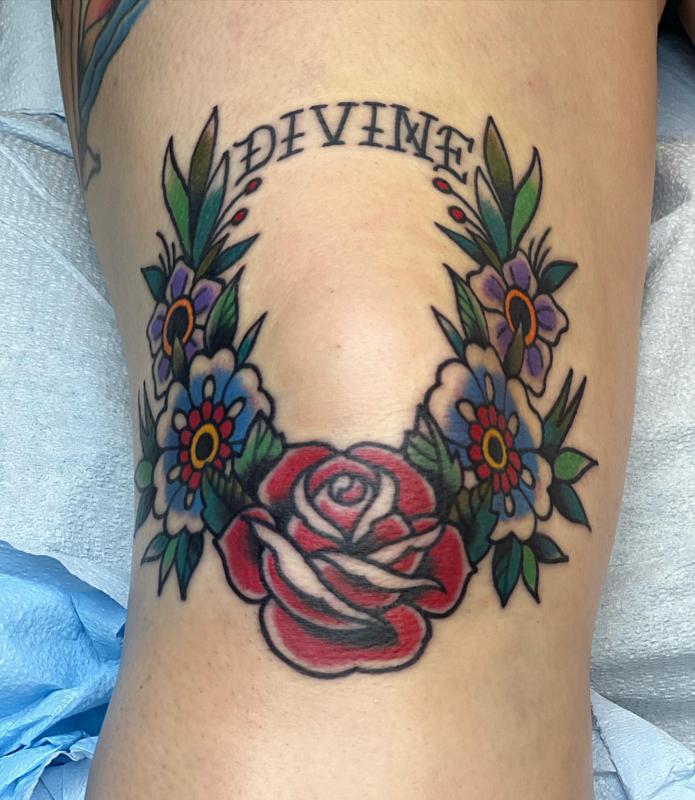 18. Simple Knee Tattoo – Spirals
Getting a simple knee tattoo doesn't mean that it represents something shallow. Spiral tattoos are a great example of simple knee tattoos with great symbolism. Spiral tattoos are popular with people because they symbolize life and the energy cycle occurring in the universe. These tattoos also represent reincarnation and immortality.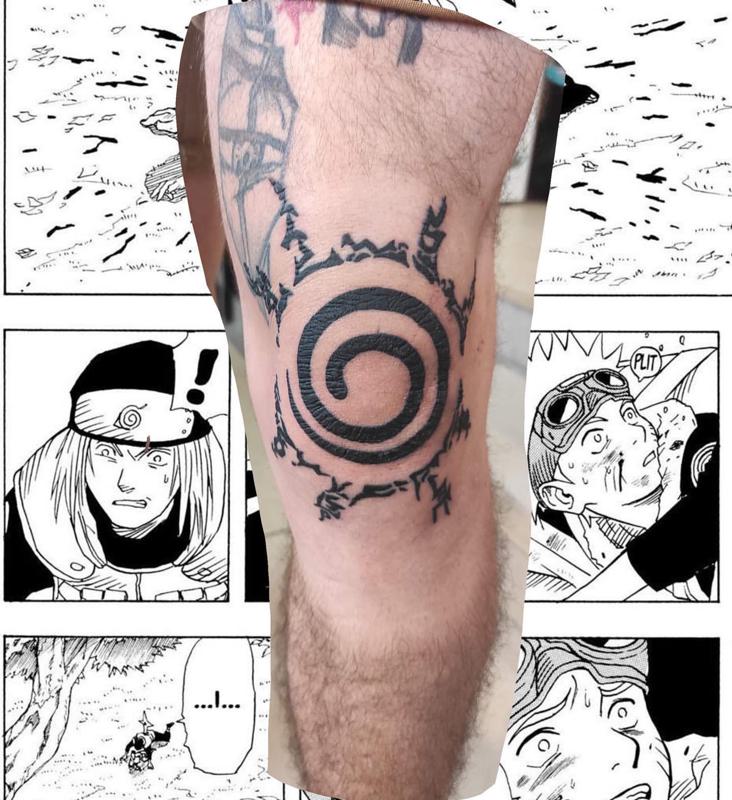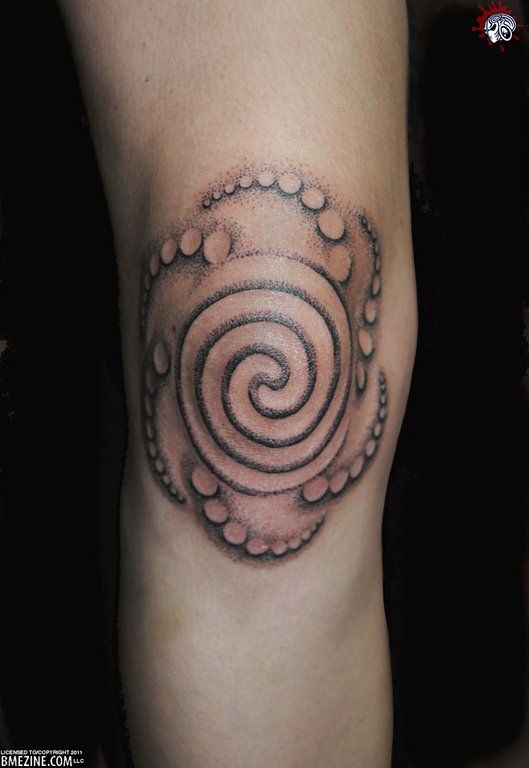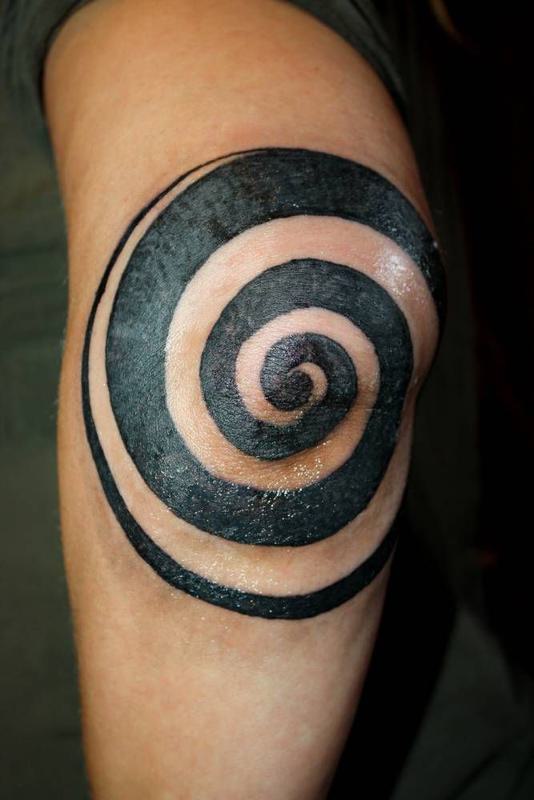 19. Hunter's Axe Men's Knee Tattoo
Hunter's axe is another trendy knee tattoo for guys that we found, representing bravery, hustle, and constant growth. According to us, it is one of the most mystical and legendary knee tattoos for men because the history of the hunter's axe dates back to the stone age. An axe on your knee is an expression of resilience that can impact your overall personality.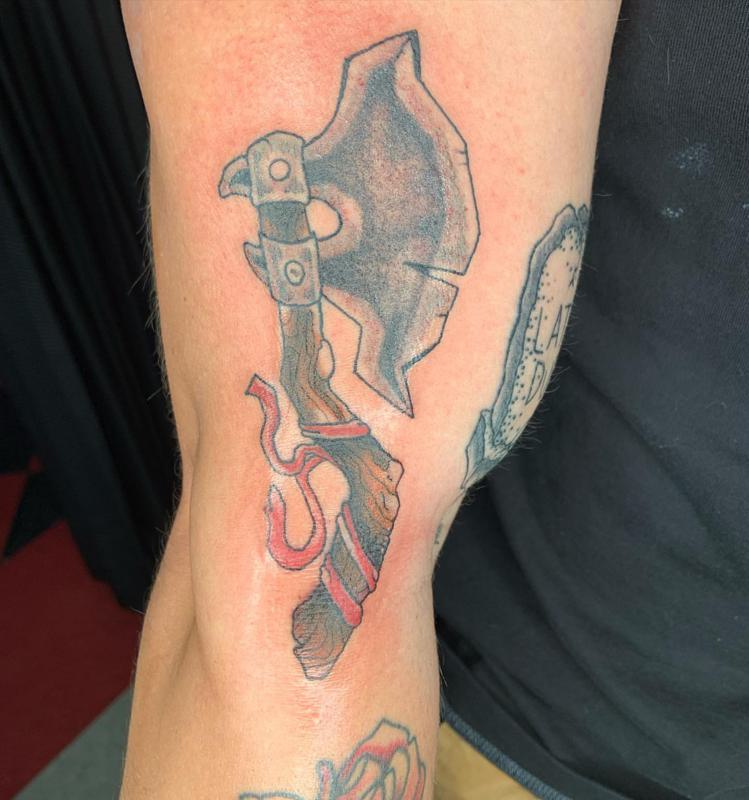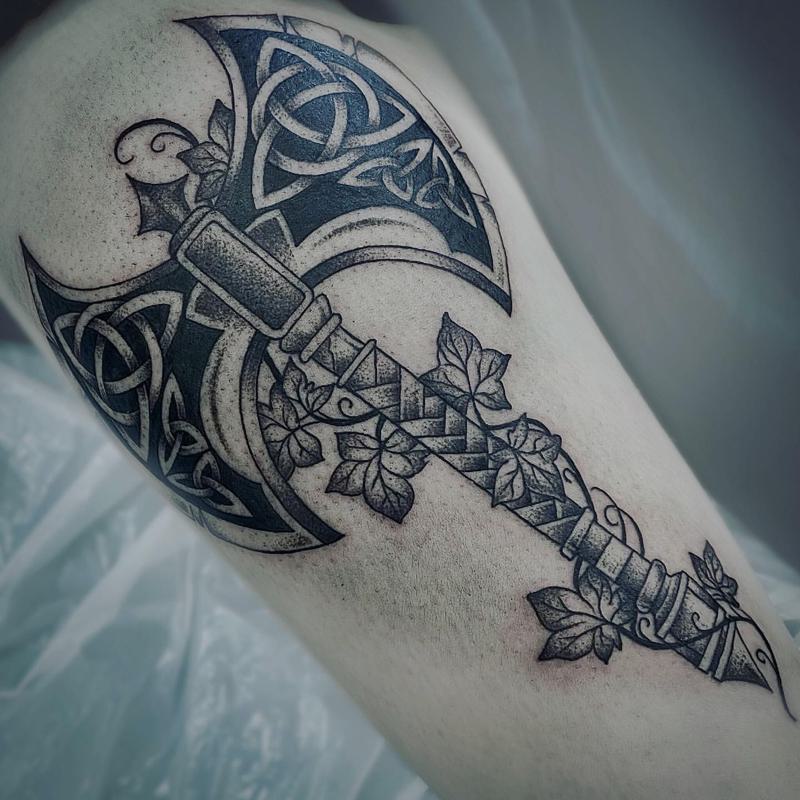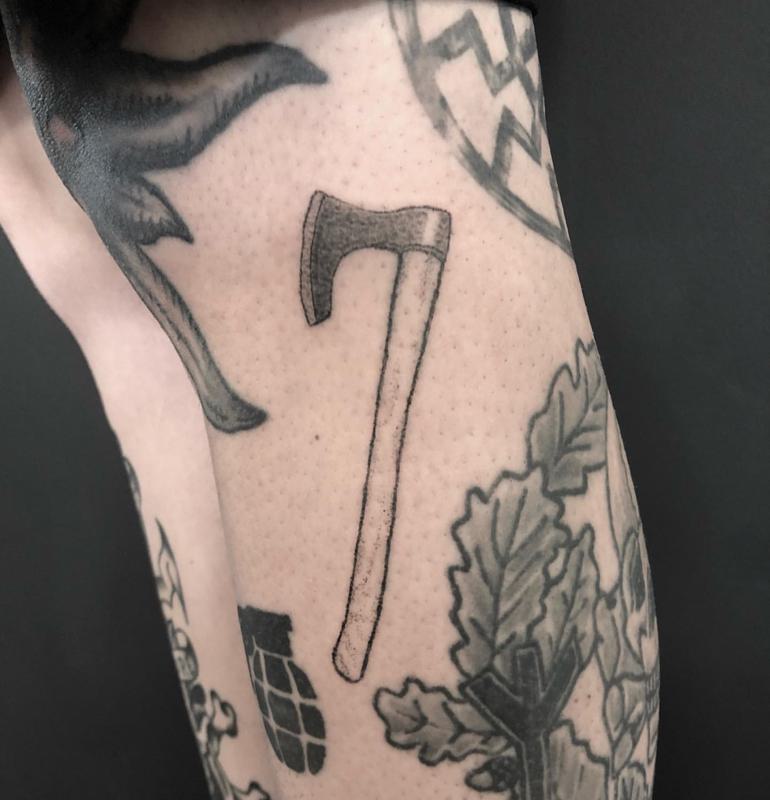 20. Fantasy Knee Tattoo
If you want to go creative and explore the artistic side of knee tattoos, try getting a psychedelic fantasy tattoo. Fantasy knee tattoos for men are a scarce and unique concept, and it's a great way to represent the marvels and mysteries of the universe, which will express your intensely creative side.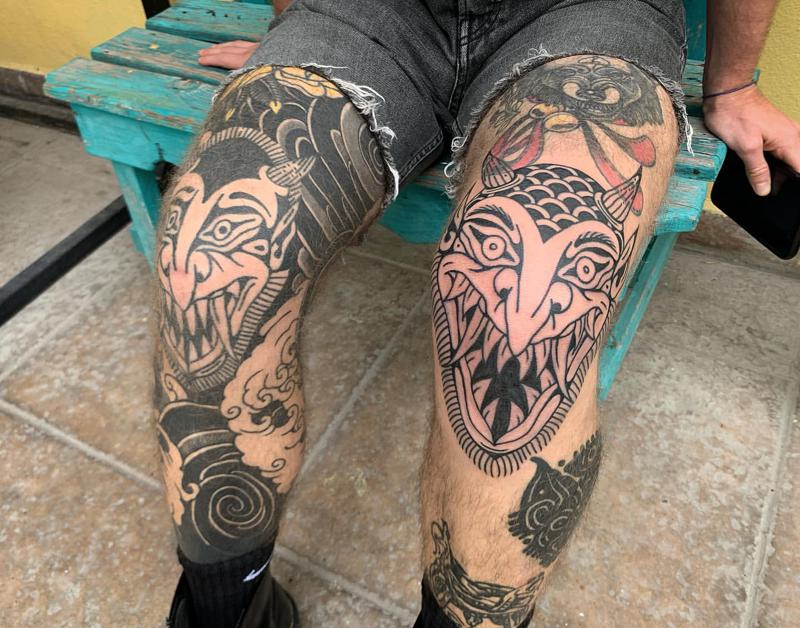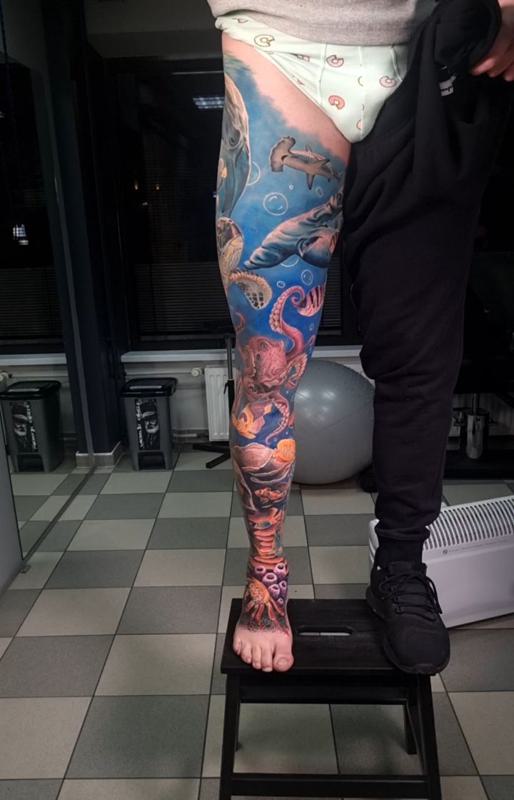 21. Koi Fish Knee Tattoo
Koi fish knee tattoos are a classic example of yin and yang Chinese theory, where two opposing forces balance each other. Koi fish tattoos represent luck, happiness, goodness, the power of overcoming struggles, and perseverance. The tattoo is in a circular shape which is great for the round knee area.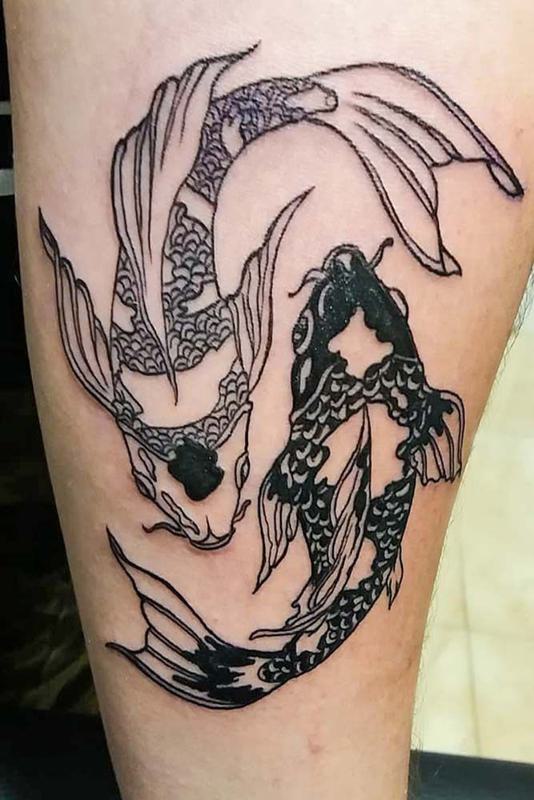 22. Mandala Knee Tattoos
How can we not tell you about the classic mandala knee tattoos for men? In our opinion, they look the best on the knees because the shapes and patterns of a mandala tattoo start from the center and radiate outwards in a circular motion covering your kneecaps. They are a vibe these days because they represent positivity, spirituality, and eternal balance.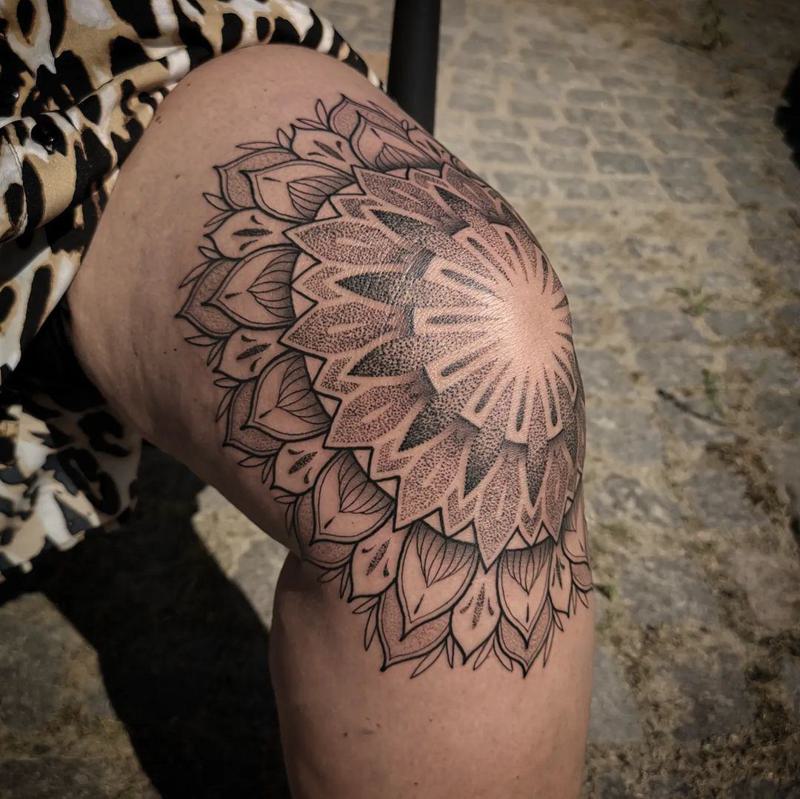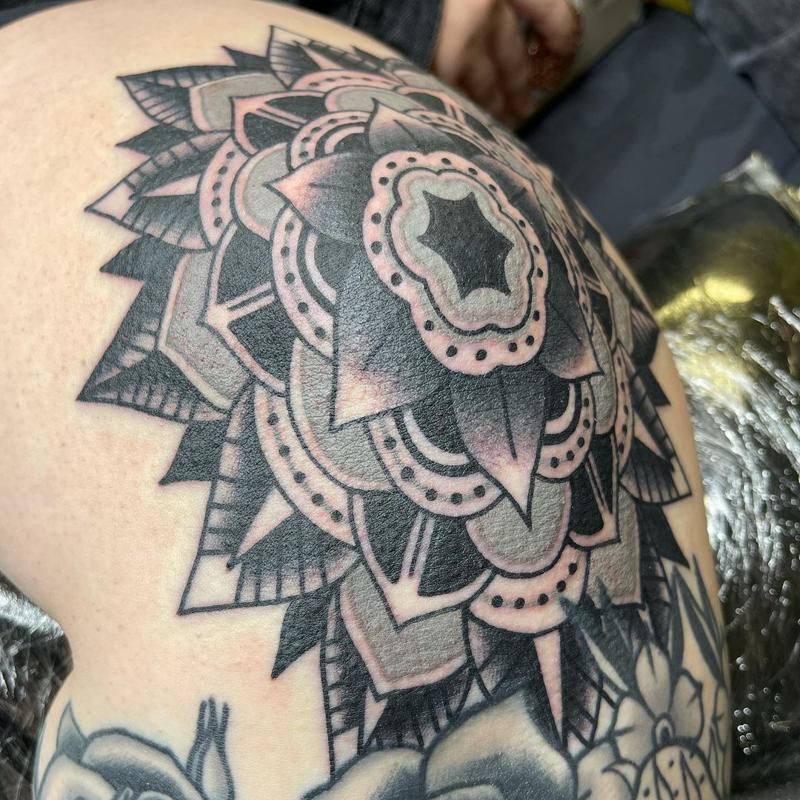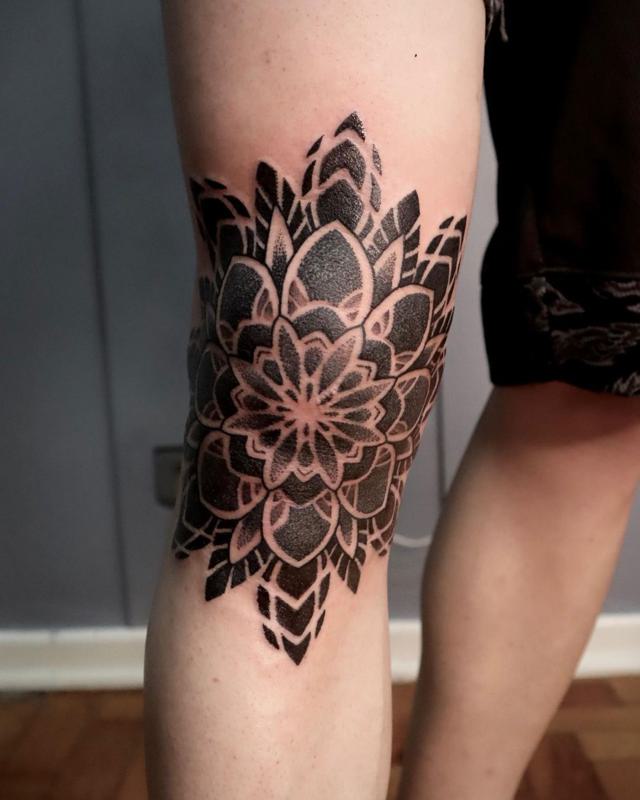 23. Classic Sun and Moon Tattoos
The classic sun and moon tattoos symbolize light and darkness, masculinity and femininity, life and death, good and evil, and all the two opposing powers. The concept is unique and fun to represent life in general, and it looks aesthetically very pleasing on the knees.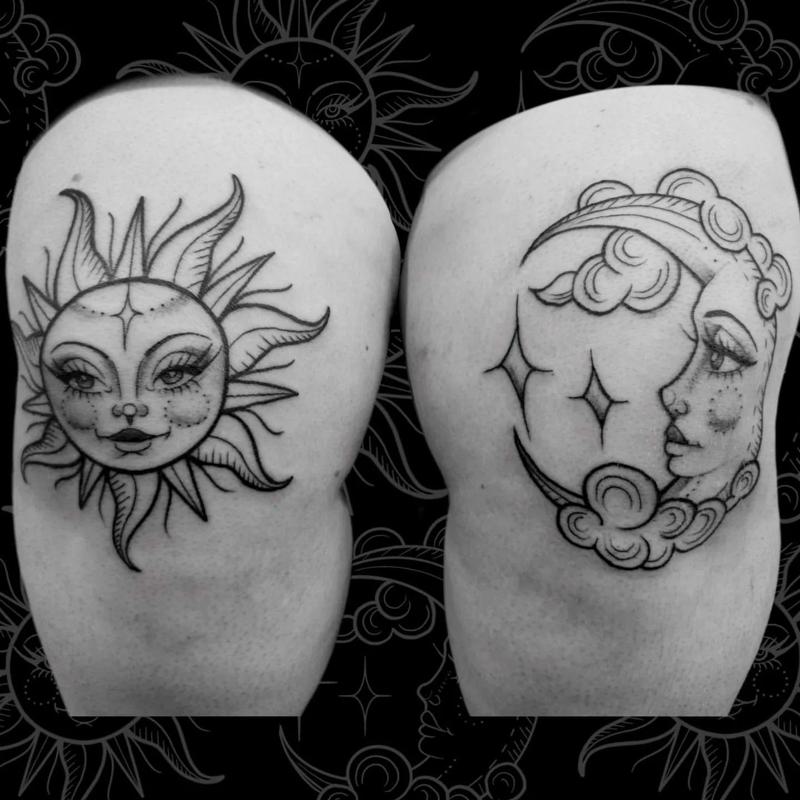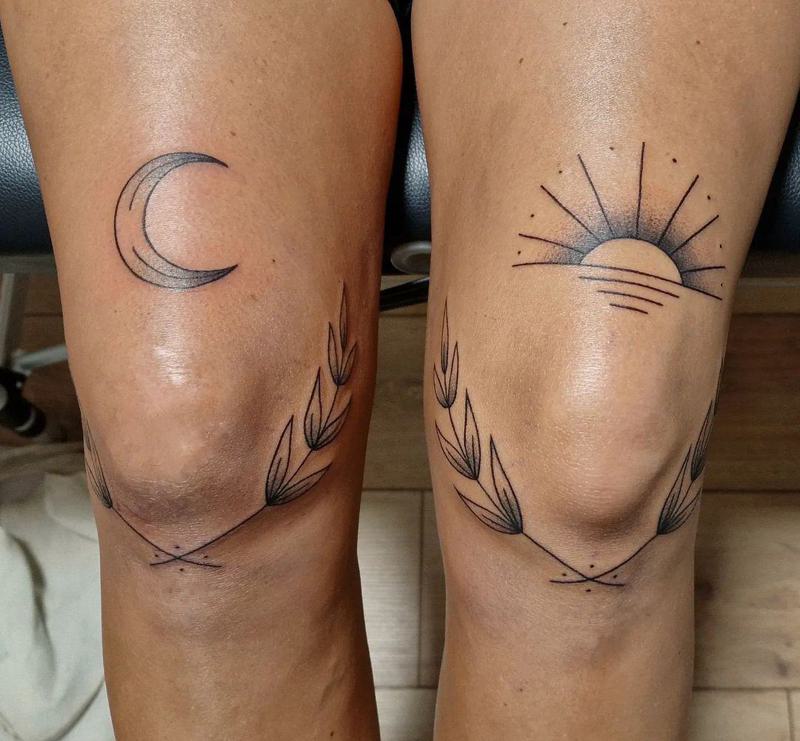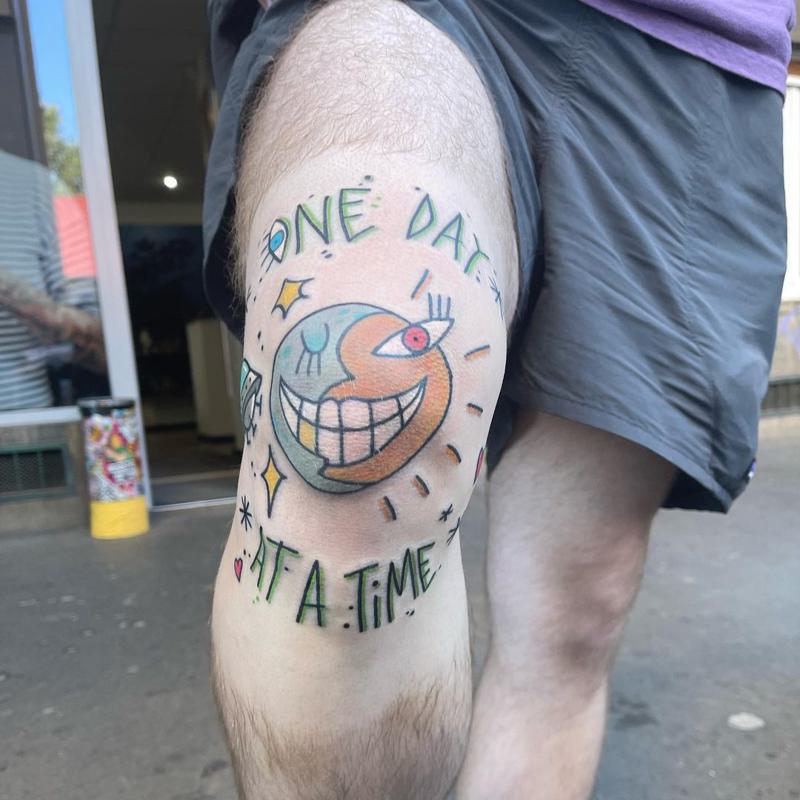 24. Blank Space Frame Knee Tattoos
Talking of cool masculine knee ink designs, let's not forget the blank space tattoo, which covers the whole kneecap and creates a frame but leaves space in the center. You can go with any design you like without doing anything to the kneecap area.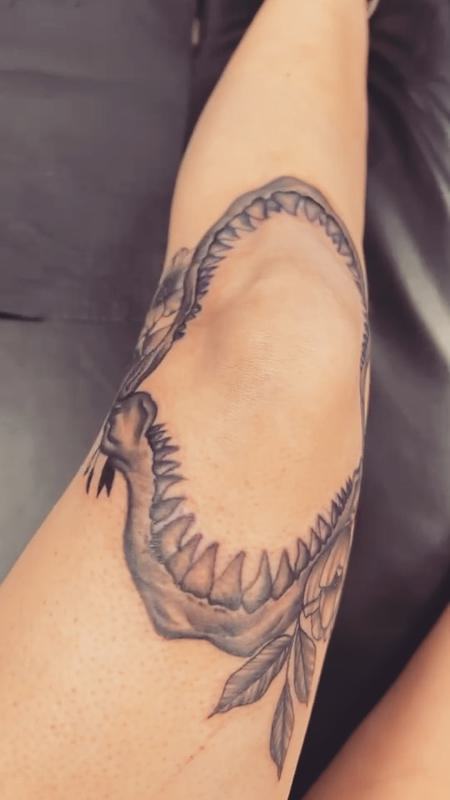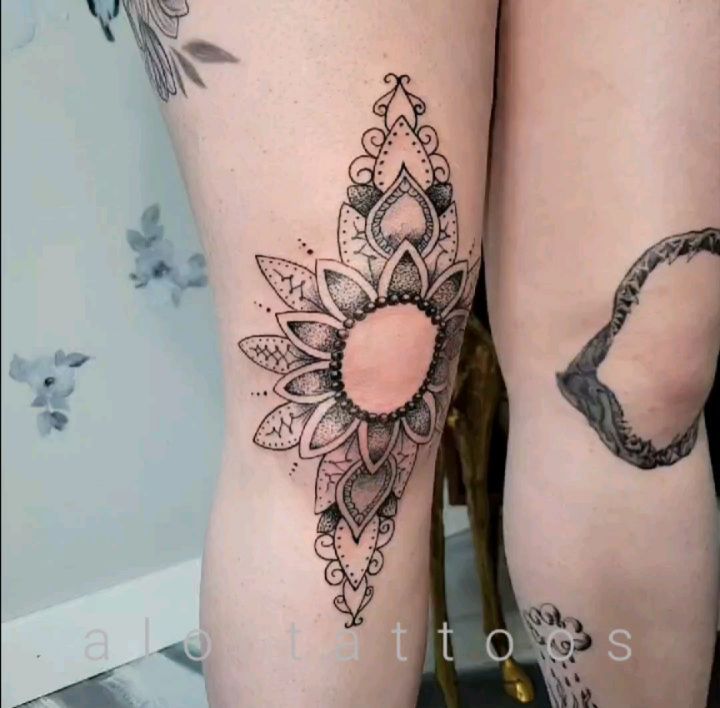 25. Phrases/ Fonts Knee Tattoos
Some people prefer words over pictures, and font tattoos are a great way to represent that. Font knee tattoos for men are a great way to showcase words that are pretty impactful in your life. Such tattoos are also famous for 'lettering tattoos' and include various calligraphic styles and color options.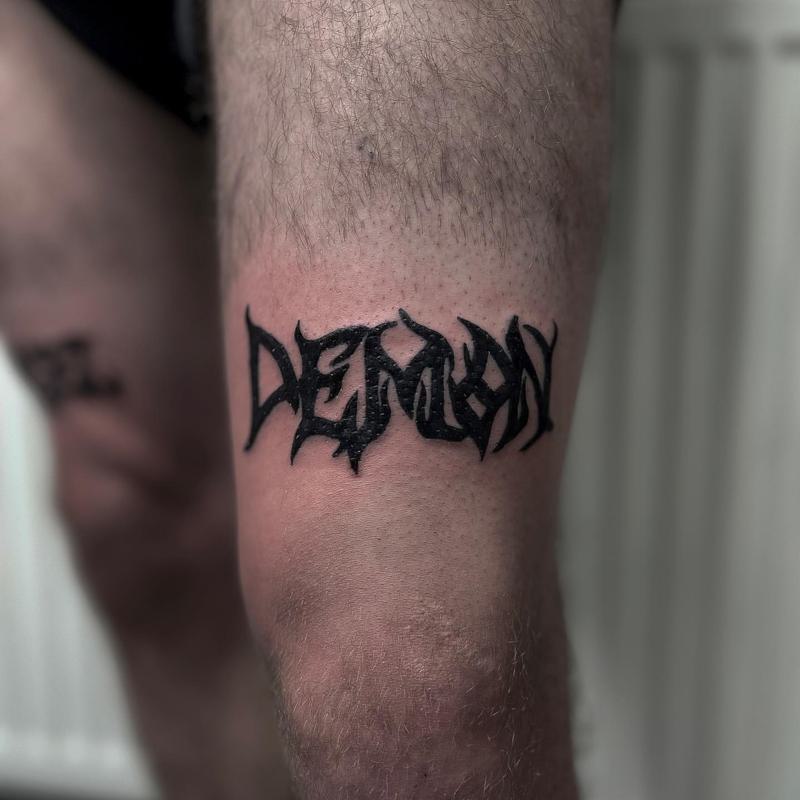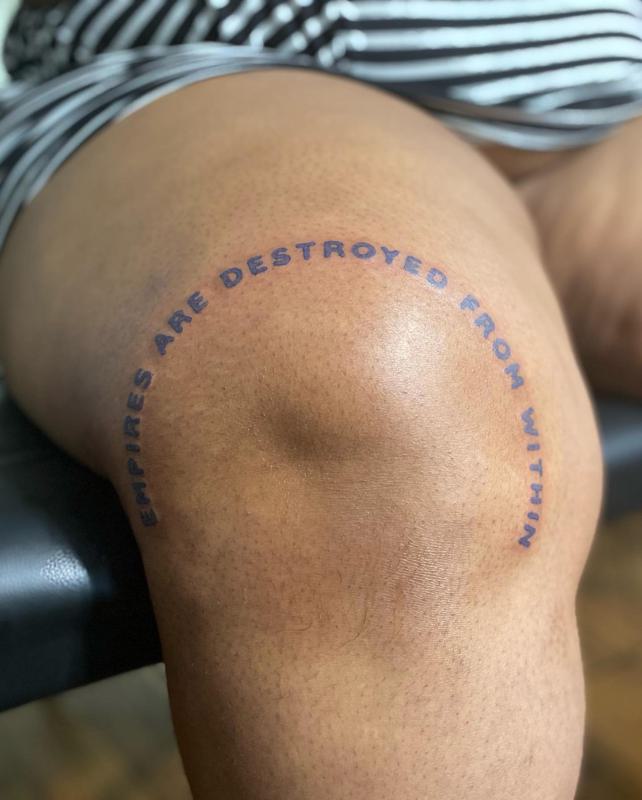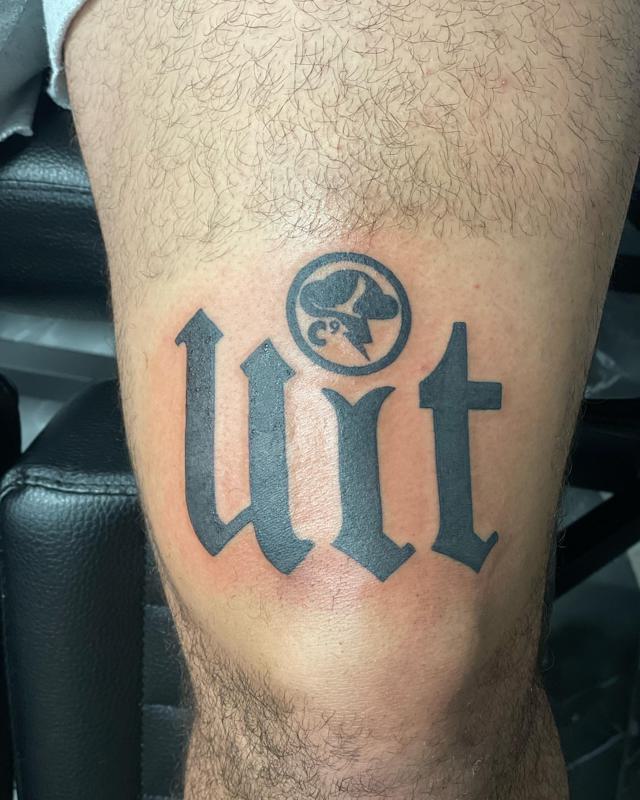 What's the After Knee Tattoo Care Regime?
Once you get the knee tattoo, you must cover it using a sterile absorbent pad and bandage. And you can only use antibacterial soap to clean the knee tattoo and a soft towel to dry it afterward.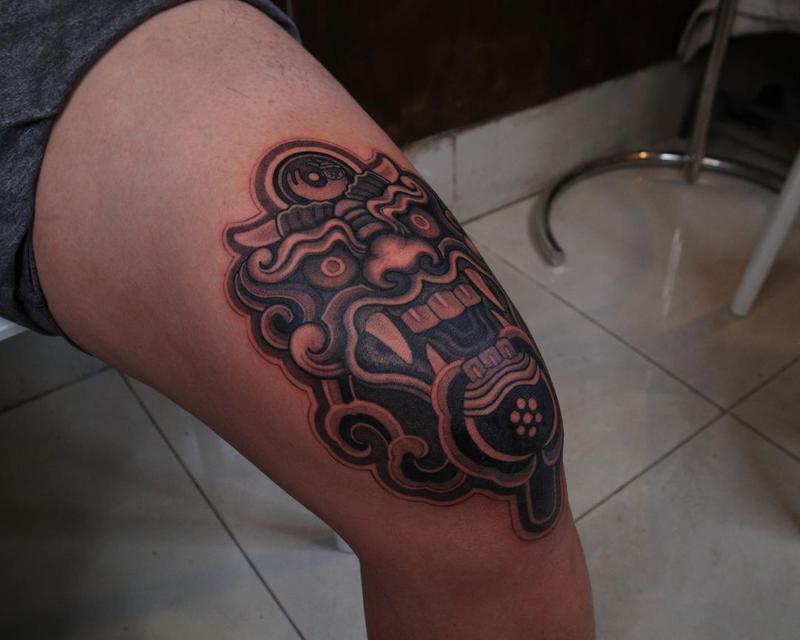 If you feel the area is swollen, use an anti-inflammatory balm, and don't wear clothes covering your knees. Knee tattoos can hurt until days after you get them, so for that, you can use anesthetic sprays.
Final Thoughts
So, that was all of our knee tattoos for men designs list, and we hope you thoroughly enjoyed looking at all the tattoos mentioned above. Even though knee tattoos look fantastic and appealing, they can hurt a little too much. That's why we only recommend getting one if you have high pain tolerance. We keep posting unique tattoo ideas, so stay tuned for the latest updates.
Knee Tattoos: FAQs
Do knee tattoos hurt?
Sometimes, knee tattoos are also associated with men because they are extremely painful. You might experience very different pain while getting a knee tattoo because it is the area with the most stretchy skin and multiple nerve endings. However, knee tattoos make your legs look great and are worth all the pain.
What tattoo should I get on my knee?
You can get any tattoo you like from the knee tattoos for men list we suggested above. However, if you are a woman who feels like rocking big and bold tattoo designs, you can get it too. No tattoos are associated with gender anymore, so go for it.
Do knee tattoos fade faster?
The answer is yes because knee tattoos don't get a fair amount of time to heal as they are constantly in motion. However, it also depends on your knee tattoo type; e.g., a tattoo with light ink and thin lines will fade faster than a thick-lined, high-saturated tattoo.