Dragon Tattoos never gets old! They can say about many things including your confidence and strength. Being mystical, powerful and majestic creatures, dragons can either symbolize good or evil. It all depends on the tattoo design you're going to pick.
You can use the art to fit any part of your body. Most Japanese dragon designs and colors can look nice on your chest, back, legs, sleeves, neck, and hands.
So, the Japanese dragon tattoo is easy to customize whether you want a more masculine art or one with more style and fashion. But before we dig deeper into the designs, let's first understand what the tattoo means.
Japanese Dragon Tattoo Meaning
The Japanese dragon tattoos have various exciting meanings. Well, these ancient animals were and still are fearsome with much power and wisdom. So, today the Japanese relate dragons with the positives, like being helpers and protectors.
Western nations see dragons as the bad, villains, and super strong, especially in movies. In the Asian nations, including Japan, it's pretty different. The old Japanese stories view dragons as powerful animals and full of knowledge. These meanings can vary with the body part where you ink the Japanese dragon tattoo.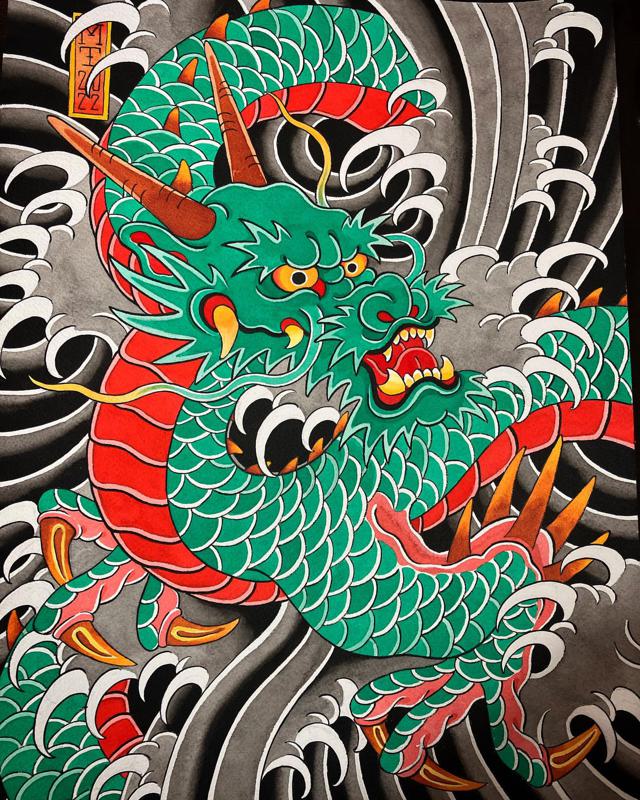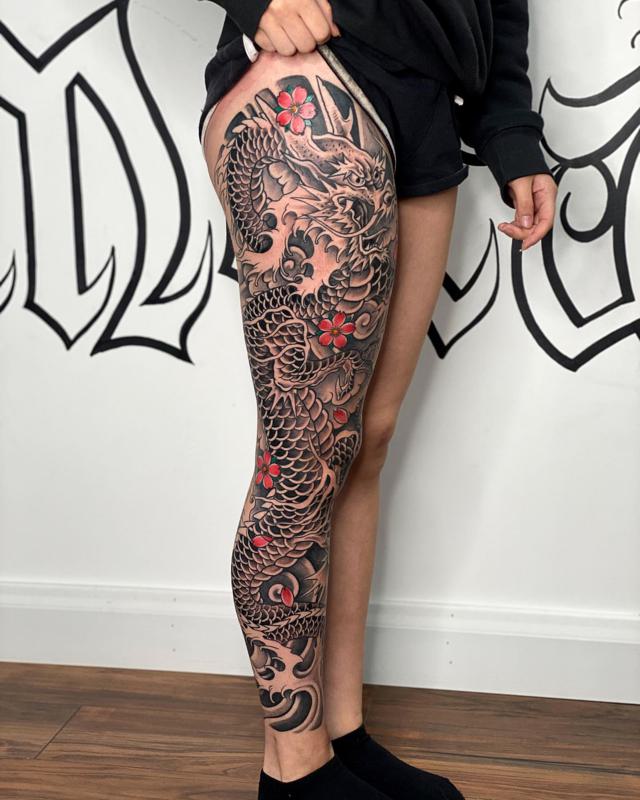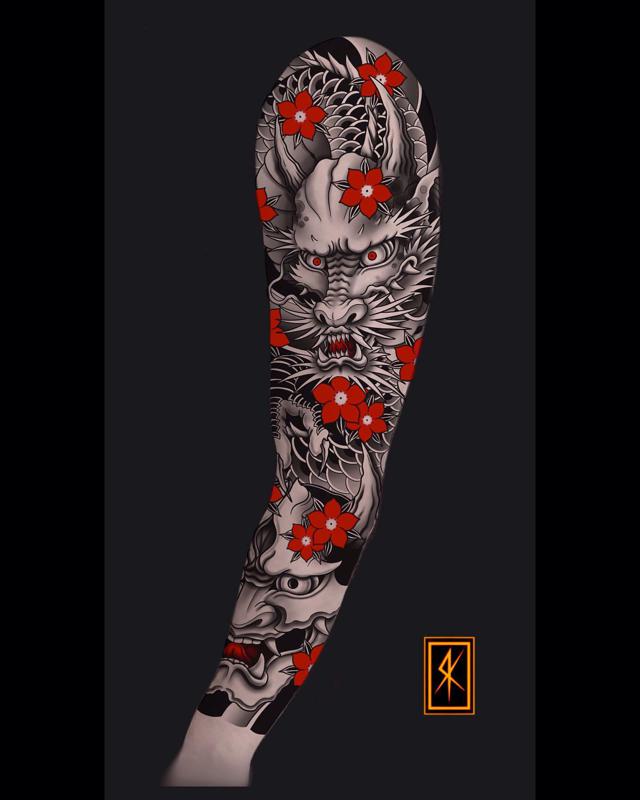 Japanese Dragon Tattoo Designs
Every type of Japanese dragon tattoo on any of your body parts shows how you value the Japanese heritage. So, here are the 18 fantastic dragon tattoo designs you'd love.
Female Japanese Dragon Tattoo
Empower yourself with this artistic feminist tattoo. It links both fire and water, and it is a perfect selection for a delicate skin. In women, the art's meaning will vary with the style, color, and size.
As a woman, you can have the tattoo to show wisdom, rage, and fearlessness. Also, the design you'll have will aim at getting the creature's key features like the claws, scales, eyes, and flames. Most women love to have them on their thighs, backs, sleeves, and chest. It can make you have a better fashion taste.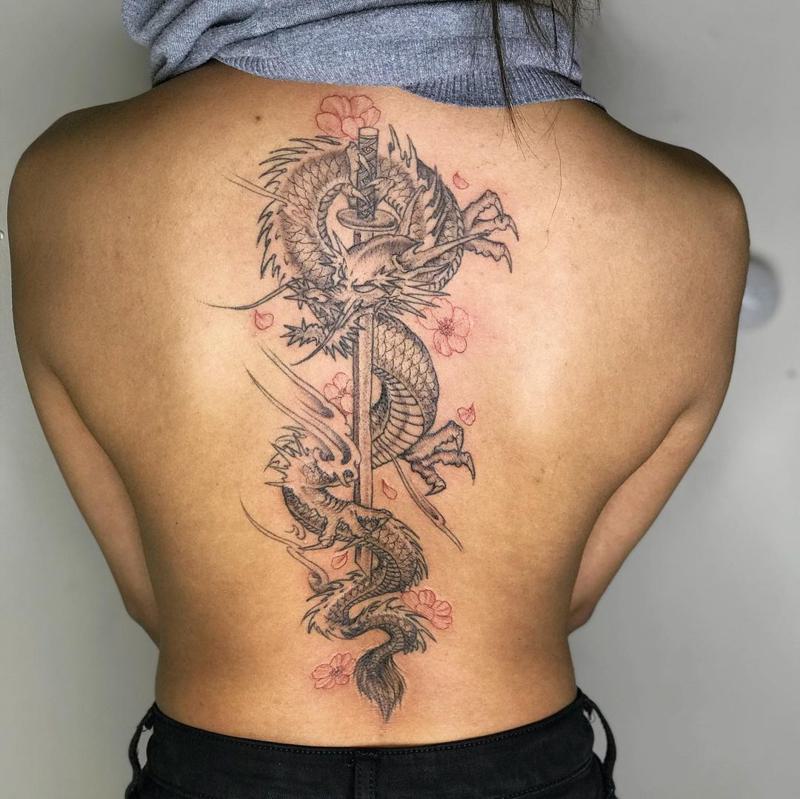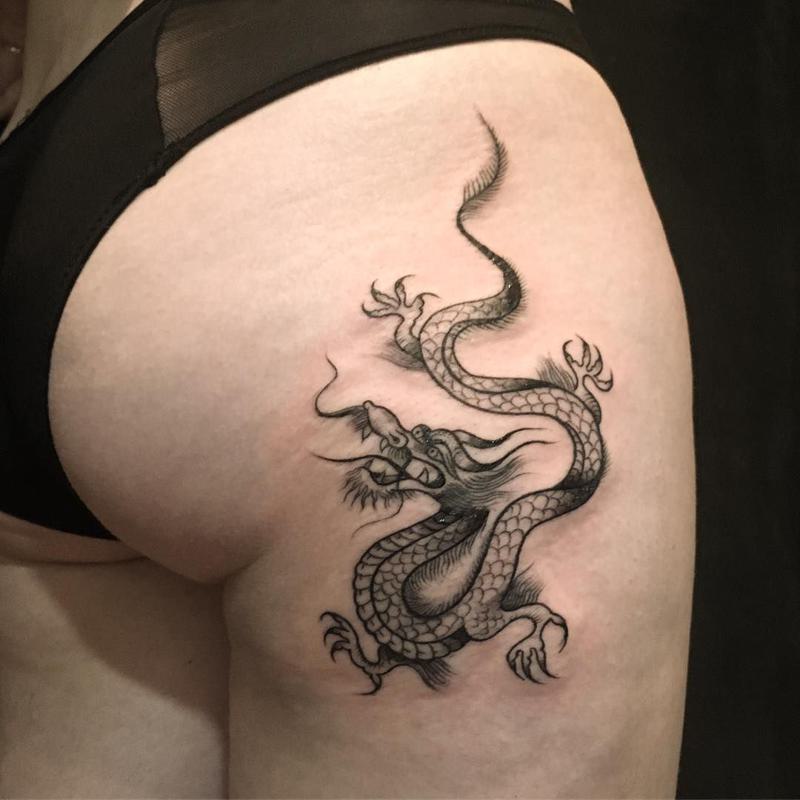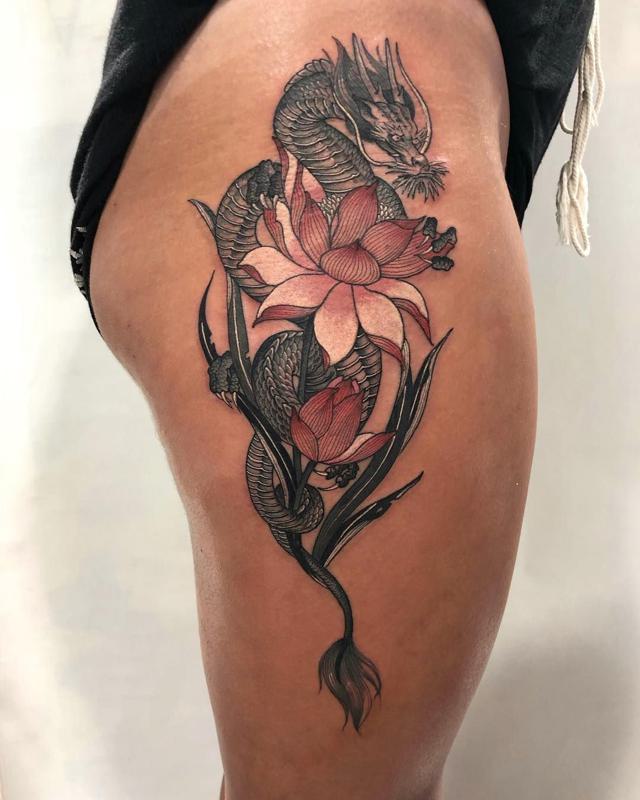 Simple Japanese Dragon Tattoo Designs
Small and simple styles are perfect if you want to ink the Japanese dragon where there's less space. Such areas are your wrist, fingers, or neck.
It will also suit you when you want several dragons on your skin. So, to make the design more unique, you can have three or more dragons with a mix of matching colors.
A simple Japanese dragon tattoo also suits you if it's your first-time tattooing. You'll test the pain and tolerance for the bigger and more detailed ones. It's easier to conceal these designs, primarily if you work in a place that doesn't permit body tattoos.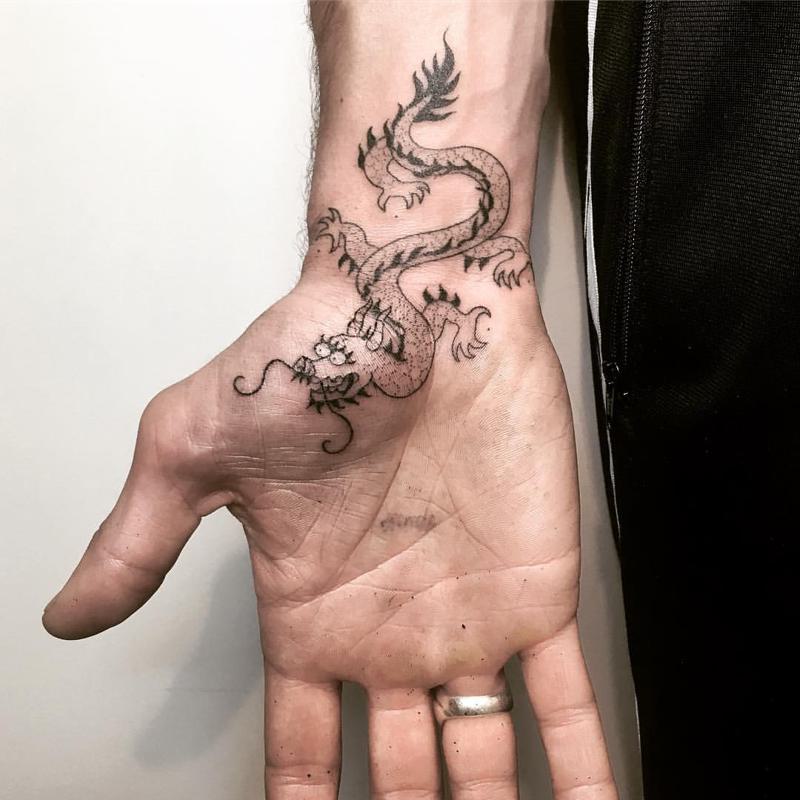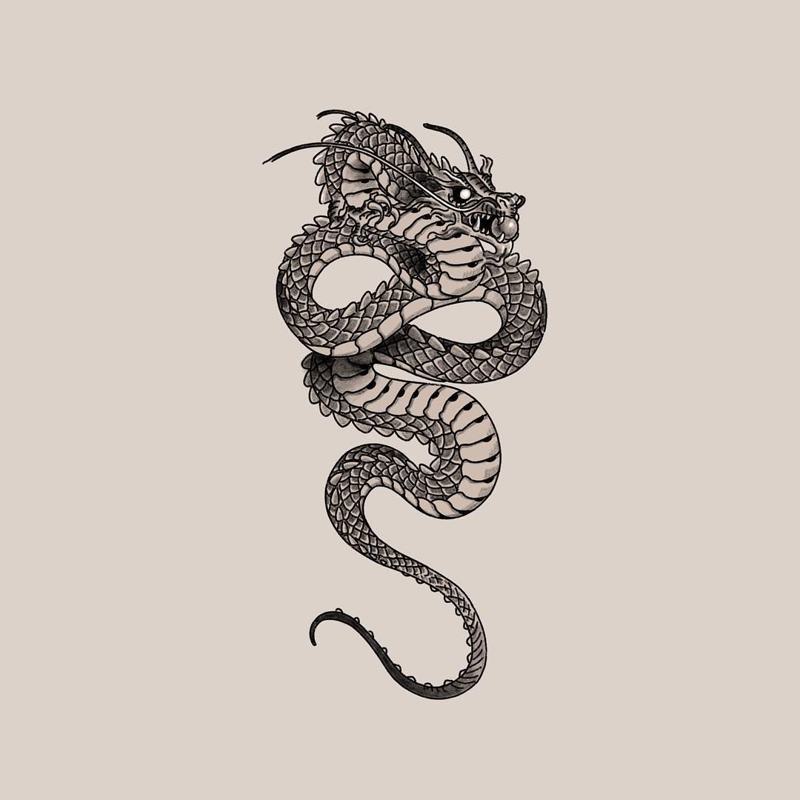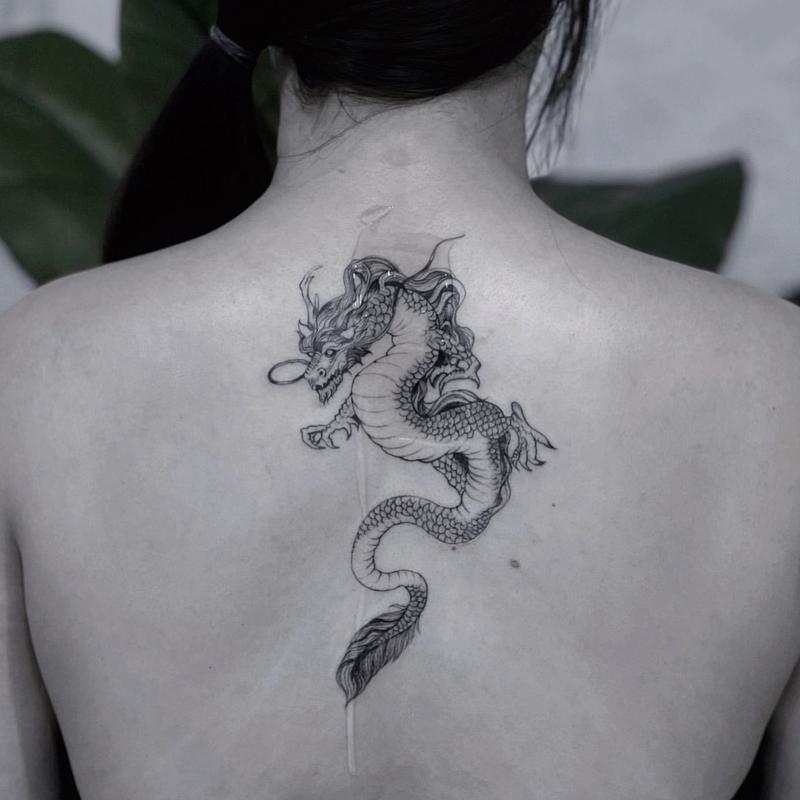 Japanese Style Dragon Tattoo
The Japanese see the dragons as a sign of kindness and protection. You can have six traditional Japanese dragon tattoo styles that display various powers and qualities. These dragons are the Sui, Fuku, Han, Ri, Ka, and Hai.
Each style comes with different colors and meanings. For example, choosing a traditional Japanese dragon tattoo with a black touch shows your deep ability to reason.
Also, you can combine many colors through the Irezumi Japanese style dragon tattoo. This design makes you unique and ornate during many Asian cultural events. Still, a minimal one will also suit you when you don't want much attention.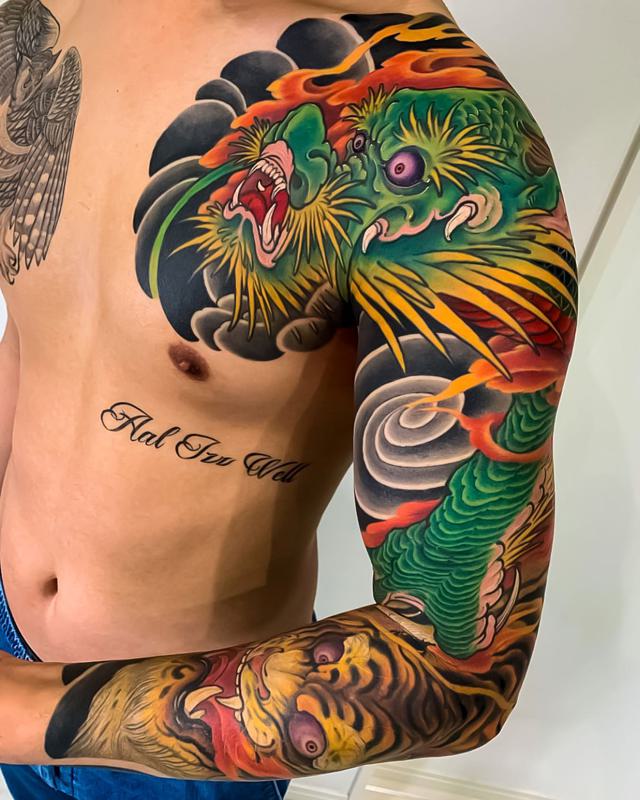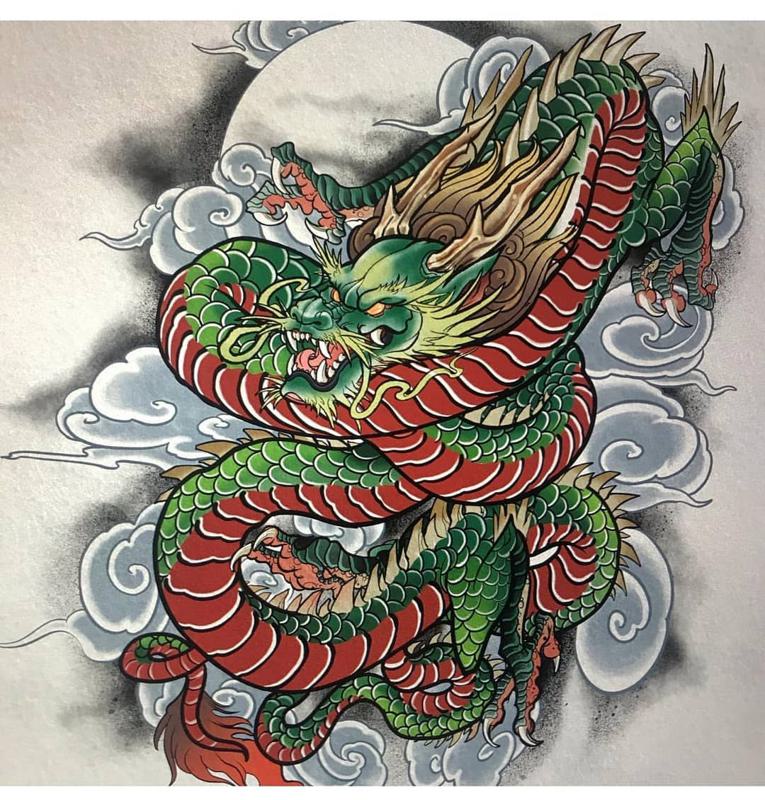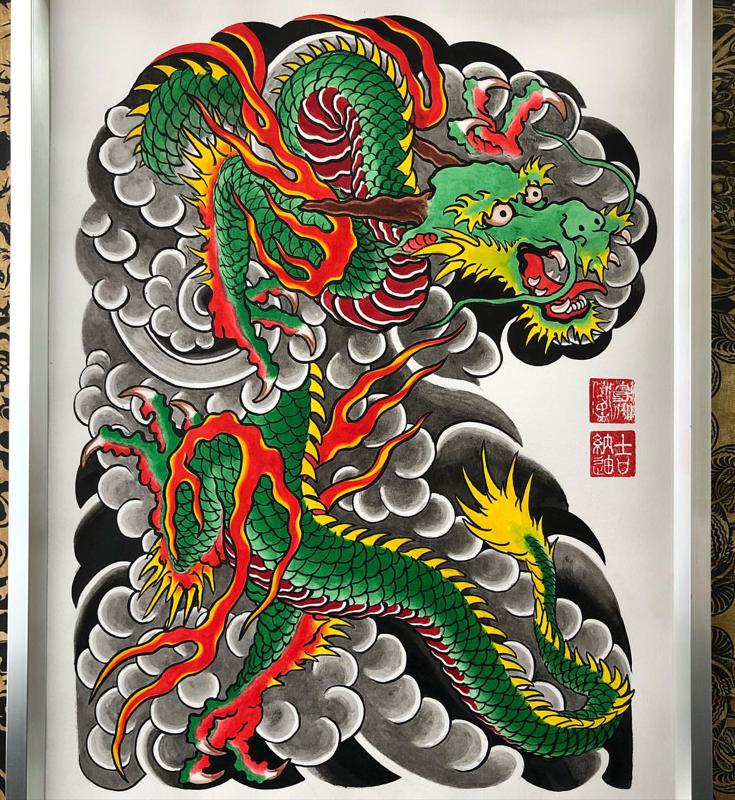 Japanese Dragon Head Tattoo
Go for this magnificent Japanese dragon head tattoo if you want to show courage and strength. Here, the art shows off the dragon's power through the head and strong teeth.
It's one of the most fantastic tattoos you can have on your bald head or any part of the body you won't over all the time. Be sure to move many eyes when you have this design.
If you choose to ink the dragon's skull, it means you love uniqueness. This tattoo best suits men because it brings the masculine trait, but women can also have it.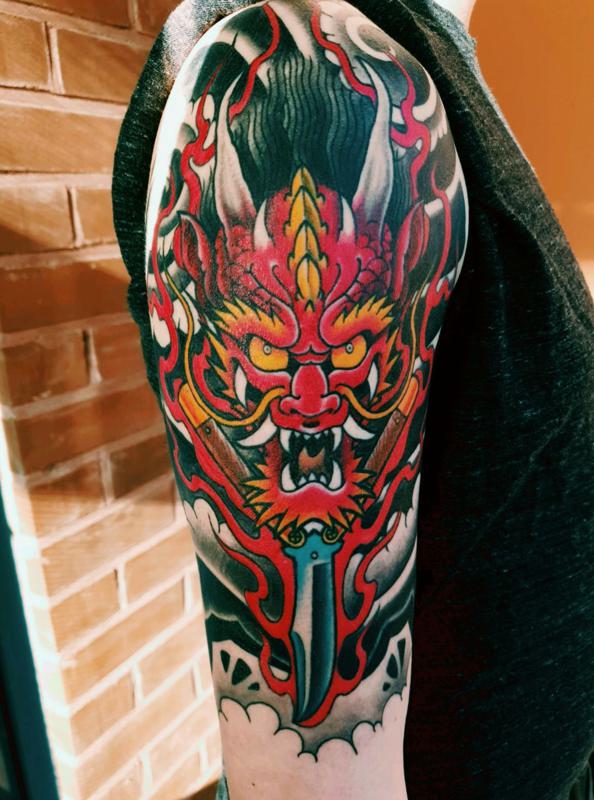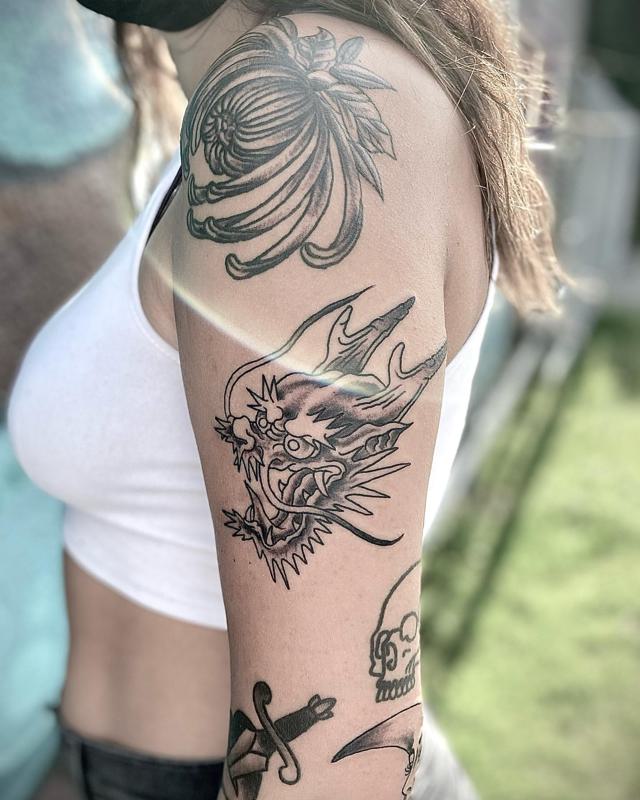 Japanese Dragon Back Tattoo
Get this famous Japanese dragon tattoo design for your next inking! So, more people love it because it covers the smoothest and biggest area of your body. The back gives you more space to ink any Japanese dragon imagination on your mind.
Most people won't see it on you every time, but once someone does, it's the best proof of being confident. It means you dare to overcome many challenging life situations.
Also, having a Japanese dragon tattoo on your back shows you love to have fierce tattoos. Most of the time, your dressing will hide it, but once it's out, most people will be speechless. The art's ink will always speak out loud. Remember, you can have it in many colors and styles to reveal the dragon's symbolism.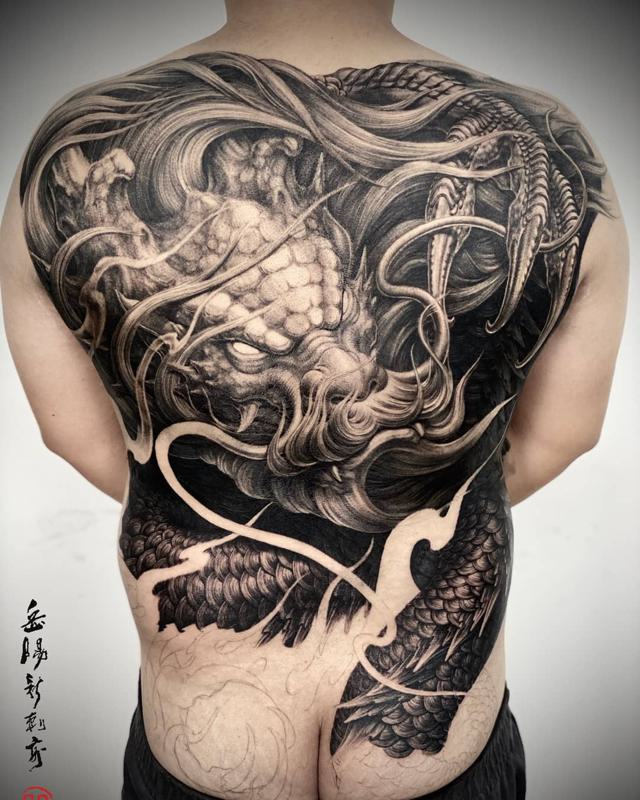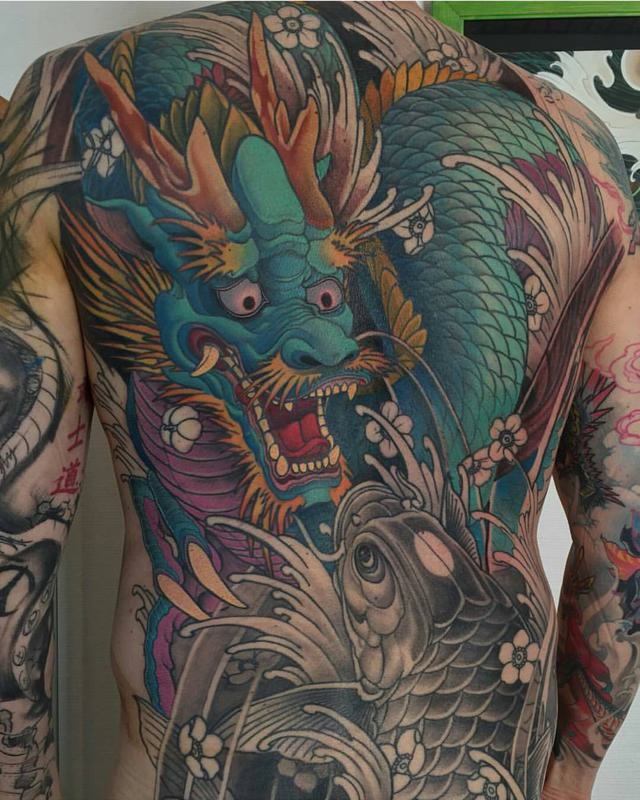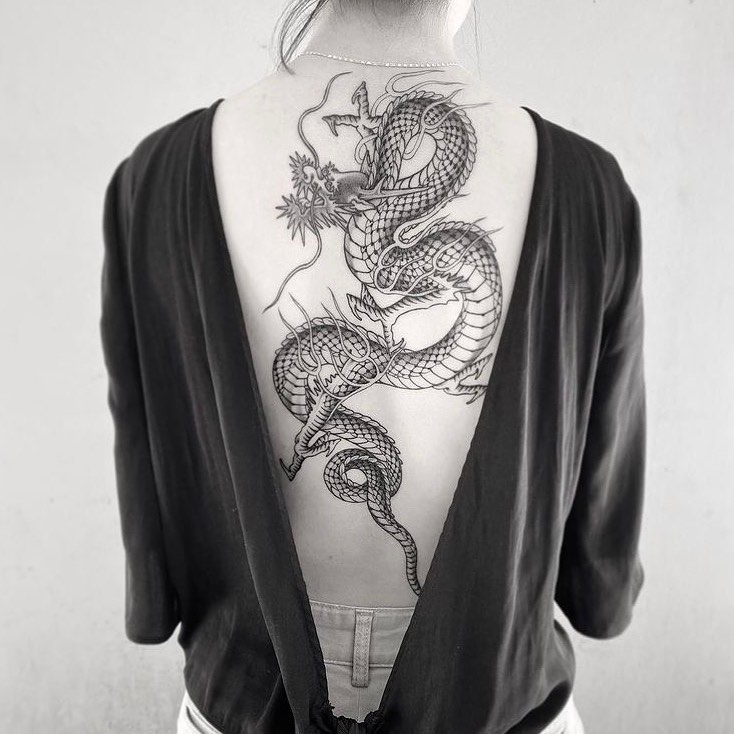 Japanese Dragon Face Tattoo
Expect the Japanese dragon face tattoo to have a striking and fierce look. Such a design will make you command much attention in many fashion and cultural events. It will look great on your forearm when you want it in a large size because it will be easy to show off. Here, you should go to a skilled artist to bring the dragon's face details, including the eyes.
Though, the tattoo will also look amazing on your back, sleeve, and chest. Such a place will allow you to draw much attention but not every time. You can make the art look more like a comic or fantasy.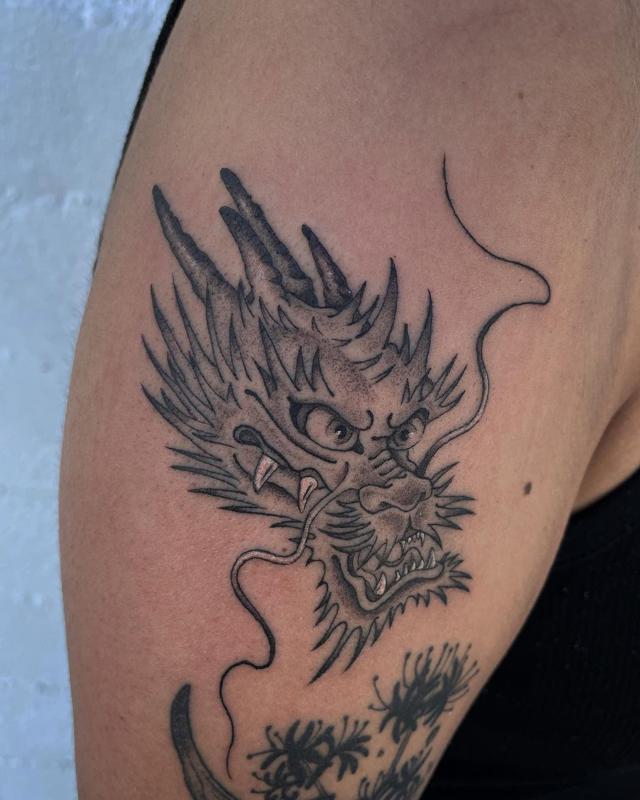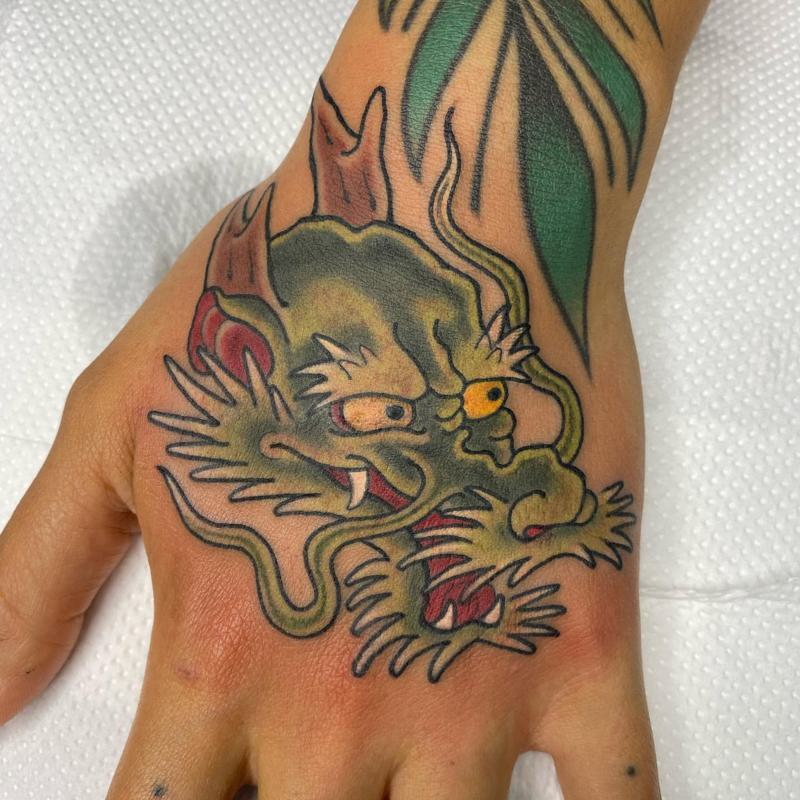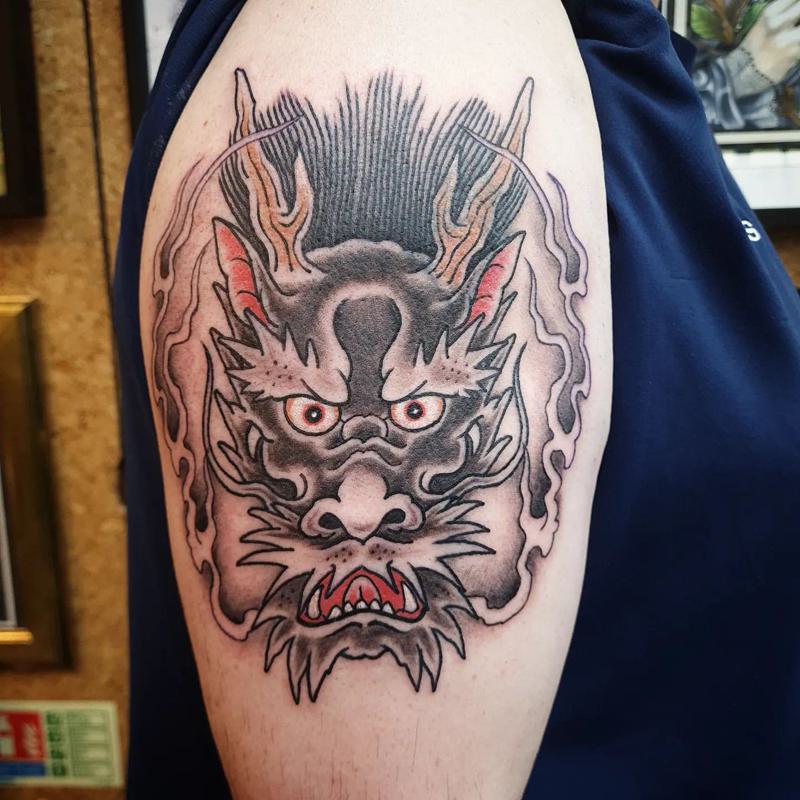 Cherry Blossom Japanese Dragon Tattoo
Having a cherry blossom flower tattoo has been a fantastic choice for ages. Long ago, Asians linked flowers like cherry blossoms to the joy and love which awaited them after a voyage. Also, the flower signifies life after you've gone through a tough life phase.
Mixing the cherry blossom flower with a Japanese dragon creates a dramatic contrast. Your artist will even make it better if the dragon is scaly and in black ink. The art will turn out to be soft and colorful on most parts. You can have it run down from the chest and down to the sleeve.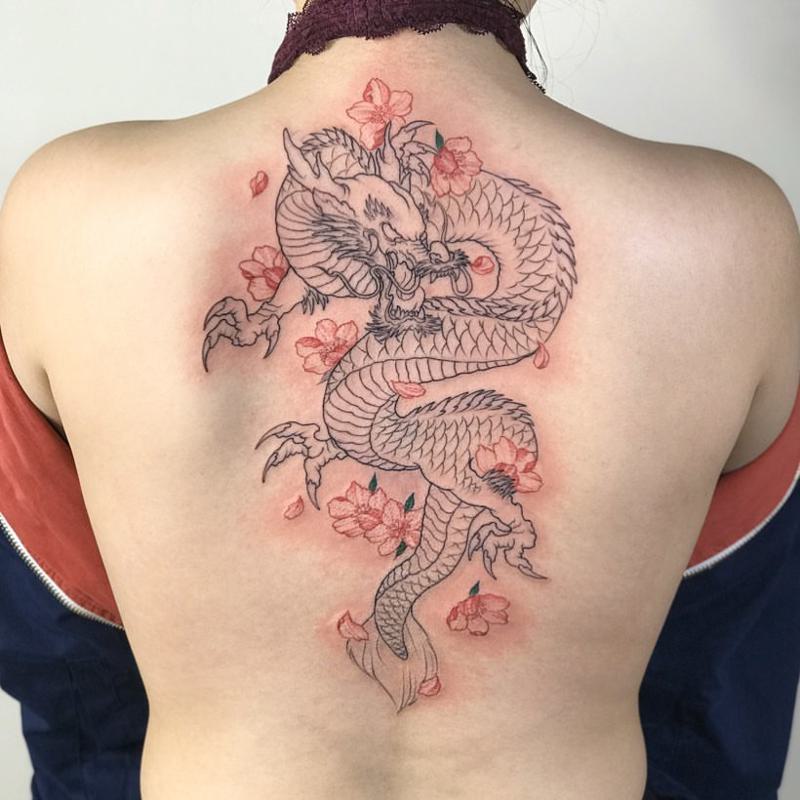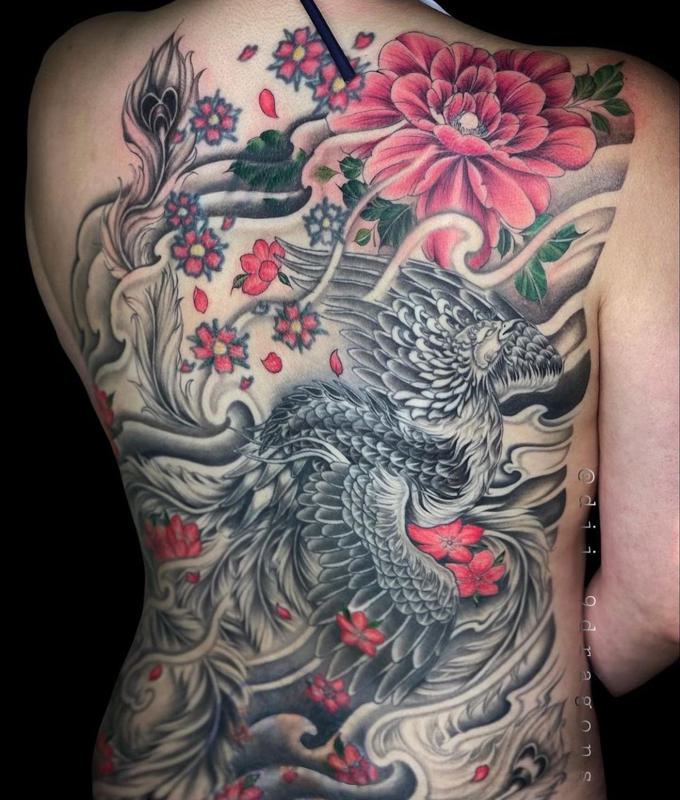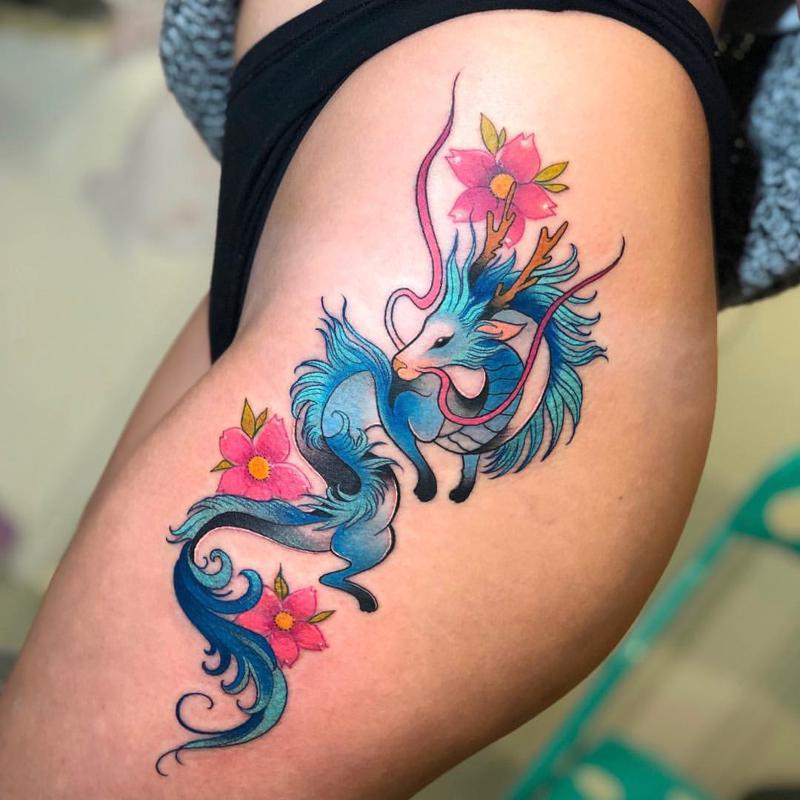 Japanese Dragon Neck Tattoo
Though it can be pretty painful, getting a Japanese dragon neck tattoo makes you stand out on many occasions. The tattoo will be unique when you keep it simple. It will be easy for people to notice it on either side of your neck, especially if it has a black and grey touch.
Better still, this art around your neck can be big and stretch down to your chest and shoulders. You can have it with many designs that suit your interest. The most interesting one will be a small Japanese dragon and kanji art. You'll be speaking out some message while displaying a touch of art.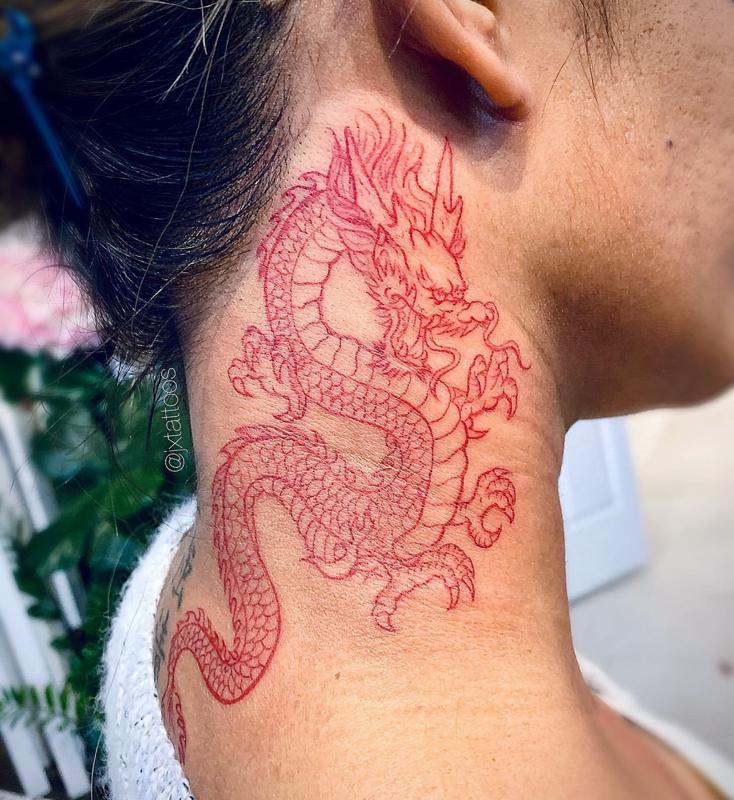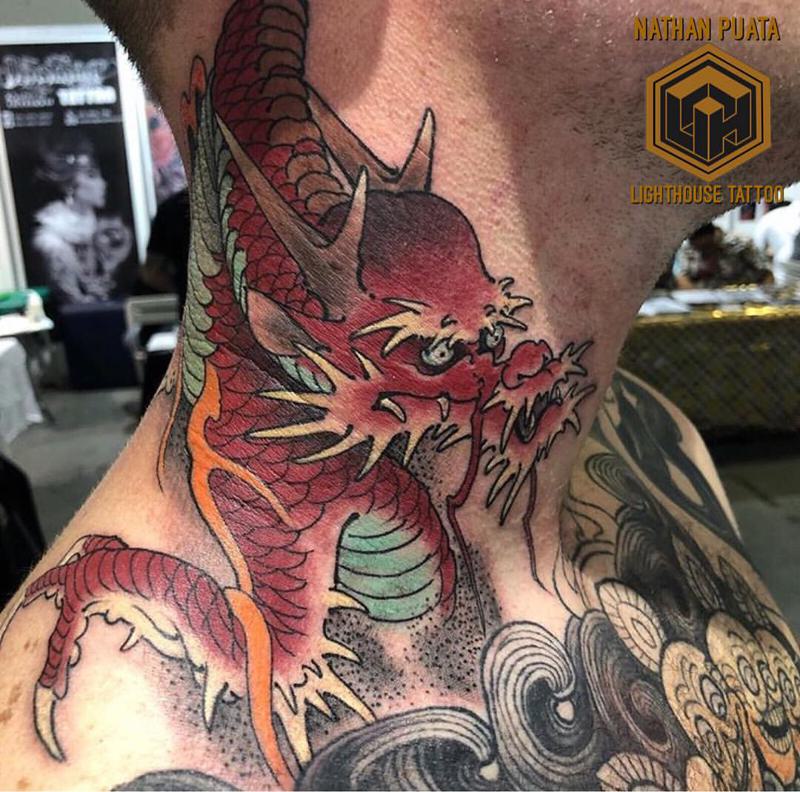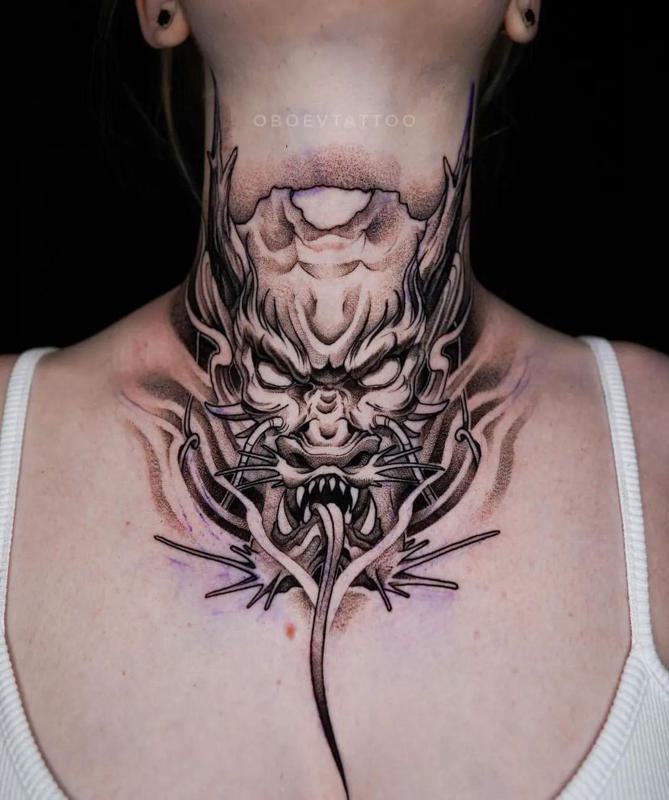 Read Next: Best Japanese Neck Tattoo Designs & Meanings
Japanese Dragon and Tiger Tattoo
A mix of the Japanese dragon and tiger tattoo on any part of your skin displays two fighting forces. Tiger is a natural and active animal, while the dragon is mythical and passive. So, having the animals on your skin creates a perfect balance of the forces.
Your artist will advise you to combine the two animals using the Ying Yang art. Such a design carries beauty and deep symbolism about the animals' forces. This art will best suit your sleeve, shoulders, or back to make the details stand out. Anyone that understands the Eastern culture will know that you love the Japanese religion.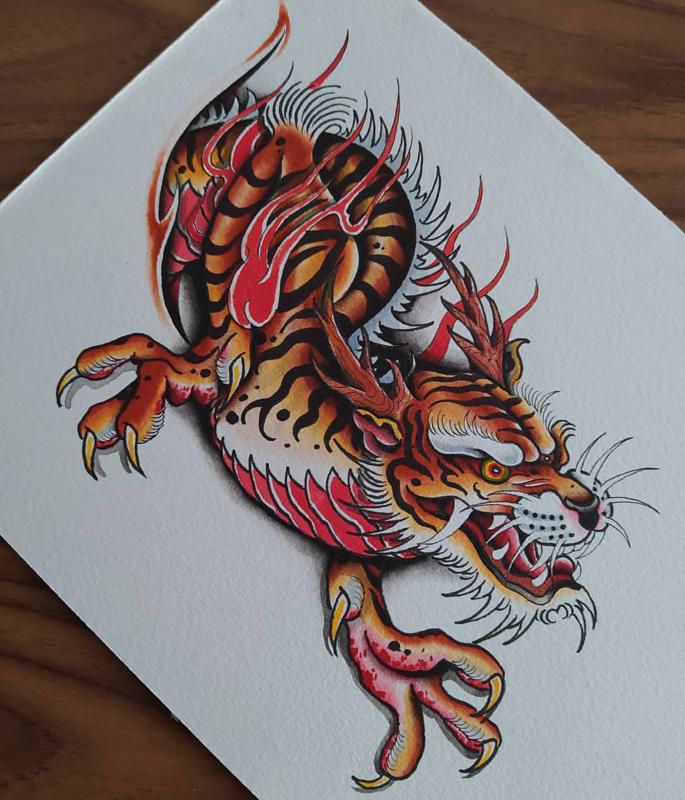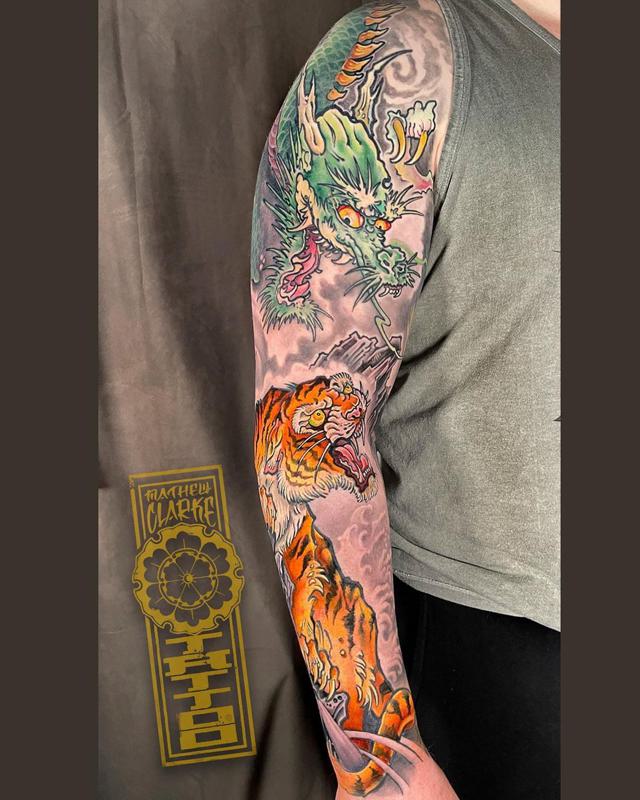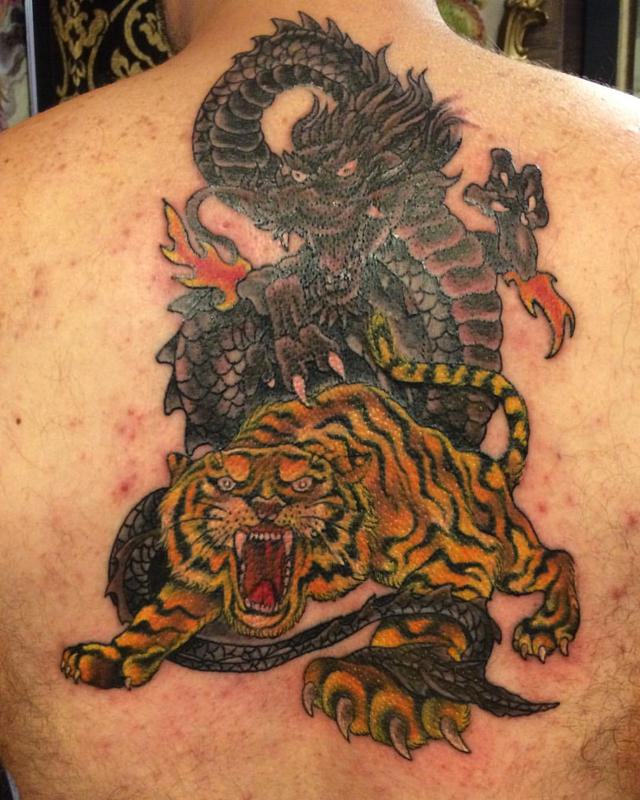 Forearm Japanese Dragon Tattoo
Who wouldn't want to own a tattoo that shows you have much wisdom? Getting the forearm Japanese dragon tattoo means you have the power to make great life decisions. It's what the fierce creature means in the Japanese culture, especially when it's in a deep black ink.
Depending on your interests, you can have the design in a large or small size. Remember, the forearm won't give you much space to display a big Japanese dragon tattoo. When the size is huge, it will take long sessions, like weeks, to come out perfect.
Still, having this design on your forearm shows how much the Japanese dragon symbolism means to your life. Also, the tattoo can run down to your wrist to show off the bold ink and detailed art.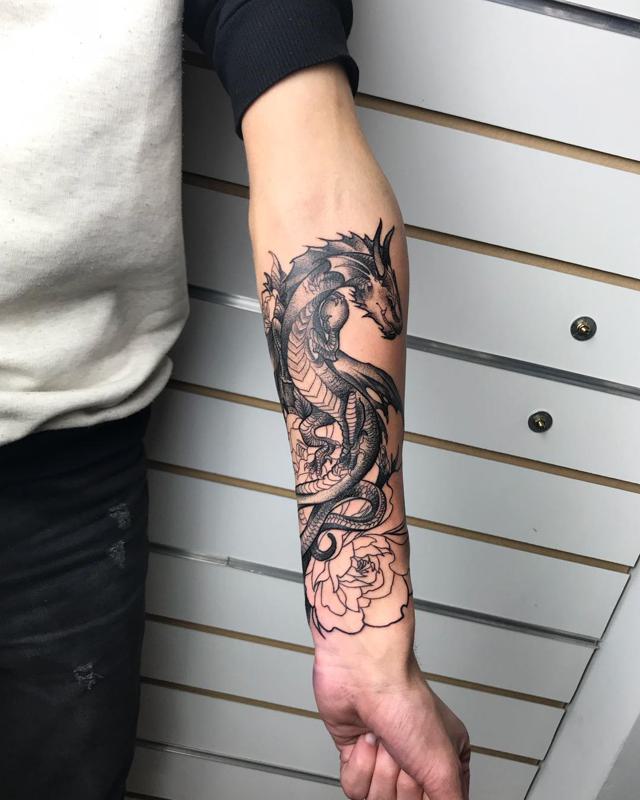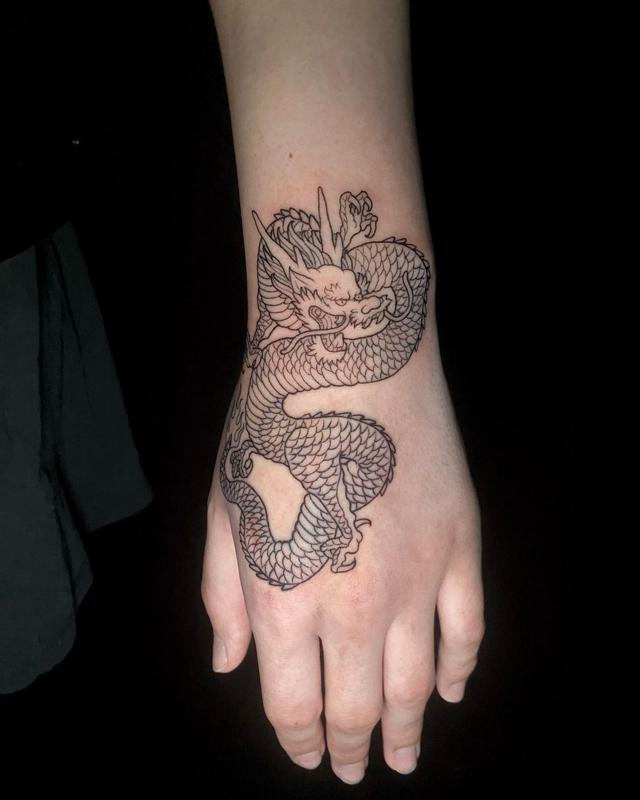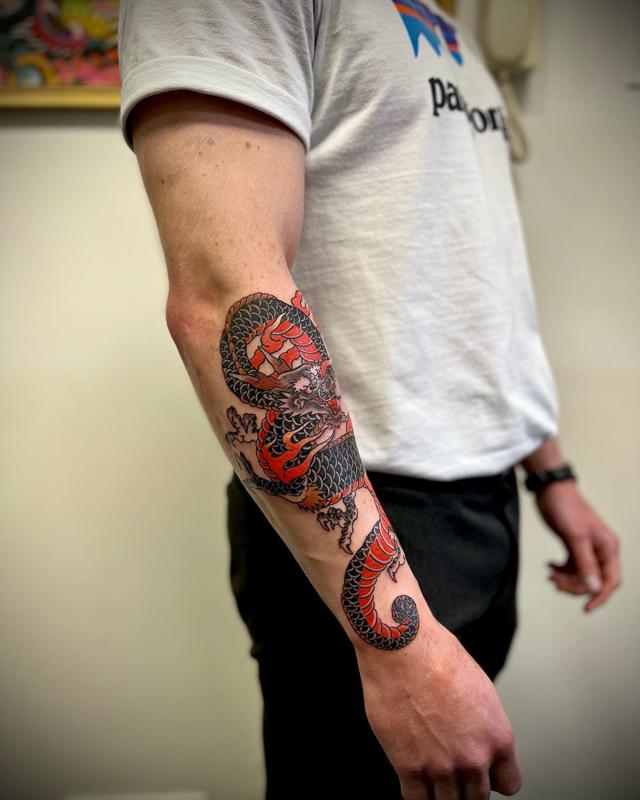 Japanese Red Dragon Tattoo
Go for the red dragon tattoo to show you are bold and fierce like a dragon. Since it's a bright color, expect it to draw many eyes. The color best suits your traditional Japanese dragon tattoo and adds more meaning to your regular tattoo.
This design will look great if the dragon is large. Your chest, sleeve, thighs, and back best suit this art. Also, the red dragon tattoo displays the Japanese magical powers.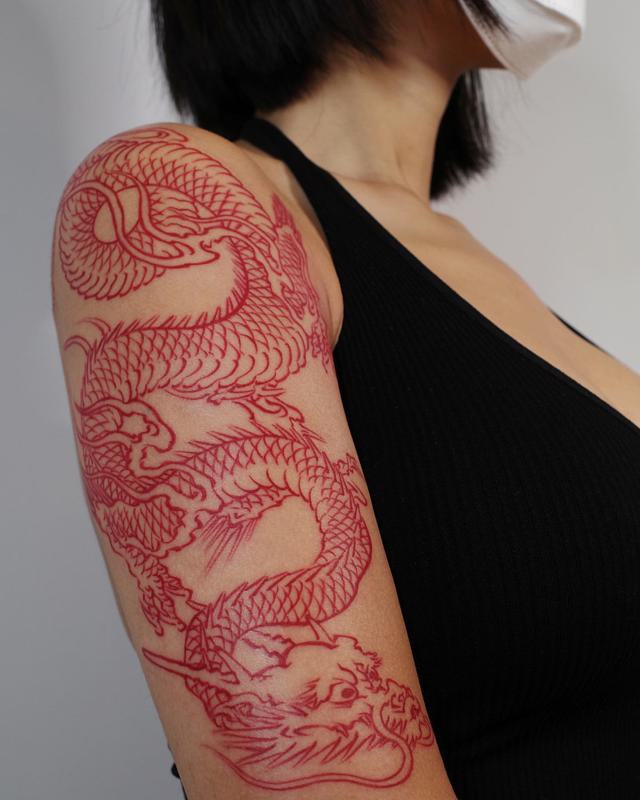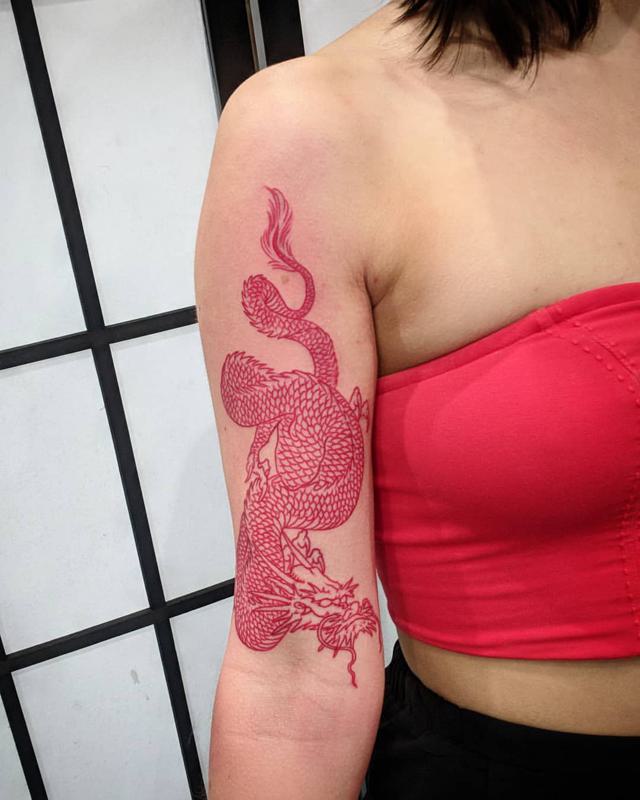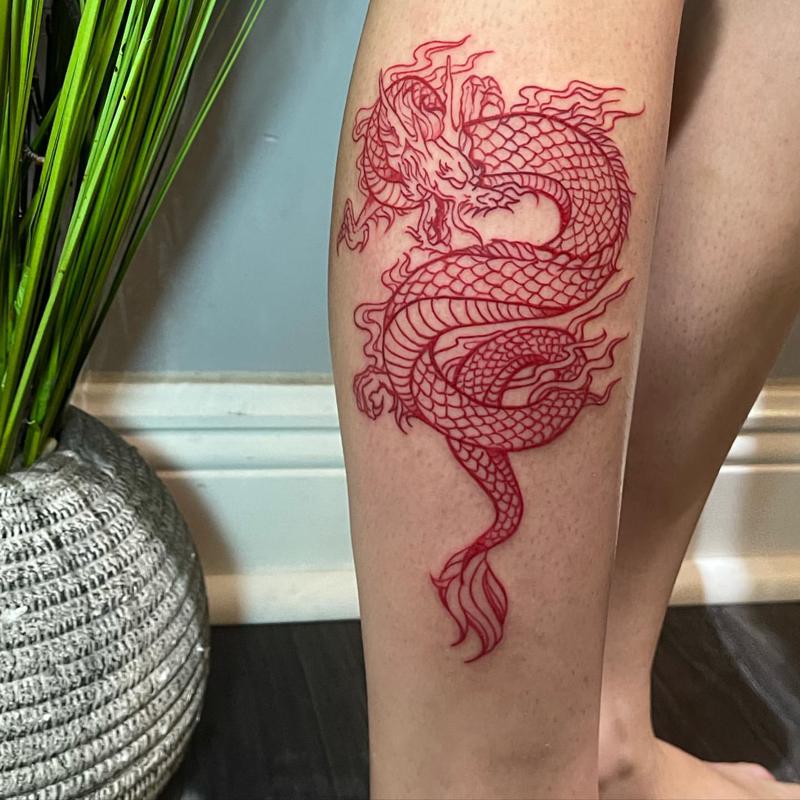 Blue Japanese Dragon Tattoo
Getting this design on any of your body parts shows your inspiration from the Asian cultures about the blue dragon king. The blue Japanese dragon tattoo, also called the azure dragon, is famous in ancient Japanese and Chinese stories.
Sometimes, you may feel that the design is giving you a connection, but it doesn't mean there's a spiritual meaning behind it. Also, the art is great because it allows you to blend it with a touch of red, white, and black to make it more beautiful.
You have it on any area of your body, but many people will love it. The Japanese blue dragon tattoos show you are gentle and ready to forgive.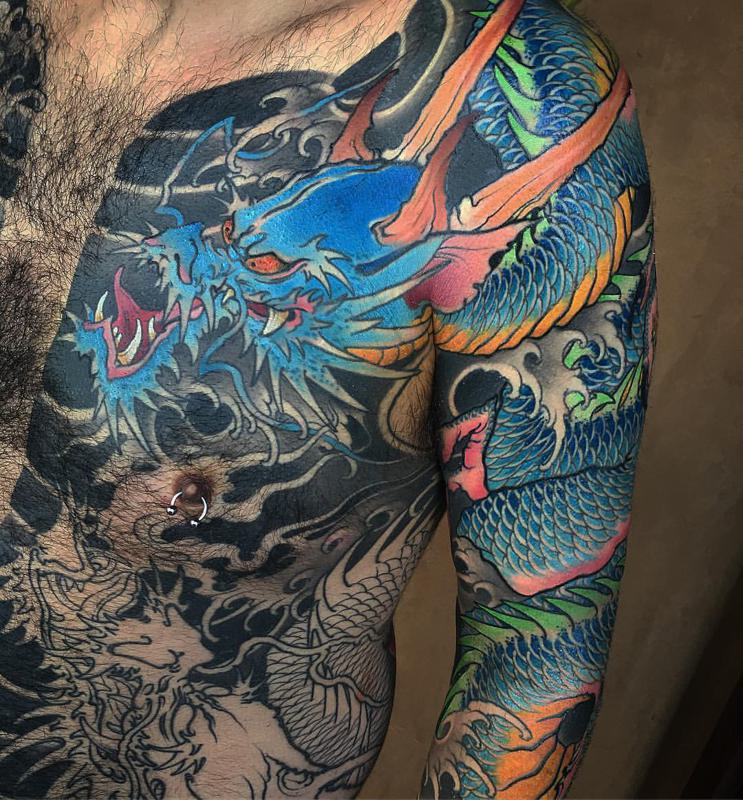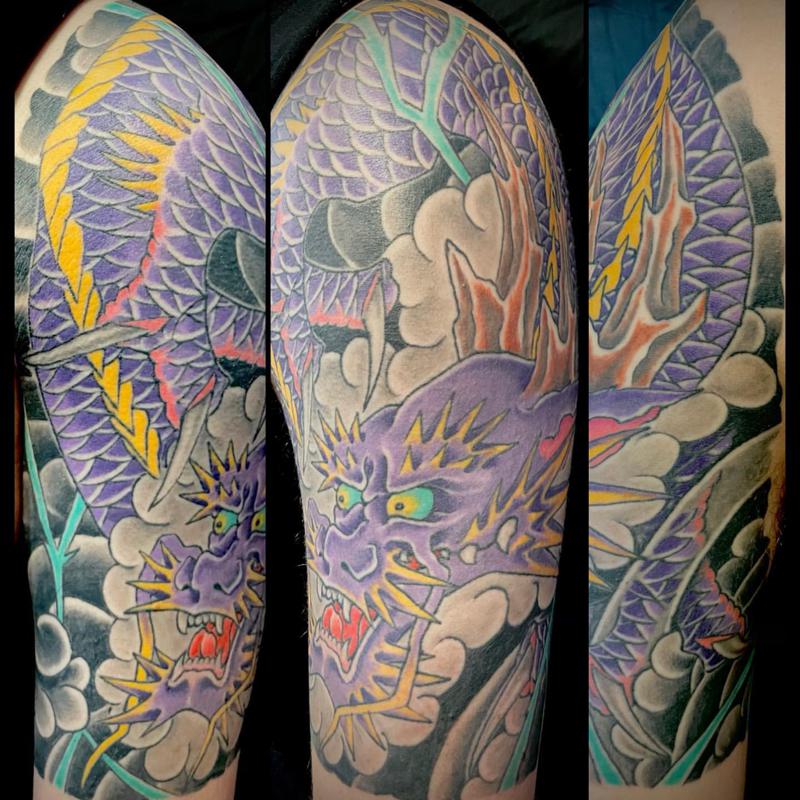 Shoulder Japanese Dragon Tattoo
Show your deep love for traditional Japanese dragons with this amazing art. You can have various designs of this tattoo on your shoulder for people to see you bring around luck.
Also, you can ink the dragon on your shoulder with the color that comforts your heart. The art can run from your neck or chest but the dragon on the shoulder.
Remember, it can start from the shoulder and run down to the chest or upper arm. Unlike the back or sleeve, you won't have much space here, but you can still have it.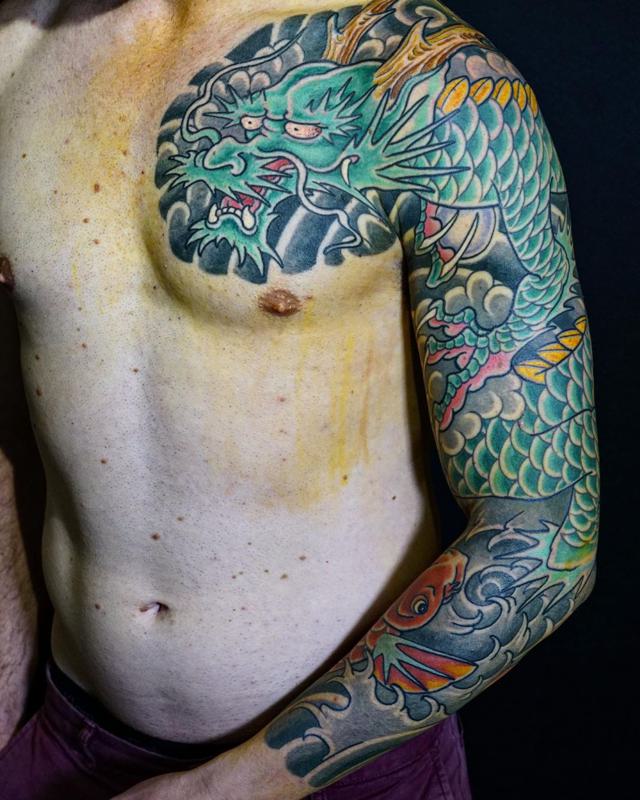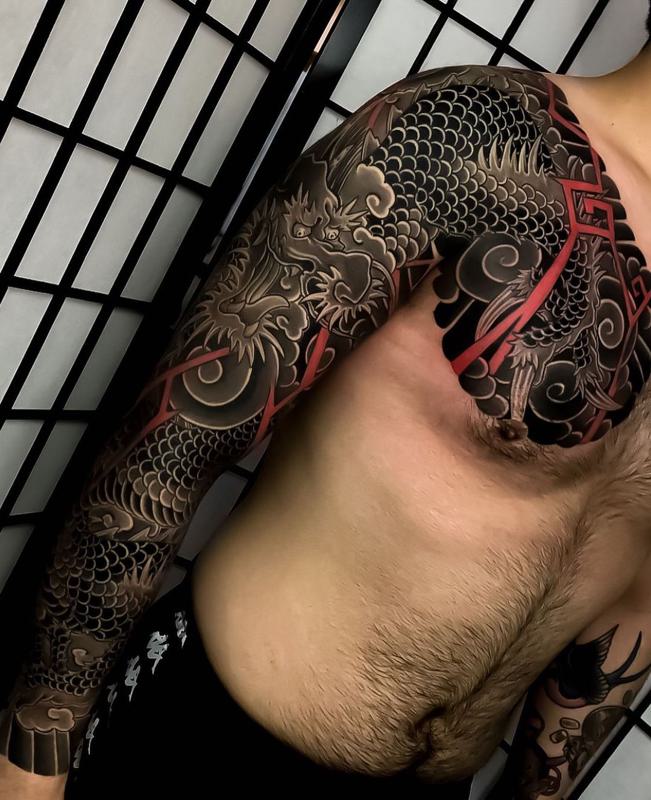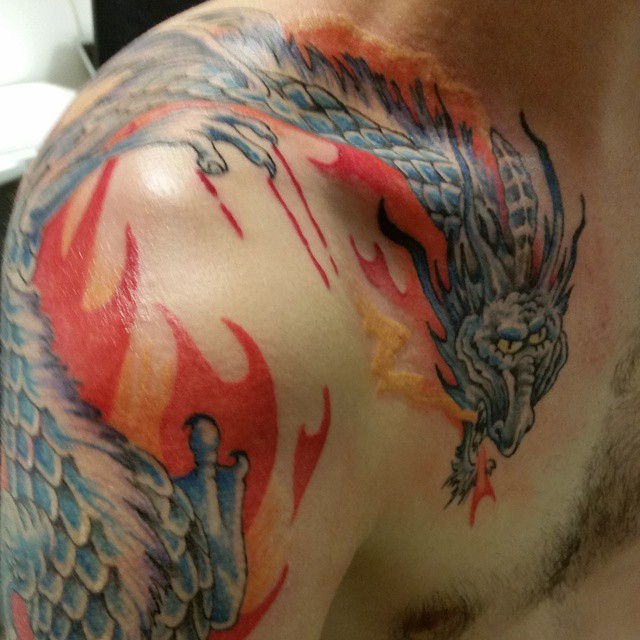 Japanese Dragon Half Sleeve Tattoo
Expect your Japanese half-sleeve tattoo to run from your shoulder or chest to your elbow. This tattoo will make you move many eyes but shows you are powerful. Unlike the full sleeve tattoo, the Japanese dragon half sleeve tattoo allows you to cover it.
The design also gives you much freedom to create the beauty of the Japanese dragon on your upper arm. So, you can add more aspects that carry deeper meanings about your life, like your wisdom and luck.
Here, the Japanese dragon will appear on a long, narrow space that allows you to place much detail. Your tattooist can make it more beautiful with brighter colors. Also, the classic and blank ink art will make you look outstanding.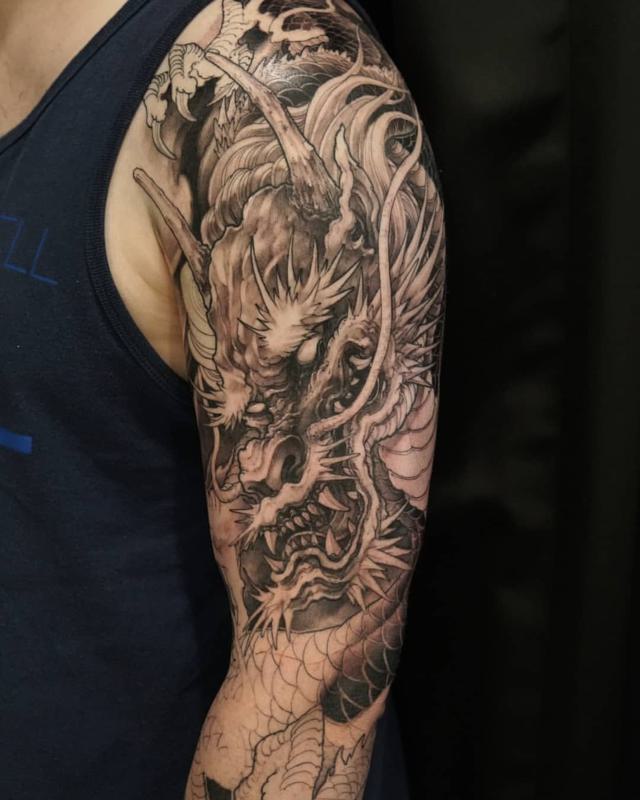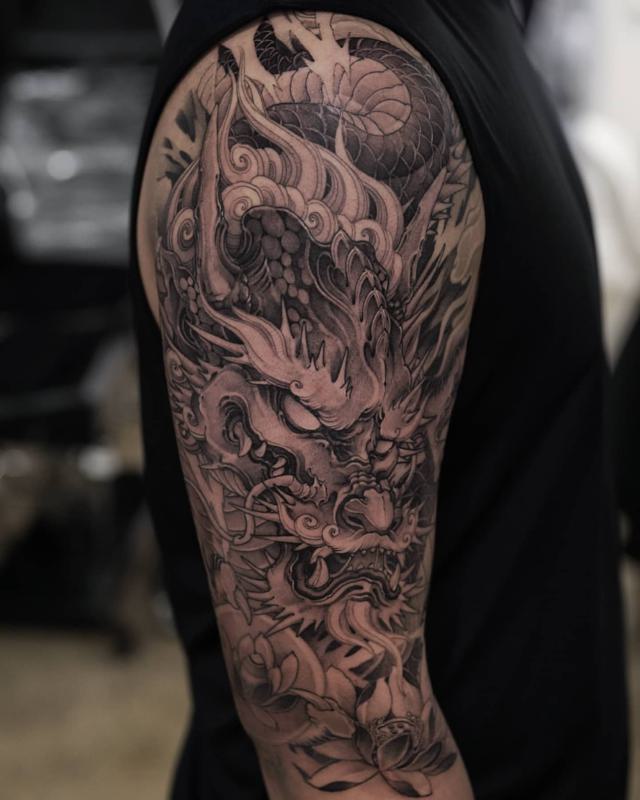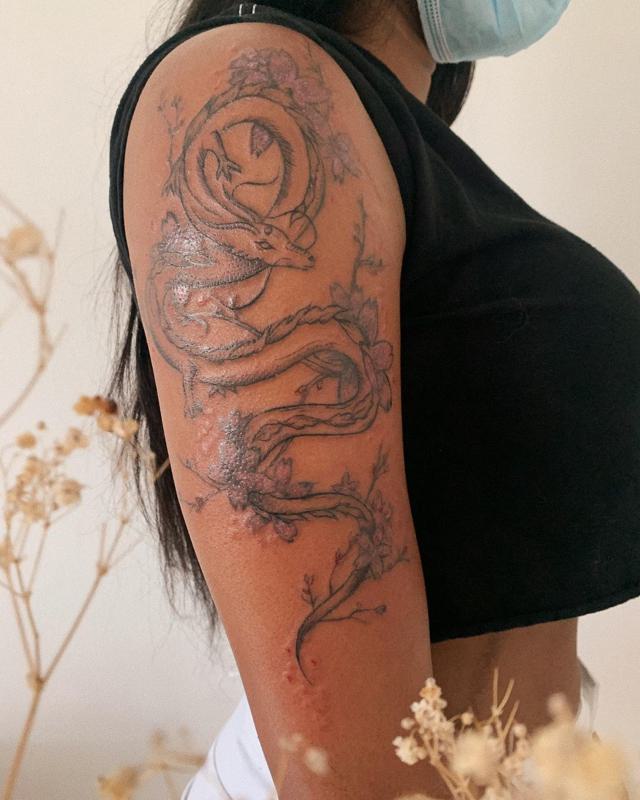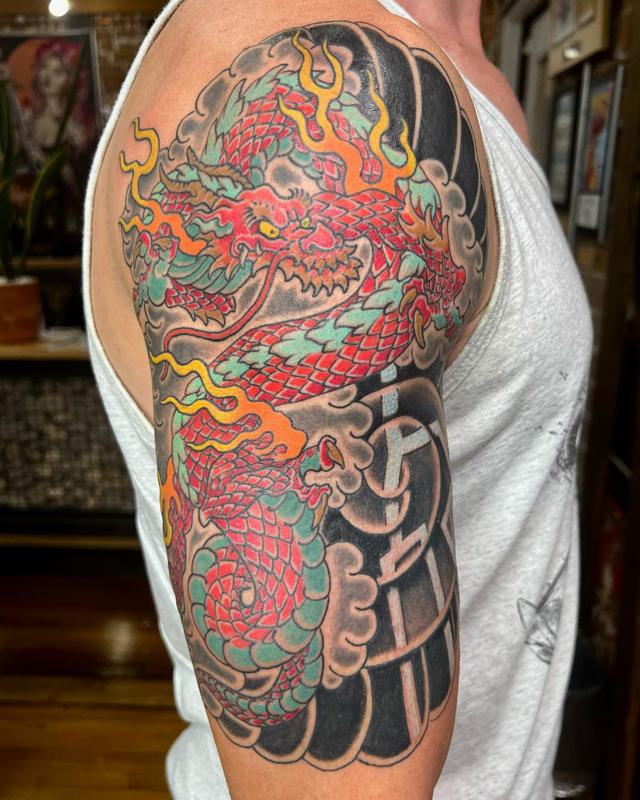 Japanese Dragon Tattoo Leg
Do you seek an excellent place to ink your Japanese Dragon Tattoo? Then, the leg is the best, especially if you are a woman. Since most Japanese fear and respect dragons, expect this mighty beast's tattoo to carry various meanings when on your leg.
You can have this tattoo large and colorful or clean and simple with deep black ink. Some people add more pictures like flowers or koi fish to make it more interesting. Either way, it will make many people break their necks as they stare at the unique designs. You can rock such tattoos during fashion events or beach holidays in the summer.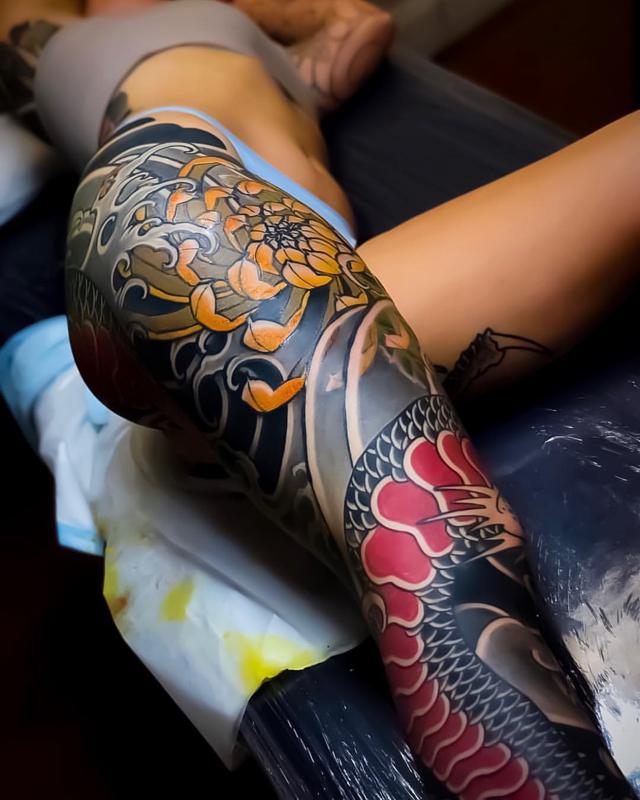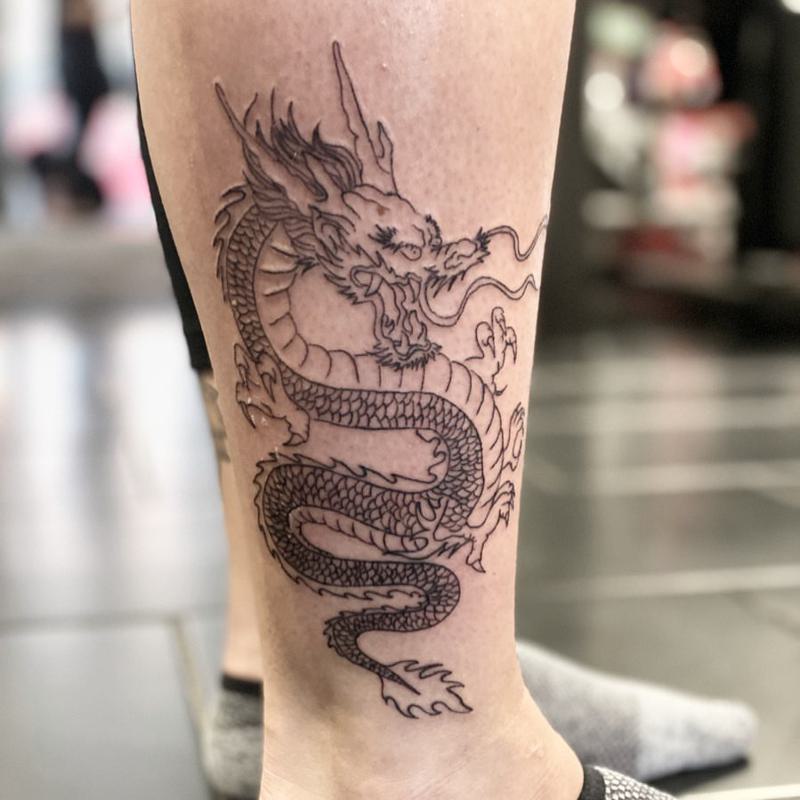 Japanese Dragon Tattoo Chest
You can choose various styles of Japanese dragon tattoos like the tribal or mythical ones. The art will make you look super cool and the best in the social events.
Japanese dragon tattoos fit both men and women. Go for large Japanese dragon tattoos if you are a man because it displays fierceness in you. Women can have this tattoo in a small size as it will make them more fashionable. Remember, the design can cover part of your left and right shoulder to make it complete.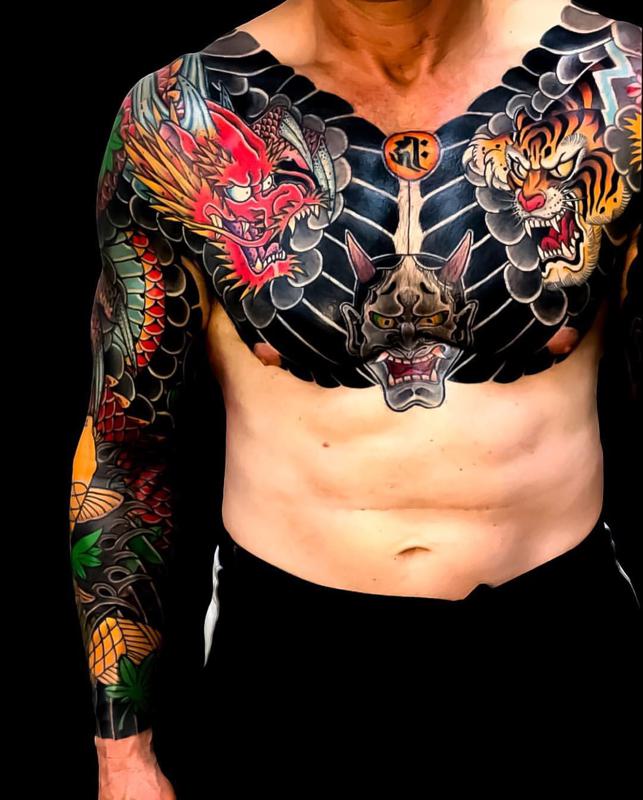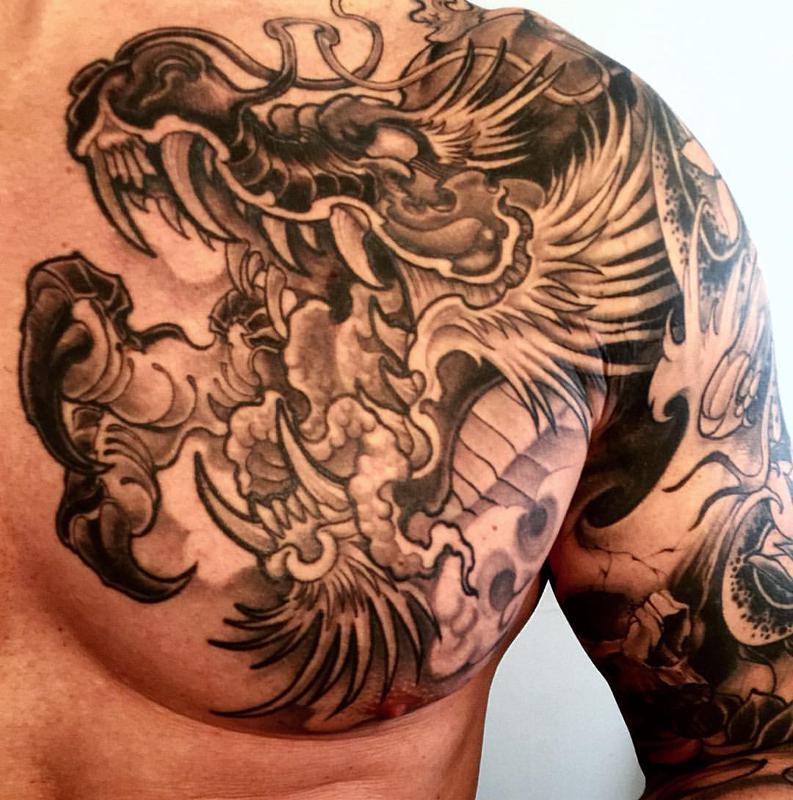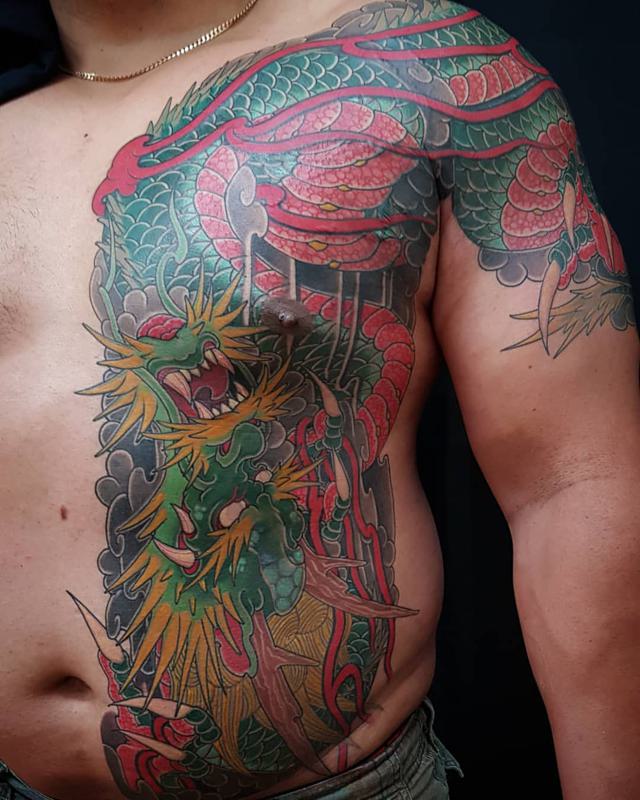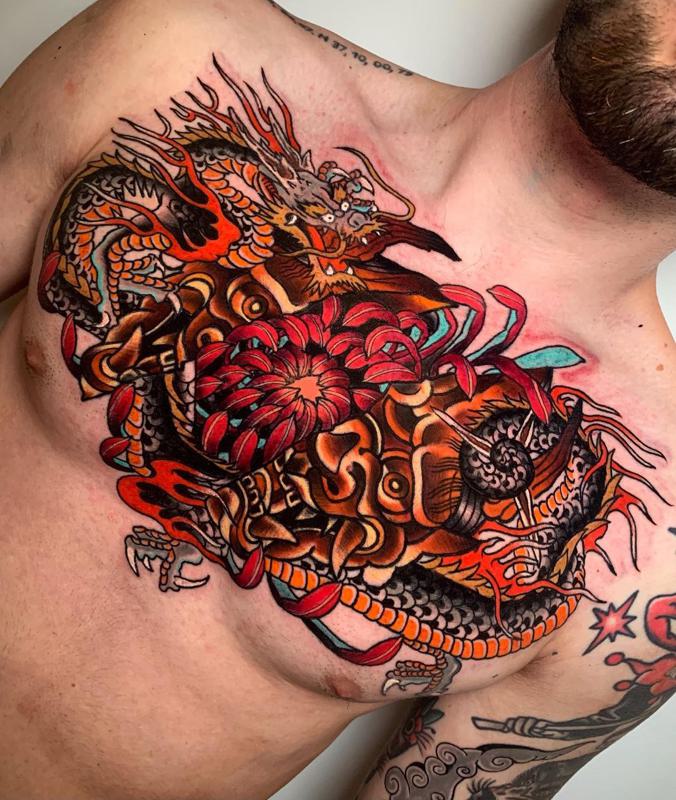 Japanese Dragon Tattoo Colors
The colorful design of the Japanese dragon tattoo is a beautiful idea. It's because you'll have much freedom to customize the art using different colors that can match. Your tattoo will have many personalities and stand out from the rest.
In the East, having a colorful dragon on your body shows you a dragon with many powers. Also, drawing a tattoo with many colors gives your tattoo much detail and depth.
The best colors you can use are red, blue, green, yellow, and orange. Green shows your interest in small dragons and nature. Having the yellow one shows your focus and confidence. The black ink is related to much wisdom of the Japanese ancestors, which is essential. However, it shouldn't limit your imagination as you can use many other colors.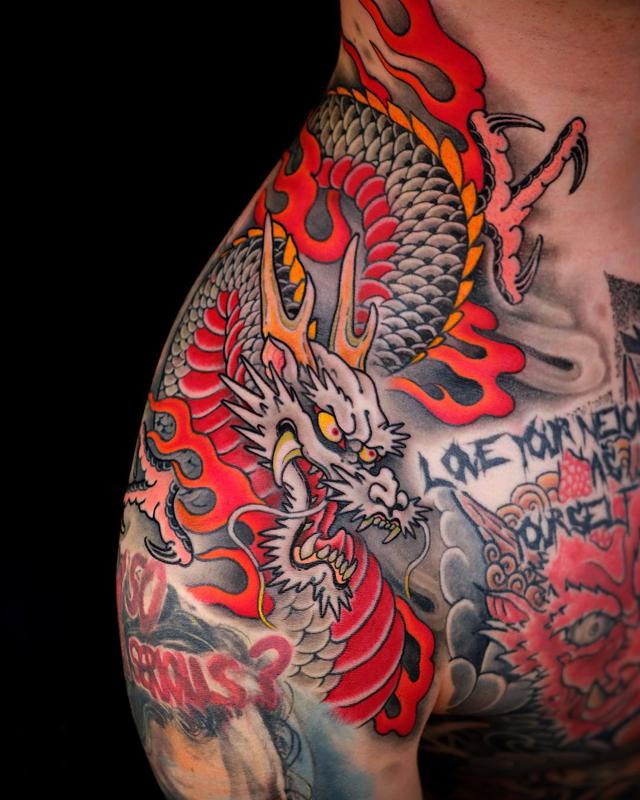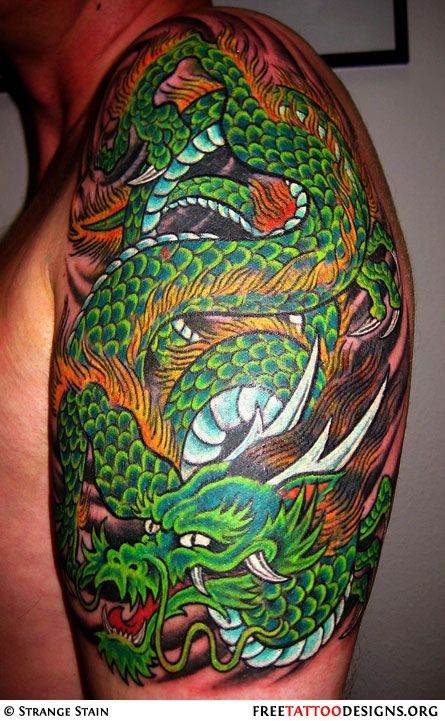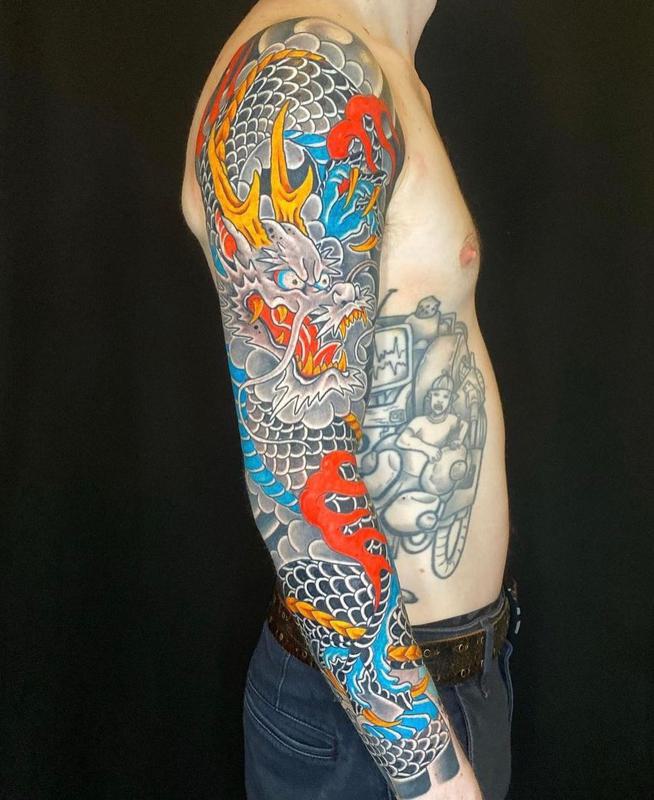 Yakuza Traditional Japanese Dragon Tattoo
Inking your body with this tattoo shows your interest in Japanese history. The Yakuza tattoos came from people protesting how the Japanese government handled the criminals. Also, for the Japanese, getting this tattoo can show a rite of passage.
You can tattoo any part of your skin with various motifs and pictures with different meanings. Besides honoring the Japanese Yakuza culture, some designs can act as your totem art.
These Japanese dragon tattoos can also be in different colors with differing meanings. A Yakuza Japanese dragon tattoo will best fit on your back because it's where there's much space.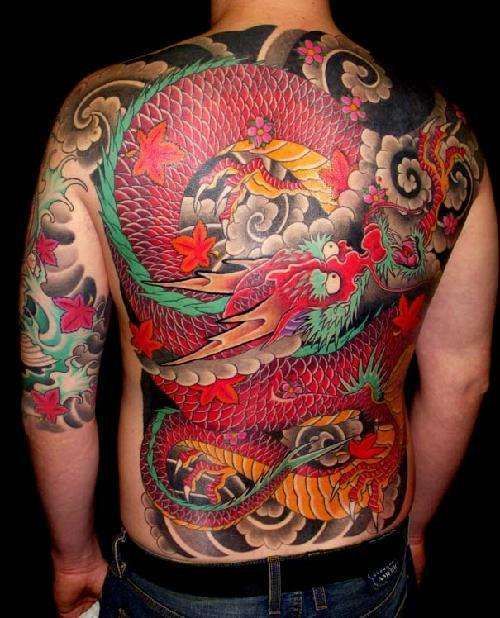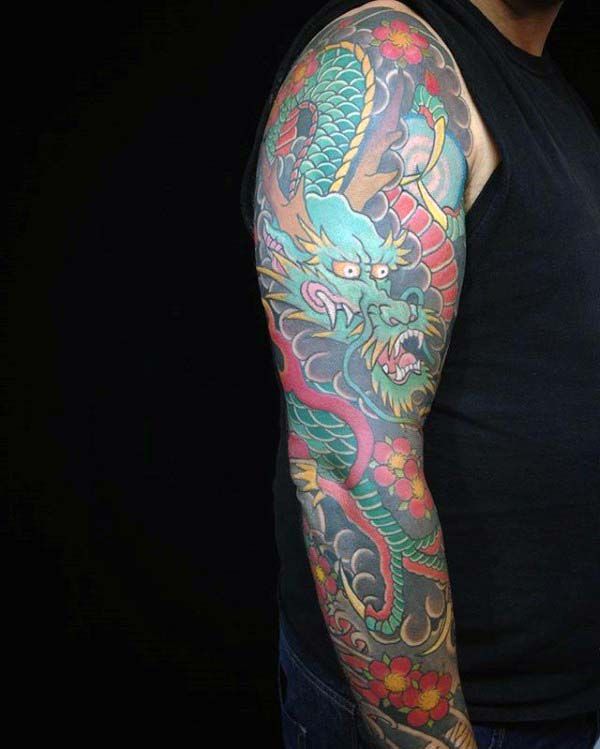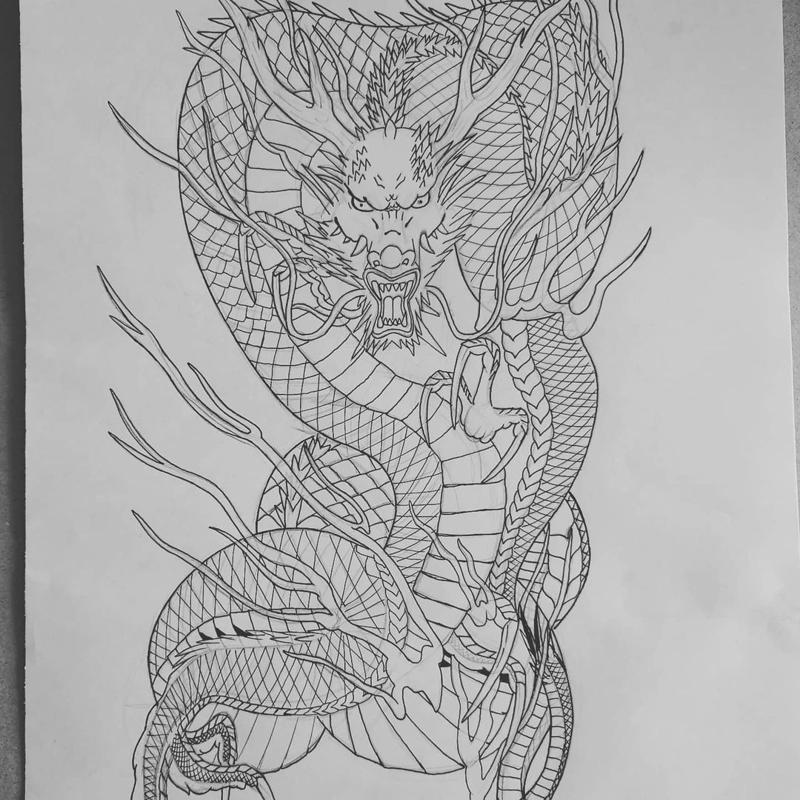 Conclusion
Japanese dragon tattoos carry many unique meanings. Though it's a mythical creature, expect it to say much about your courage, wisdom, and power. The design you'll choose varies with your interests.
Today, most people value the dragon tattoo as a sign of protection and luck. Place the styles on large areas of your skin like the back, if you want much details on the art but less attention. When you have a vast Japanese dragon tattoo on your forearm, it will draw more eyes.
Do you have any of these styles on this list? How does it make you feel? Please, we would like to know your thoughts.
Japanese Dragon Tattoo FAQs
Is it disrespectful to get a Japanese dragon tattoo?
No, it's not disrespectful to have this tattoo on you. Most Japanese cultures and the whole of Asia treat the art with much honor.
Is a Japanese dragon tattoo expensive?
The cost of a Japanese dragon tattoo will vary with your budget, tattooist, and design. Expect the designs to cost between 400 to 1750 USD.
Do Japanese Dragon Tattoos hurt when you ink them?
Like most great and detailed tattoos, inking some Japanese dragon tattoos will be painful. You'll feel the pain, especially in the ankles, shins, ribcage, armpits, and body joints.