Do you ever get the feeling that you're not alone in this world and someone is constantly protecting you? Well, that might be your guardian angel.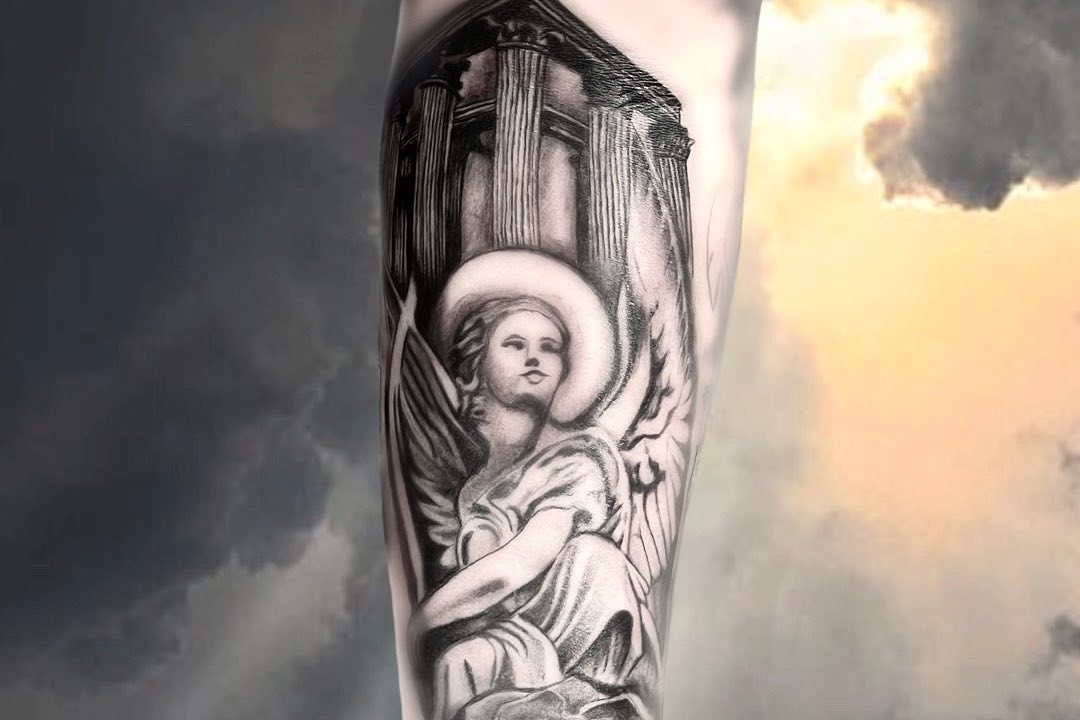 Guardian angel tattoos might not be the latest tattoo designs, but they're arguably the most popular. They're quite common among individuals passionate about their faith and want to show that.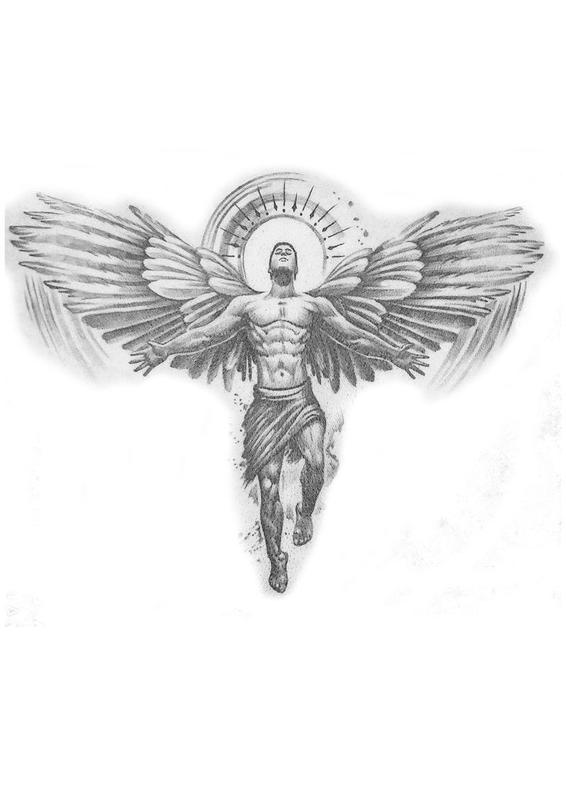 A guardian angel tattoo is often considered the best way to represent God's presence in one's life. But you don't need to be religious to get these unique and beautiful tattoos on your body.
That said, join us as we uncover the meaning behind the guardian angel tattoo and discover the best designs for men and women to give you inspiration for your next tattoo. Let's dive in!
Guardian Angel Tattoo Meaning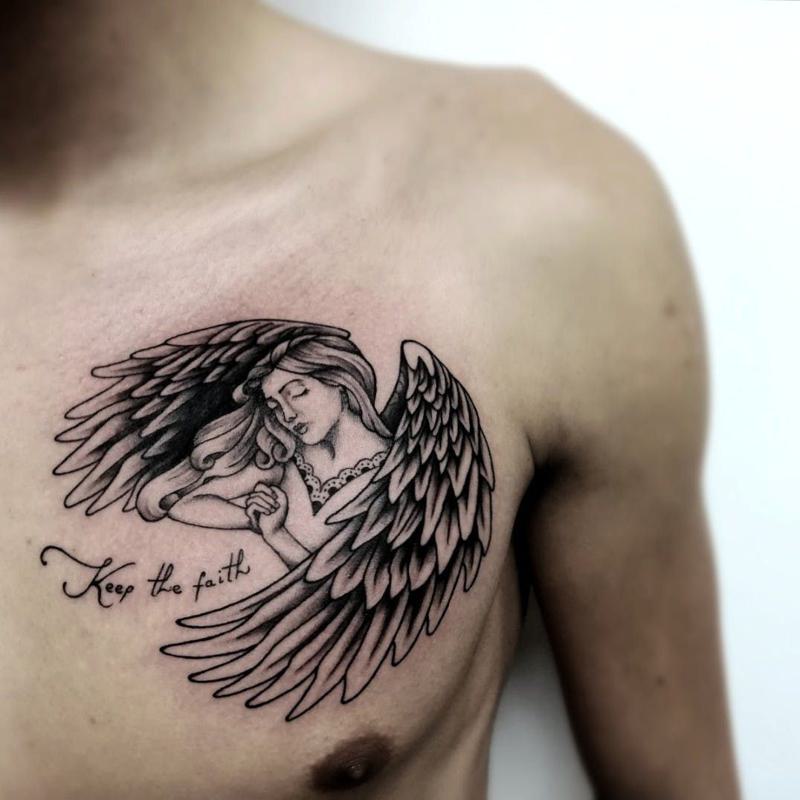 It's no secret! There are many tattoo designs to choose from out there. However, only a few are as meaningful as guardian angel tattoos. The concept of these celestial beings' stem from the belief (in both Judaism and Christianity) that God has assigned everyone a protector. It's believed the guardian angels work to shield you from bad luck and provide guidance in your time of need.
Aside from that, these angel tattoos embody other meanings depending on the imagery. For example, a family member can get an angel wings tattoo and a halo to honor a loved one who has impacted her life. Other people ink guardian tattoos featuring white light to show their beauty.
Many religions believe guardian angels play a significant role after a person's death. They take your soul to the meet creator. So, some people can wear these tattoos to symbolize the afterlife.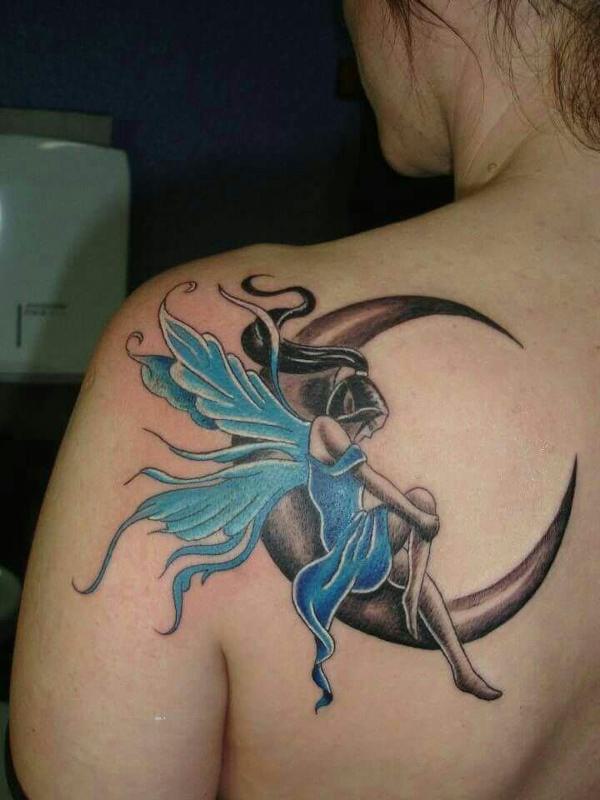 Tattoo artists can also incorporate different meanings into these celestial insignias, including strength, remembrance, prayer, birth, innocence, hope, etc. Irrespective of the design, guardian angel tattoos are rich in symbolic value and often make a statement. So, it makes lots of sense that most people are inspired to ink them on their bodies.
Guardian Angel Tattoo Placement
As with every tattoo, placement matters in guardian angel tattoos. Besides providing you with an intimate and personal way to express yourself, tattoos become a part of your identity. Because of this, it is crucial to make sure you select the best possible placement for it.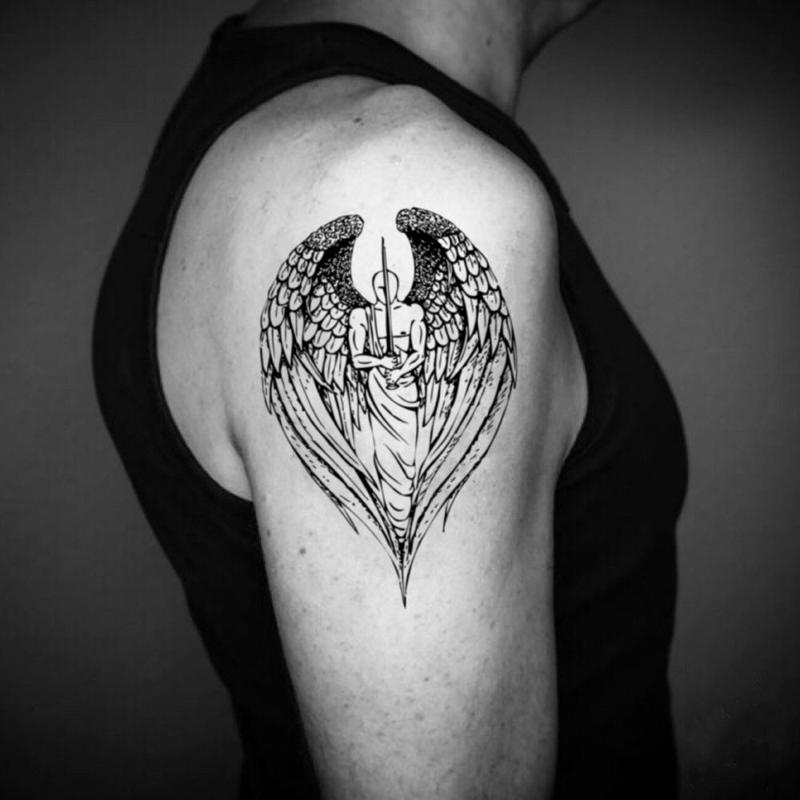 Since most guardian angel tattoos represent religious faith, it's wise to wear them on the upper part of the body. That means the chest, shoulder, and arm. While you can ink your thighs, legs, or foot, it's not advisable.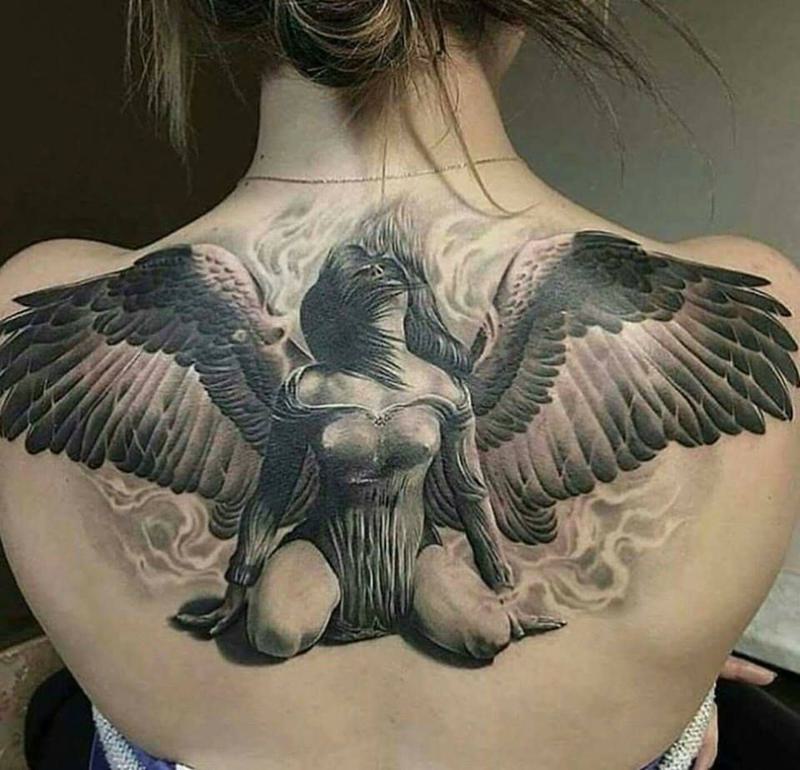 Perhaps the best placement for a guardian angel tattoo is the chest. But they always look unique on the biceps, forearm, and even the back. Keep in mind that the tattoo placement can also give it meaning.
Simple Guardian Angel Tattoo Placement Ideas
Guardian Angel Tattoo Chest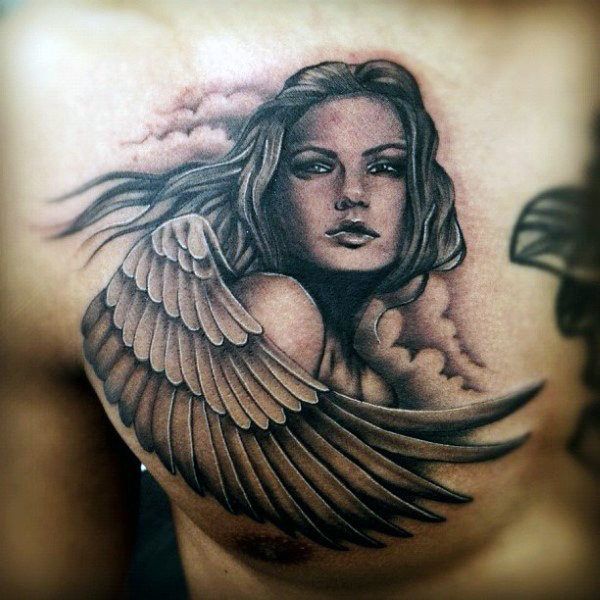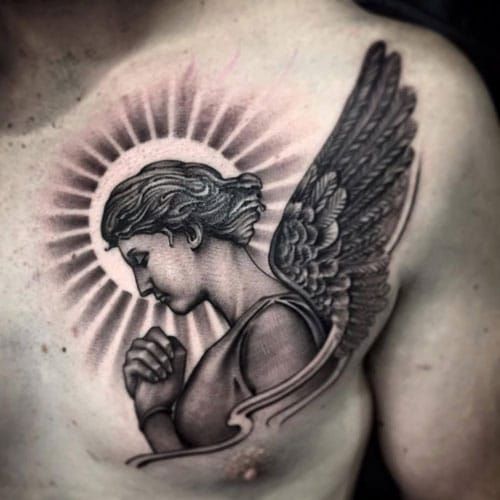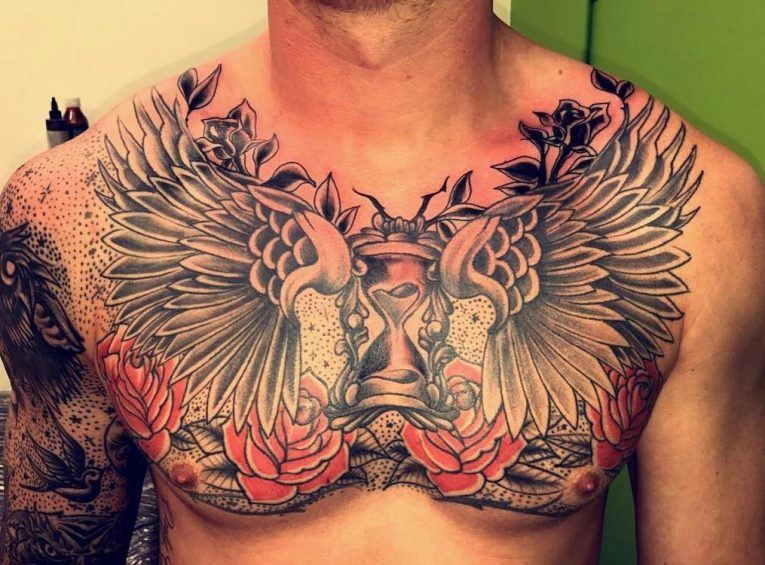 Besides offering ample space to accommodate the guardian angel tattoo, the chest area is close to the heart and other vital organs. That means tattoos placed here are closer to the wearer and feel more intimate.
Another thing, the chest area is ideal for individuals who want their tattoo to convey meaning but also need it easily hidden under clothing. Getting a guardian angel chest tattoo can symbolize the protection and security of the bearer. It can also represent purity, kindness, and strength.
Guardian Angel Tattoo on Arm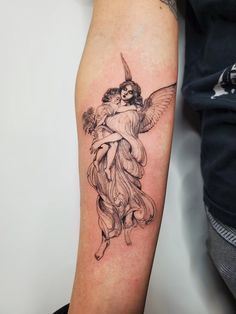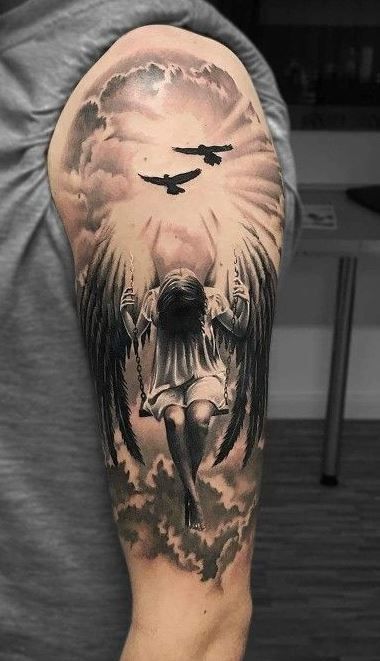 Arms Tattoos are perfect for people who're confident and self-assured. These are individuals who want to show their tattoos and they have no problem being the center of attention.
If you prefer a small tattoo on your upper arm, it means you are cautious, yet wild. Guardian angel tattoos on arms often look outstanding and boast a 3D effect that's sure to attract the attention of onlookers.
These tattoos often symbolize the power, courage, and confidence of the bearer.
Guardian Angel Sleeve Tattoos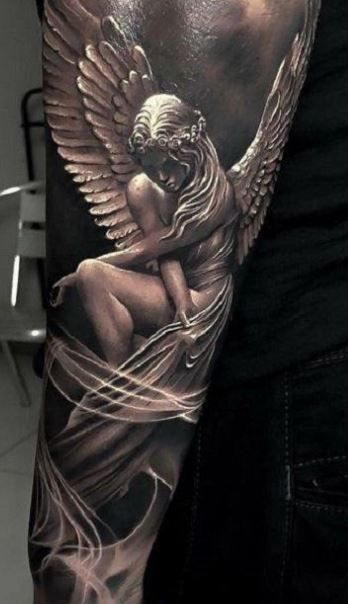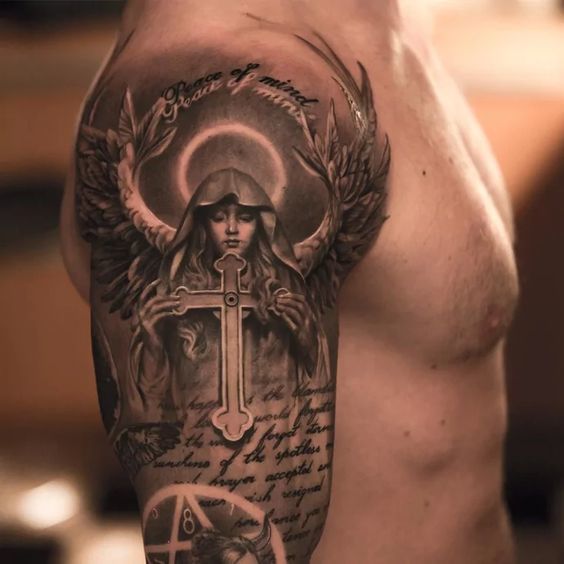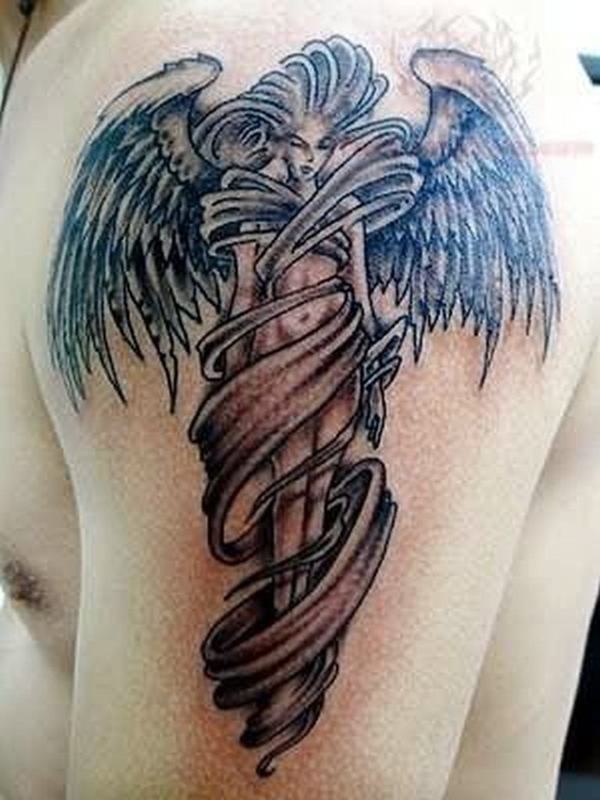 Whether it's a full sleeve or half sleeve, guardian angel sleeve tattoos often deliver a visual impact that's hard to beat.  Your sleeve provides tattoo artists with lots of space to incorporate unique designs based on your tastes and preferences.
Let's not forget, sleeve tattoos are easy to cover up with clothing, especially during job interviews or when around family members who dislike tattoos. Guardian sleeve tattoos go quite well for men and women.
Guardian Angel Forearm Tattoo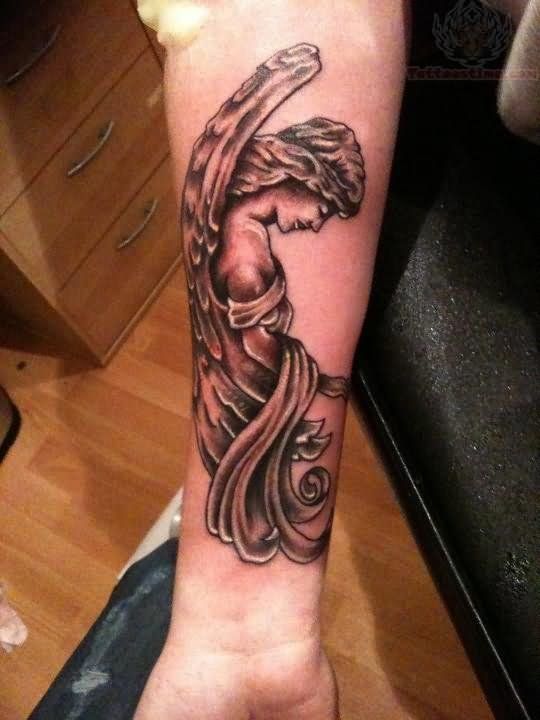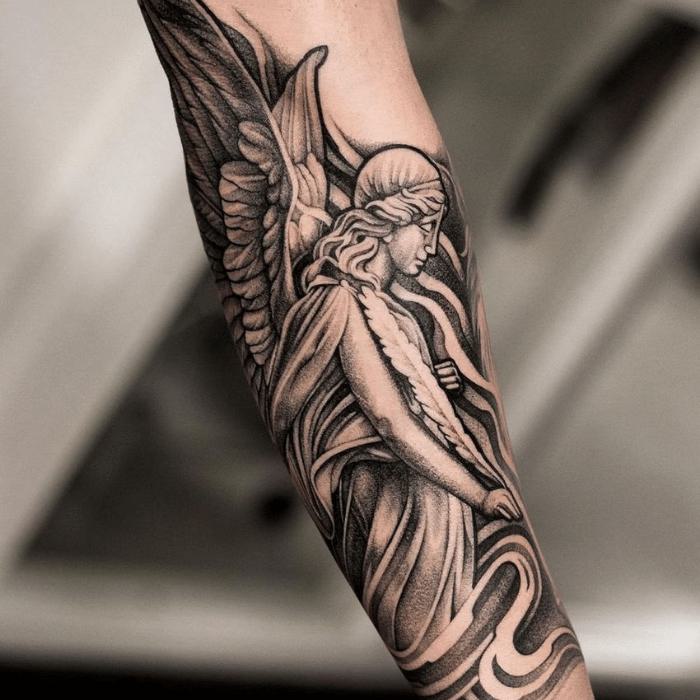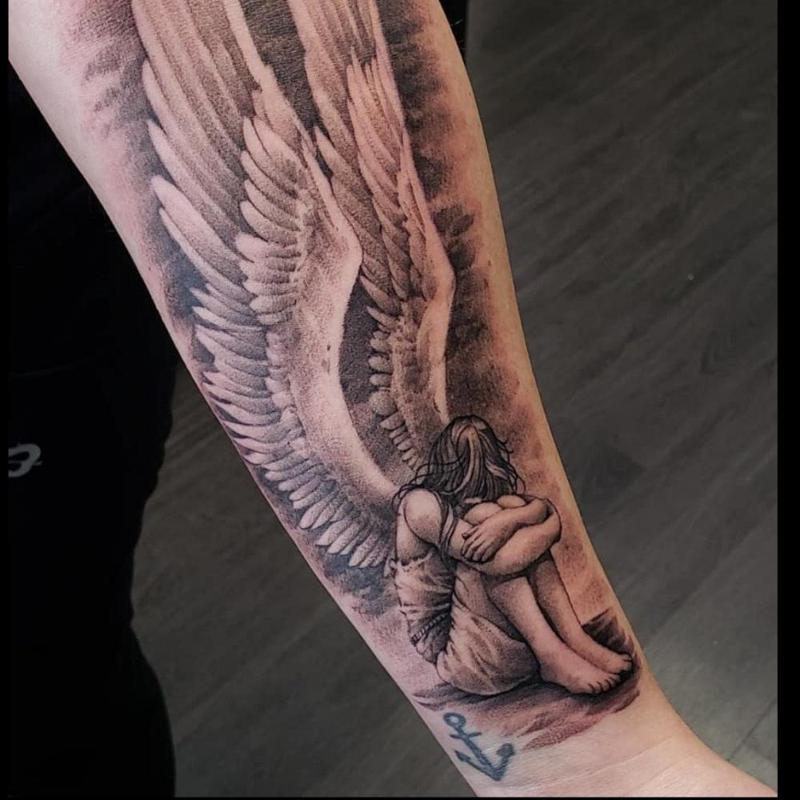 The forearm is usually associated with strength and toughness. Therefore, getting a guardian angel forearm tattoo can help bring attention to your well-toned muscles. Although they're common among men, recently forearm tattoos have gained a lot of attention from women.
The main reason for this is that this region is wide, meaning a variety of guardian angel tattoos can fit with ease. For example, you can get a tattoo that blends realistic and abstract art styles like the one below.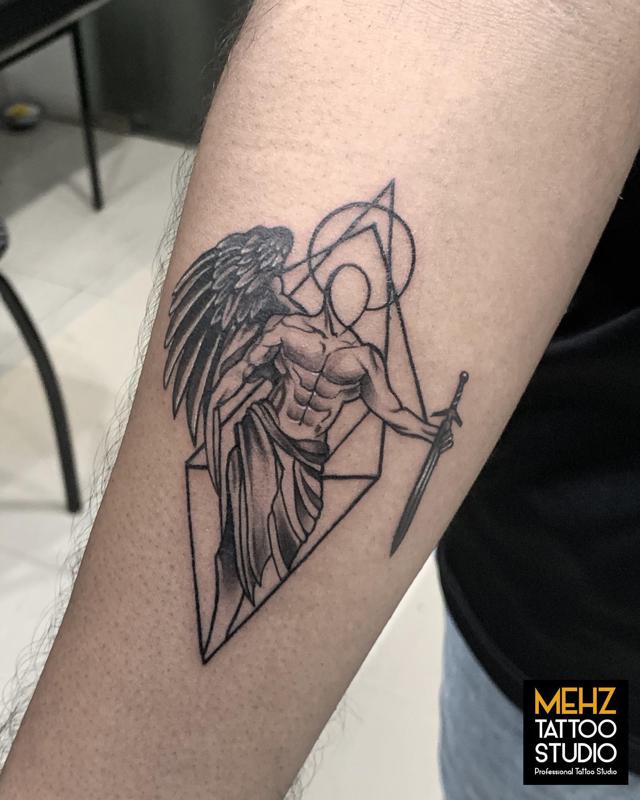 Alternatively, you can go for a three-dimensional tattoo enhanced with different patterns. On top, guardian angel forearm tattoos often evoke a feeling of passion or joy and are usually considered a symbol of love and protection.
Guardian Angel Thigh Tattoos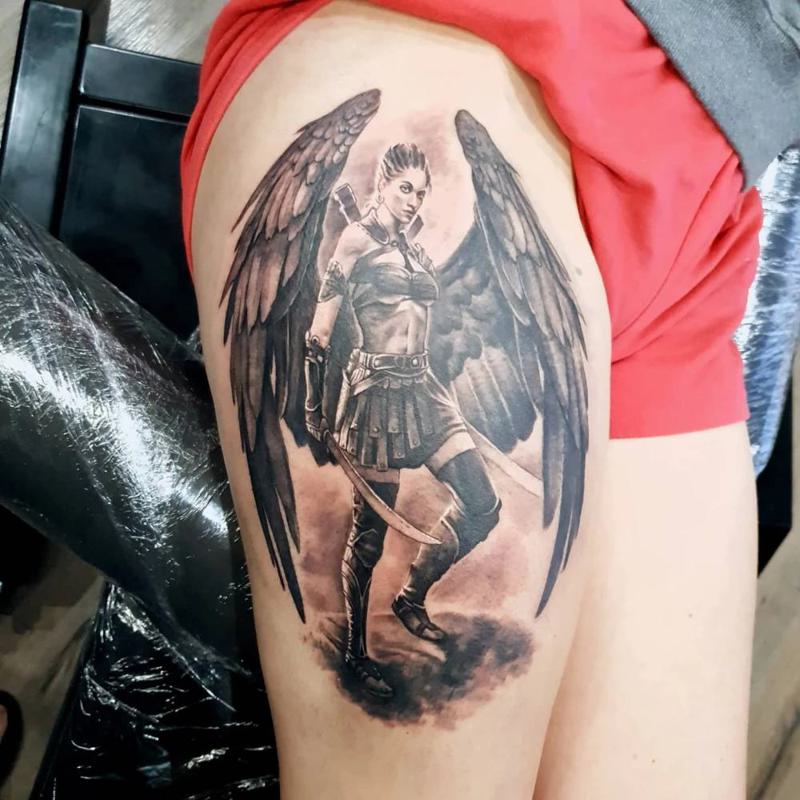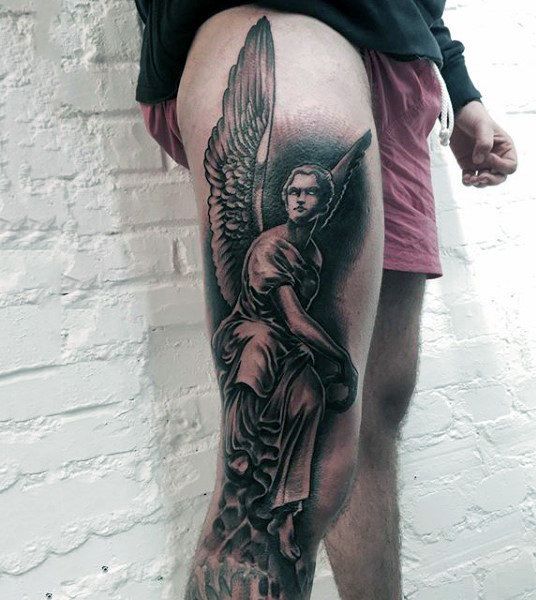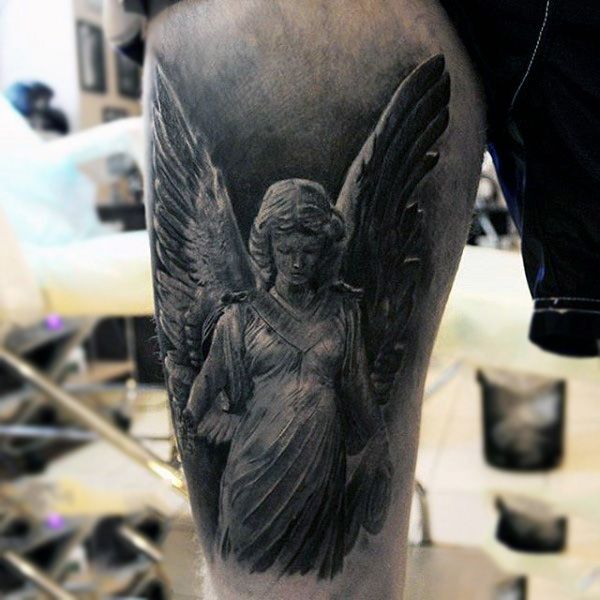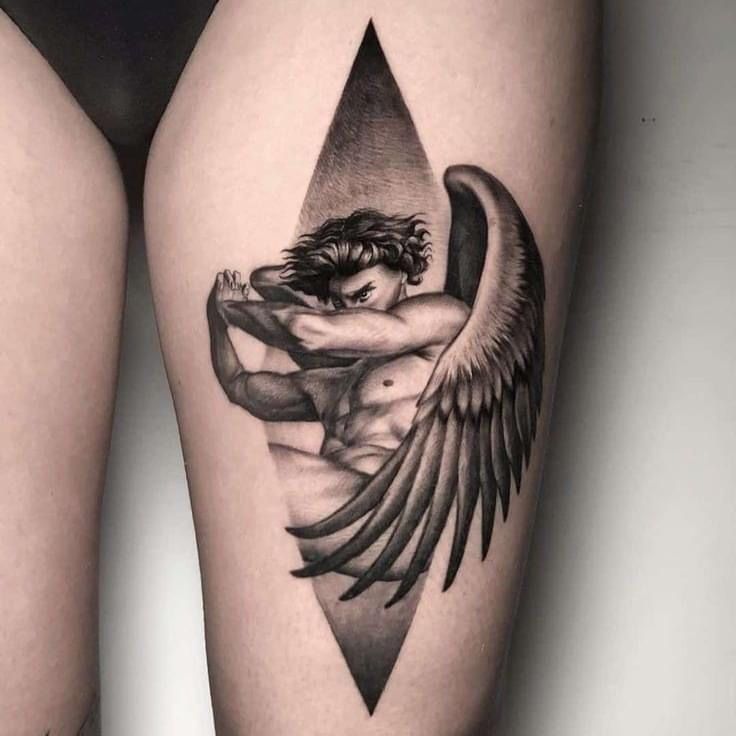 The thigh offers more room for creativity like the back and chest. Because of this, you can get a highly detailed, large guardian angel tattoo on your thighs.
Although not the most recommended placement for religious tattoos, the thigh's ability to flatter famine curves makes it highly popular. Furthermore, a thigh tattoo is easy to cover up with a pair of pants, dresses, or shorts when you don't want to show it.
Guardian angel thigh tattoos are fun to design because they can go from above the top part of the hip bone to the middle of the outer thigh. Also, you can get the ink on the front, back, side, inner or outer thigh. Because of the many placement options for thigh guardian angel tattoos, it is easy to select something breath-taking.
Guardian Angel Tattoos Leg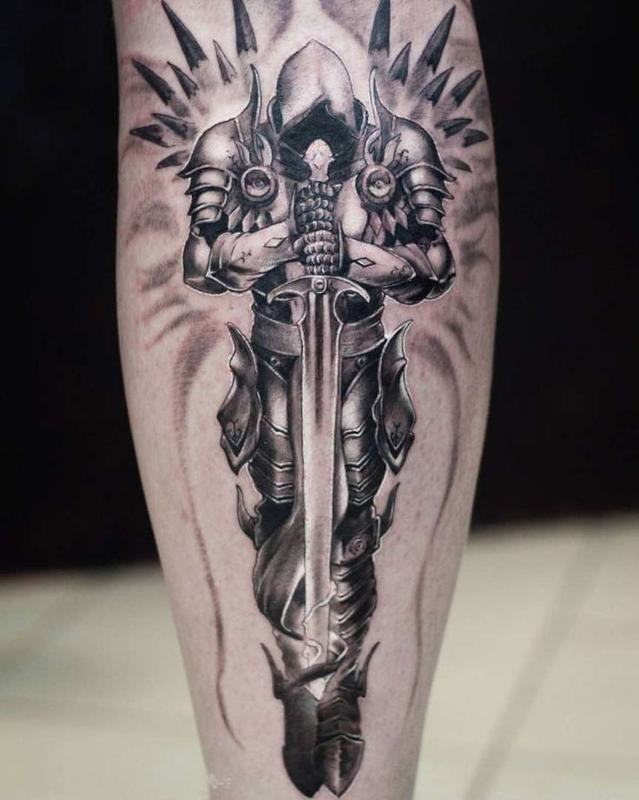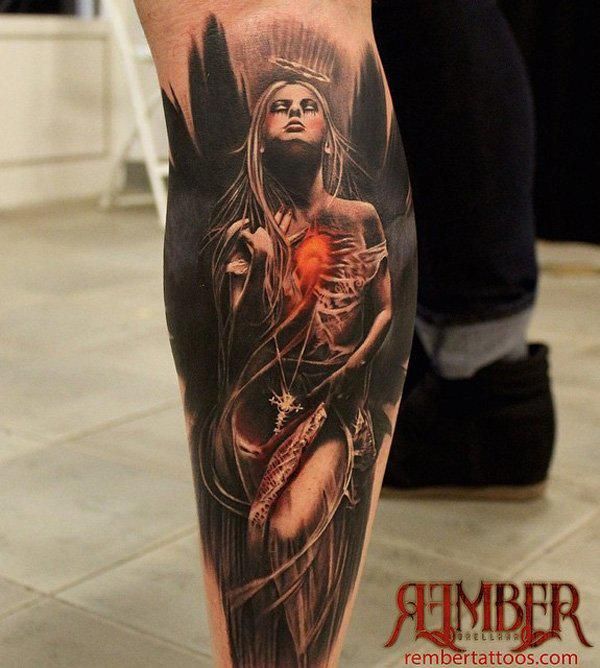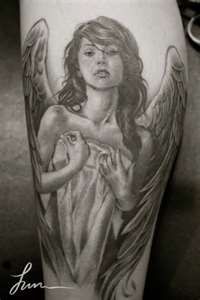 Leg tattoos are extremely popular with guys, from athletes to celebrities. That's because the leg offers tattoo designers more space to work on, meaning it's easy to get a huge guardian angel tattoo with tons of details.
What's more, such tattoos stand out from the crowd, yet you can easily hide them under your clothes. Whether you want a big, intricate inking or a small and minimalist design, your leg guarding the angel tattoo will serve as a reminder of your courage and confidence. At the same time, the tattoo can symbolize strength and security and often looks really cool.
Guardian Angel Neck Tattoo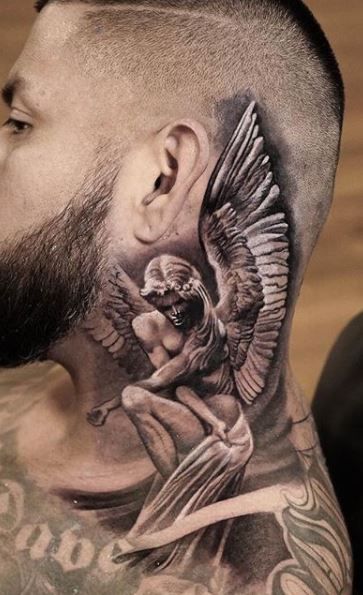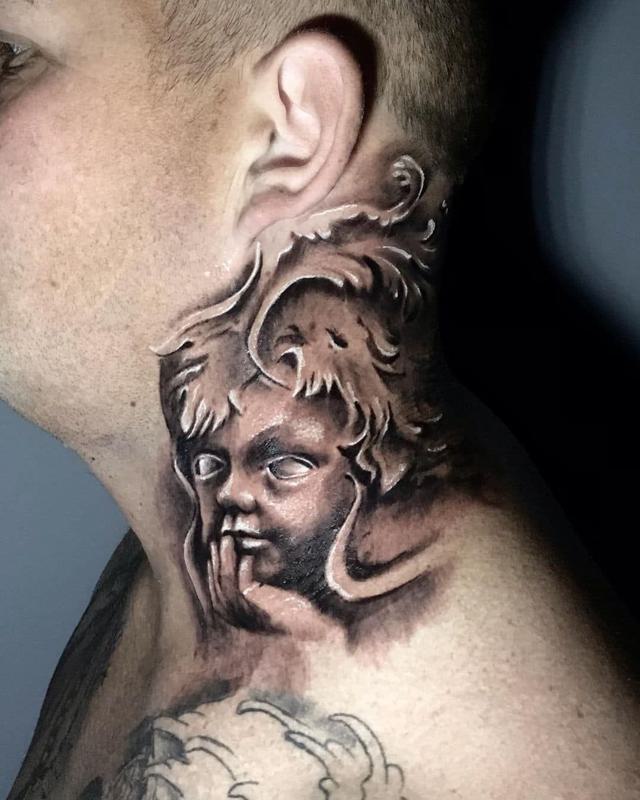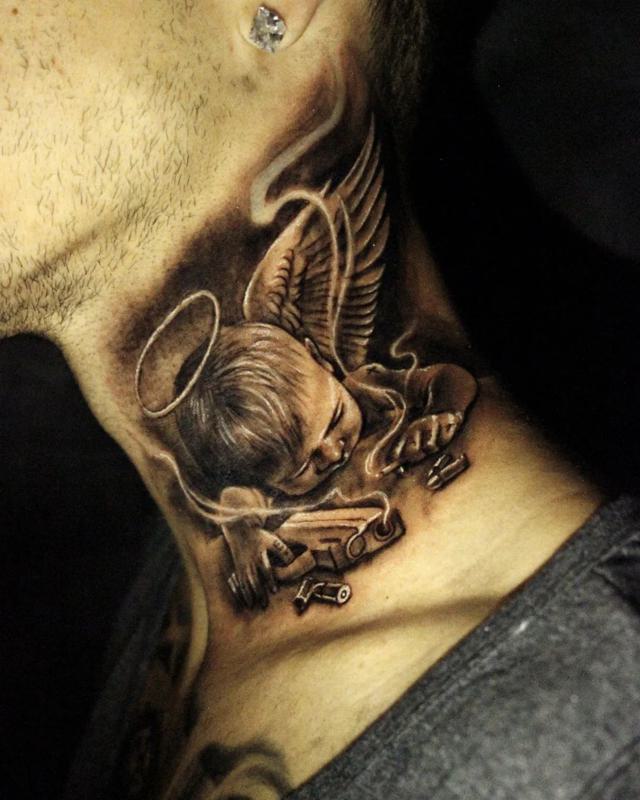 Getting a neck tattoo means you're daring and usually take bold moves. After all, this area is always exposed and difficult to conceal, irrespective of the clothing you've worn.
Nevertheless, a guardian angel neck tattoo will be gorgeous and insanely cool, whether inked on the back, side, or above the spine. You can get such tattoos to honor a loved one or show you've overcome your struggles in life and still pushing forward.
Guardian Angel Back Tattoo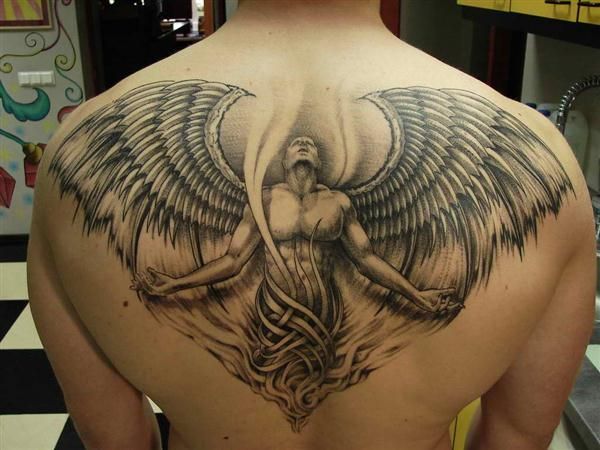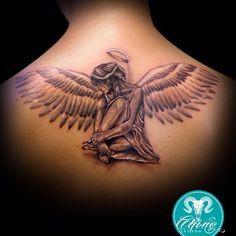 The back is arguably the best and most popular placement for guardian angel tattoo design. It's wide enough to support huge, intricate tattoo designs and not visible unless you're wearing revealing clothes.
If you get an angel tattoo with wings laying flapped on both sides of your back, you can create an impression of flying away whenever you expose your inking.
Usually, such tattoos signify protection and strong belief. In other situations, they can symbolize your survival after hard times.
Epic Guardian Angel Tattoo Designs
Female Guardian Angel Tattoo Designs
Guardian Angel Prayer Tattoo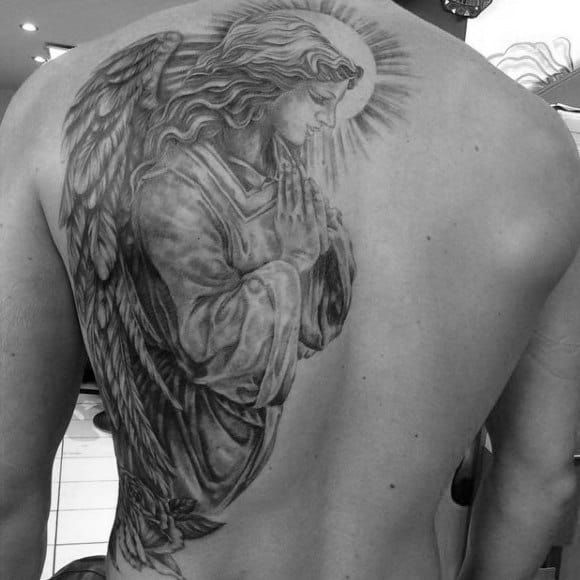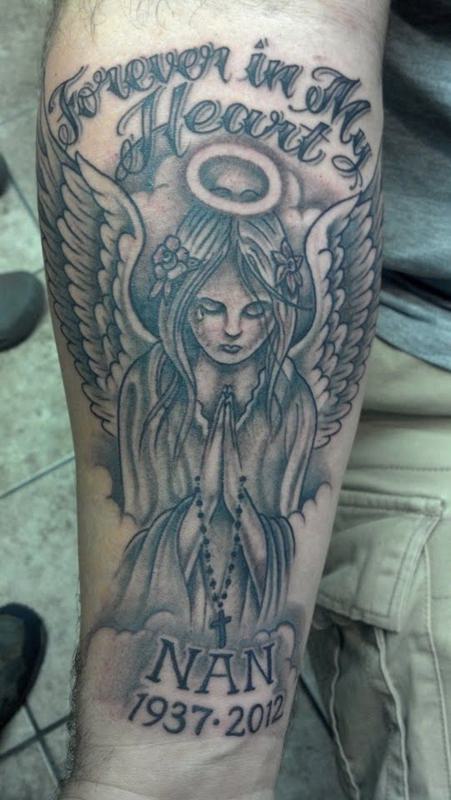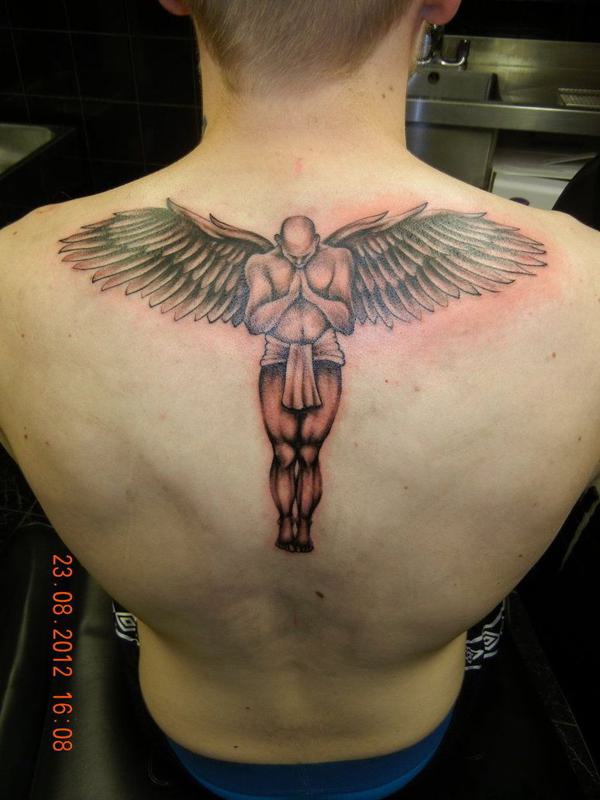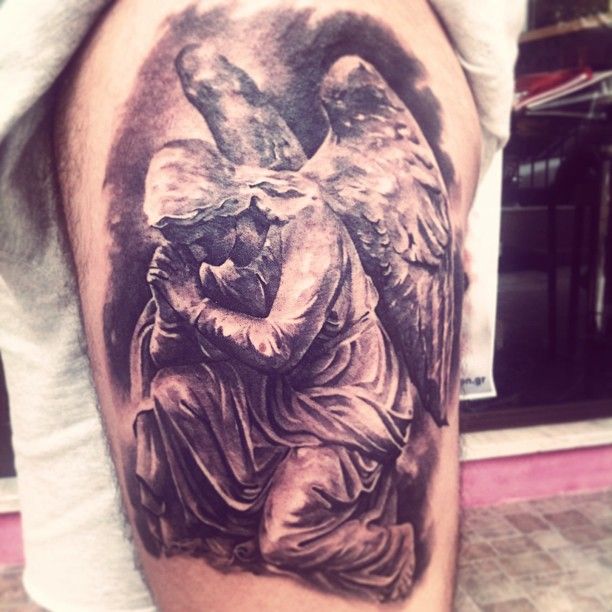 If you're a religious individual with a strong belief in faith, a guardian angel prayer tattoo might suit you. This tattoo symbolizes your connection to God since prayer is one-way humans reach God, and angels act as the messengers.
So, in such tattoos, your prayers are reaching God thanks to his messenger. Usually, these tattoos depict the angels holding hands together while closing their eyes or bowing down as they pray. Prayer in the tattoo might also symbolize the power to overcome daily life hurdles, since a powerful deity is behind you.
Small Angel Tattoos for Females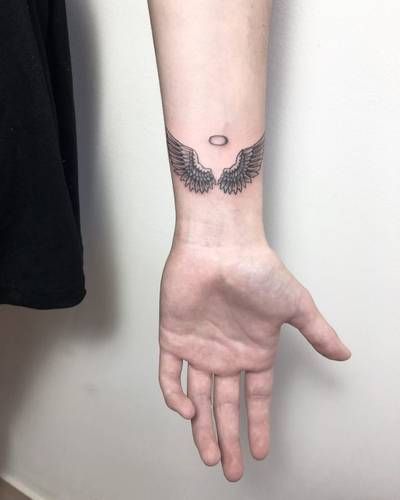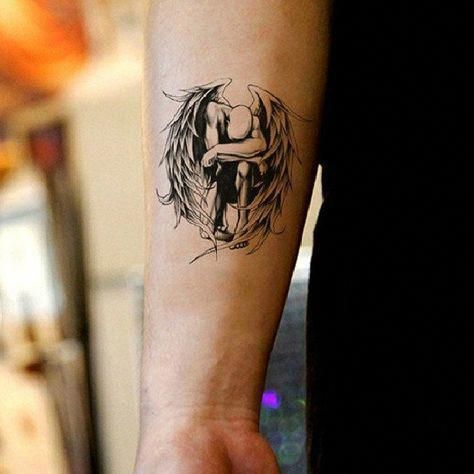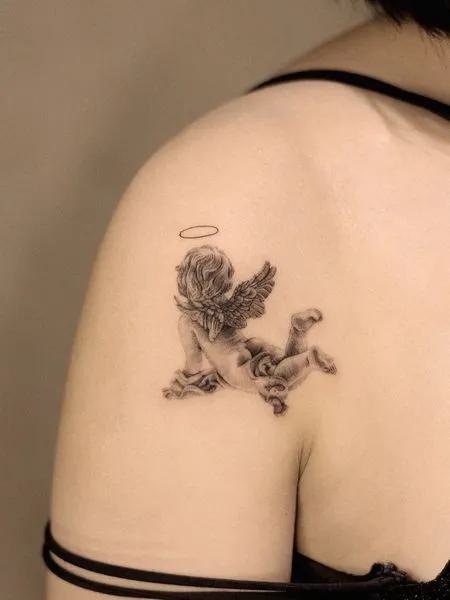 If you're not a fan of large tattoo designs, you can get a small angel tattoo. After all, it will make an impact like a huge detailed tattoo and speak a lot about you. You can place them anywhere on your body since they take little space and always look unique and cool. And the best part, you can cover them up or incorporate other designs when the need arises.
Beautiful Female Guardian Angel Tattoo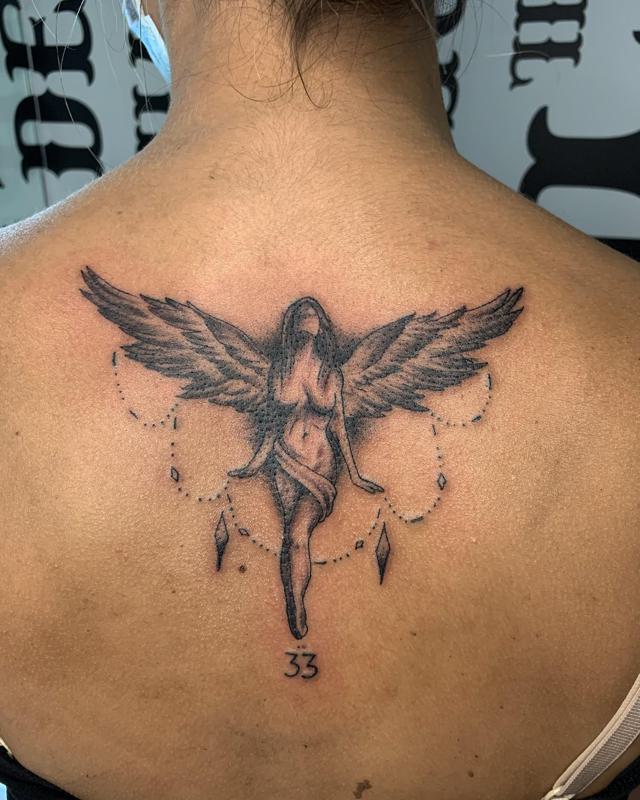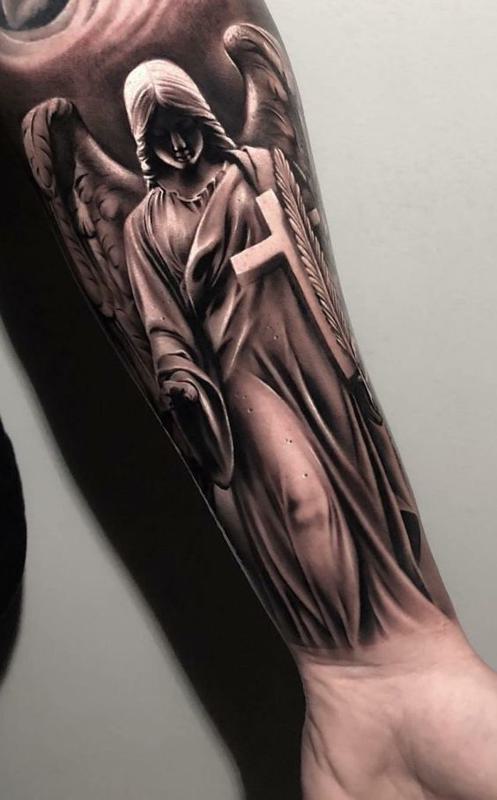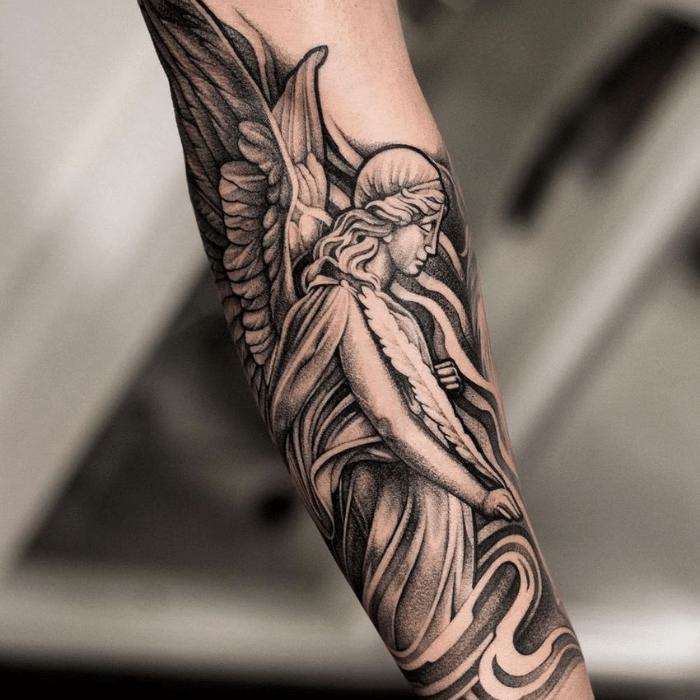 You can never go wrong with a beautiful guardian angel tattoo. Though most are simple in nature, they capture the classic female appearance. For example, the amazing artwork above is surrounded by a mandala tattoo, which represents the balance of mind and body, perfection, and eternity.
If that's not enough, the artist leverage thin black lines and grey ink to bring the angel tattoo to life. The creativity and intricacy of the design allow the tattoo to stand out, regardless of where it's placed on the body. But the most ideal location for it is the upper back torso.
Female Protector Guardian Angel Tattoo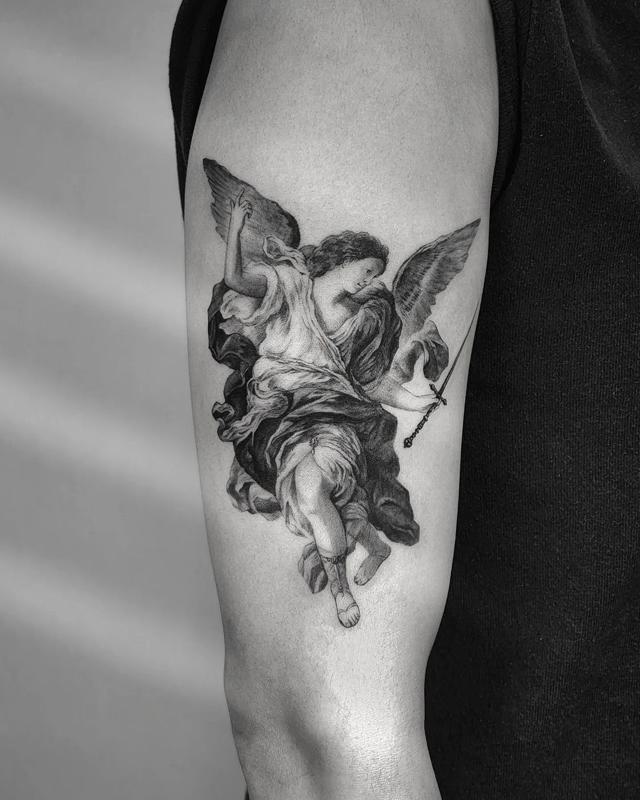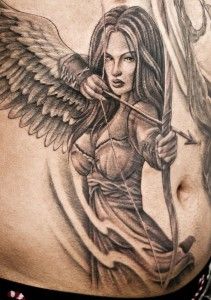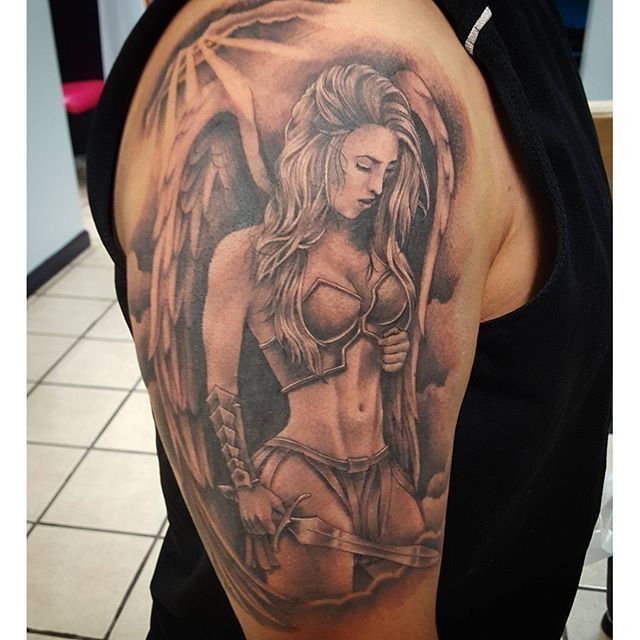 The archangel Jophiel takes the spot for the best female protector guardian angel tattoo. Archangels are not gender specific, but Jophiel is perhaps one of the most formidable and popular female archangels.
She is often depicted holding a flaming sword. Her tattoo usually boasts fine lines and intricate designs. Her tattoo's most distinctive features are the hair and wings, which look breathtaking. The most ideal placement for an archangel tattoo is the arm, but don't limit yourself to one body part.
Fallen Angel Tattoo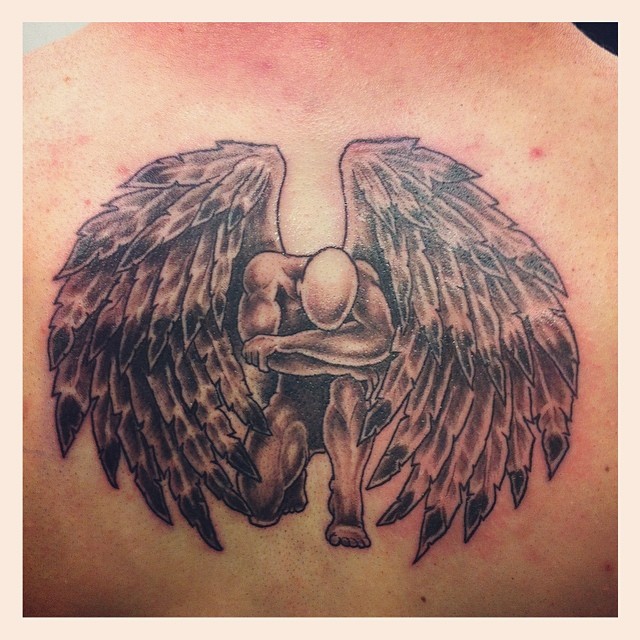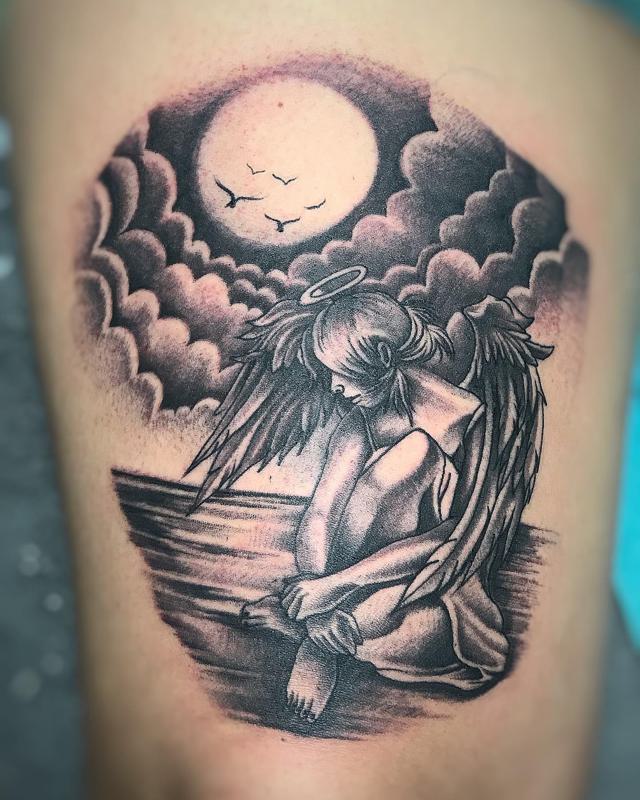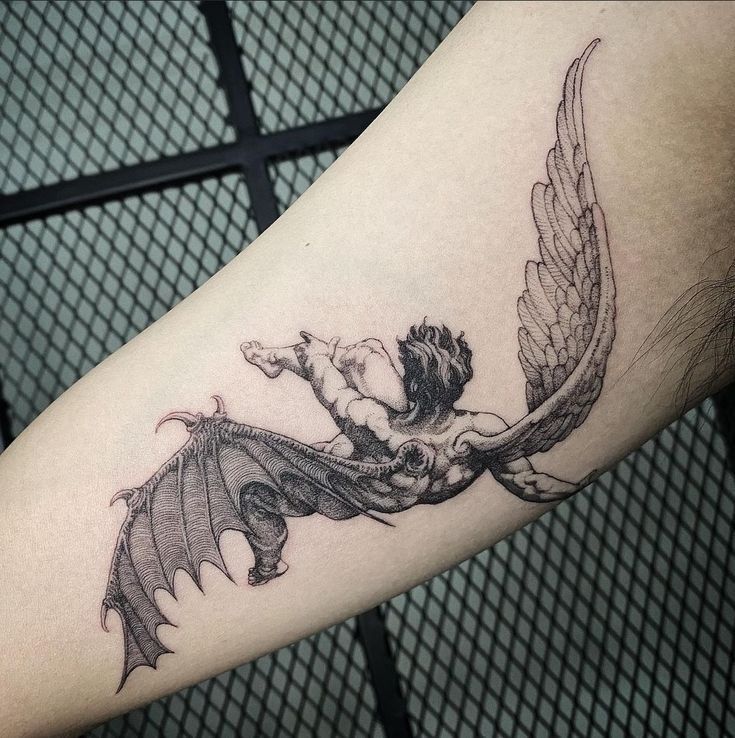 In most tattoos, fallen angels are depicted in feminine form, glamorous but full of darkness. Besides that, they're in constant battles. And if they're not falling, their wings are torn or they hold bloody swords.
Many bikers, goths, satanist, and other individuals who love darker themes tend to prefer darker ink for their fallen angel tattoo designs.
The most famous fallen angel tattoo design originates from the renowned painting titled "Fallen Angel" by Alexandre Cabanel, a French painter. The painting is a piece of work, and it's sure to leave you in awe. No wonder it's the first choice for people looking to get a fallen angel tattoo.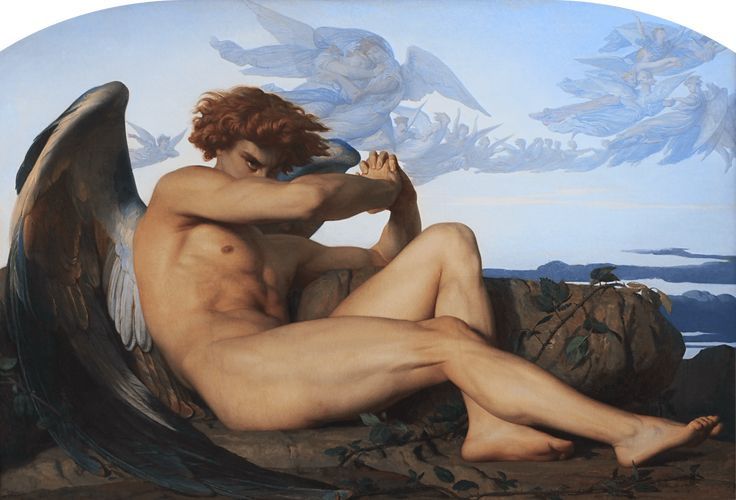 Baby Guardian Angel Tattoo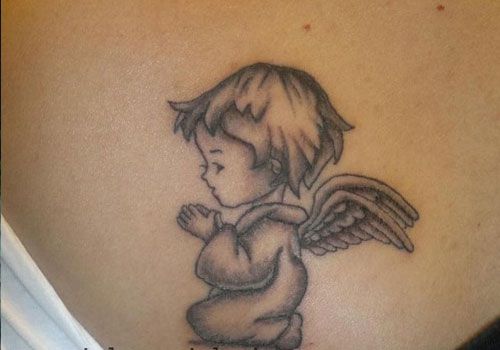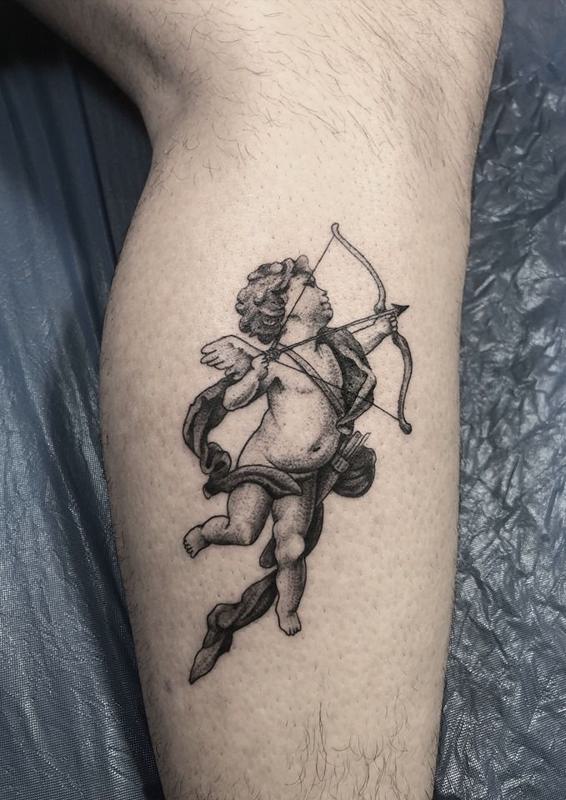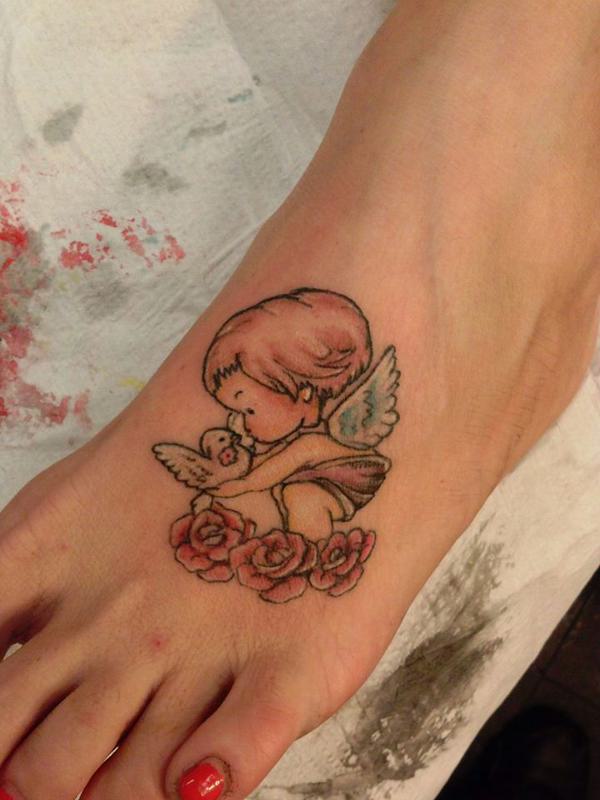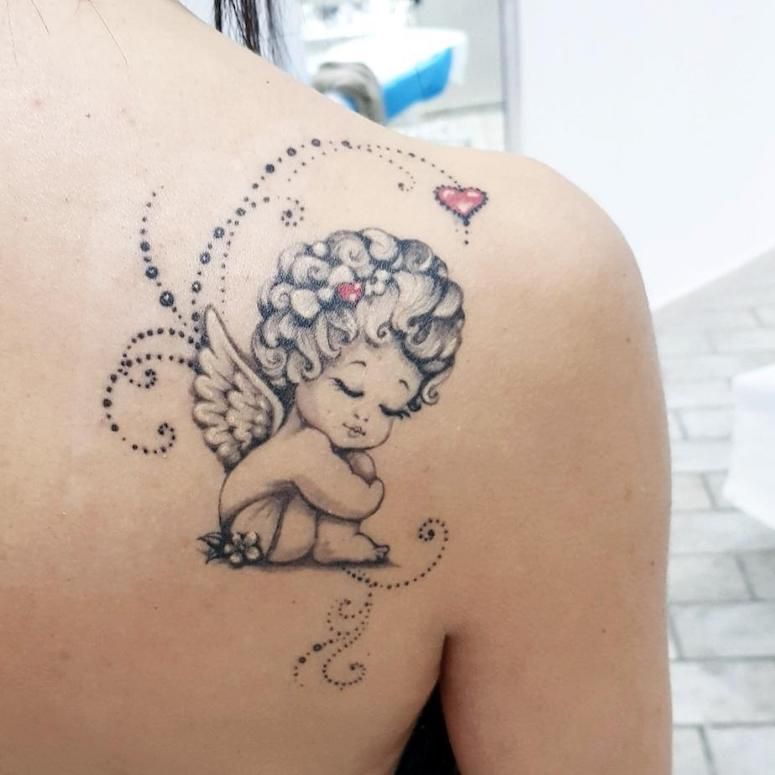 Baby guardian angel tattoos are perfect for those looking to get cute and innocent tattoos. Baby angels often symbolize cherubs,  small, winged, male gods often walking naked and carrying a bow. People consider Cherubs as the bringer of love and innocence.
In fact, the most popular Cherub, Cupid, is known to shoot people in the heart with an arrow to make them fall in love. If you're a romantic and share a strong bond with someone, then getting a baby guardian tattoo might not seem like a bad idea. Parents can also get these tattoos to honor their kids and pay tribute to the influence they have had on their lives.
Male Guardian Angel Tattoo Designs
Warrior Protector Guardian Angel Tattoo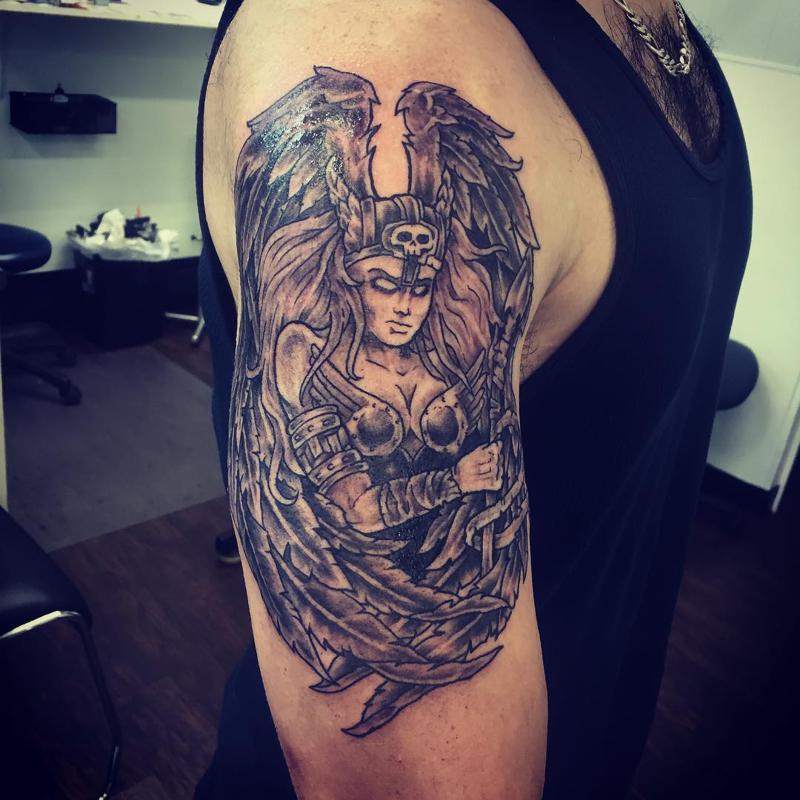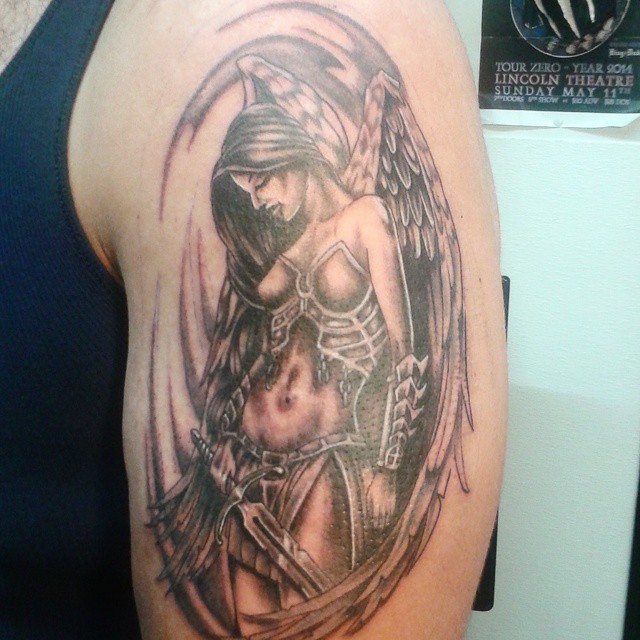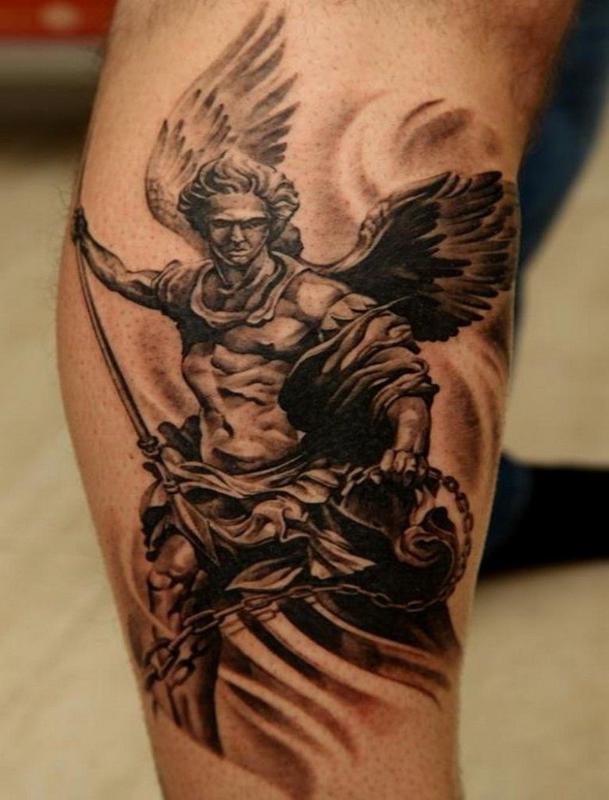 Most angels represent love and innocence. However, we have a few mighty warriors dedicated to fighting the evil in the world. Tattoos of these celestial beings are haunting in their beauty and look mesmerizing. Warrior protector guardian tattoos are unique because they come with several meanings and are open to many interpretations.
In most designs, the guardian angel wields a sword or spear with wings spread out to create an illusion of alertness. Anyone passionate about his beliefs can use such tattoo designs to show his daily struggle or battles with harmful energies.
Protector Guardian Angel Tattoo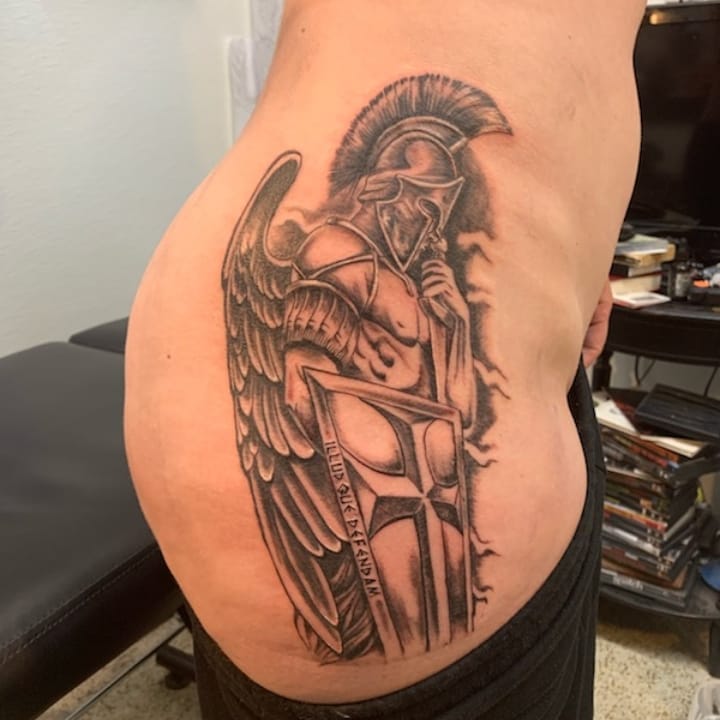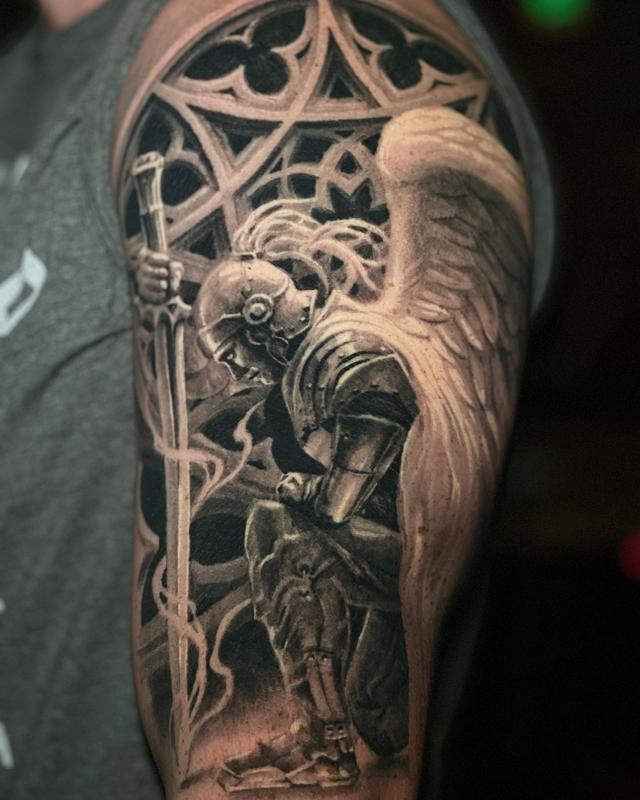 These beautiful pieces of body art are remarkable and more suited for arm sleeve placement. The tattoos incorporate many religious insignia to create a piece that makes an impact and has meaning. Like warrior protector guardian angel tattoos, these tattoos appear realistic and rest assured they will attract attention.
In some tattoos, the angel can carry a sword to offer security and protection to the bearer. While in others, the angel carries a cross embellished shield with wings hanging beautifully. Such a tattoo shows the wearer's strength and power.
Angel of Death Tattoo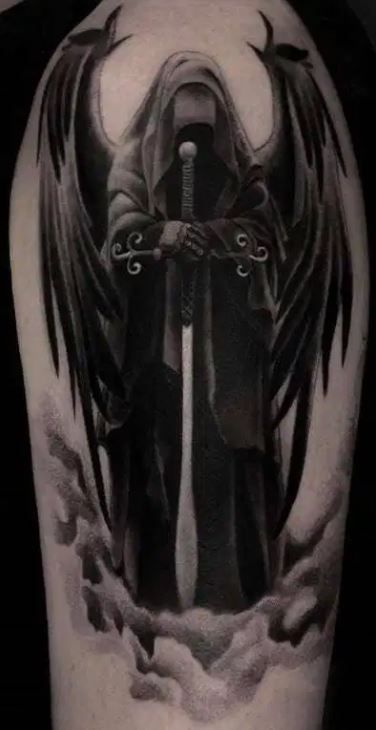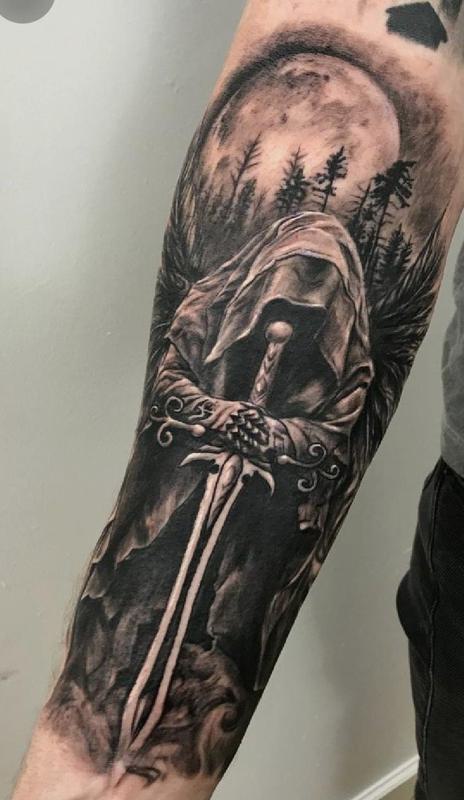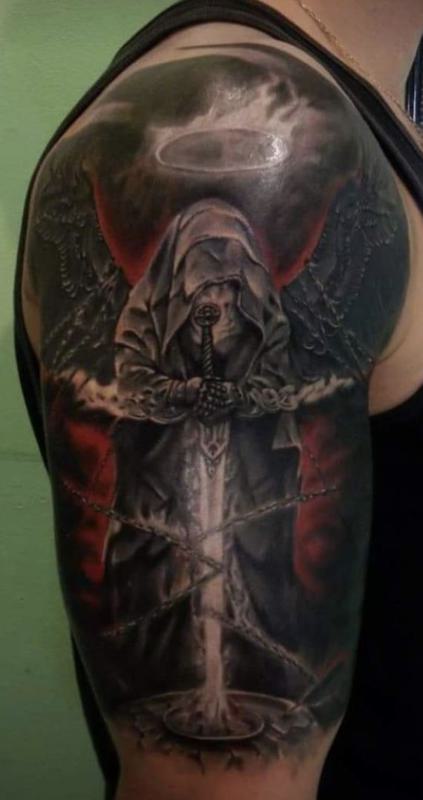 Death is inevitable, and it comes for us all at one point. But death doesn't necessarily mean the end of everything. In many religions, it symbolizes mercy and freedom. While the angel of death might sound a dark and scary figure, he's the protector and guardian of souls in their journey to the afterlife.
A tattoo of the grim reaper might not be your cup of tea, but men who contemplate their mortality might find these tattoos interesting and captivating. The hooded figure might serve as a reminder that our existence on this planet is only temporary and we should live our lives to the fullest.
Angel of death tattoo designs celebrate death as part of life and teach bearers to accept death when it comes.
Angel Wing Tattoo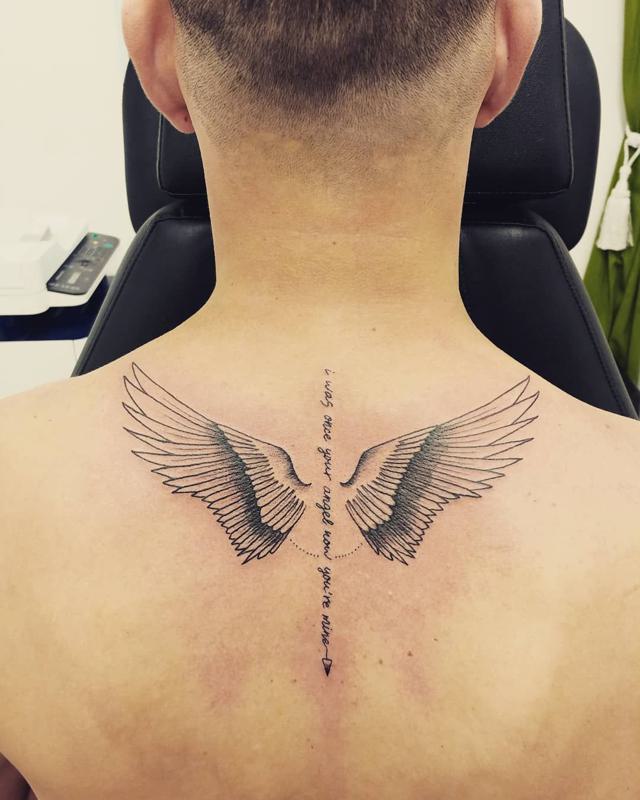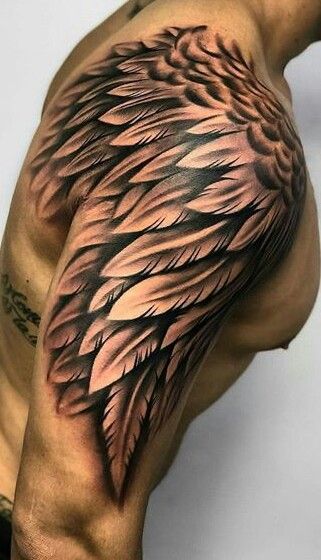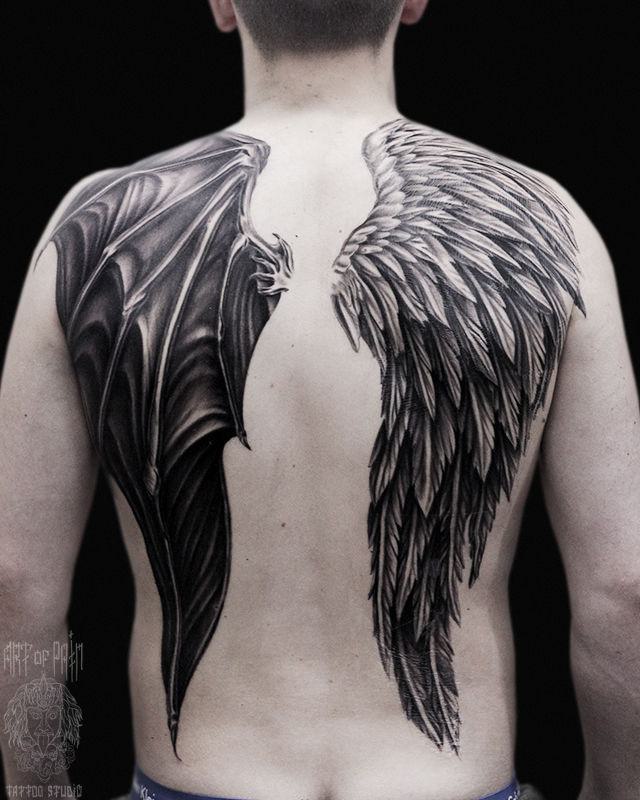 Guys who believe in spirituality, guidance, and freedom will fall in love with angel wing tattoo designs. Most men often use these tattoos to honor a lost loved one, a close friend, or a family member.
Alternatively, angel wing tattoos can also symbolize your strength and courage when dealing with a life-changing event. The back, forearm, sleeve, and bicep offer the best placement for these tattoos.
For the best appearance, consider a tattoo that looks more realistic, particularly those inked in a single color.
Holy Angel Guardian Tattoo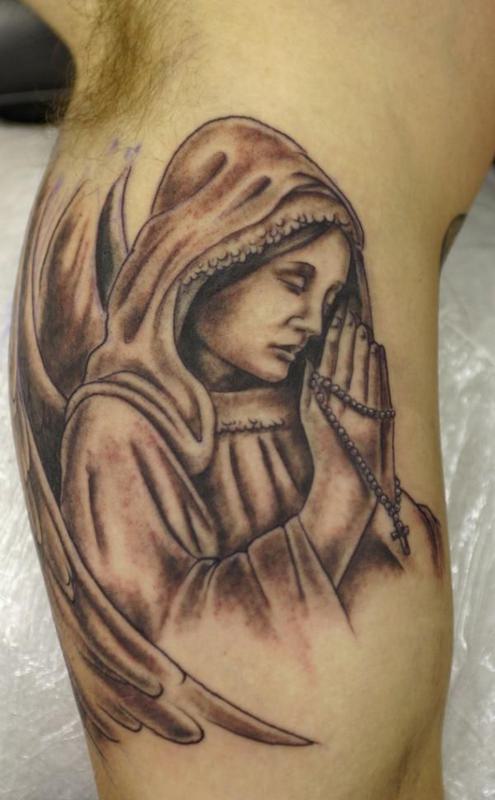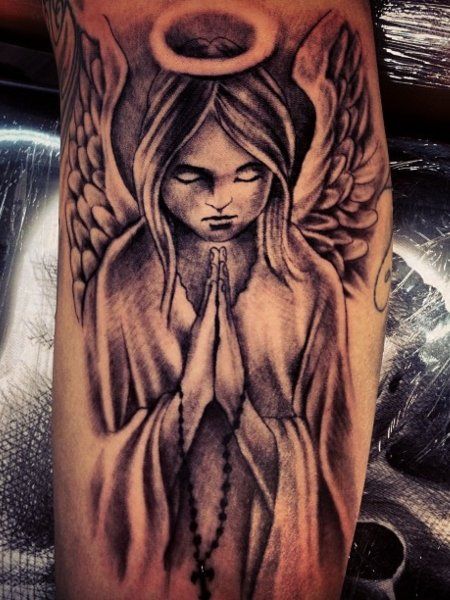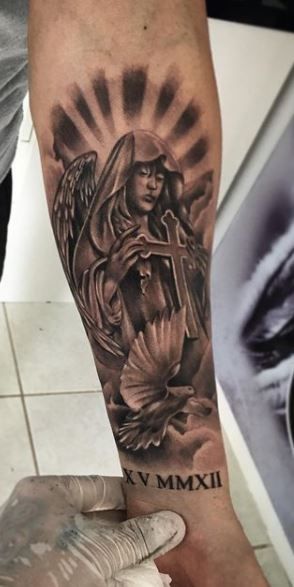 These tattoos are suitable for people seeking protection and guidance through life. Many men face near-death situations every day and face many-traumatic experiences.
Because of this, some might prefer to get a holy angel guardian tattoo to act as a reminder and source of strength. Most holy angels are depicted with a halo visible on top of their heads, taking care of kids or carrying a cross.
Whatever design you choose, rest assured these tattoos will look good and alight with the changes in your life.
Other Amazing Guardian Tattoos Designs Worth Trying
Angel and Demon Tattoo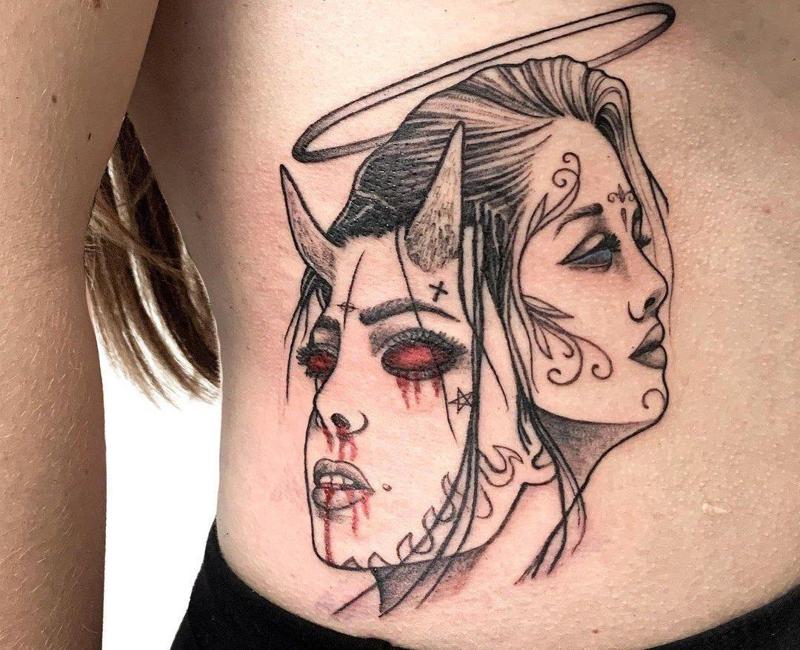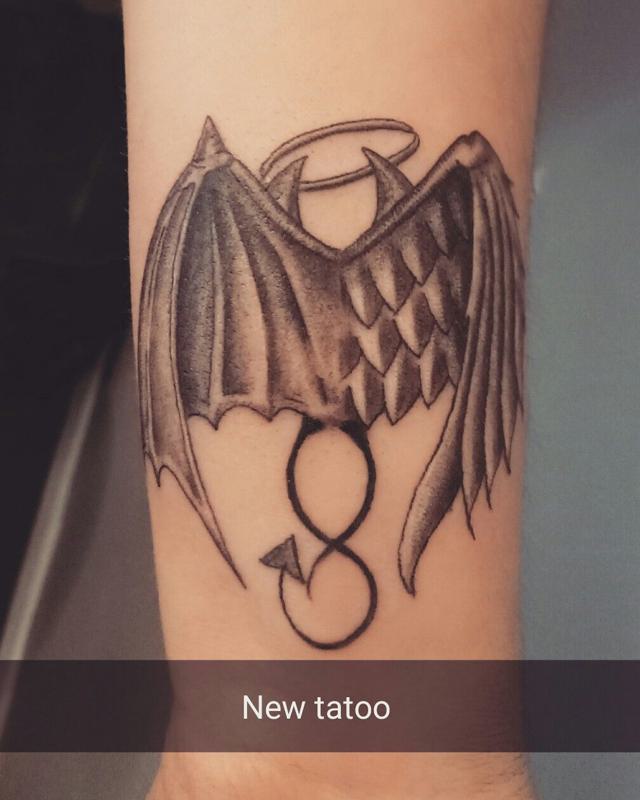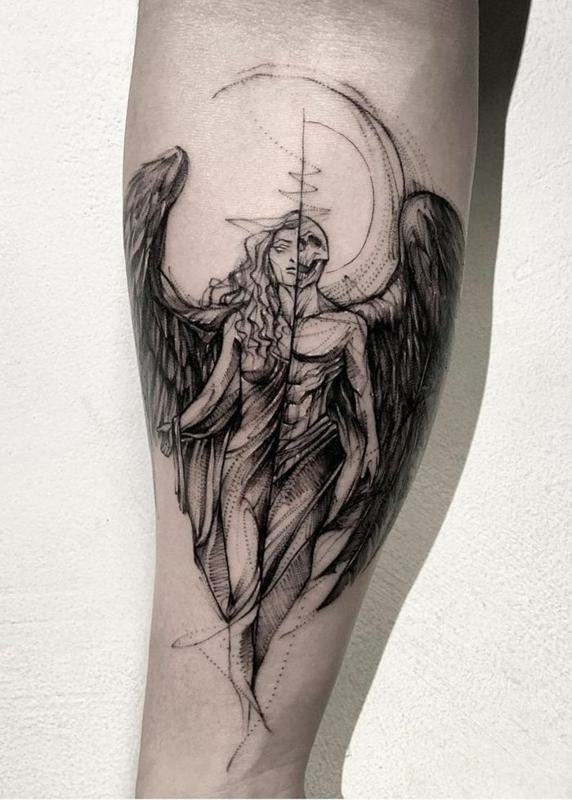 Dark Angel Tattoo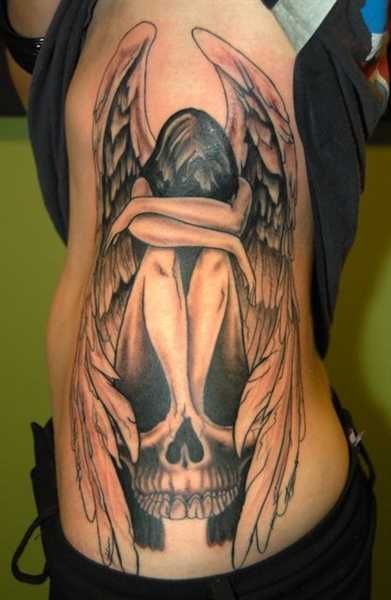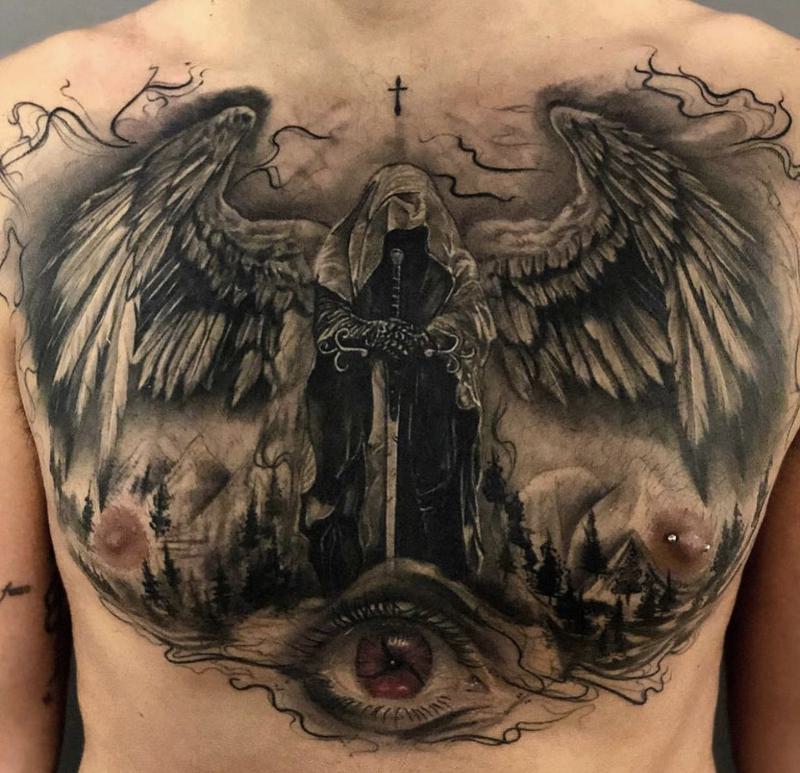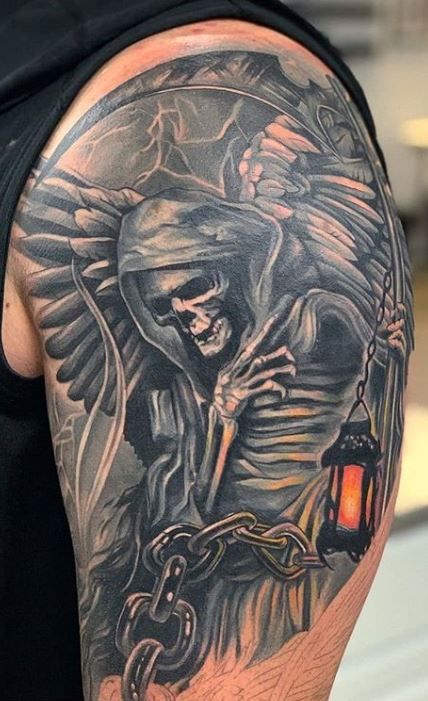 Guardian Angel Quote Tattoo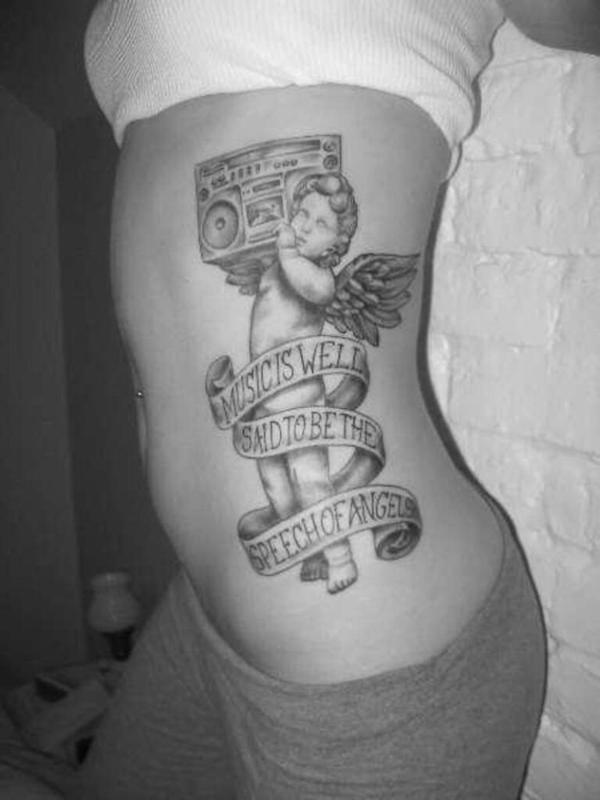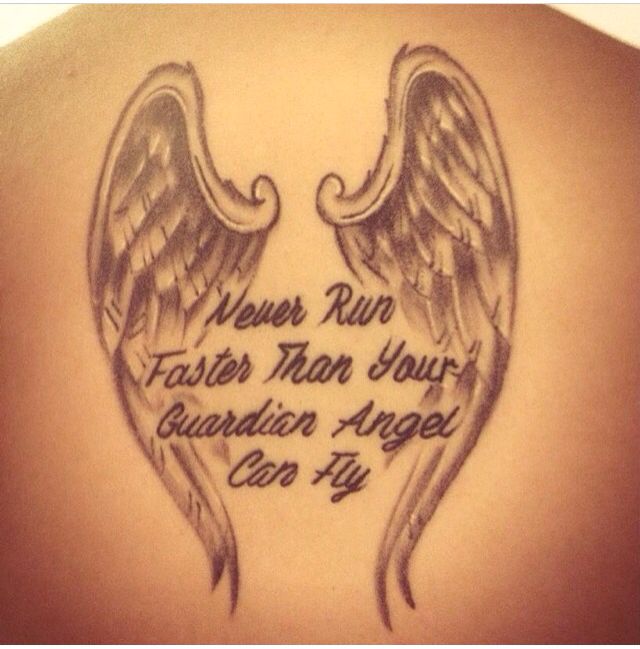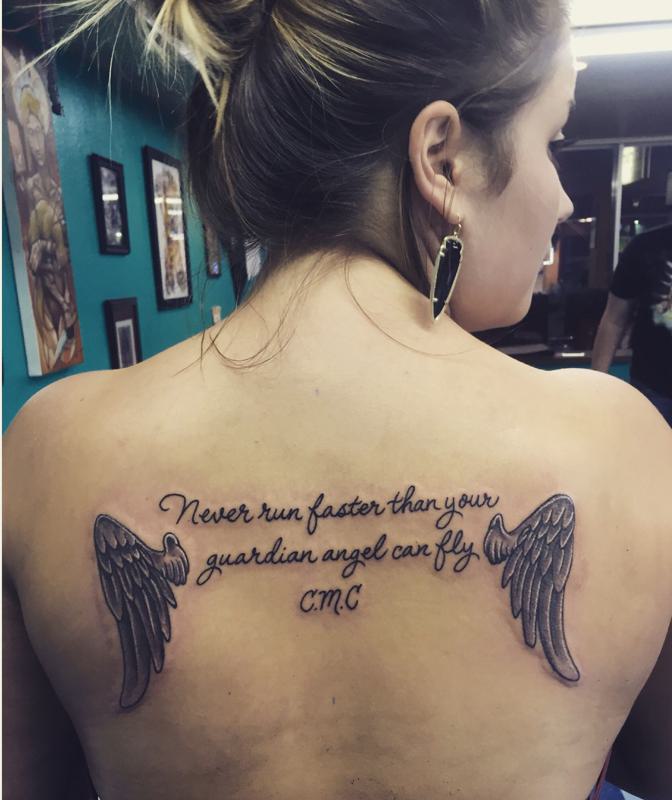 Angel Gabriel Tattoo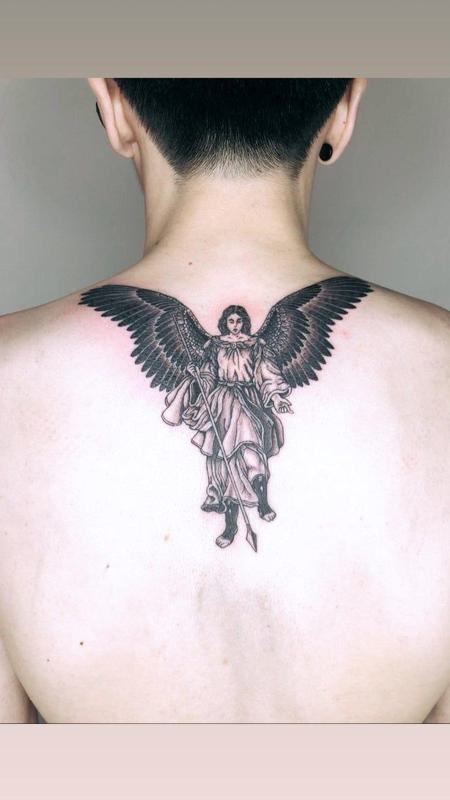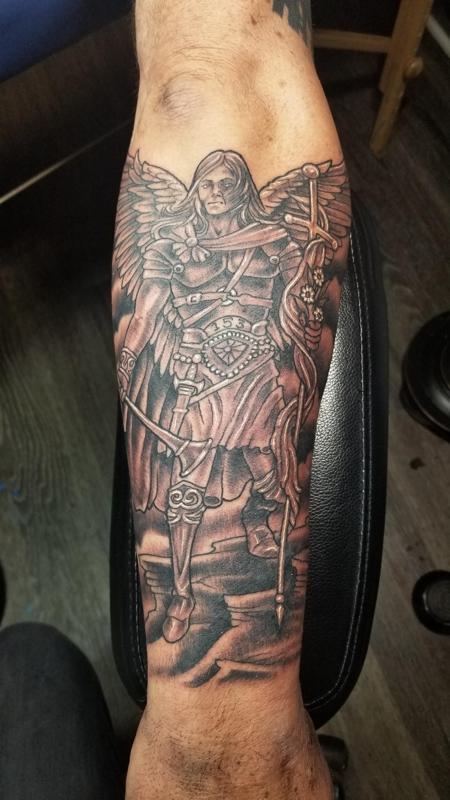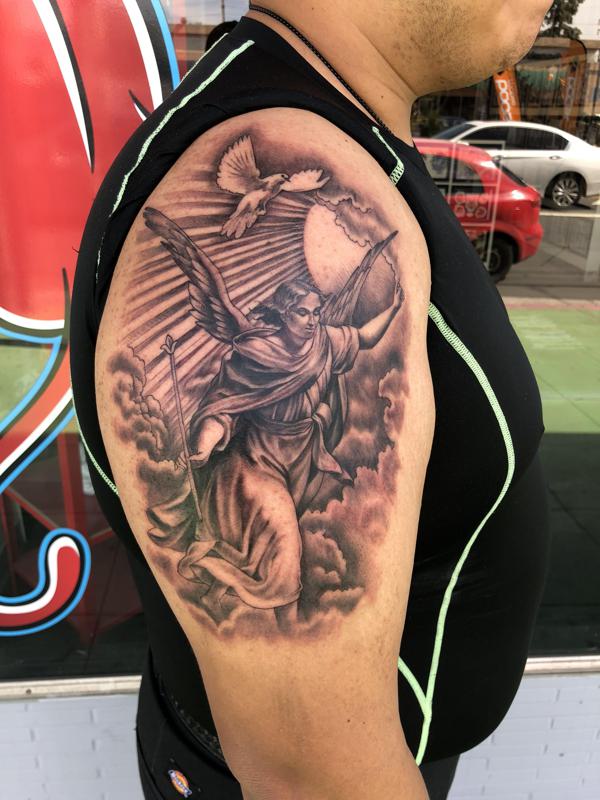 Angel Halo Tattoo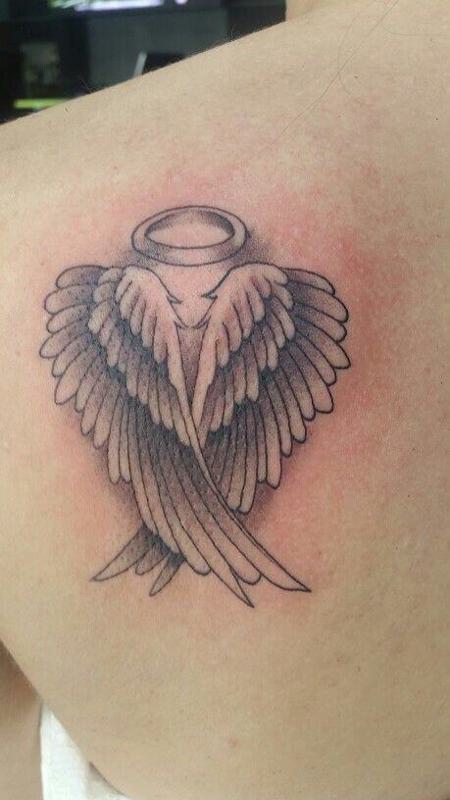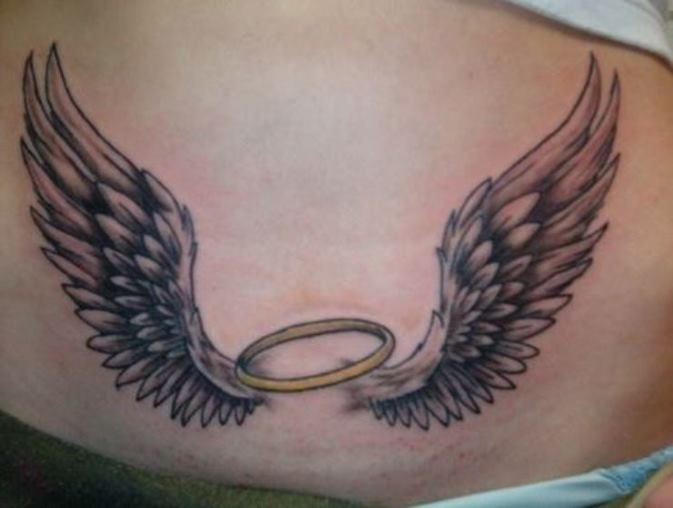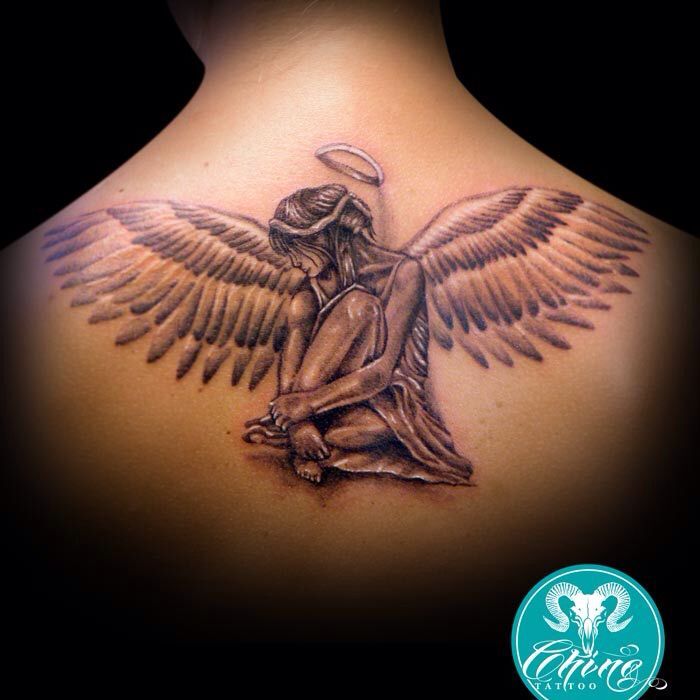 Guardian Angel Tribal Tattoo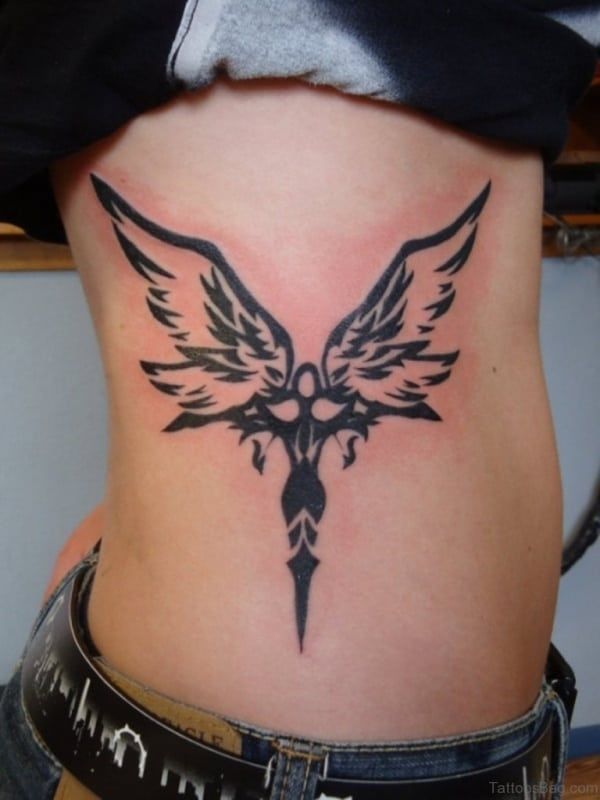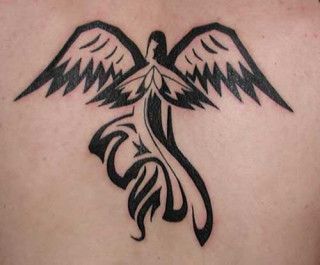 Bottom Line
The unique symbolism and endless design options make guardian angel tattoos a popular choice for men and women. Besides providing you with an amazing way to honor God and your religion, these tattoos stand for trust, protection, hope, and devotion. However, they can take an entirely different meaning, like pain, suffering, or rebellion.
What's more, guardian angel tattoos can get inked anywhere on the body, be it on the back, chest, arm, sleeve, wrist, thigh, or leg. And irrespective of their size, placements, or creative design, tattoos of celestial beings are powerful and look stunning. So, we hope the above design ideas have provided you with inspiration for your next body art.