Japanese Tiger tattoos are one of the most popular and versatile traditional tattoos and look great on any part of the body. Over time, the global tattoo artists have experimented with the old designs and inking styles and added some modern elements and patterns to broaden the range and impact of the infamous Japanese Tiger tattoo.
Now both men and women can customize the intensity of expression, inking, design, and size of the classic Japanese Tiger tattoo associated with power and courage and make it befitting for their personality type.
What Does the Japanese Tiger Tattoo Mean? – Japanese Tiger Symbolism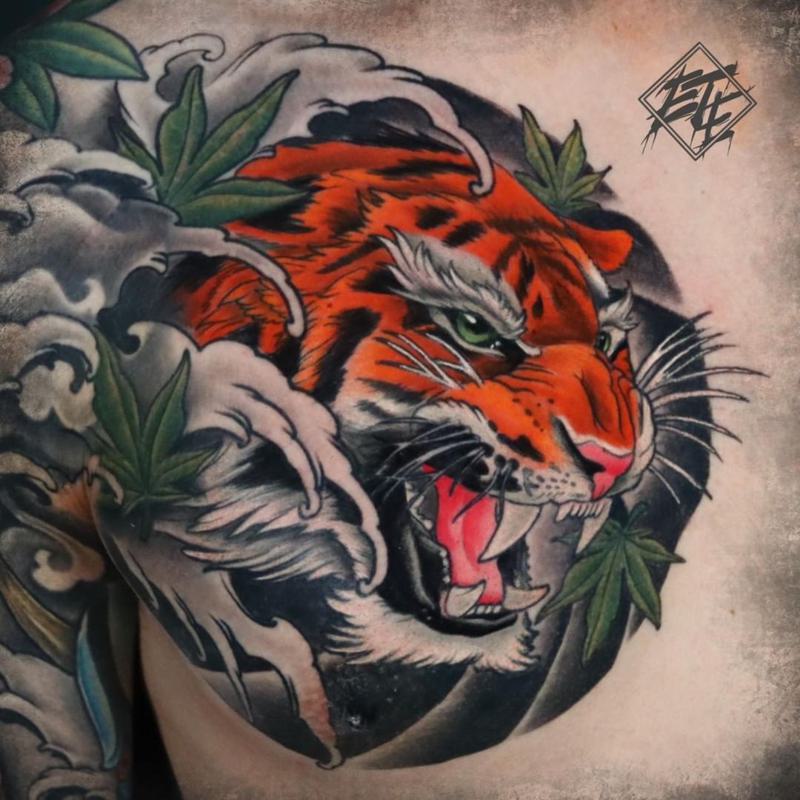 Japanese tattoos are very popular worldwide because of their strong symbolism that people can relate to and express openly. And it is also considered as one of the fiercest tattoo types because a Japanese Tiger is associated with immense strength and bravery.
In Japanese culture, a tiger is a protector that fights evil spirits, diseases, calamities, and bad luck. They also call it 'Bayakko,' which means warrior. So, if you want to represent your innate courage, strength, or confidence through a tattoo, a Japanese Tiger tattoo will be your best call.
The Best Japanese Tiger Tattoo Designs
There are so many design variations of the Japanese Tiger tattoo, depending on where you want it on your body. So, we are listing 25 Japanese Tiger tattoo design ideas for both men and women with pictures to make the right decision and select the one you like the best.
Traditional Japanese Tiger Tattoo
The traditional Japanese Tiger tattoos are inspired by ancient and intricate body art associated with the Samurai battle culture. This tattoo design involves the display of mythical battles and fiercely roaring tigers. You can get it carved on your chest, arms, legs, and even torso because it looks perfect everywhere.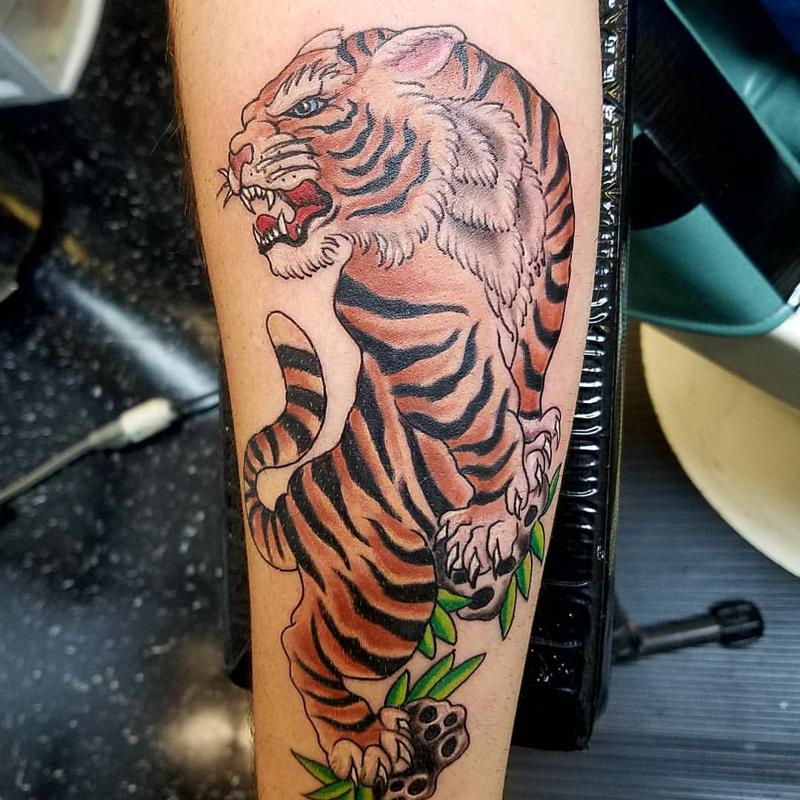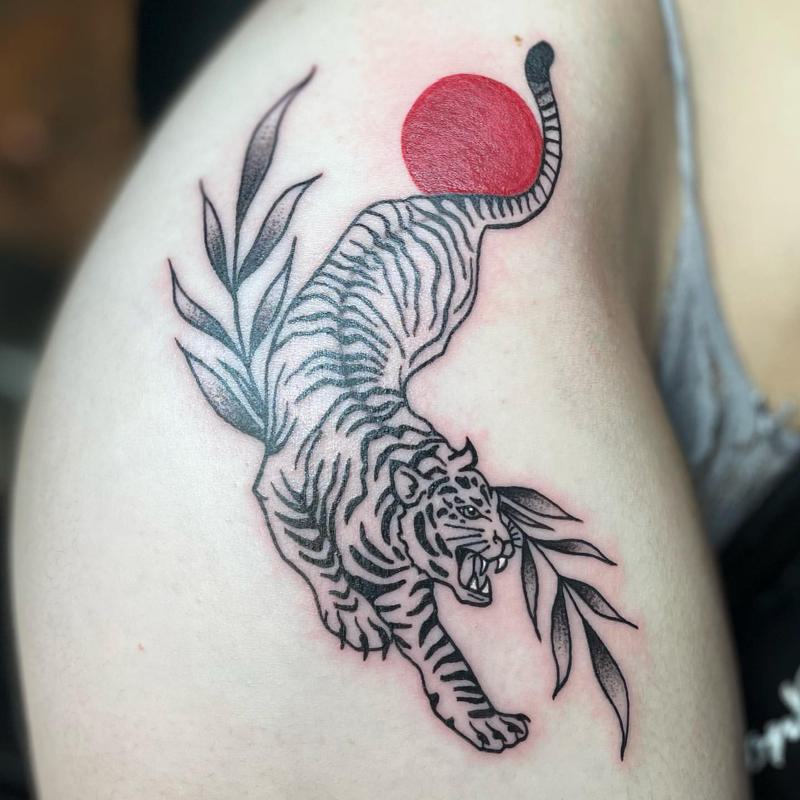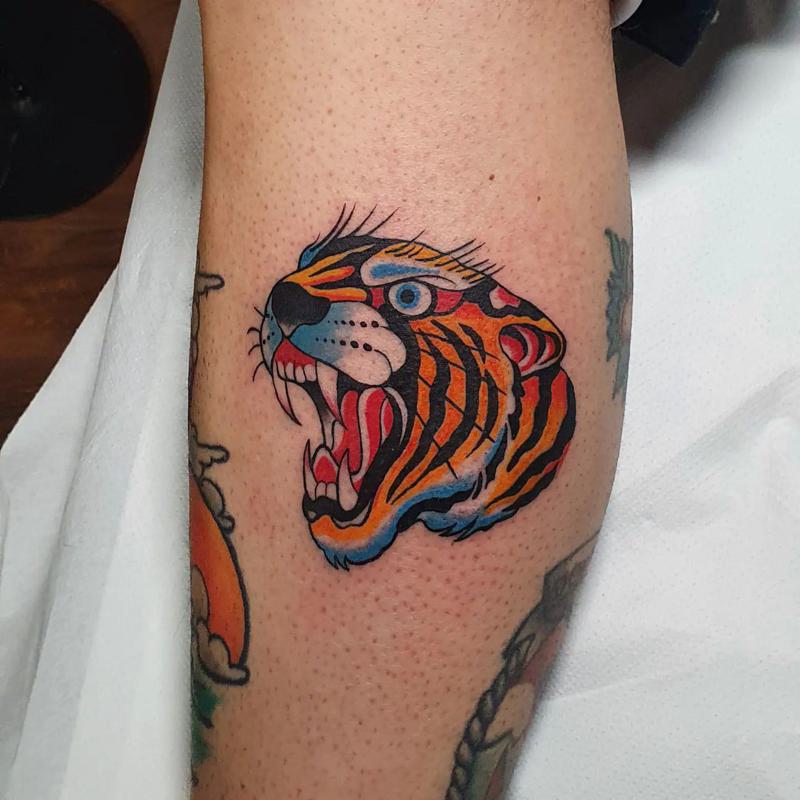 Full Sleeve Japanese Tiger Tattoo
The full-sleeve Japanese Tiger tattoo is like an old-school traditional Japanese kimono covering the arms. It is the symbolism of power and wealth, and in the images, you can see how beautifully the tattoo artists have done their job of bringing these elements out.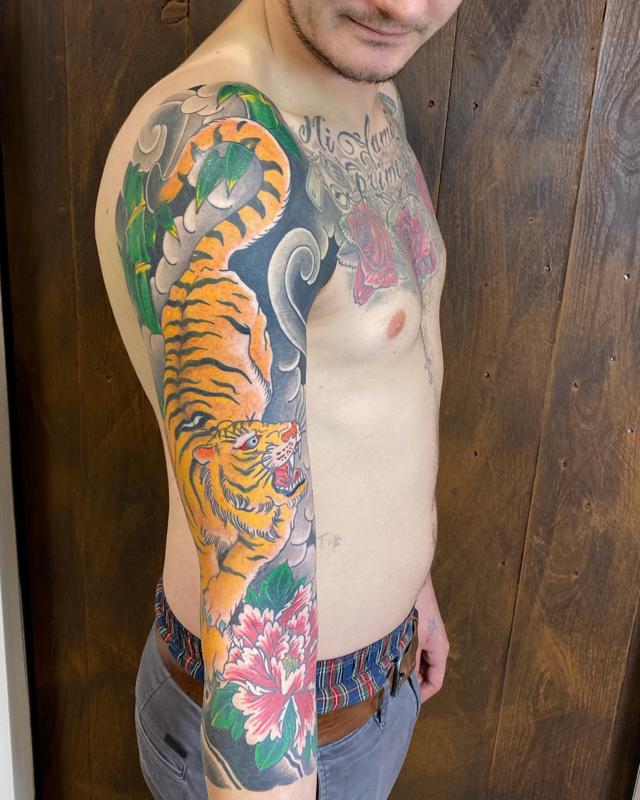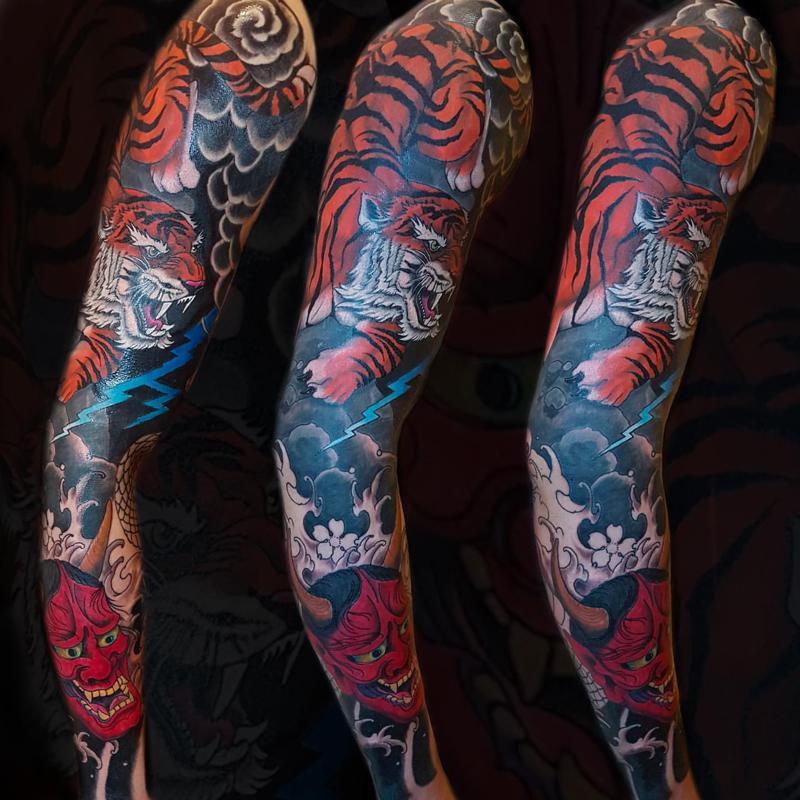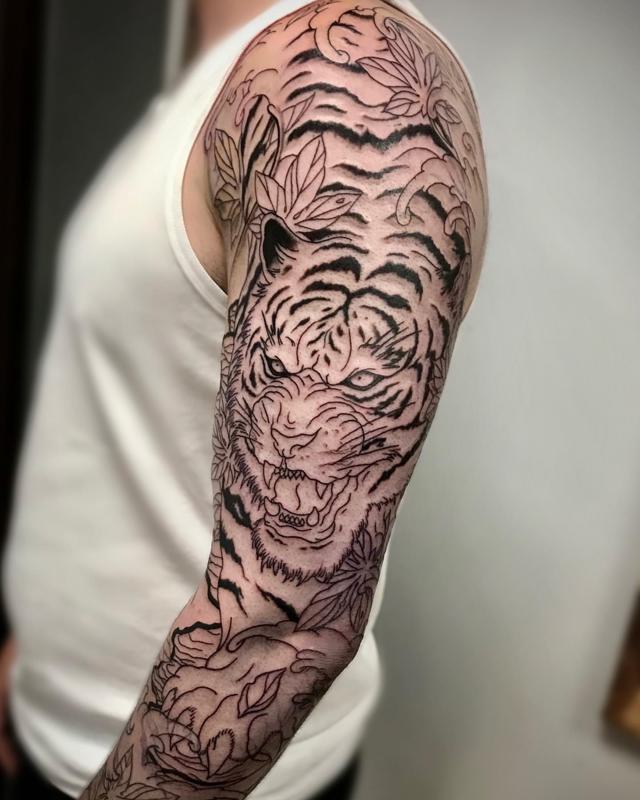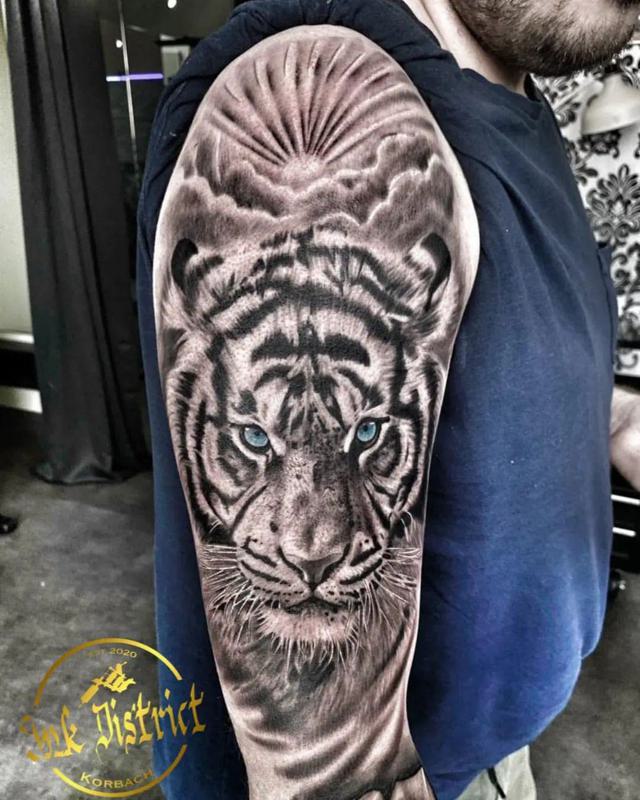 3. Hip and Thigh Japanese Tiger Tattoo
Hip and thigh tattoo looks very sensual on females covering their butt and some part of the thighs. The bright colors and flowers add a natural touch to the tattoo, making it look feminine and powerful. It can be a wild cat ready to pounce or a crouching tiger ready to kill enemies.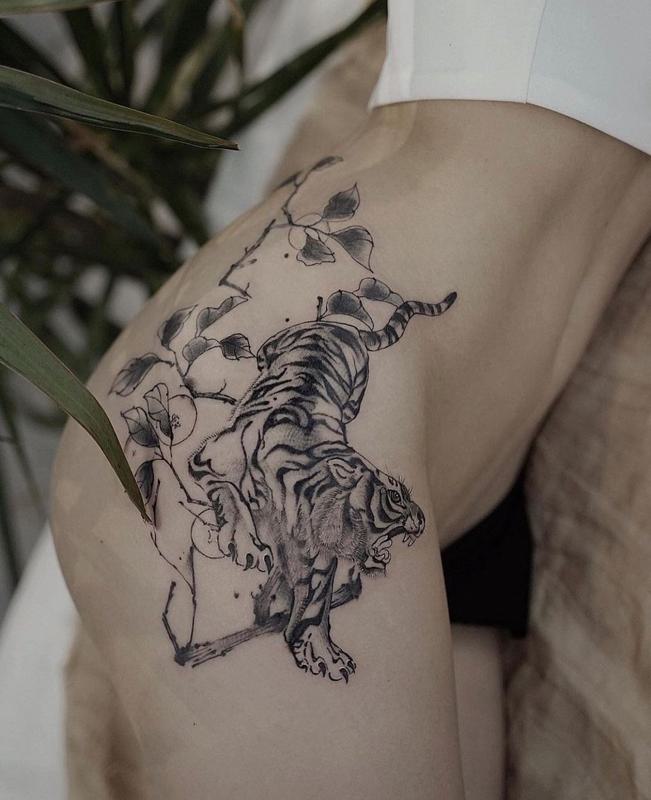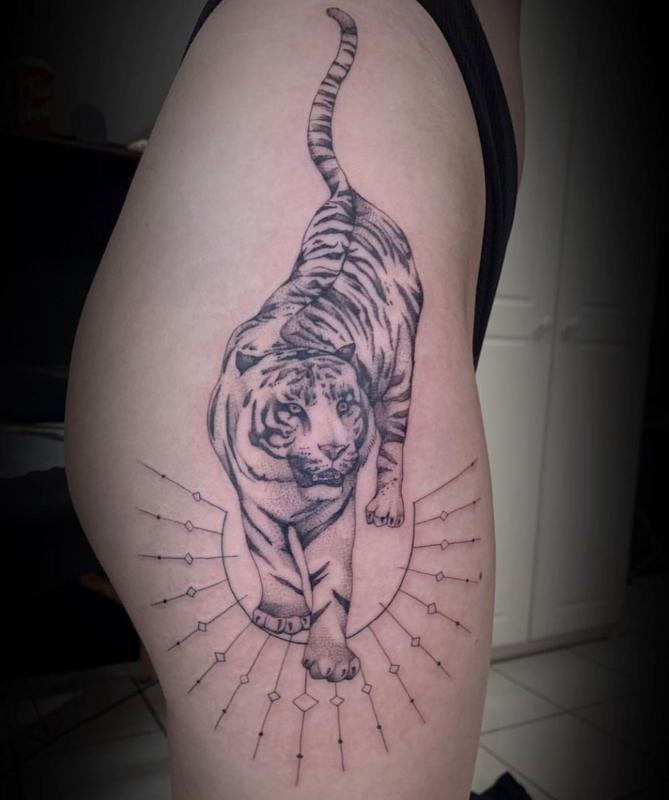 4. Chest and Arms Japanese Tiger Tattoo
Starting from the forearms, covering the arms, and approaching the chest and heart area, this Japanese Tiger tattoo symbolizes immense, eternal power and control. Getting this tattoo means you are the alpha of a group where no one can betray you.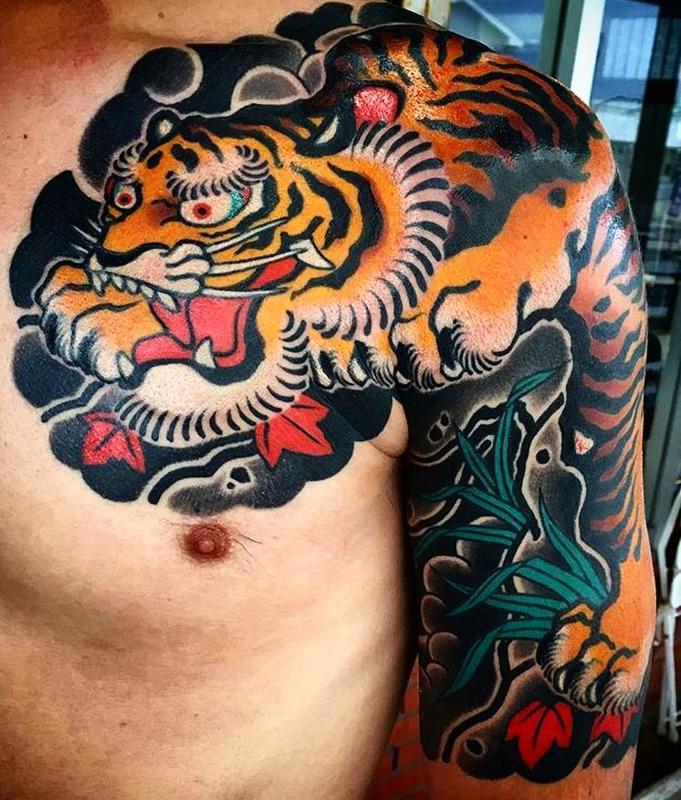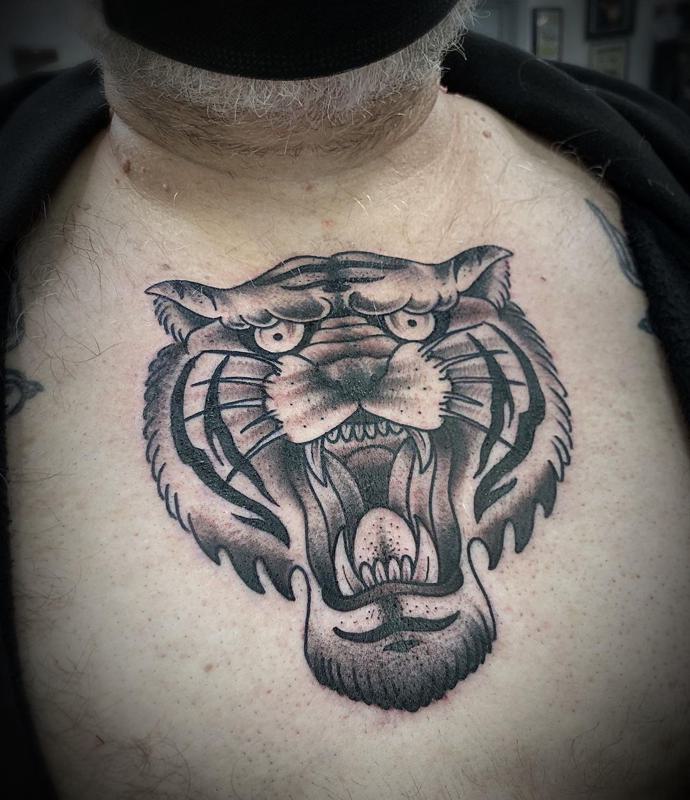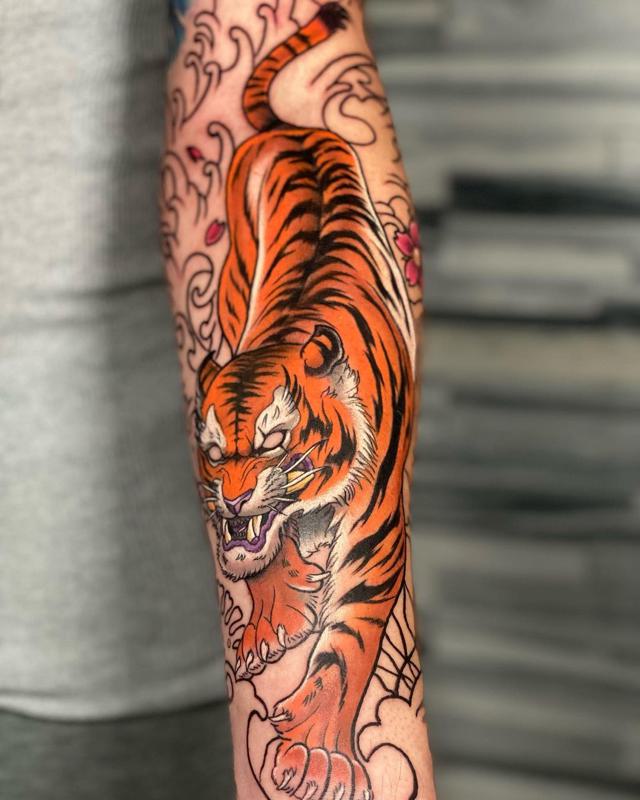 5. Full Back Japanese Tiger Tattoo – Senaka
A Senaka (meaning back in Japanese) Tiger tattoo covering the entire back looks sexy and extreme. Instead of going for the real tiger look, people go for the artistic tiger with apparent ferocious expression and dark stripes. Adding other elements like flowers and waves completes the tattoo in the best way possible.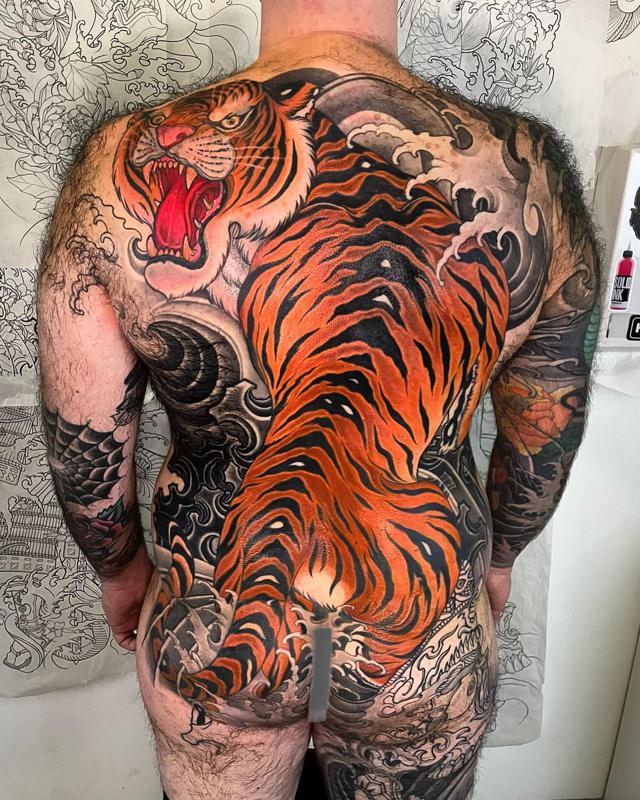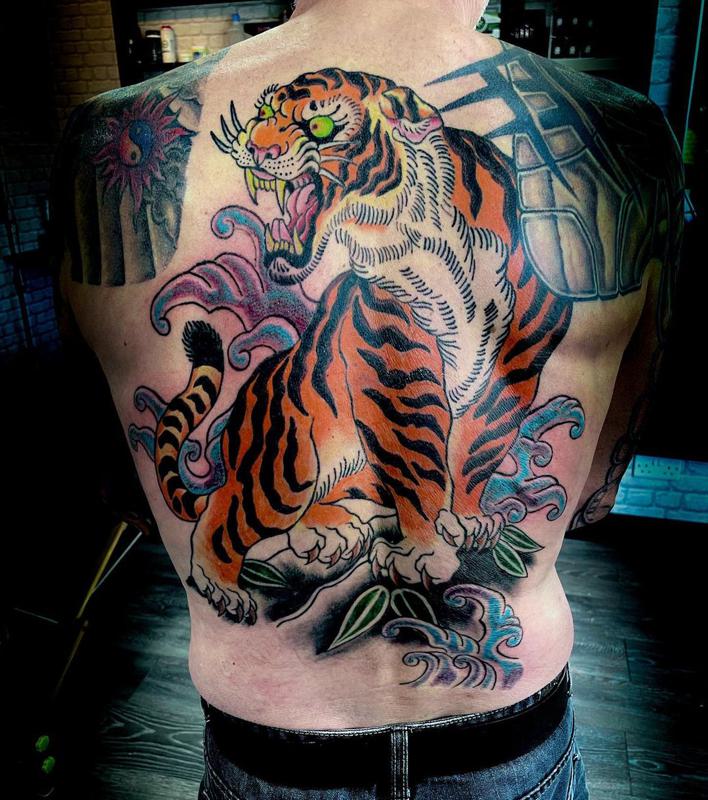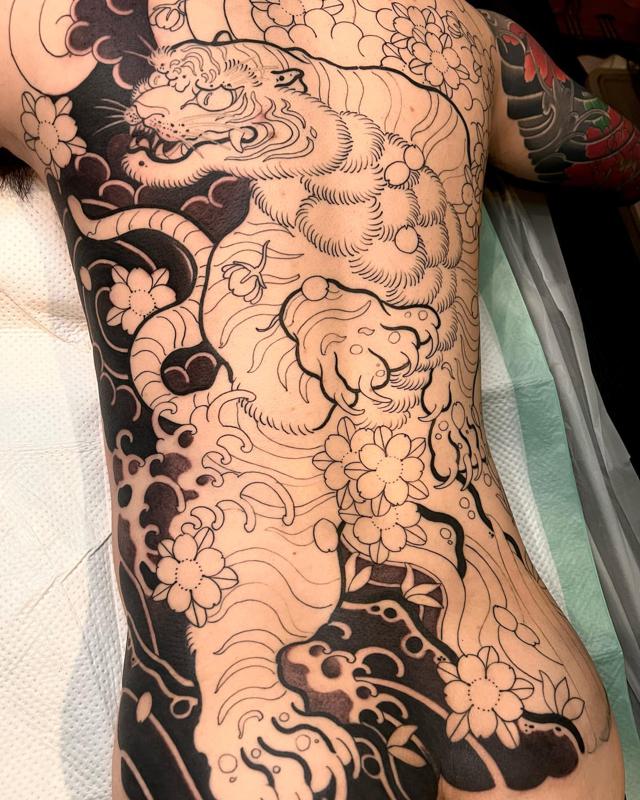 6. Gray and Black Japanese Tiger Tattoo
Instead of getting the classic black and white tattoo, you can go for the gray and black Japanese Tiger, which shows the complexity and depth. The details of gray and black shadows make it stand out in the crowd, and to add a little drama, you can add elements like flowers, thunder, or water.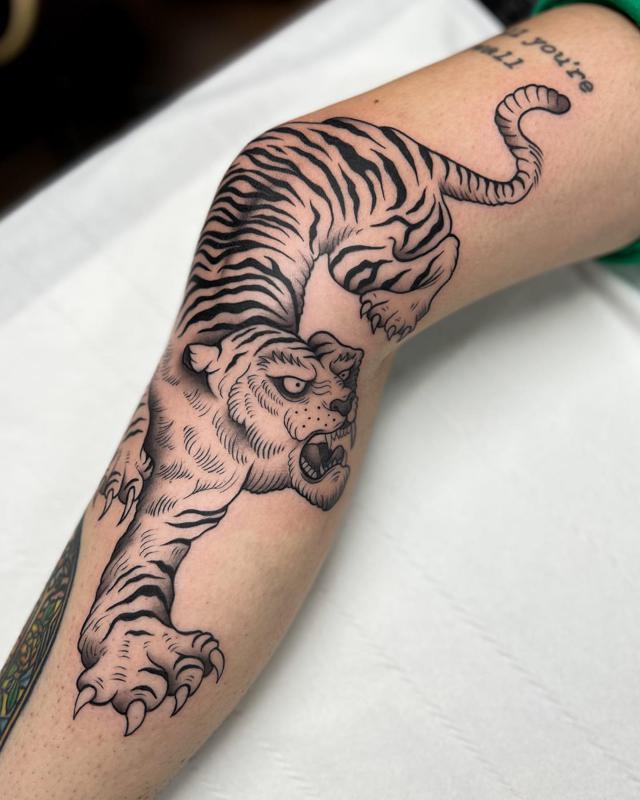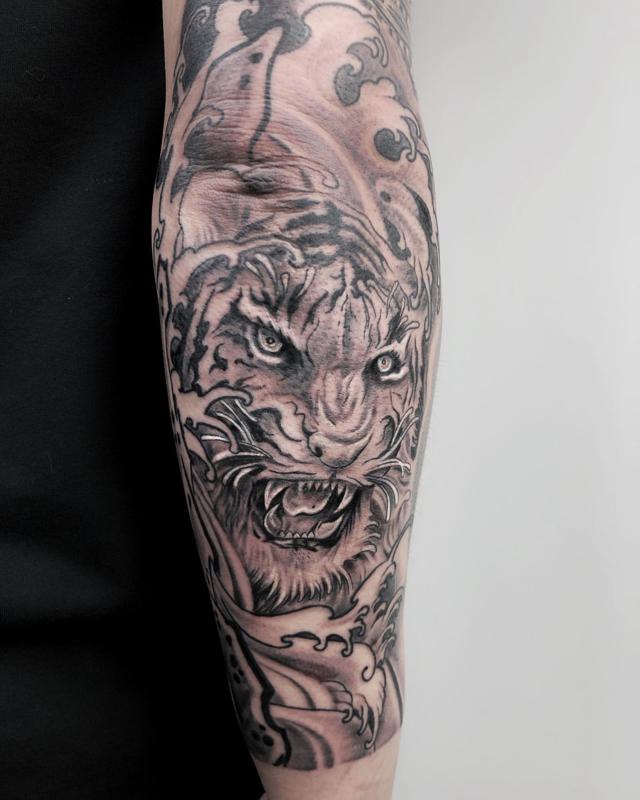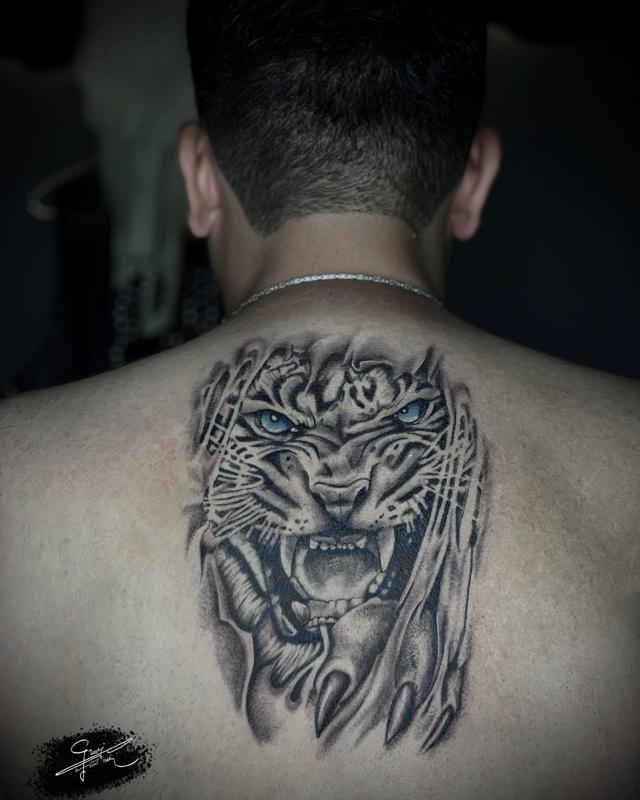 7. In Progress Japanese Tiger Tattoo
In progress, the Japanese Tiger tattoo is fascinating. It makes the other person wonder about the intent of getting that tattoo. The tattoo represents a person in constant movement, where everything changes for good. This tattoo looks the best on the forearms starting from the wrist.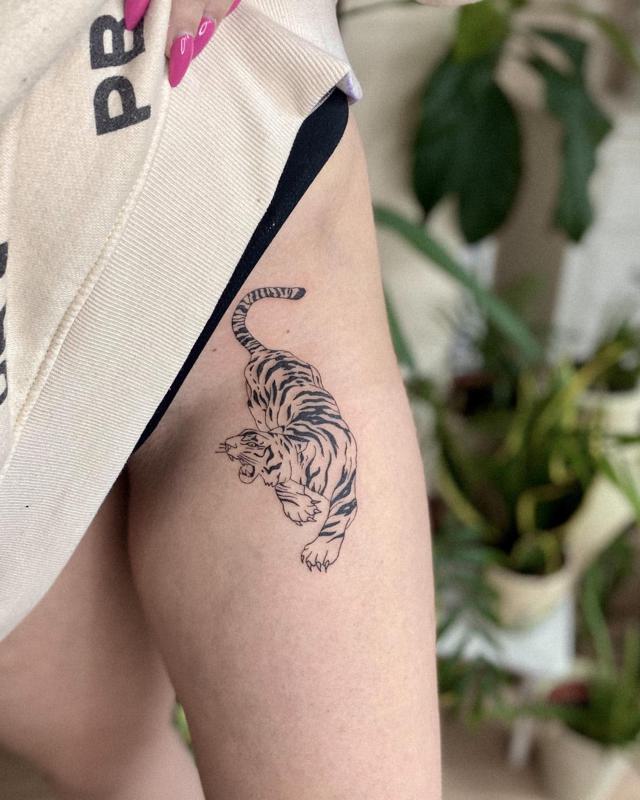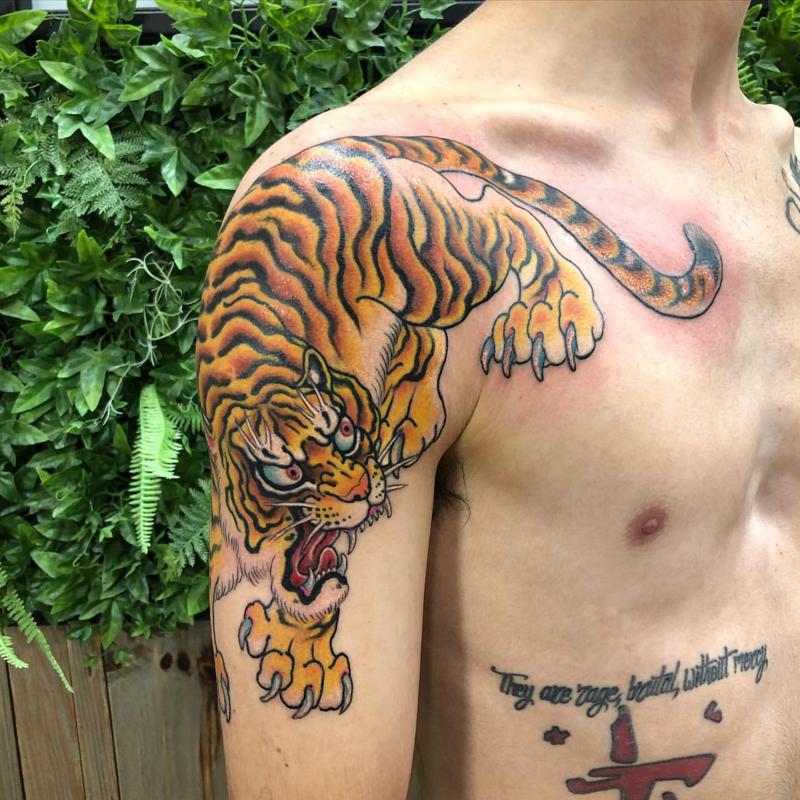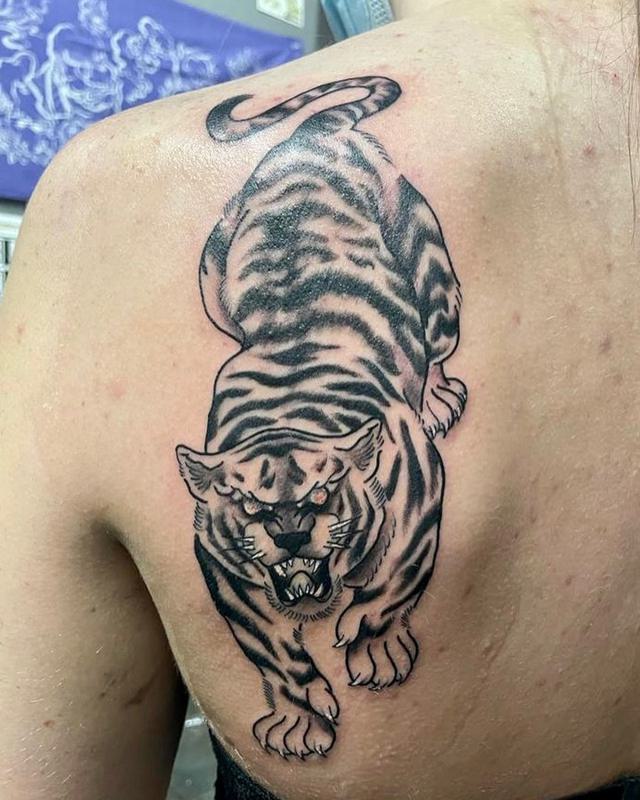 8. Hear Me Roar Crazy Japanese Tiger Tattoo
The intense roaring tiger tattoo with the mouth wide open and the sharp teeth coming out shows the beast's ferocity. The female tigers are thought to be even fiercer than the male tigers.
In ancient times, Japanese people used to think that the female tiger had spots and looked extremely frightening when hungry. So, we suggest you get an ancient female Japanese tiger tattoo roaring to the Gods.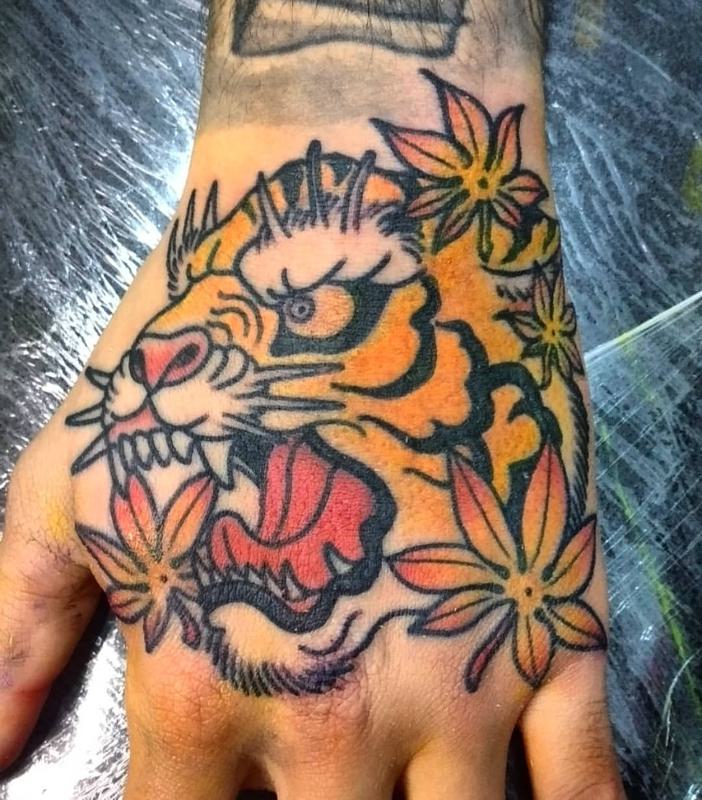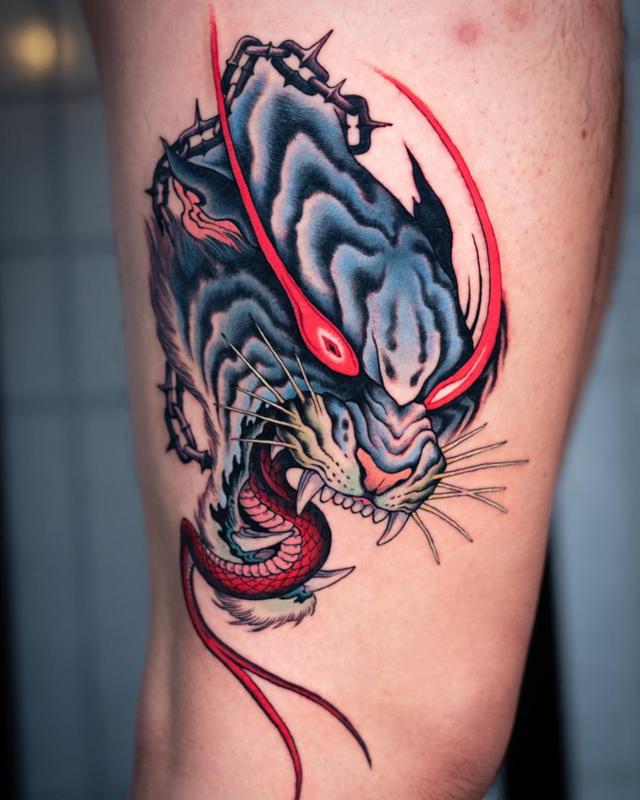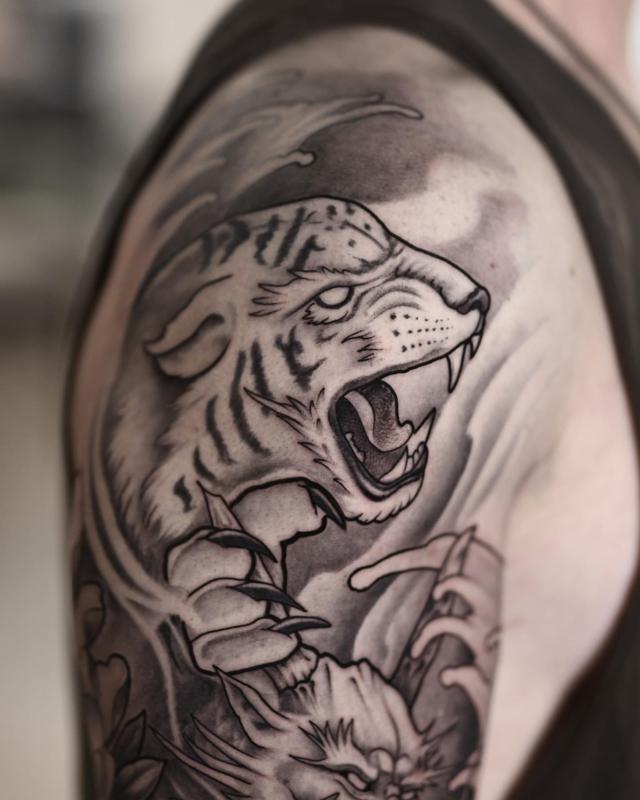 9. Lower Leg Japanese Tiger Tattoo
Getting a lower leg Japanese Tiger tattoo is a power move, especially if you are getting a full tiger face on your calves, because it represents your grounding in strong. This type of tattoo symbolizes stability and power so that you can get it in colorful ink with a slight touch of black and white ink.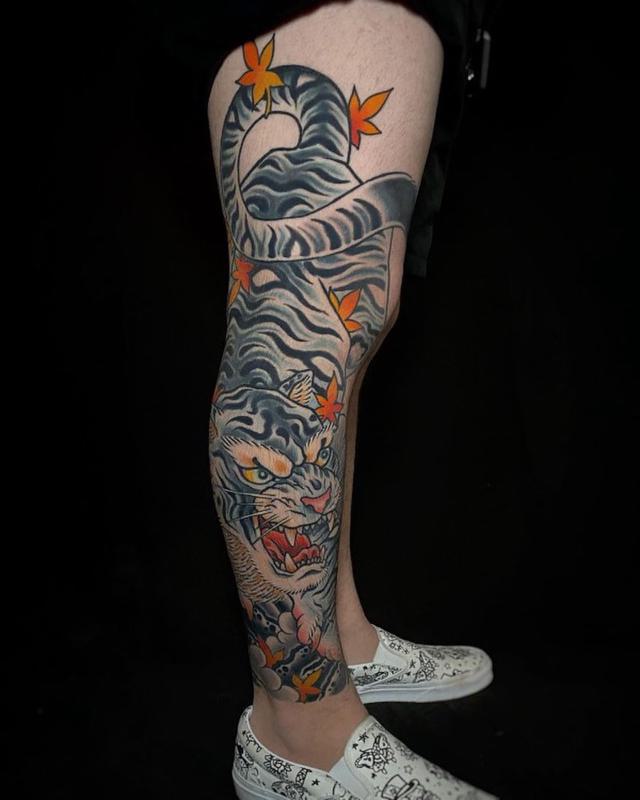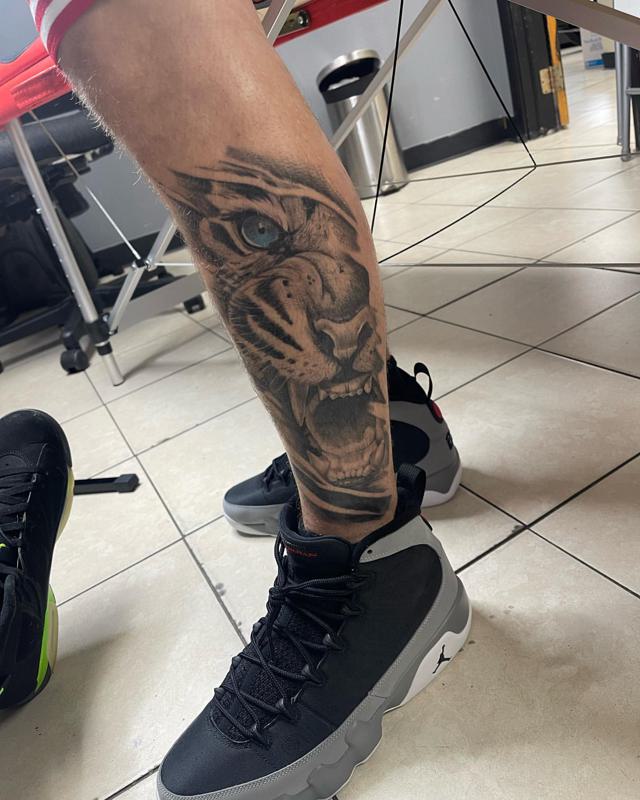 10. Thunder Japanese Tiger Tattoo
The Japanese Tiger tattoo fitted with thundering clouds or rain represents the fearsome beast. Tigers are also powerful and fierce protectors of the forests in Japanese culture. The waves of water and clouds make the creeping tiger look scary and wild.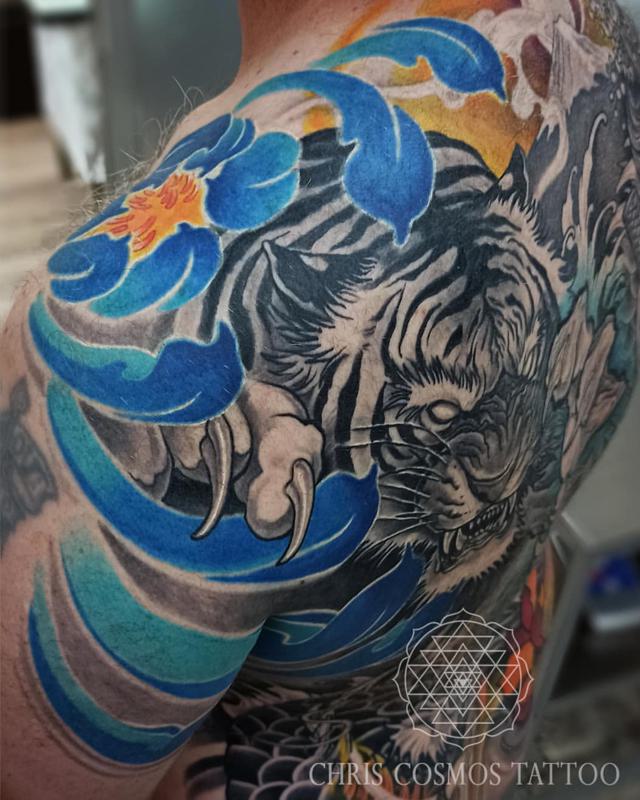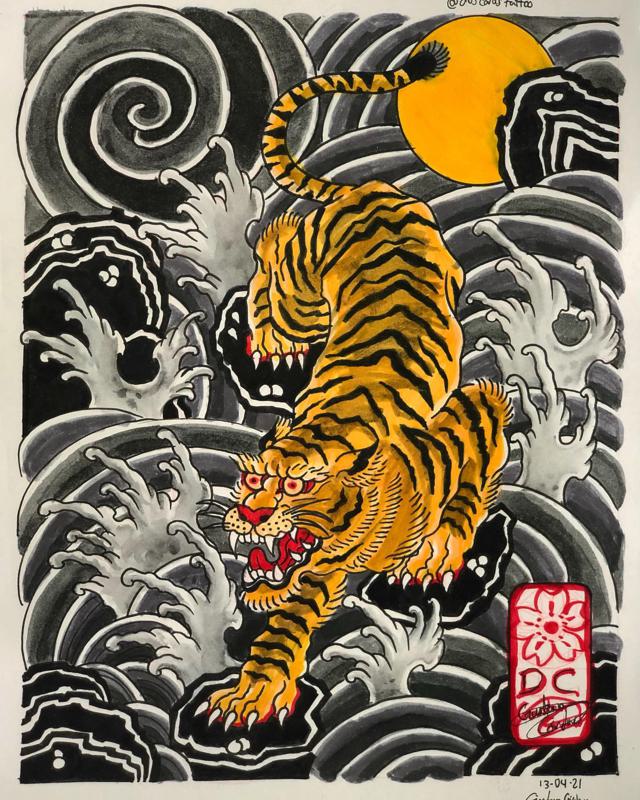 11. Scary Claws Out Japanese Tiger Tattoo
A Japanese Tiger tattoo with his claws out is the symbolism of instant attack if anything comes in the way of the tiger. And that is usually the representation of a tiger in mid-attack. You can go intense with the choice of colors to enhance the impact. For example, dark vibrant colors can make the tiger look even scarier.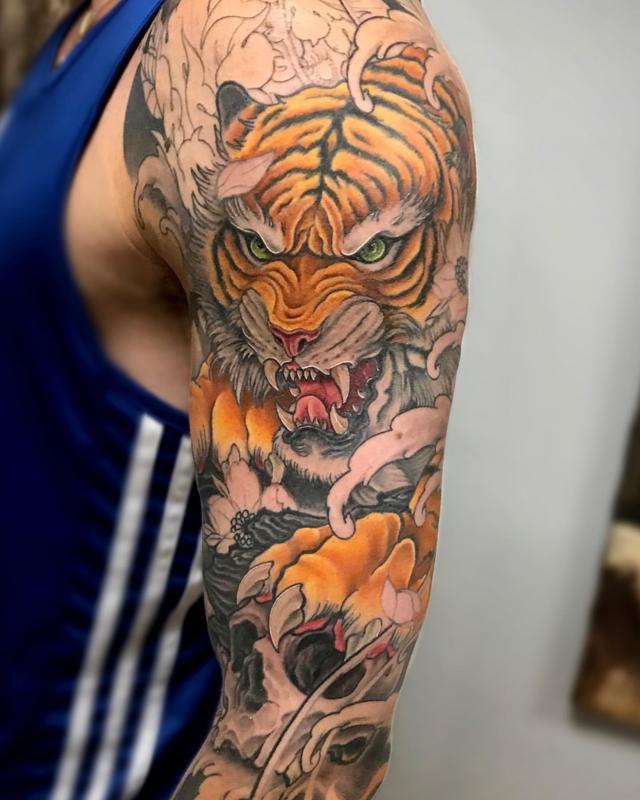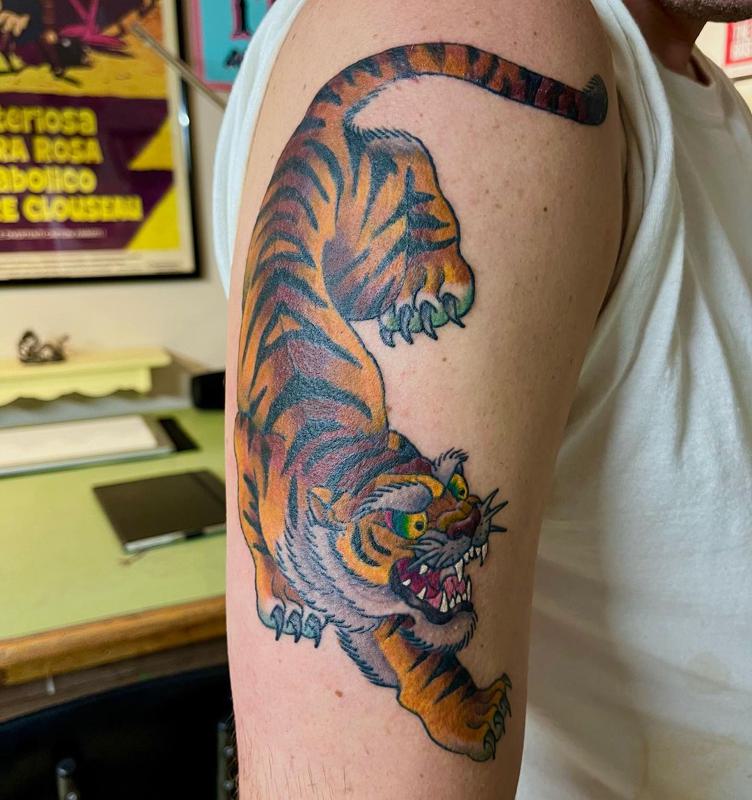 12. Color Festival Japanese Tiger Tattoo
The Japanese Tiger tattoo with the splash of color in the form of water or any other element represents the force of nature. This tattoo type is great for women who want to show their soft side but also let people know that they can't take it for granted. You can get this tattoo on your leg or arm.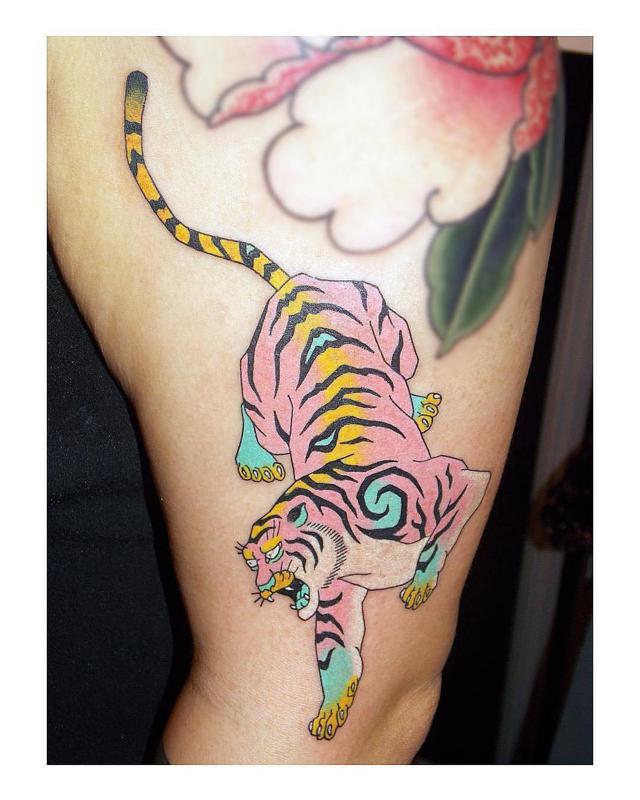 13. Scary Japanese Tiger on Hunt Tattoo
The mischievous Japanese Tiger on the hunt is one of the scariest traditional tattoos. This tattoo represents darkness when you are up to no good, but it is also fearless because it shows that you are not afraid to walk in the dark alone.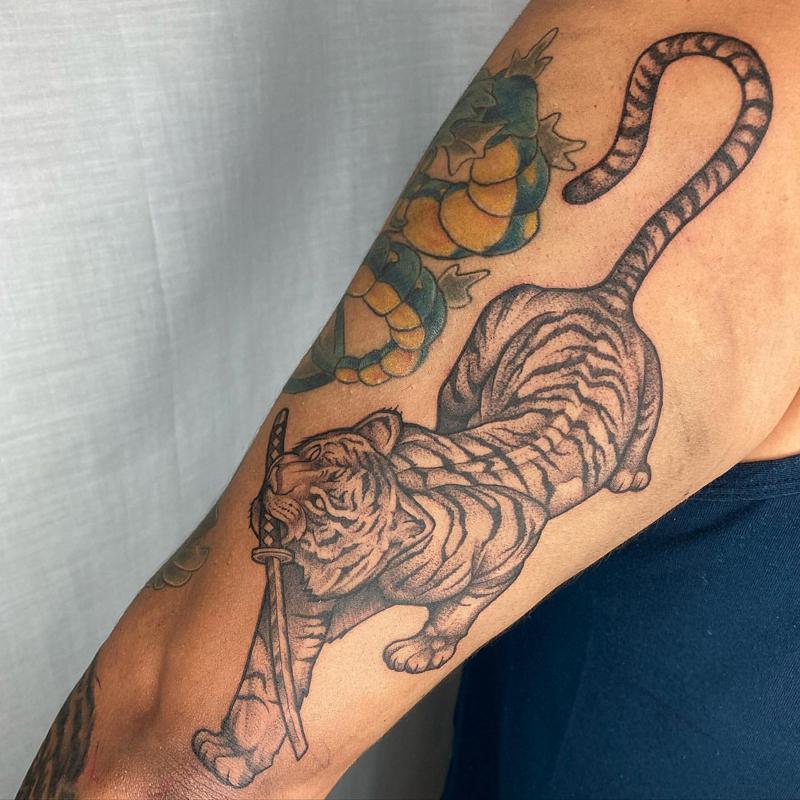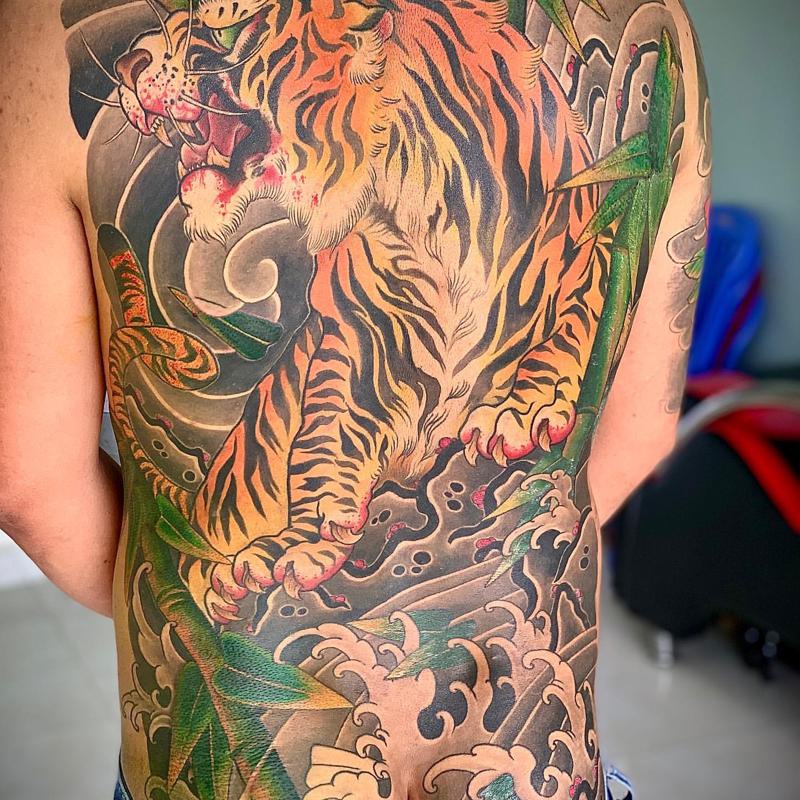 14. Japanese Dragon and Tiger Tattoo
The Japanese Tiger merged with the vicious dragon is nothing like the Yin and Yang tattoo. This transformed beast is very different than the traditional Japanese Tiger and has an intense snarling expression. Men with nicely built arms can have it there, and it will be enough to make others realize that you own every space you go to.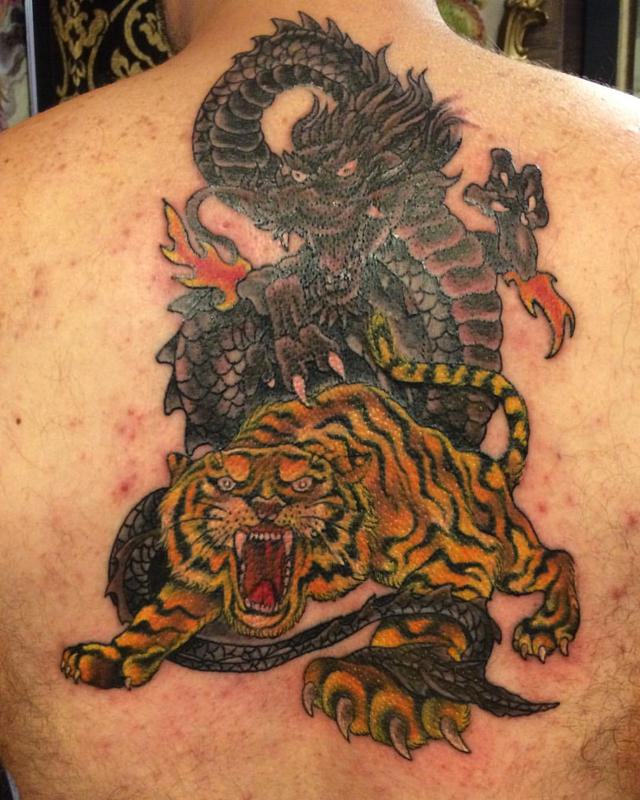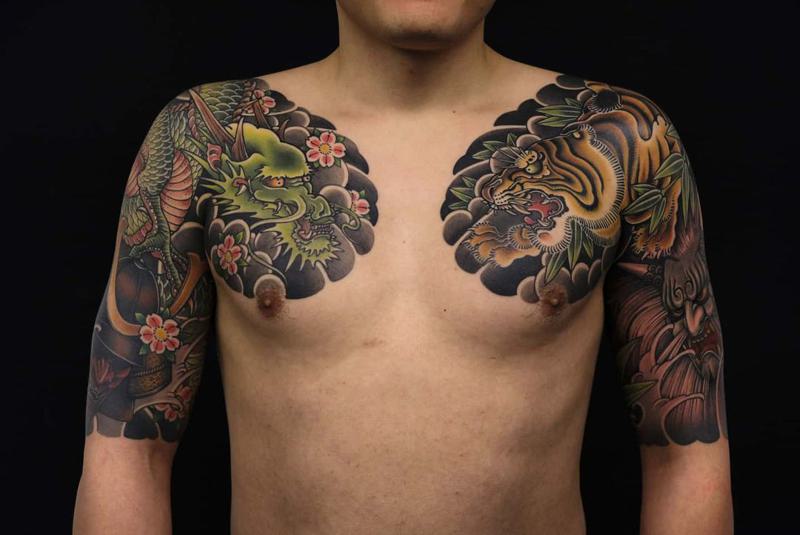 15. Yellow-Eyed Japanese Tiger Tattoo
The yellow-eyed Japanese Tiger looks so alive and threatening; that's why it is one of the most popular tiger tattoos. The longing in the constant stare of the Japanese Tiger represents the desires and the hunger to get what it wants. This tattoo looks magnificent on the back and arms, constantly reminding us of achieving our dreams and aspirations.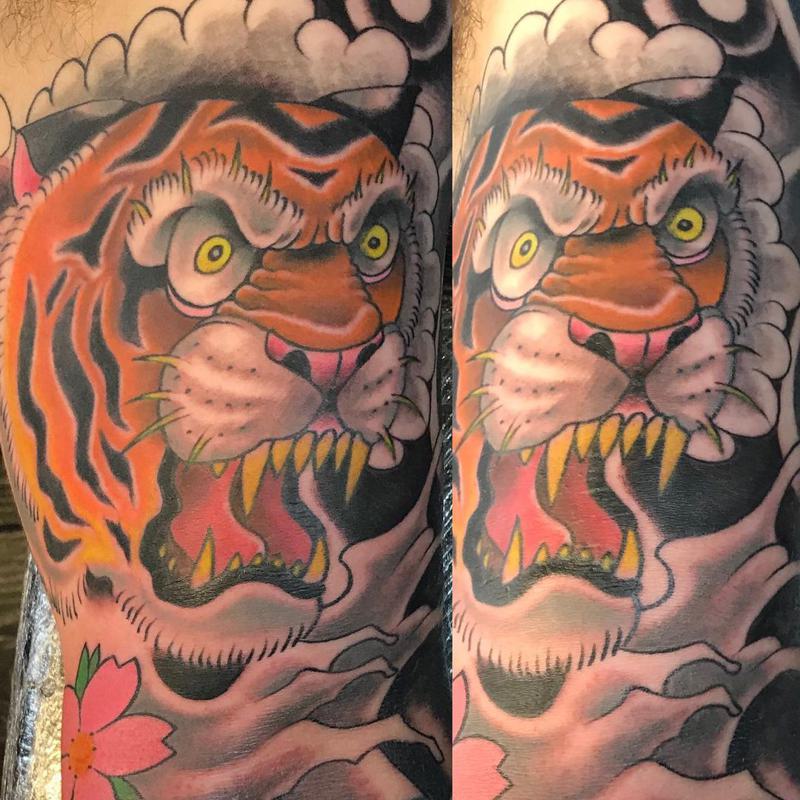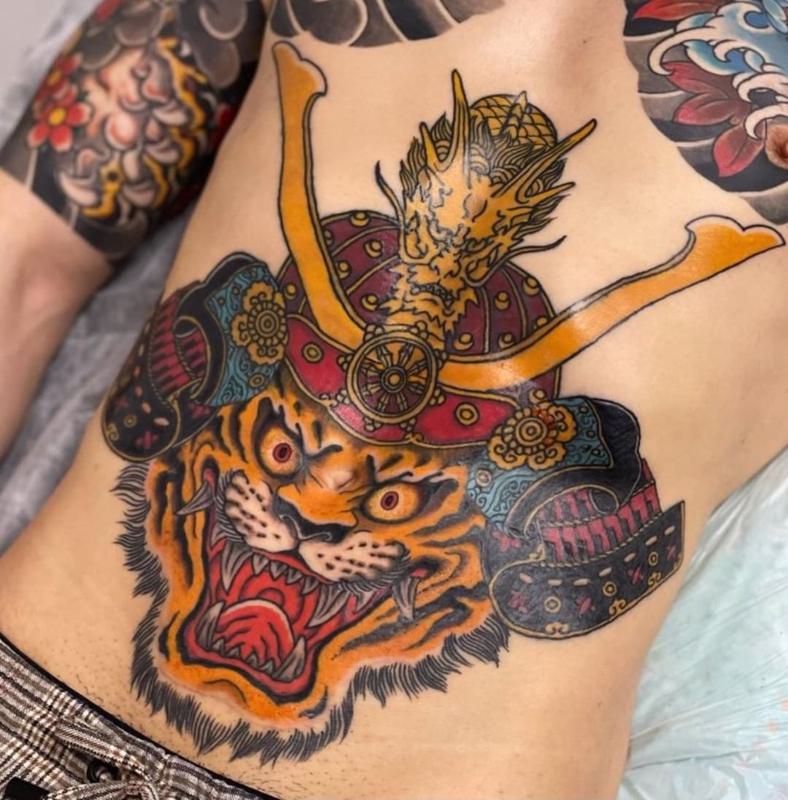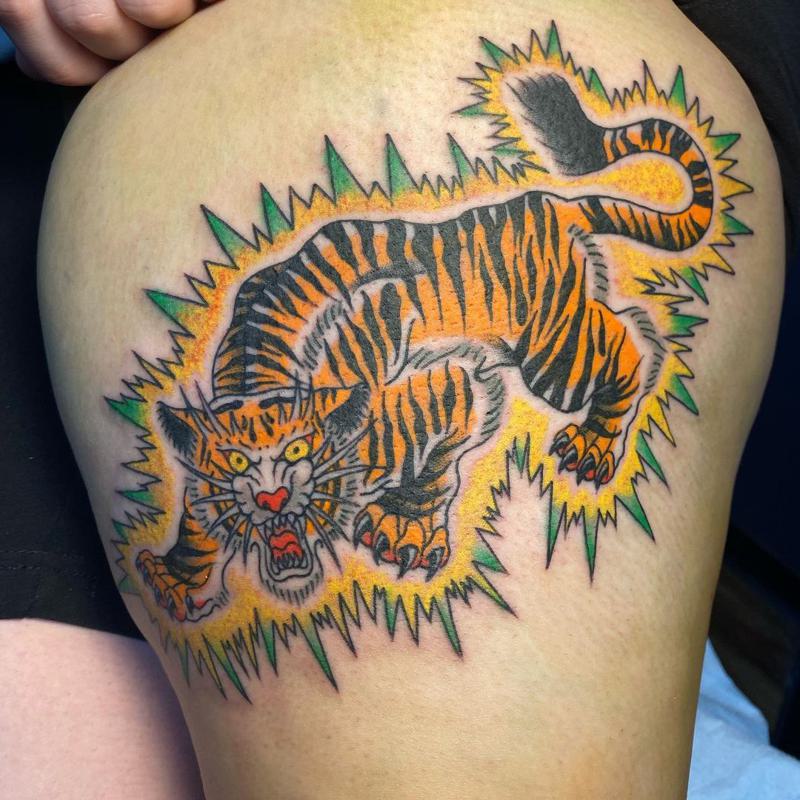 16. Full Body Japanese Tiger Tattoo
Full body Japanese Tiger tattoo is one of the boldest tattoos representing the spirit animal protecting you as a whole. This tattoo usually starts from the neck and covers one side of the body, including the shoulders, arms, torso, hips, and thighs. The idea is to show that the person and the tiger are one.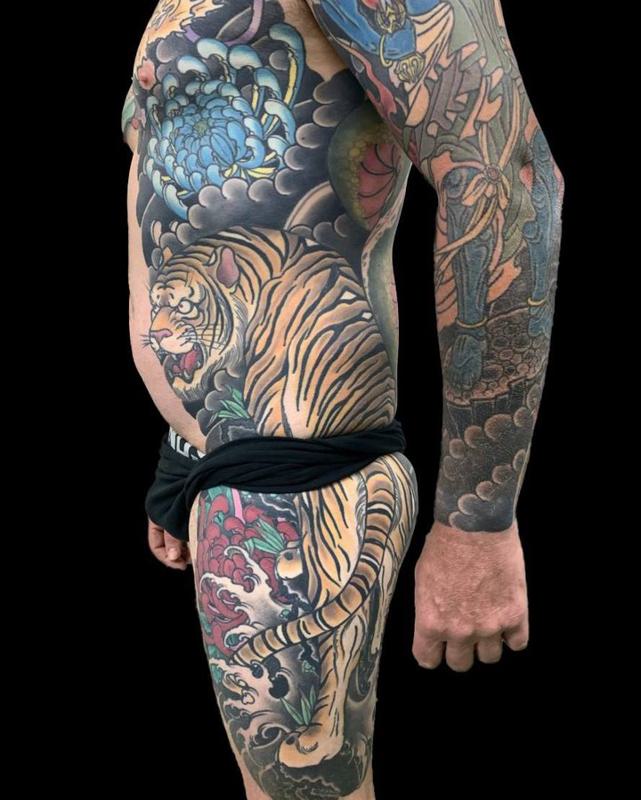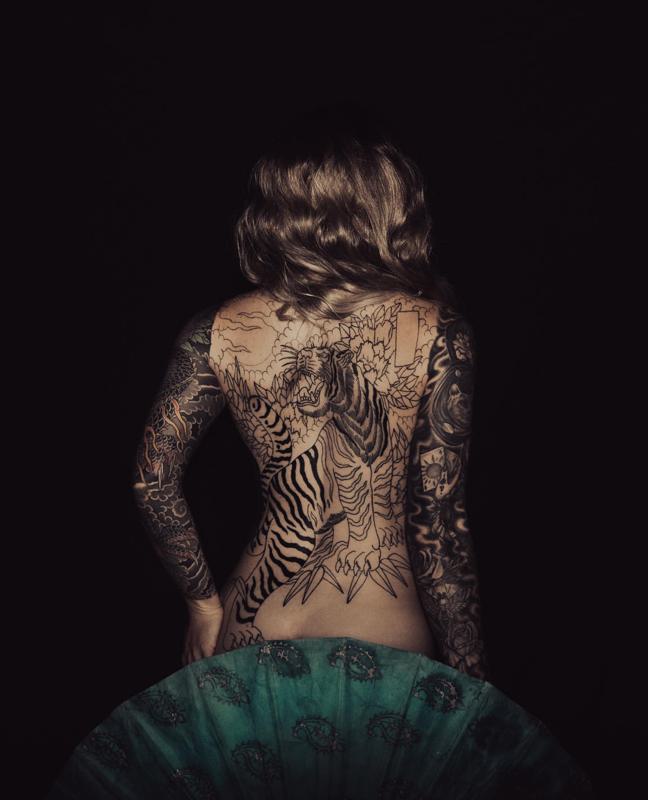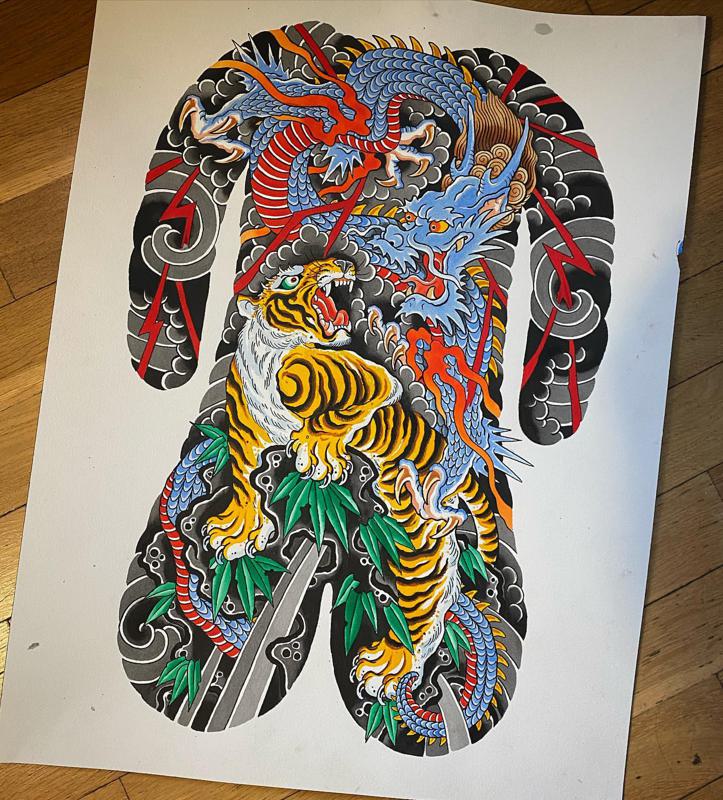 17. Flowery Female Japanese Tiger Tattoo
The representation of a Japanese Tiger with beautiful roses or chamomile shows the beast's delicate nature. Usually, females get this tattoo on their arms or legs. In Japan, tattoo artists use bright red and white colors to show a connection with the Japanese flag.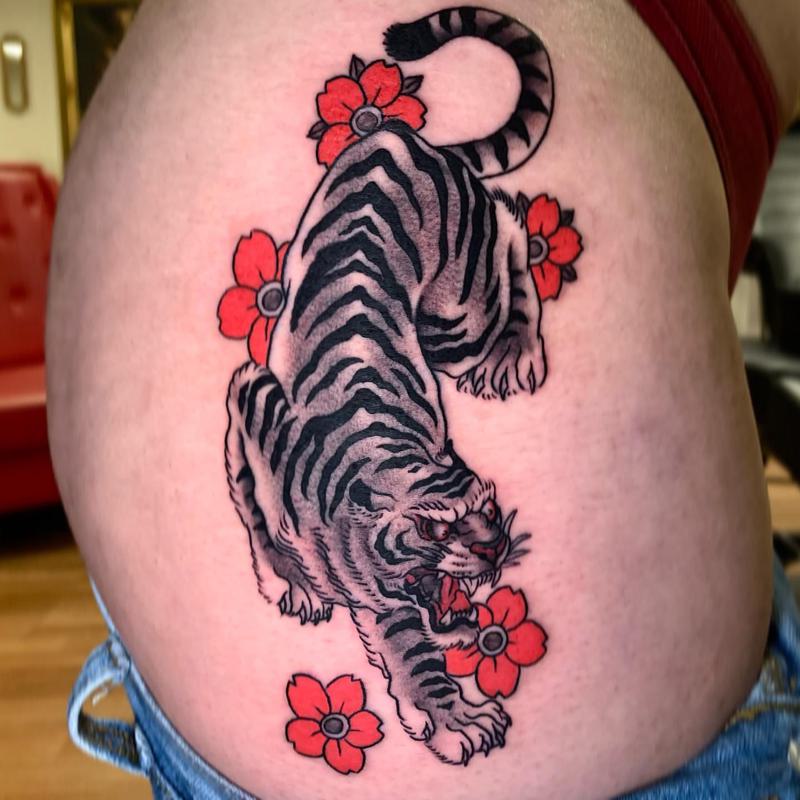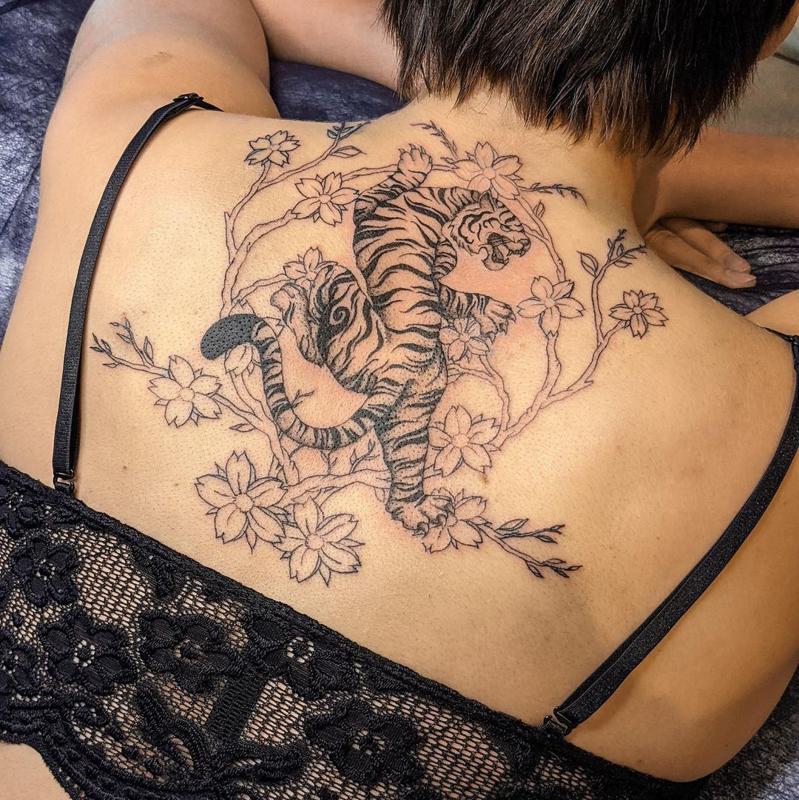 18. Black and White Japanese Tiger Tattoo
The Black and white Japanese Tiger tattoo looks great on both men and women. The white portion of the tattoo represents sensuality, beauty, fragility, and power. And the black shows the darkness, shadows, and depth. In ancient times, the Japanese used black and white inks for body art, and this tattoo is a portrayal of that.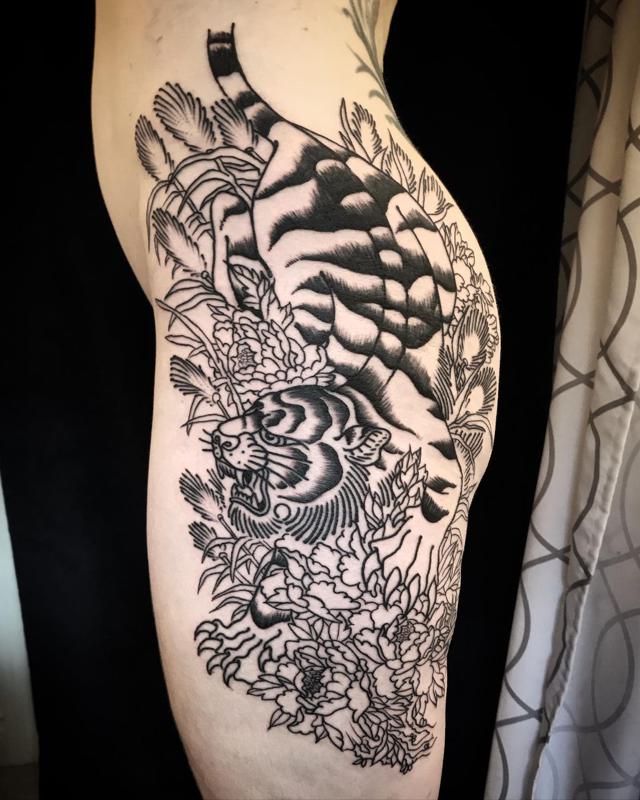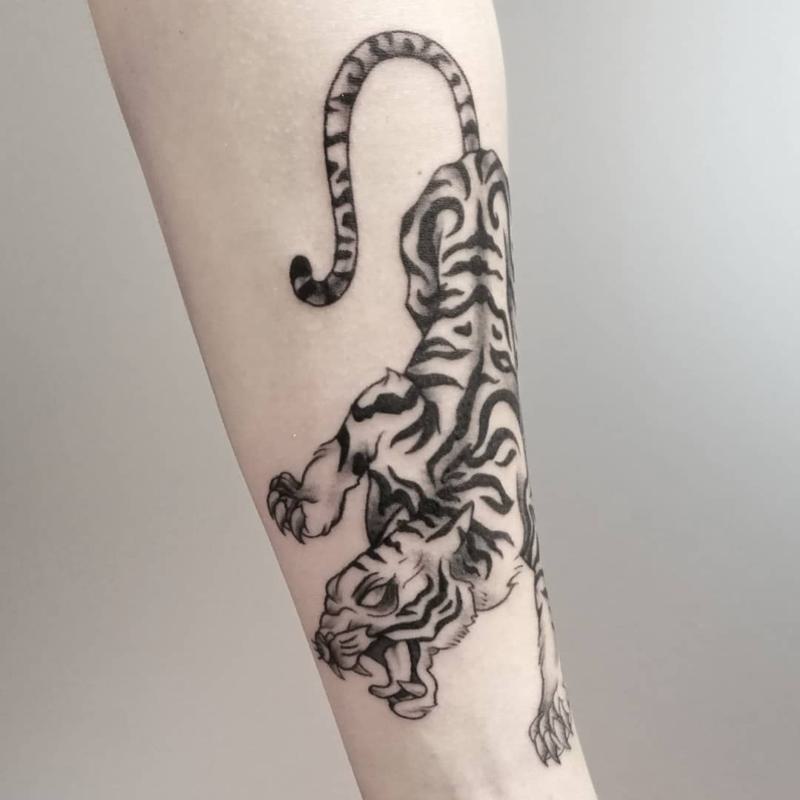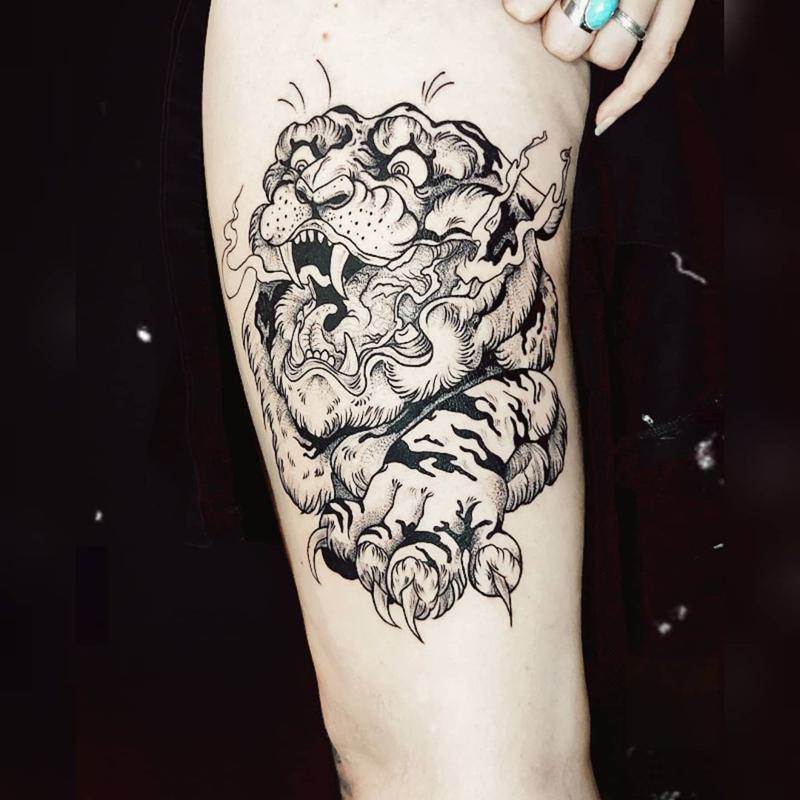 19. Protector of the Dead Japanese Tiger Tattoo
In some cultures, including Chinese and Japanese, tigers are the protectors of the dead. Tattoo artists worldwide add an element of death to the traditional Japanese Tiger tattoo, like a skull, bones, or shadows. Overall, it's a unique yet risky tattoo, and if you think you can rock it, you must go for it.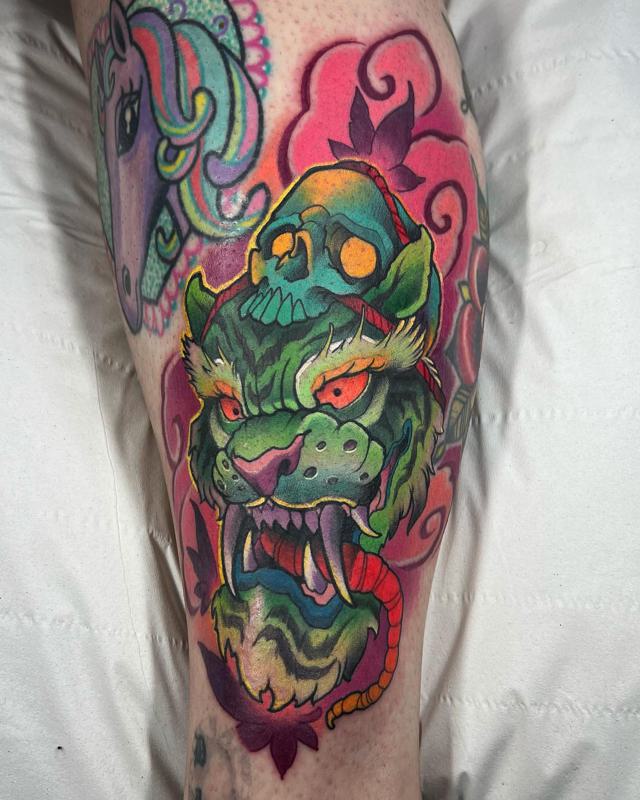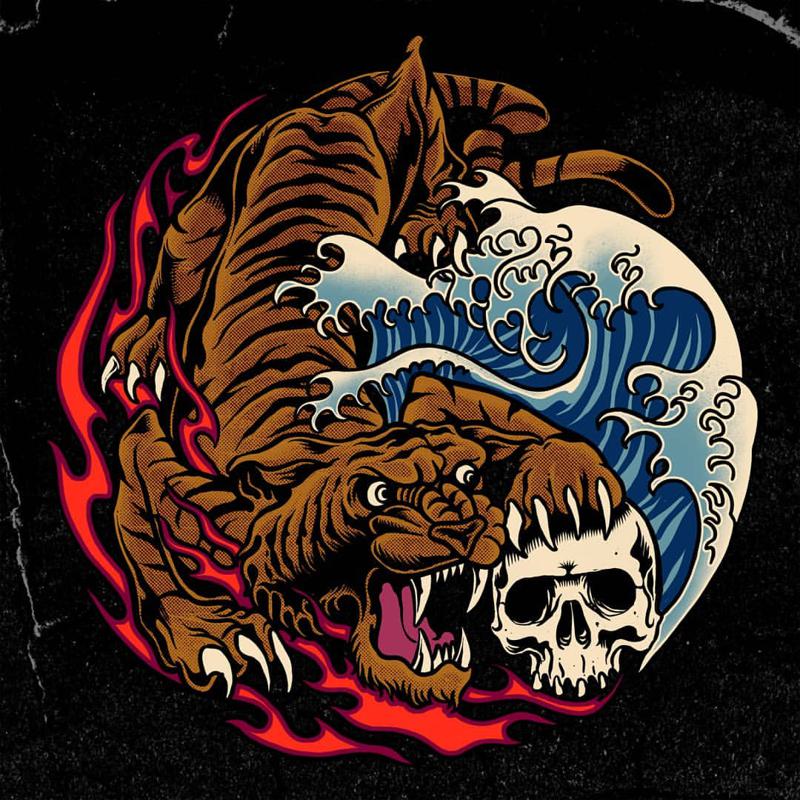 20. Japanese Tiger Collarbone Tattoo
The Japanese Tiger tattoo on the collarbone is a work of art that looks super sensational on both men and women. It's even better if you choose black and white ink for the design and filling of the tattoo.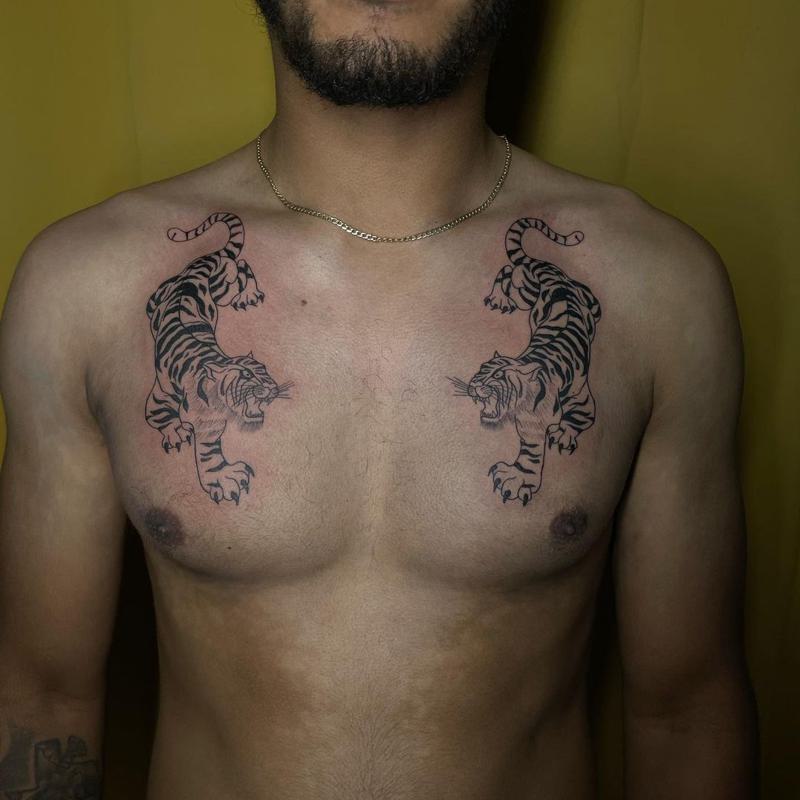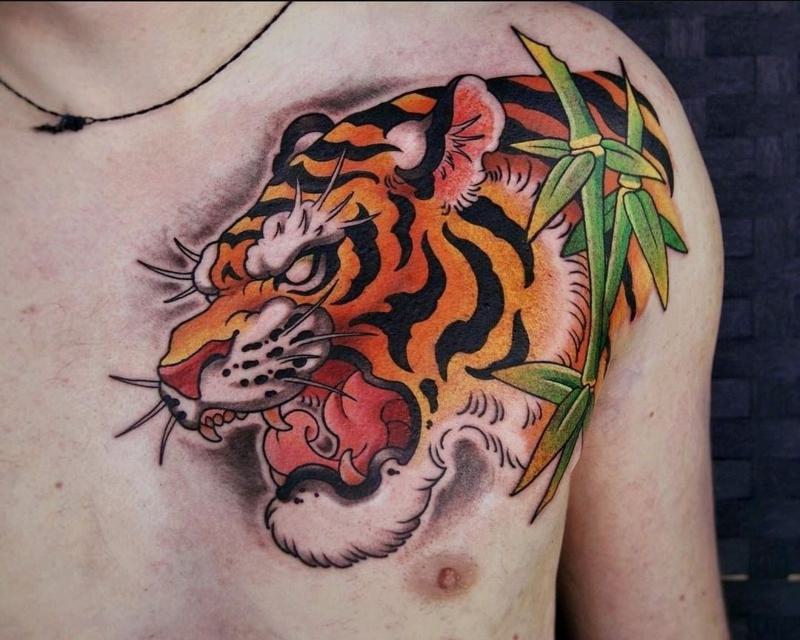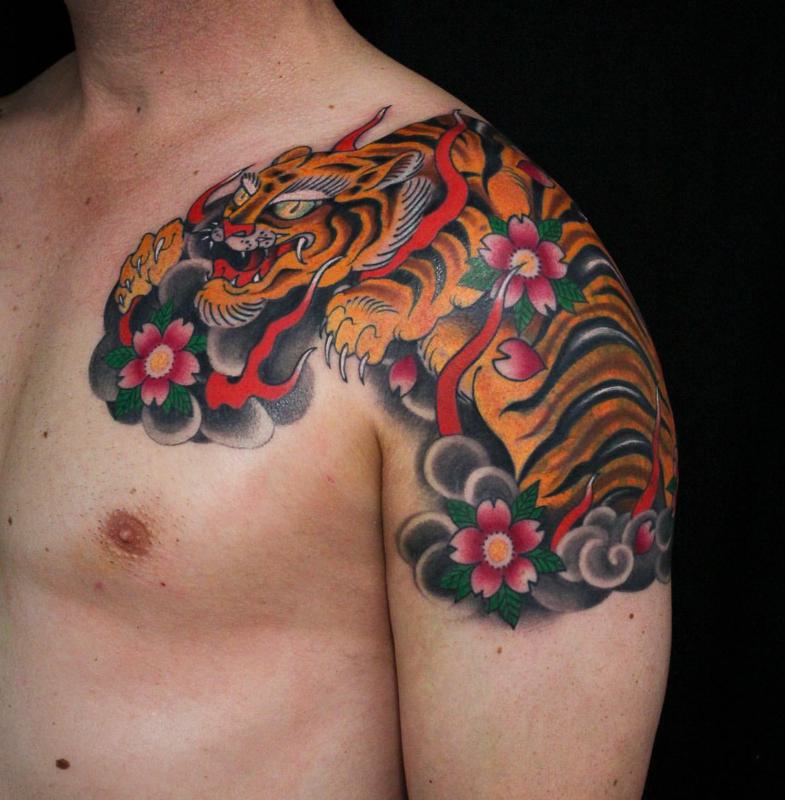 21. Japanese Tiger Demon Tattoo
The terrifying yet full-of-character Japanese Tiger demon tattoos are enough to scare someone who is trying to mess with you. People like to have it on the body areas that show, like arms. This type of tattoo shows the boldness of your character and your will to destroy the evil that will come your way.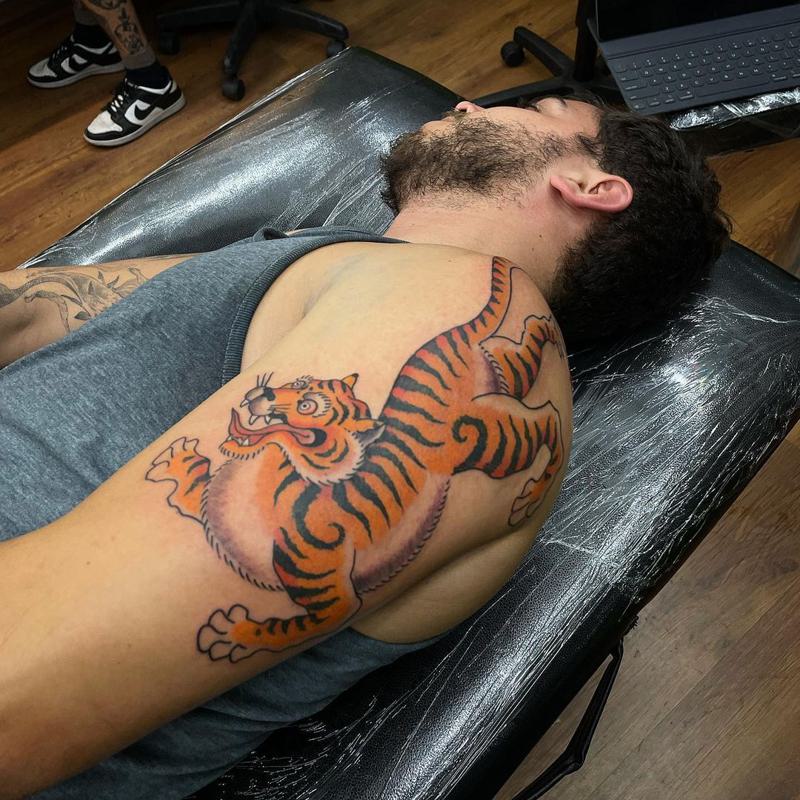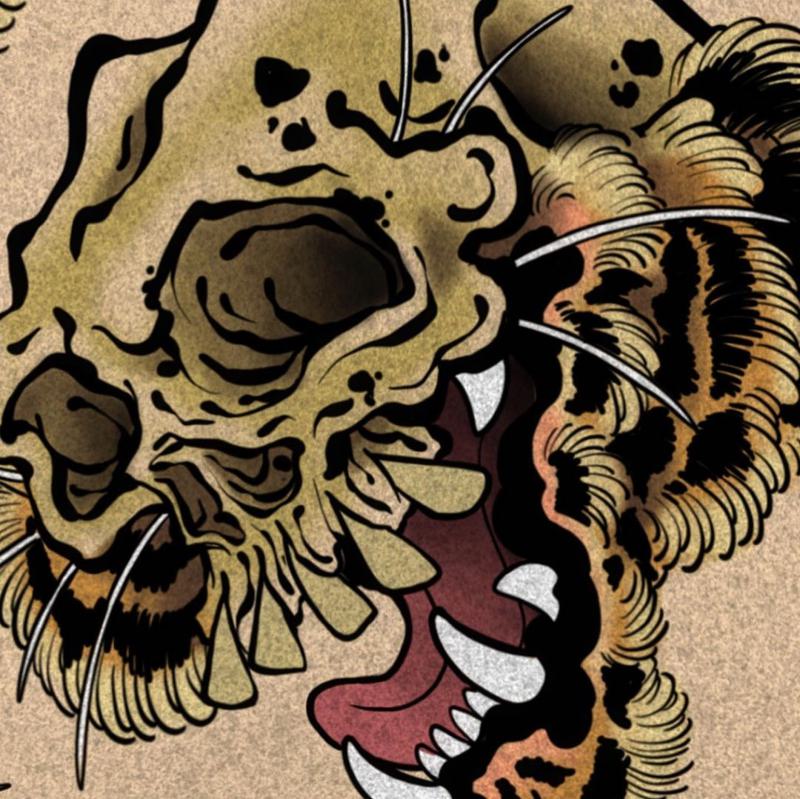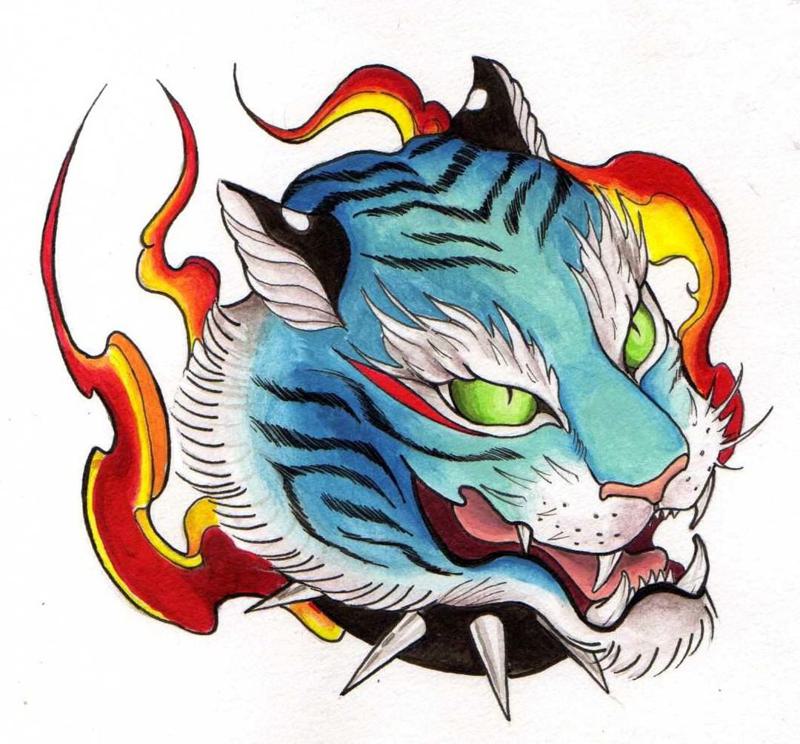 22. Samurai Japanese Tiger Tattoo
In older times, Samurais used to have a Japanese Tiger tattoo on their arms or legs for their identification in case they lost their weapons in a battle. In some cultures, the tiger symbolizes lucky charm, strength, and courage. And it is thought that getting a Samurai Japanese tattoo can help you win against the odds both in life and afterlife.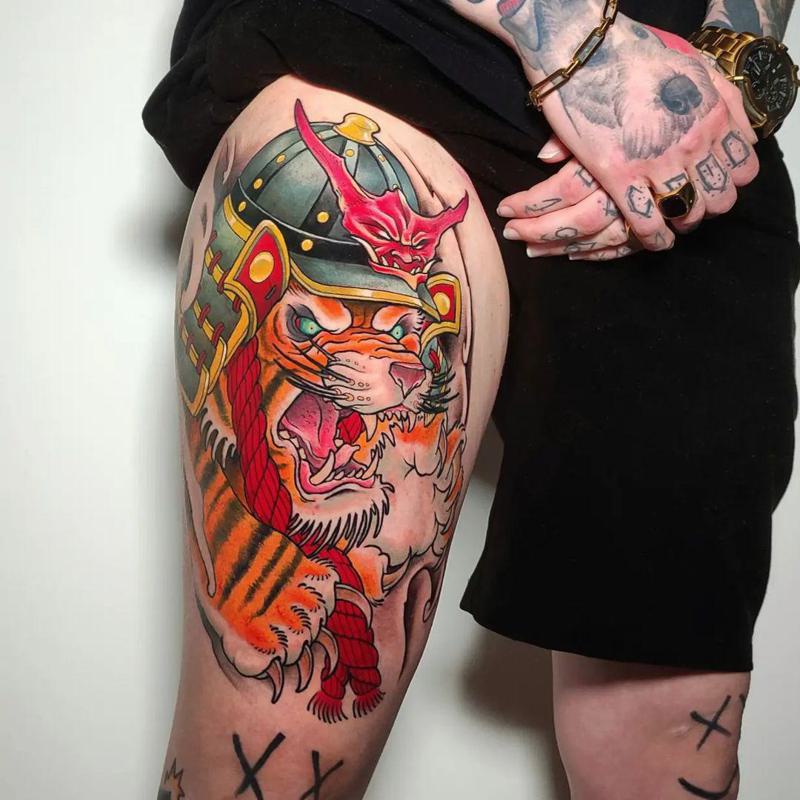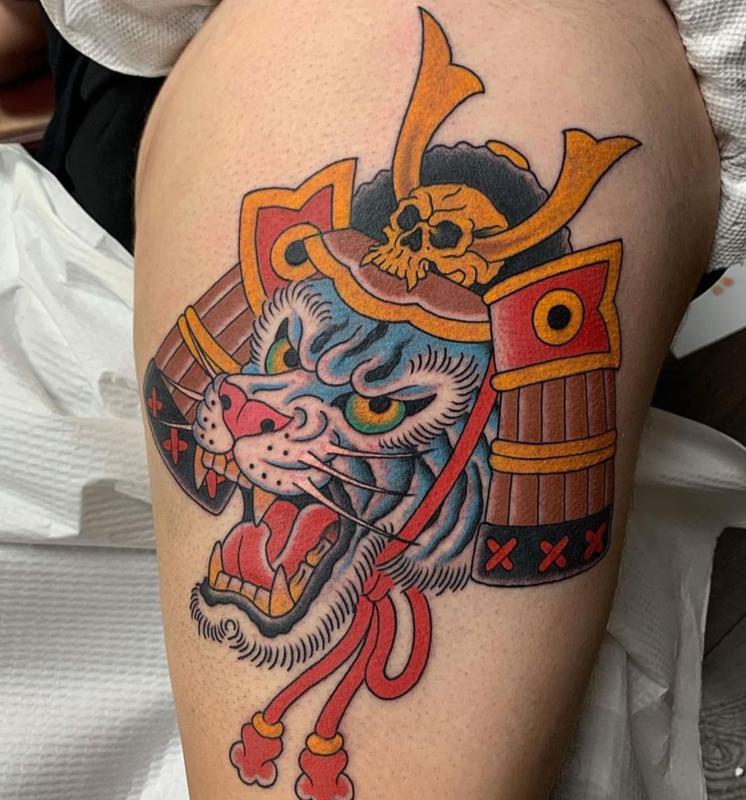 23. Small Japanese Tiger Tattoo
Usually, when people like to have a small Japanese Tiger tattoo, they want to get it carved onto their hands in the distinct themes of gray, black, white, or red. You can also get it near your ankle, side of your leg, or back of your neck.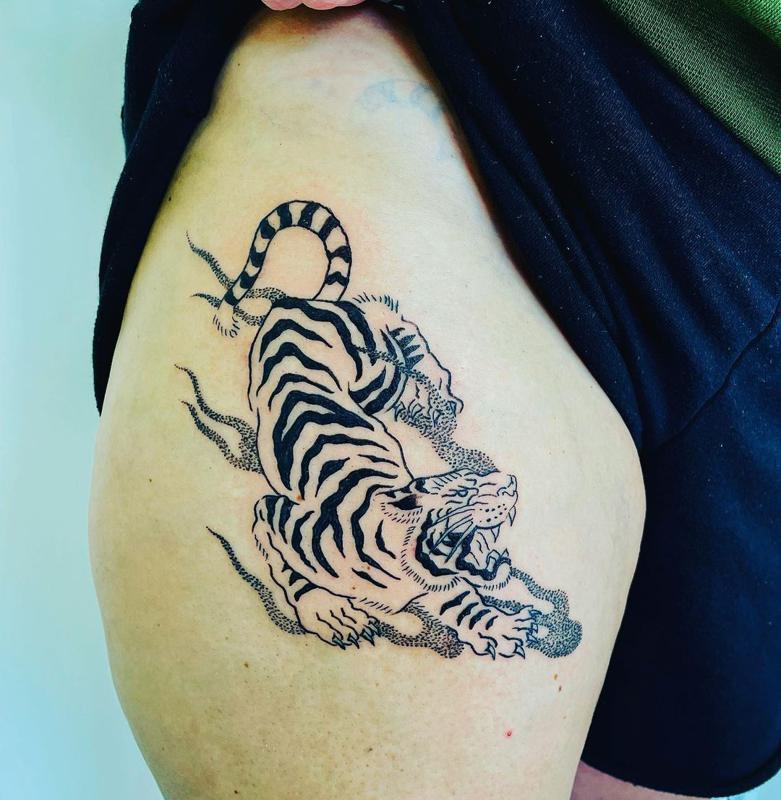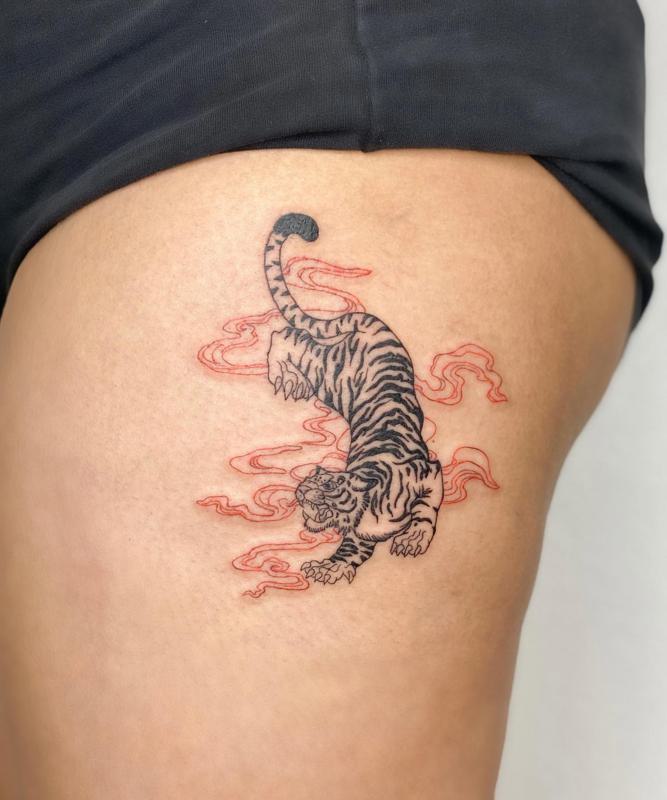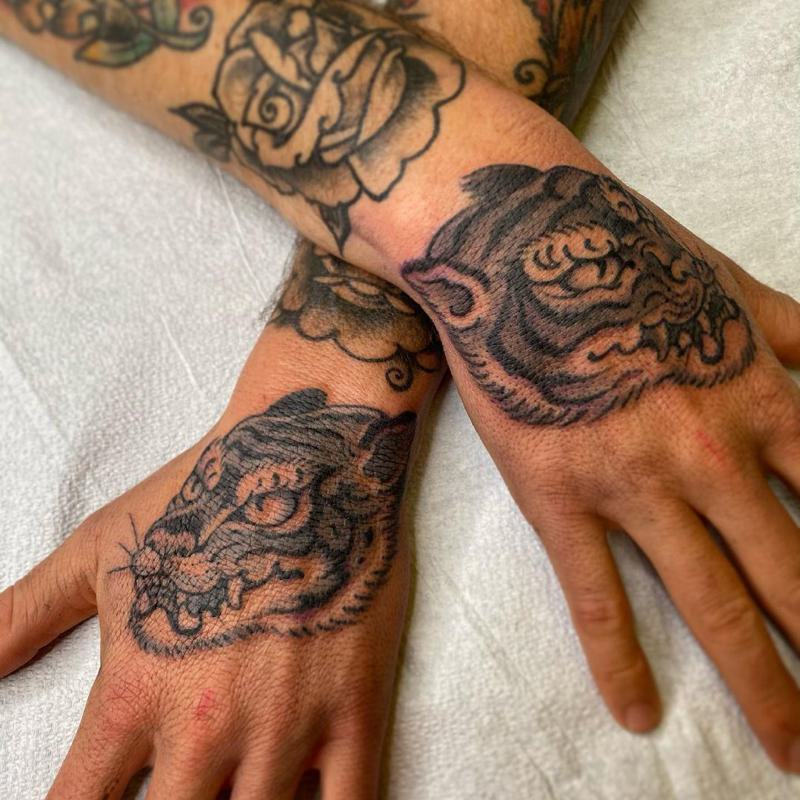 24. Neck Tiger Tattoo
The Japanese Tiger looks sexy, bold, and appealing on the back of the neck. Especially if you are a female looking to get a Japanese Tiger Tattoo and keep it subtle, you can get it on your neck.
You can cover it with your hair whenever you want, and you can also flaunt it. The significance of the Japanese Tiger tattoo on the back is that someone is constantly looking for you as if you have eyes on your back.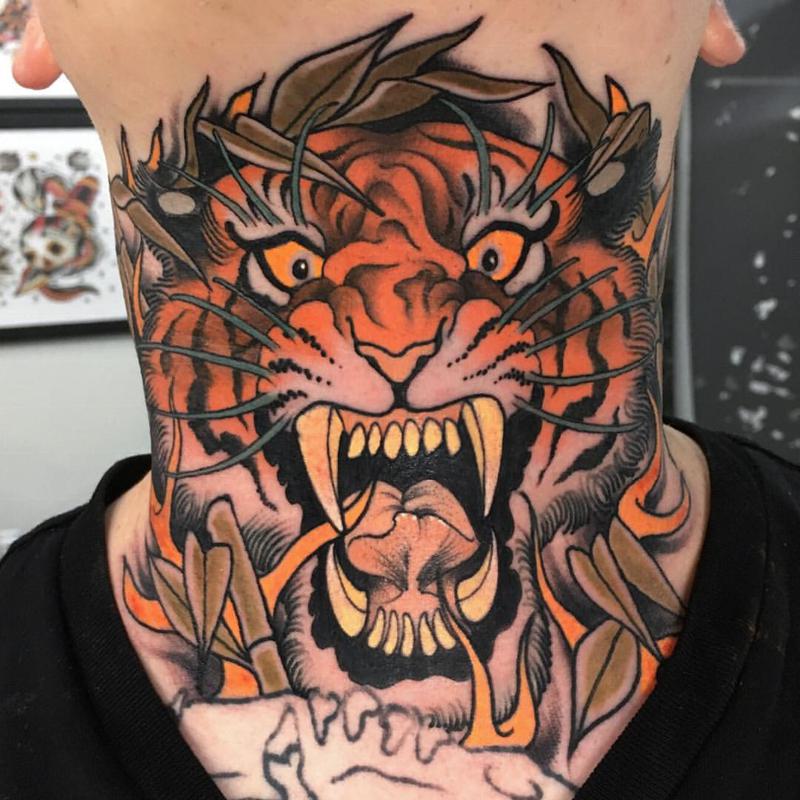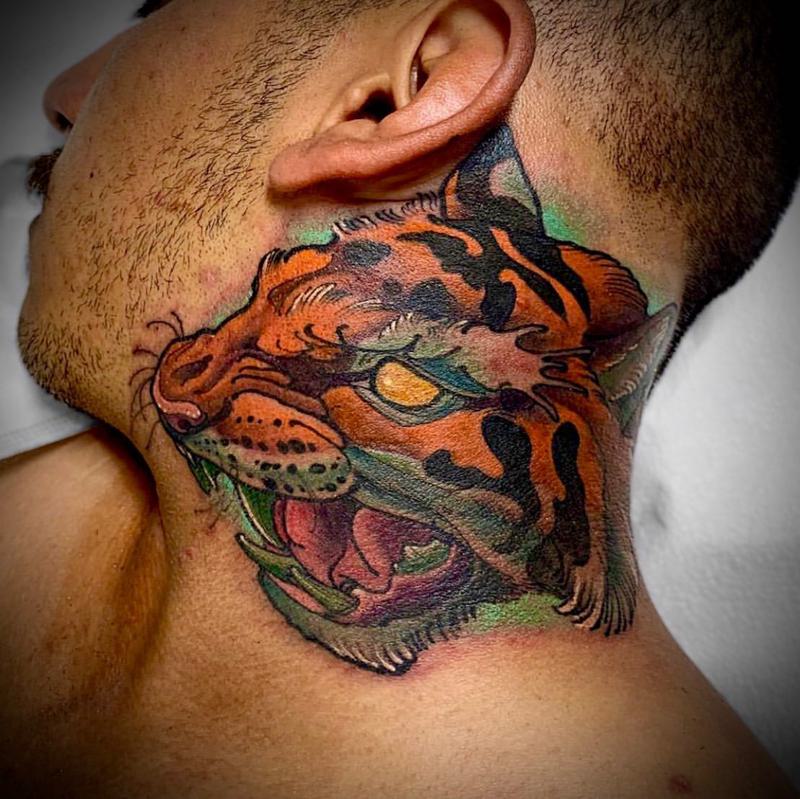 25. Yin and Yang Japanese Tiger Tattoo
The Yin and Yang Japanese Tiger tattoo usually involve the beautiful representation of a dragon with the tiger, as both symbolize power. Even though the energies are very similar, the personalities of dragons and tigers are very different.
Yin and Yang's tattoo shows the balance of the personalities and the super-powerful energy despite the differences. This type of tattoo looks the best on the back or arm.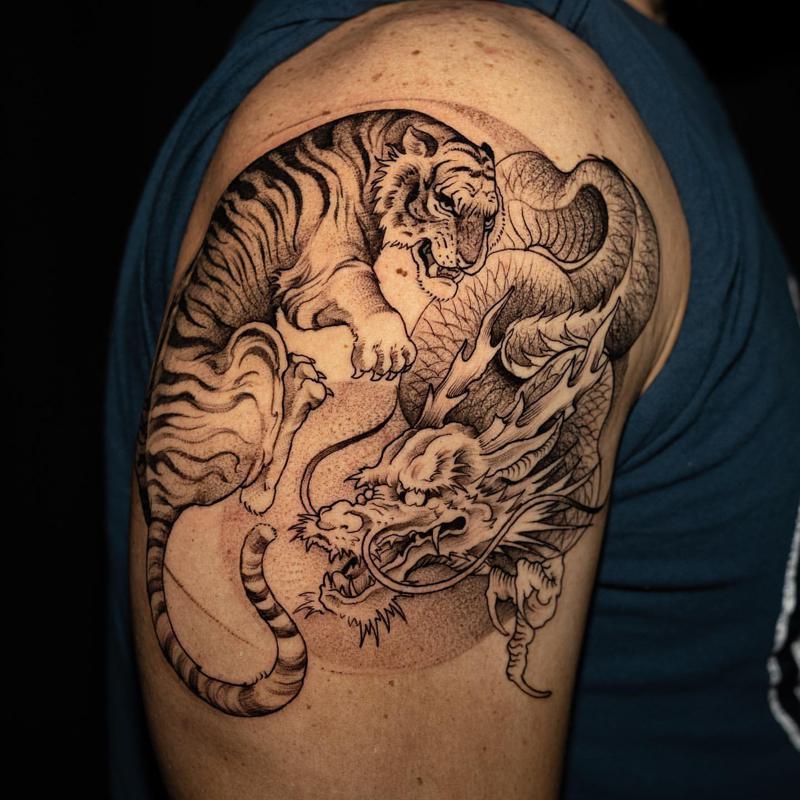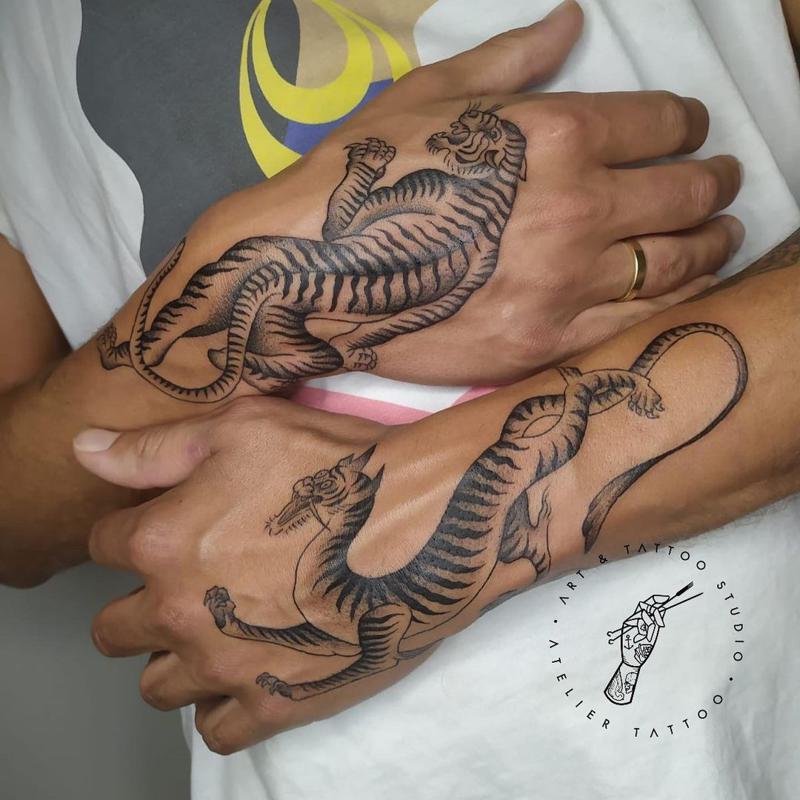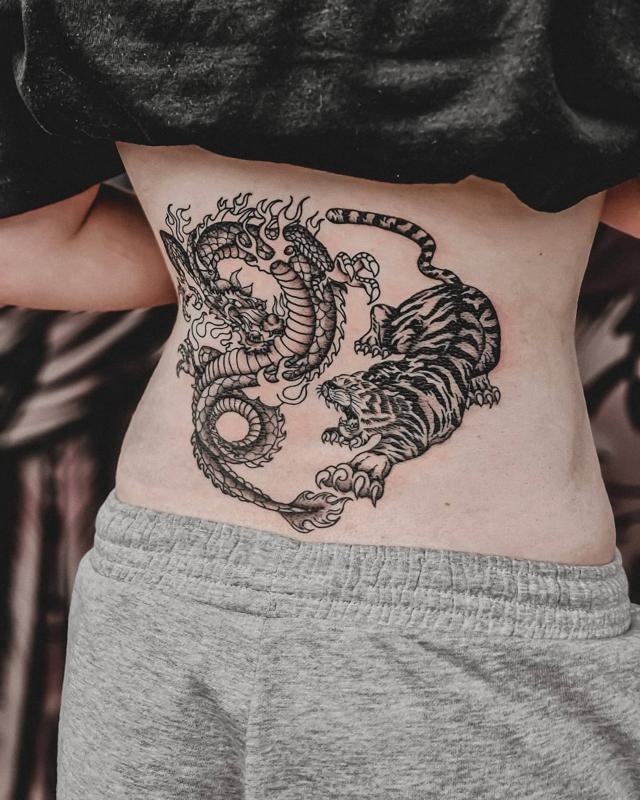 Also Read: 70+ Bear Paw Tattoo Ideas and Meanings
Final Words
Japanese Tiger tattoos are getting super popular worldwide because of their stunning yet fierce style and detail. Even in Japan, where getting tattoos is still associated with criminalization and so much stigma is attached to body art, people's attitudes are slowly changing.
So, if you want a tattoo, we hope that our Japanese Tiger tattoo designs have given you some inspiration. We keep posting fantastic tattoo design ideas so that you can select the one that fits your personality the best and help you express your true self.
Japanese Tiger Tattoo: FAQs
What are the Significant Elements of a Japanese Tattoo?
All Japanese tattoos have a particular theme, no matter how minimalistic or complex. And to support that theme, the tattoo artists select the most suitable elements. The whole element selection process for tattoo filling is popular by the name Gakoubori. The most common elements used for Japanese tattoo filling are,
Earth and rocks
Fire
Wind
Clouds/ thunder
Waves and water
How Long Does it Take to Get a Japanese Tiger Tattoo?
If you're going for a simple, minimalistic, and small Japanese Tiger tattoo design, it will take 2 to 3 hours. However, going for a large, complex, and intricate tattoo design might take more than 30 hours. The area of tattoo placement and filling style are also significant deciding factors.