Are you thinking of getting a tattoo for the first time or adding a new one? Finding the right tattoo design, whether or not you're new to tattooing, can prove stressful and overwhelming. Most people get tattoos to express themselves. The tattoos often embody their spiritual belief or cultural notions. Either way, no one wants a tattoo that has no meaning behind it.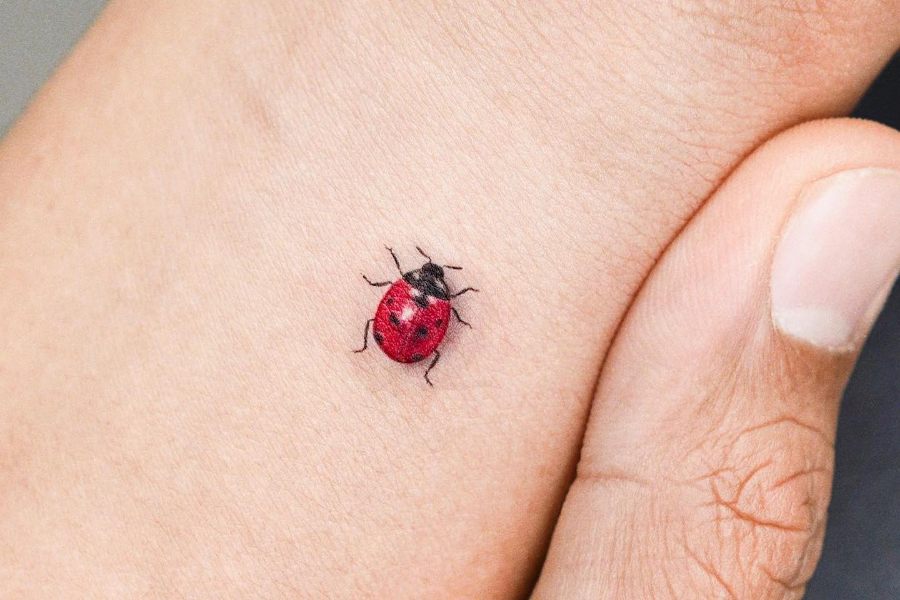 Today, we will discuss perhaps the most popular tattoo in the world – the Ladybug tattoo. Often placed on the sleeve, chest, arm, or wrist, the Ladybug tattoo has unique symbolism that stretches across several cultures. Perhaps the most common meaning of the tattoo is friendship, happiness, and love. But more on that later.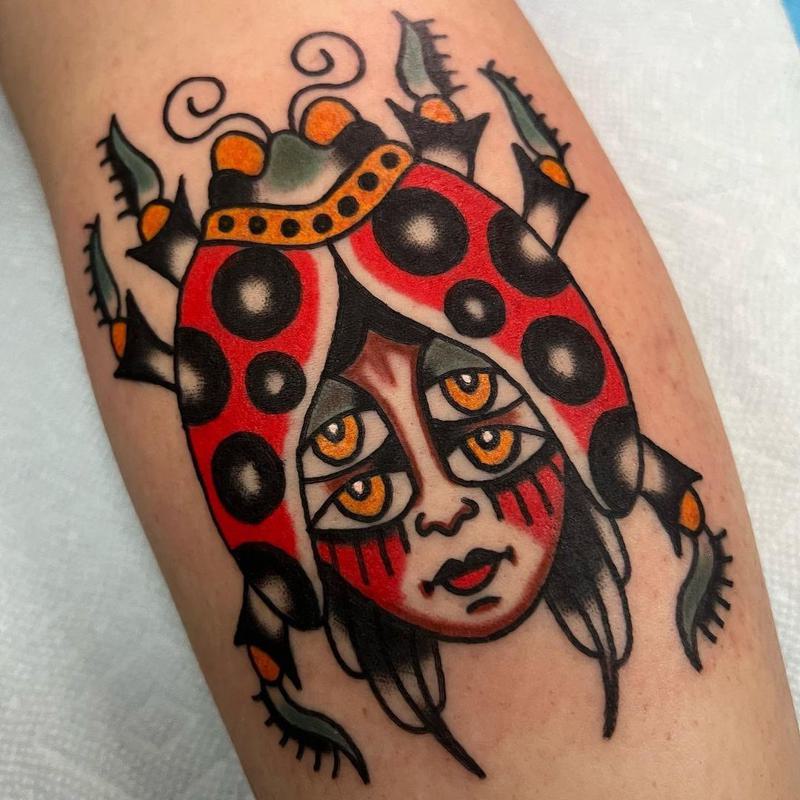 Tattoo artists can creatively design ladybug tattoos in a variety of patterns and styles, from cartoony and cute to 3D and detailed. Regardless of your personal tastes and preferences, check some of our favorite ladybug tattoos. We're confident you will find something you like! Read on to learn more.
Ladybug Tattoo Meaning
Ladybug tattoos come with different interpretations and symbolism. In some cultures, like the Chinese, a Ladybug is seen as a symbol of good luck and fortune. Others believe the tattoo signifies passion, positive energy, love, and deep connection.
Christians relate the ladybug with the Virgin Mary because it represents humility. A ladybug often crawls on the ground where no one can see. And when one crawls on your arm, it means good fortune might come your way. The insect also denotes fertility because it goes from plant to plant pollinating them.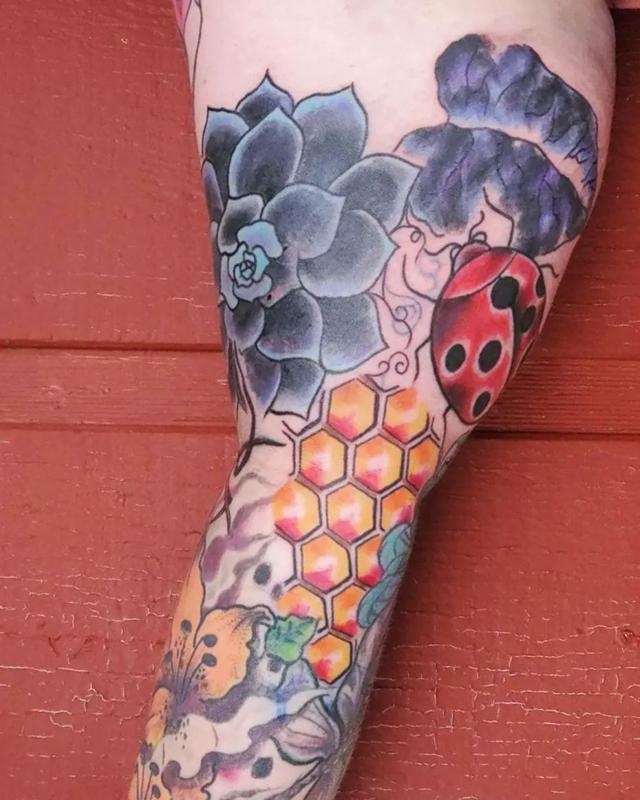 The ladybug also represents protection because it is used by farmers across the world to clear plant-eating bugs from plants and flowers. The colorful orange and black spots on the wings can represent guidance or direction. Because of this, it makes a great tattoo choice for individuals looking for enlightenment and spiritual guidance.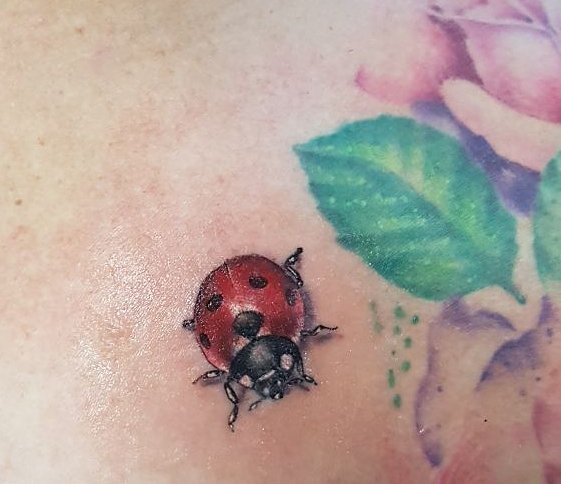 Whatever the meaning, a ladybug is a colorful and cheerful character with bright hues, which makes an ideal skin art.
Feminine Ladybug Tattoo Meaning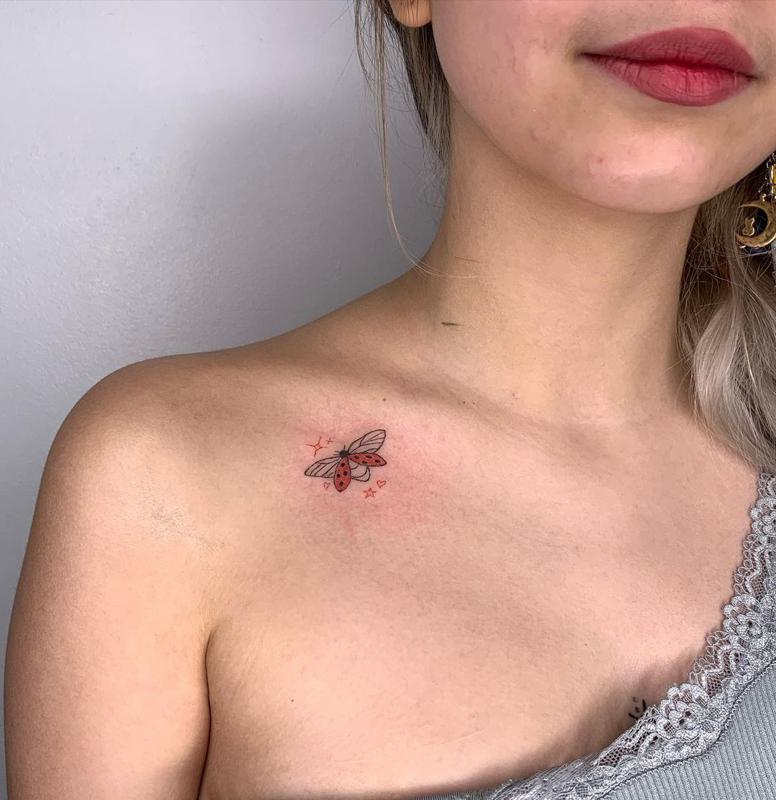 While common in both genders, the ladybug tattoo design is arguably more famous in women. It's considered sweet and sexy and rich in feminine energy. Besides, the tattoo is linked to prosperity, passion, and good fortune, especially the red and black ladybug. All the more reason some women all go gaga after it. What's even interesting? Its small and minimalistic nature means it's easy to get one, and you won't experience so much pain.
Amazing Ladybug Tattoo Designs Ideas
Black and White Ladybug Tattoo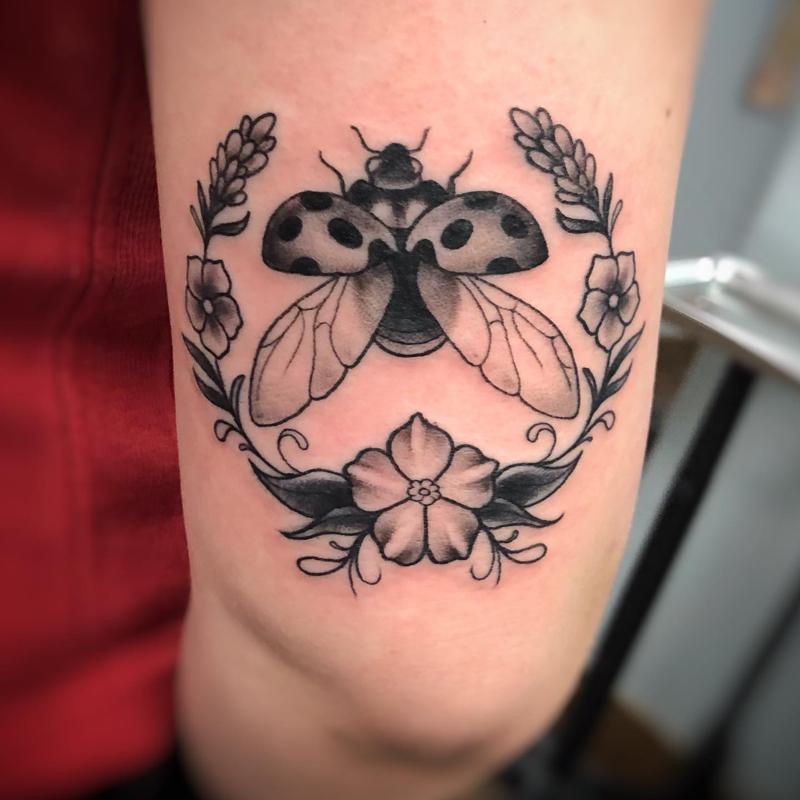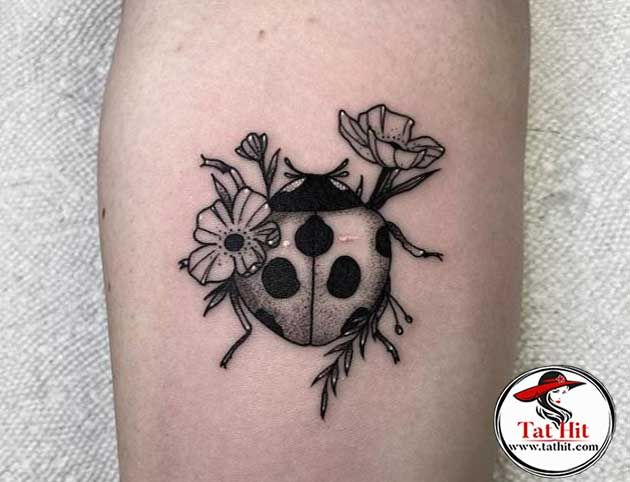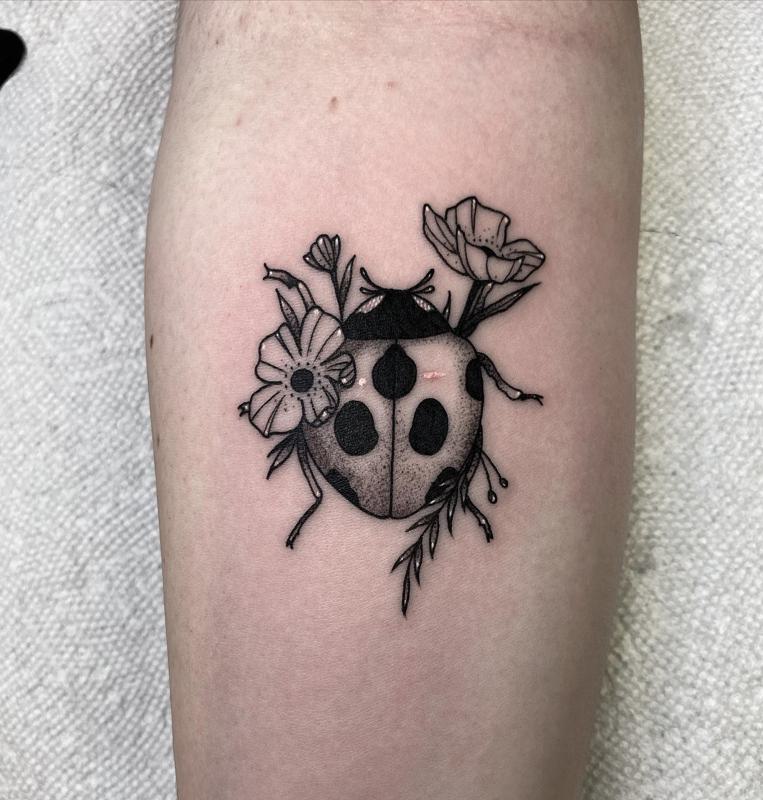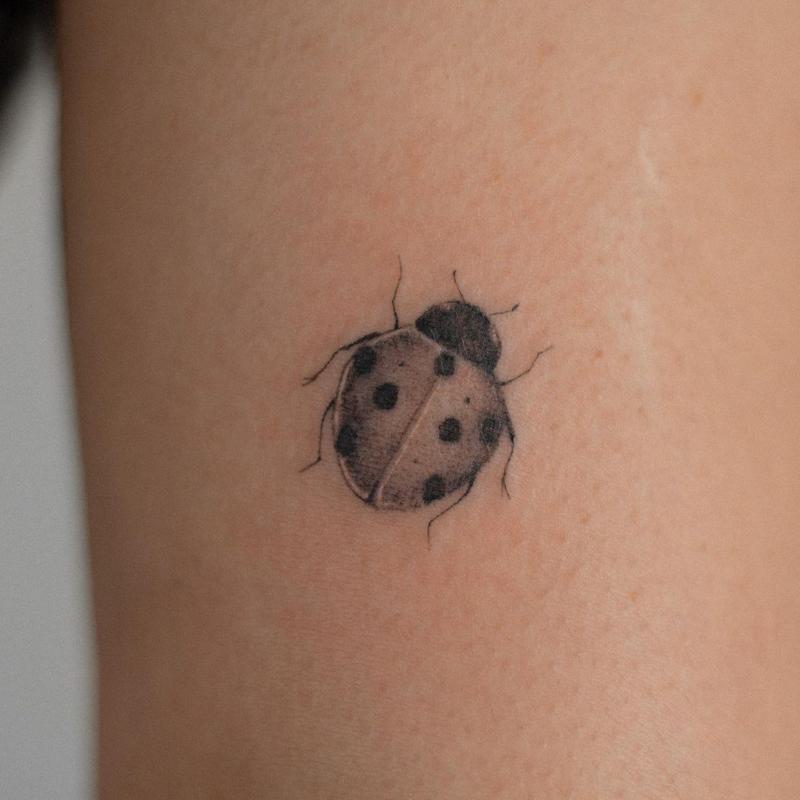 If you don't love the bright red color and black spots of a ladybug or the twig or green leaf, then it's time to think out of the box. You can devoid your ladybug tattoo of color and go with a design style that remained consistent throughout the decades: a black and white ladybug tattoo.
Here, the tattoo artist will replace the black spots with white ink. You can place such a tattoo on visible stretches of skin on your arm or ankle. Consider getting a tattoo of a big leaf first with a good outline, and then place the creature on the leaf. But that's just one of the many styles. The meaning and symbolism of your ladybug tattoo will depend on your selected style and approach.
Traditional Ladybug Tattoo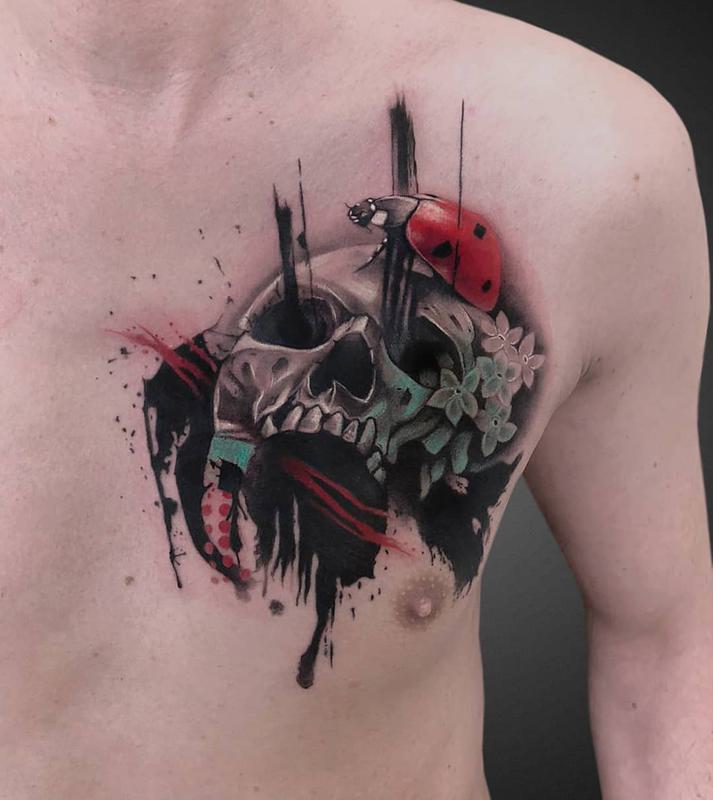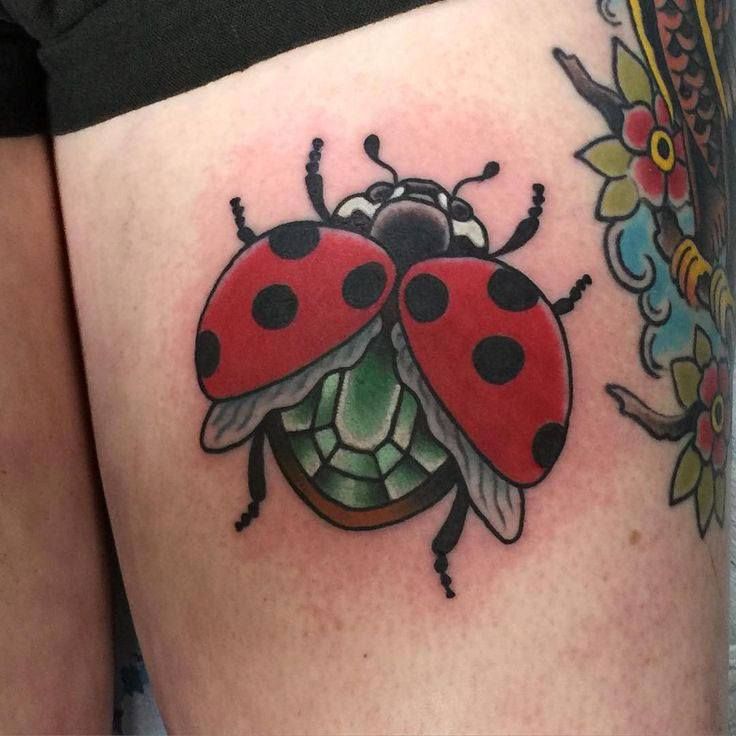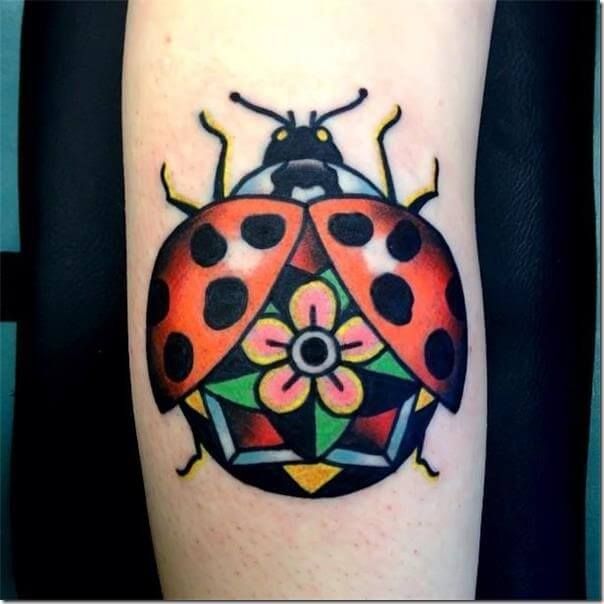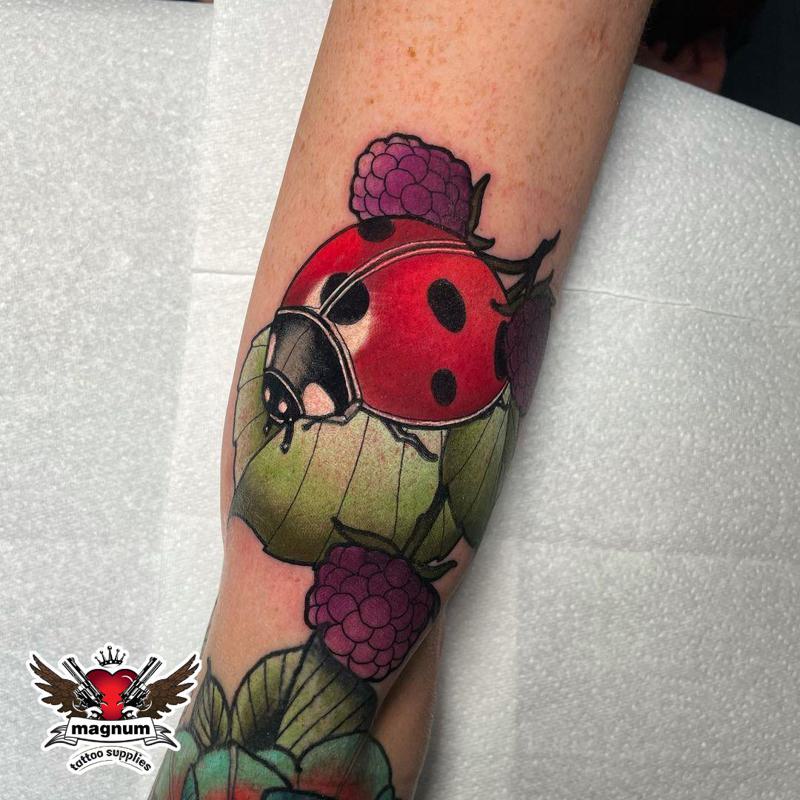 Traditional ladybug tattoos stick to the red and black design. It retains a classic look that has existed for decades. The designs follow the American traditional tattooing guidelines popular among marines. These tattoos are often saturated, which makes them look good on any skin, irrespective of the tone. Their designs look simple, but sometimes can appear deceiving.
Another thing, traditional ladybug tattoos are meant to look similar. Let's not forget, tattoo artists use bold and black outlines and fill colors under the skin to help them age better. Check out the examples below of traditional ladybug tattoo ideas.
Neo-traditional Ladybug Tattoo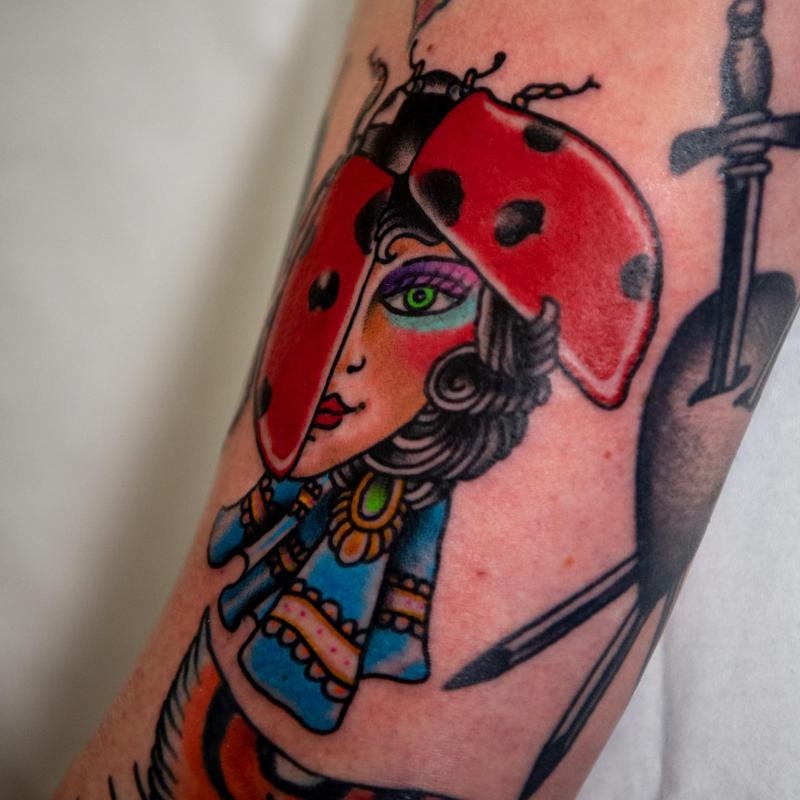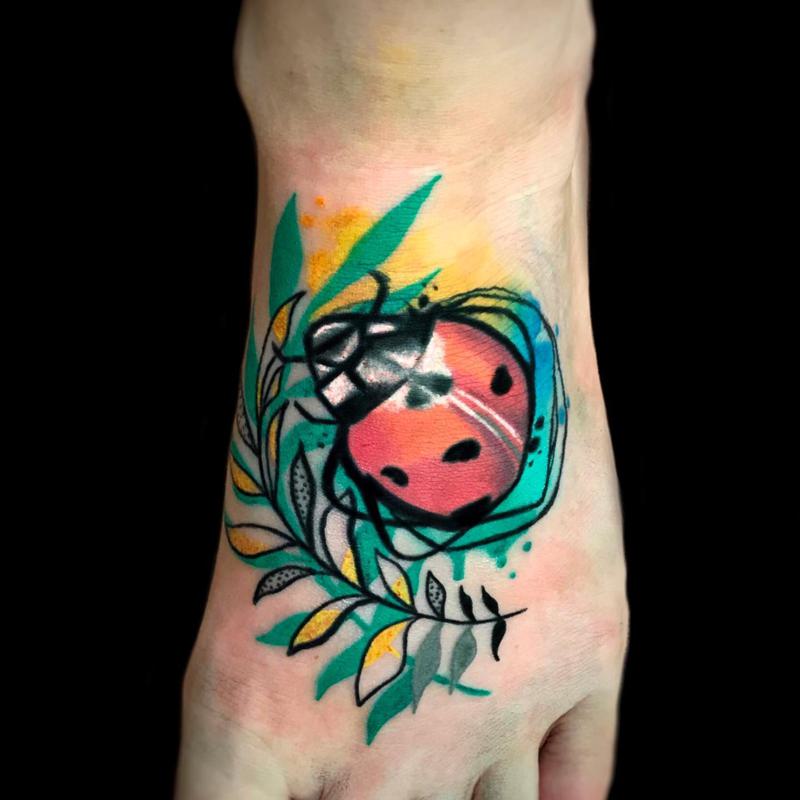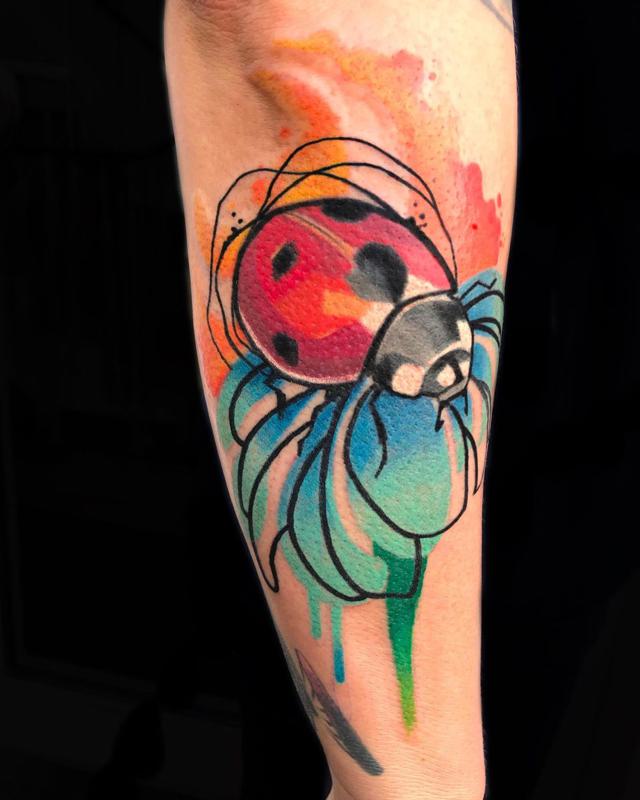 Neo-traditional ladybug tattoo expands on American-traditional styles to include more options for line widths, a broader color palette, and more depth of dimension. The tattoos pay homage to classic themes born out of ports, military schools, and harbors worldwide, updating them but not completely changing Traditional motifs.
While neo-traditional tattooing still uses bold-clean black outlines and bright single colors like American-traditional tattooing, it's not restricting. The tattooing technique applies elements of the older American styles using more realistic depth, detail, shading, and broader color combinations.
The stunning ladybug tattoo designs above show how tattoo artists can adopt several concepts and motifs in the neo-traditional tattooing approach.
Minimalist or Simple Ladybug Tattoo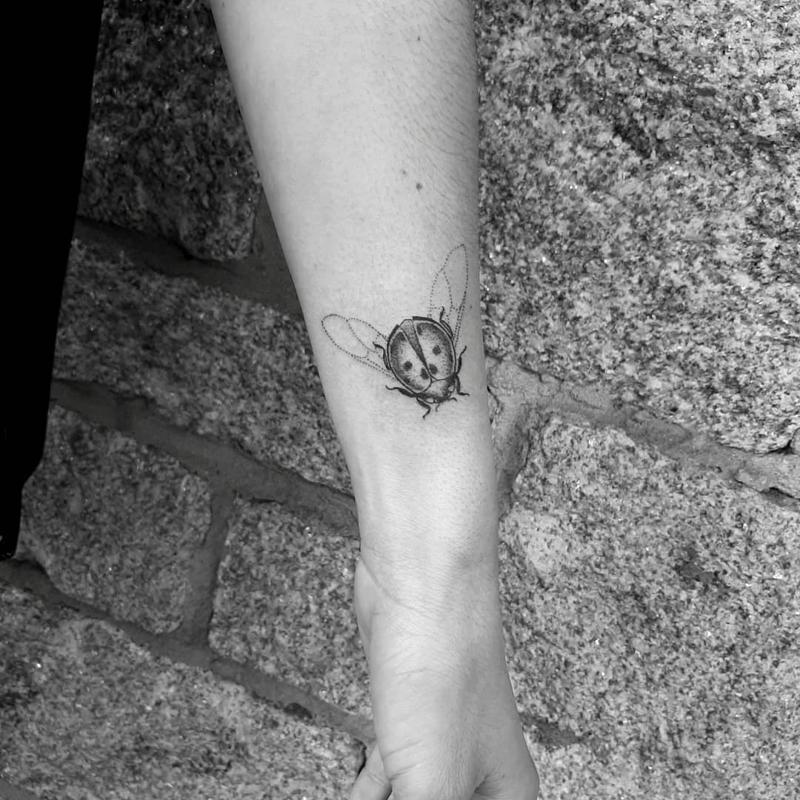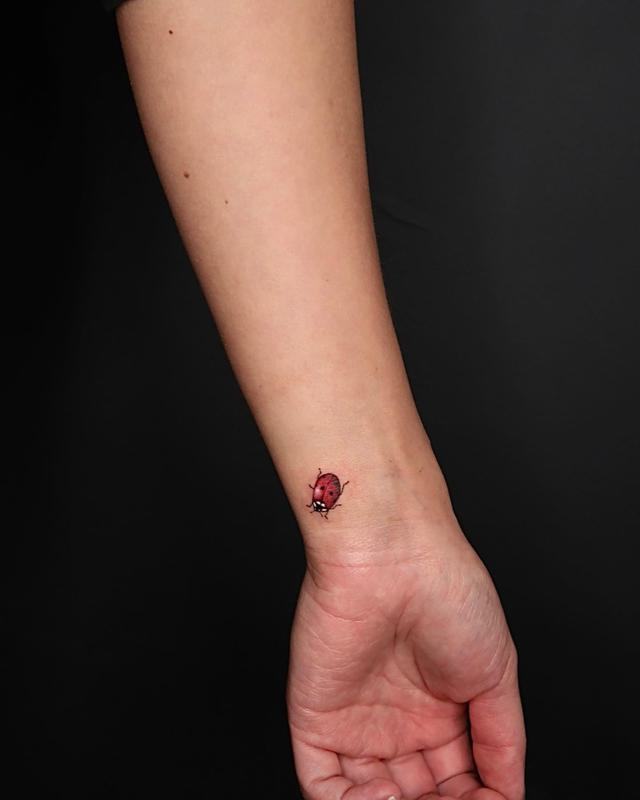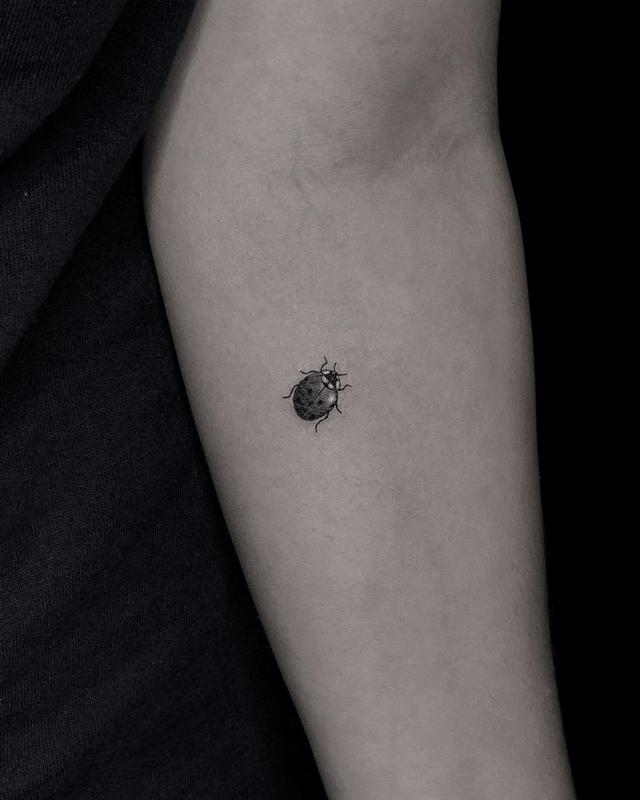 If you're getting a tattoo for the first time, you will love a minimalist ladybug tattoo design. You can place the tattoo anywhere on your hand, arm or wrist. You can work with your tattoo artist to create simple designs that convey the meaning of your tattoo using distinctive colors.
Minimalist or simple ladybug tattoos can remain successful and convey a meaning that can be recognized instantly, even when not attached to mind-blowing symbols. So, if you are a beginner, consider getting a temporary ladybug tattoo first as a test run before getting the ink.
Cute Ladybug Tattoo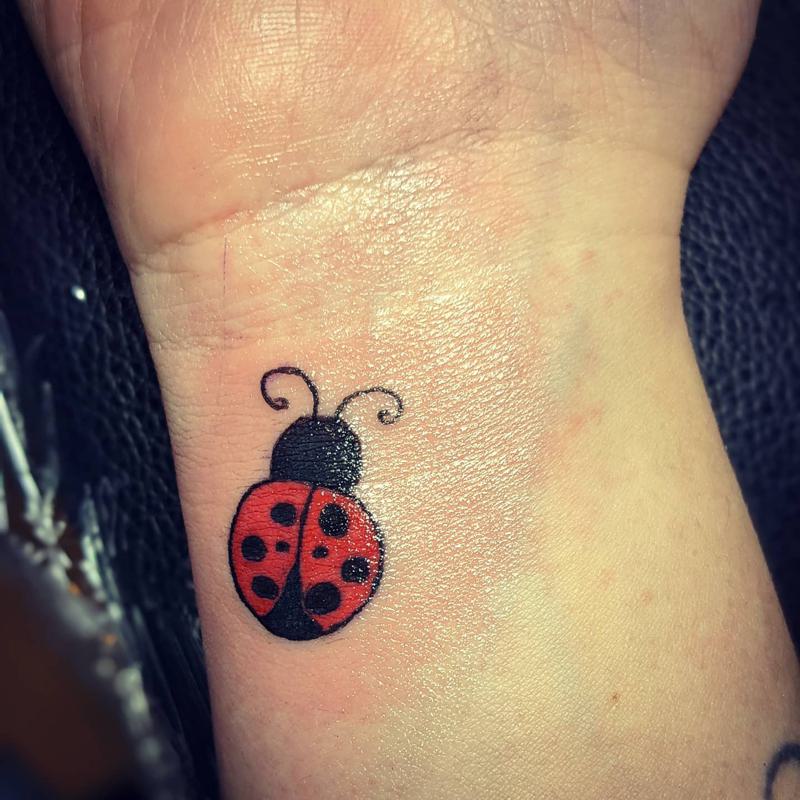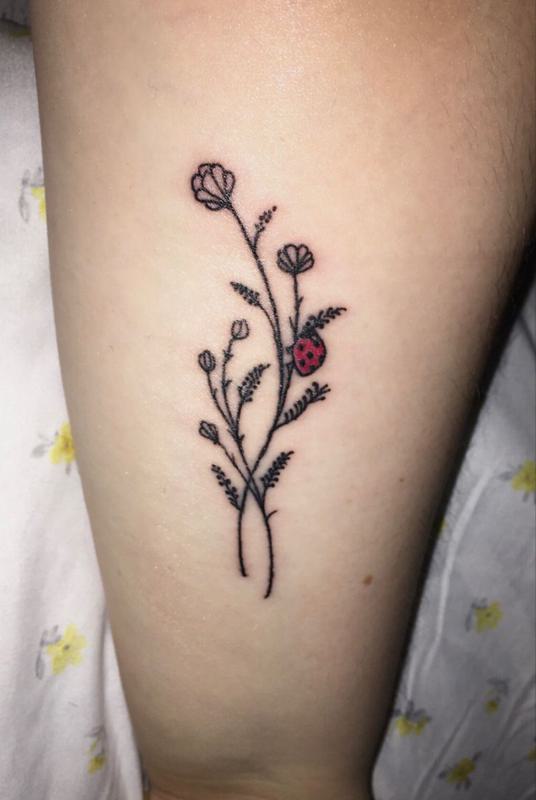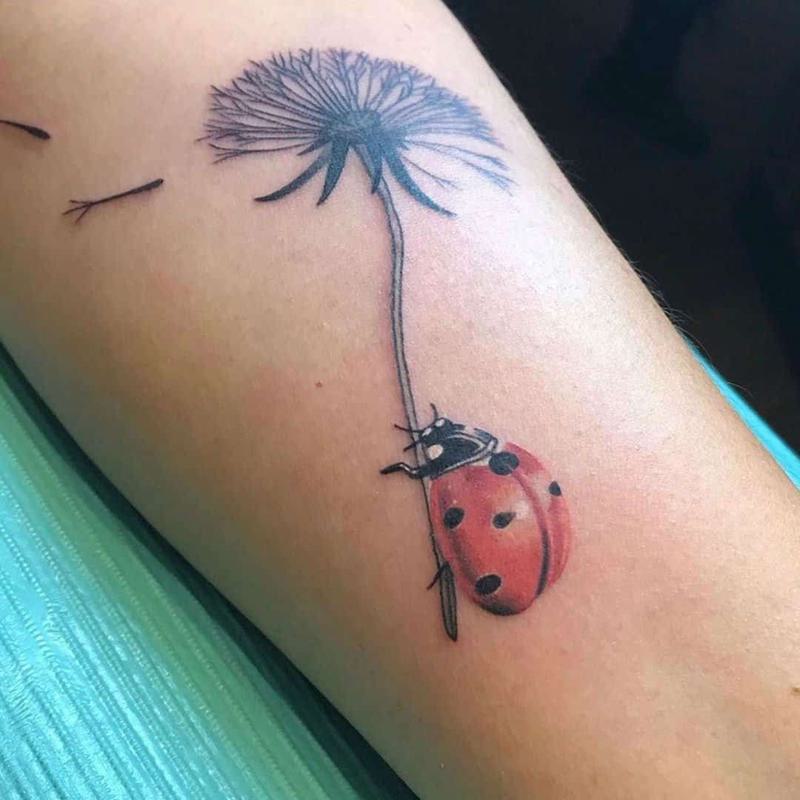 If you don't want to go big with your tattoo, perhaps these small cute ladybug tattoos would do the trick. Cute ladybug tattoos are intriguing and unique. They allow you to express your personality and inner world, without using mind-blowing symbols. Rest assured, these tattoos will brighten your day or provide you with the feeling you need to keep moving ahead.
Heart Ladybug Tattoo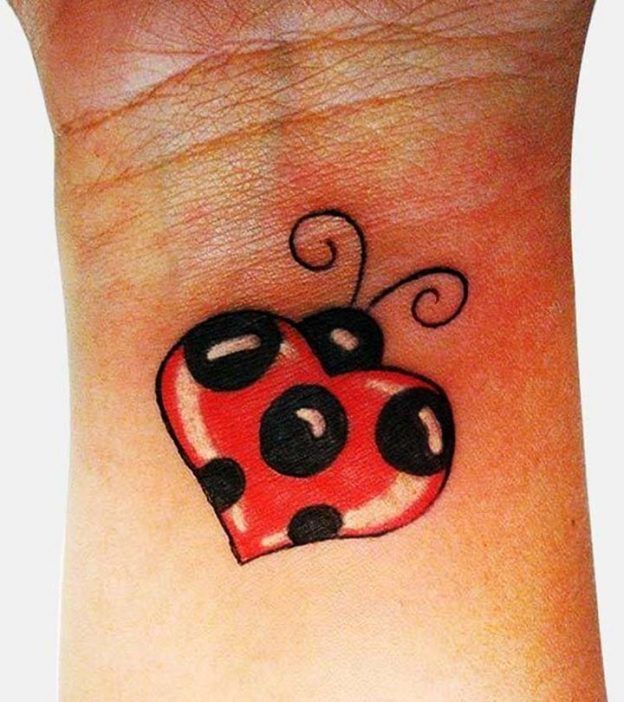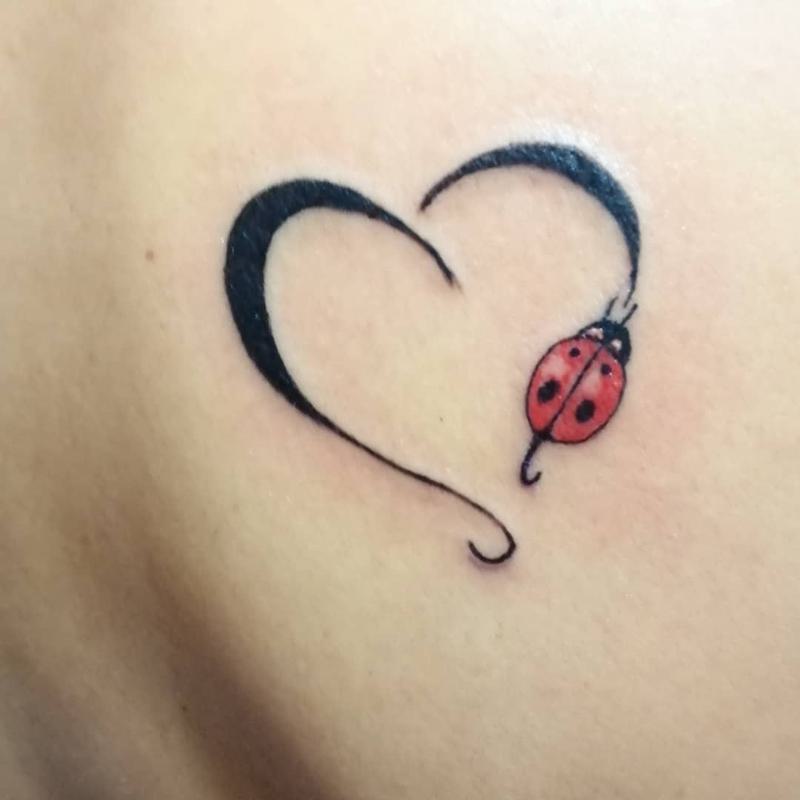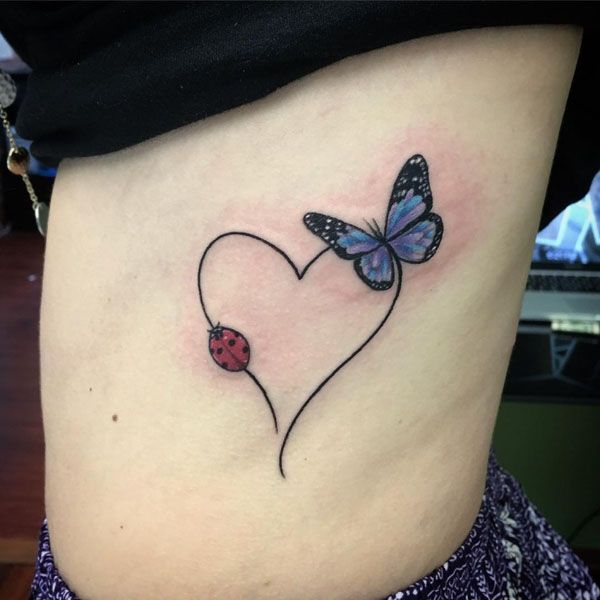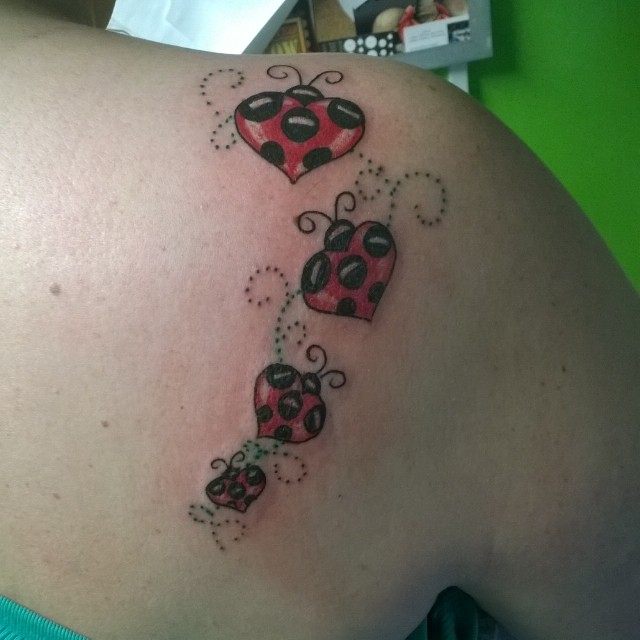 Heart ladybug tattoos are amazing and are a fantastic choice for individuals who wish to turn their bodies into pieces of art. The red or black ladybug tattoo and heart symbol will work together to express love, friendship, desire, or passion. What's more, you can get this unique tattoo anywhere on your body, be it neck, face, hand, wrist, or ankle.
Tiny Ladybug Tattoo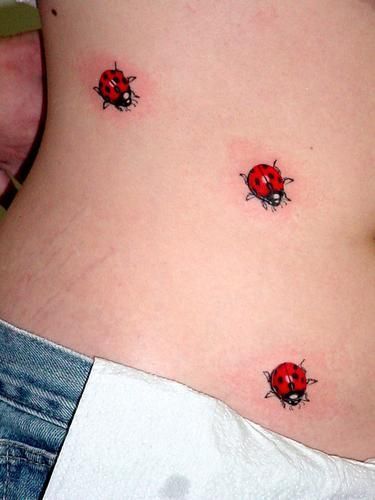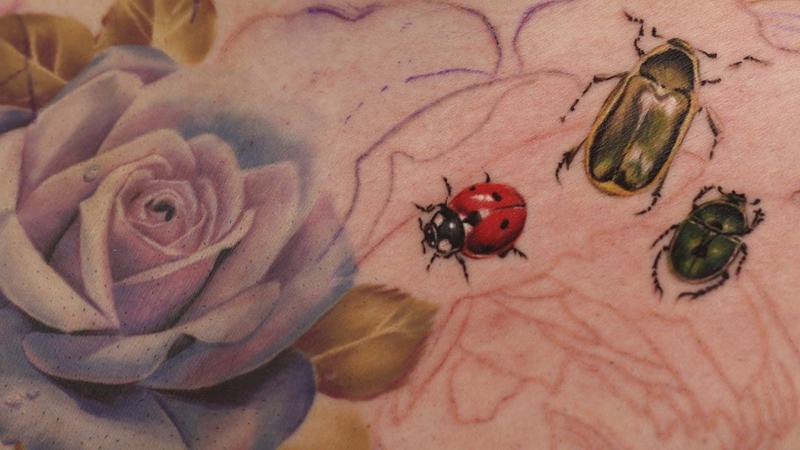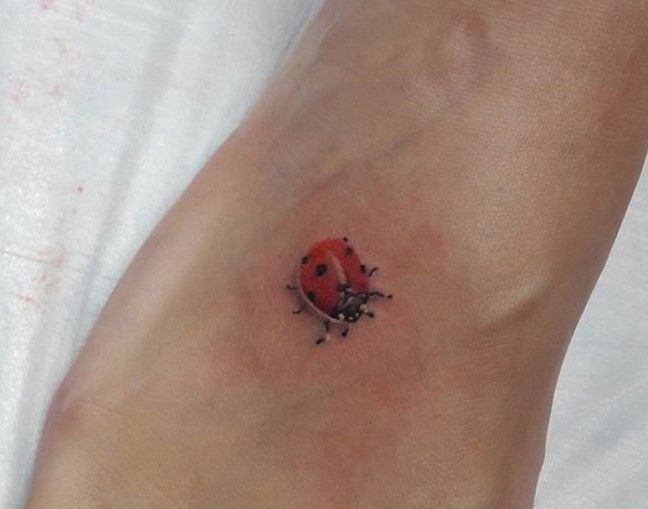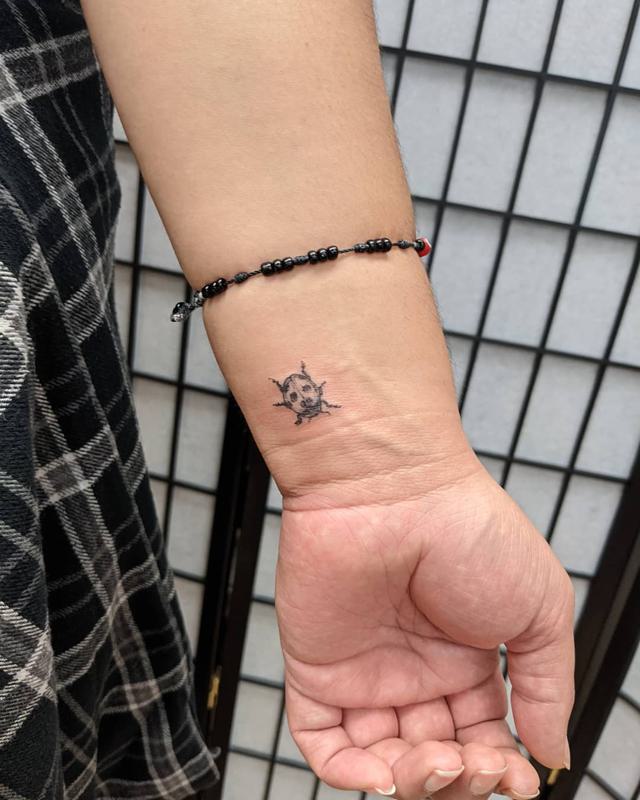 Some people prefer tiny tattoos over larger ones because they're discrete and offer an excellent introduction to body art. You can get a tiny ladybug tattoo today to symbolize passion, beauty, growth, hope, and positivity. Tiny ladybug tattoo designs are ideal for everyone, irrespective of their style and taste.
Furthermore, these tattoos are adaptable. Tattoo artists can rework, adapt, or incorporate them into a unique tattoo piece. Their small nature makes it easier to cover up or blend with a bigger tattoo design down the line. Also, you will always find more room if you wish to add another tattoo in the future.
3D Ladybug Tattoo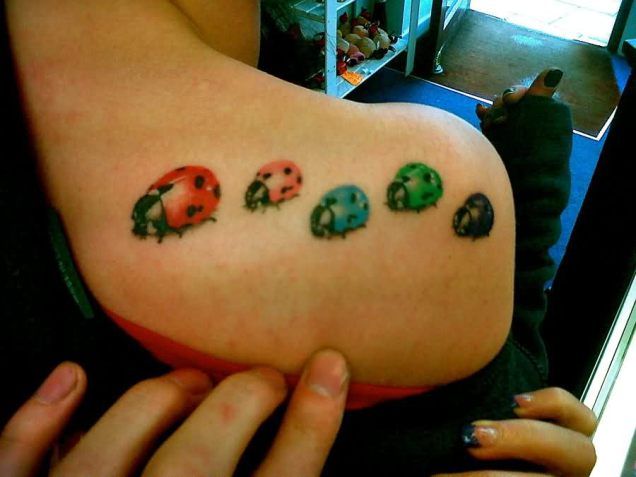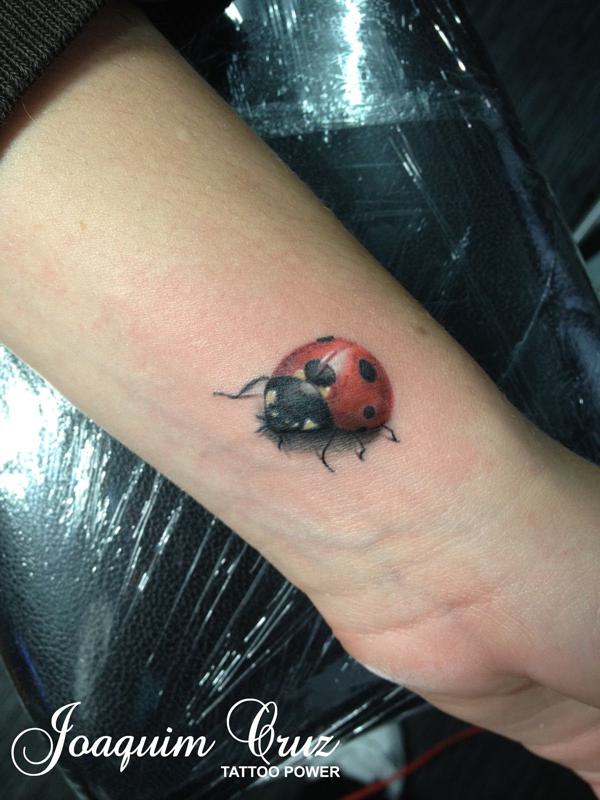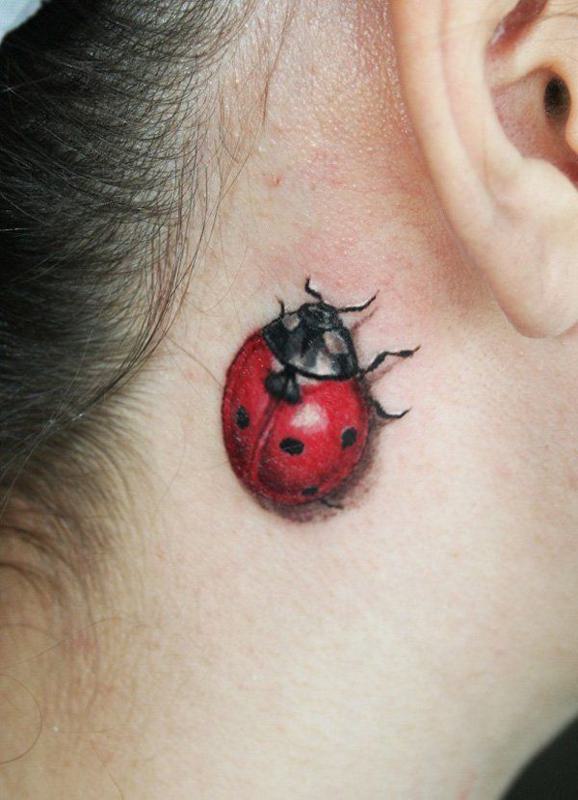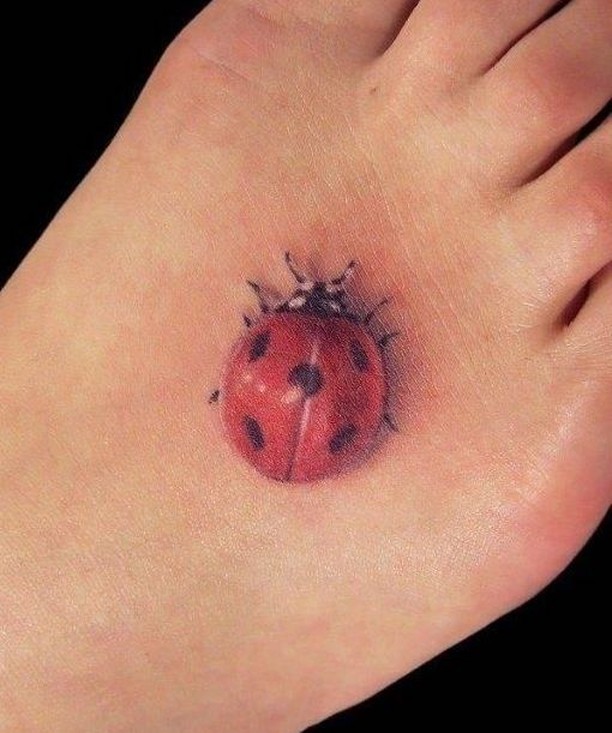 Individuals who like tattoos that deliver an optical illusion will love 3D ladybug tattoos. Tattoo artists' designs often surround the ladybird with highlights and shades to create a 3D effect. They also add shadows to both the subject and the skin. The shadows persuade the brain that space exists between the ladybug and skin, creating an illusion that your tattoo sits on the skin.
Over recent years, 3D tattoo designs have gained lots of popularity among artists, film actors, and other individuals due to their genuine appearance. You can get a 3D ladybug tattoo to mark a significant aspect of yourself. Alternatively, the tattoos can represent concepts like good luck, energy stability, guidance, optimism, enthusiasm, and others.
Geometric Ladybug Tattoo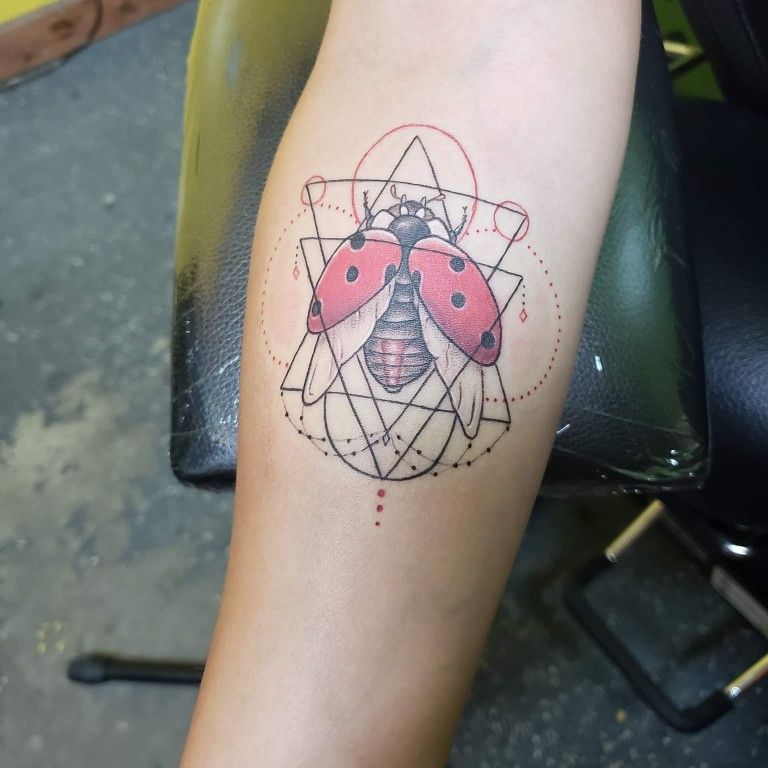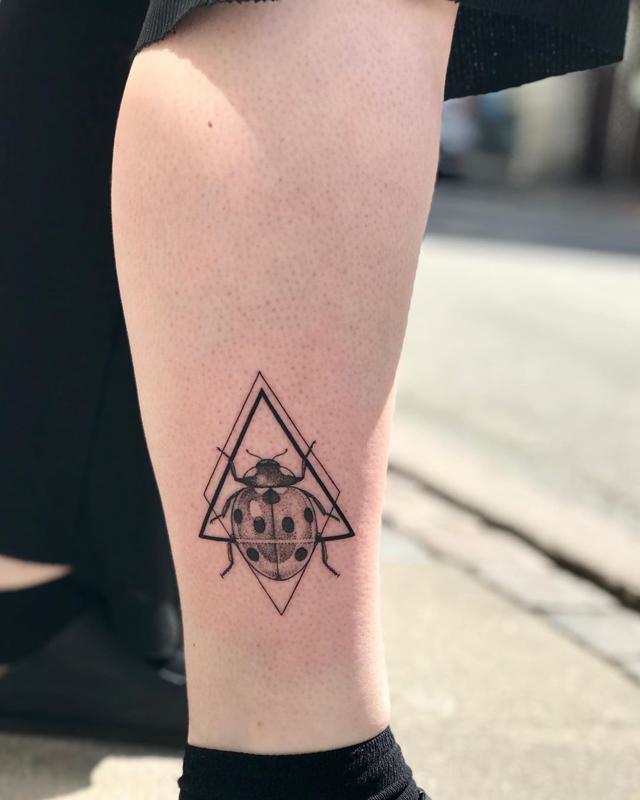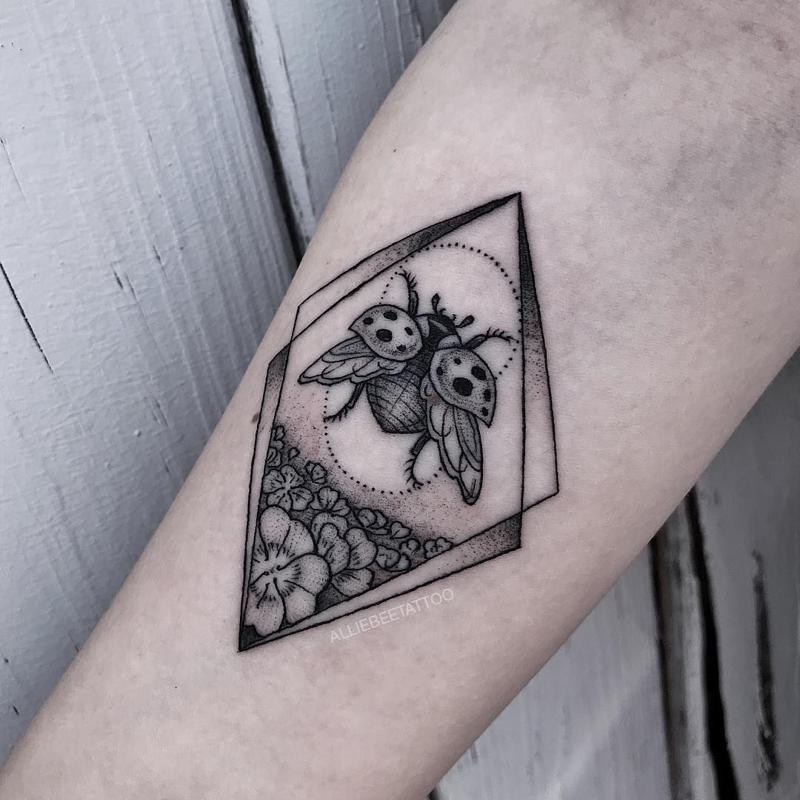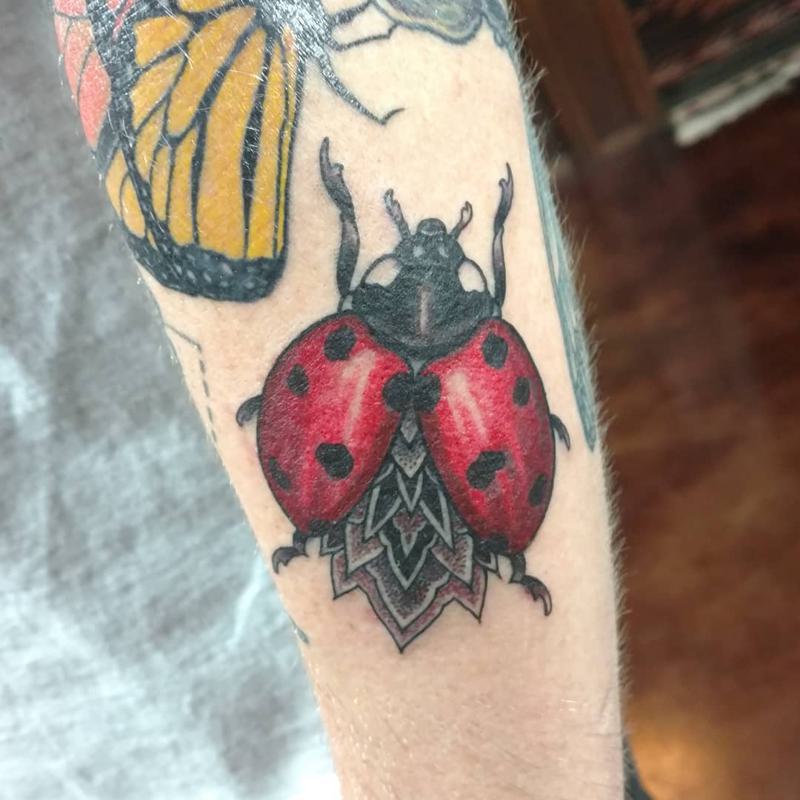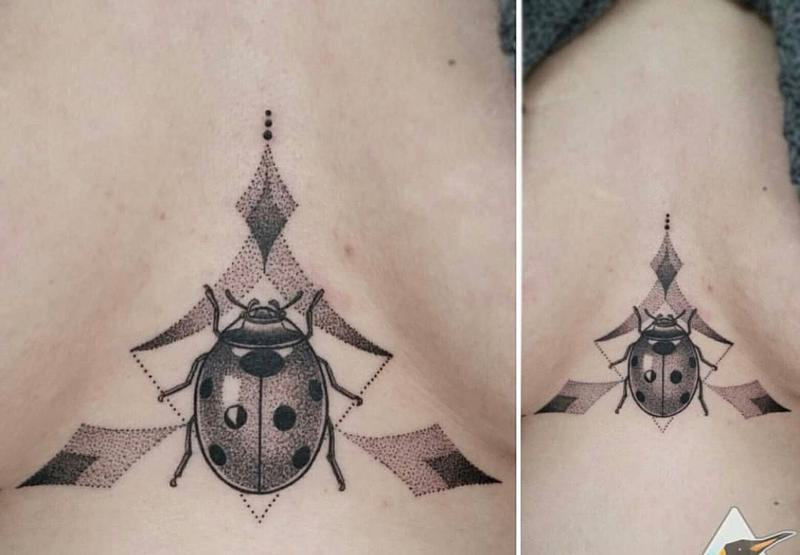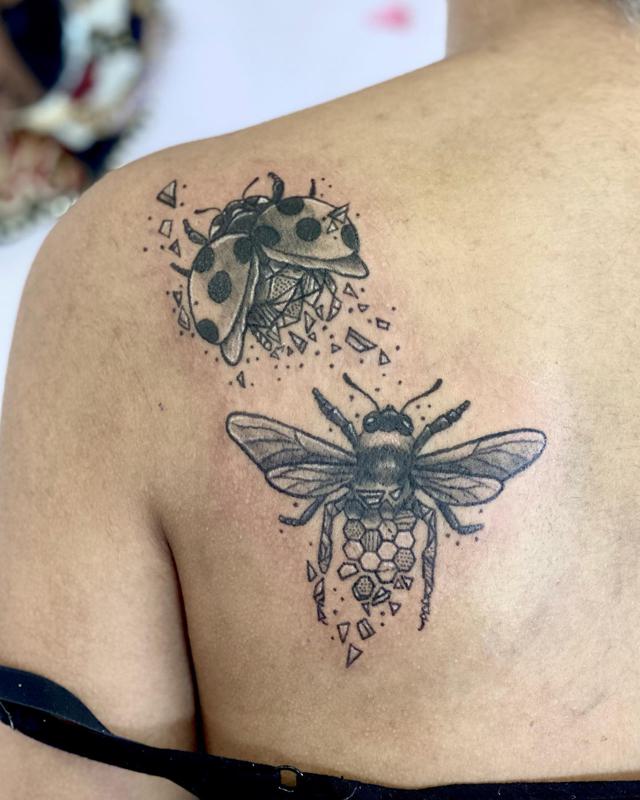 Boasting vibrant colors and delicate counters, geometric tattoo designs will truly transform your body. Unlike other tattoo designs, geometric symbols show a systematic approach to life. When paired with a ladybug, it shows you desire pleasure, good luck, love, and prosperity.
Most people love triangle and circle geometric shapes, but there are other shapes tattoo artists can adopt for beautiful body art. For placements, you can get geometric ladybug tattoos on your wrist, shoulders, hands, ankles, and anywhere else.
Watercolor Ladybug Tattoo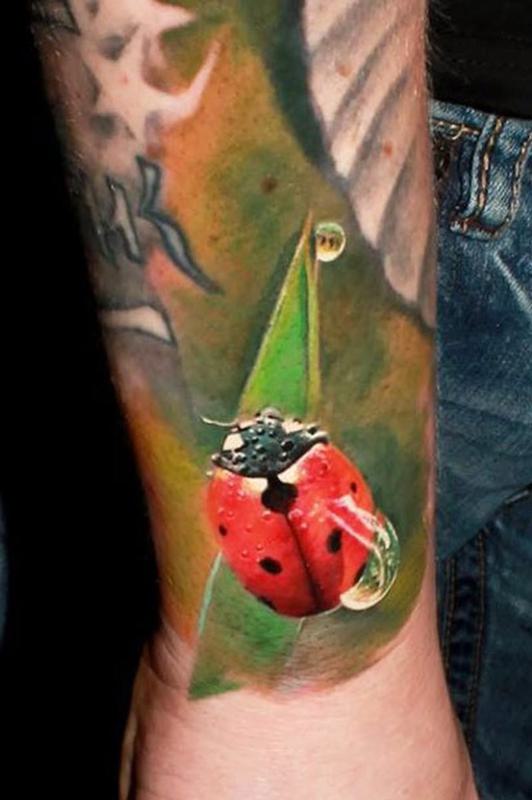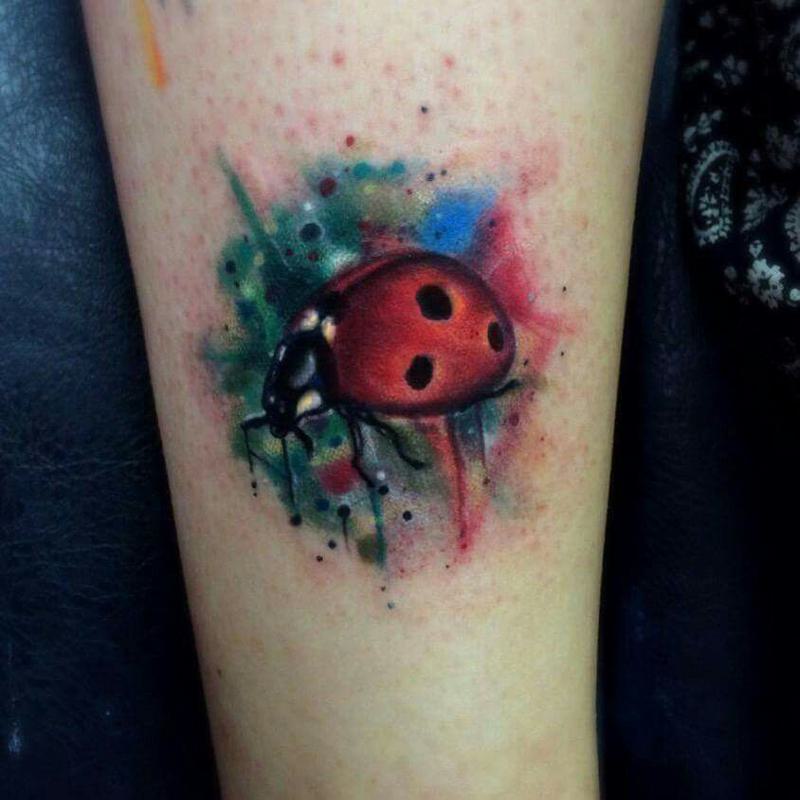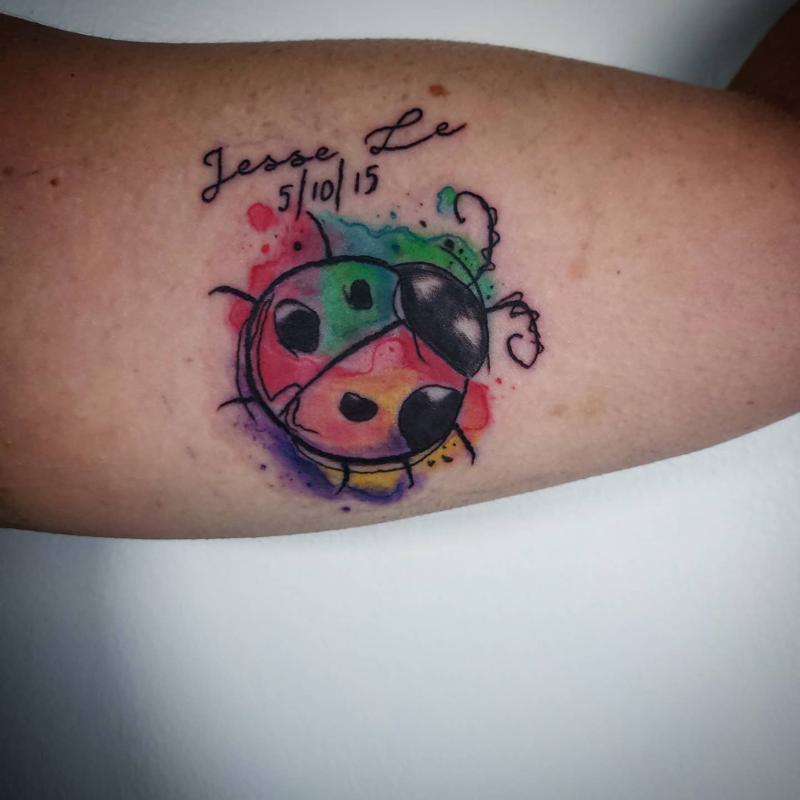 When most people think about tattoos, their minds focus on strong, dark outlines and impressive shading. However, there are several tattoo designs out there. And one tattoo design that has grown in popularity recently is watercolor tattoos. Unlike traditional tattoos, watercolor ladybug tattoos tend to be more delicate and fluid.
In most cases, you would think artists use different equipment to create it. But surprisingly, these tattoos are created the same way as traditional tattoos. The only difference is tattoo artists adopt several techniques such as bleeds, fades, runs, and blurs to get the watercolor look. Watercolor ladybug tattoos can encompass several symbolisms, including devotion, guidance, grace, growth, prosperity, etc.
Ladybug on Leaf Tattoo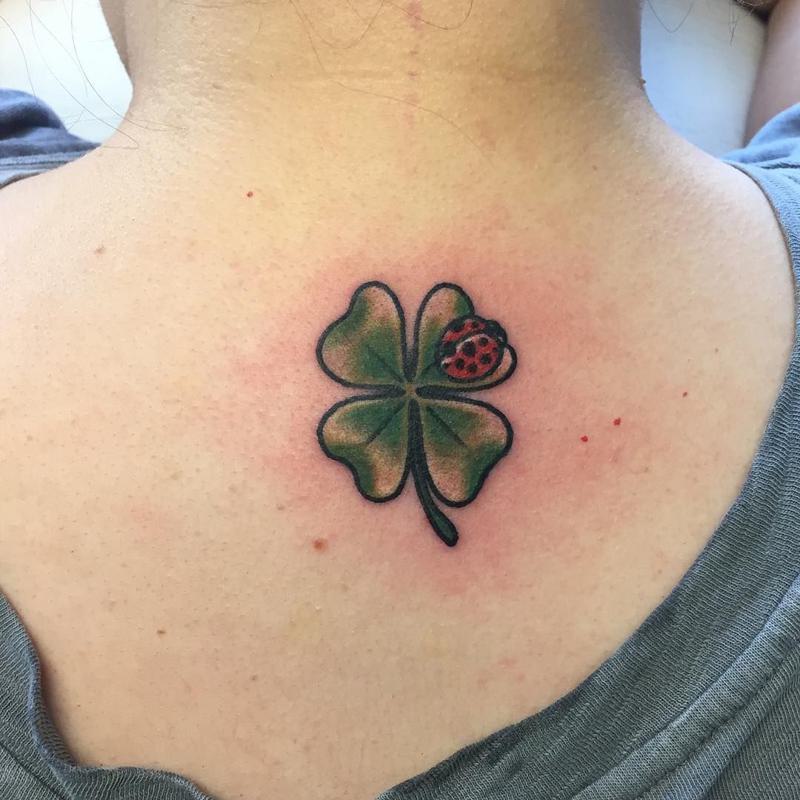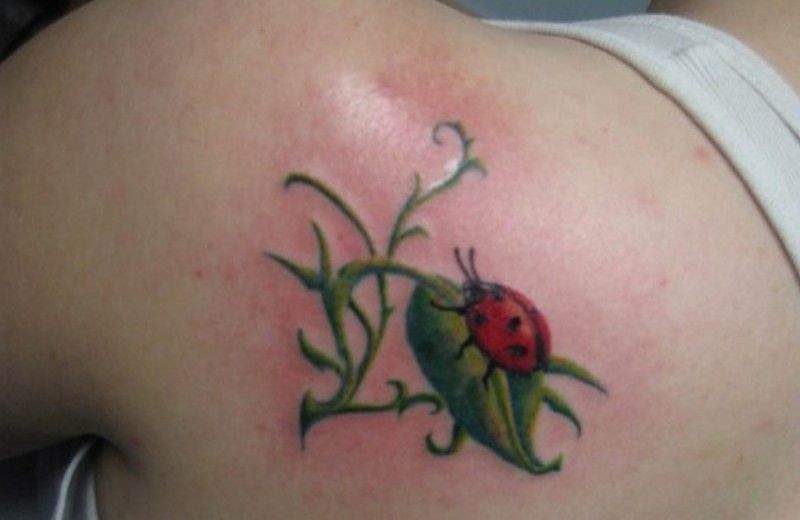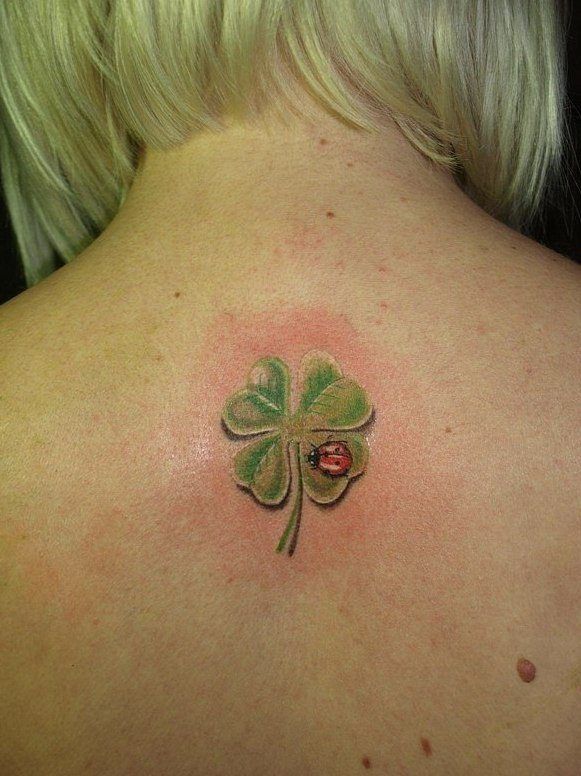 A ladybug on leaf tattoo design can be simple or complex. Either way, it can help you convey your personality or your love for these tiny spiritual creatures. The ladybug can help you show the world that you have overcome certain challenges in life and you're ever-growing. Other symbolism for the tattoo includes protection, prosperity, well-being, guidance, and growth. Feel extra lucky today by getting a ladybug on leaf tattoo.
Ladybug Finger Tattoo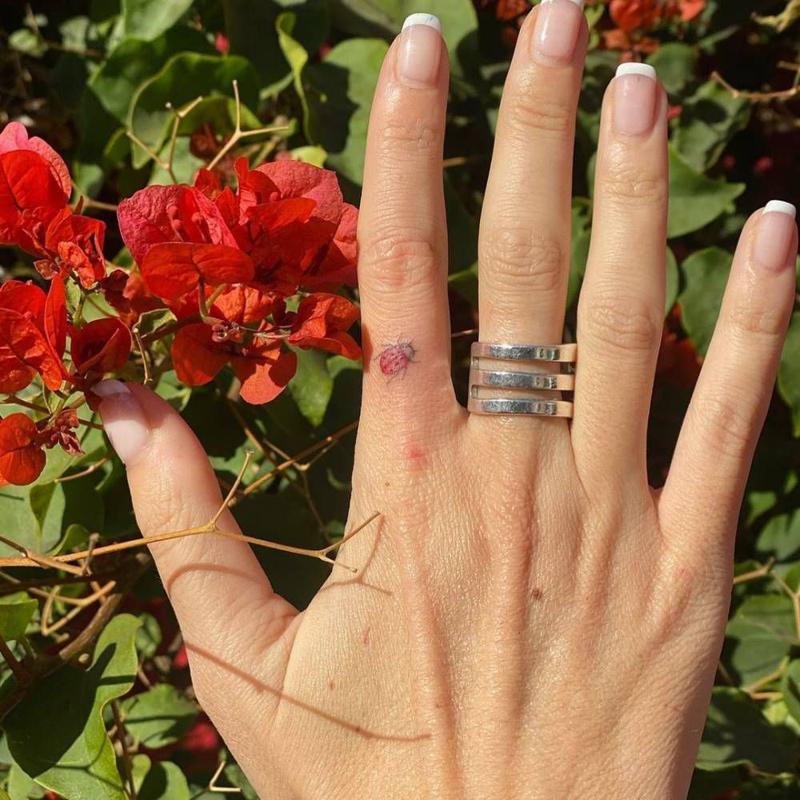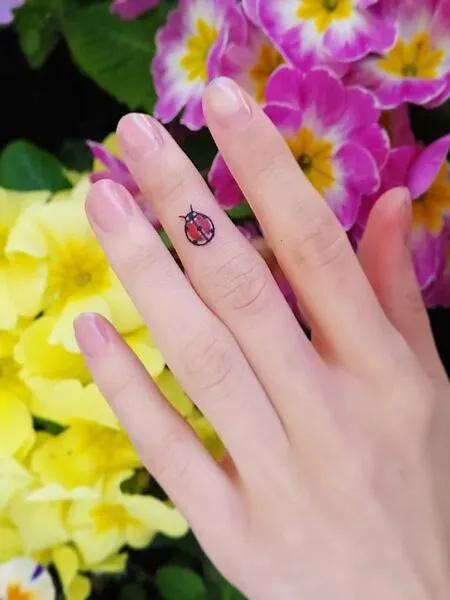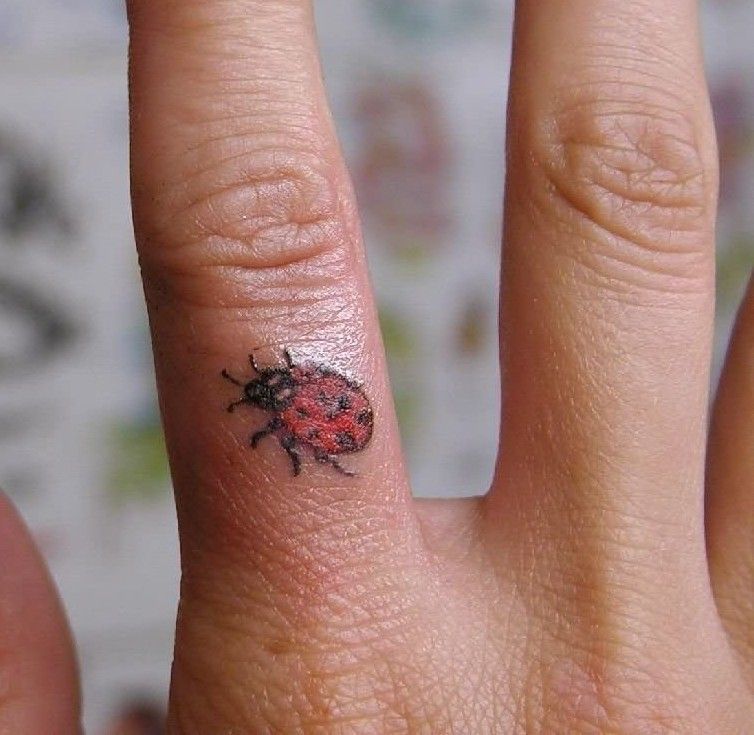 Most individuals avoid finger tattoos due to their tendency to fade with time. And since the finger contains less muscle density and fat, getting a tattoo on the spot can be more painful. Nevertheless, small or minimalist ladybug finger tattoos look great and suit both men and women.
Besides that, tattoos are interesting, particularly for those people who desire a tattoo but don't want drastic body changes. A ladybug finger tattoo allows you to carry luck and good fortune with you daily. Try out a different hue for the ladybug and outlines for a stunning piece of art.
Ladybug Ankle Tattoo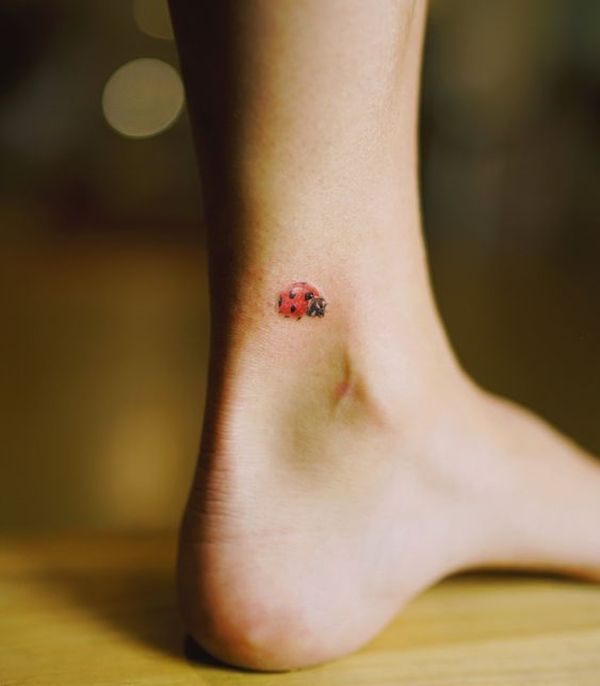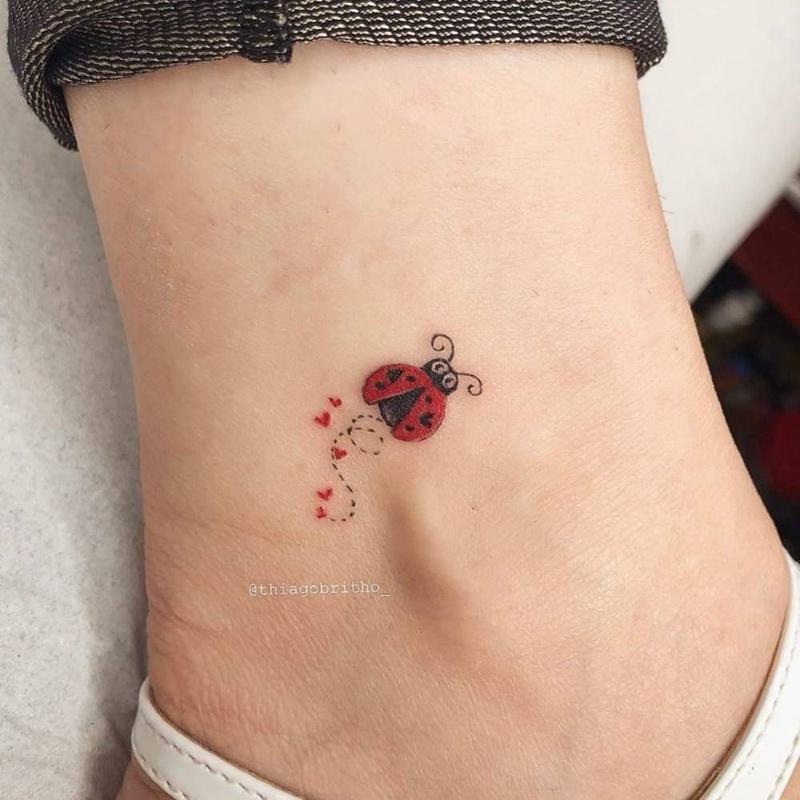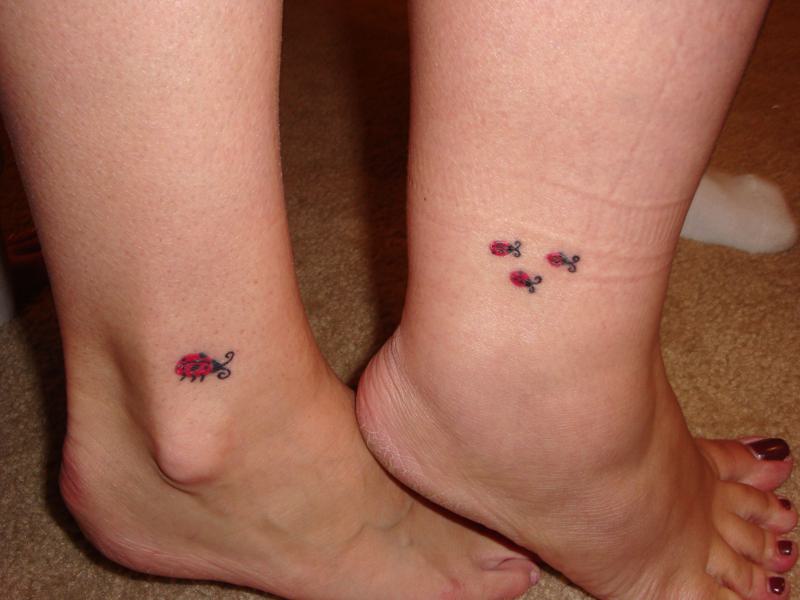 Ladybug ankle tattoos suit individuals contemplating a first tattoo or looking for a more subtle placement. Sure, you will need to brace for some pain, but once you've got the ink, you will love it. Whether you get the tattoo on the front of the Ankle or wrap it around the ankle, the tattoo will look stunning while accenting and attracting attention to your legs.
While ladybug ankle tattoos used to feel feminine, tattoo artists today integrate masculine design elements and bold imagery, making these tattoos ideal for men. Keep in mind that men love discreet tattoos or minimalist motifs. And the ankle offers an excellent placement spot since it's barely visible, and you can easily conceal it in a professional setting.
Cartoon Ladybug Tattoos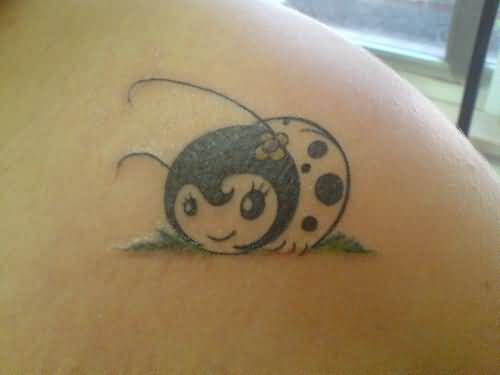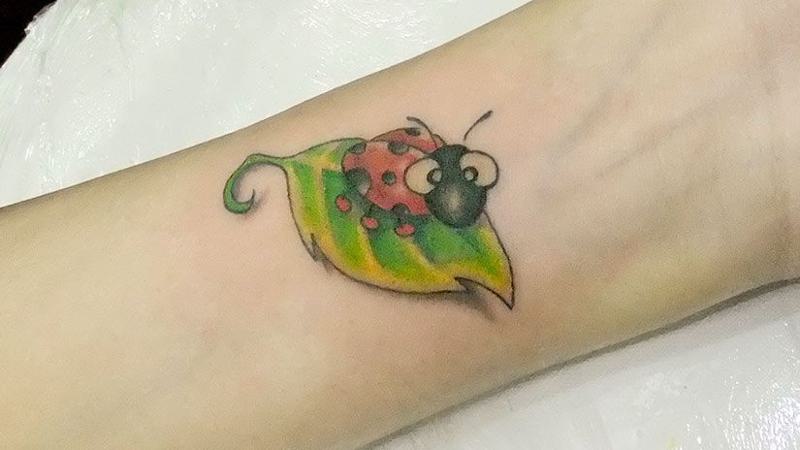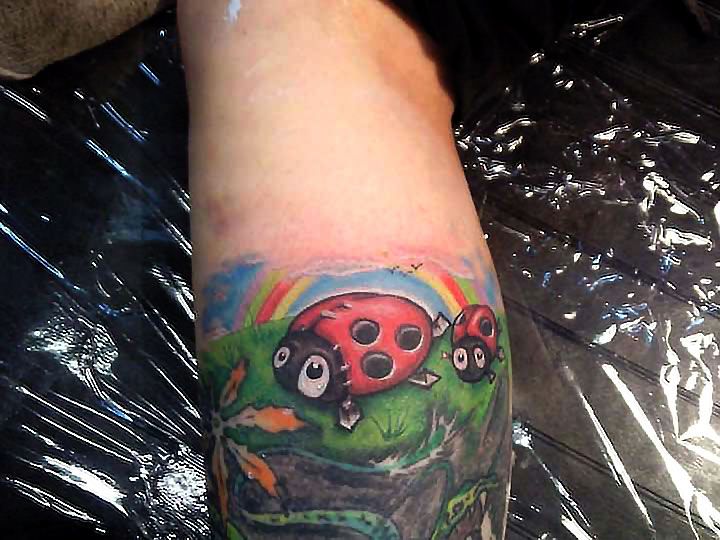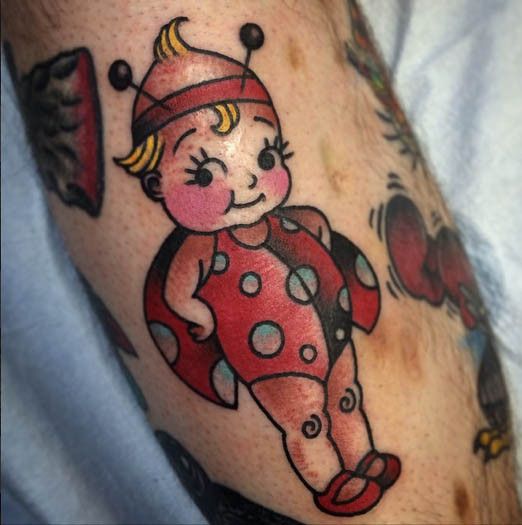 Cartoon ladybug tattoos can be stylish and cute at the same time. Such tattoos can help you express your beloved childhood and adolescent memories using particular cartoon imagery. Most times, the pieces are nostalgic for the wearer, serving as a reminder of favorite characters or characters from TV shows or books.
Cartoon tattoos never seem to go out of style, and cartoon ladybug tattoo designs are no different. So, get a cartoon-style ladybug tattoo to feel young at heart and prosperous.
Ladybug Tattoo with Name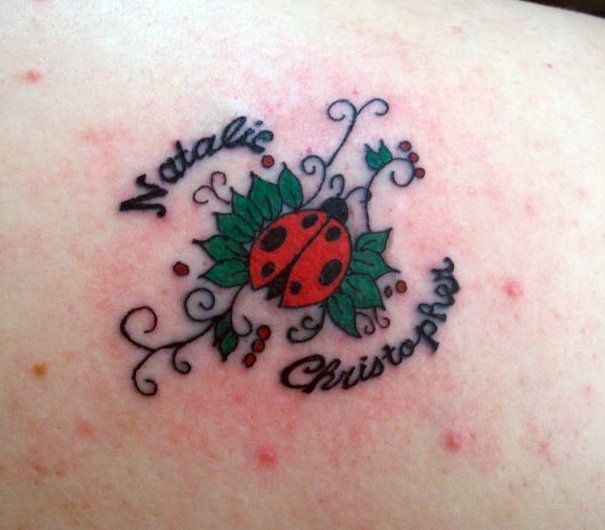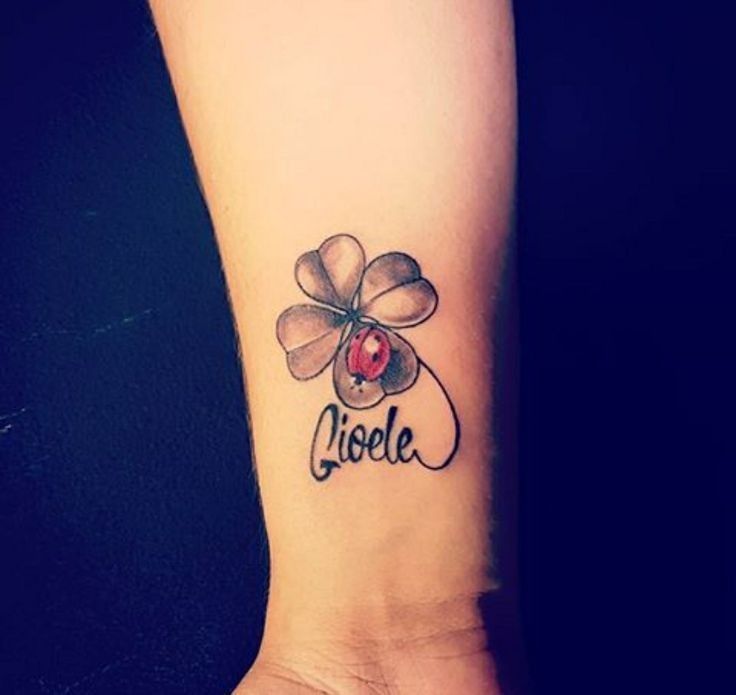 You can also couple up your ladybug tattoo with a name. Maybe it's your lover, close friend, or family member. Either way, a ladybug tattoo with a name is a good way to show commitment or tribute to someone you love and know. There are many names and tattoo designs that have ladybug incorporated. So, it's up to you to select the one you love.
Ladybug and Butterfly Tattoo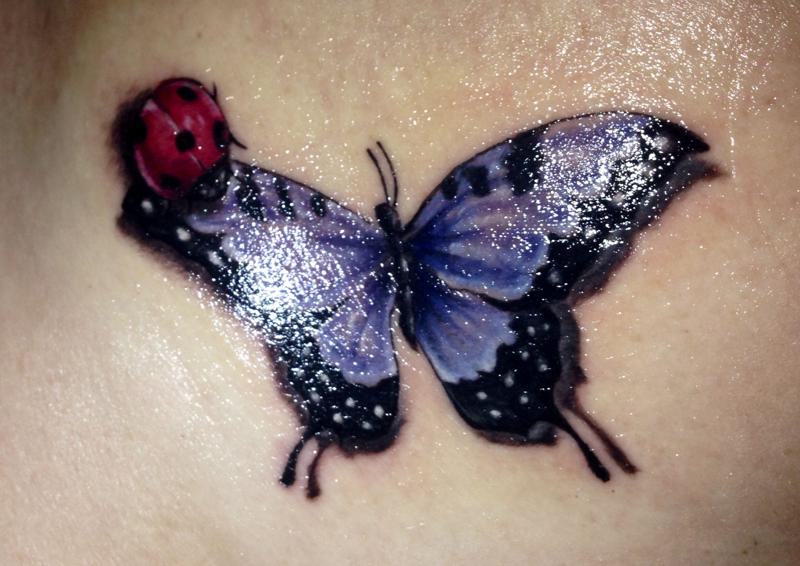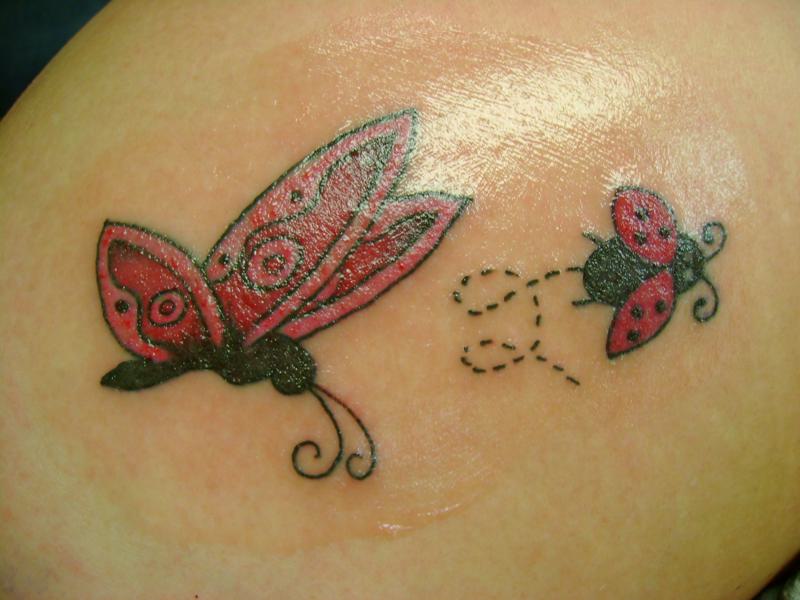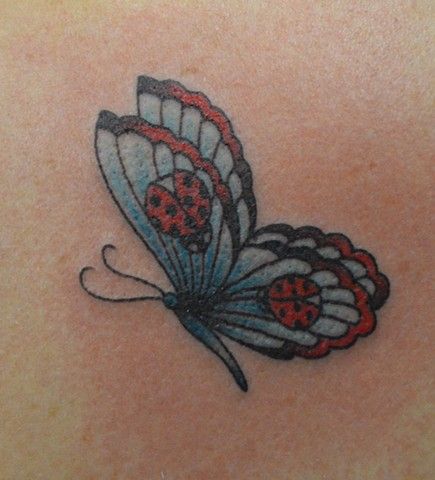 Like a ladybug, a butterfly is a beautiful creature loved and adored by many people. When combined in a tattoo design, they can show the nature of the wearer, whether it's positive or confident. A ladybug and butterfly tattoo can also depict freedom, hope, tranquility, harmony, enthusiasm, good fortune, and happiness.
The best part? These tattoos offer you lots of freedom in terms of color combinations to choose from. The most common color includes blue and red. But don't limit yourself to these alone. Also, you can get a large tattoo, which gets noticed easily, or a small discrete tattoo merging the two stunning creatures.
Ladybug on Flower Tattoo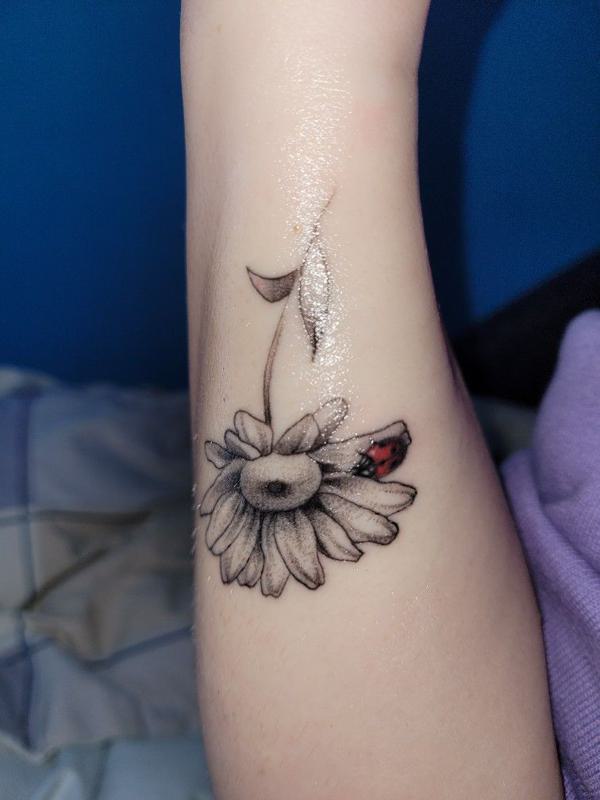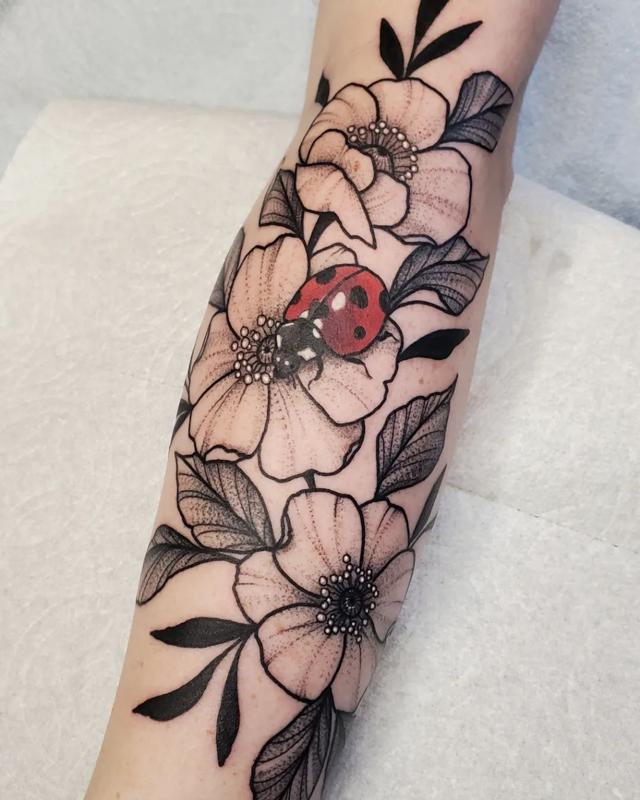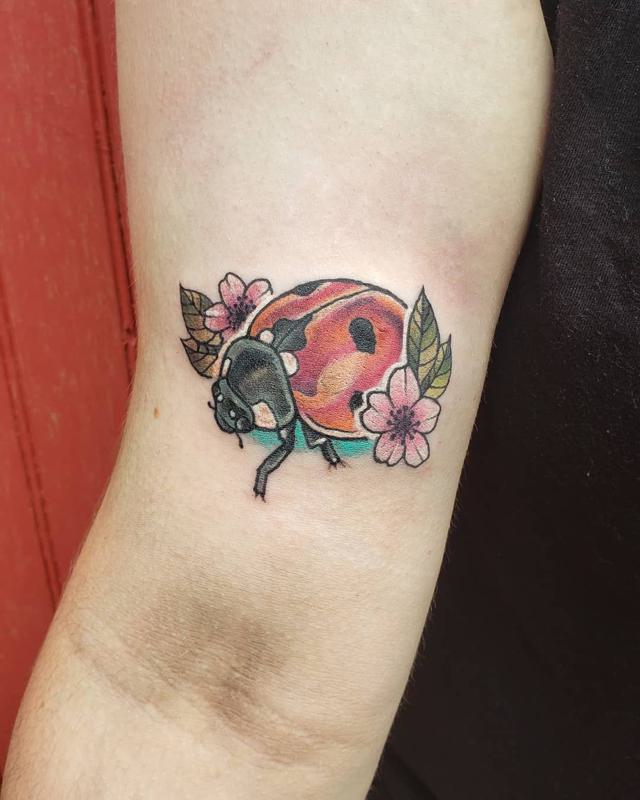 Ladybugs love sitting in flowers and leaves in gardens and farms. So, it makes sense to get a ladybug tattoo incorporated with flowers. The ladybird can lean out from one of the petals of a flower or sit on top of them. The best place for this tattoo is the shoulder, thanks to its colorful and detailed nature.
But you can also place it on your wrist, hand, or any other part of your body. Featuring several styles, ladybug on flower tattoos can symbolize happiness, guidance, free spirit, harmony, protection, warmth, etc. Besides that, it can also depict your journey of overcoming hurdles and obstacles in life and emerging strong as ever.
Ladybug Tattoo with Flowers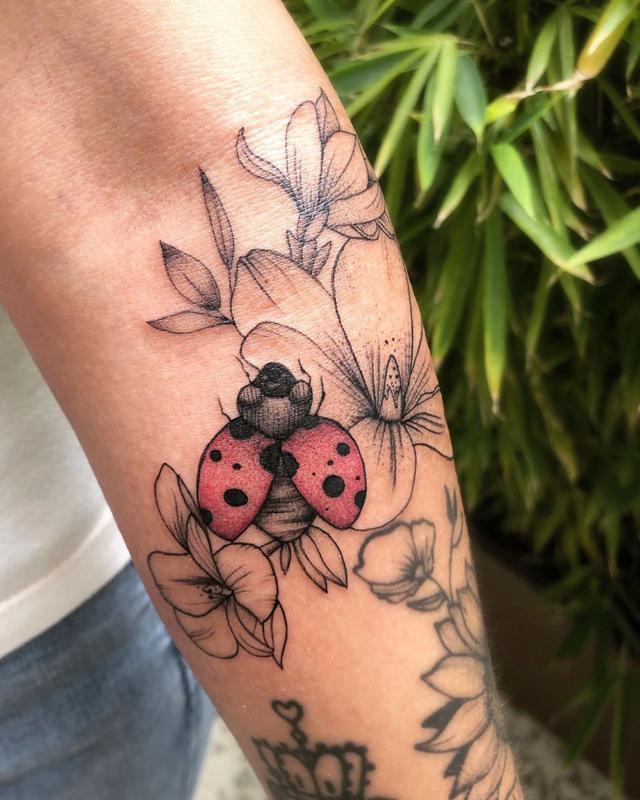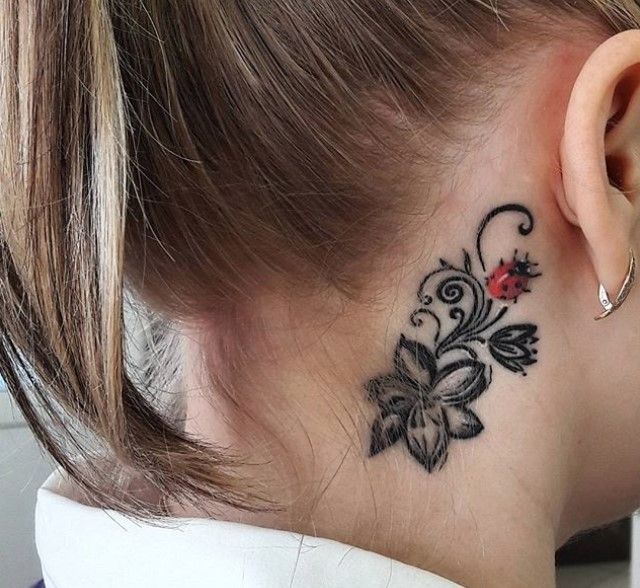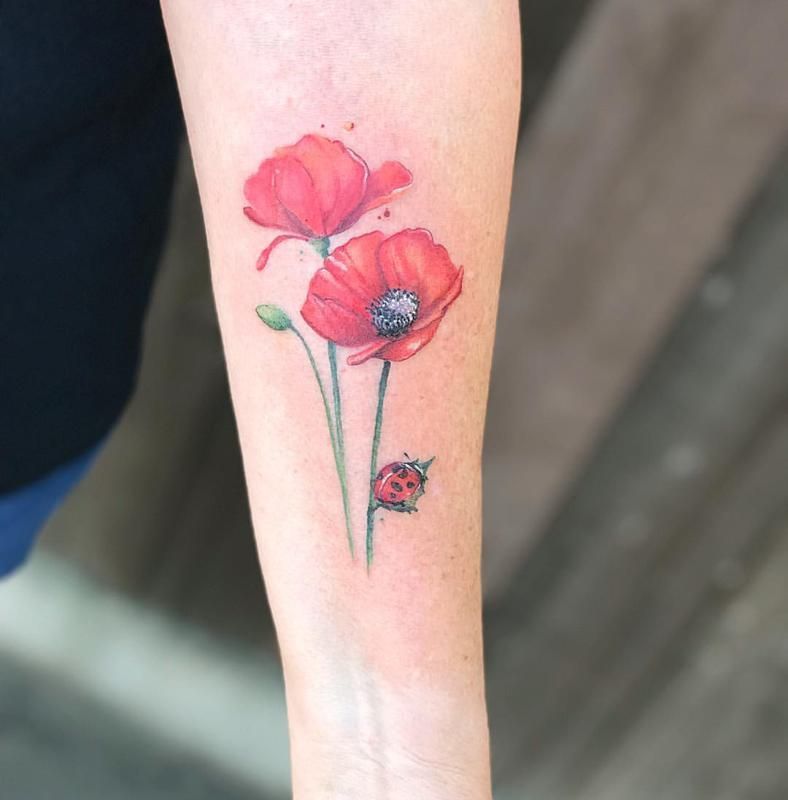 Another tattoo design worth checking out is a ladybug tattoo with a flower. You can never go wrong with this tattoo design, thanks to the many styles and color choices. You can get a single type of flower coupled with the ladybug or several different flowers. The tattoo can be a large floral print on your thigh or a smaller motif on your hands or neck.
Realistic Ladybug Tattoo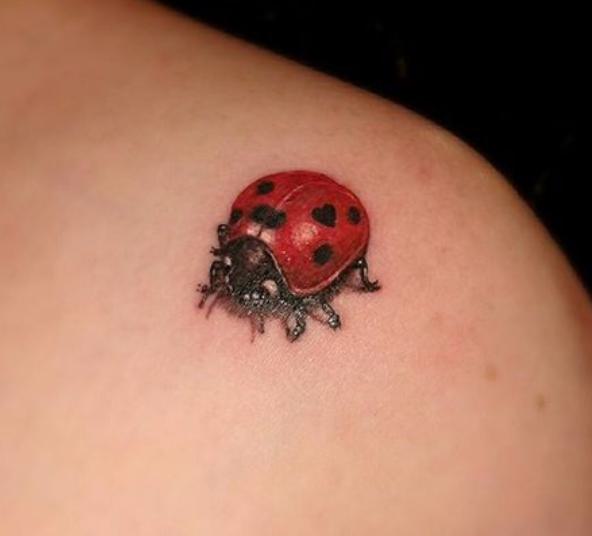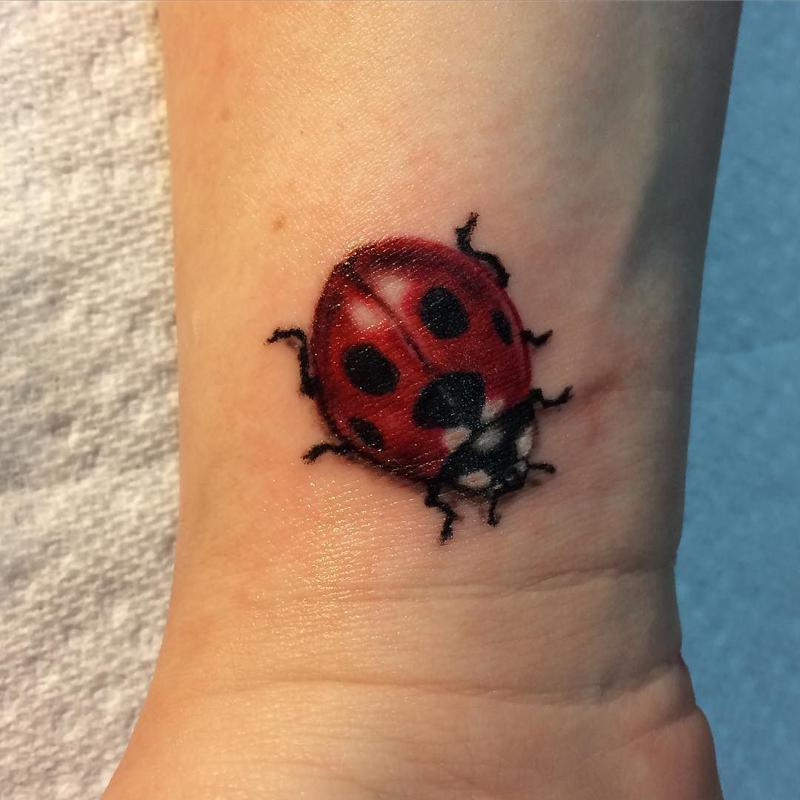 Realistic ladybug tattoo designs are often small and use several details and techniques to create designs that resemble a real image as much as possible. Above are examples of realistic ladybug tattoos.
Ladybug Tattoo on Wrist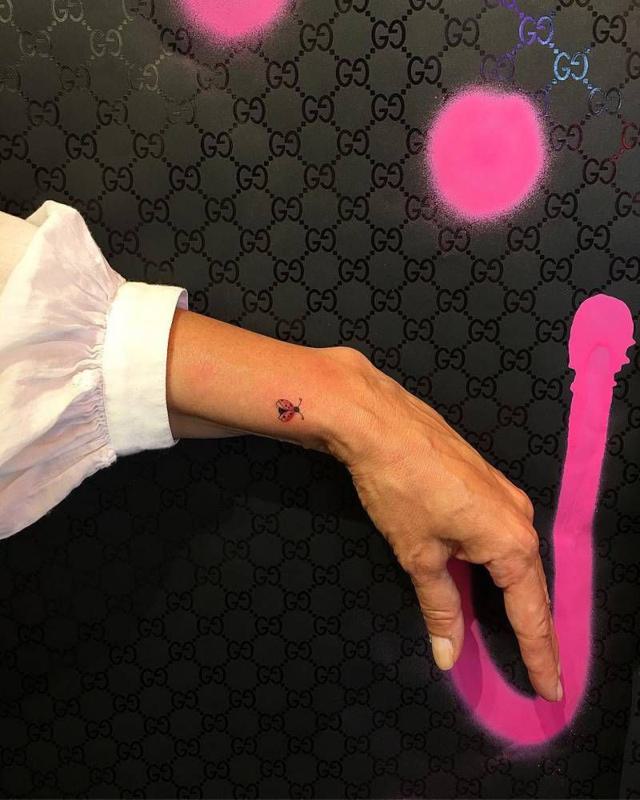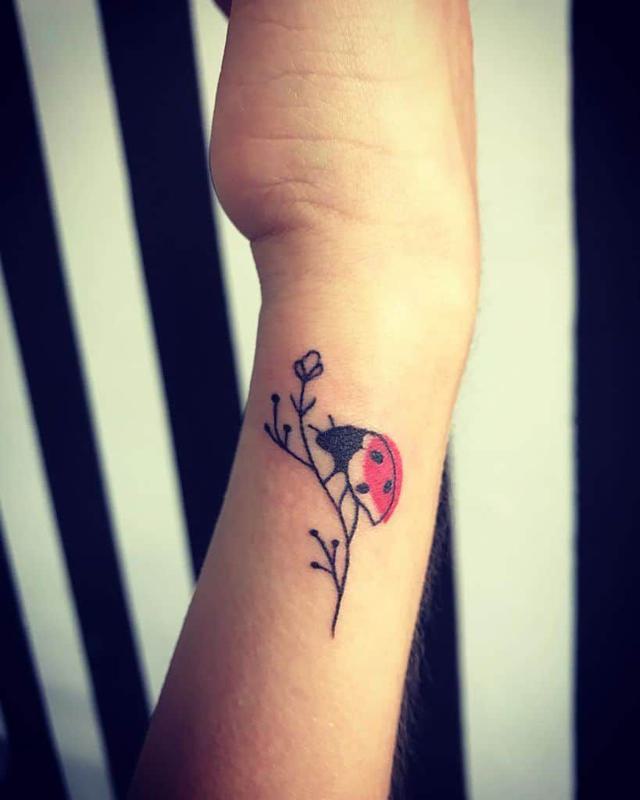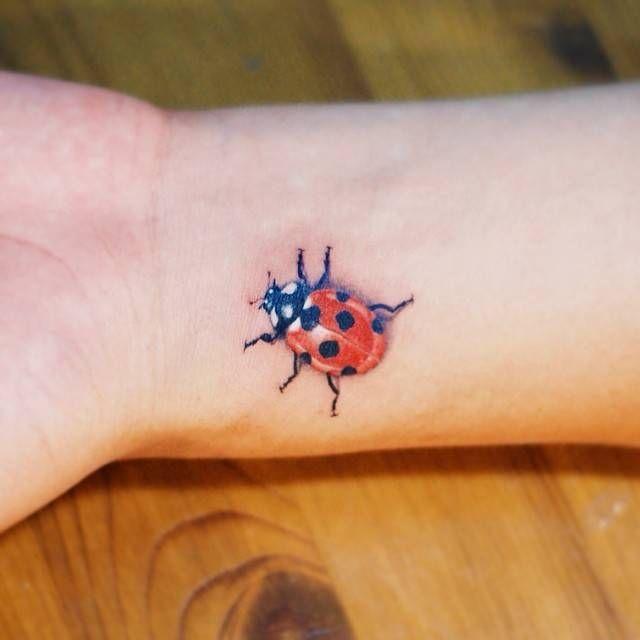 Without a doubt, the wrist remains one of the most popular tattoo placement spots. The design, shape, and vibrancy of ladybugs make them ideal wrist tattoos. By getting one, it means you're willing to take risks for a good life. Ladybug tattoos on the wrist feature many styles and color options and are easy to incorporate into cute designs.
Miraculous Ladybug Tattoos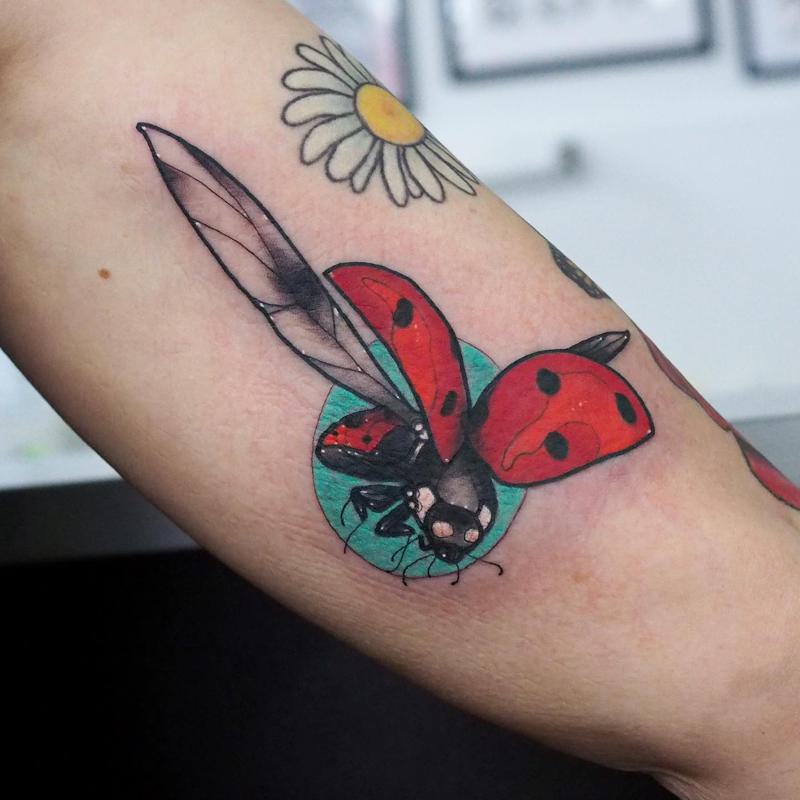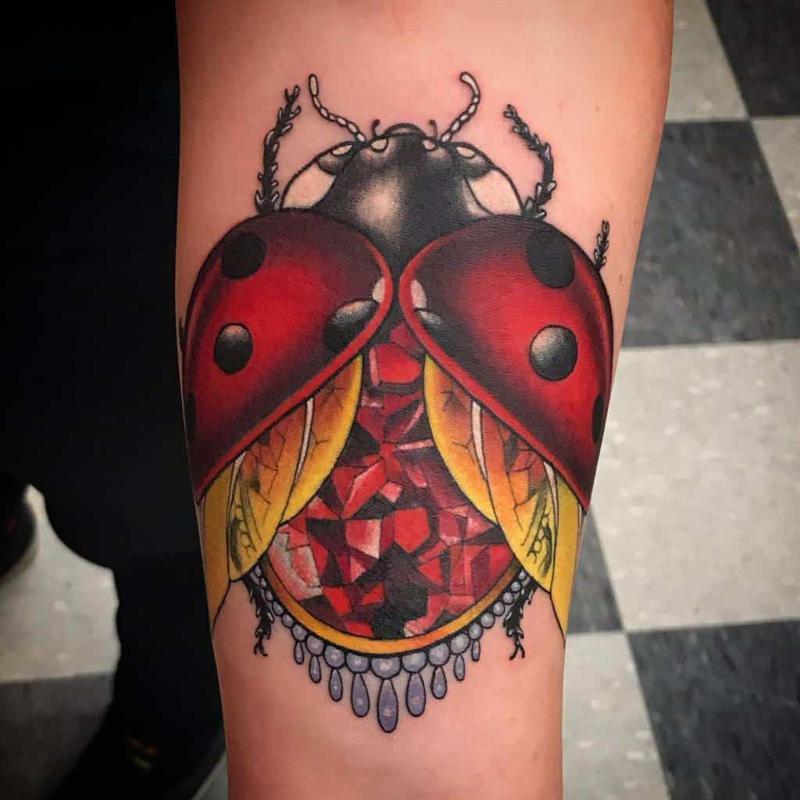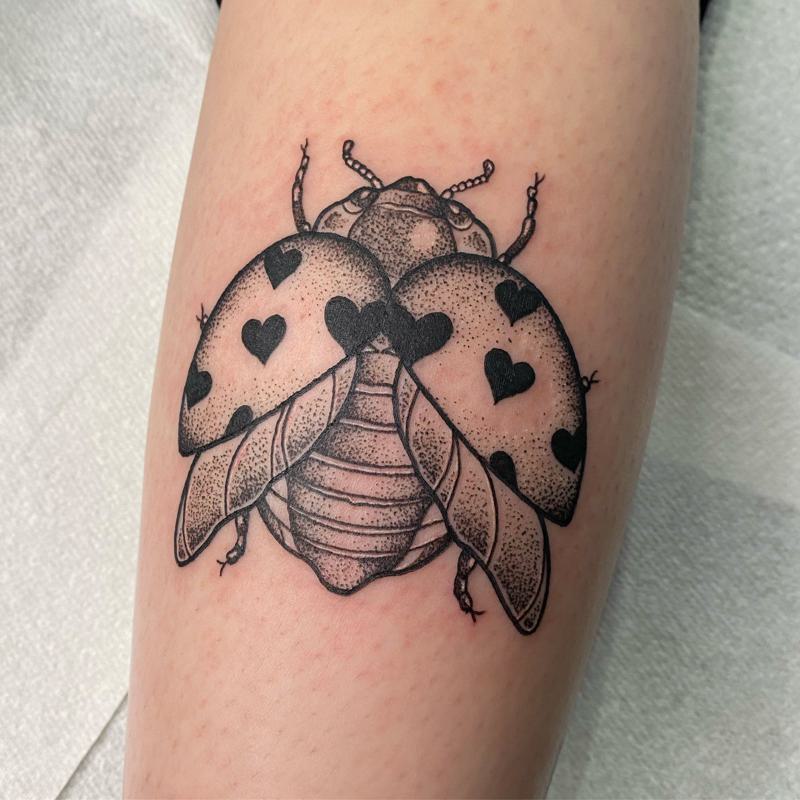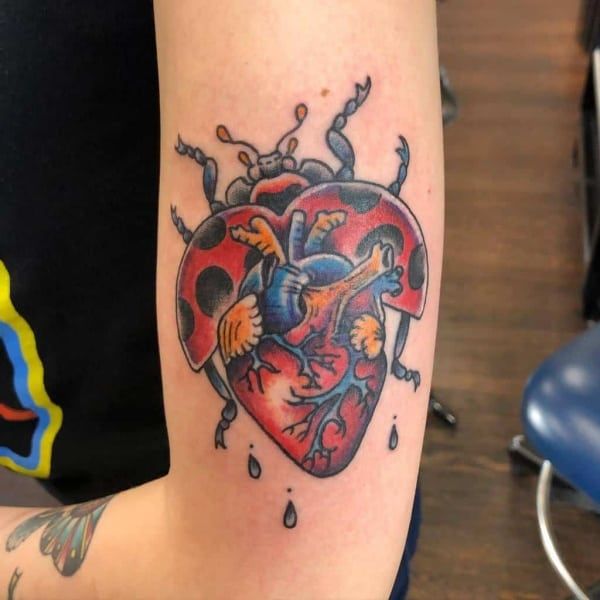 Based on the examples above, miraculous ladybug tattoo designs feature ladybirds with huge torsos, unlike the tiny creatures we're used to seeing in other motifs. Because of these, the tattoo looks attractive, especially when placed in its full galore.
More Ladybug Tattoo Design Ideas
Ladybug Tattoo on Back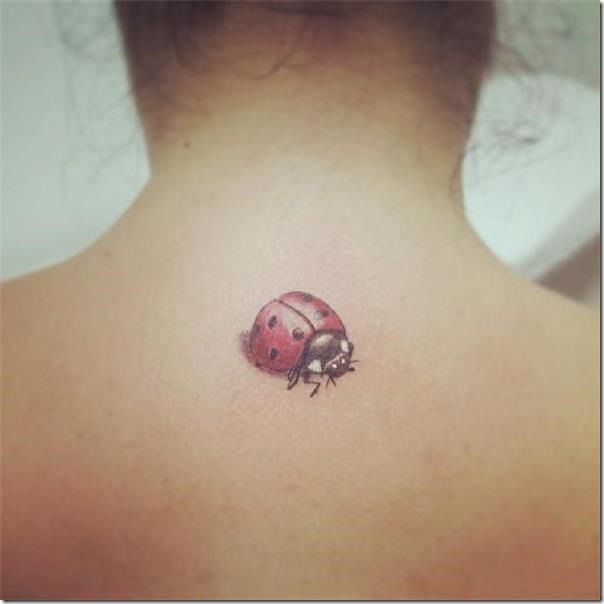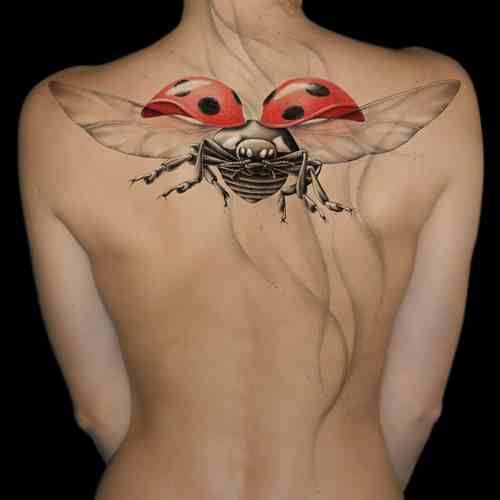 Ladybug Tattoo on Neck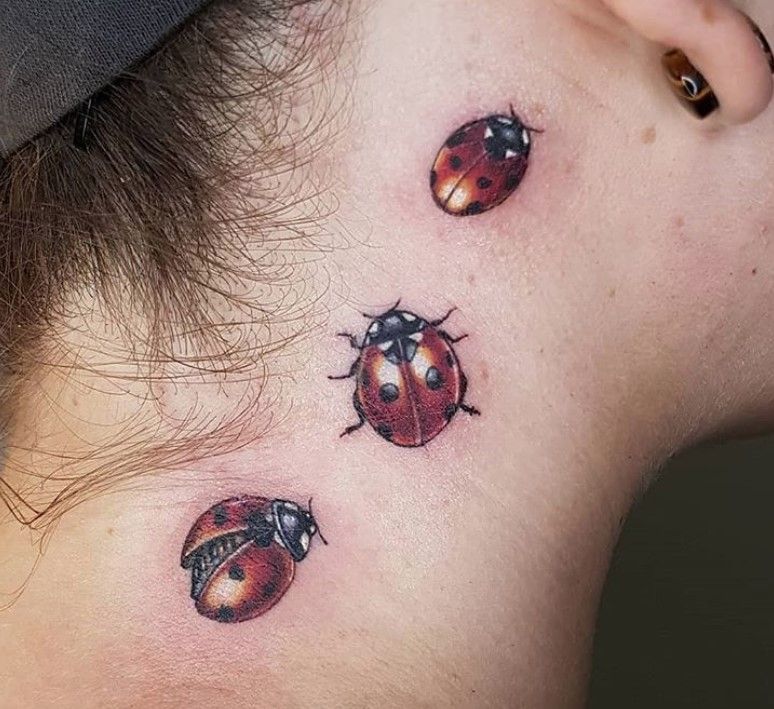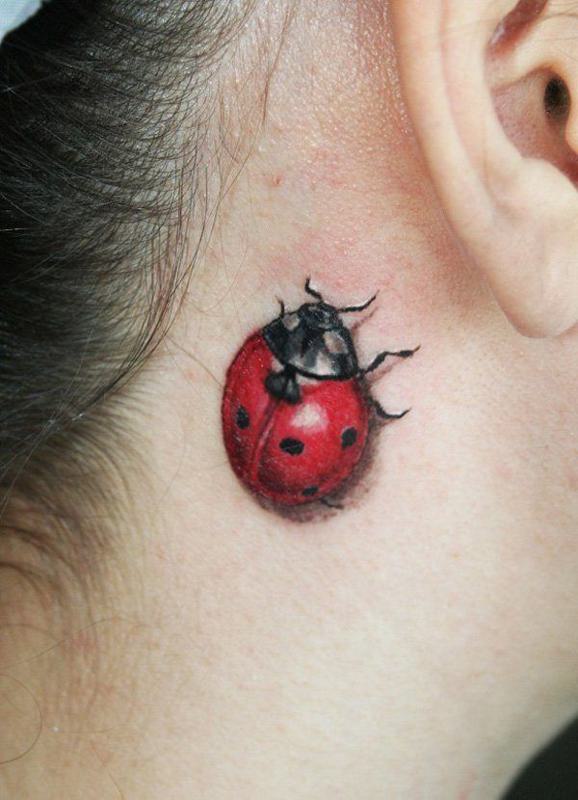 Ladybug Shoulder Tattoo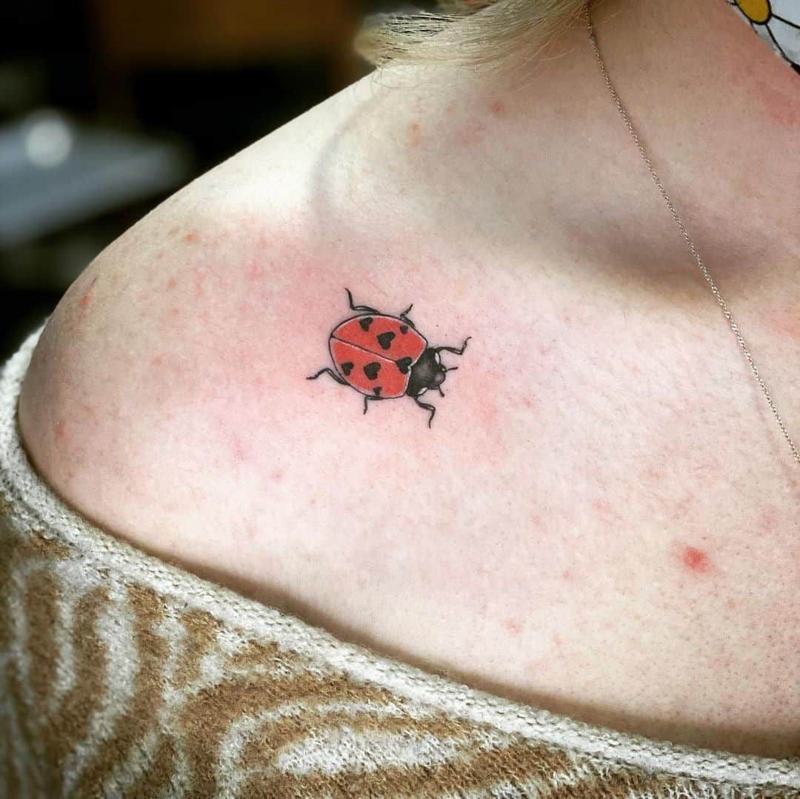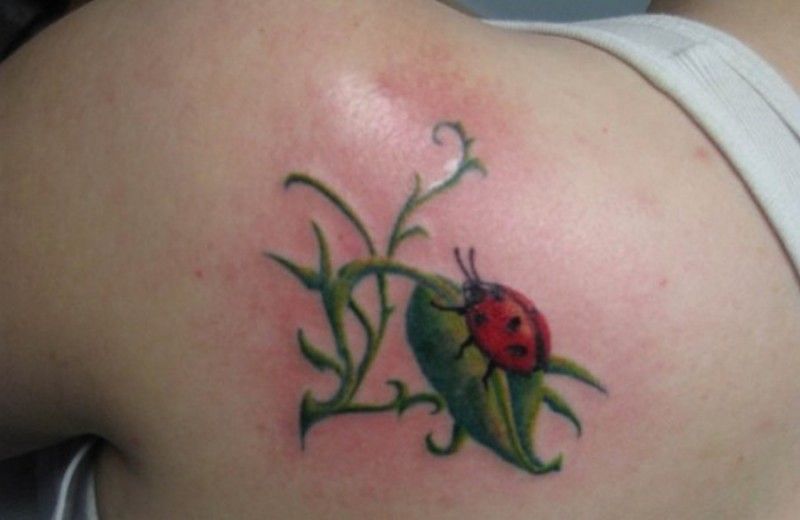 Celtic Ladybug Tattoo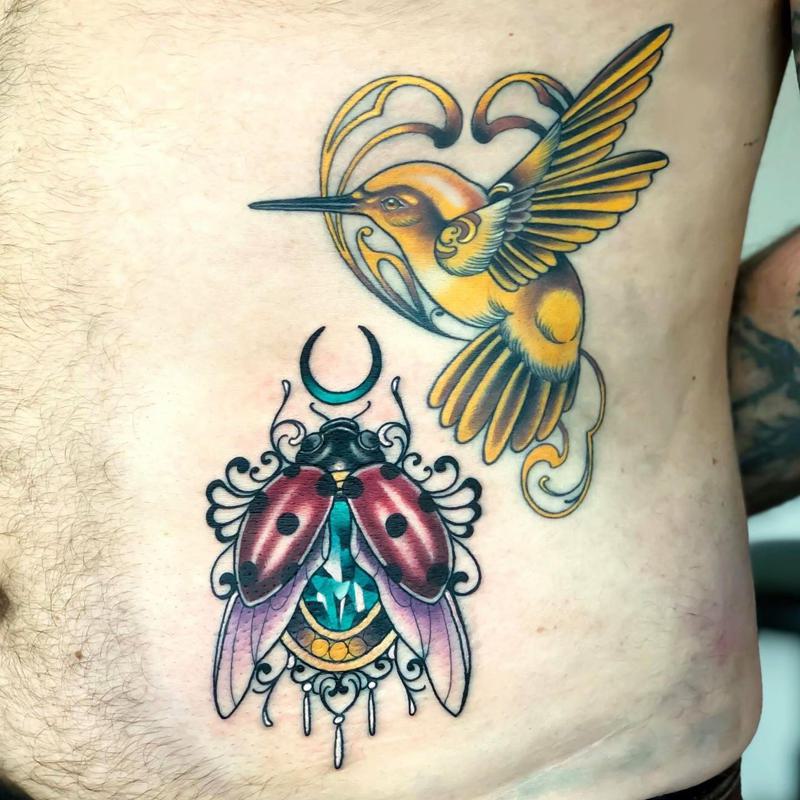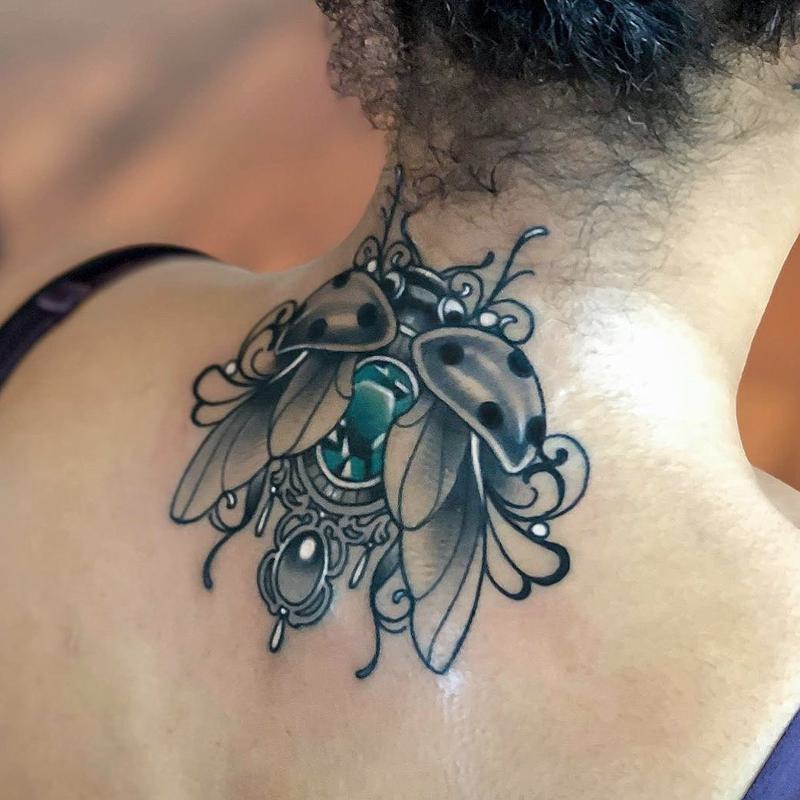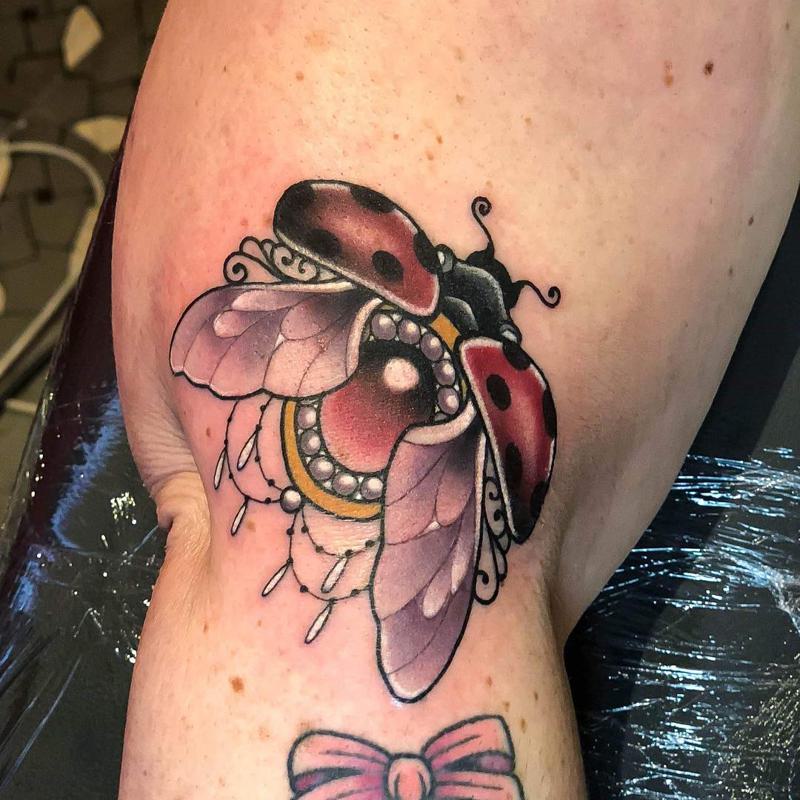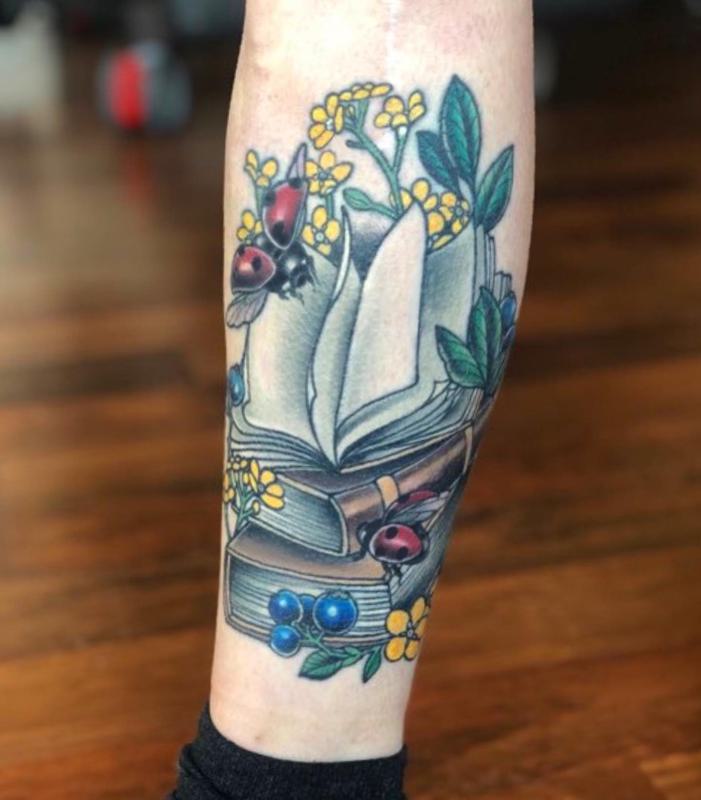 Read More:
Bottom Line
There are thousands of unique ladybug tattoo designs out there, each with different meanings and symbolism. However, there's one thing that stands out about these tattoos. That is, they represent good luck and prosperity. Besides that, ladybug tattoos make beautiful body art, as depicted in the examples above. With that said, thank you for taking the time to read our piece. Best of luck!