Some years back, most back-of-the-neck tattoos weren't popular and had a bad reputation. But did you know that today most people love to grace them in public? It's because the art is beautiful and outstanding if your artist does a great job.
Here, we'll look at 24 designs you can ink on your back-of-the-neck. Before that, let's understand what it means to have this art.
Tattoos on Back of Neck Meaning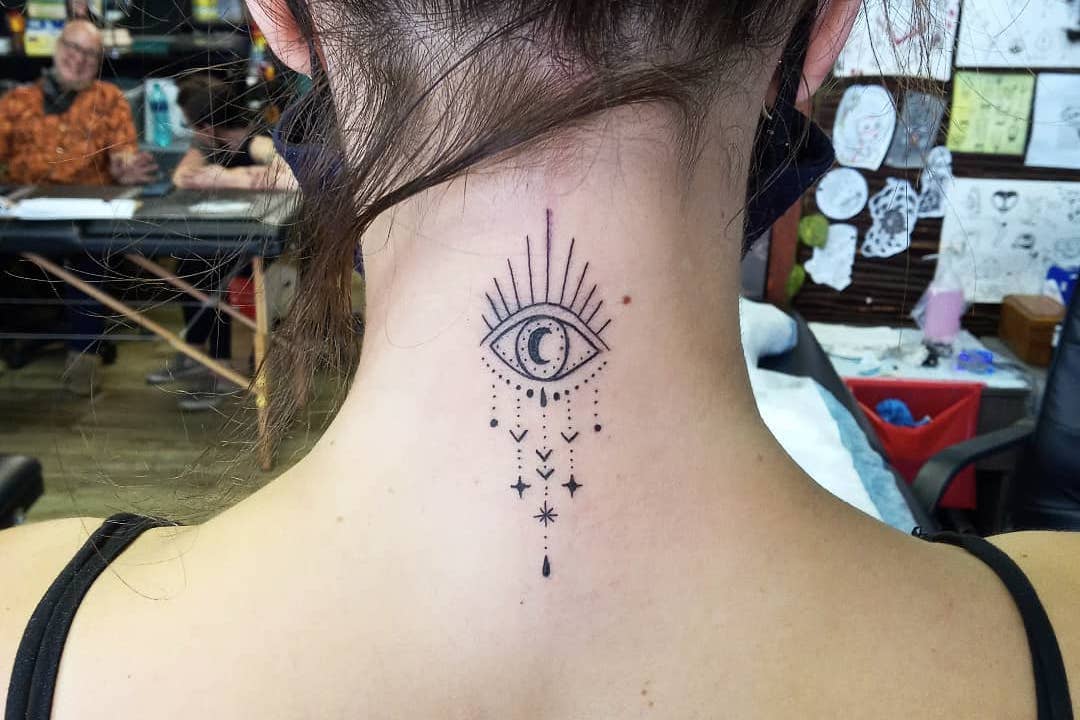 A tattoo on this body part can have various meanings depending on what you wish the public to know. Most people with these tattoos are never afraid to make tough life choices and would cover the decisions if the need arises.
Also, getting a tattoo on the back of your neck isn't a walk in the park. Such people have strong hearts, and they are bold and wise.
Amazing Back of the Neck Tattoo Designs
Would you love to look fantastic and unique from other people? Read on to see the best back-of-the-neck ink art that will give you much confidence.
Back of Neck Tattoos for Females
As a woman, getting a tattoo on the back of your neck shows you are a person full of life. People will see you as one who is open to making new life choices. Remember, the art you'll have on your neck depends on the message you'd want it to carry.
You can have it colorful or in deep blank ink. If it's bright, ensure it matches your hair's color.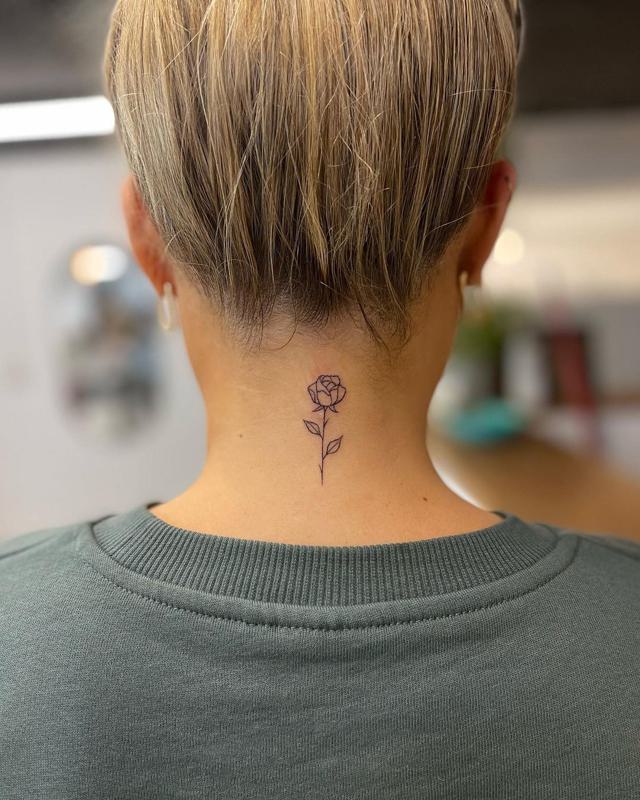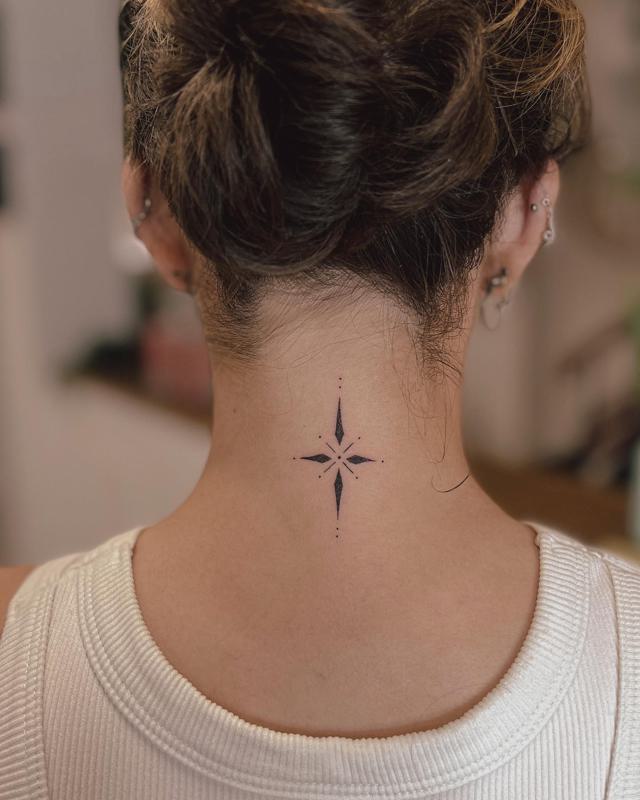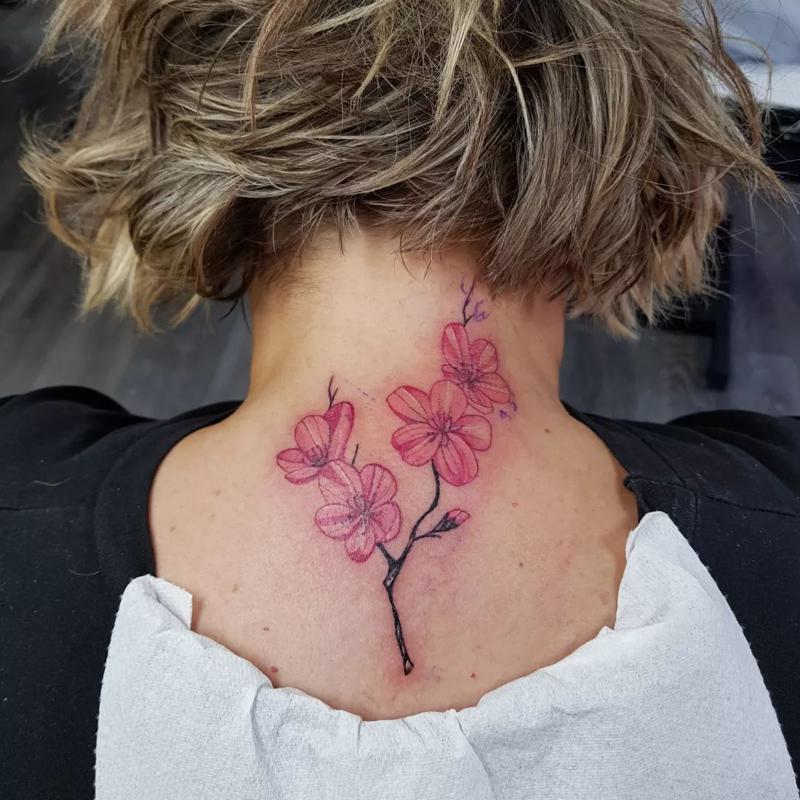 Back of the Neck Tattoos Men's
Getting a tattoo on this body says much about your strength as a man. Inking any art on any side of your neck is quite painful. So, if you can undergo that pain, it shows you are bold and have many masculine features.
You can also use the limited space to represent your family's name, a particular date in your life, or a special message in public. Expect to earn much respect when you have any back-of-the-neck tattoo.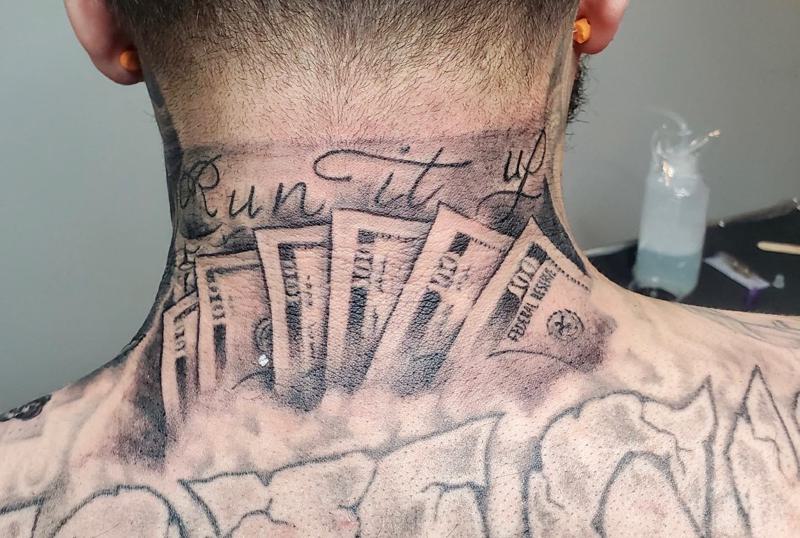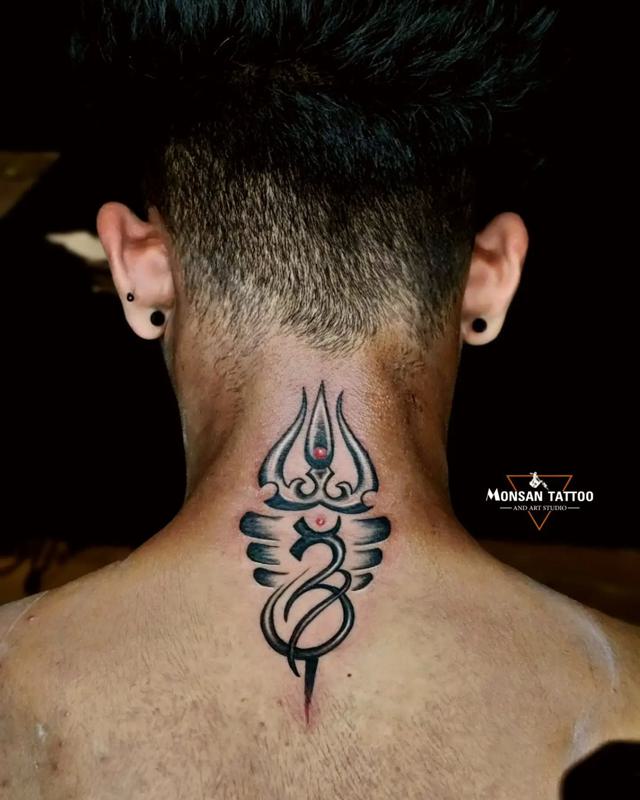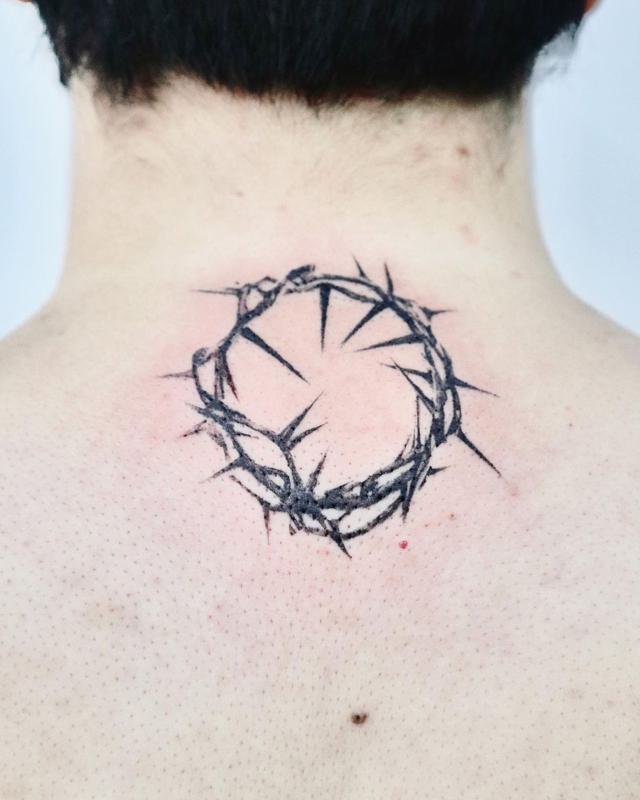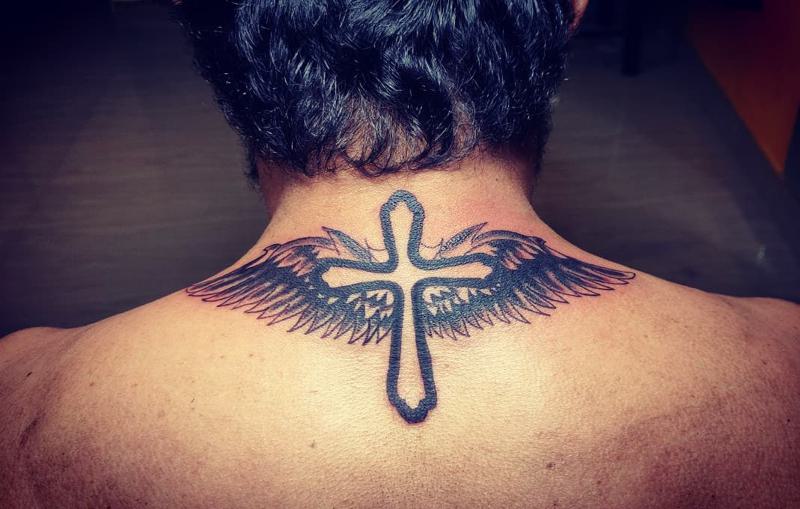 Meaningful Small Neck Tattoos
Whether you are a man or woman, getting such a design carries a profound message in your life. It can be a Roman numeral, name, date, or art. Ensure that the design looks beautiful on your skin for people to respect the message behind it. Remember, it will be your choice to cover them up or let people see them.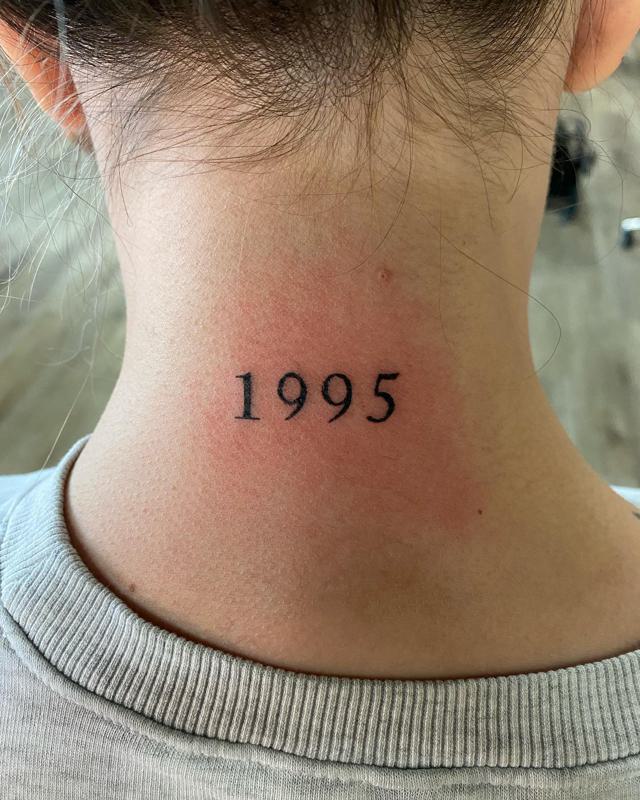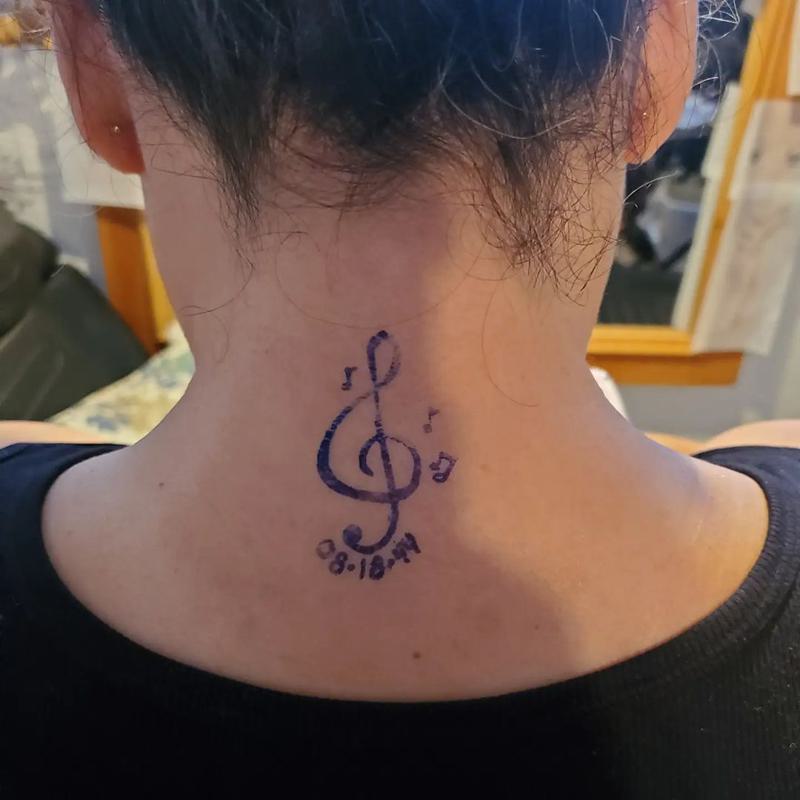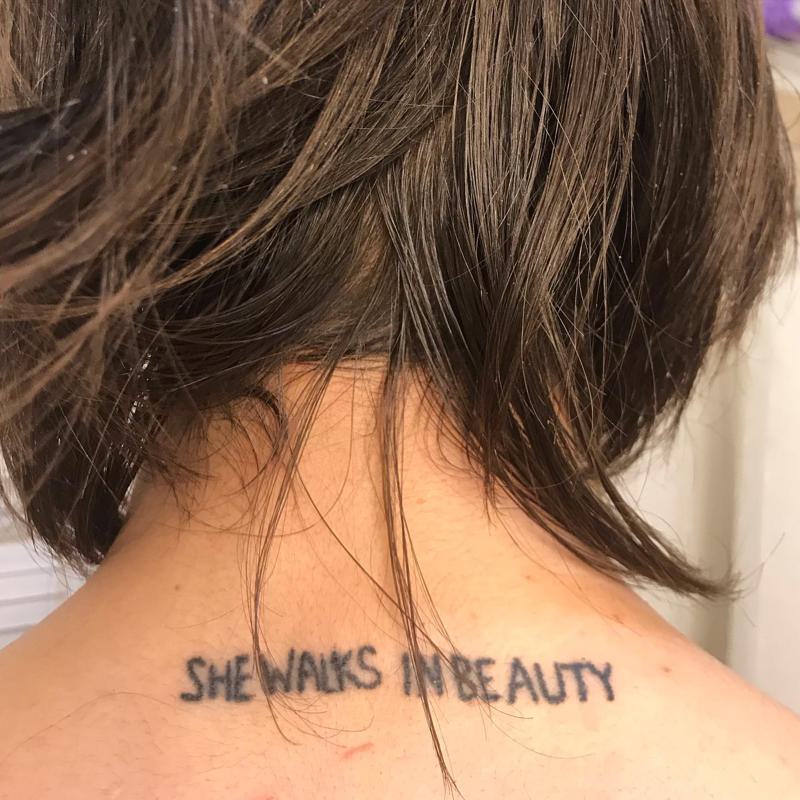 Back of Neck Tattoos Cover Up
Do you have a scar or an unwanted tattoo at the back of your neck that lowers your confidence? You can use your clothes to hide, but a cover-up tattoo will be your best move. Also, cover-up tattoos are cheaper than a laser to remove the previous body art.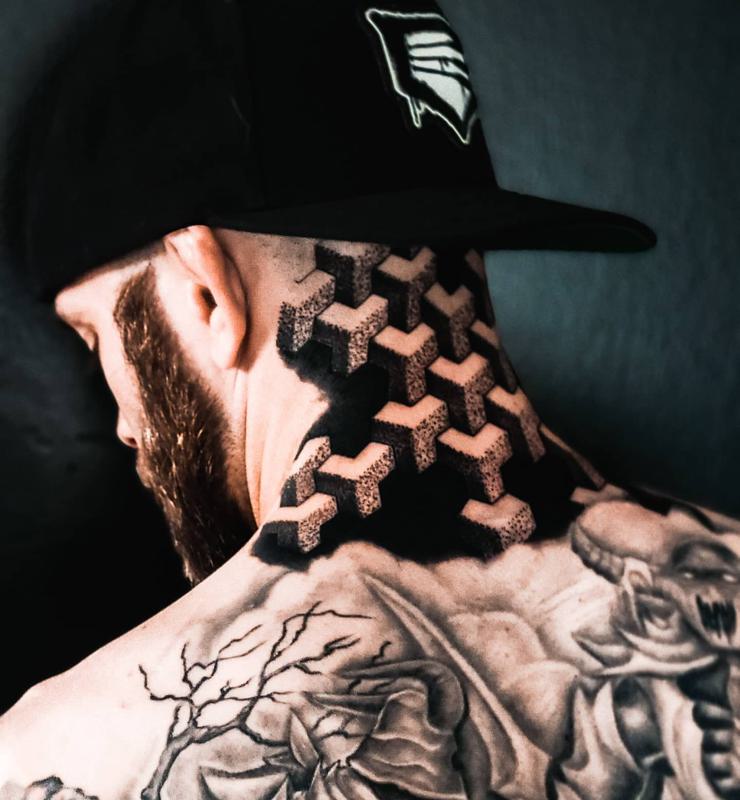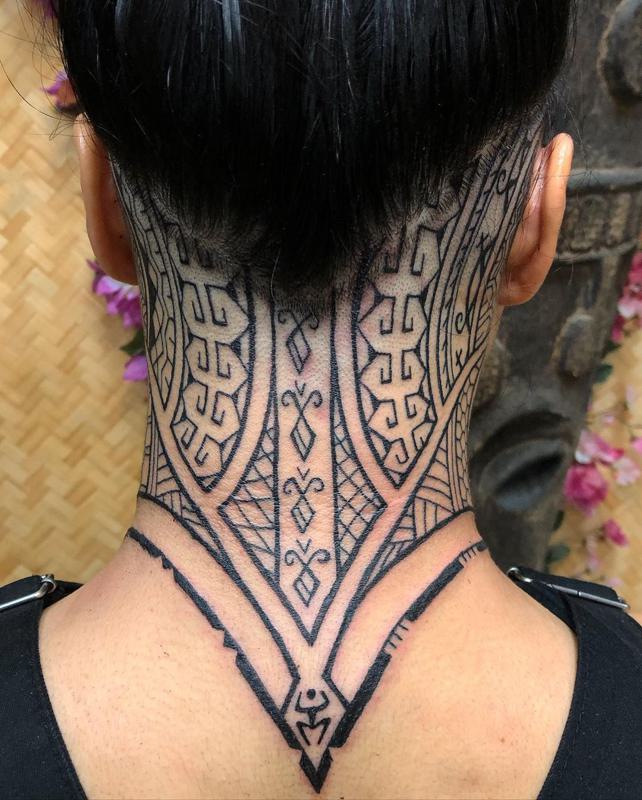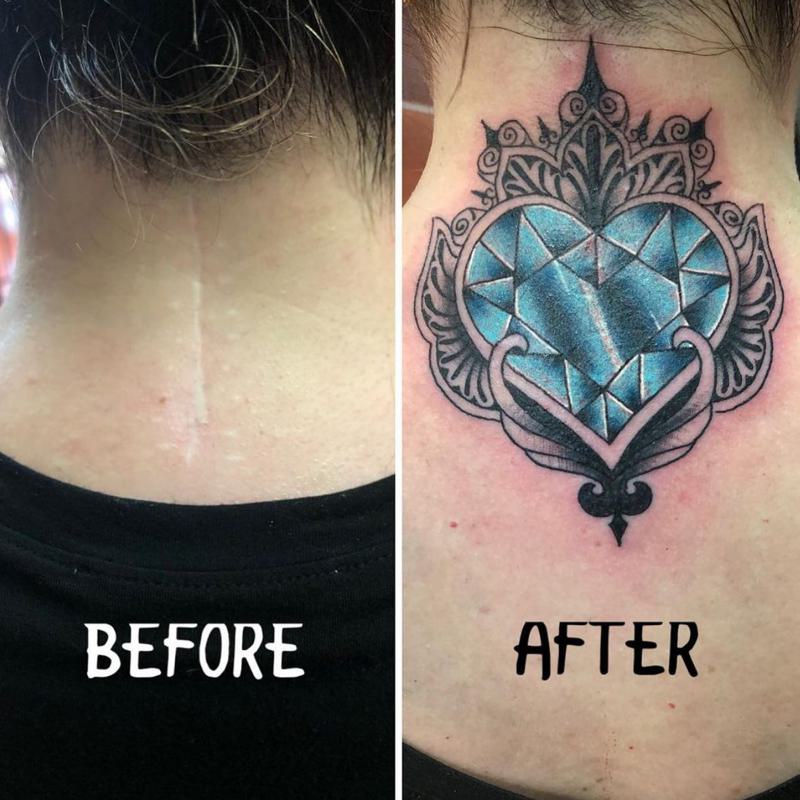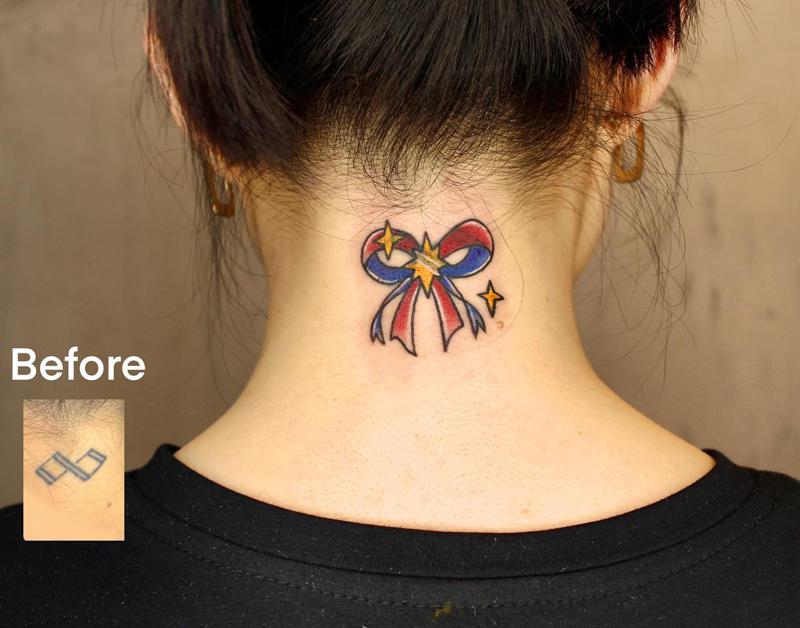 Cute Back of the Neck Tattoos
If you don't love much attention and yet you want to look beautiful, go for such designs. Please pick on beautiful art using a mix of colors or simple dark ink. Expect the art to be cheap to have on your back because of the simple art. Also, the art will heal fast because of being simple.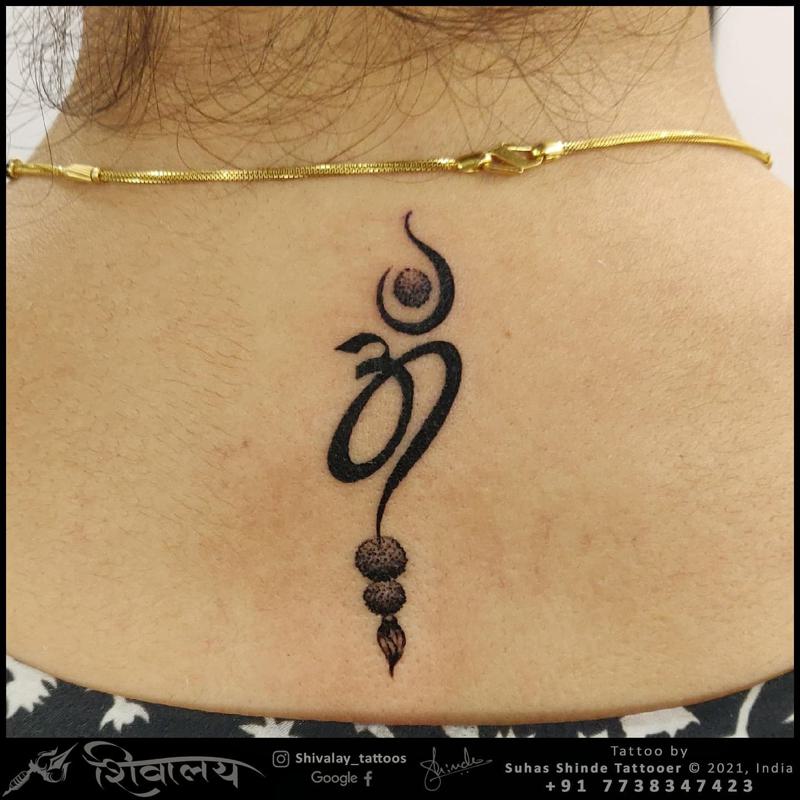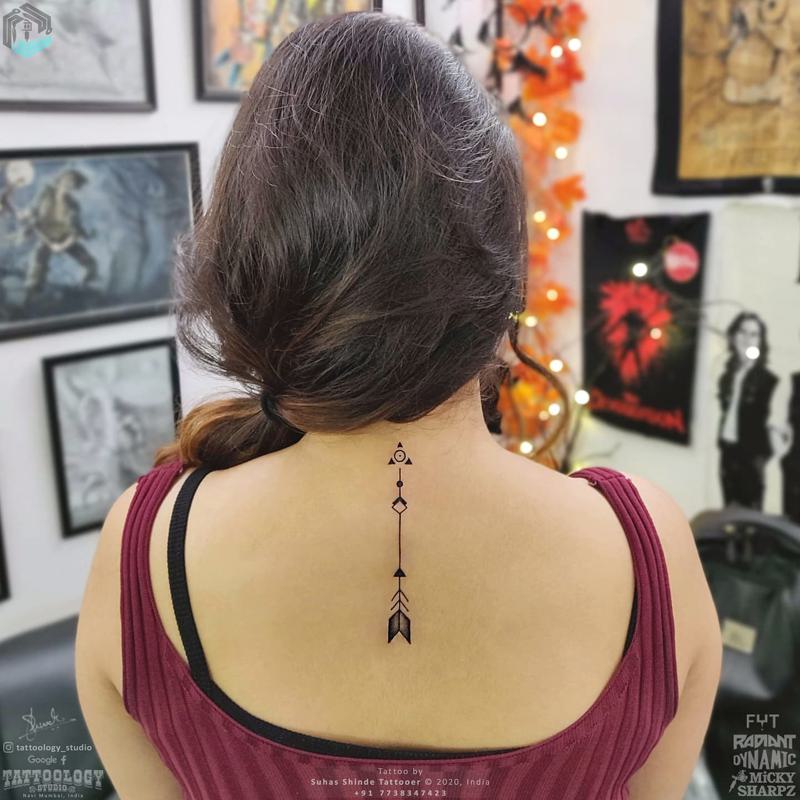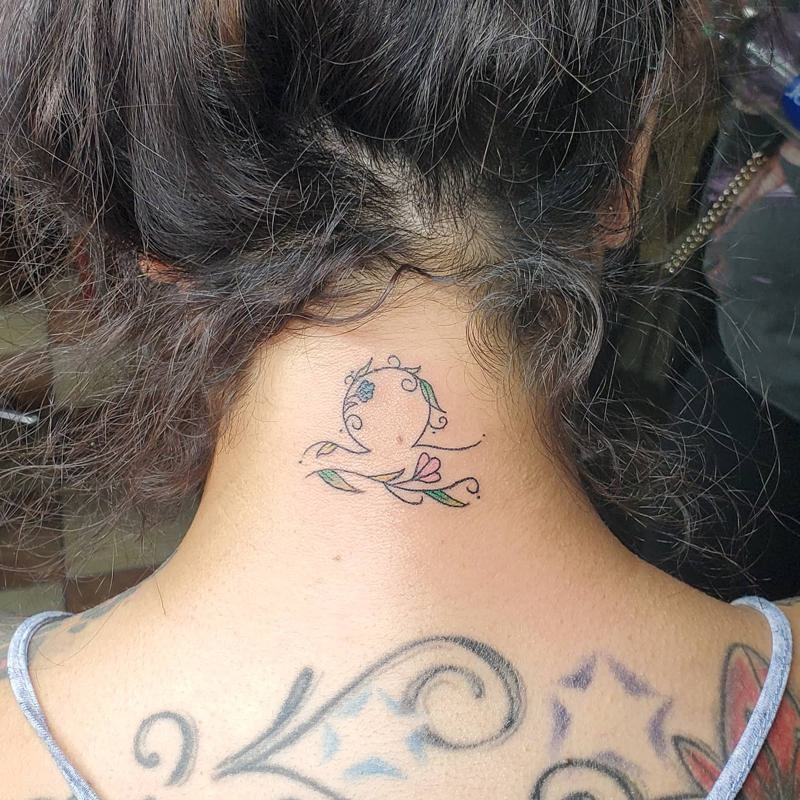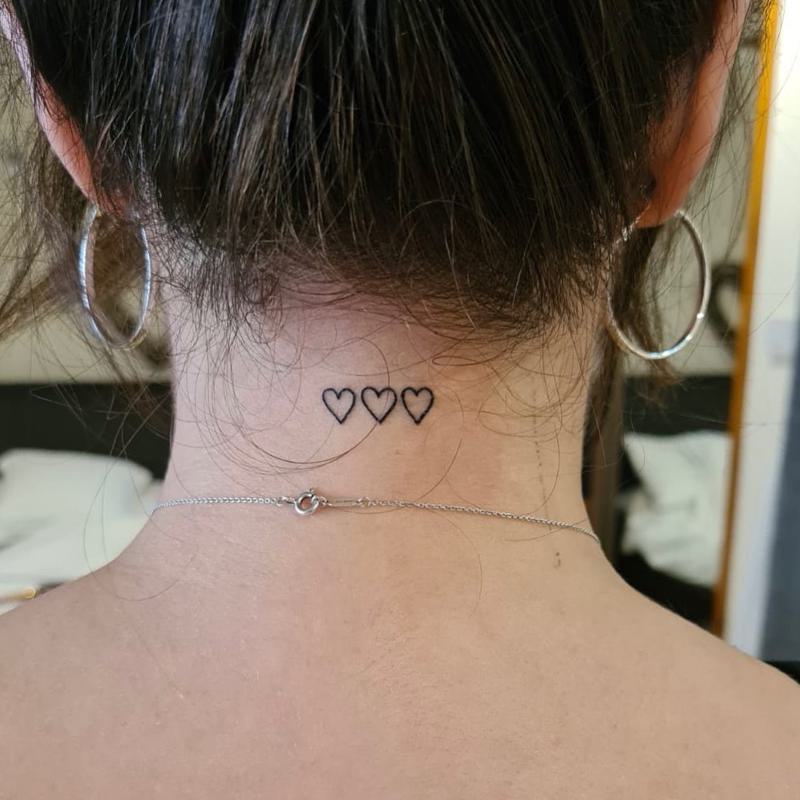 Small back of the Neck Tattoos
Most small tattoos on this body carry an inspirational message that you wouldn't want people to get much attention. Such designs allow you to cover them with your hair or clothing. Remember, these designs are less painful than other neck tattoos.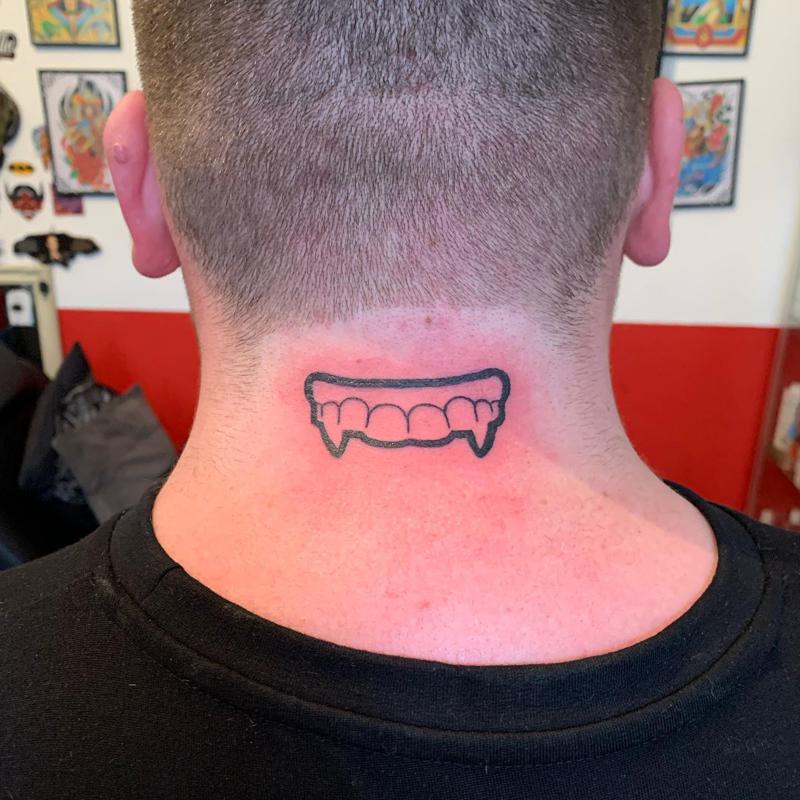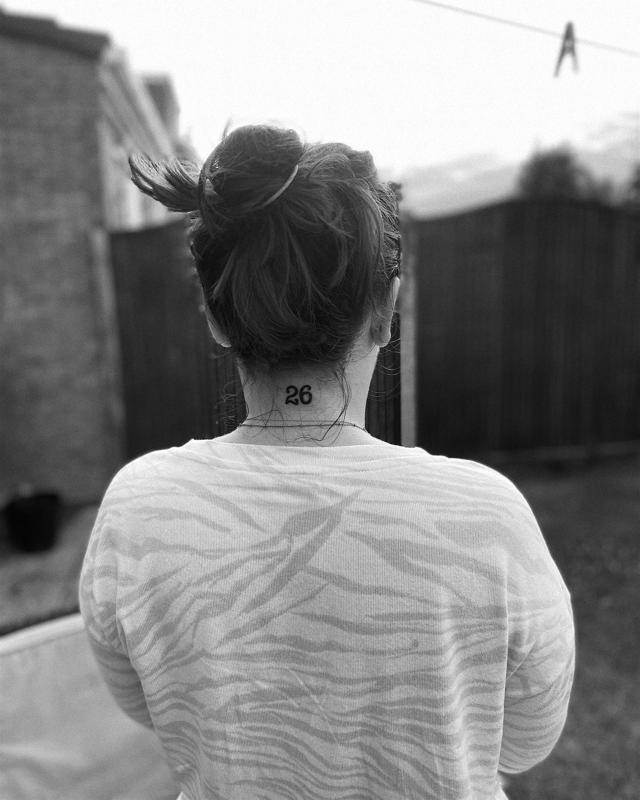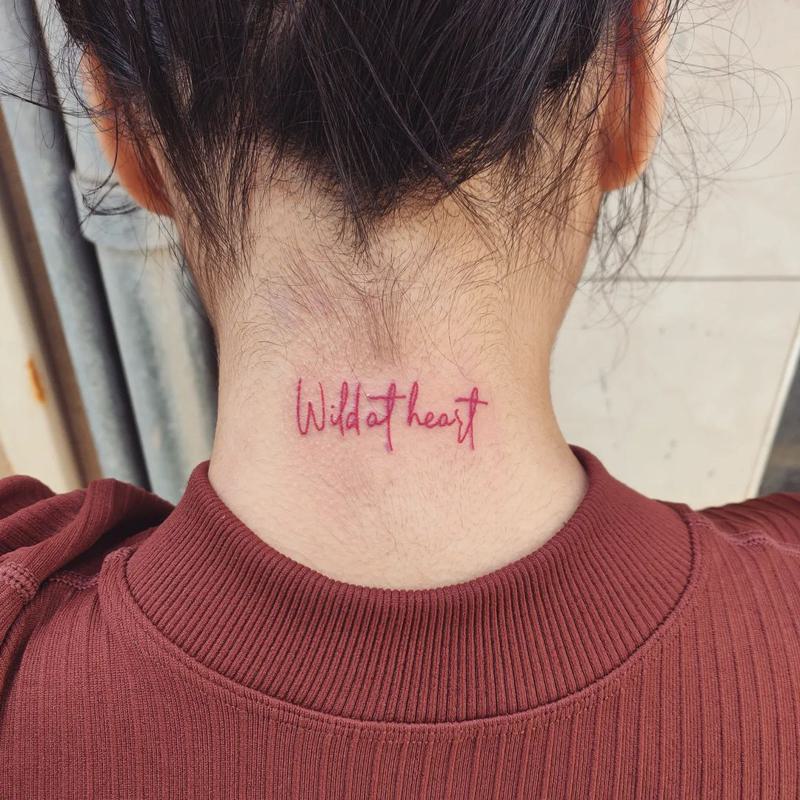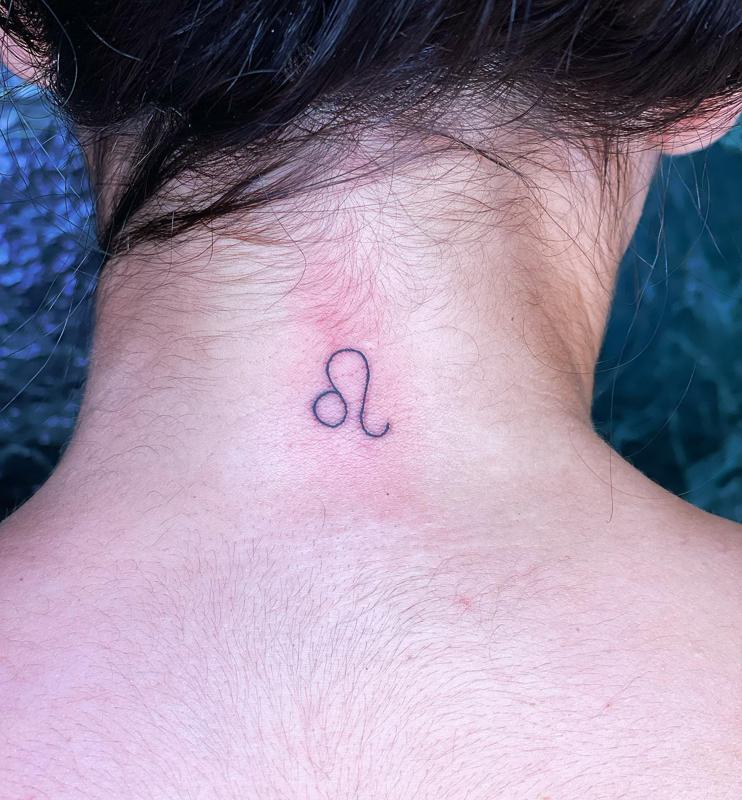 Butterfly Tattoos on The Back of The Neck
As an art, one or various butterflies on your neck is a sign of freedom, growth, and rebirth. The art will look amazing when you make it colorful but will still be great if it's in deep black ink. It's a design that's common among women, but you can also rock it as a man to show you are full of love and grace.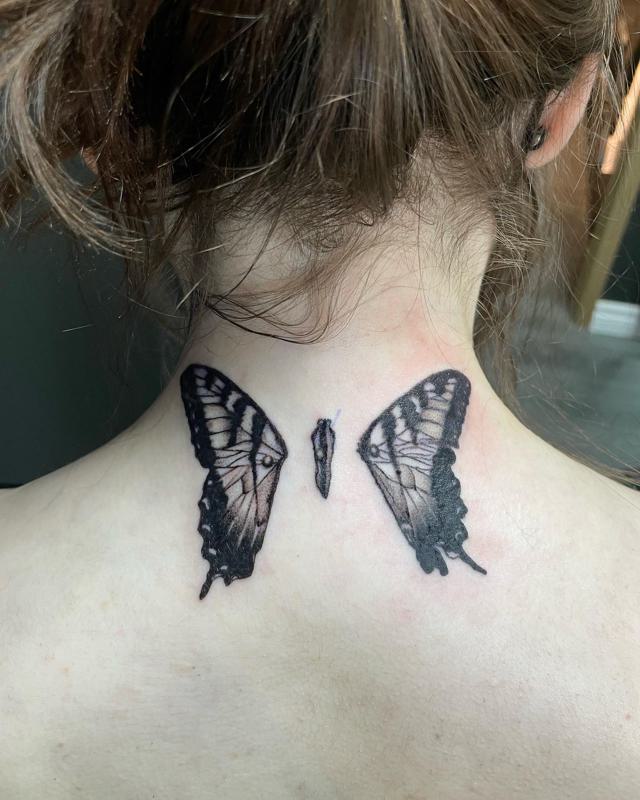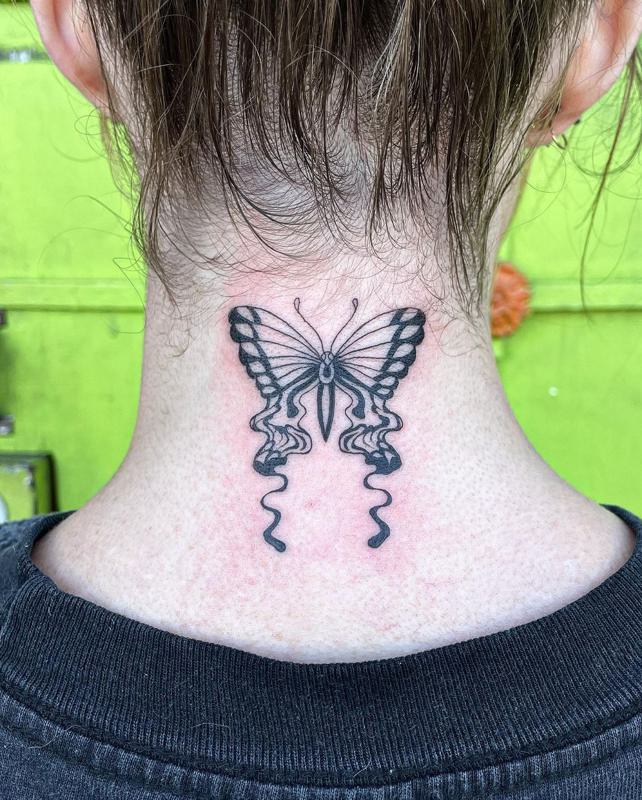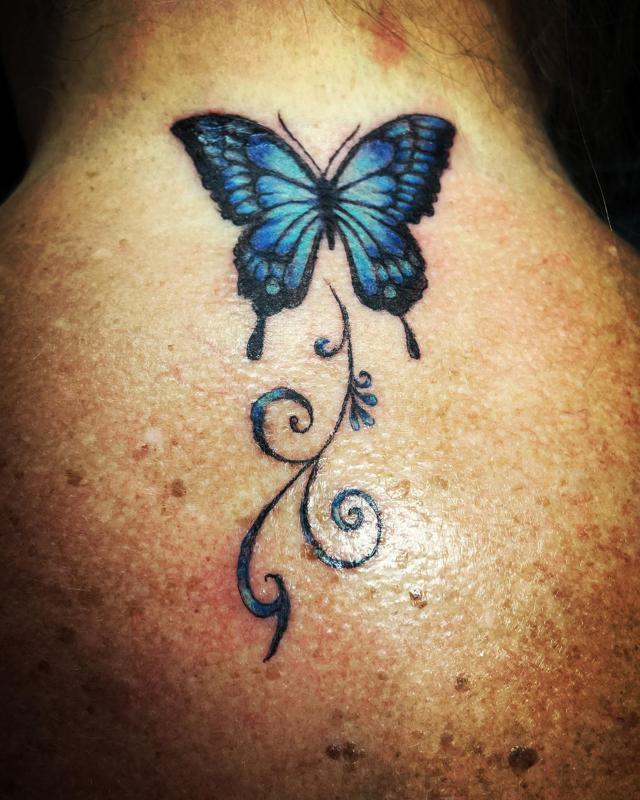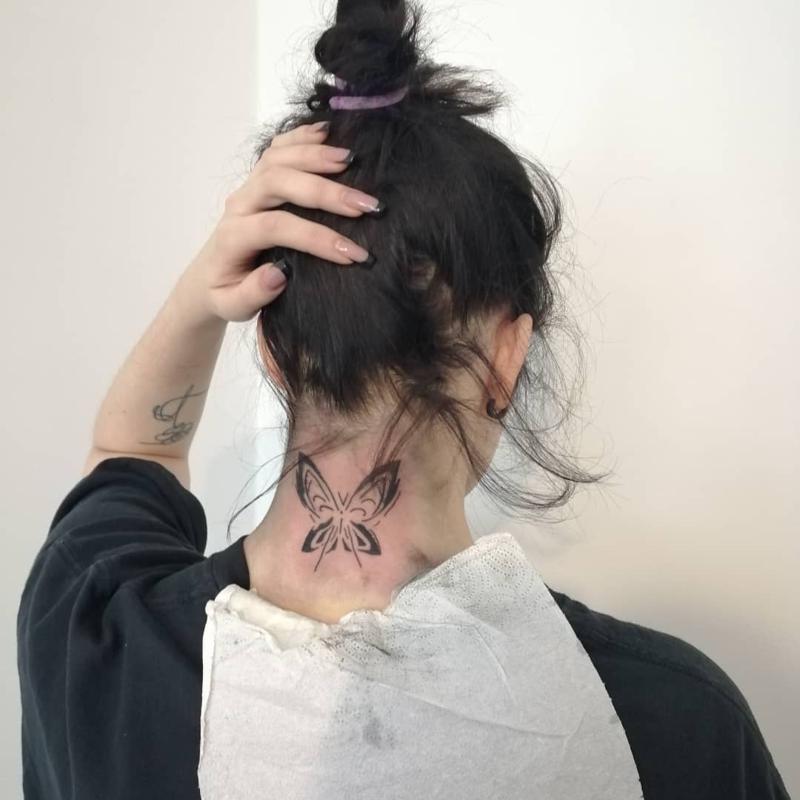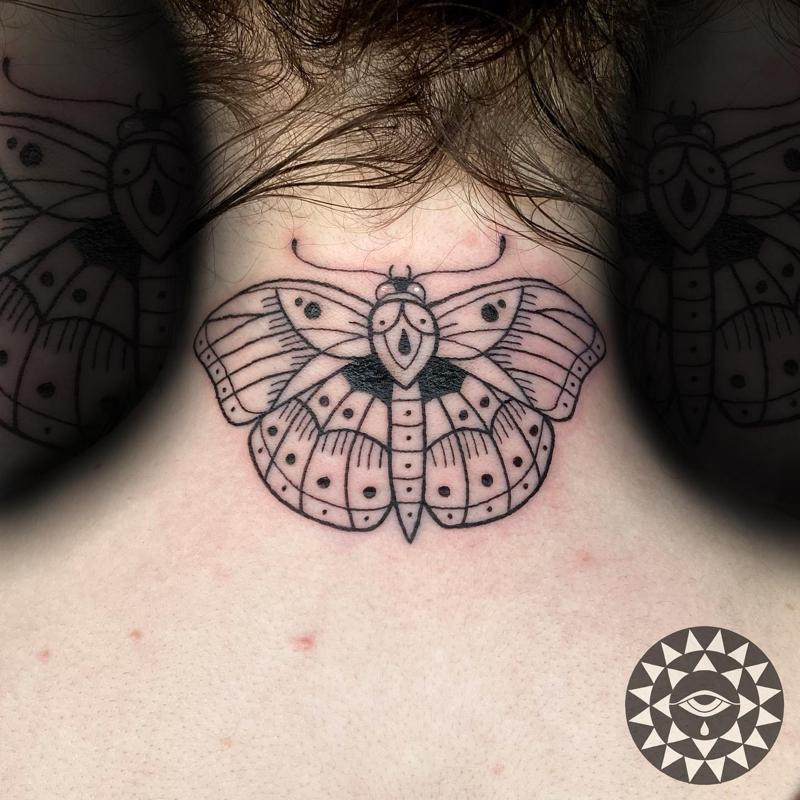 Cross Tattoos on The Back of The Neck
Having a cross tattoo on the back of your neck shows the love of your religion, especially Christianity. The cross is where Jesus Christ died to save the human race. Besides your passion for faith, the design shows you can sacrifice for the sake of others, just like Jesus Christ.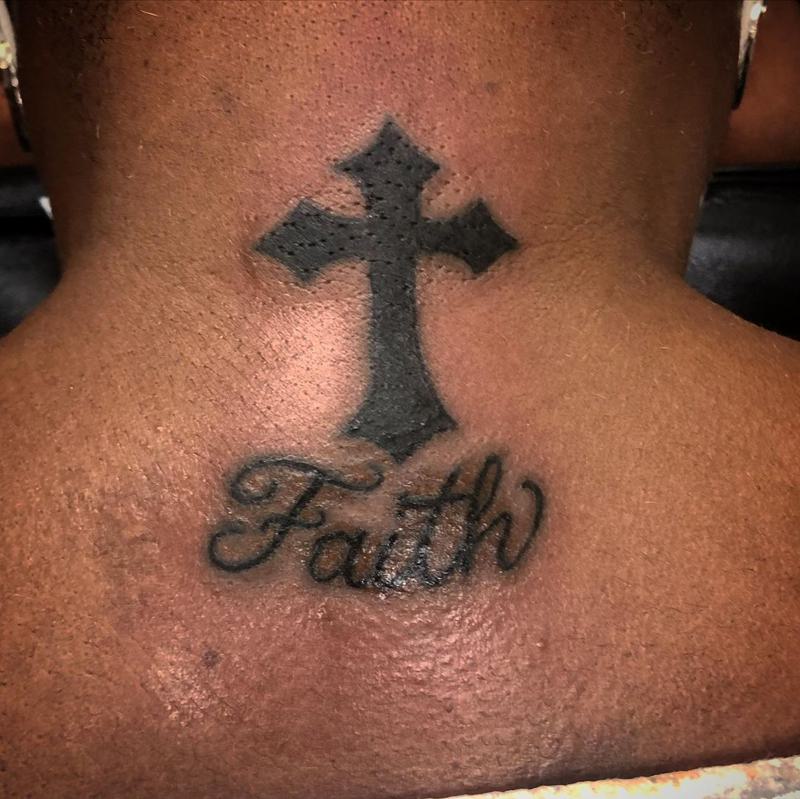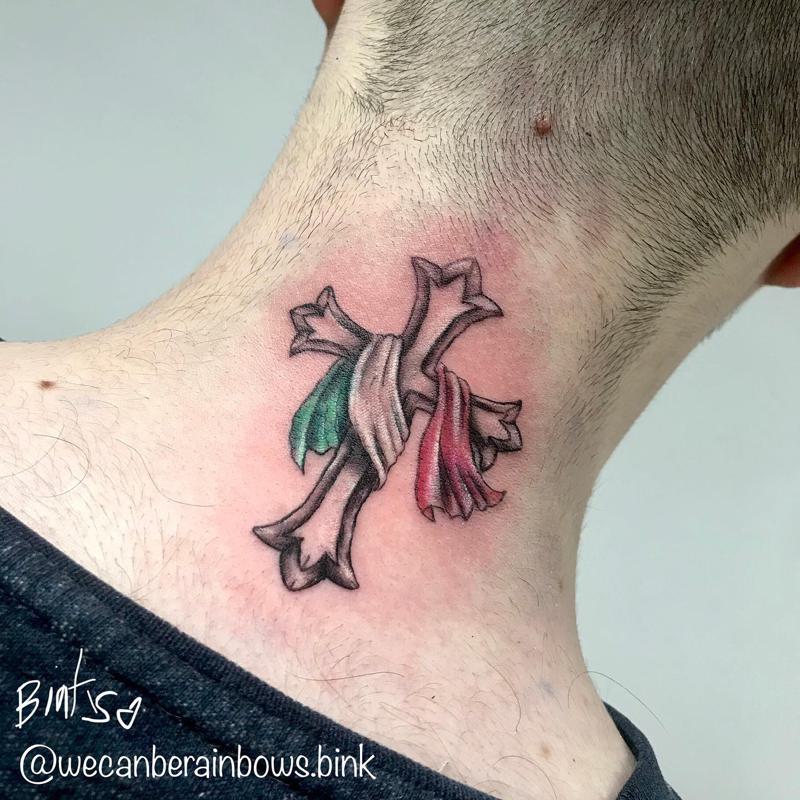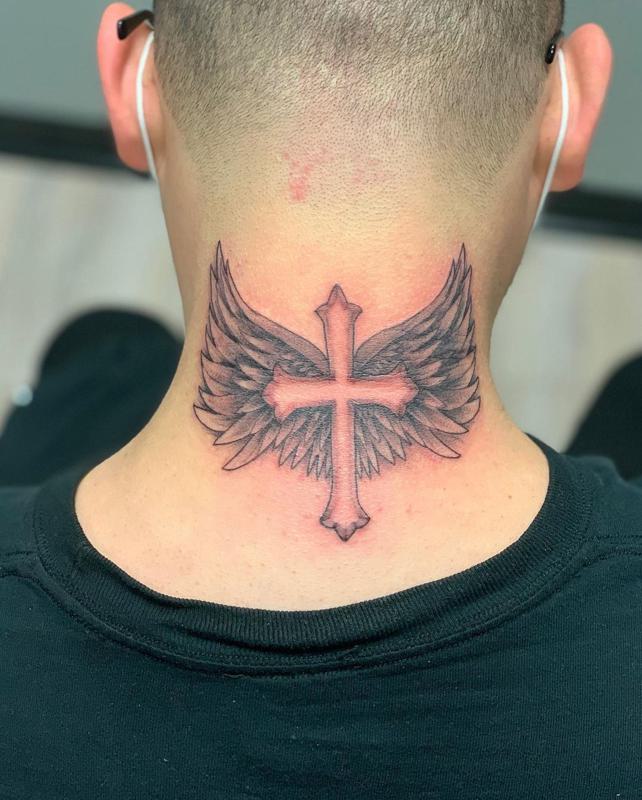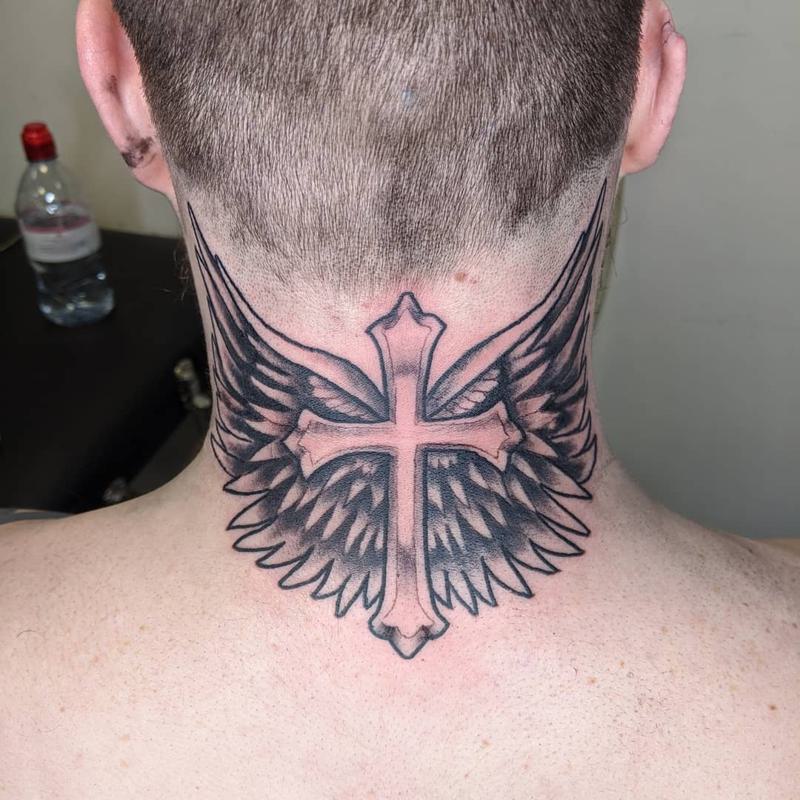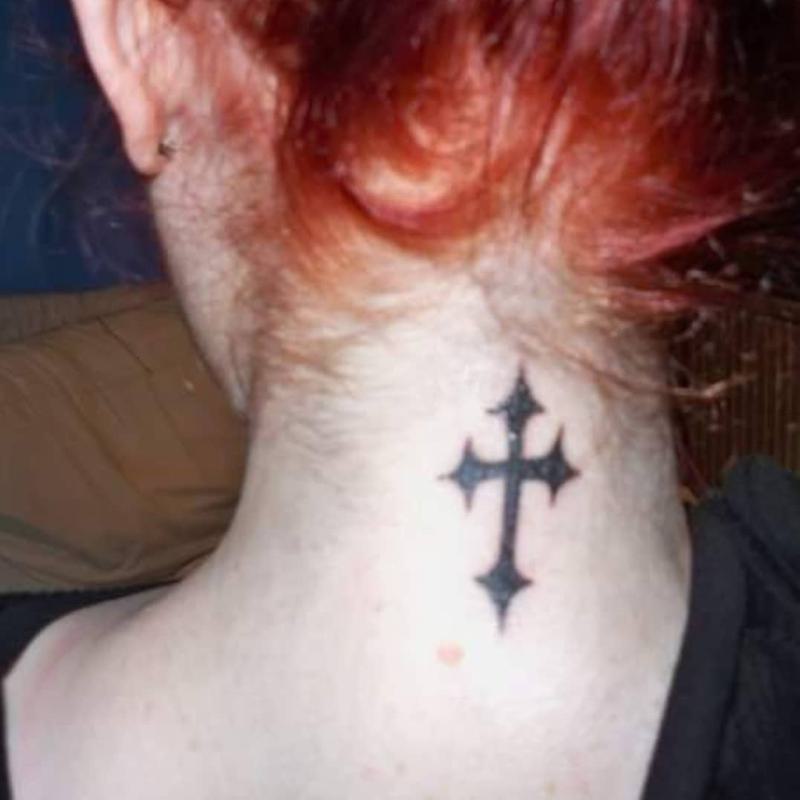 Angel Back Neck Tattoo
Whether a man or woman, getting an angel tattoo on your neck relates you with kindness and greatness. You can have it in various sizes and mix it with different designs like flowers. Either way, make people see this art on you, especially if you have short hair.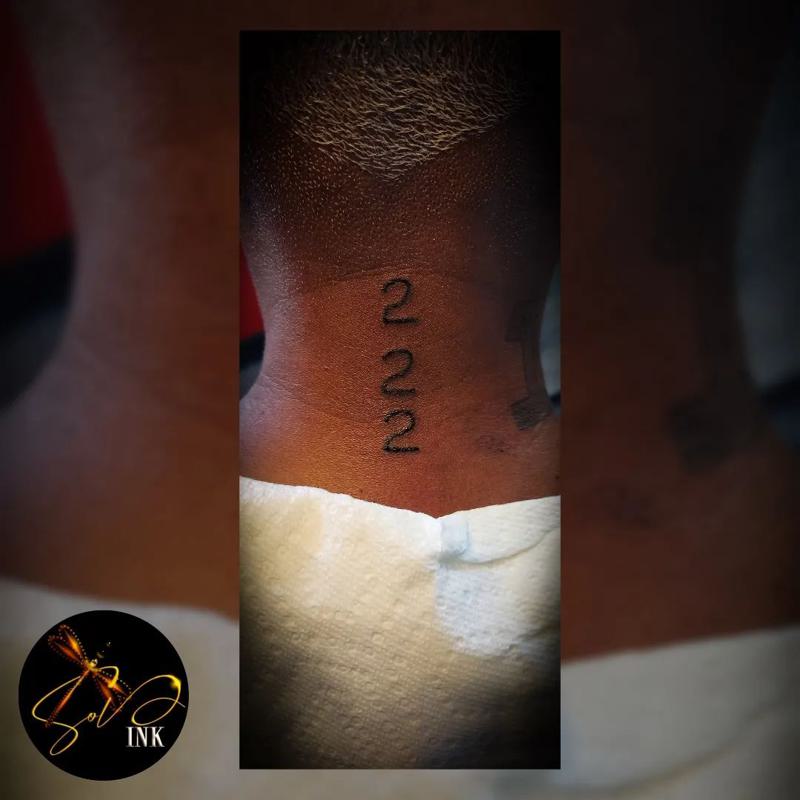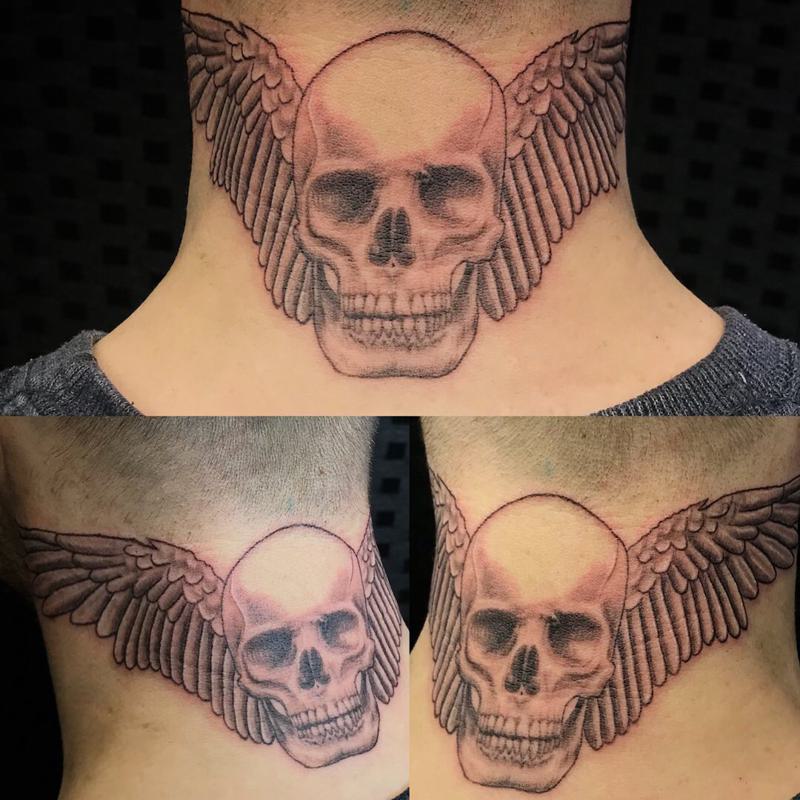 Angel Wing Tattoo on Back of Neck
The Angel wing tattoos are the most fabulous art you can have on the back of your neck. Having it shows various meanings like faith, protection, and freedom. Some people see art as a way to tribute to their loved ones as guardian angels in heaven. Others know the tattoo to represent their faith and belief in God.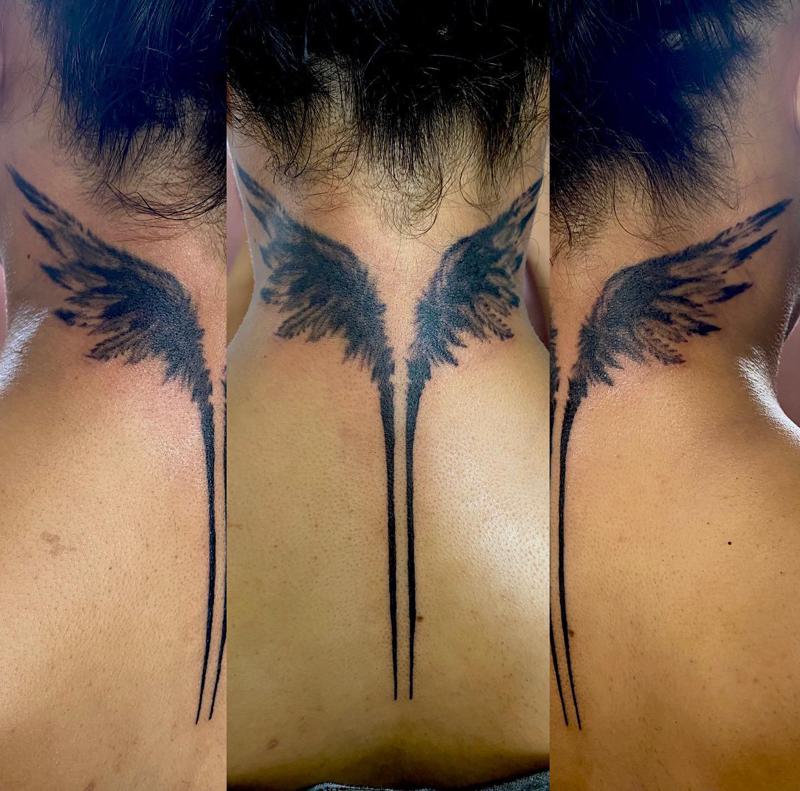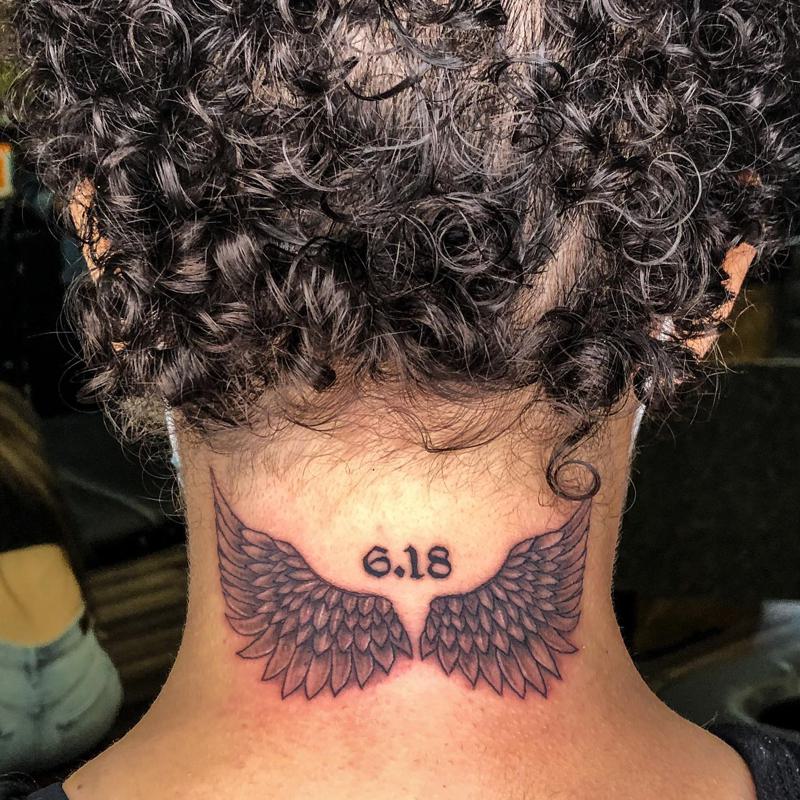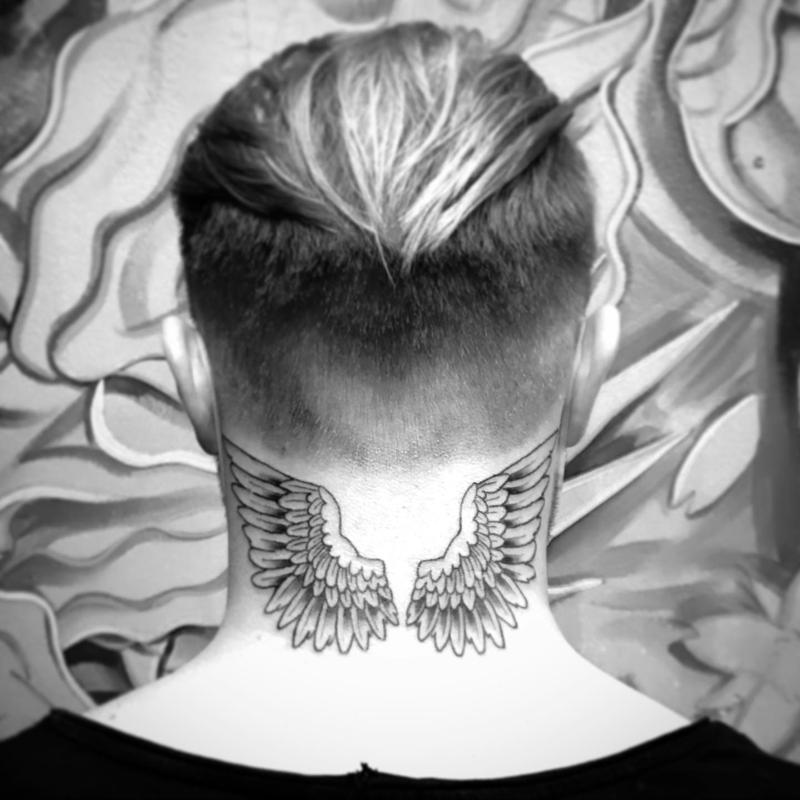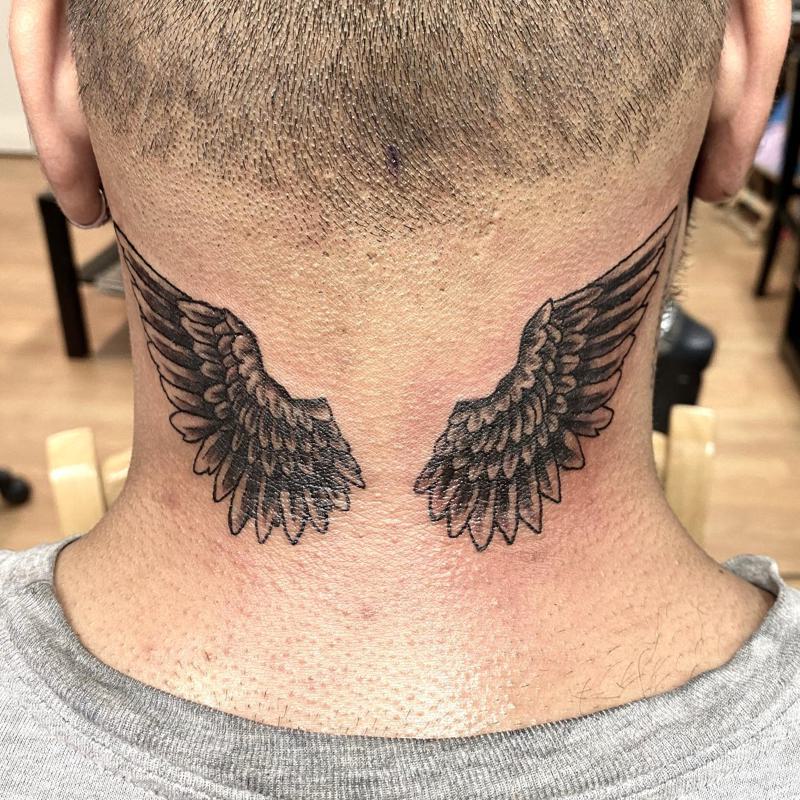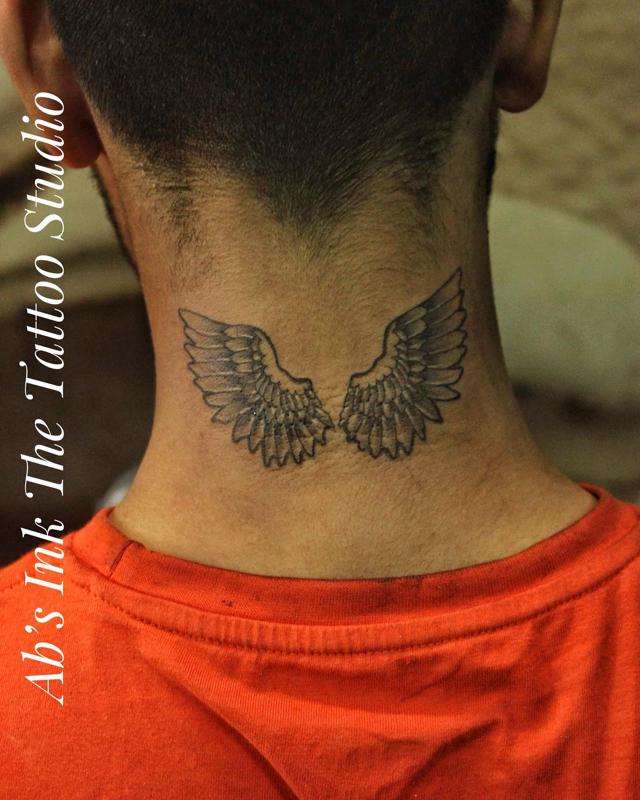 Eye Tattoo Back of Neck
Having an eye tattoo isn't a common art among many people. So, having it at the back of your neck will make you draw much positive attention. It can be smaller or in a big size and will say much about your spiritual life.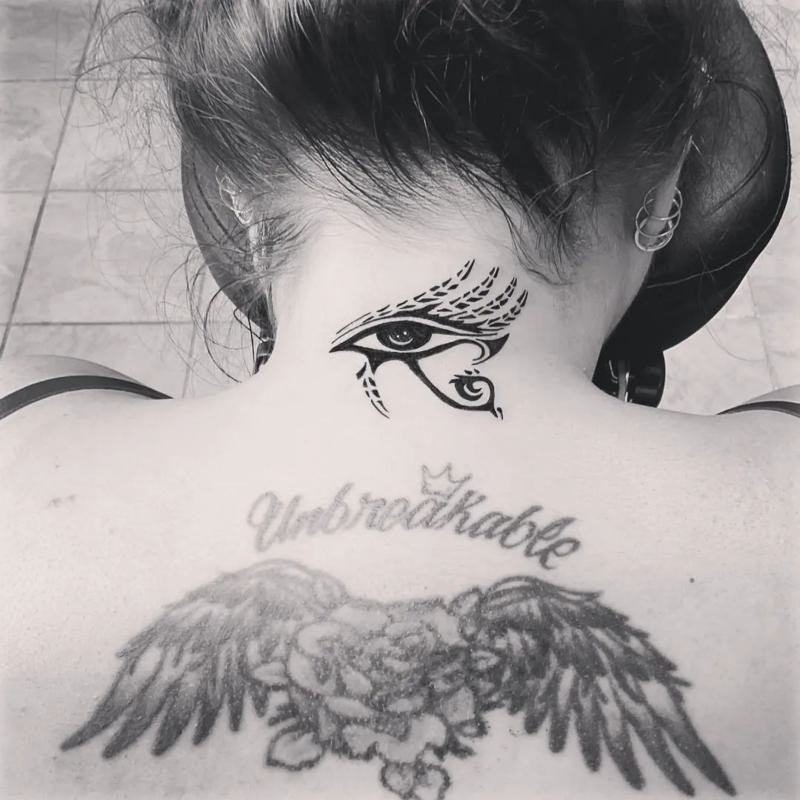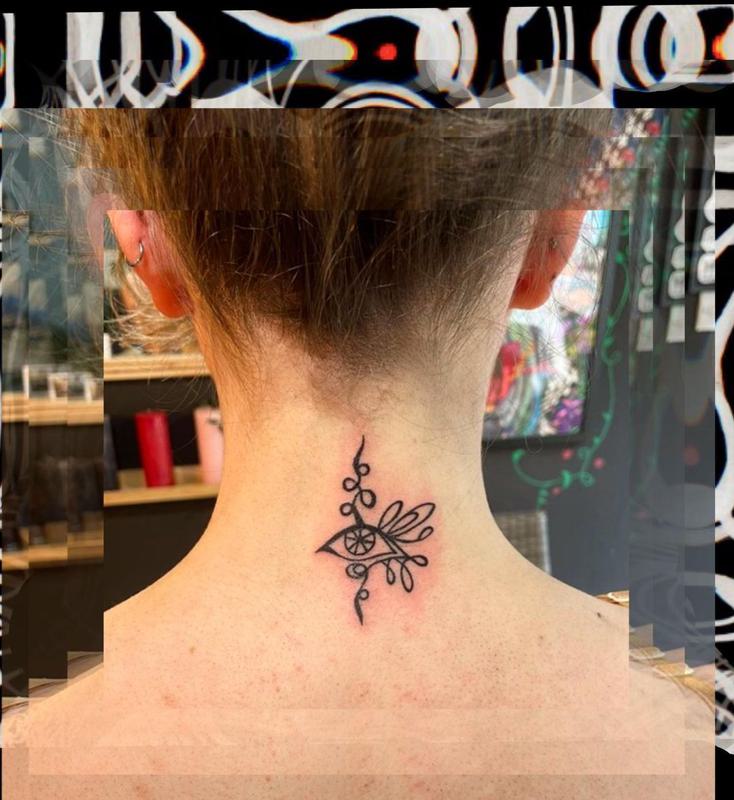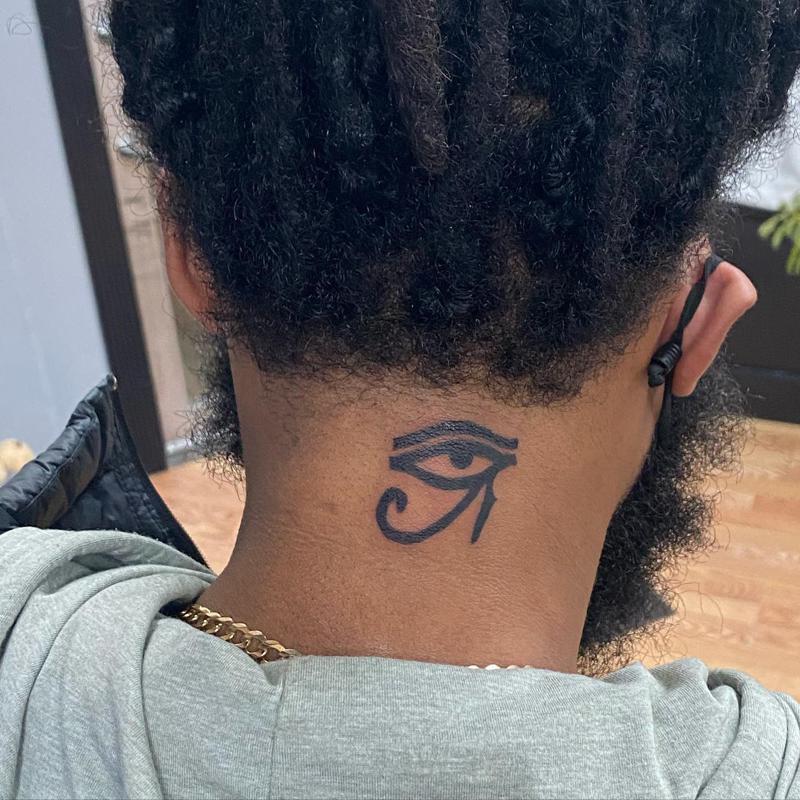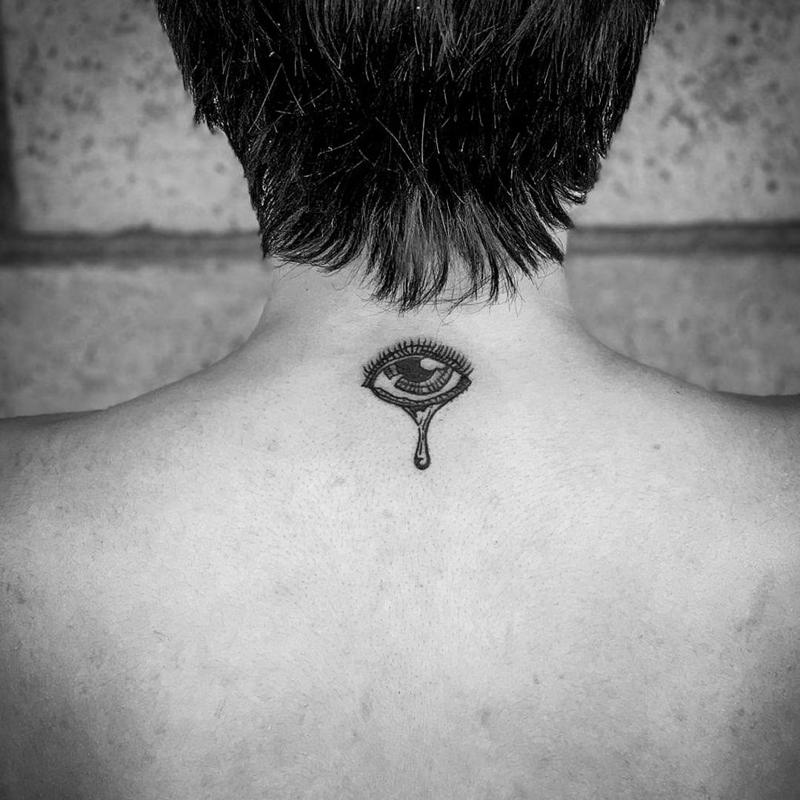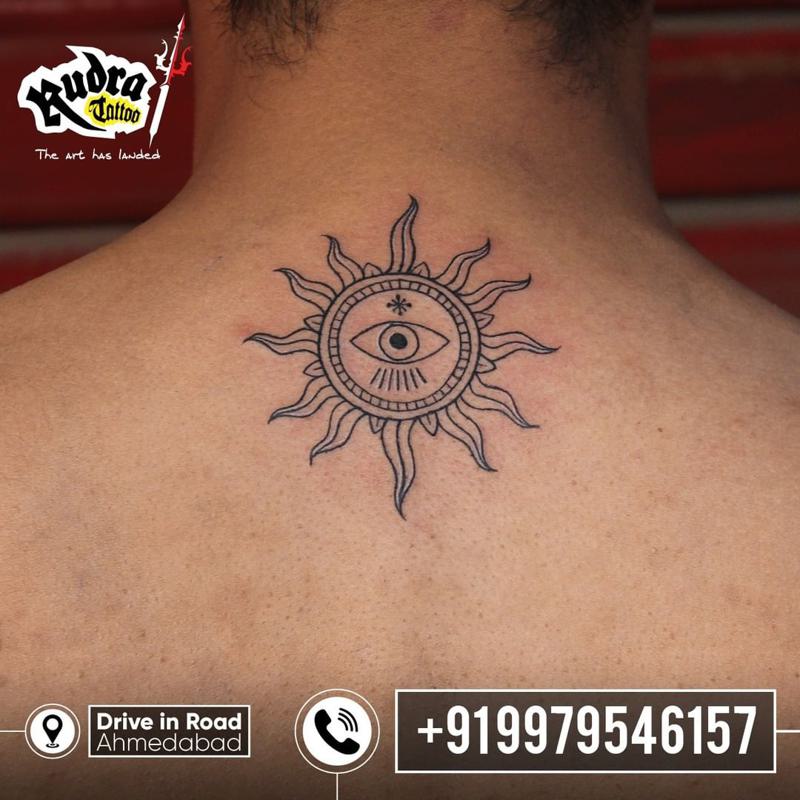 Evil Eye Tattoo Back of Neck
People use the evil eye tattoo as a sign of protection from the bad luck around people in society. When you place the art using some colors. For example, the blue in the evil eyes depicts you as a spiritual person. You can mix the design with various shapes and designs to make it more beautiful.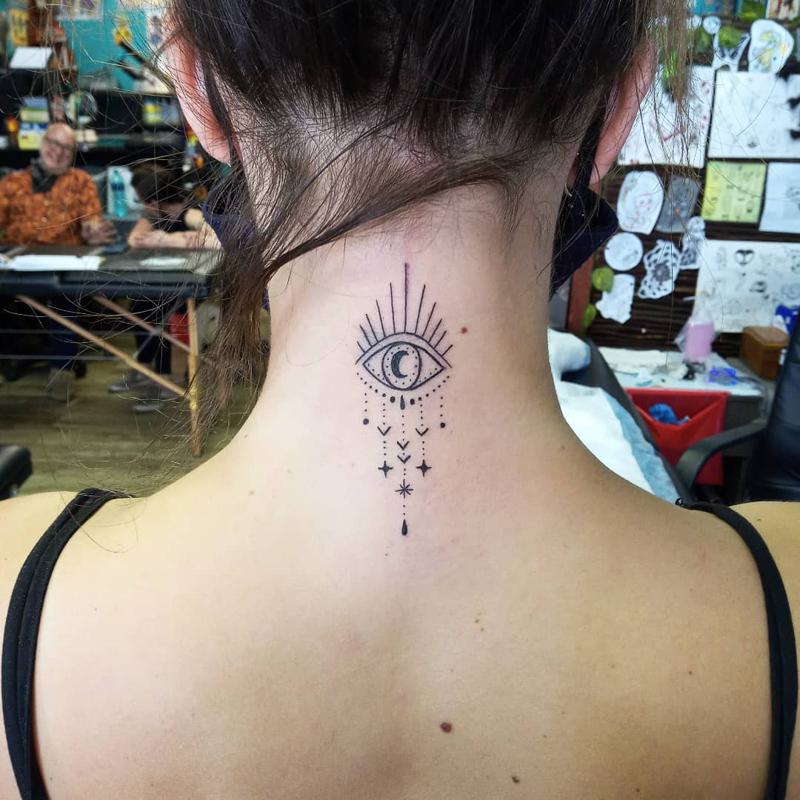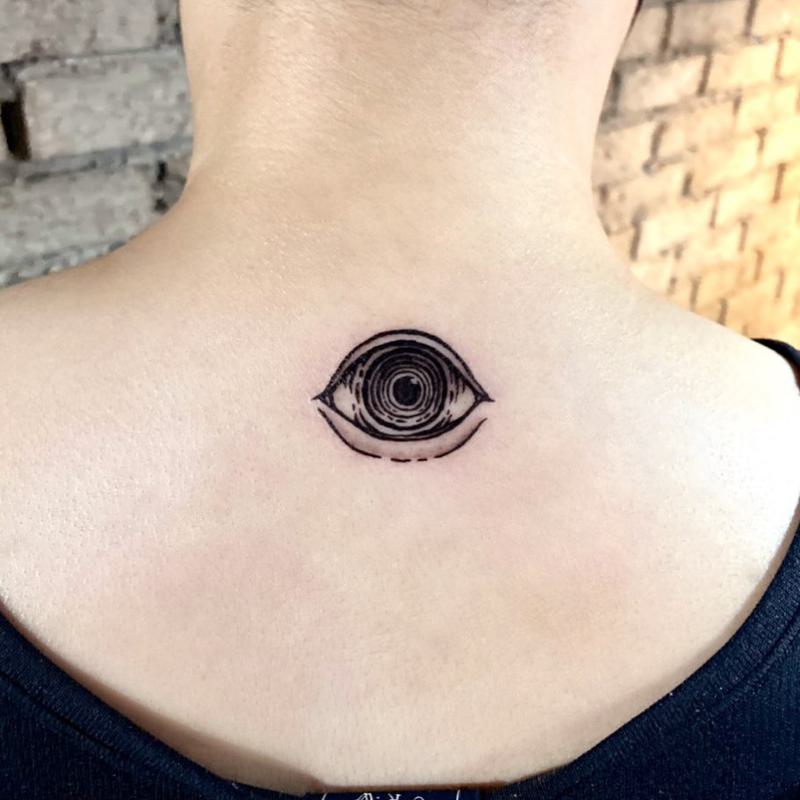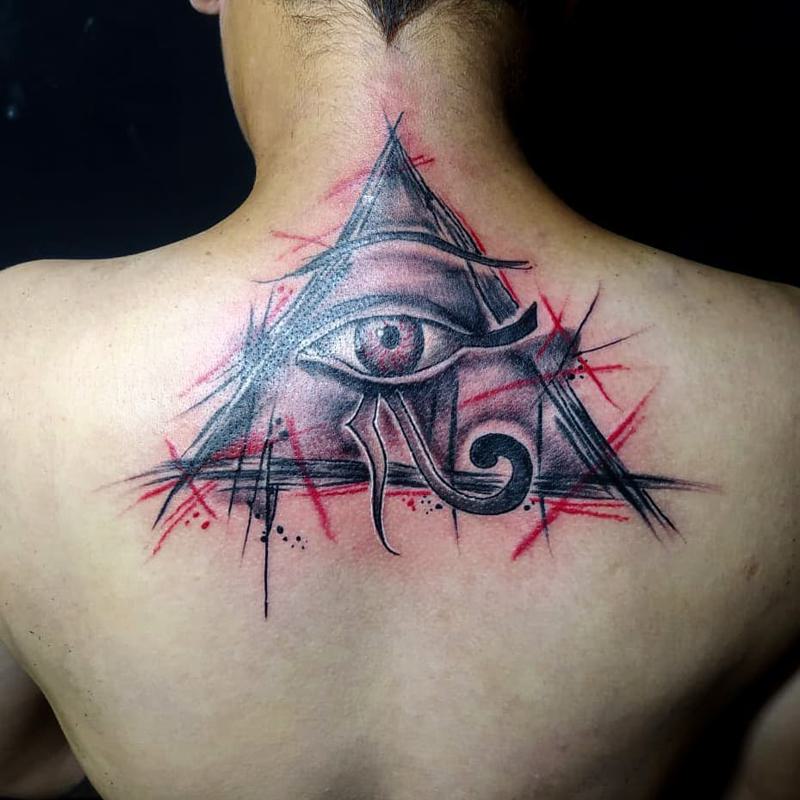 Rose Tattoo on Back of Neck
Rose tattoos at the back of your neck make you more beautiful and unique. This special flower mean a lot about your feelings and memories of your loved one. Make it colored if you are a lady but for men, the tattoo will look more masculine when it's in a deep black ink but with much detail.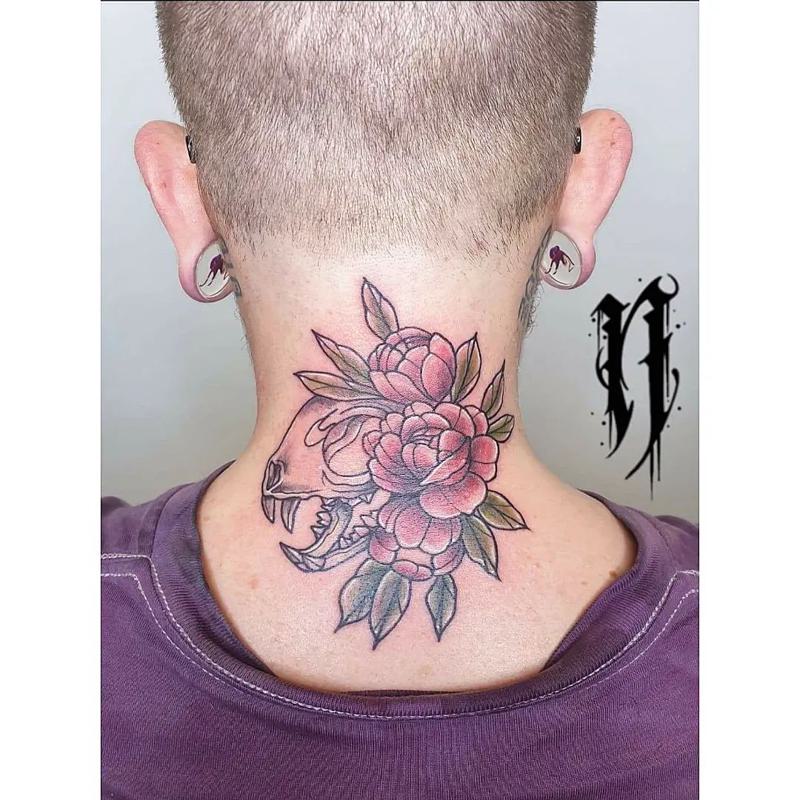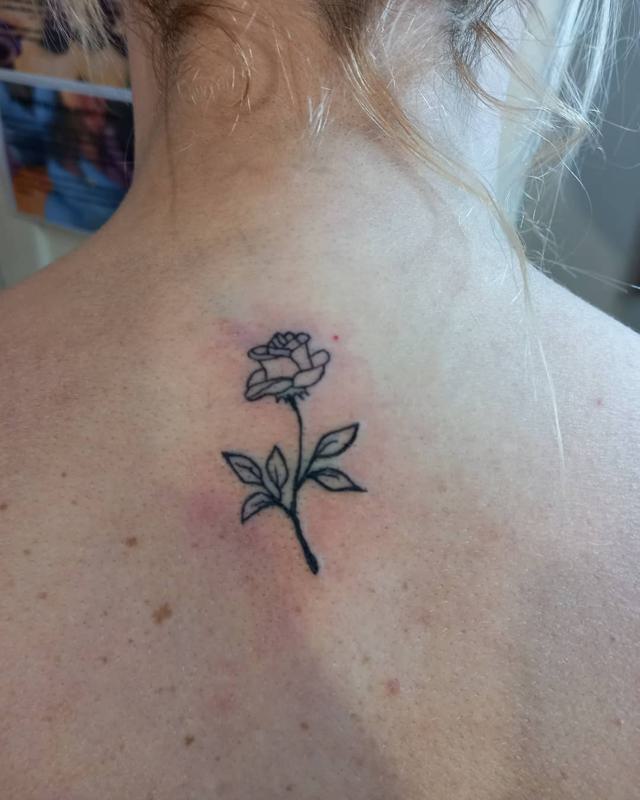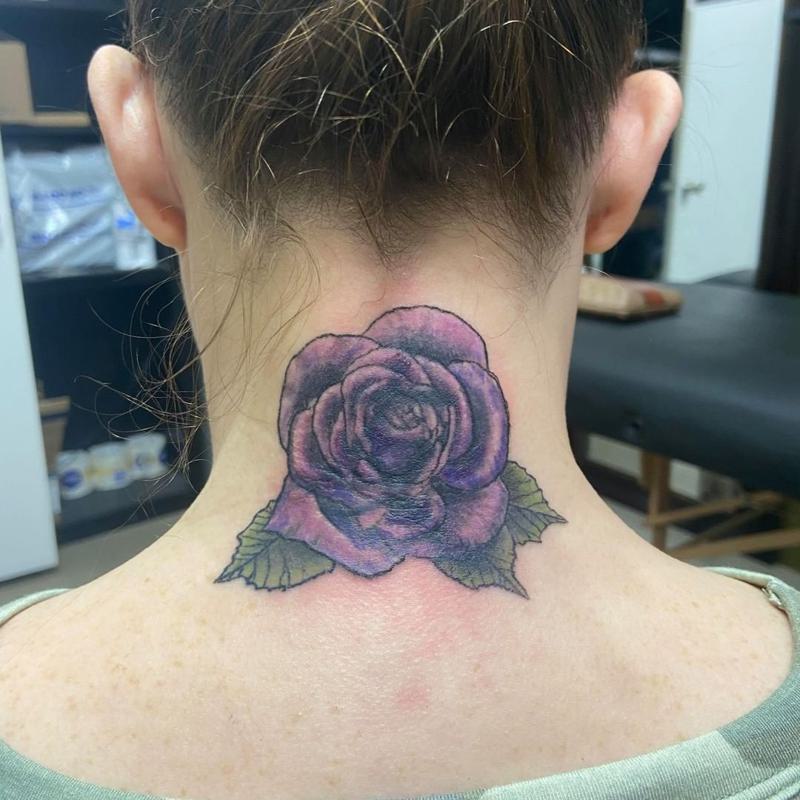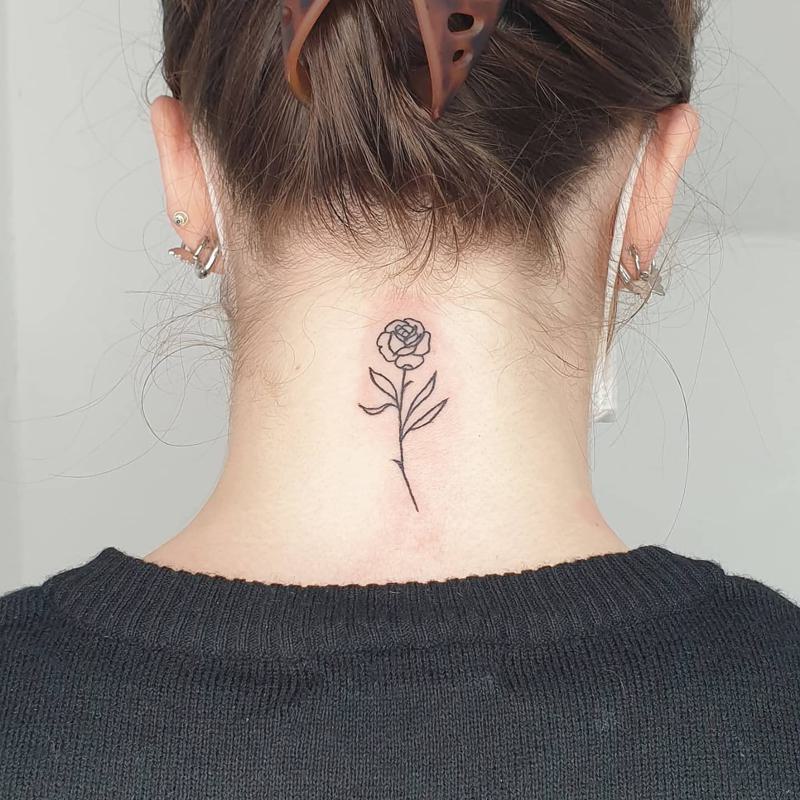 Lotus Flower Tattoo Back of Neck
The lotus flower looks fantastic and carries much meaning from the East. It's a tattoo that suits both and women depending on the type of art you'll choose. Expect it to enlighten your heart in tough and great moments. Also, Lotus flower is a sign of peace and love you carry everywhere you go.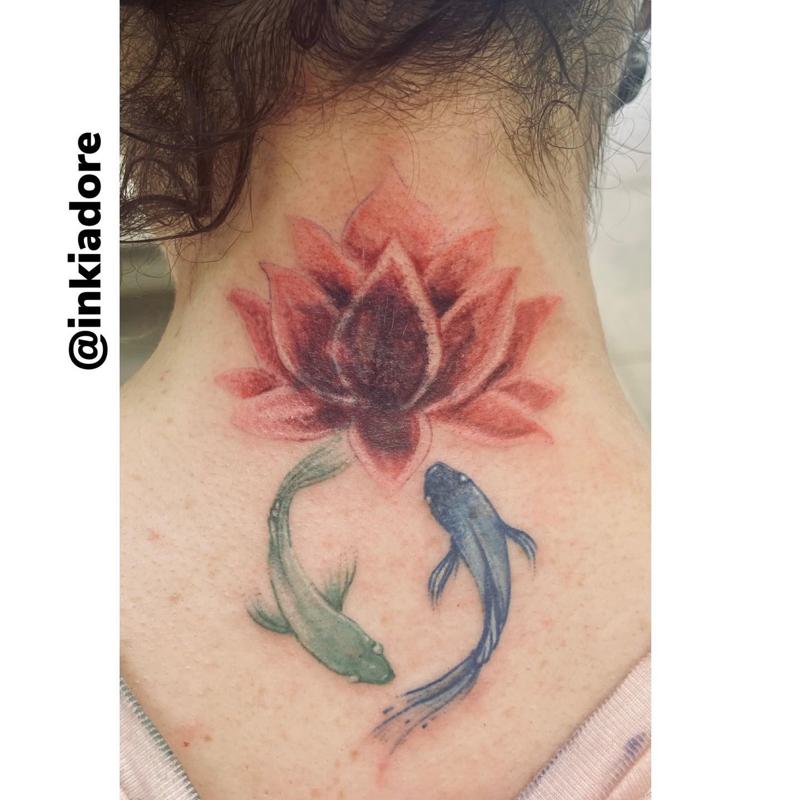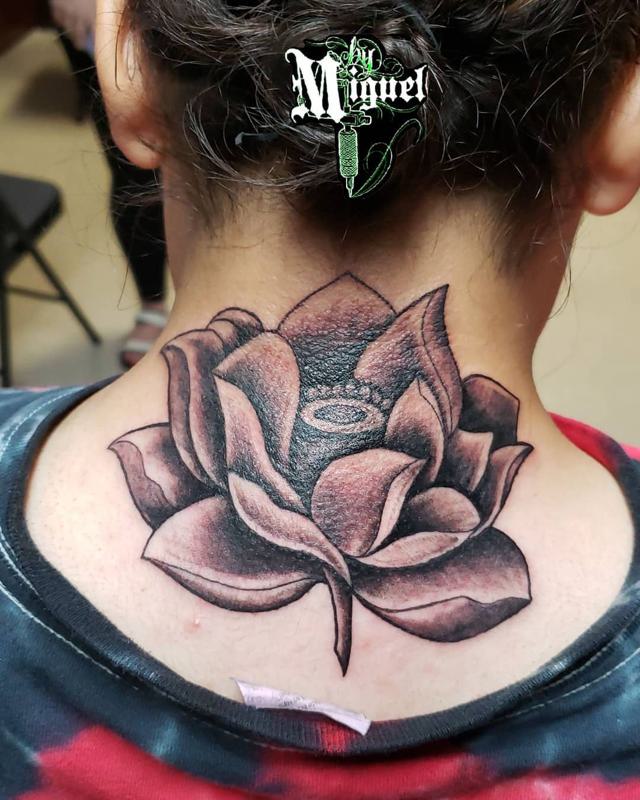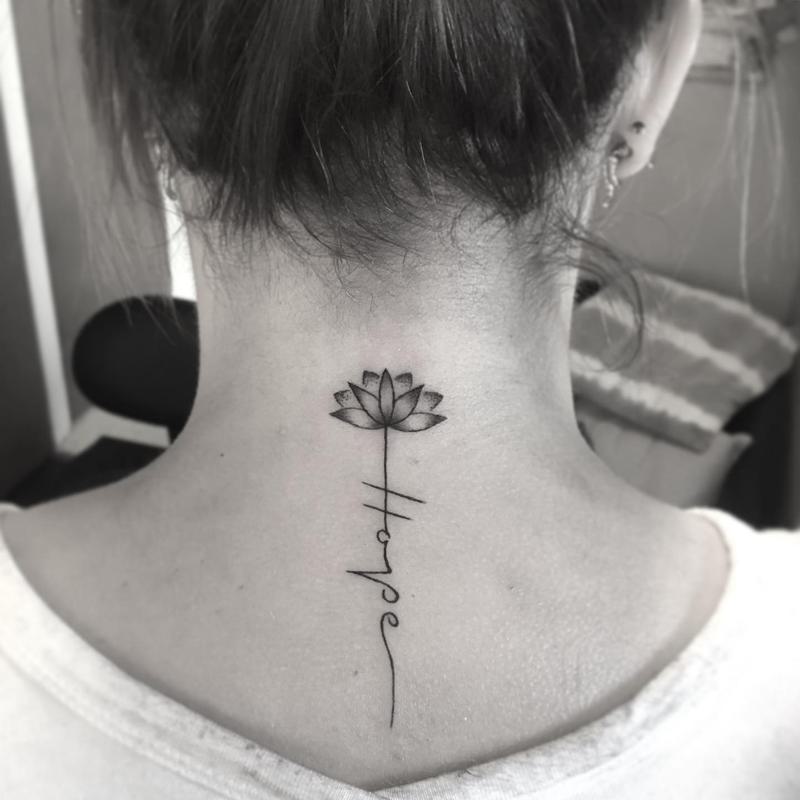 Flower Tattoo on Back of Neck
Flowers of any kind and color have many meanings that relate to your live events. Expect them to show your strength, growth, rebirth, love, a memory of a lost loved one, and how you honor life. Such aspects can be small or big but make them big to make your neck beautiful for the people at the back.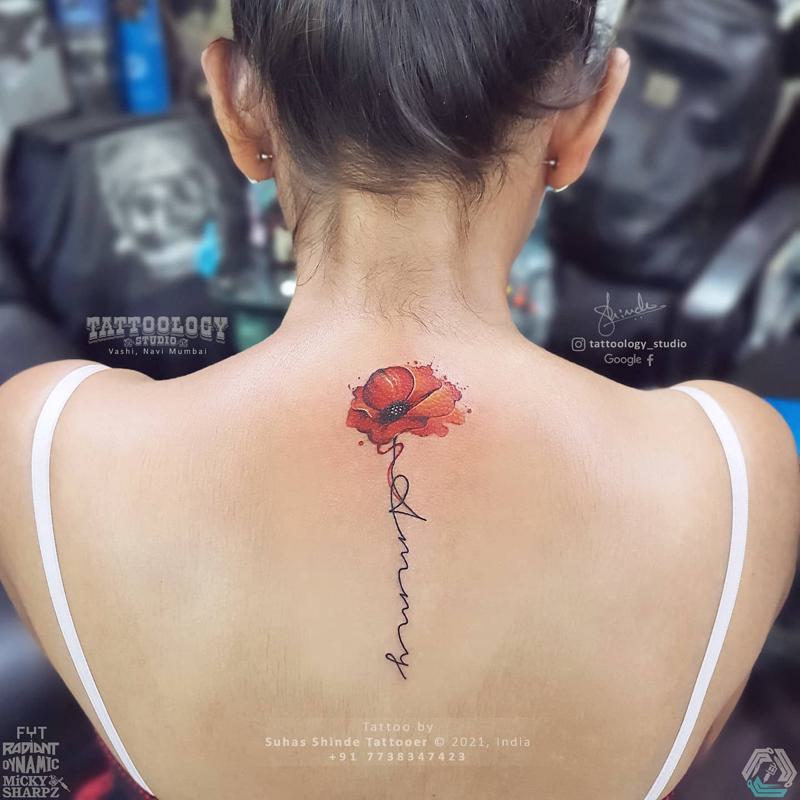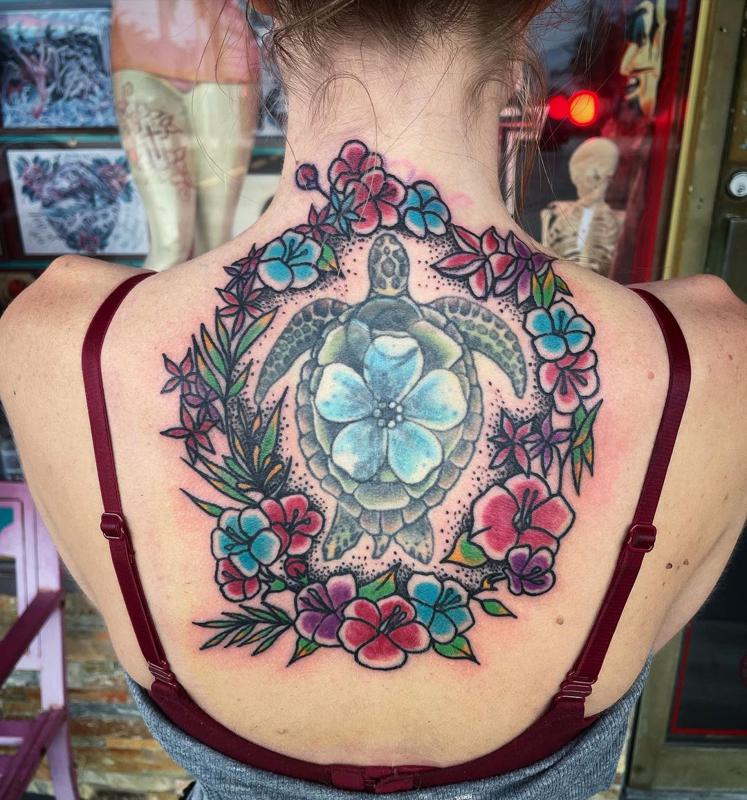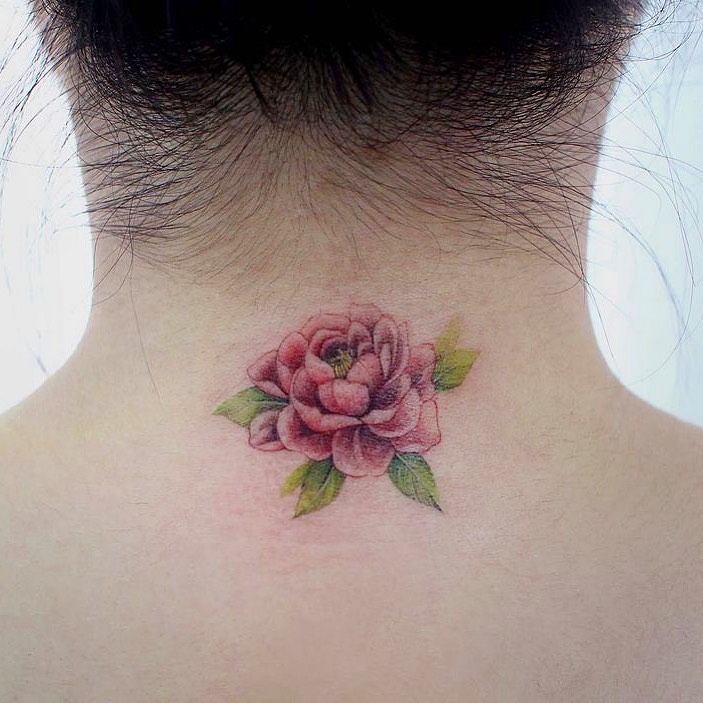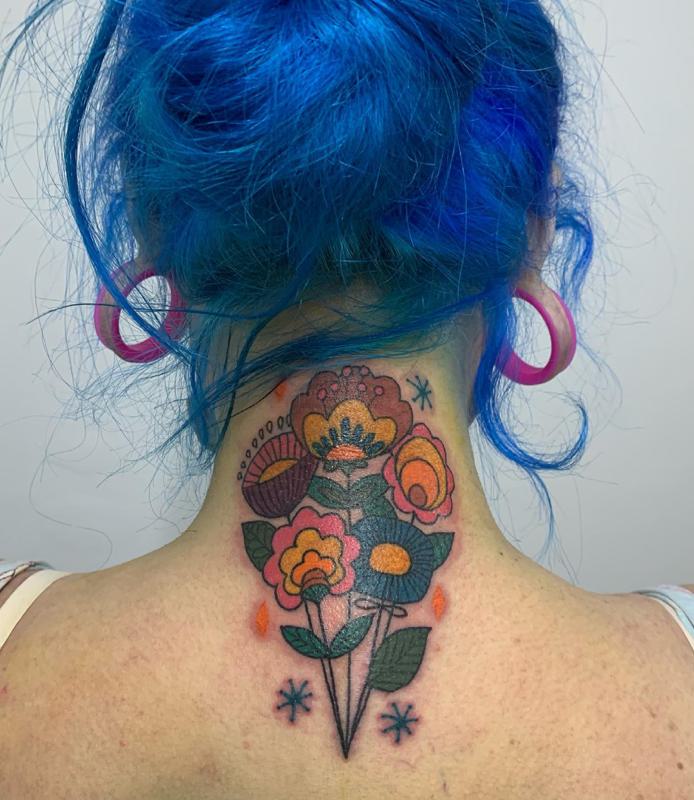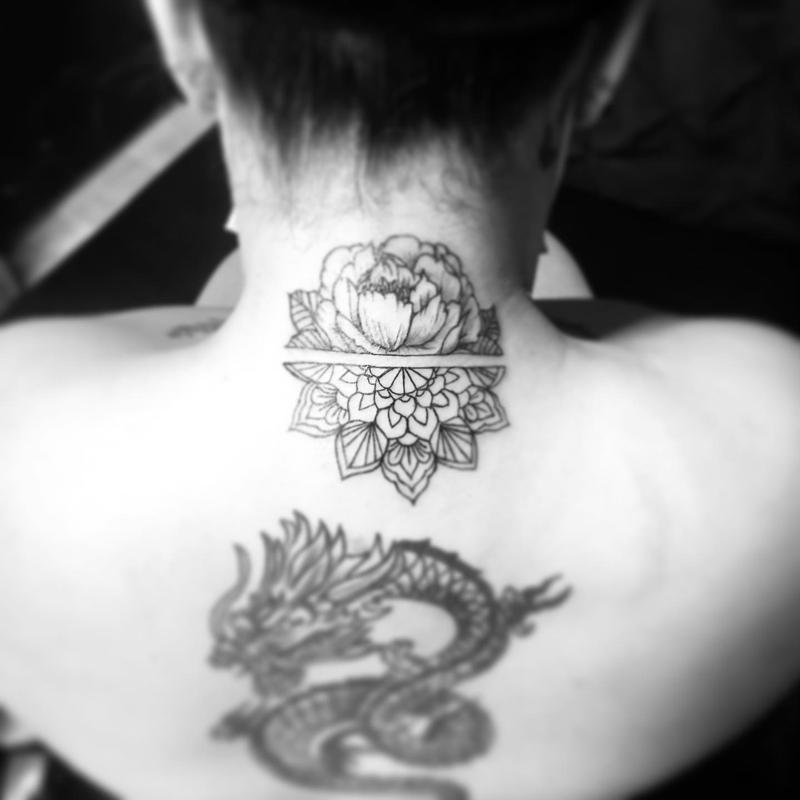 Star Tattoo Back of Neck
Getting a star tattoo at the back of your neck makes you unique among the rest of the crowd. People use the design to remind them of their loved ones, especially the ones they lost. You can use one or several stars depending on what they mean to your heart.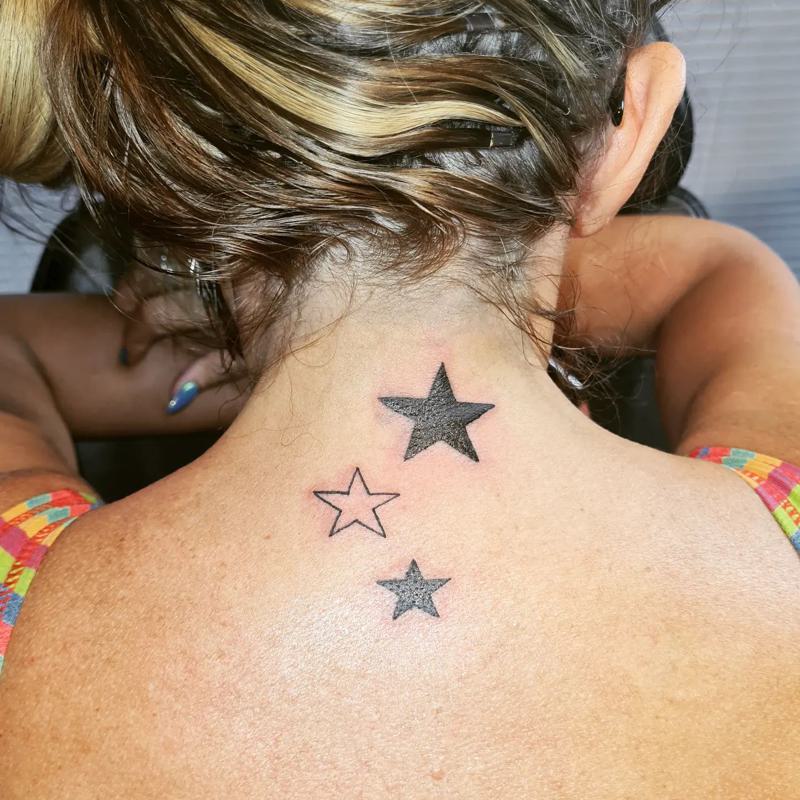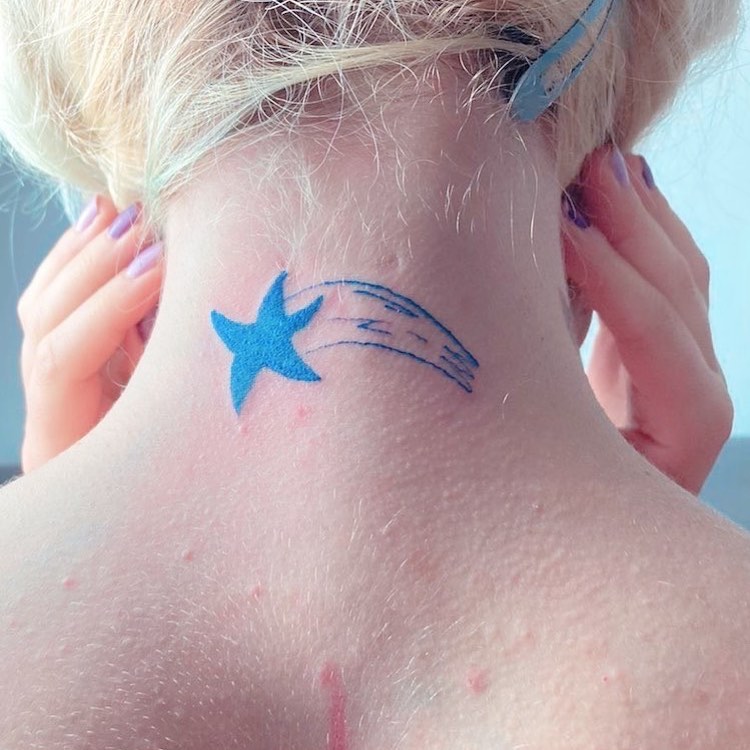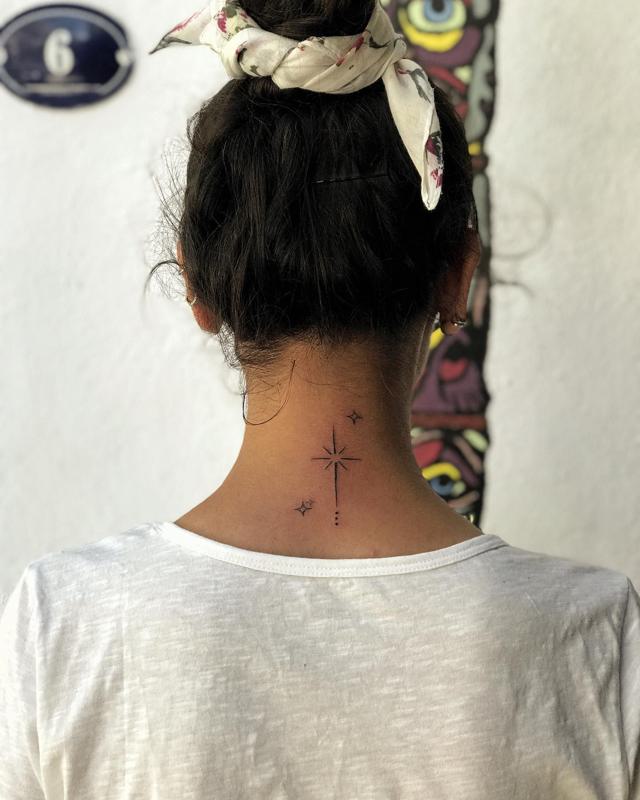 Owl Back of Neck Tattoo
Owls at the back of your neck can appear scary but carry a solid message about your life. It's a versatile design because you can have it in many designs and colors. Mostly, it's an art that has much spiritual meanings about life, growth, and maturity.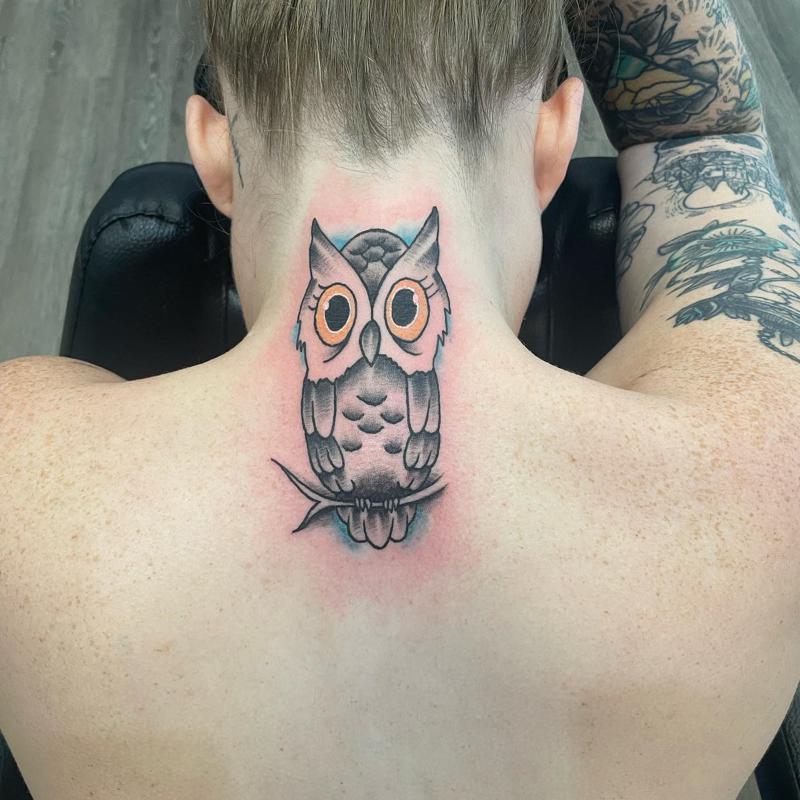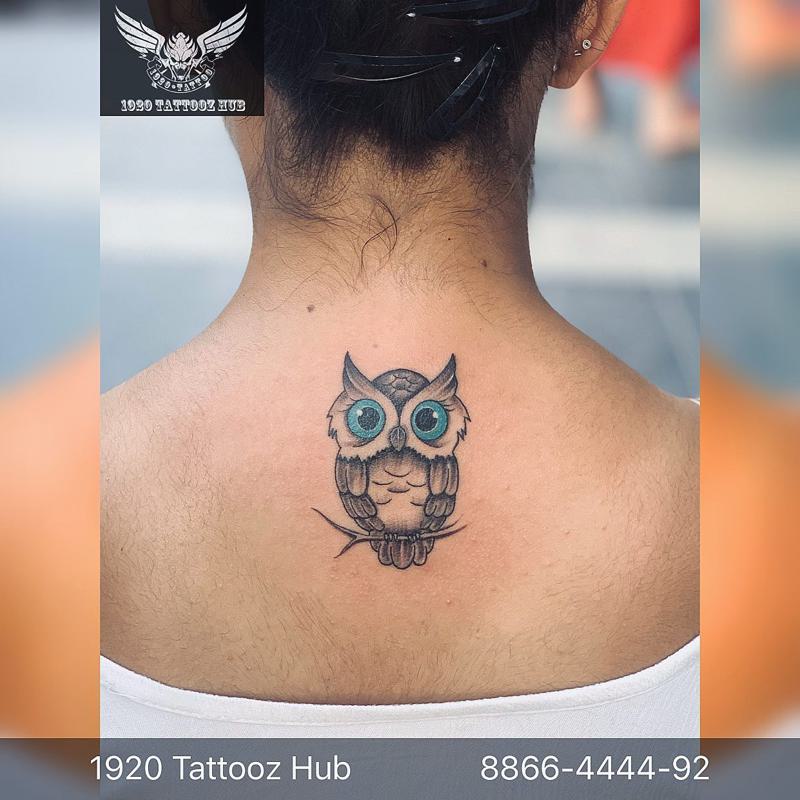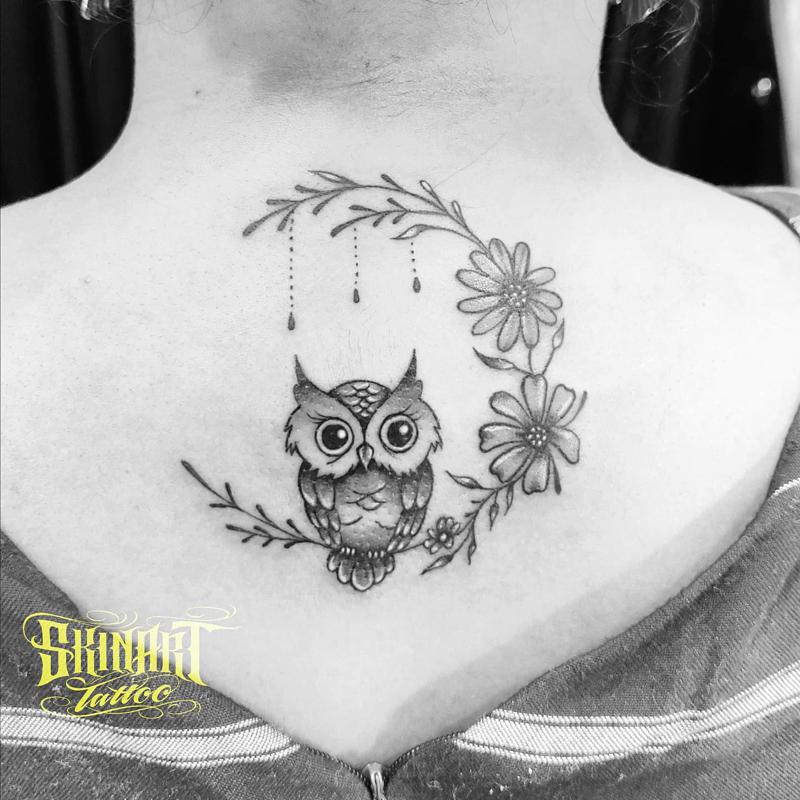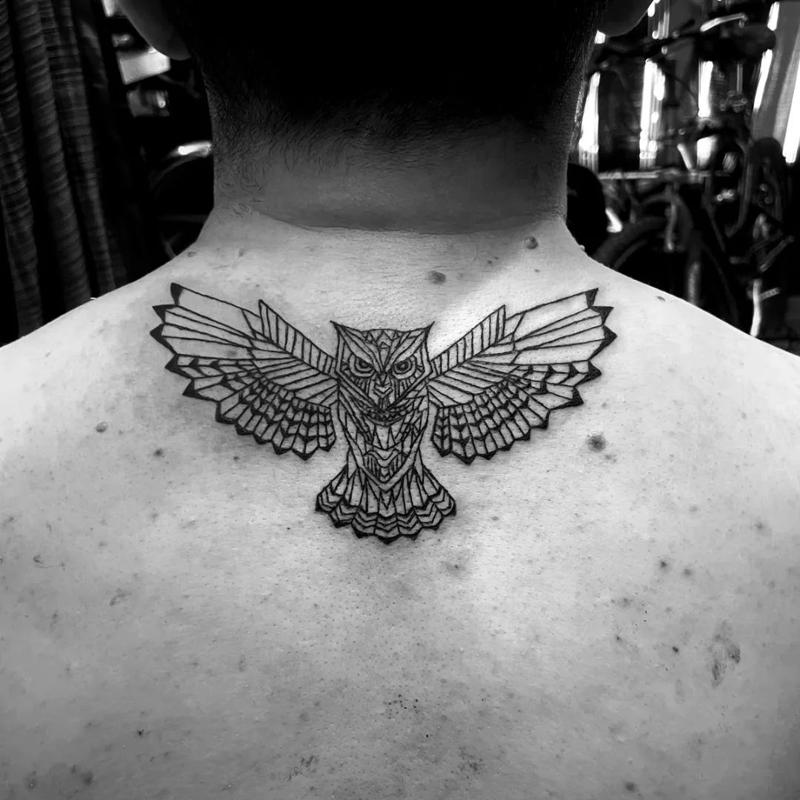 Dragon Tattoo Back of Neck
The message behind having a dragon tattoo on you back neck depends on if you believe in the Western or Eastern culture. In the East, a dragon is a powerful animal full of wisdom while in the West, dragons are bad creatures. You may have them using a blank ink or a colorful tone and in different sizes.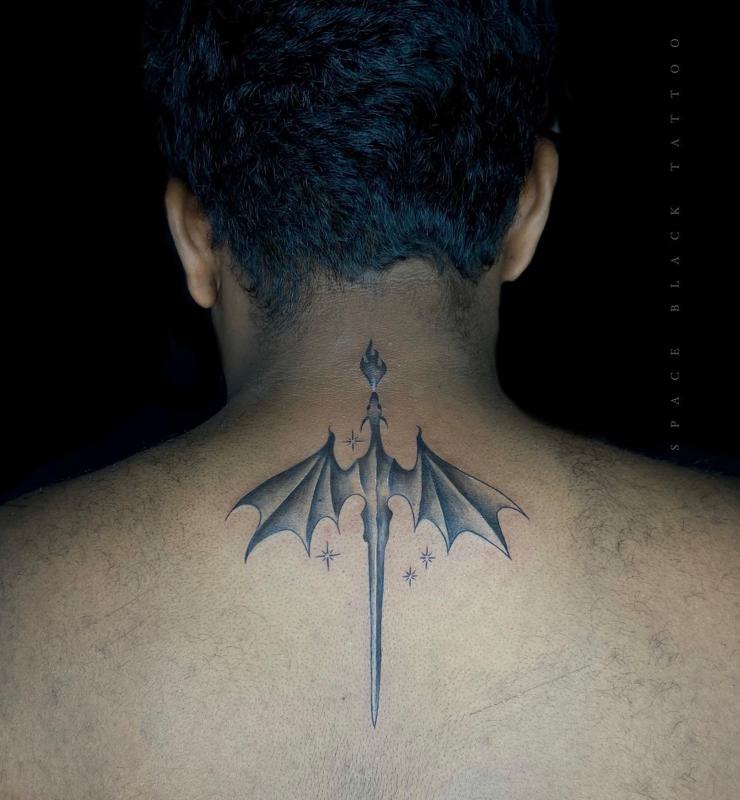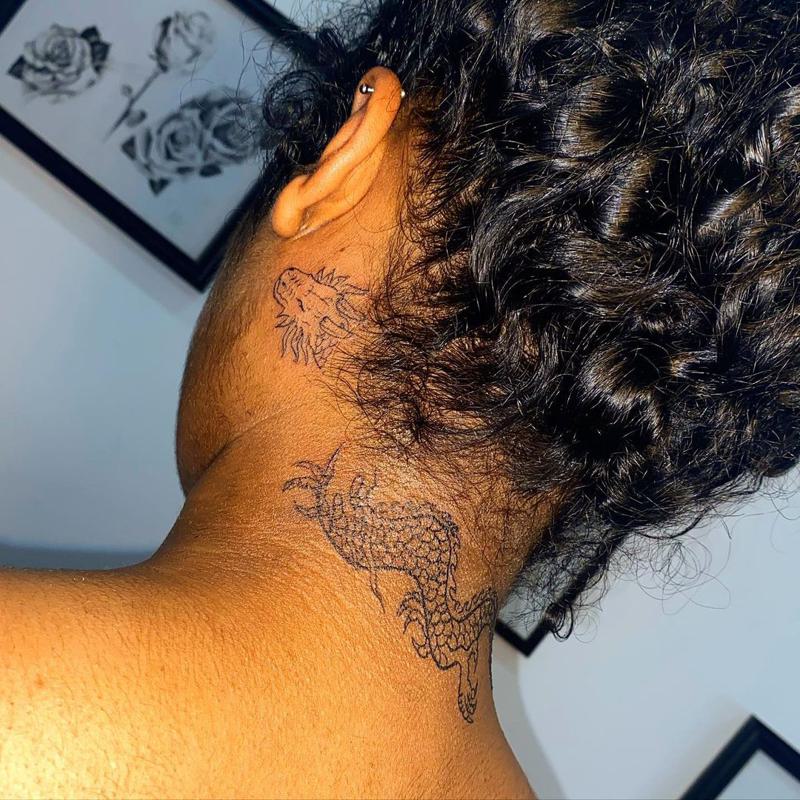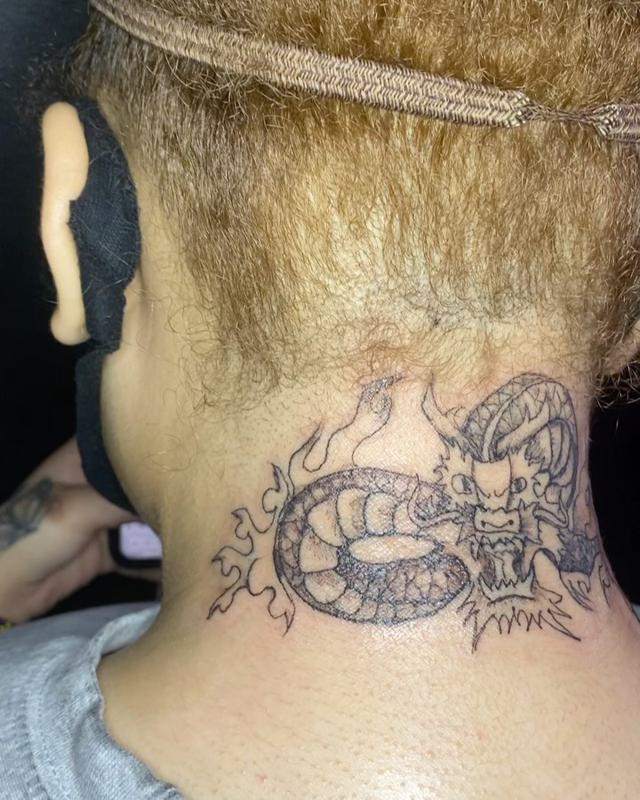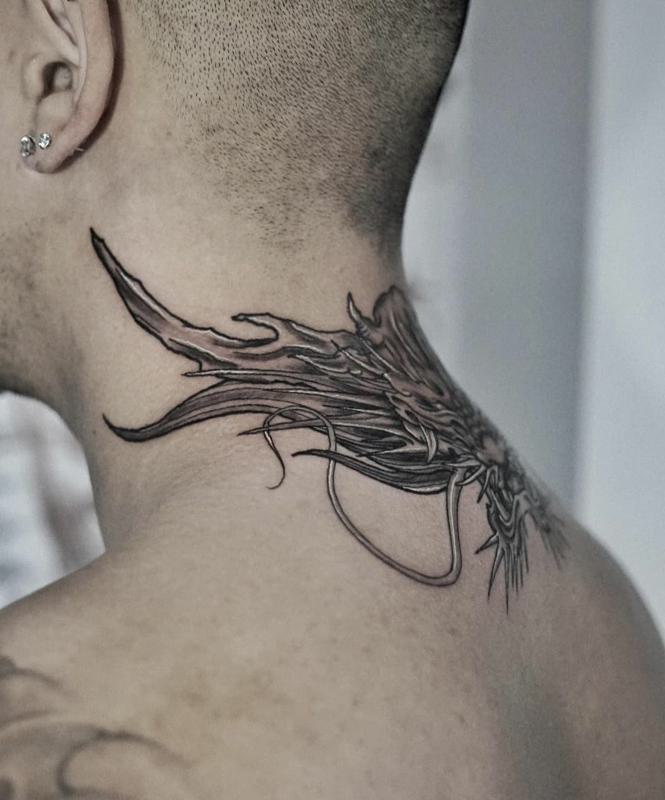 Eagle Tattoo on Back of Neck
This design shows you own the bird's confidence, dominance, luck, vision, power and wisdom. People have such art at the back of their necks to remind others of their strong qualities. Ensure you pick on a large art that can cover even up to your shoulders to make you unique.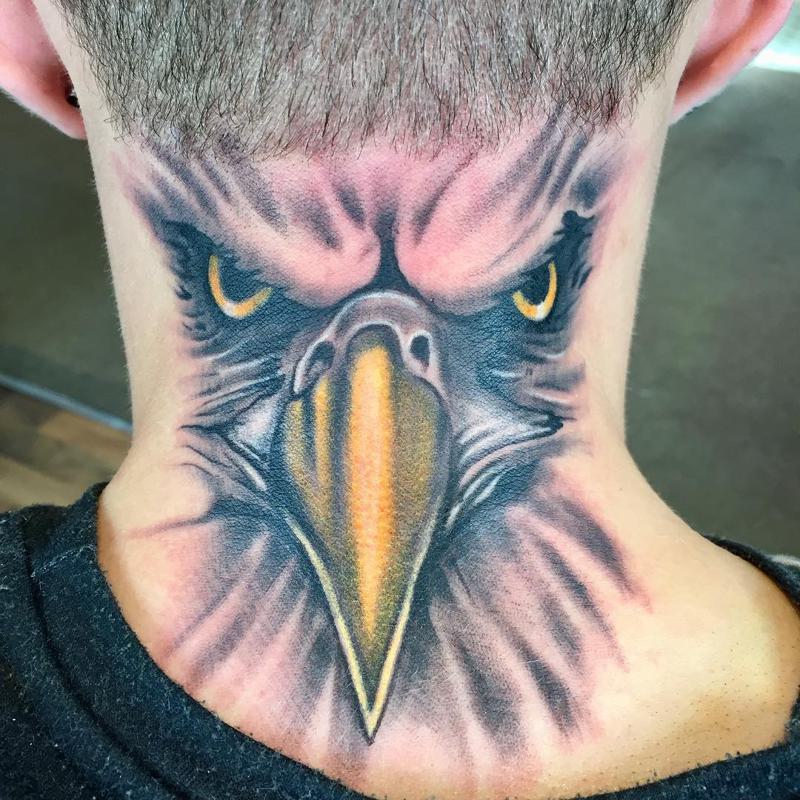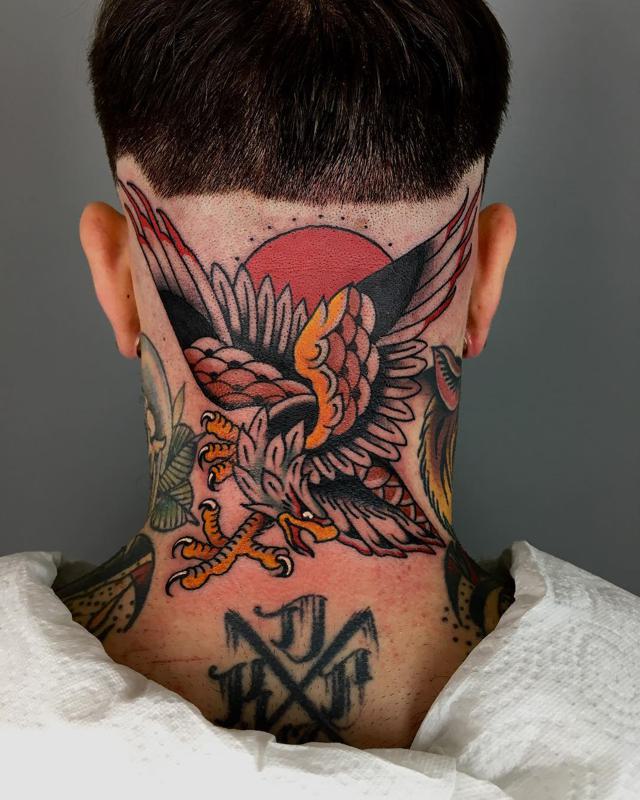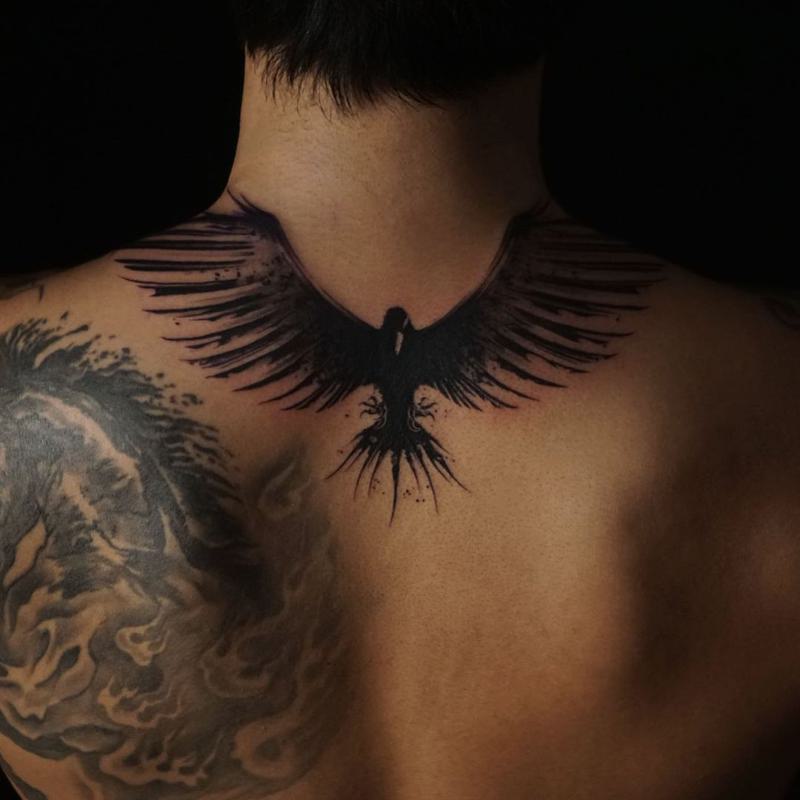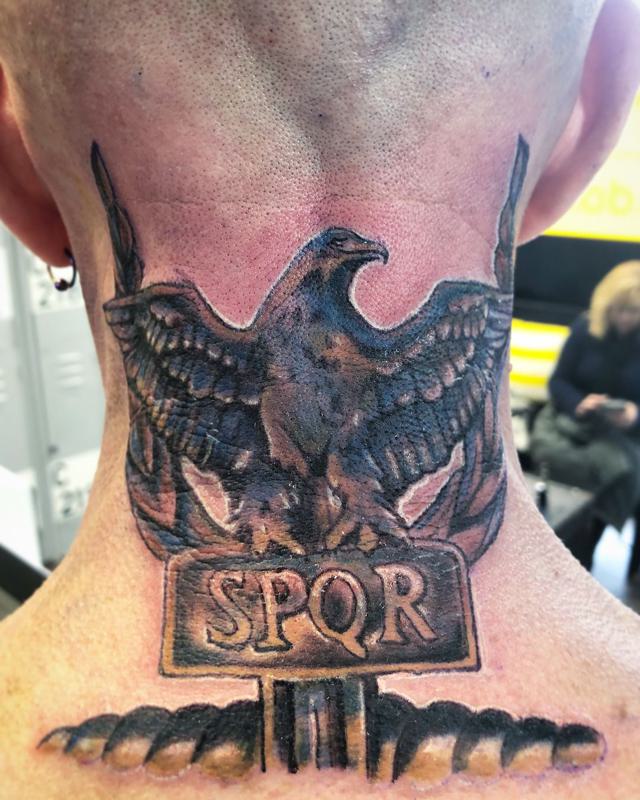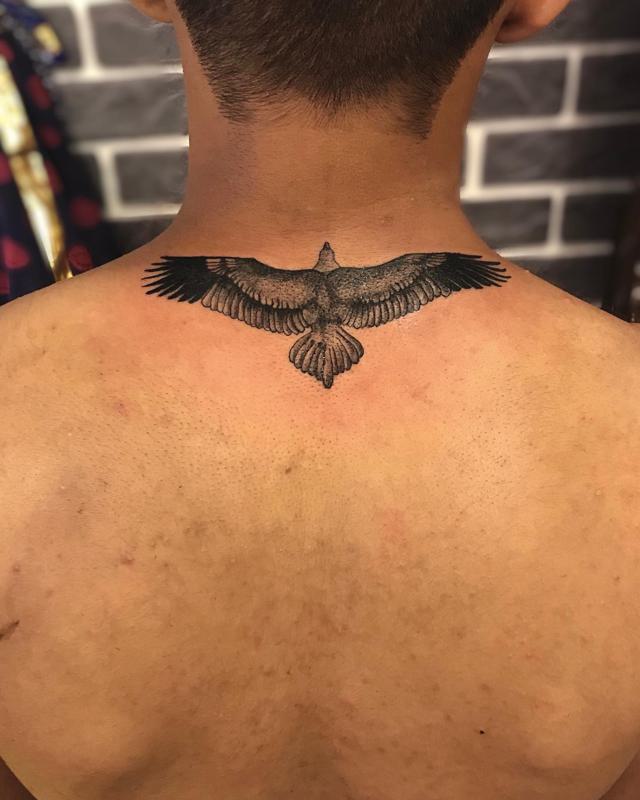 Bow Tattoos on Back of Neck
Bow tattoos are simple designs with much symbolism. It suits people who want to make easy and beautiful designs that won't attract much attention. Though they are more feminine, you can still rock with such art as a man when it's in deep blank ink.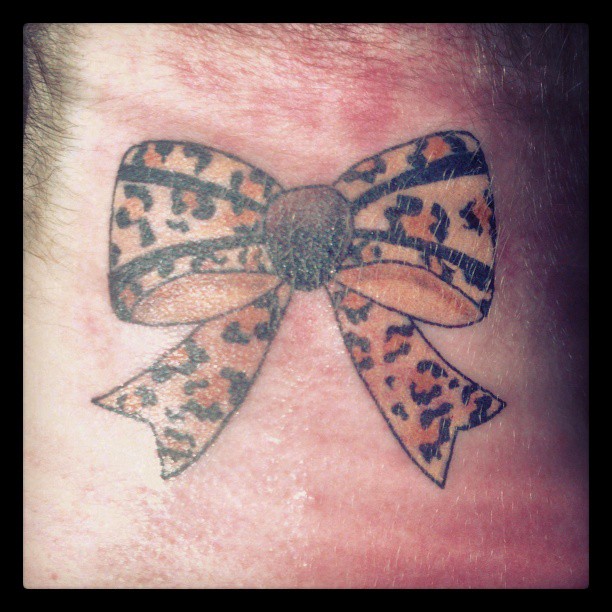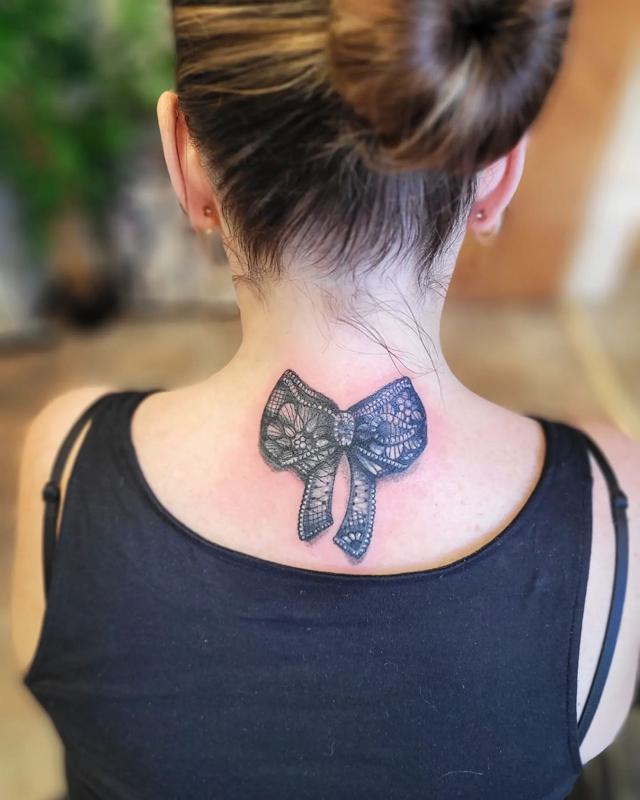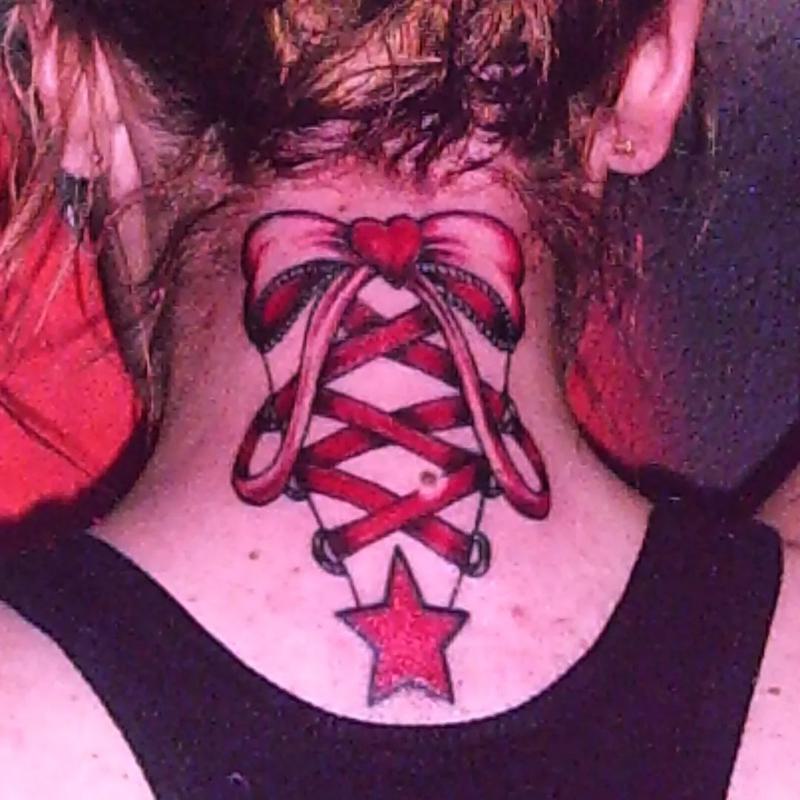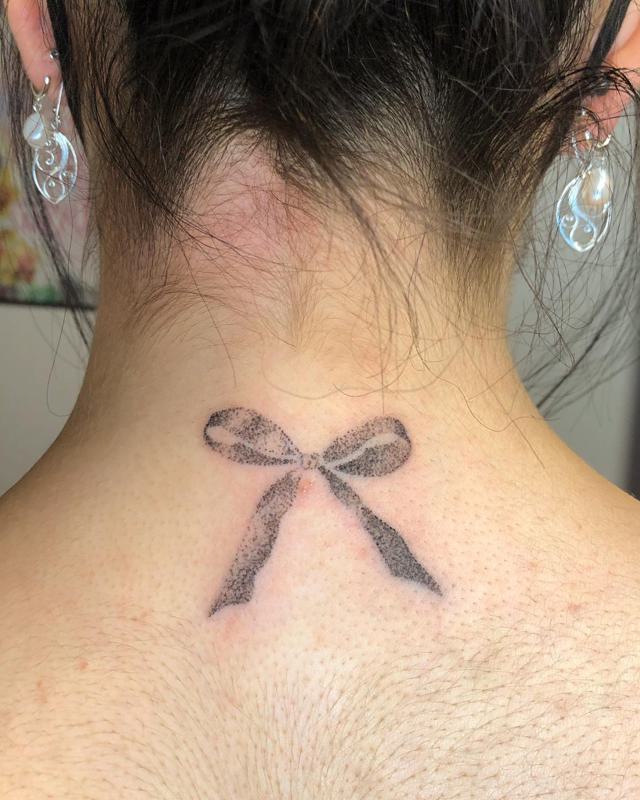 Snake Tattoo Back of Neck
Like other animal tattoos, the snake art on your back makes shows the fierce and powerful traits in you. Though the design might appear scary to other people, it will make you stand out. You can mix it with various designs if you have a deeper message.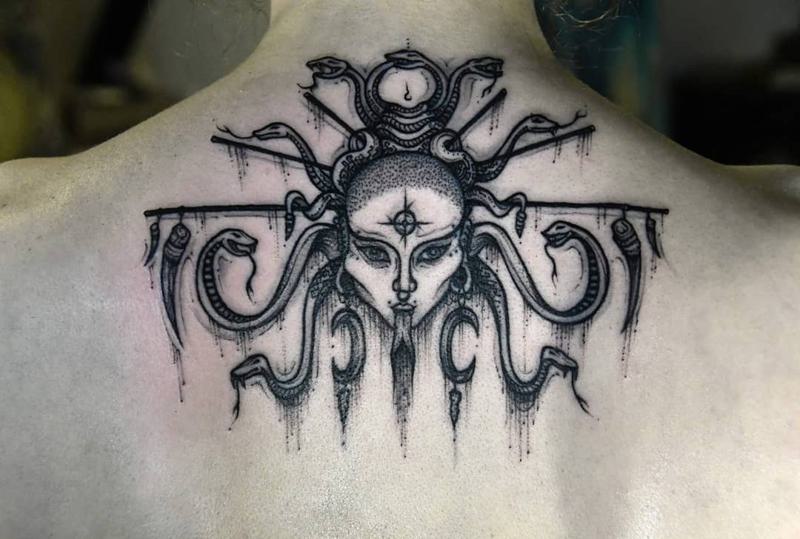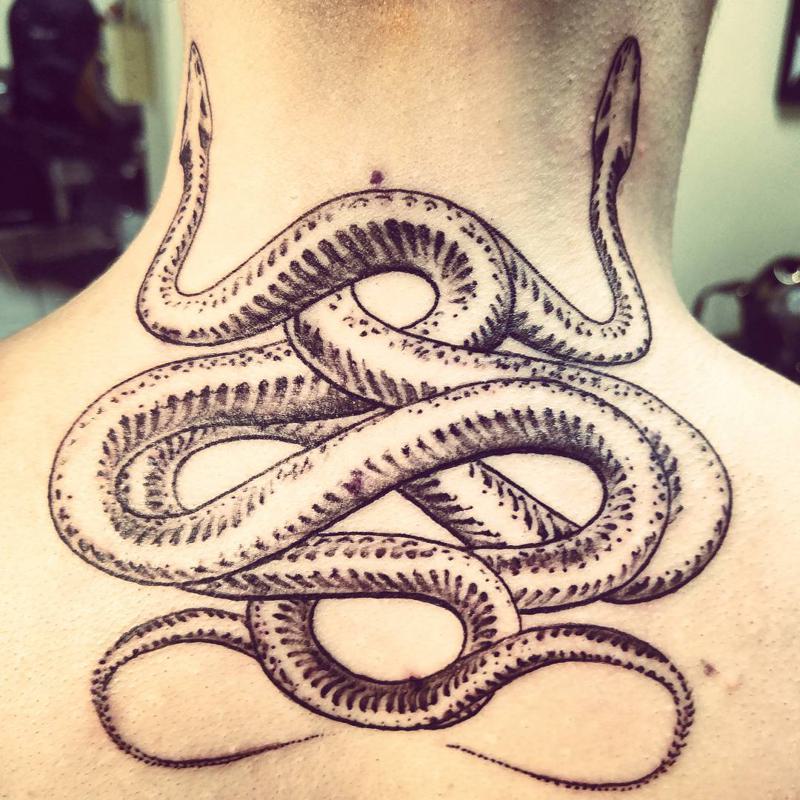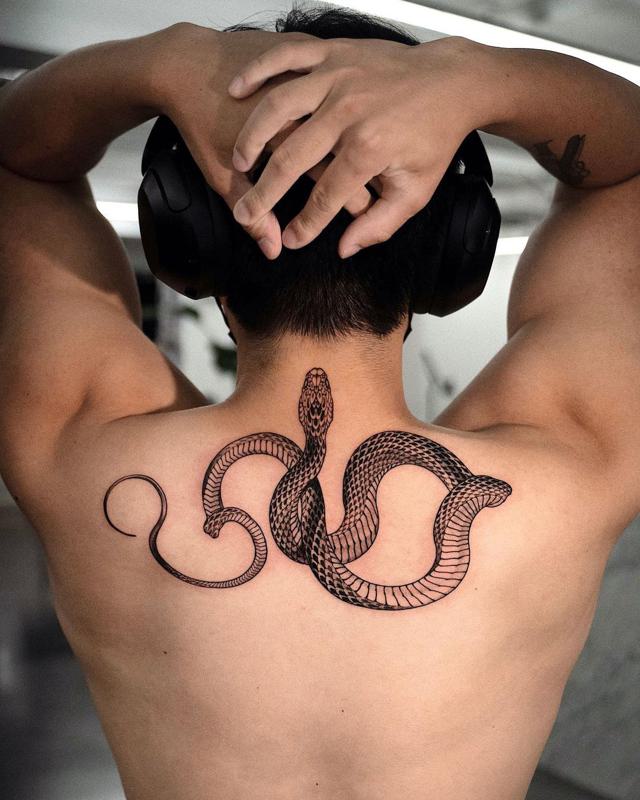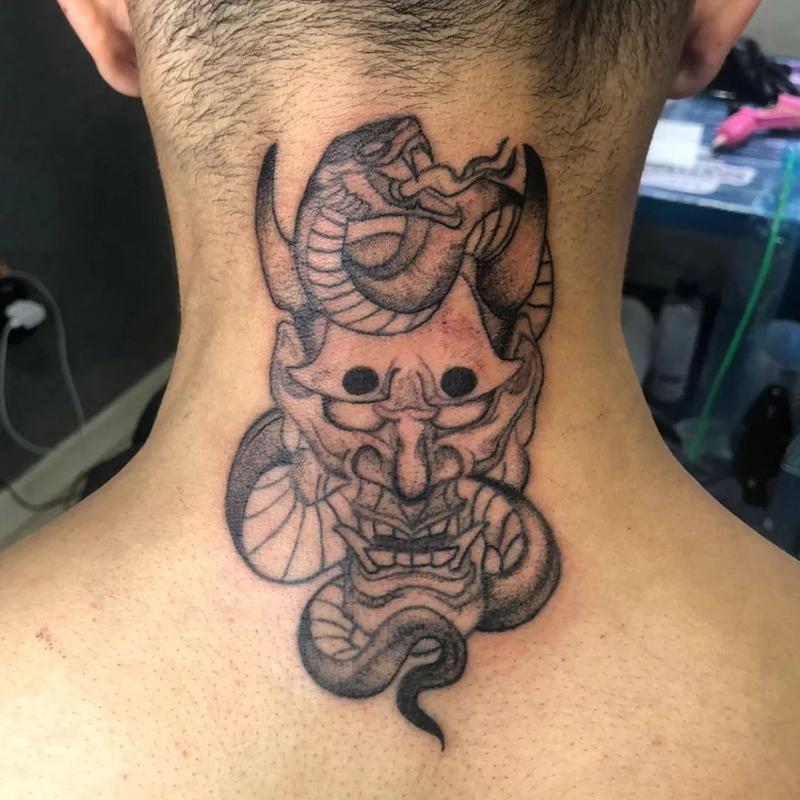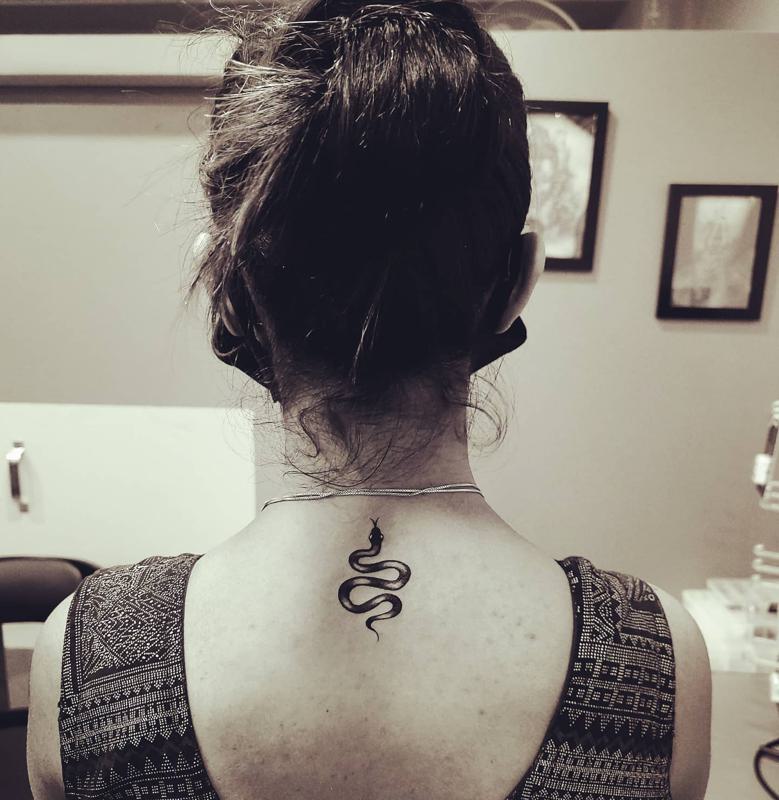 Tree Tattoos on Back of Neck
Tree tattoos are a sign of growth, prosperity, and hope. The message behind such an art is there to encourage you and people around you to give up in life. So, you can choose to cover it with your hair or shoe it off.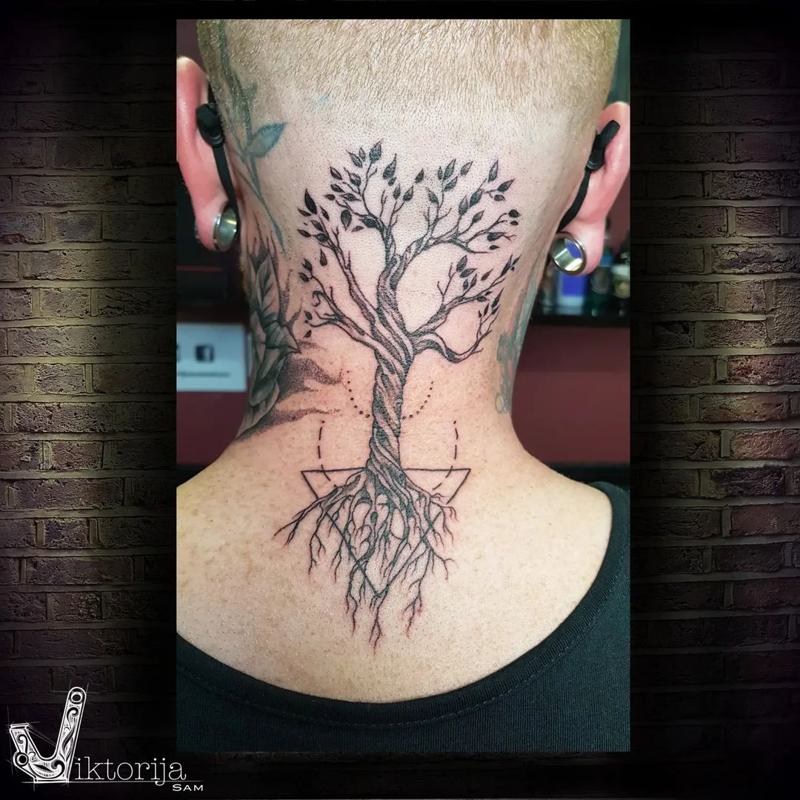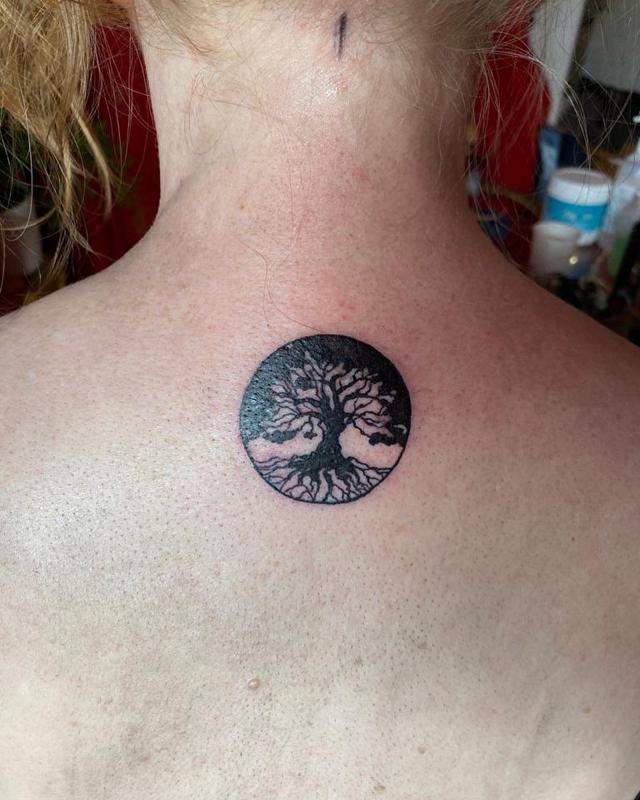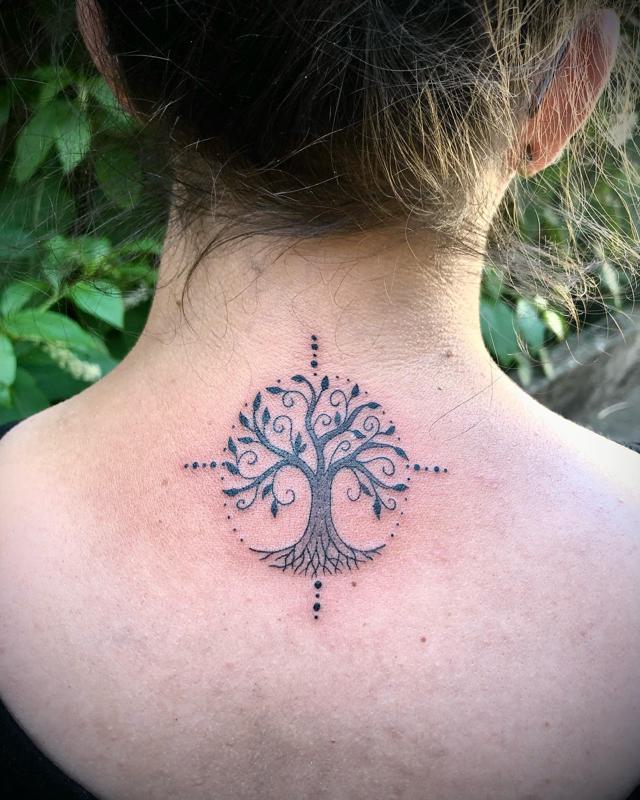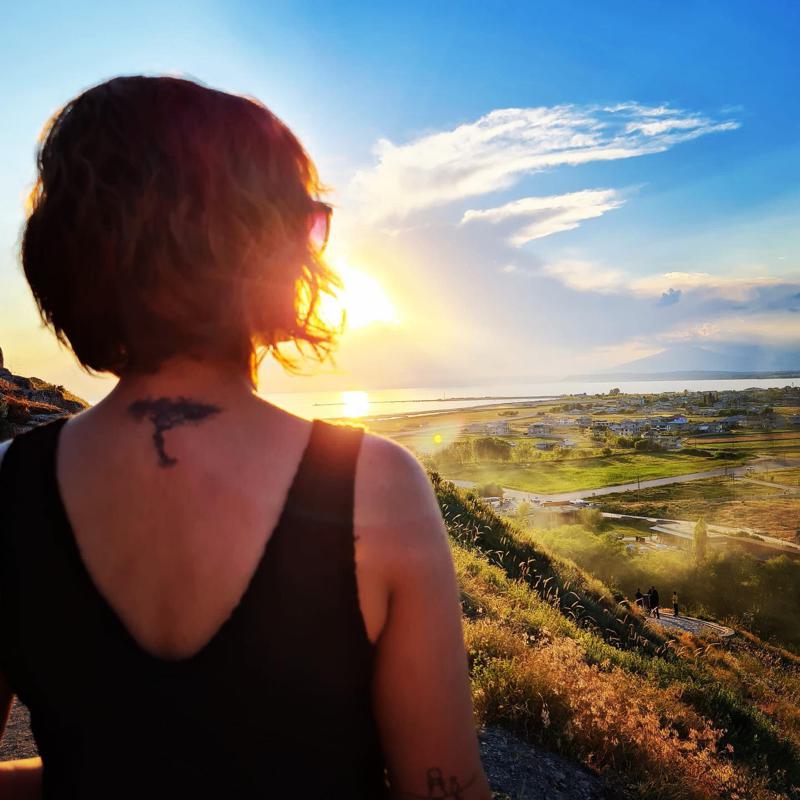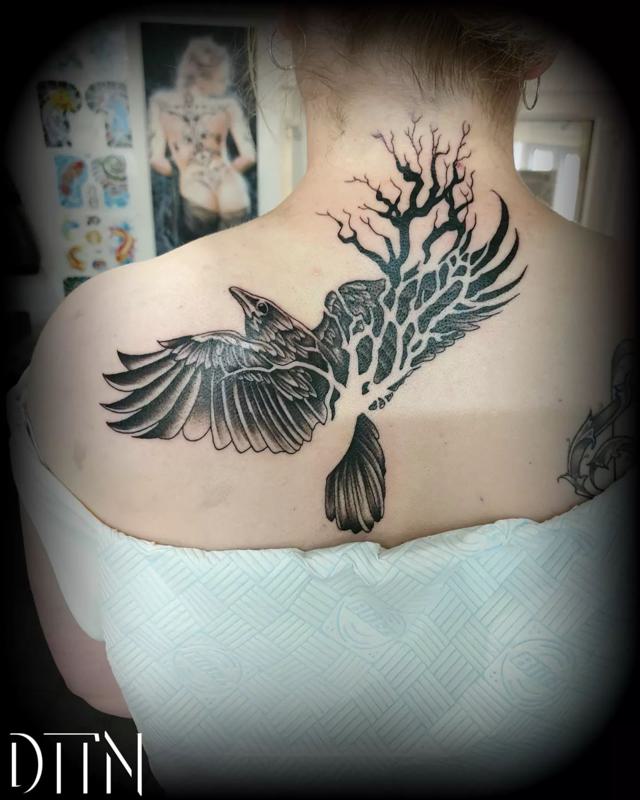 Dragonfly Tattoo Back of Neck
Getting a Dragonfly tattoo depicts a deeper message more than just the art.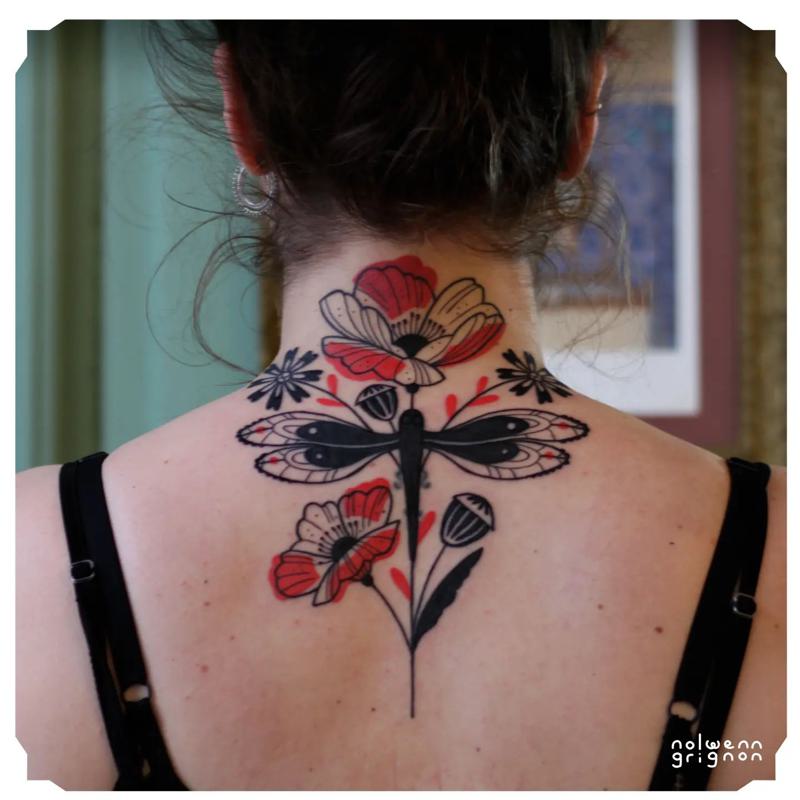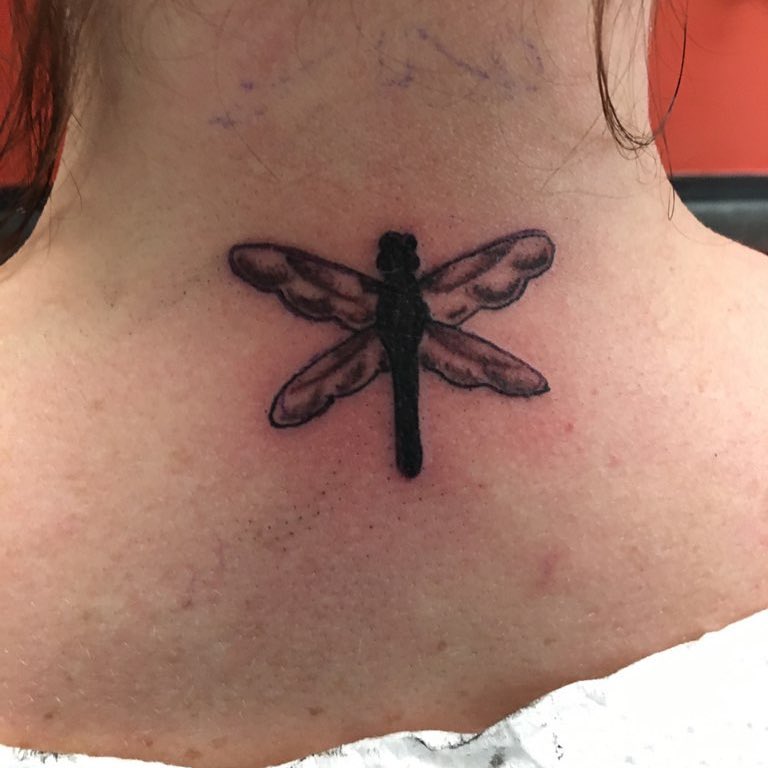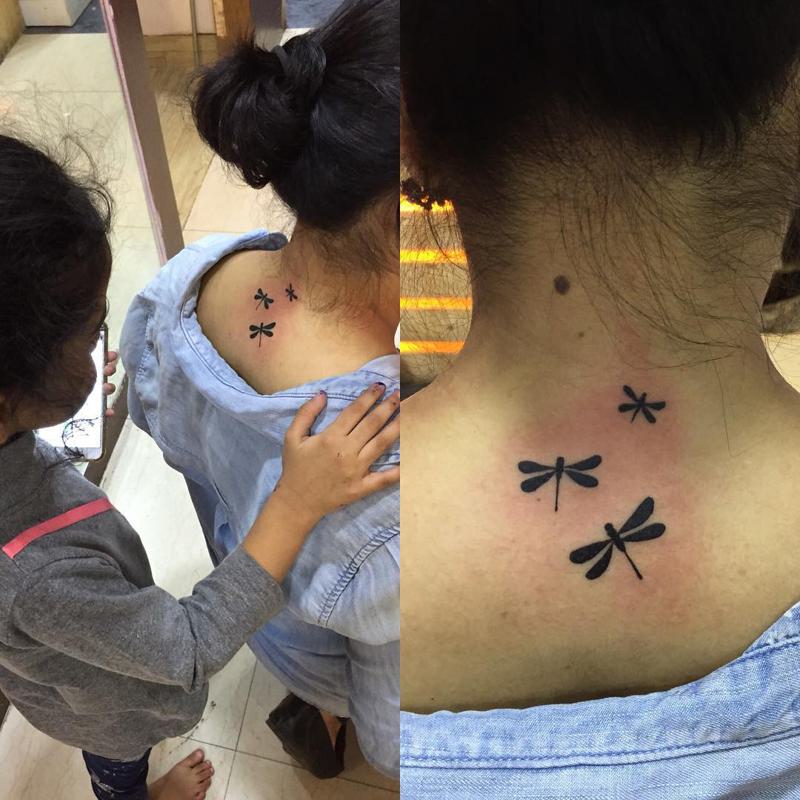 Are you interested in or in love with the Buddhism culture? Then you should go for these designs. Having this art is a sign of life and the role you play in society. So, it will make you feel important as you learn from various life actions.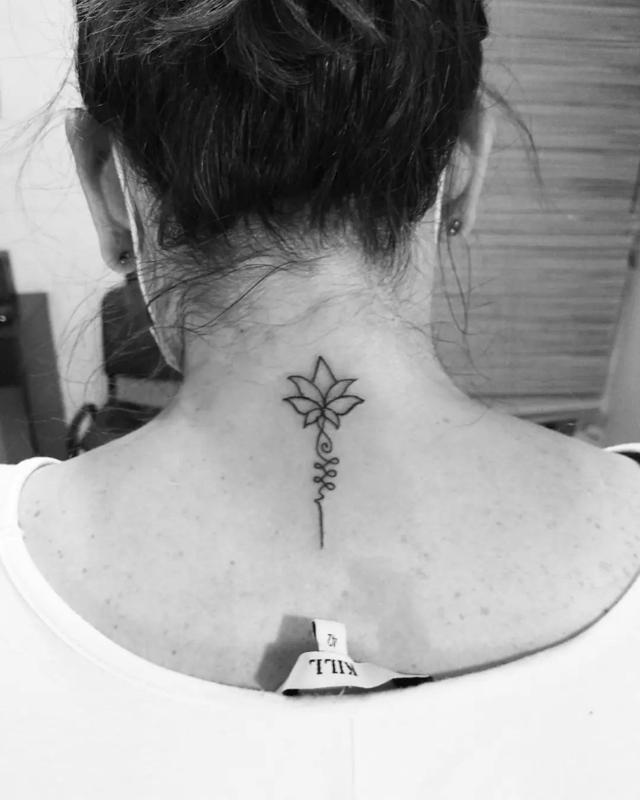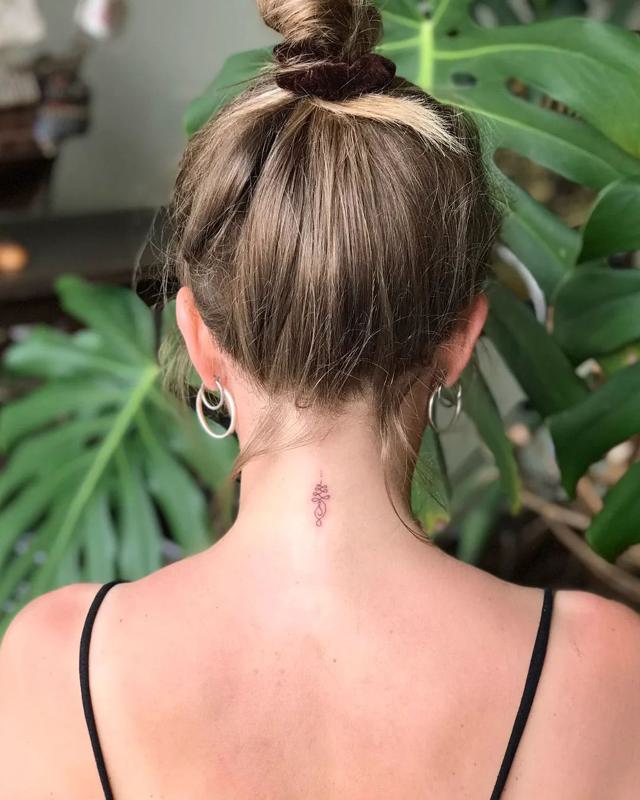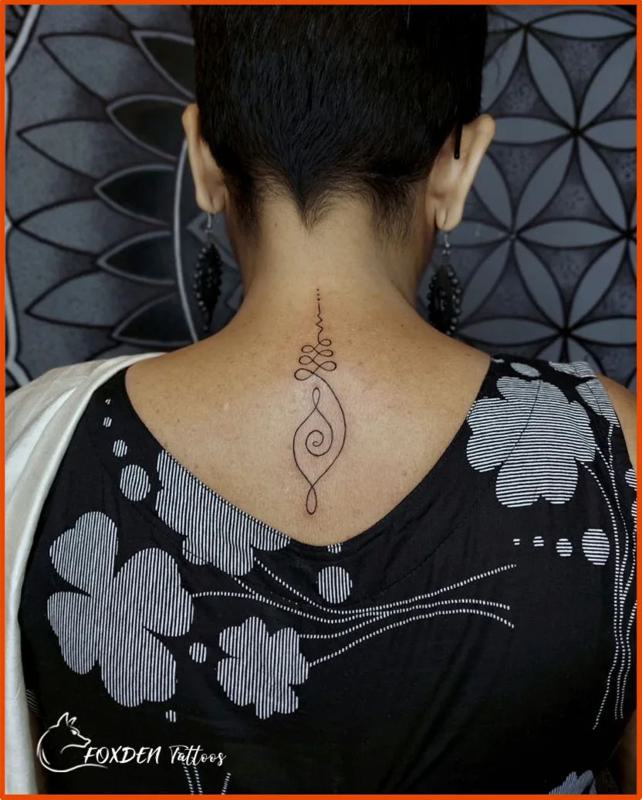 Back of the Neck Tattoos Pros and Cons
Below are the significant aspects of having a tattoo on the back of your neck.
Pros
It's one of the best places to ink a small and beautiful design
You can easily cover them up by your hair down
Most back-of-the-neck tattoos are cheap because of their size
Take a look at the cons of having a back-of-the-neck tattoo
Cons
They are quite painful
Since the place gets sunlight, the ink tends to react with the sun on some people's skins.
FAQs
Do Back-Of-Neck Tattoos Hurt?
Get ready to persevere the pain of having these tattoos. The back of your neck and spine are very sensitive areas. Also, the bones around this place have less fat to ease the pain.
Do Back Neck Tattoos Take Long to Heal?
How long the tattoo will take to heal varies with your skin's outer layer. However, expect the ink on your skin to heal within two to three weeks. Your design will also affect how long it will take to heal.
How Can One Protect These Tattoos?
Your back of the neck tattoo needs a strict healing routine to ensure everything is well. When it's new, keep it away from direct sunlight and wash the place using warm water and some soap. It's because your neck is always in motion and needs much moisture.