Did you know that crown tattoos will make you look stylish and give you many design choices as a lady? You'll have the freedom to ink it on any part of your body because they are versatile.
The meanings of various crown tattoo designs will depend on your interests. Our list of best crown tattoo designs will help you choose your favorite. But before that, we'll start with what a crown tat for a girl means.
Crown Tattoo for Girls Meaning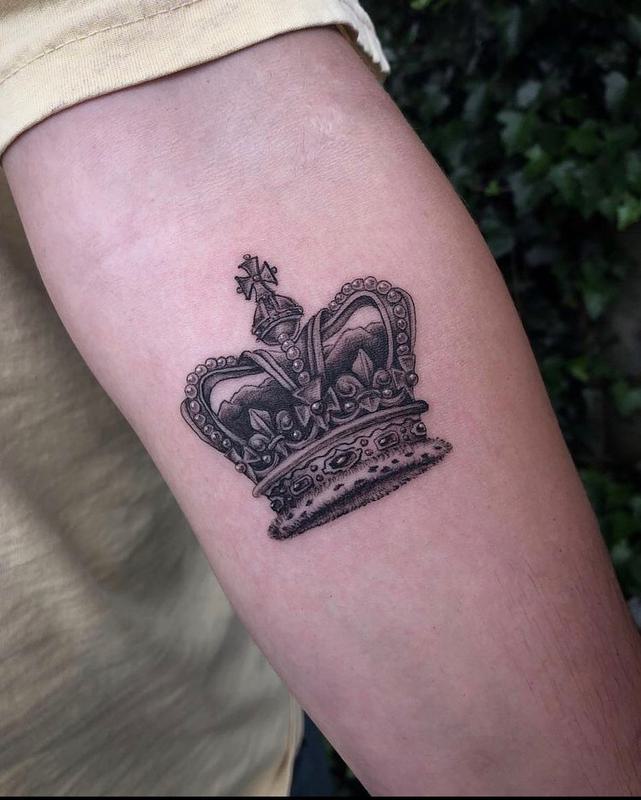 As a lady, getting any crown tattoo is an excellent choice because of the deep meaning it carries. The crown is an important symbol of power, richness, and wealth.
Also, the meanings vary with the type of crown tattoo you pick. You may have it with a rose flower, roman numerals, watercolors, or a name. These styles show a specific message behind that beautiful crown tattoo ink on your skin.
Best Crown Tattoos for Women and Girls
Today, you'll get various crown tattoo ideas to make you the most beautiful and unique lady in the room. You can pick a black or colored, bold, light, or simple design to suit your heart. So, if you feel like a queen, here are the crown tattoo designs for girls that will make you look outstanding.
Crown Tattoo with Name
Do you have anyone special in life that you wouldn't want to forget? It can be your best friend, lover, or family member. Then it would help if you considered this tat as your next design. You can ink the person's name below the crown using deep blank ink and attractive font.
Also, you can have this design and embed your name below it. Such a style makes you stand out and gives you much confidence. Some people choose to write a person's name with a message and a small heart art on it.
The style makes the tat more symbolic. So, choose a name that brings you a unique and meaningful message.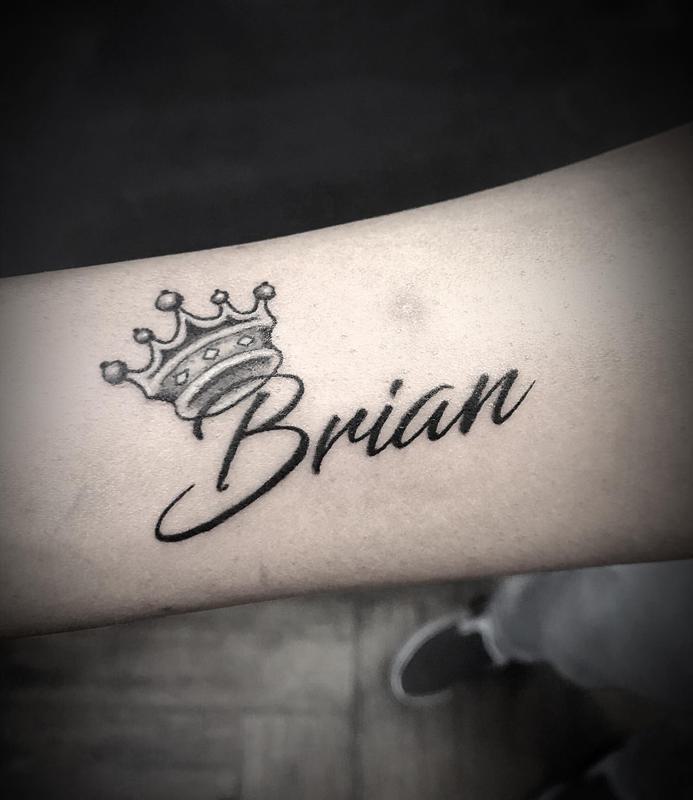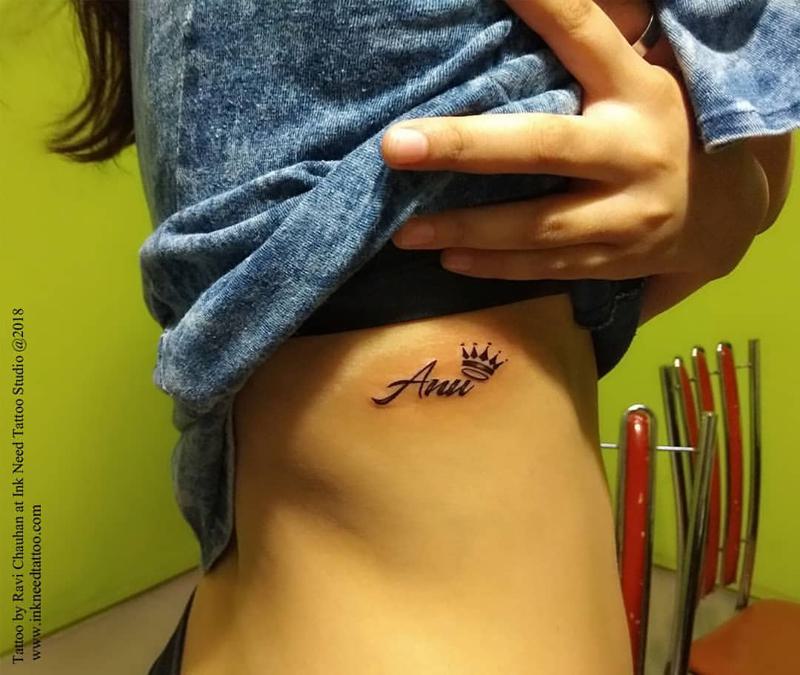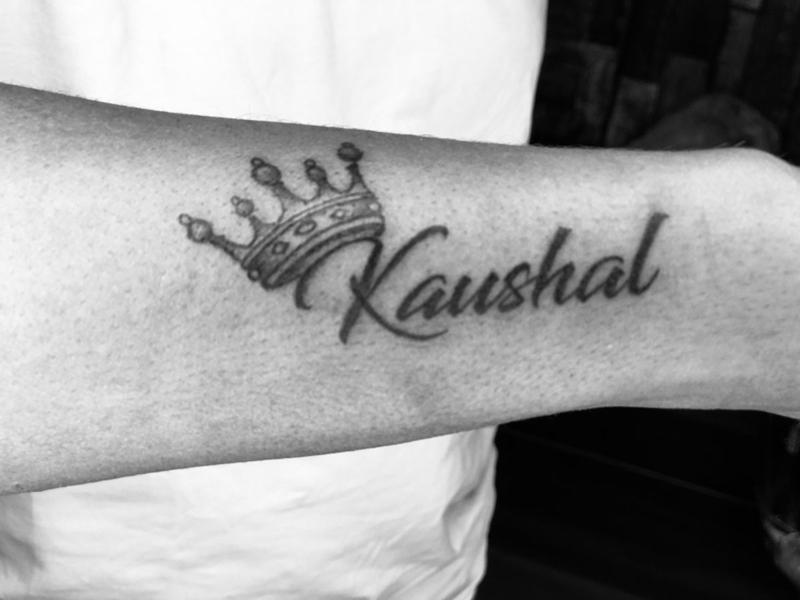 Crown Tattoo on Finger
This art suits you if you want a simple crown art with deep meaning. Today, most finger tattoos are a trending fashion, and most people love them.
It's a design that will make you draw much attention to see its beauty. Also, a crown tattoo on a finger will look amazing when in deep black ink. Still, you'll look beautiful when the tat matches your nails' colors.
Besides its beauty, you may have to give the tat a retouch after a few years. The art's ink tends to fade fast because of much exposure to the environment as you use it every time. So, it will suit you if you don't mind going to the tattooist every time to make it shine again.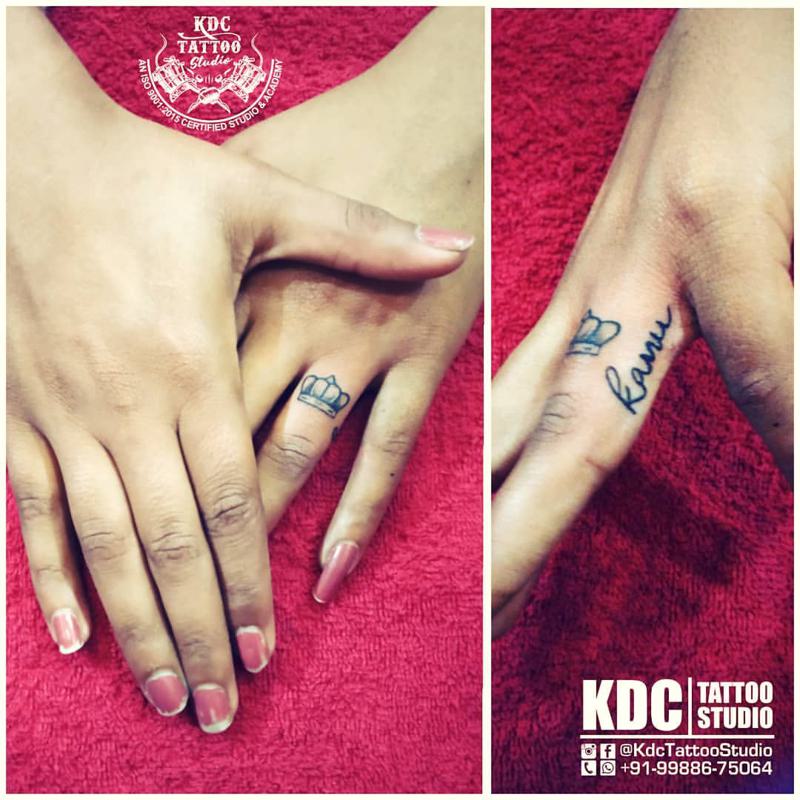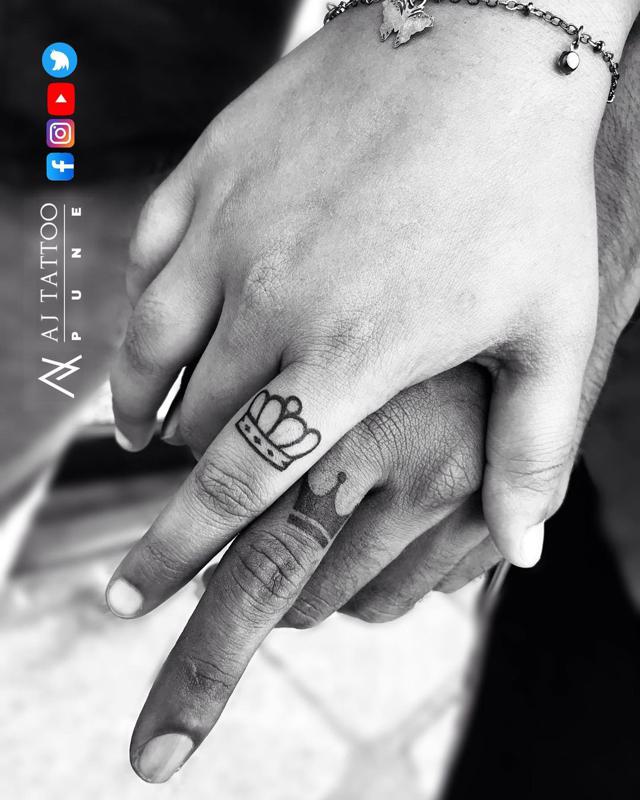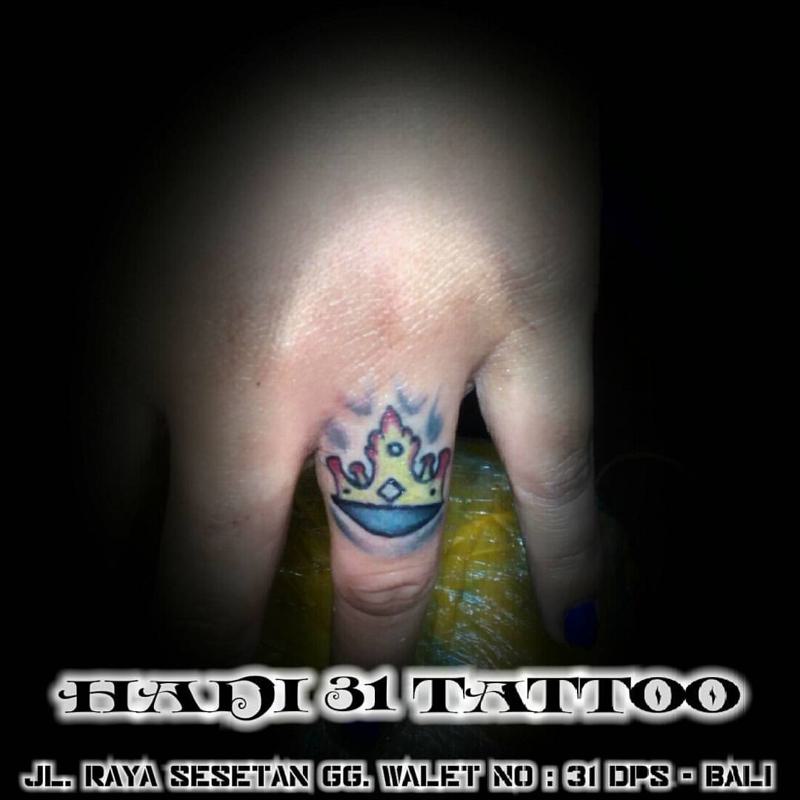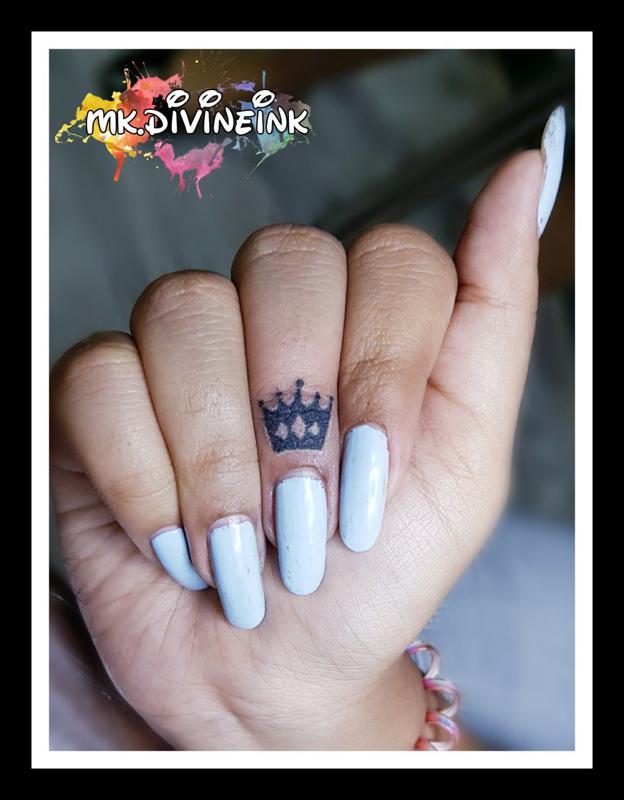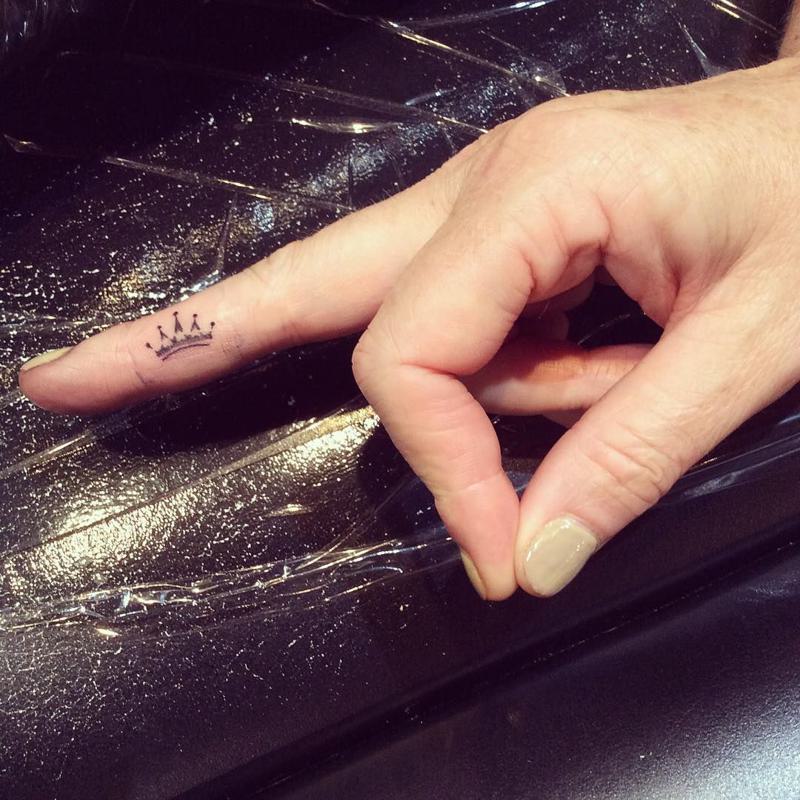 Women's Queen Crown Tattoo
The queen's crown brings out the tremendous feminine traits in you. Getting such a design shows you love royalty, victory, and nobility. So, when one sees you in any social function, the person will respect you because of the confidence the design gives you.
You can also get this art to honor the females in your life, like your mother, daughter, or wife. It brings out the gentle and tender care you have in your heart. This design will look amazing when you place it together with the king's crown design.
Ensure you ink it in a place where the world can see it. Women love beautiful attention, and this tattoo will give it to you.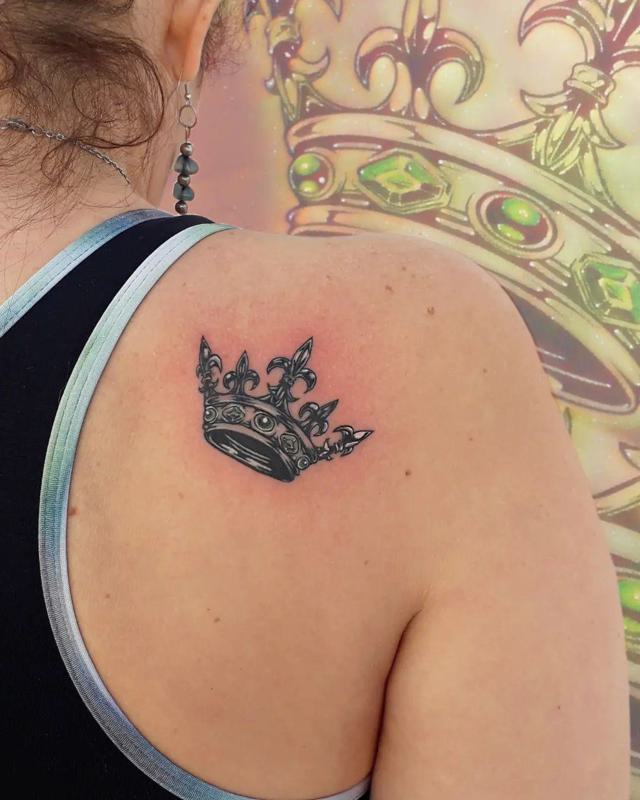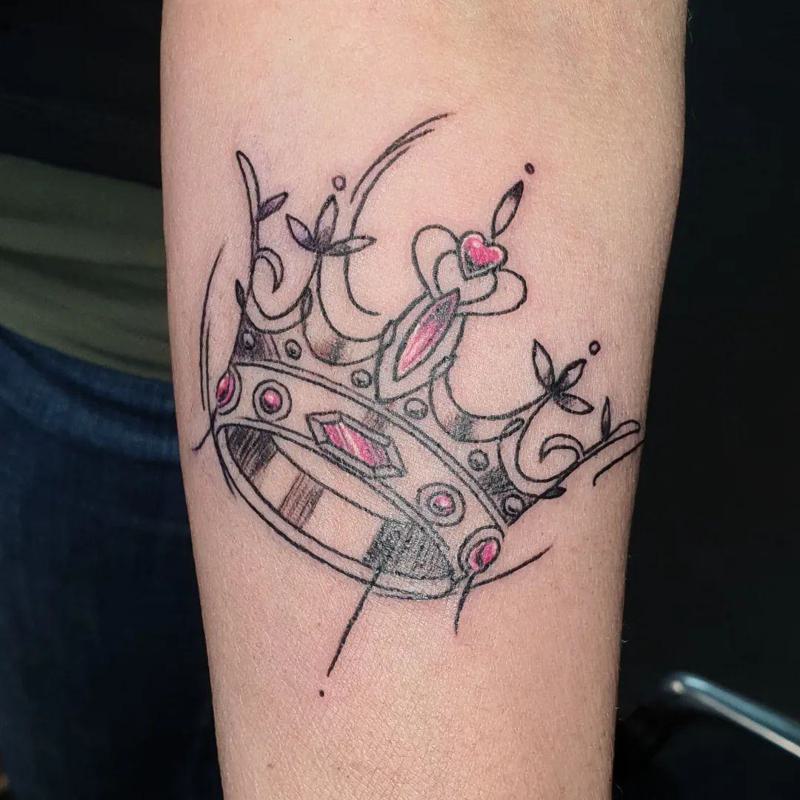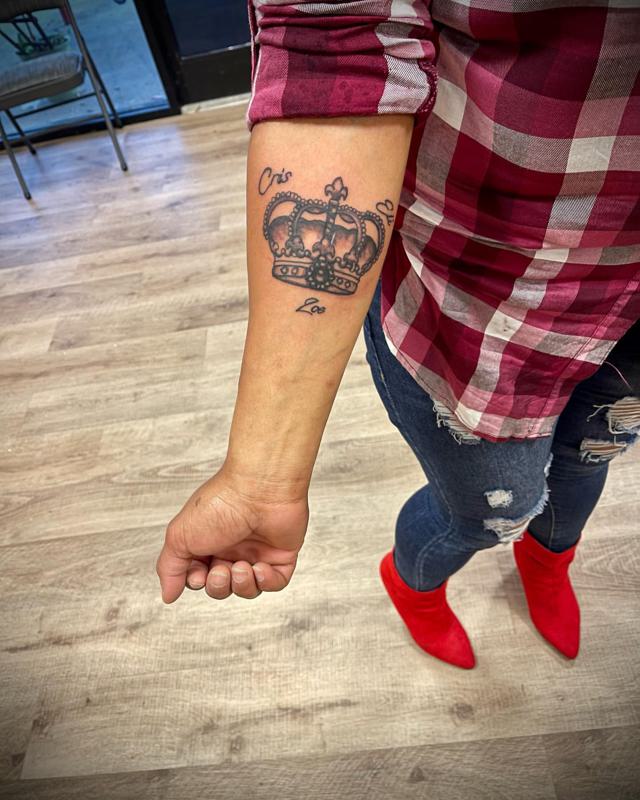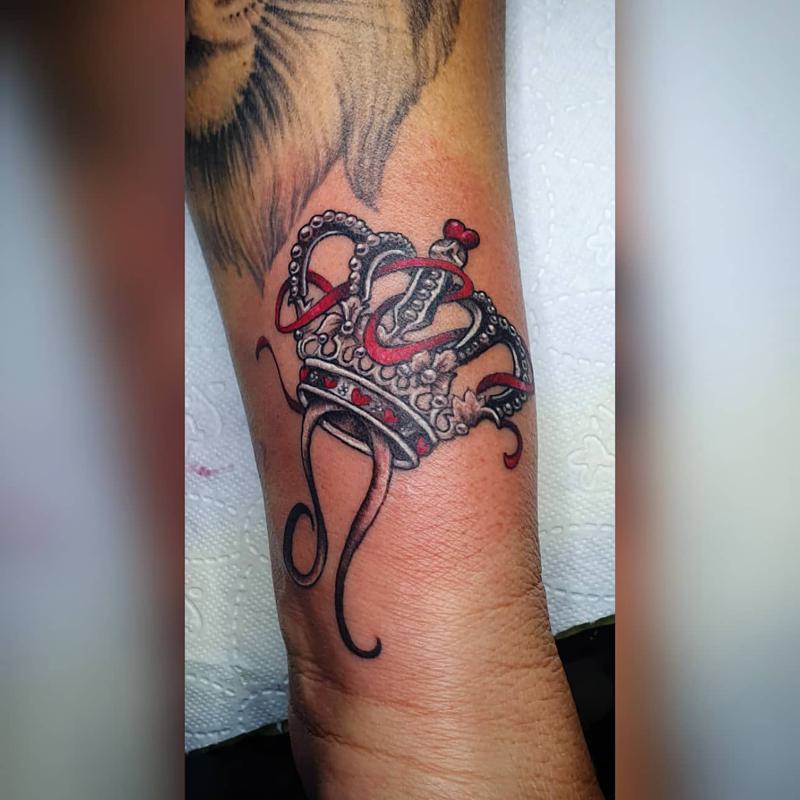 Crown with Roses Tattoo
A crown tattoo with a rose should be your next choice if you want bright, bold art with deep meaning. This blooming flower is quite common, but people love it for many reasons. Crown and roses bring out the best balance between joy and pain.
You can have the design only with deep blank ink or various bright colors. Red roses are the most famous and show your passion for meeting your life goals. The crown shows much power, control, and success. So, together, the two designs show a solid and positive focus you have in life.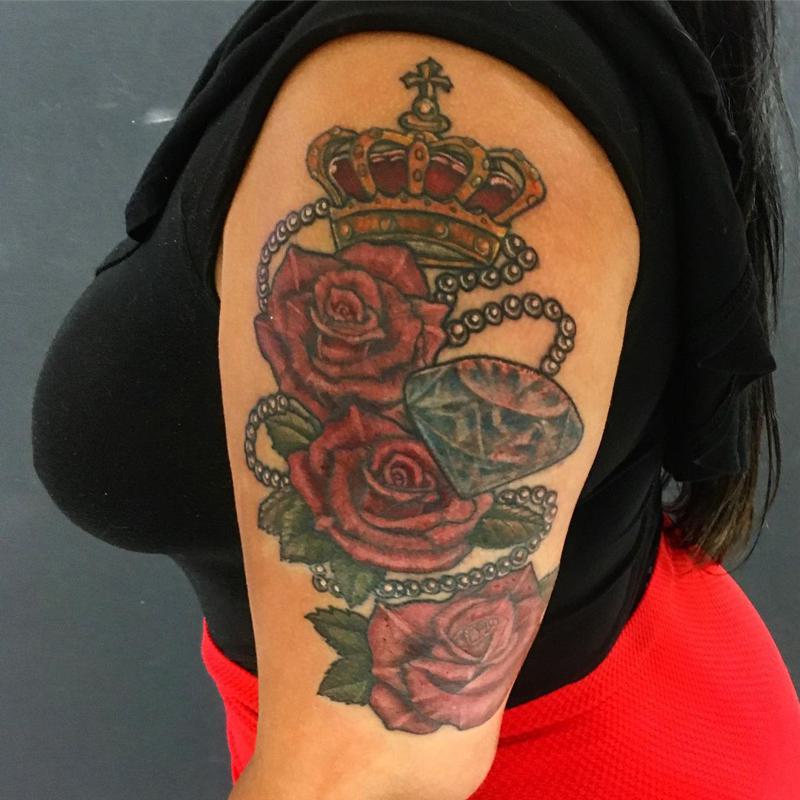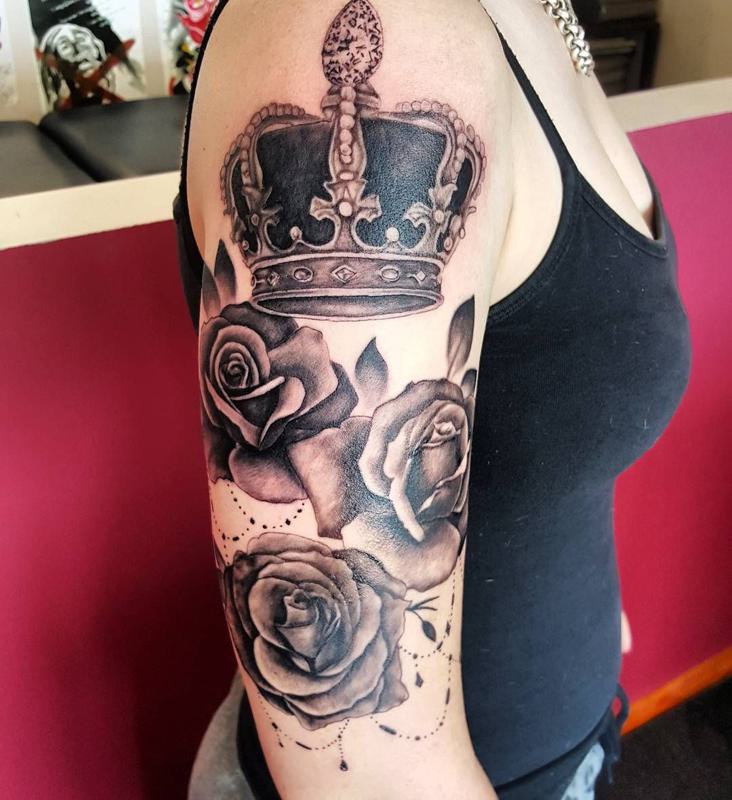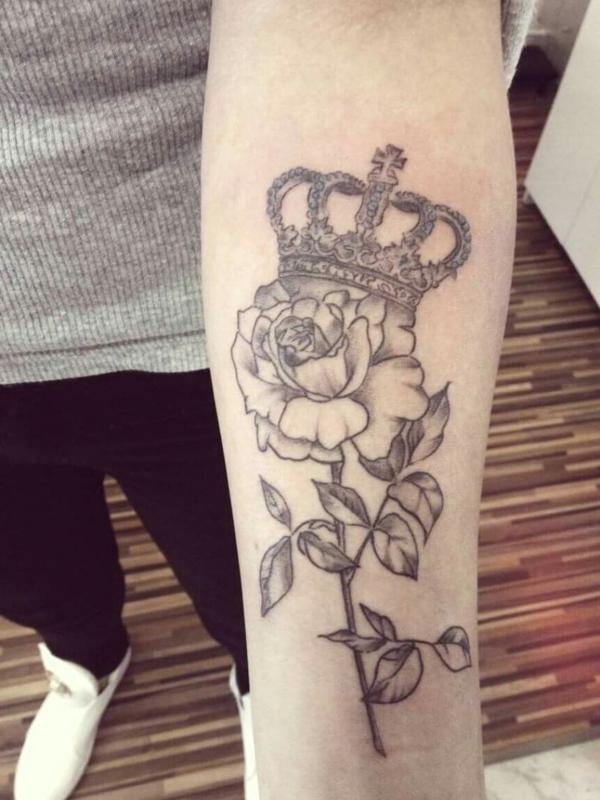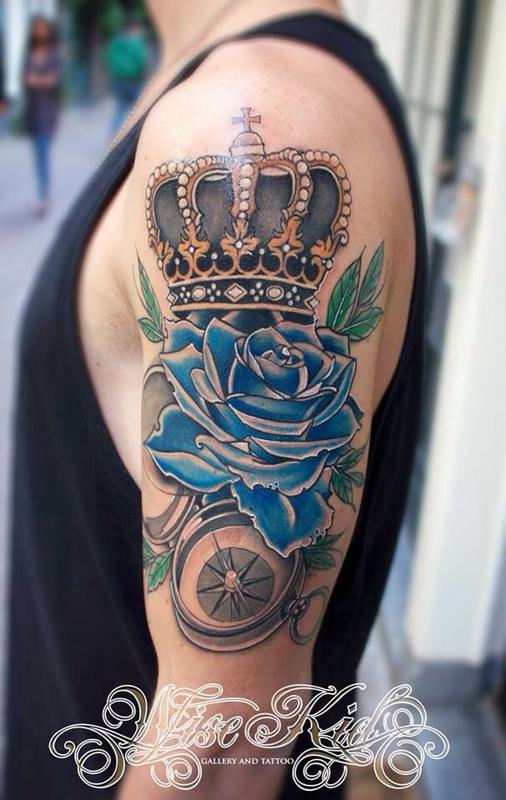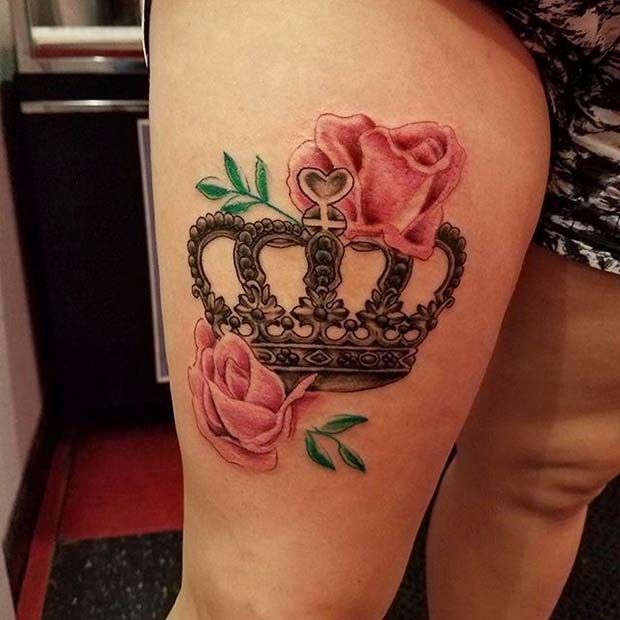 Simple Crown Tattoo
Do you think that bigger tattoos are always the best? If you think so, you might have to change your opinion. Small and simple crown tattoos are becoming a trend for women and men. So, if you love to keep it easy, this should be a fantastic choice for your next design.
Most simple tats are flexible because you can have them on any body part. The design will look great on your finger, toes, neck, or when you want to cover a scar on your body. Remember, the tat's shade should have a minimal shade and will work well with a deep blank ink.
Also, getting this style is less painful, takes a shorter time, and is cheaper. Such a design will never go out of fashion.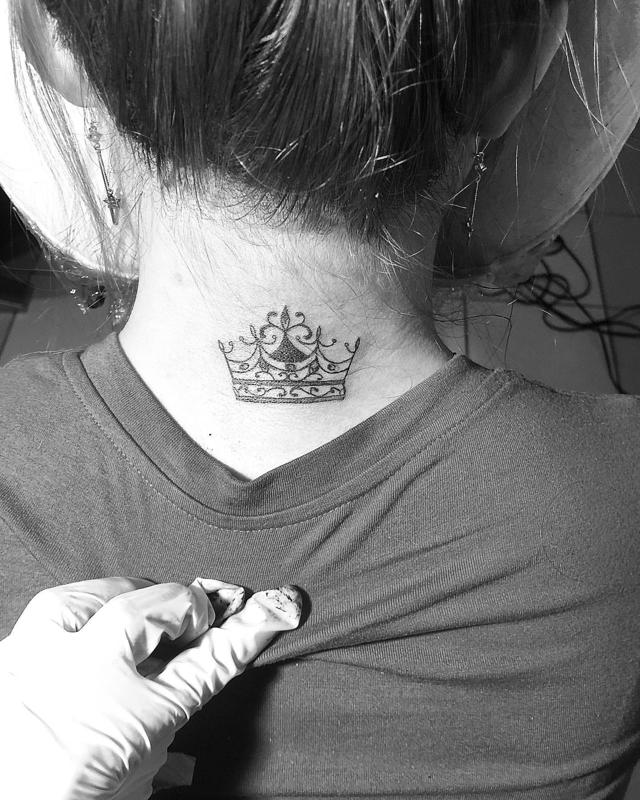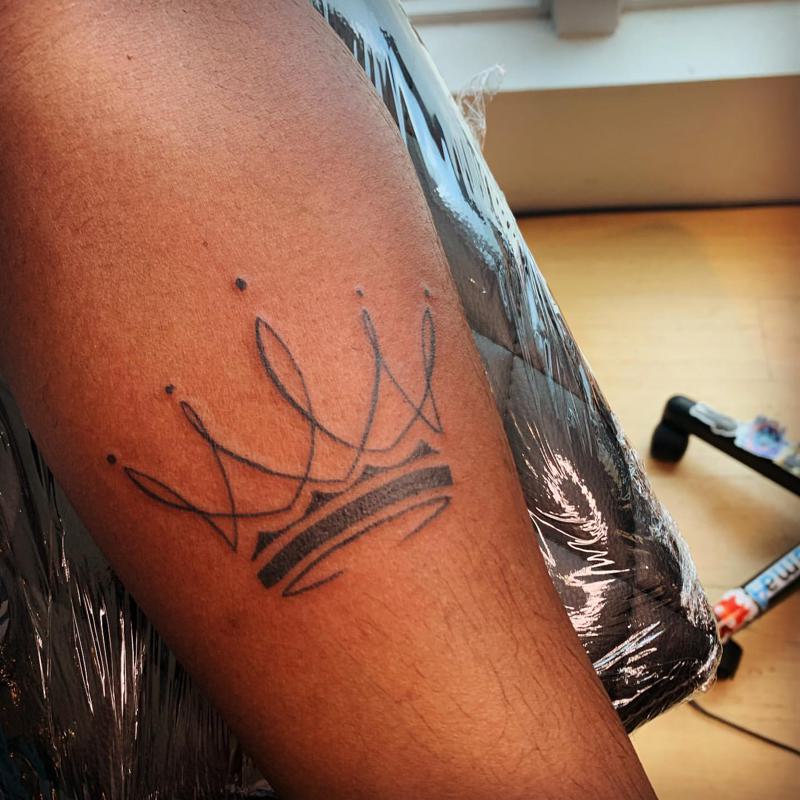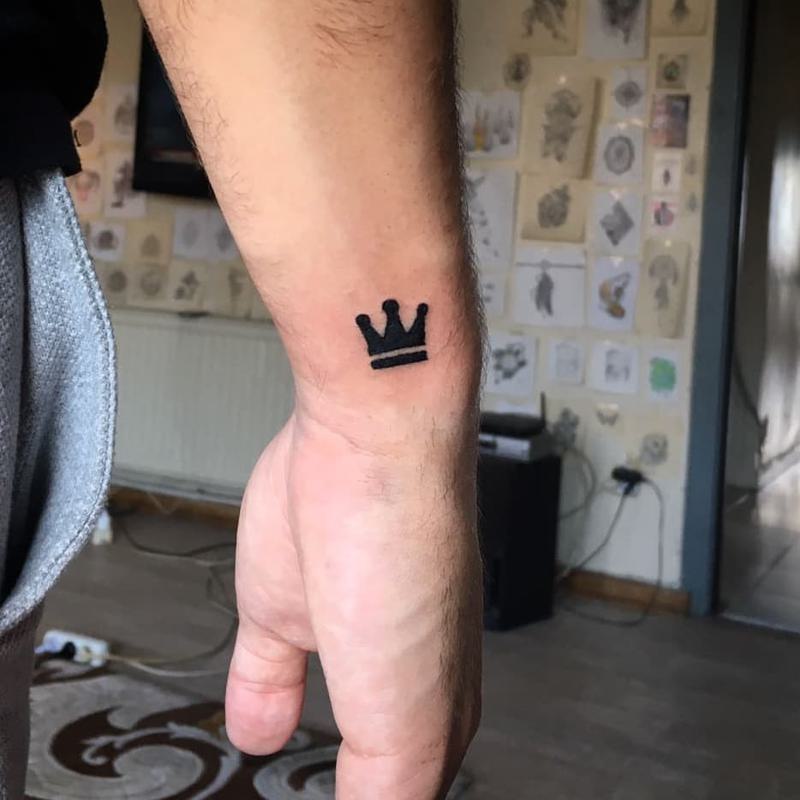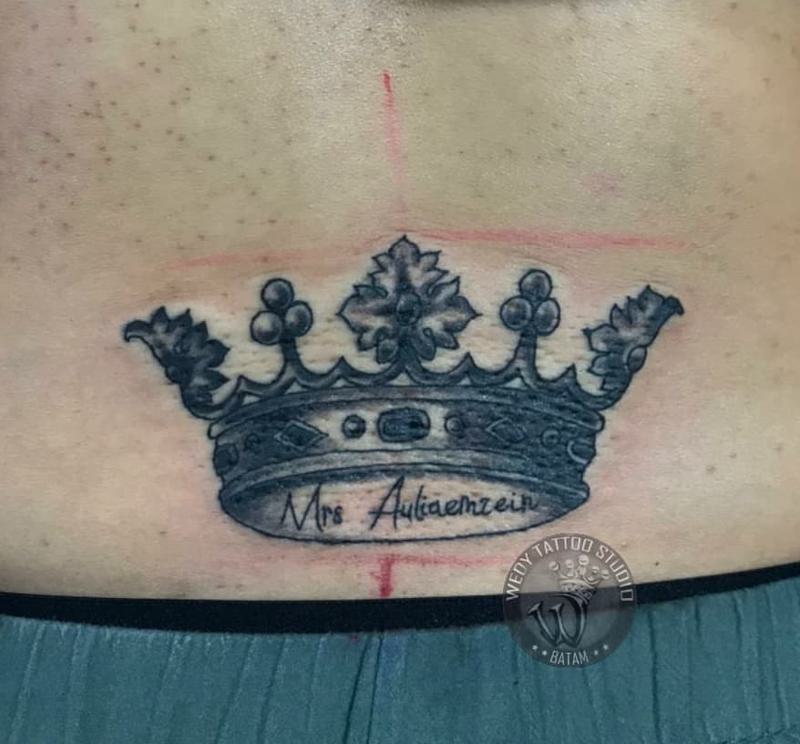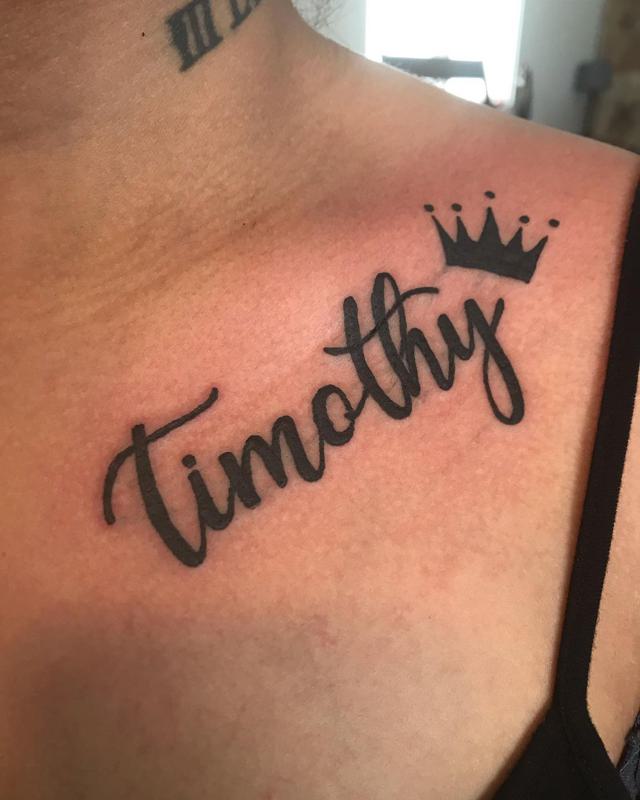 Crown Tattoo on Hand
Your hand is one of the favorite parts to ink your crown tattoo as a lady. It's a versatile spot to suit crown tattoos with different messages, colors, and sizes. Depending on where you'd love to have it, this tattoo helps you communicate a deep life message on the upper or lower arm.
Having this tattoo connects you with royalty and power. Also, it relates you with much wealth and success with everything you do with your hands.
The design can cover the whole arm, or you can have it simple and beautiful. Your tattooist should make it look bold to look unique to you.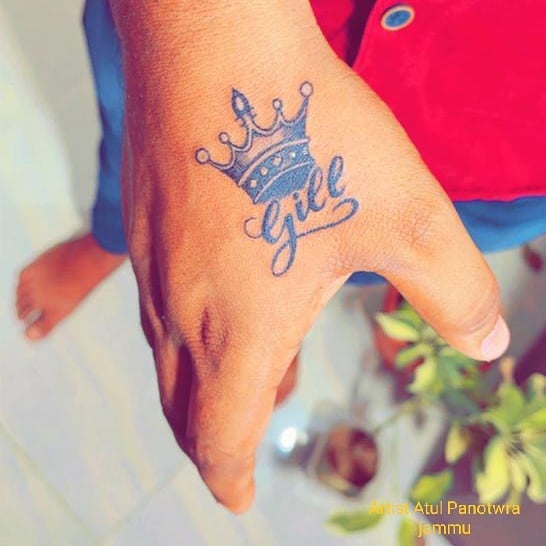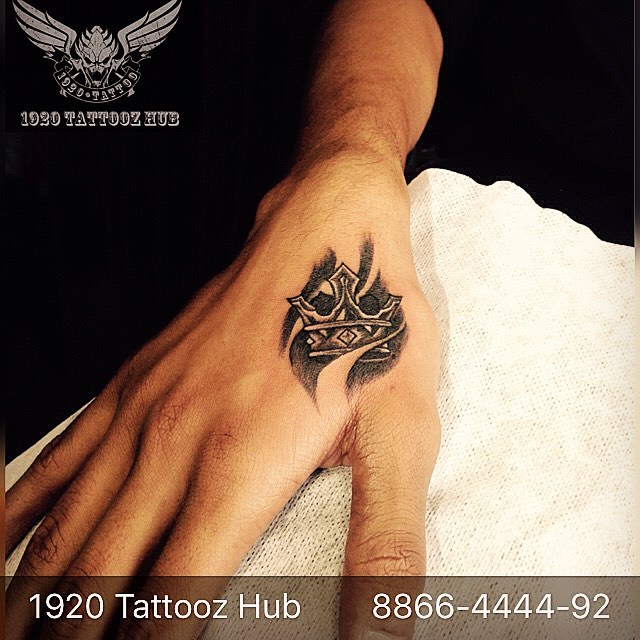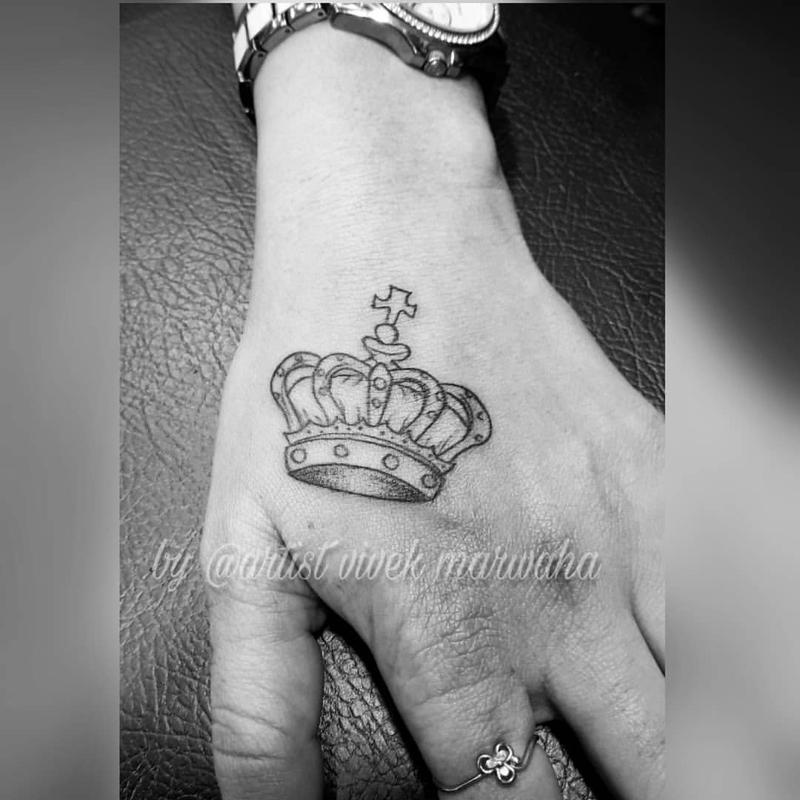 Leo Zodiac Crown Tattoo
If you love the Leo Zodiac symbol crown tattoo, it means you are a person full of royal traits. It's a tattoo that gives you much confidence to stand out. The art shows how you love people to notice your strength and celebrate you.
Also, the design shows you have the leadership skills in you as a leader. People with the Leo Zodiac crown tattoo love to create and inspire friendships. You can make it crisp when the Zodiac sign has a deep black color.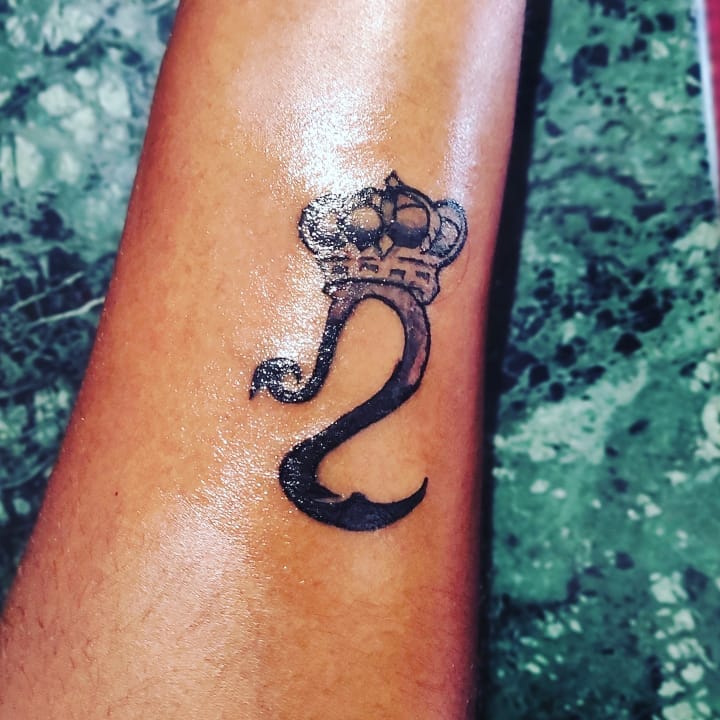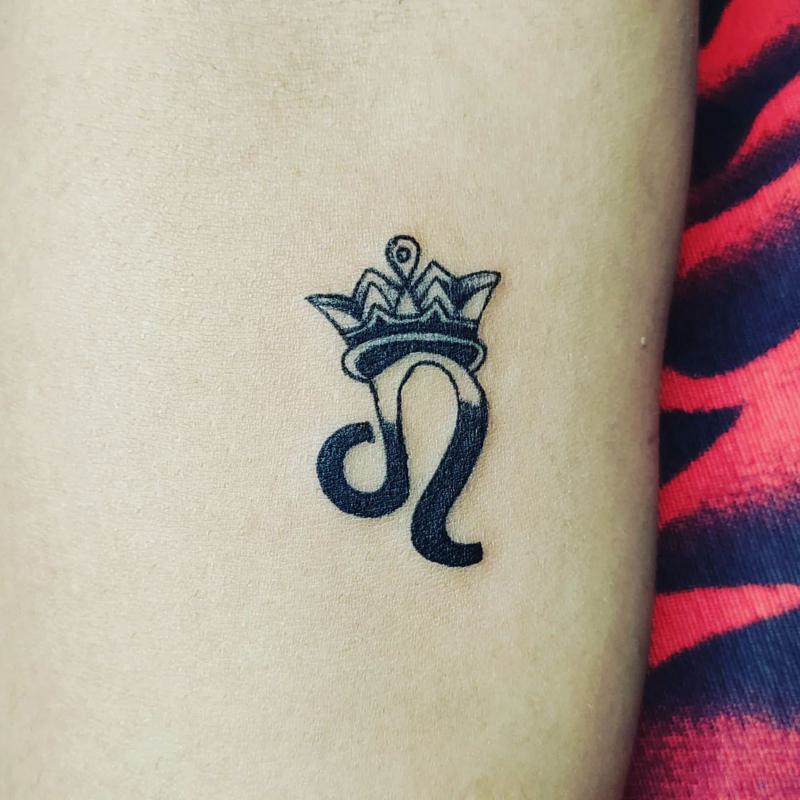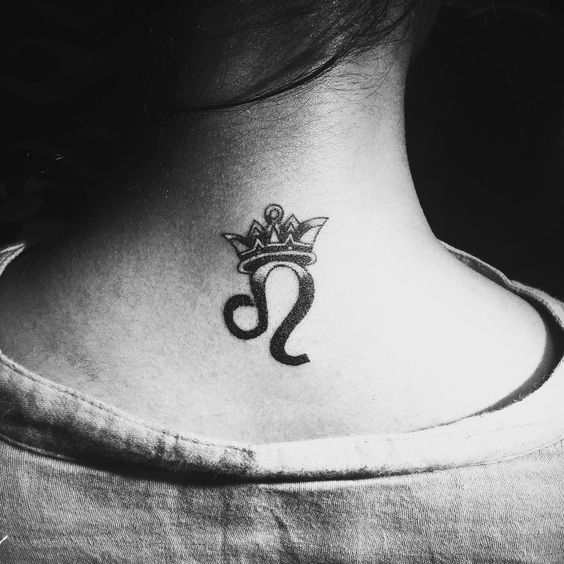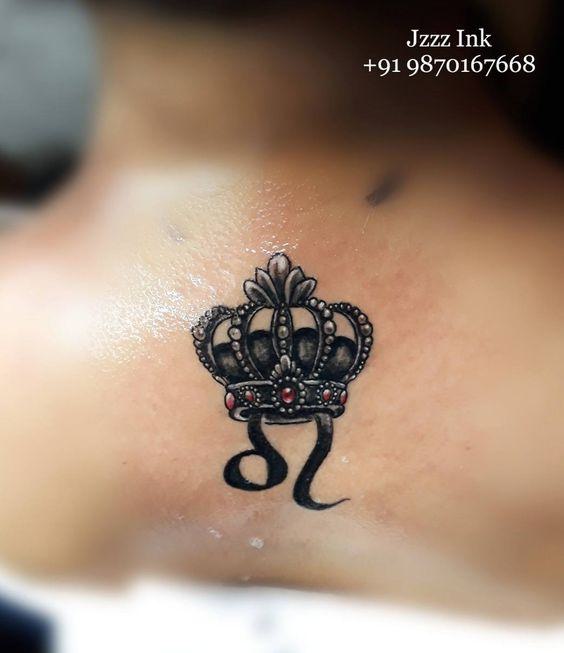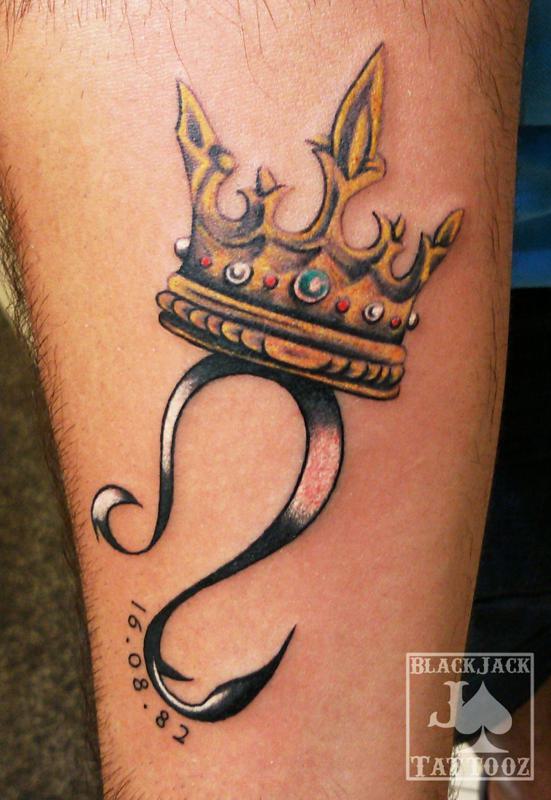 Watercolor Crown Tattoo
Who wouldn't love to have a beautiful mix of various colors as ink on their body? Unlike men, women love delicate and colorful art around them. You can have the watercolor tattoo in bold, vibrant, or light colors.
The design can look great with a perfect mix of rainbow colors or blue, purple, and pink colors. It's a fun art that allows you to recreate it using various shades. Also, you can ink the crown alone or with other items like flowers to make it look attractive.
These colors here may have a deep meaning that relates to you or may only be for making you look beautiful. Another pro about the art is that you can ink on any body part, but it's best to show it off to the world.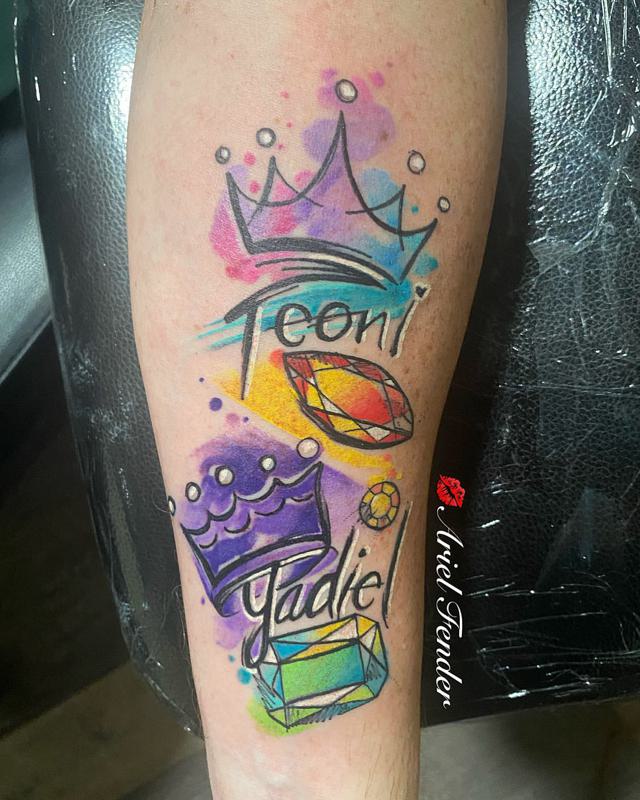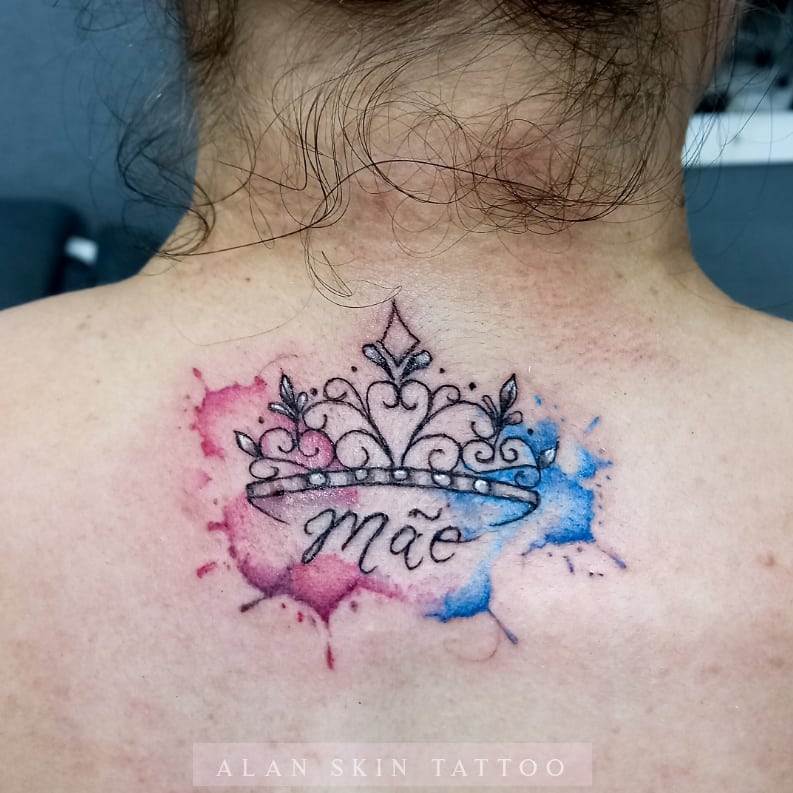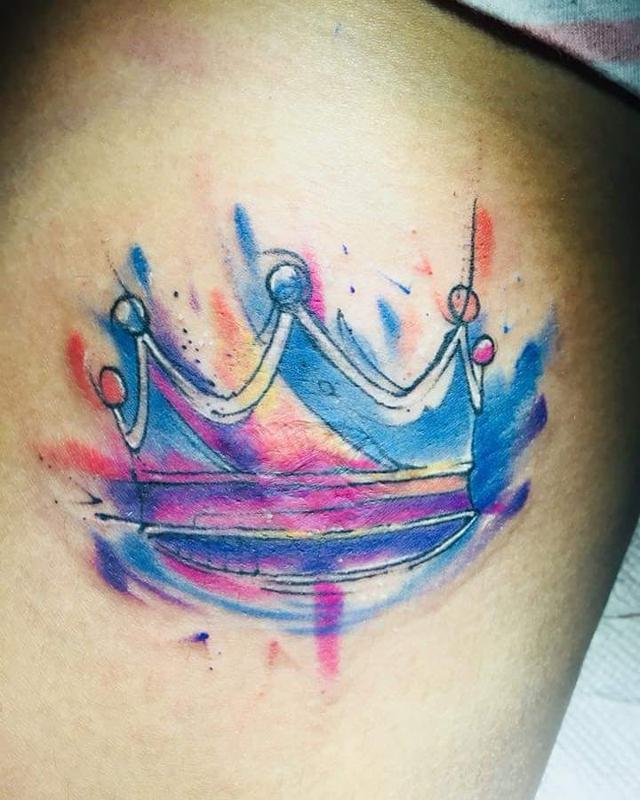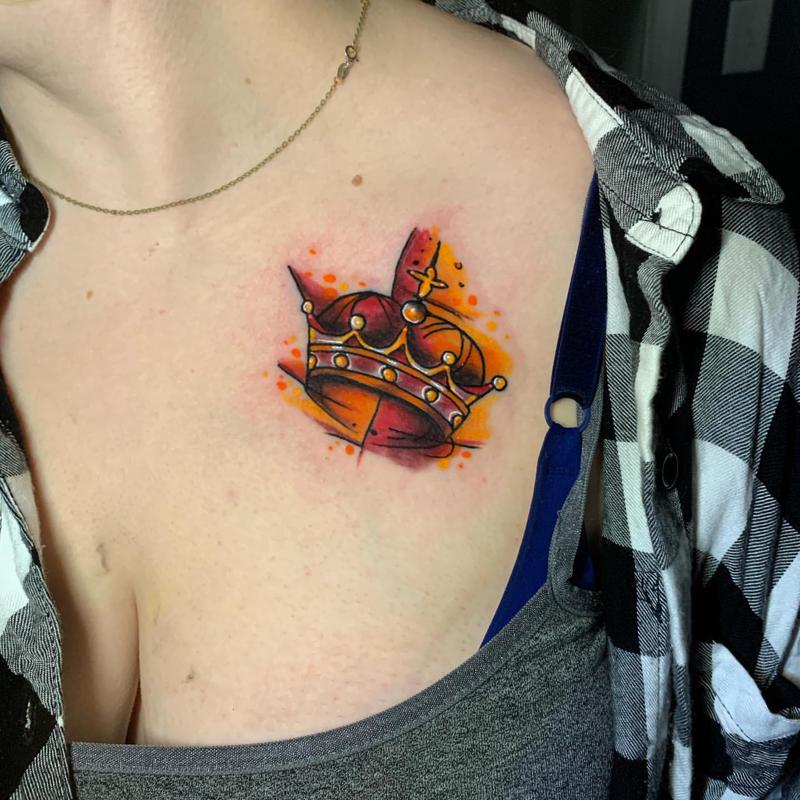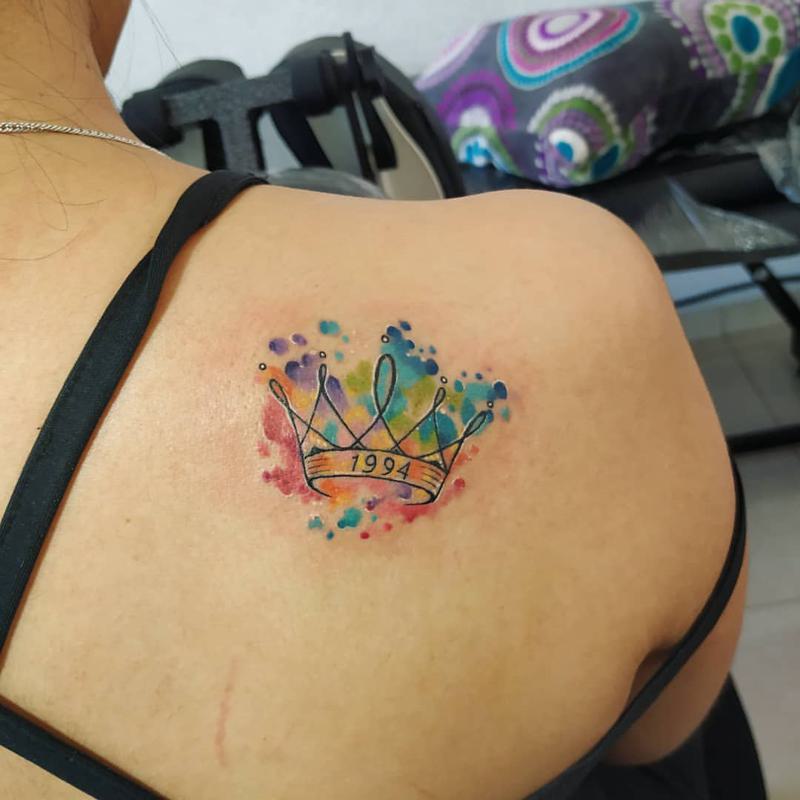 Back Crown Tattoo
The back crown tattoo will be the best art during fashion events, swimming, and at the beach. Such tattoos carry a bold meaning and are ever beautiful. It's also a versatile design, so you can ink it using different styles, but having the crown with a floral touch will be the best.
Also, you can have it in blank ink or other attractive colors to make you look cute. This tattoo is becoming a trend, and soon many people because of the freedom it gives you to make you beautiful. Back crown tattoos go well with dresses that show off your back, especially during summer.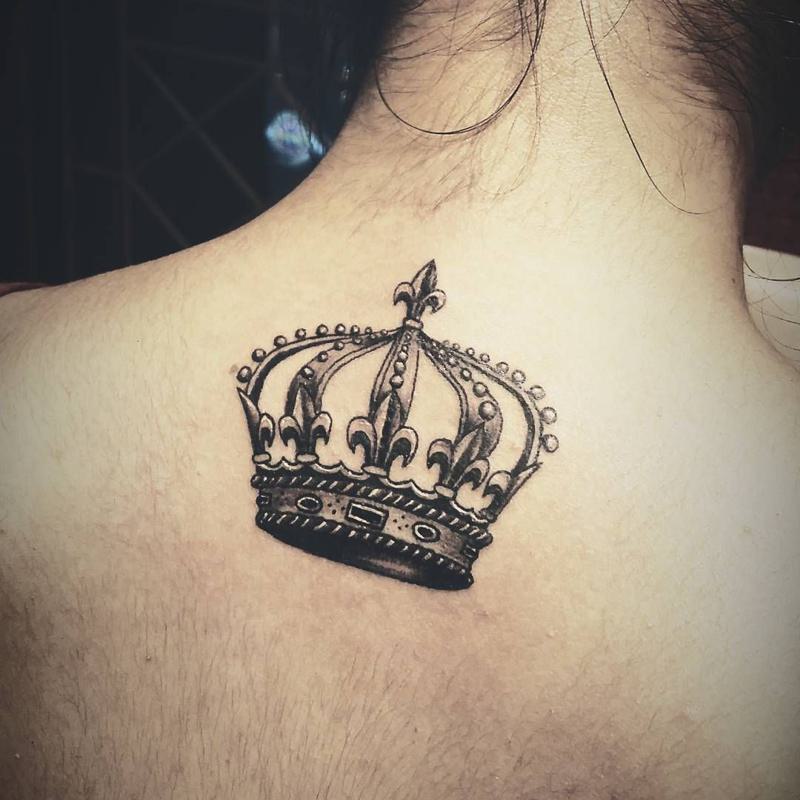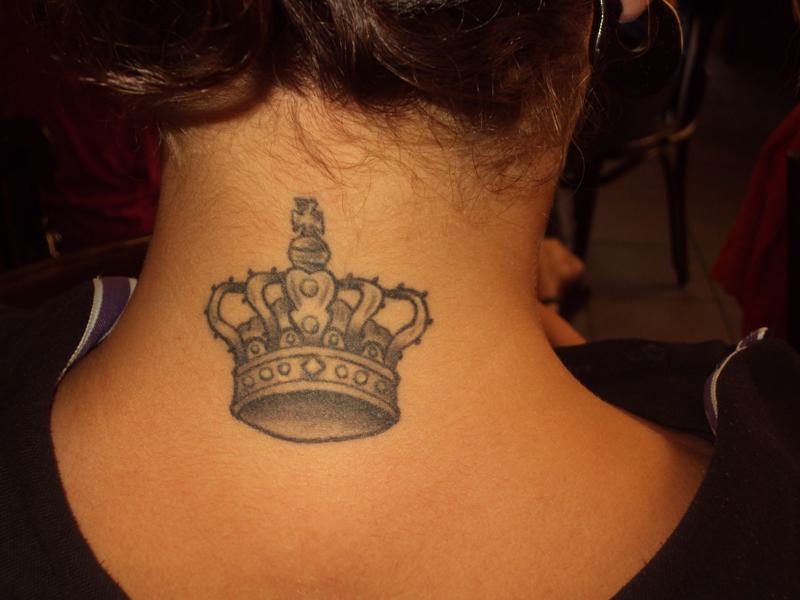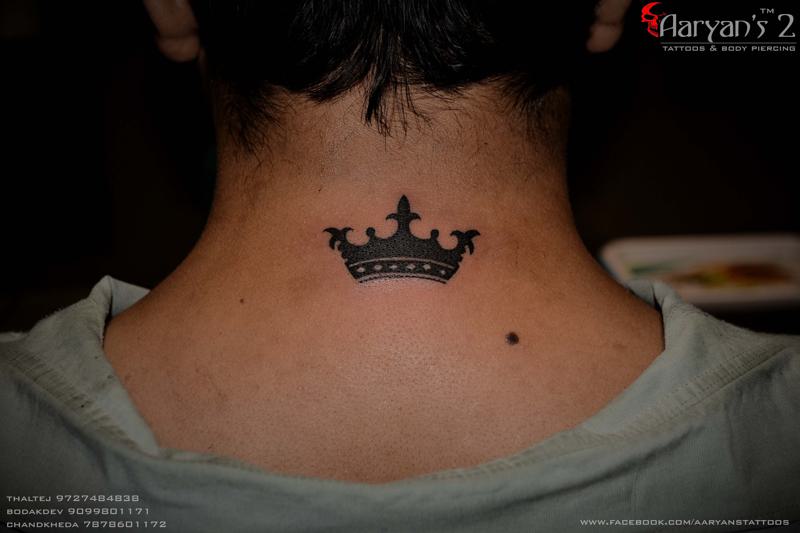 Crown Tattoo Shoulder
Any crown tattoo on your shoulder allows you to show it off, and you can cover it anytime. The tattoo will speak out loud the message behind it and gives you much flexibility. If you are a lady that works at a corporate place and want to keep your tat off the public, then use this design.
Long ago, the sailors used this art to show off the art of their arms. Today, it's a trending design that suits many women and men. Remember, since your shoulder has few nerve endings, getting a crown tattoo on it will be much less painful. Depending on your interests, you can have it using any color and size.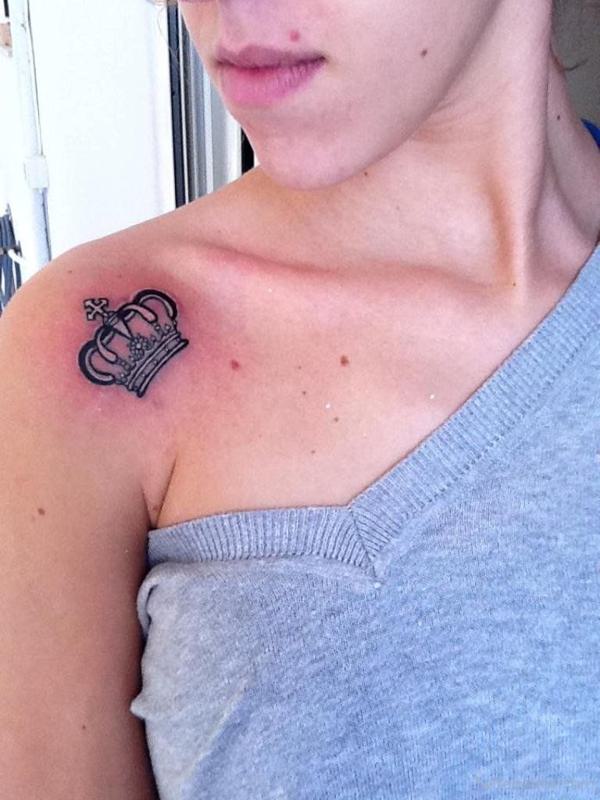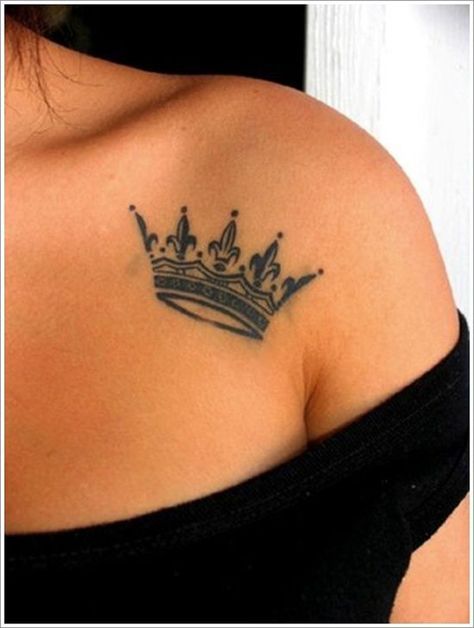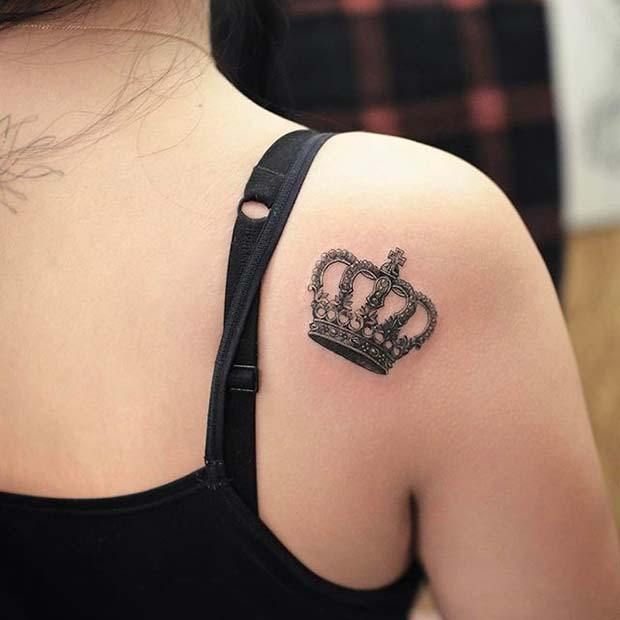 Roman Numerical Crown Tattoo
If you love the unique design of the crown tattoo, this style is your best suit. Your crown can be in various designs and colors to suit your interests.
Here, the numbers are a great way to honor the dates of the best life events. It can be your birthday, wedding day, or even the day you got your first pay. Also, the tat may carry your life's lucky number.
Such designs are pretty personal, and most people don't prefer to show them off to the world. You can ink the numerals in different fonts to make them prettier. This tat can look great on any body part and in various sizes. So, the freedom to look amazing with it is in your hands.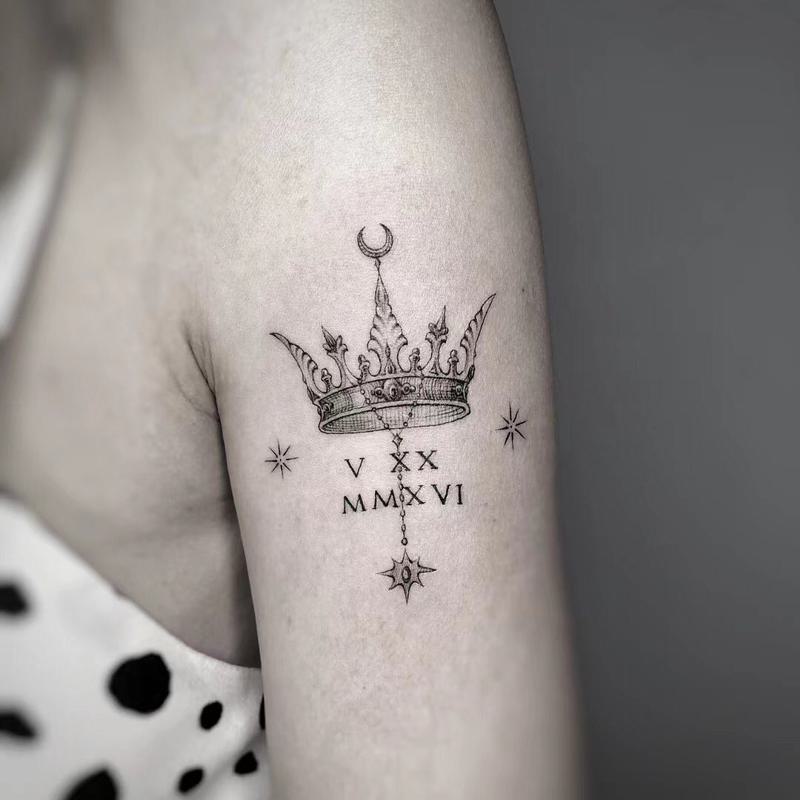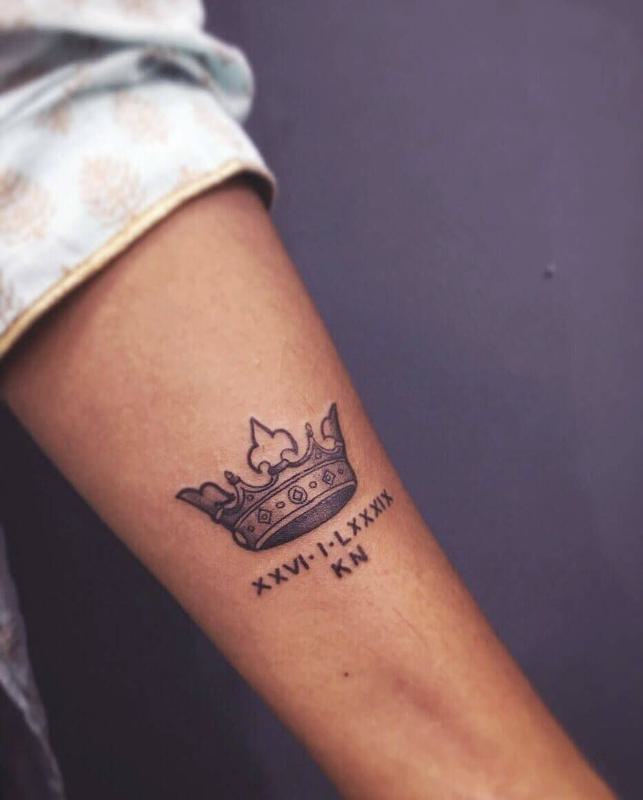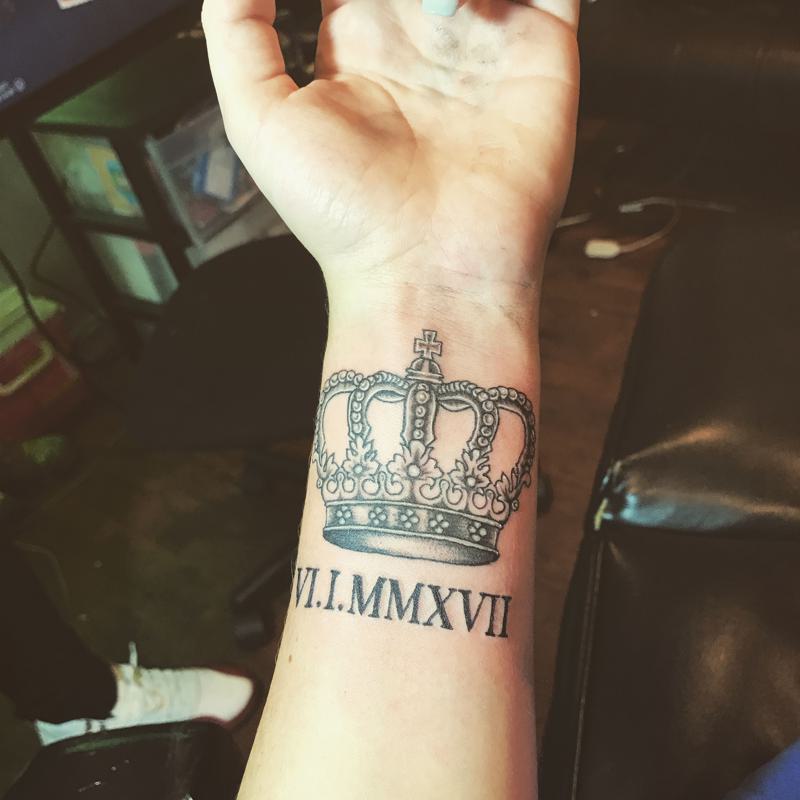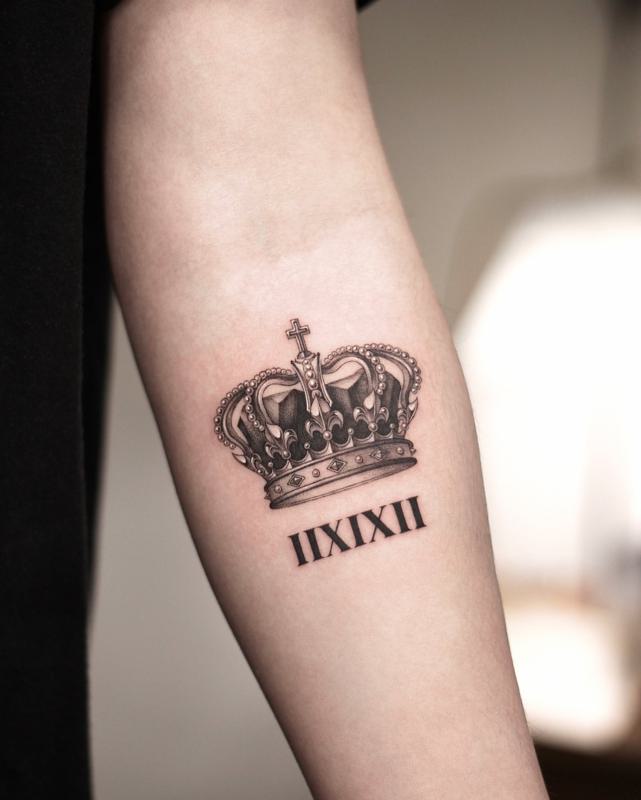 Initial Crown Tattoo
The initial crown tattoo will also be the best when you want a small but detailed design. It comes with a crown and a font or fonts to represent a specific label. You can use the letter to denote someone or something special in life. It can be your family member, role model, or lover.
Remember to use deep blank ink to make the letter stand below the crown. The crown can either be black or have a mix of various colors to make it beautiful. It's a tattoo that will look great on any body part. So, it gives you the freedom to choose the best for you.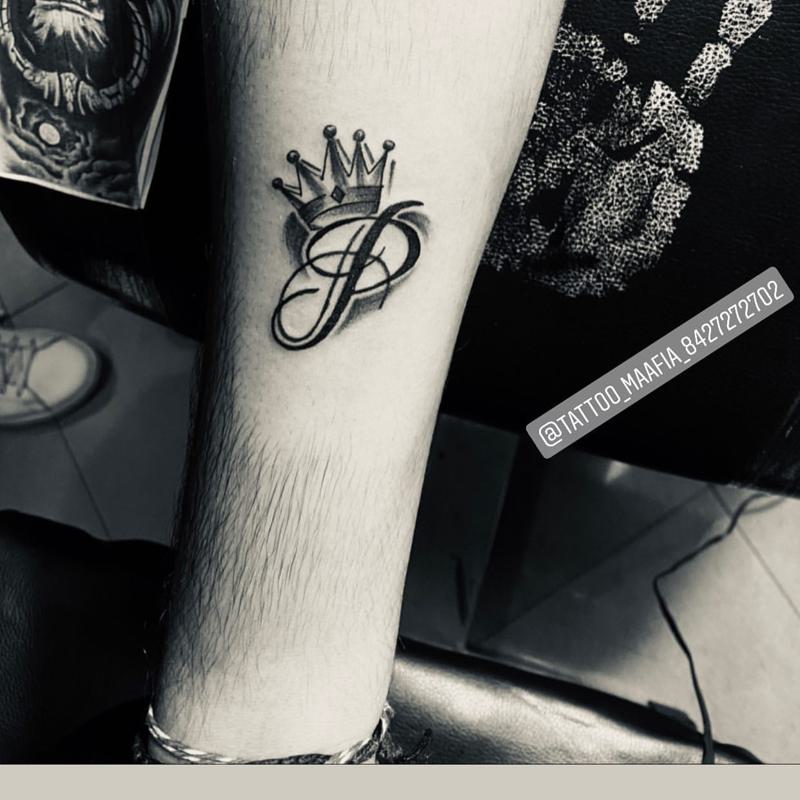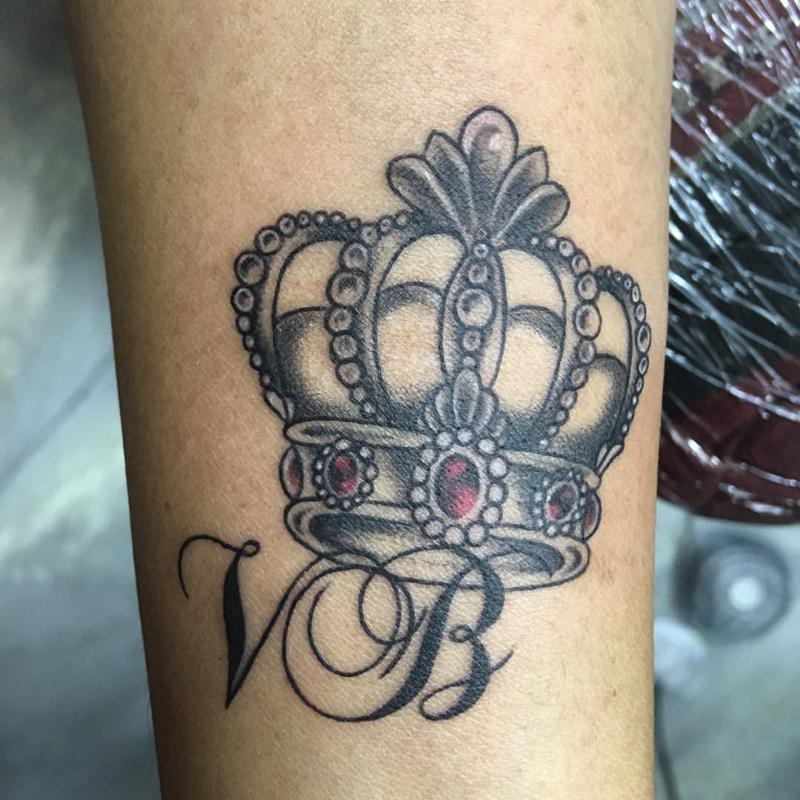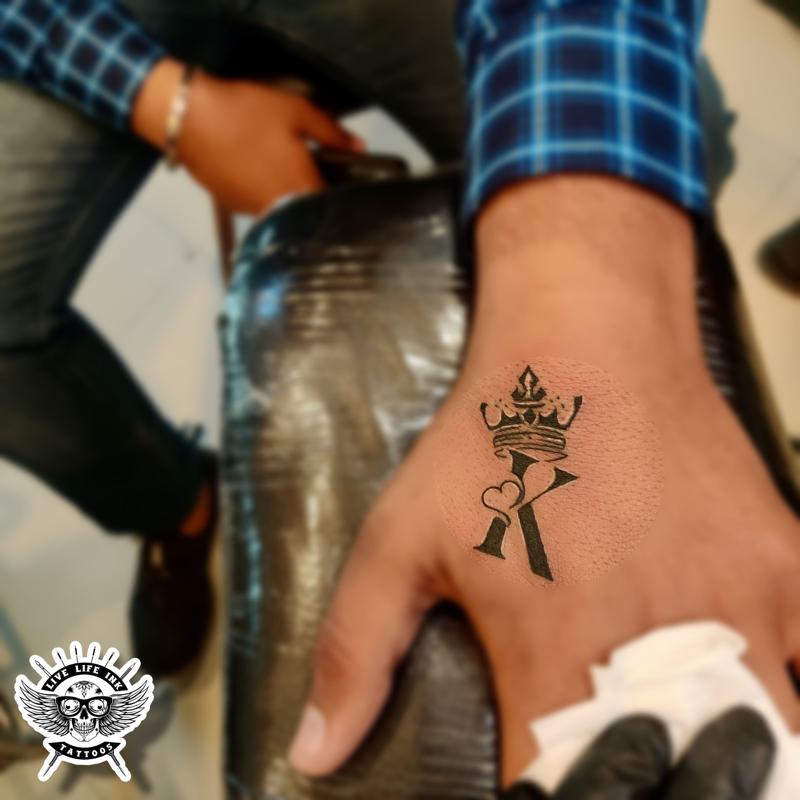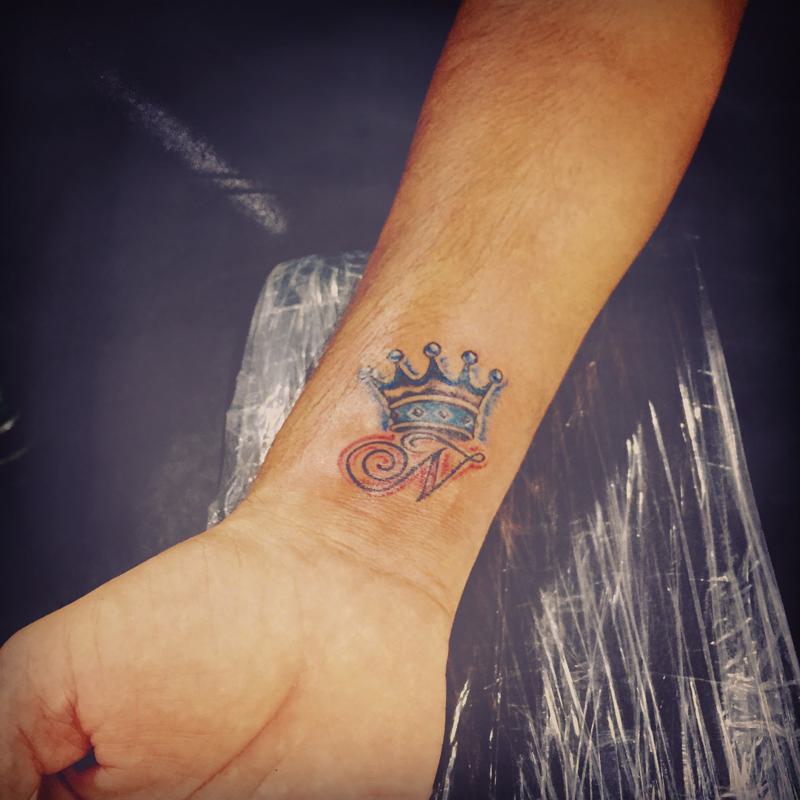 King Crown Tattoo
Though this tattoo looks masculine, any tough lady can rock this art. In the monarchy, glorious and powerful people wear the king's crown. Such qualities appeal to some women because it reminds them of their strength and will to achieve more.
Depending on your interests, you'll get many styles and options for getting inked. Here, the creativity lies in your hands. You can get this design to remind you about your man. Such a design comes with the man's name below the crown. Also, this art should be on your body part that will give you confidence, like your lower arm, neck, or the upper part of your back.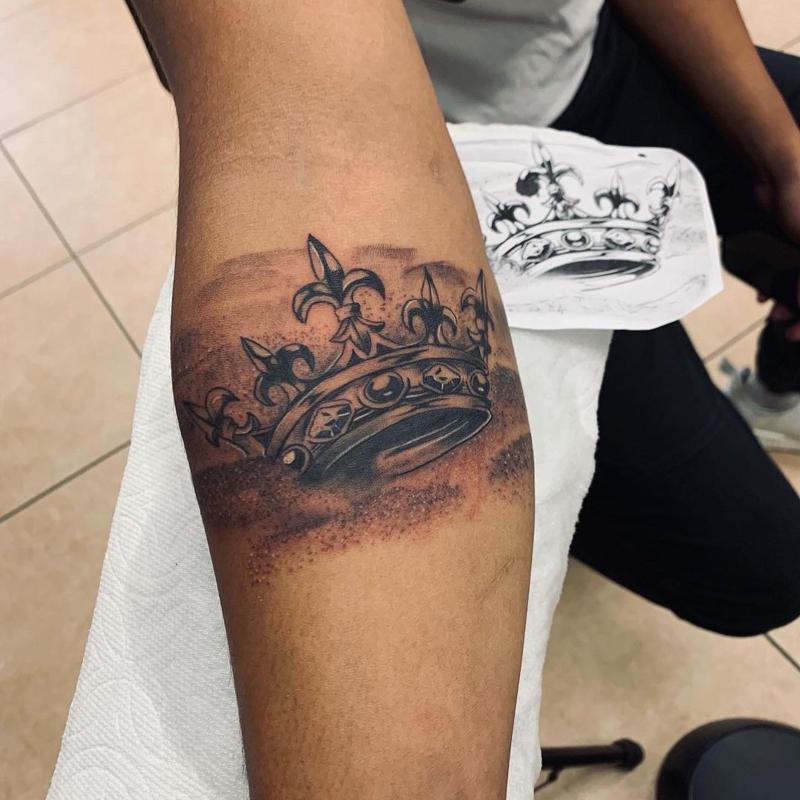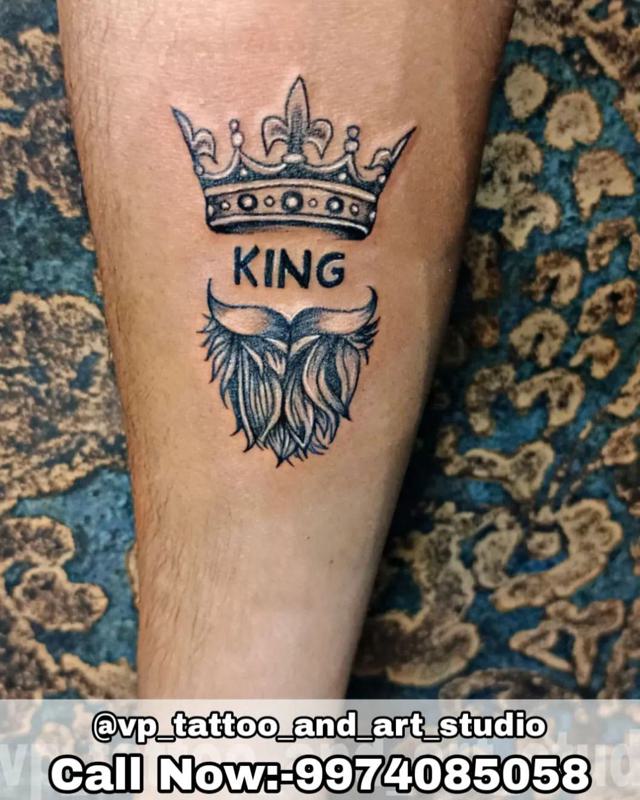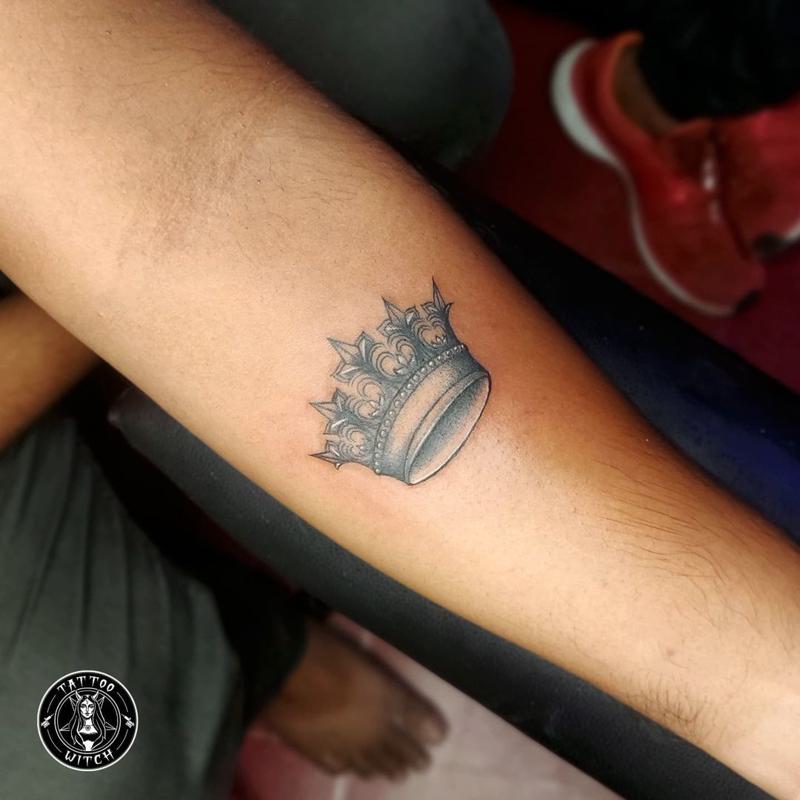 Also Read: Meaningful Shoulder Tattoos for Women
FAQs
What's the meaning of a three-point crown?
It's a crown linked to the artist Jean-Michael Basquiat and his fantastic artwork. It would help if you didn't confuse it with the five-point crown representing the Latin Kings.
Is a black crown tattoo the best design?
The black crow tattoo suits most designs but will depend on the message behind the art. It can match any other color.
Conclusion
Most women love to have tattoos that make them unique and beautiful. As a lady, any crown tattoo design will add extra beauty and uniqueness to you.
The designs in this article are trending in today's fashion world. Remember, each art deeply connects to some of your life events. For example, the Roman numeral crown tattoo can carry or show a date of something significant that happened in your life.
Among all these designs, which one do you think will make you as a woman stand out among the rest?