Do you ever think the bum is one of the most excellent places to ink your body? The goodness about it is that it's a versatile area, and you can cover the tattoo or show it off. Regardless of your bum's size, the tattoo here will provide enough space to ink various designs.
A tattoo on this body part is painless because it has much fat and muscle to take in pain. It will only be tough to heal since you can't air it every time.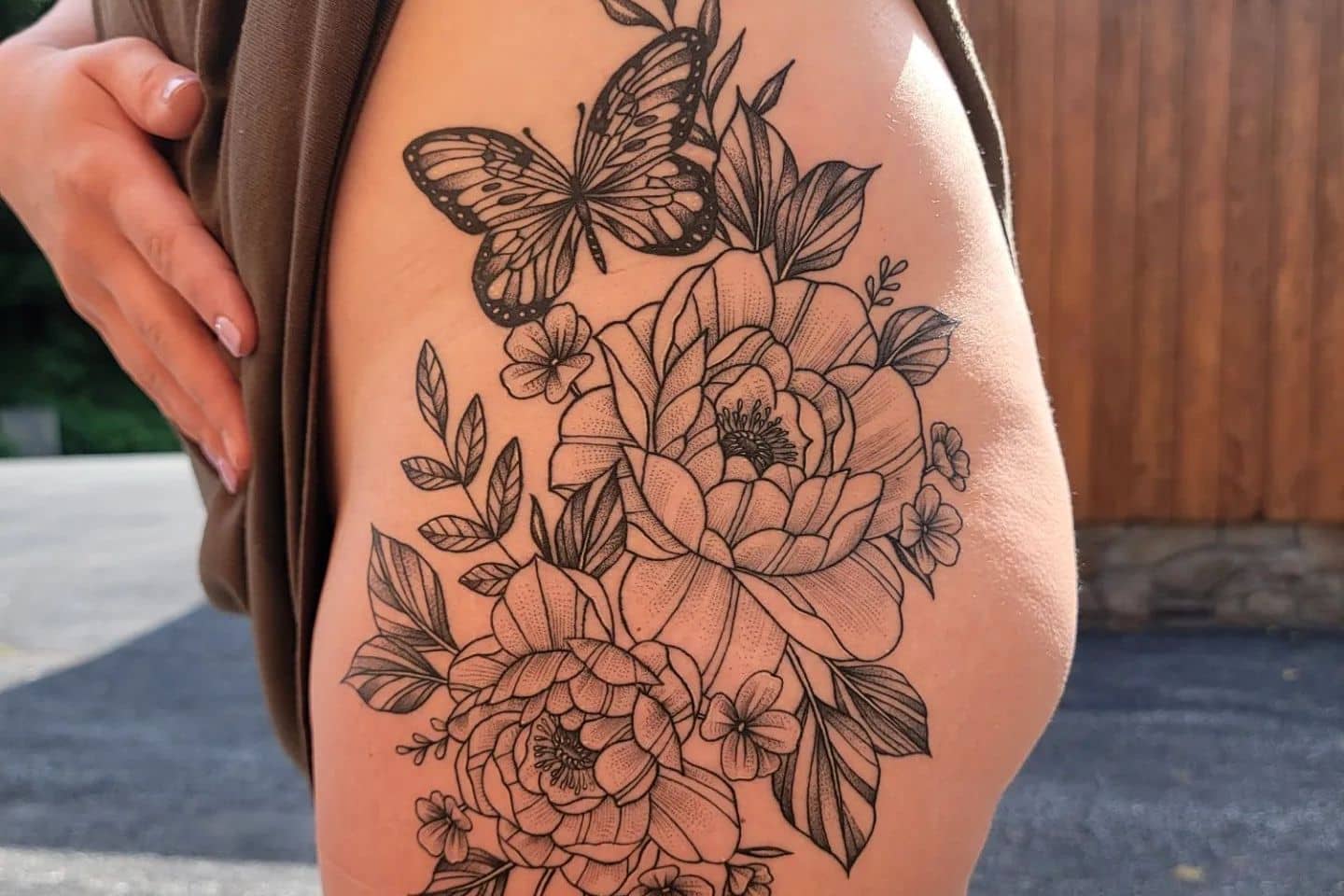 You can use your bum to show your feelings, keep memories and thoughts, or hide a secret. It's a fantastic way to show off your beautiful butt. So, get ready to see the best inspiration ideas for bum tattoos for your next art.
Bum Tattoo Ideas for Females
Rose Bum Tattoo
Women love the beauty of flowers on their bodies, but the rose flower is a trendy and famous design. Roses are stunning flowers that look amazing in any color, including plain black. Various rose flower colors carry different messages in your life.
For example, a black rose on your bum can remind you of your loss or grief of a loved one. The red and colorful rose shows your heart is full of passion. Having a rose tattoo with a mix of colors shows you have a perfect balance of your various life aspects, whether dangerous or outstanding.
You may love to add more art together with a rose flower on your bum. A rose flower with thorns reminds you to be cautious of any harm that some people you trust can bring you. Remember, roses can match many images, so trying them out will be great.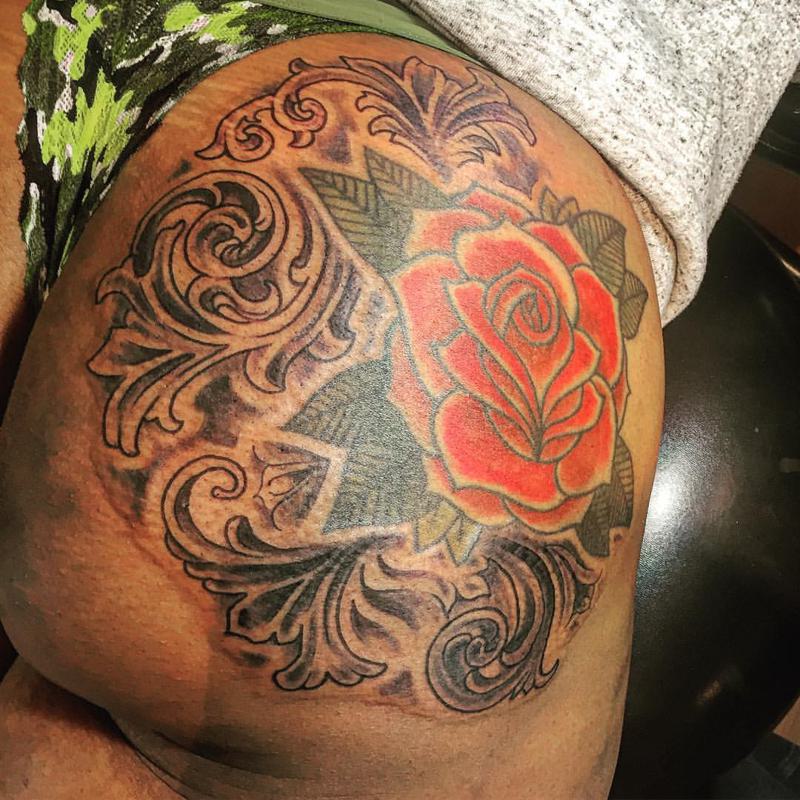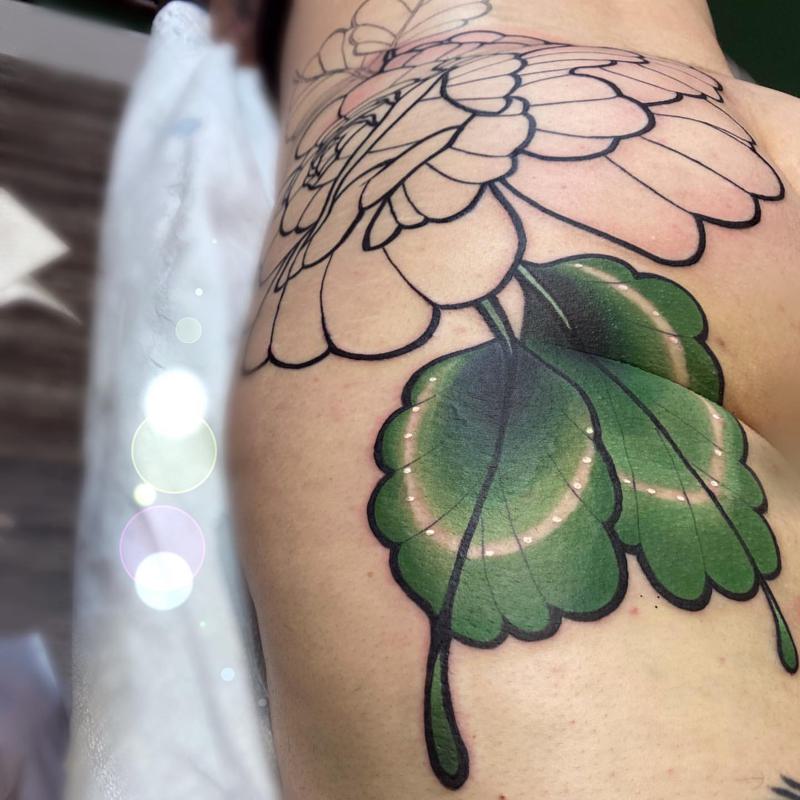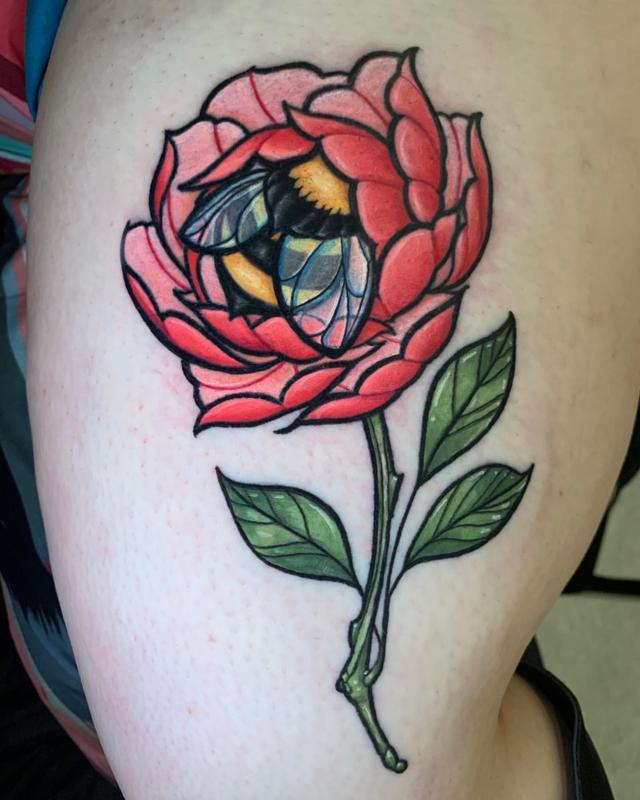 Snake Bum Tattoo
Snakes on your bum are much symbolic and appear quite striking. Women who go for this design appear to be more courageous. They represent a time for change, evil, temptations, or sin. So, what you'll place on your butt varies with how you view it.
This design can start from your lower back to your bum and up to your thighs. You can pick a small size that will only cover your butt cheeks. Still, the art will make you look unique.
If you have the tattoo with a snake's mouth open and visible fangs, you'll warn people not to mess with you. The tattoo will have a less scary meaning if you give it a softer look together with flowers or butterflies.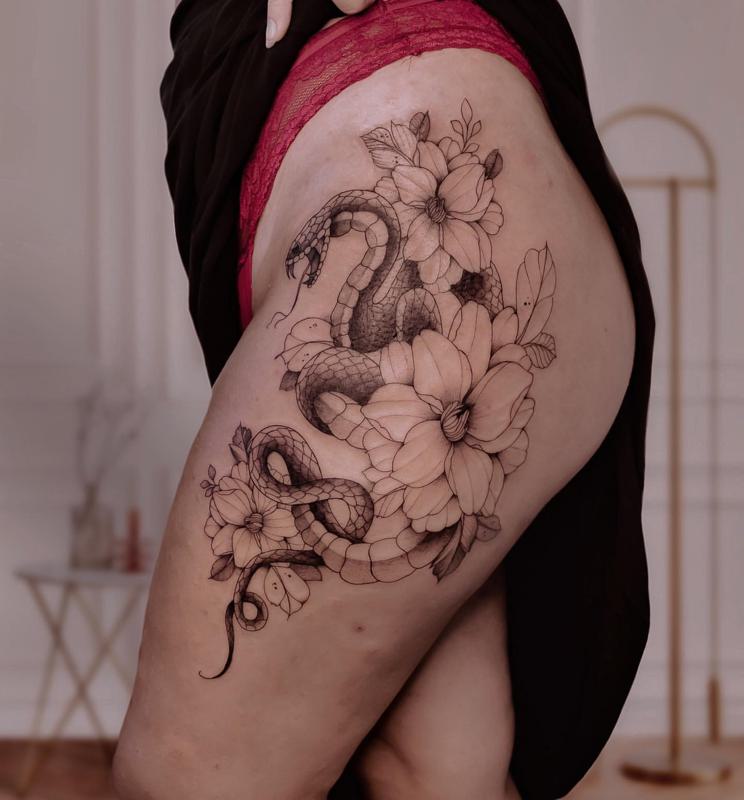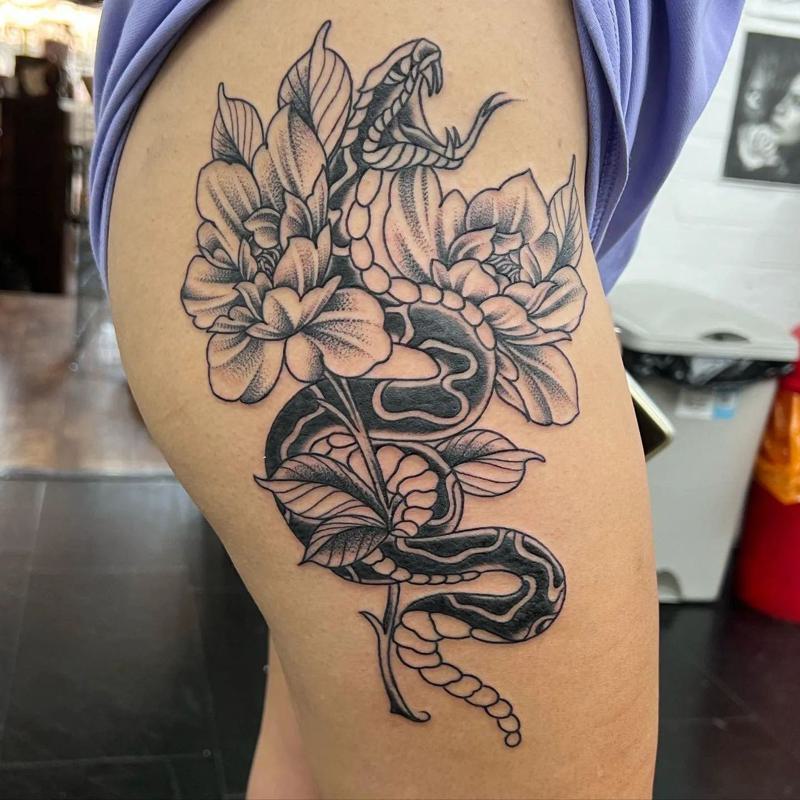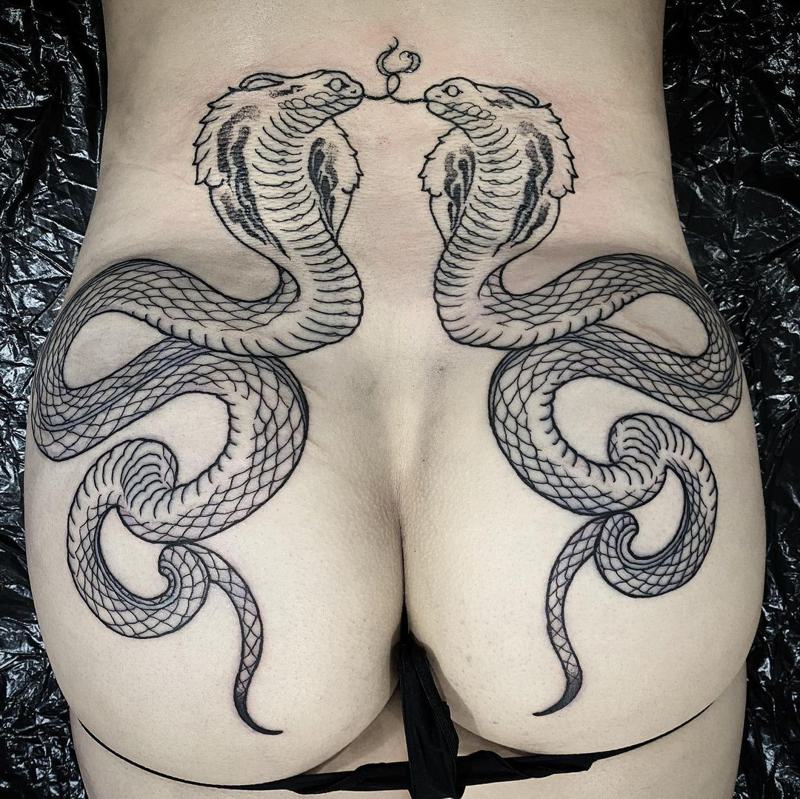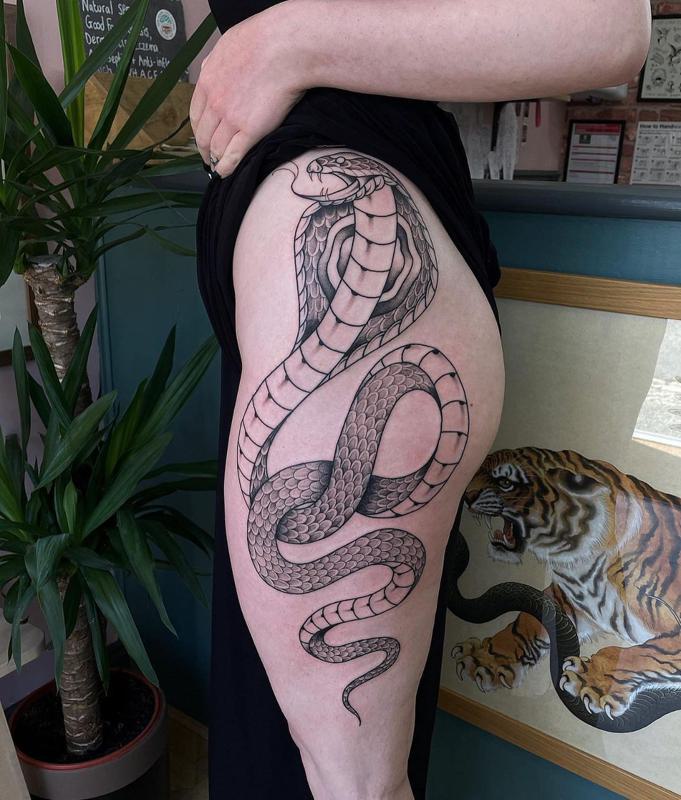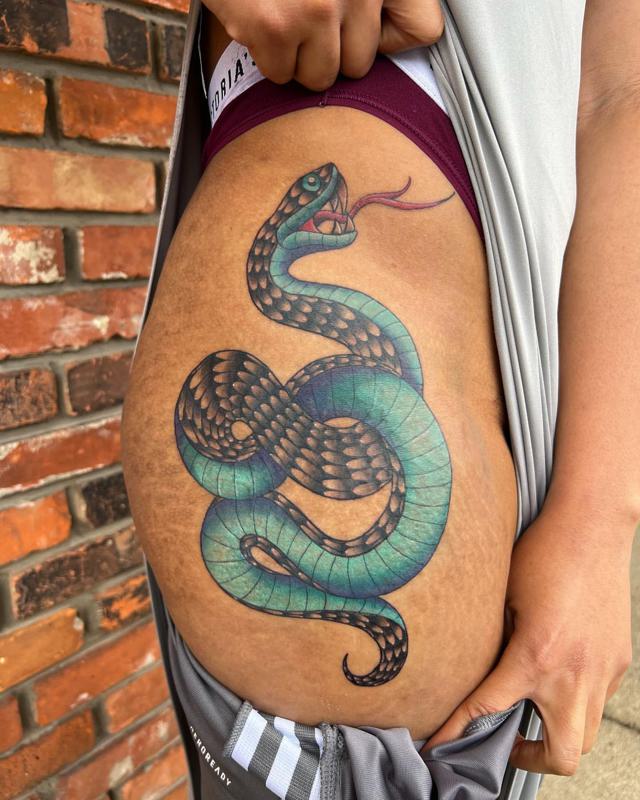 Heart Bum Tattoo
Having a heart on your bum depicts you are a person full of love for many things. Also, the heart tattoo on your bum can be a reminder of a heartbreak. You can use it to remember the passing of your loved one.
Such a design will be beautiful on your butt cheeks, whether large or small. Various methods and colors will give your different art meanings. If you are honoring a friendship, you should go for a red heart.
Go for the black broken heart design to display a heartbreak. Either way, having this design on your bum is trendy, or many people know it.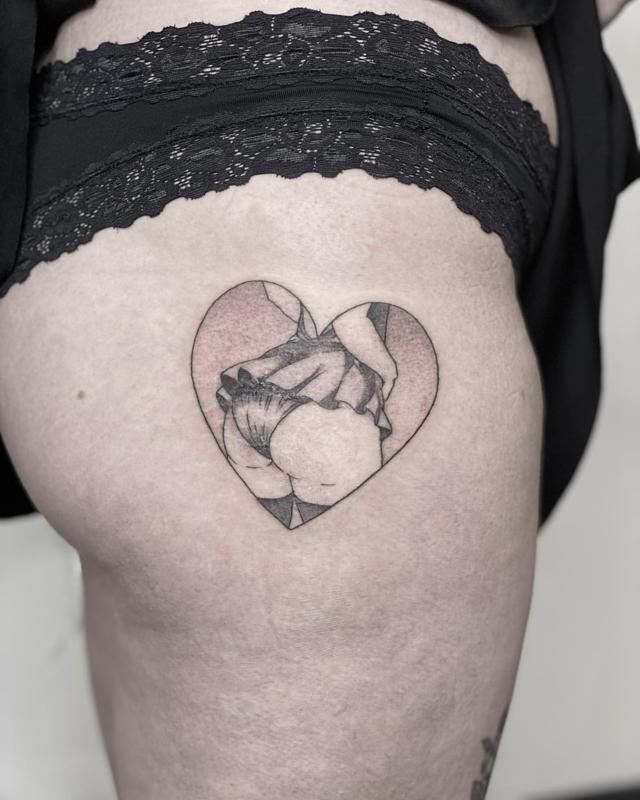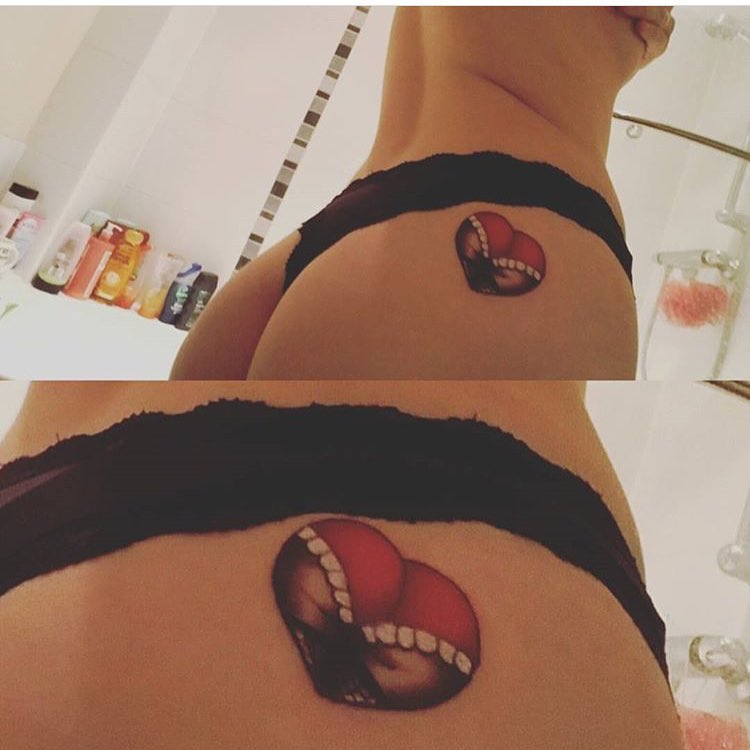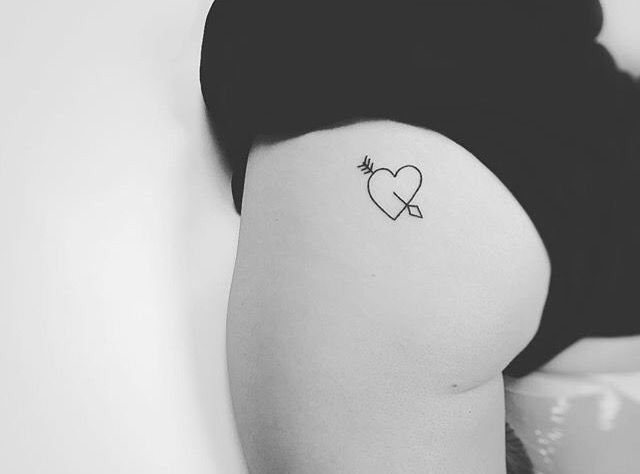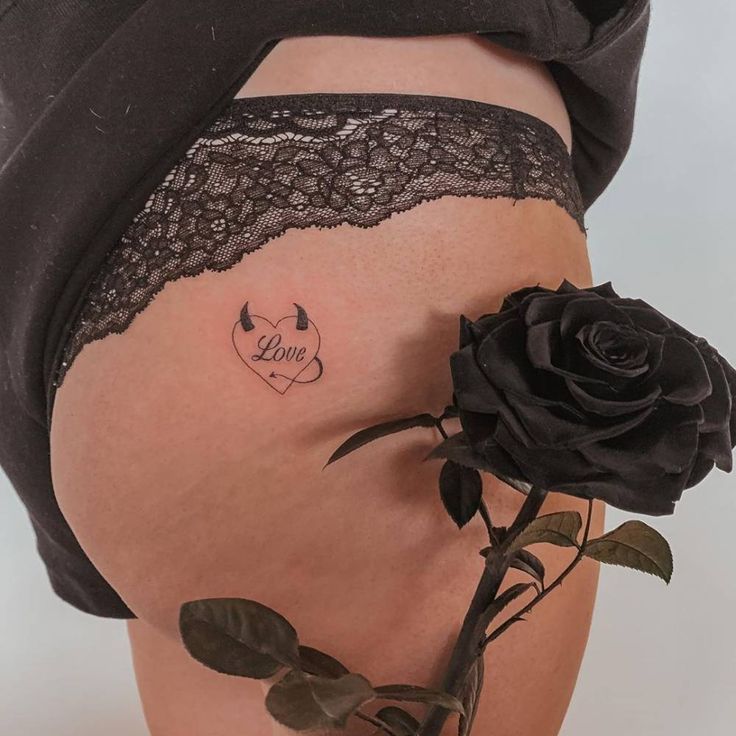 Quote Bum Tattoo
Every quote tattoo comes with motivation and inspiration to you and everyone who sees it. So, you may have quotes from famous people or your role model. They'll remind you of your strength and will to achieve great dreams.
You can choose from many font styles and designs, so you'll have more freedom to settle on the best for your butt. Also, you can write some lyrics of your best song as a quote. It's a fantastic way to express your feelings to the world.
Your butt is ideal to have this tattoo because of the space it provides to write a long quote. Remember, it's also easy to cover or express it, and placing the tattoo is painless.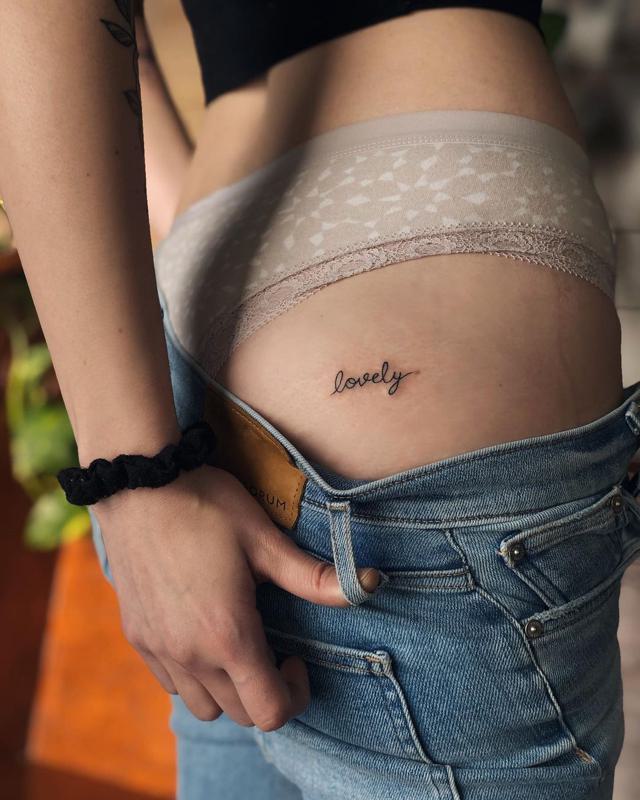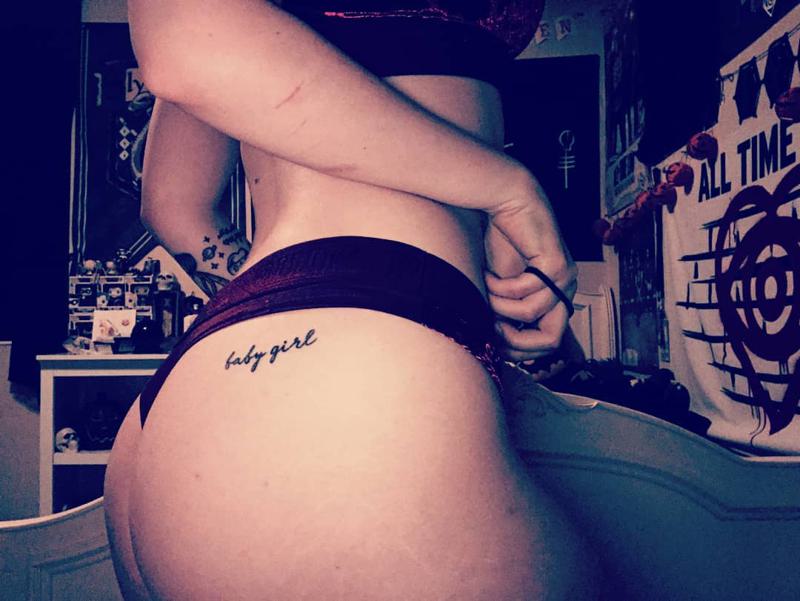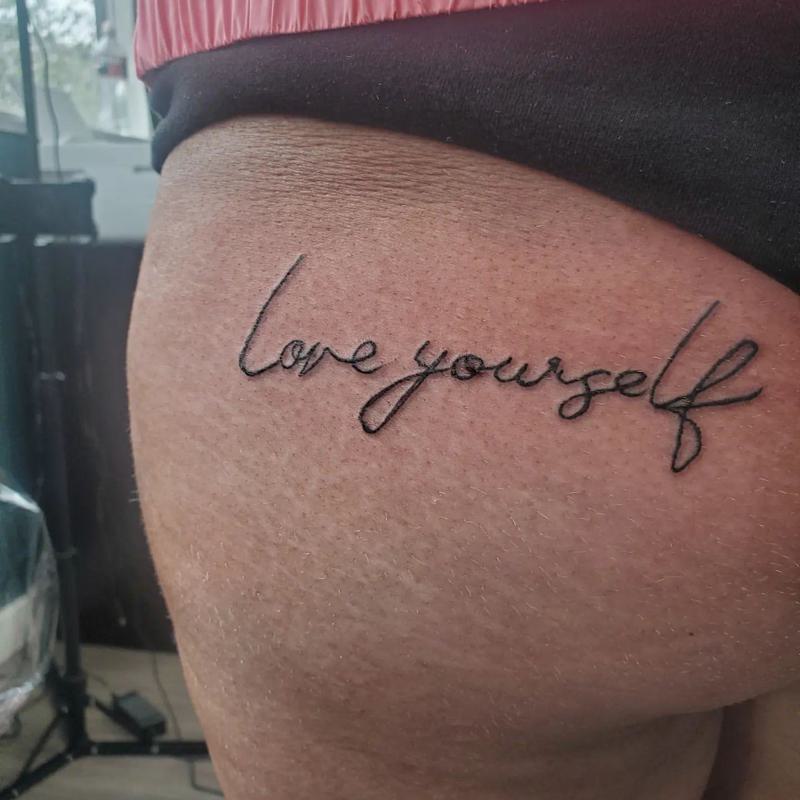 Name Bum Tattoo
Your name or a favorite person's name can also be your bum's tattoo design. Such unique art will make you stand out, especially during social events.
Placing a name on your bum shows you deeply love the person. So, you can ink your child's name, birth date, or a loved one who passed away.
This design can be small or large, depending on how loud you'd want your tattoo to speak. Also, your tattooist can give you various fonts that you'd love your tattoo to look. Also, you can add the person's image or some art to make the design more beautiful.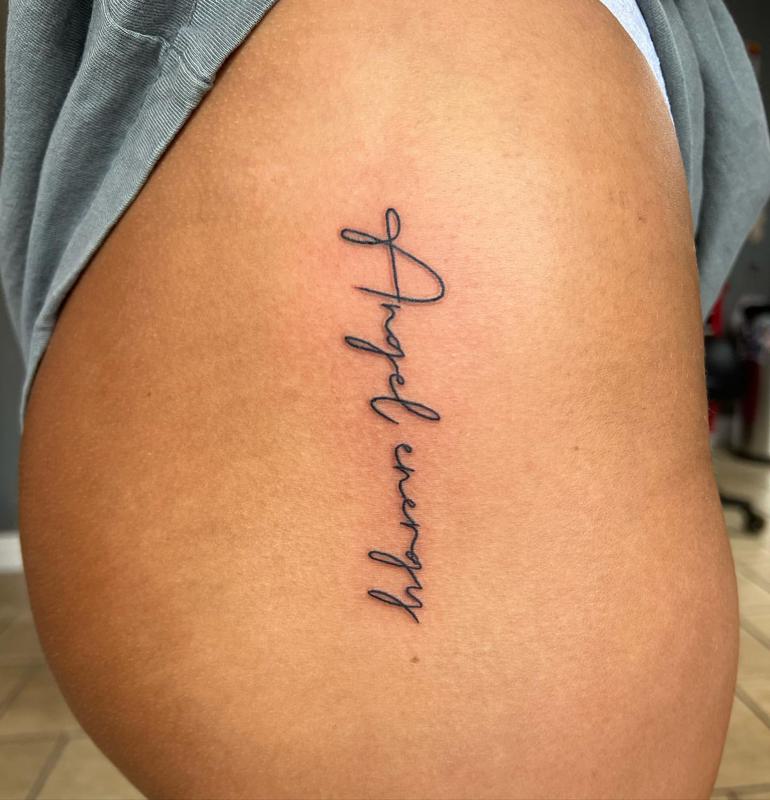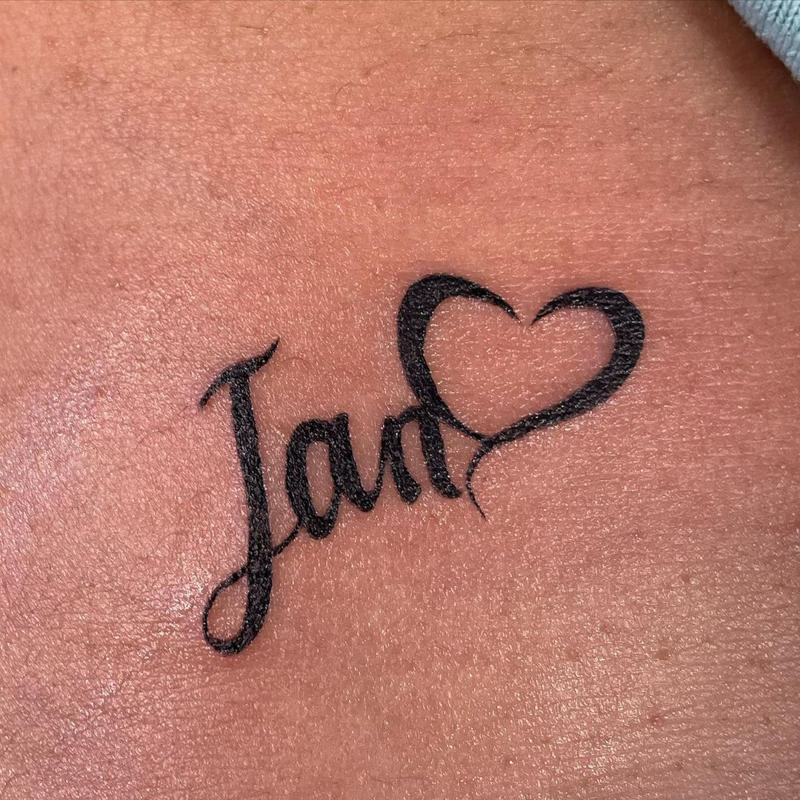 Lion Bum Tattoo
Who would love to own the art and face of the jungle king on her butt? This art will relate you with royalty, love, commitment to family, and courage. Remember, these are the lion's traits that everyone knows.
This tattoo will look best on you when it's big. Also, you can ink the tattoo using various styles, but the most beautiful one is when the tattoo has a traditional look. Here, the details should have bold and bright art.
The design can have a modern feeling using some flowers or more art. When your designer tattoos it well on your bum, the art will always demand attention when people see it.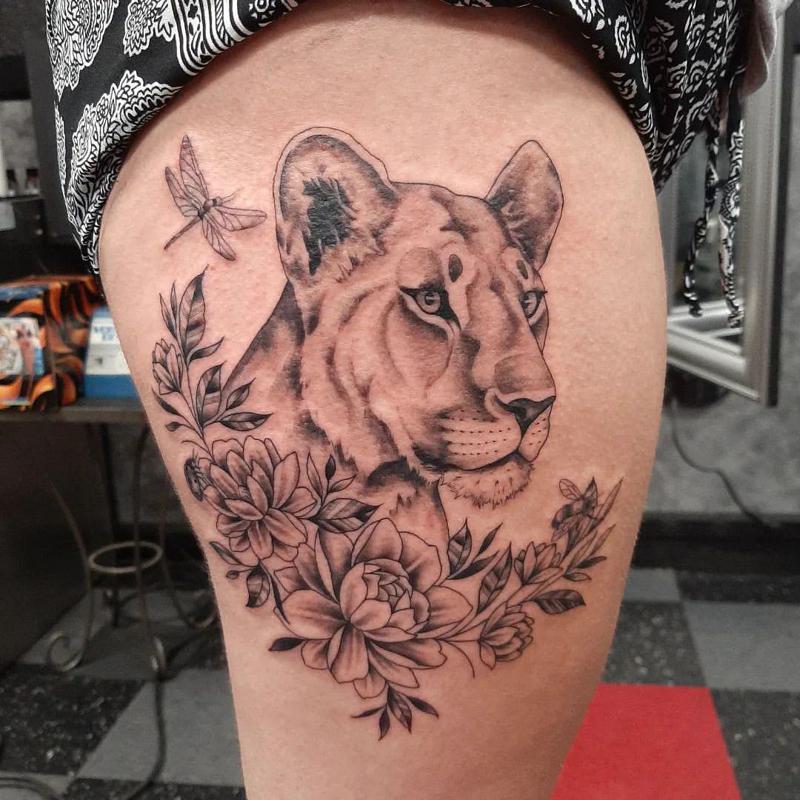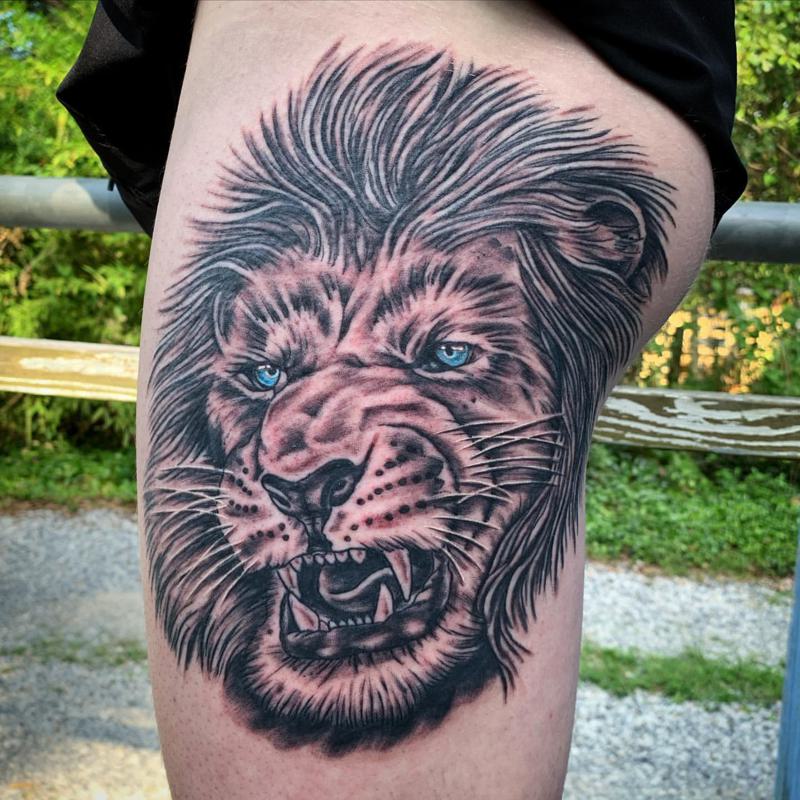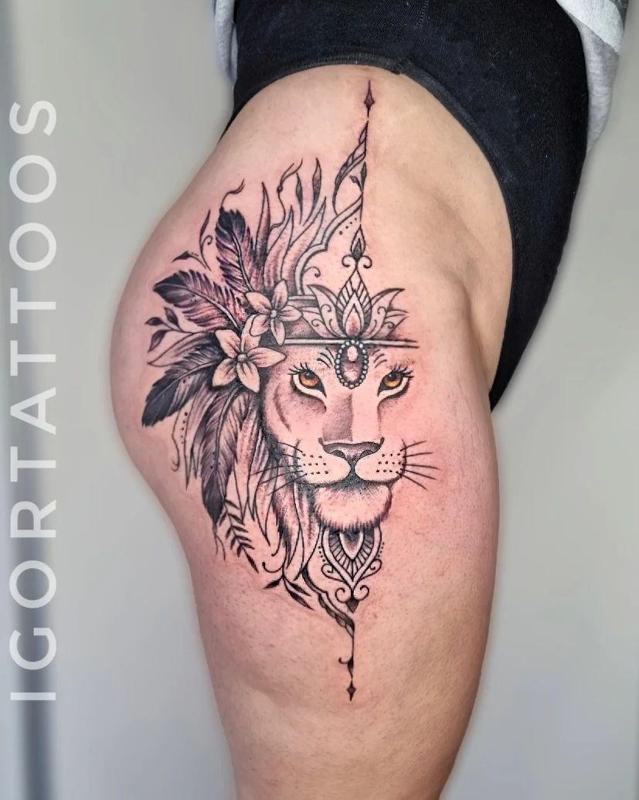 Flower Bum Tattoo
Women love flower tattoos because they are beautiful and carry a profound symbol. Besides the roses, you can have many styles that you can pick to ink on your bum. Remember, flowers carry different meanings, but people relate beautiful art with rebirth, growth, love, and the sweetness of life.
Depending on your interests, your flower bum tattoo can be a deep black ink or colored. Also, the flower tattoo could be a mix of various colors. Remember, the small and large flower tattoos will look great on your butt, but the location has enough space to make the art more creative.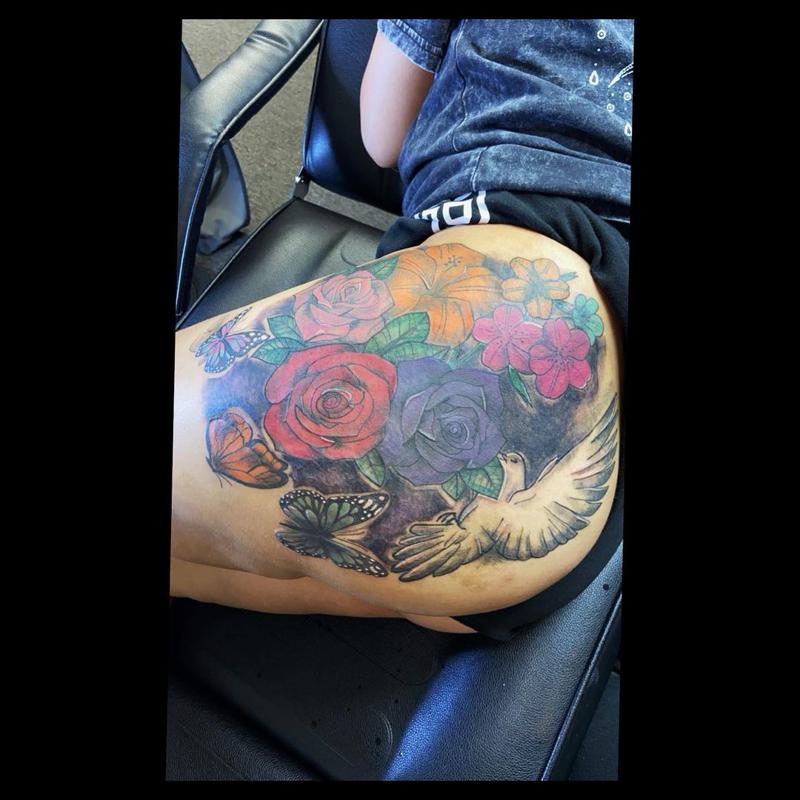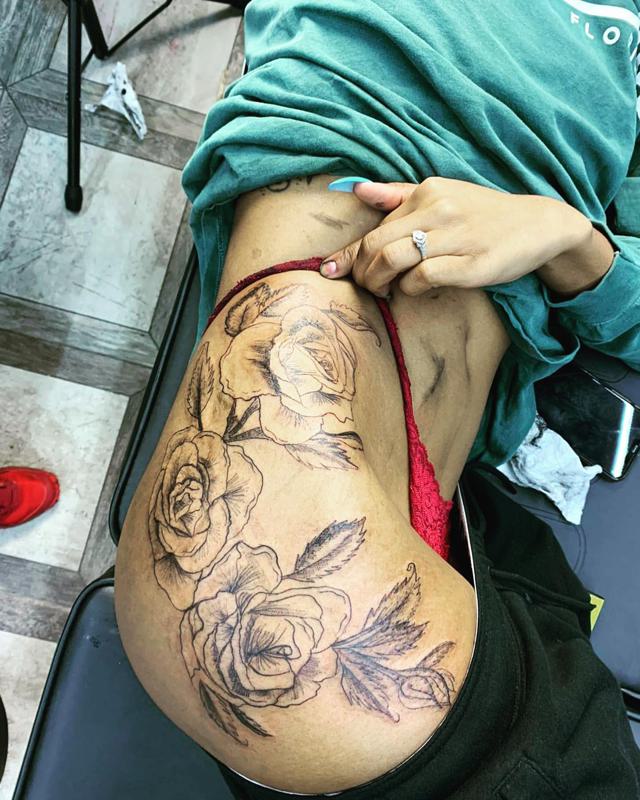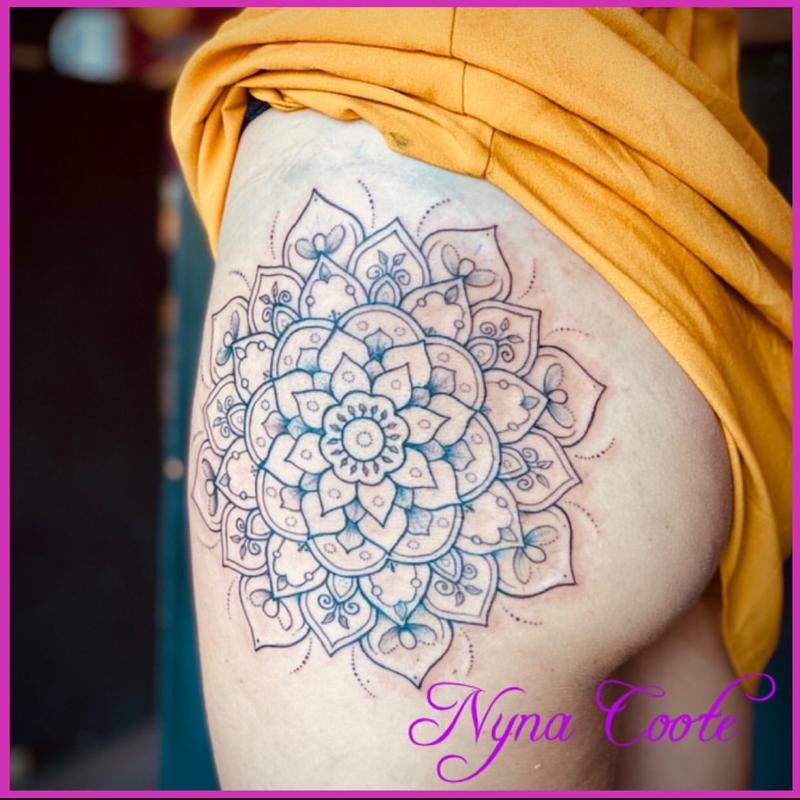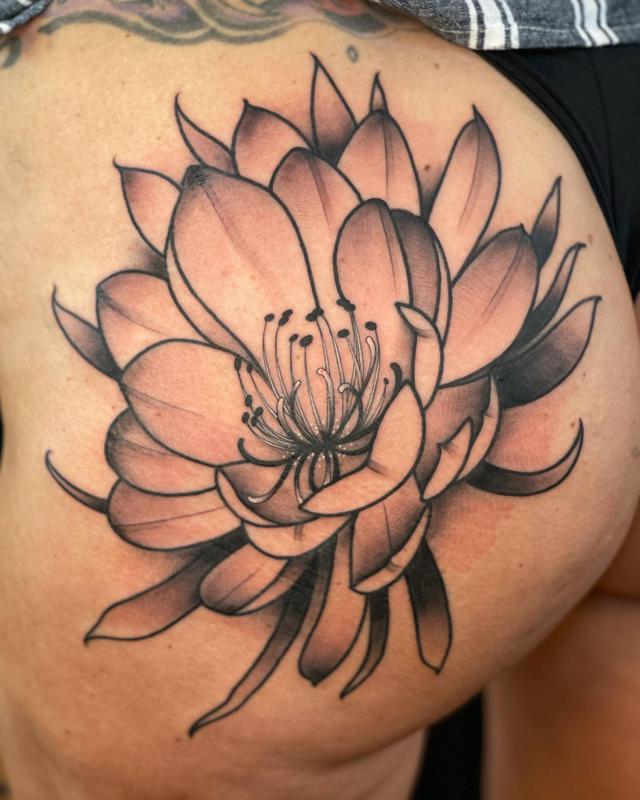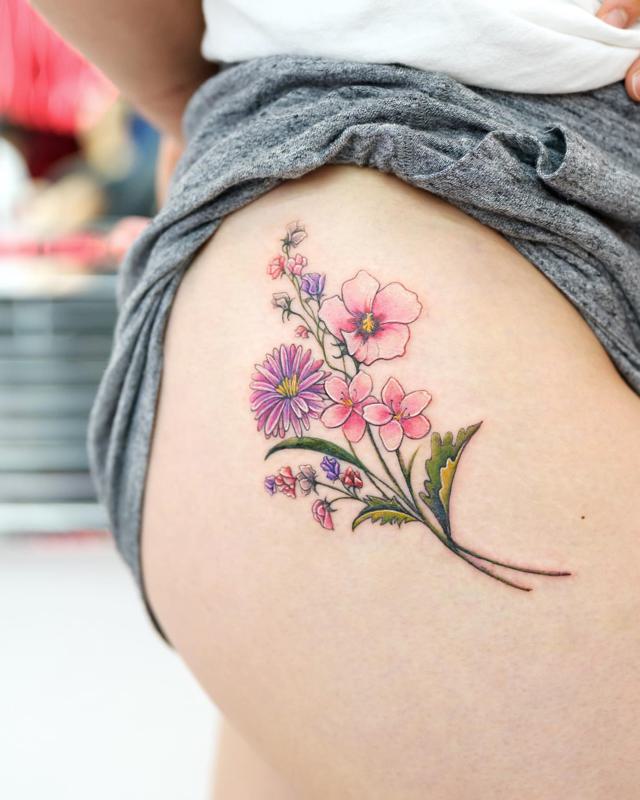 Koi Fish Bum Tattoo
Are you in love with Japanese culture? Then you should go for the koi fish tattoo on your butt. It's a creature that has honor in the Japanese culture and will look stunning with a deep massage on your bum.
The koi fish's direction and color will decide the tattoo's meaning. For example, the yellow koi fish tattoo is a sign of success and wealth in the future. If it's a dark koi fish, it will appear more masculine but shows you are adverse in life.
In terms of direction, if the koi fish appears to be swimming upwards, it means you know how to face your challenges head-on. But when it's facing downwards, it shows you are successful. This art can look amazing on your bum with a flower art or dragon.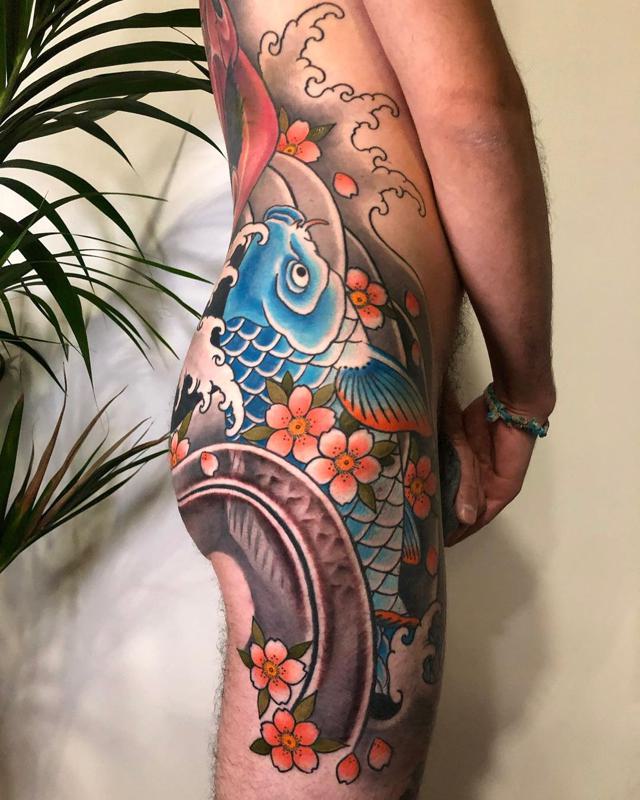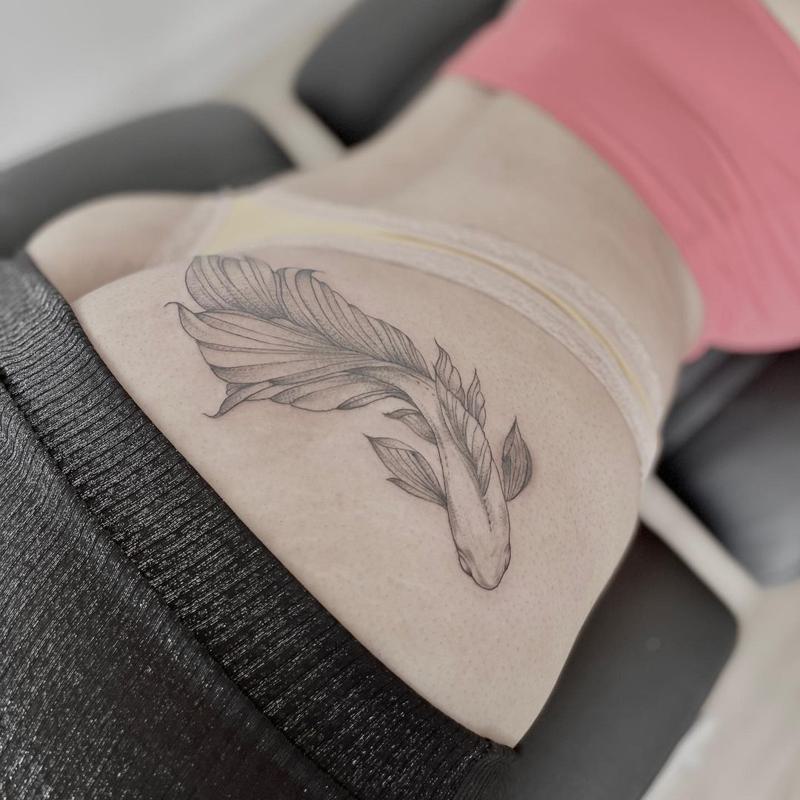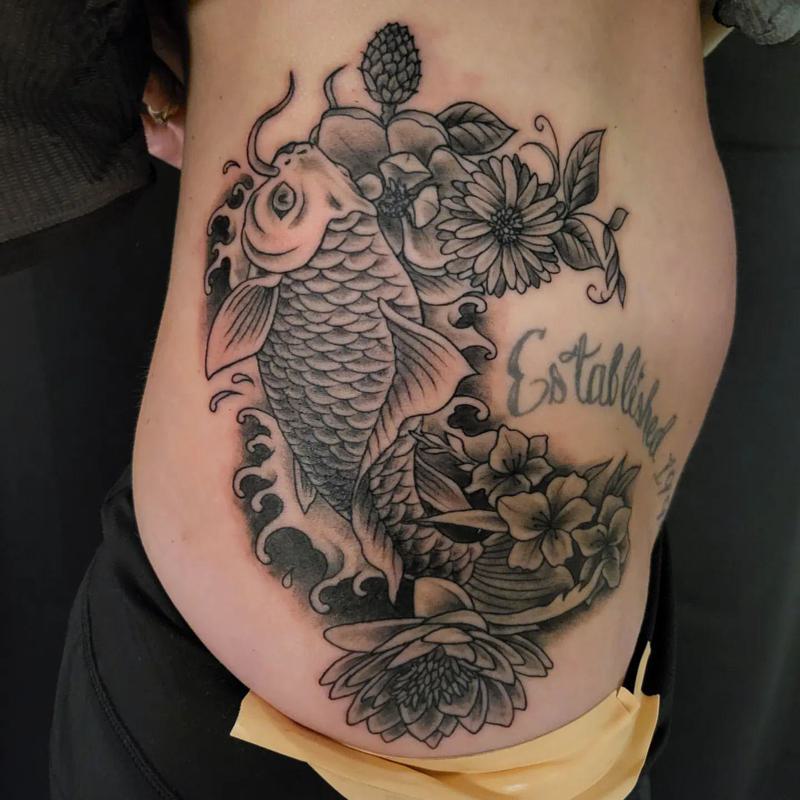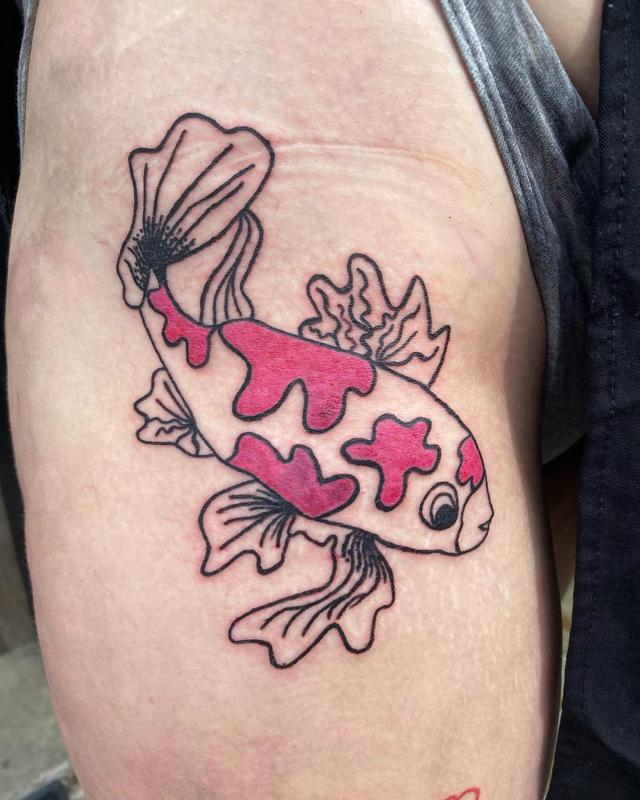 Colorful Bum Tattoo
A colorful tattoo on your bum will draw many faces because colors are symbolic. Colors can represent a culture, people, feelings, or a country your love. You can have it as a traditional or modern tattoo, but your bum will still appear unique.
Also, this cute bum tattoo will look more beautiful if bold and bright. The art can be more fantastic when you ink it with a pretty picture of flowers.
With this tattoo, you'll look unique and pretty, but it has some cons. Such designs are costly and will take a long time to heal. So, it requires much patience before you show it to the public.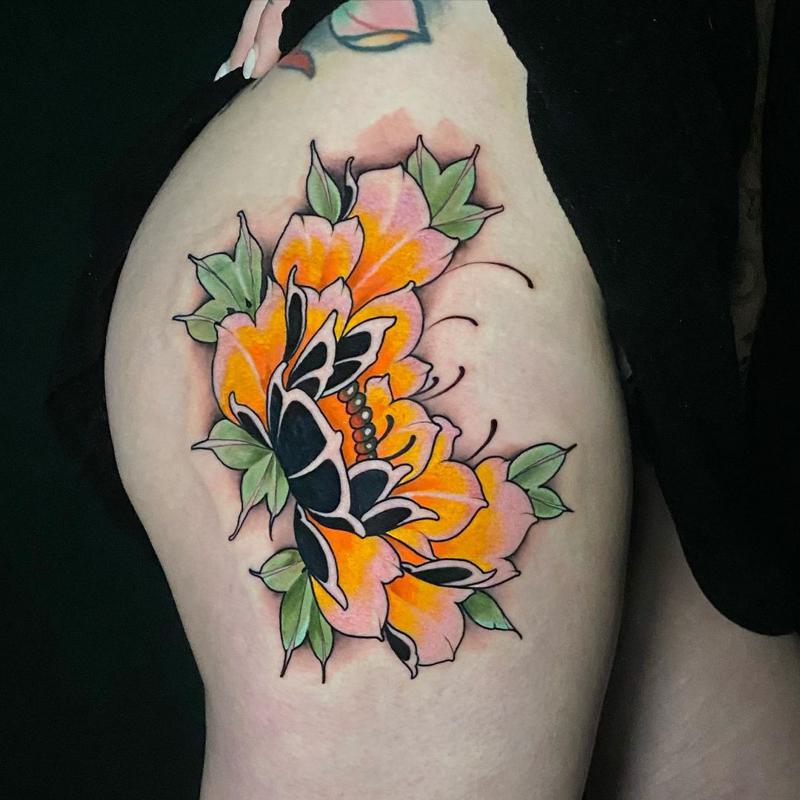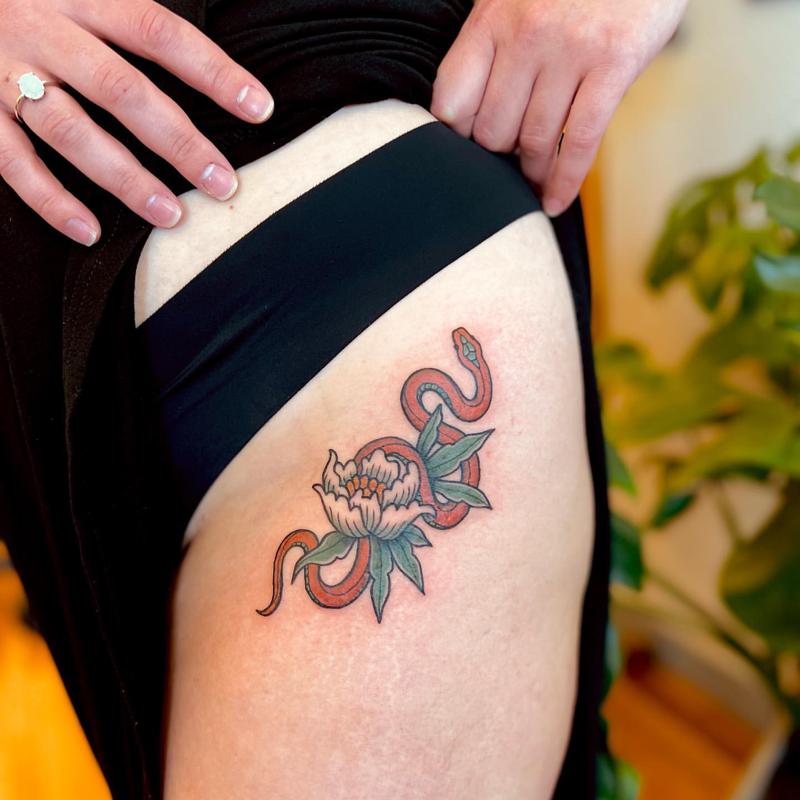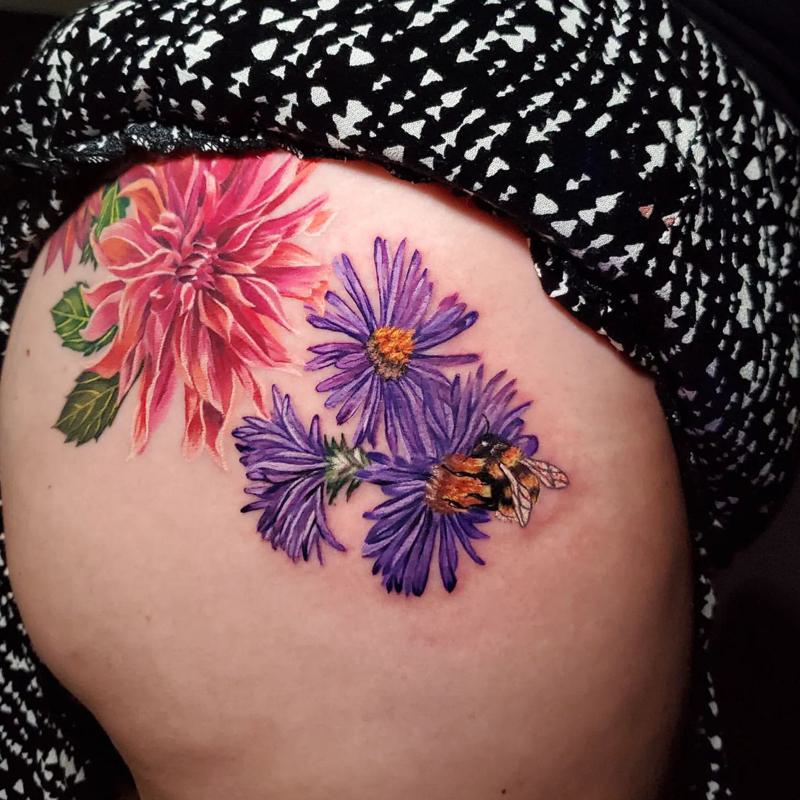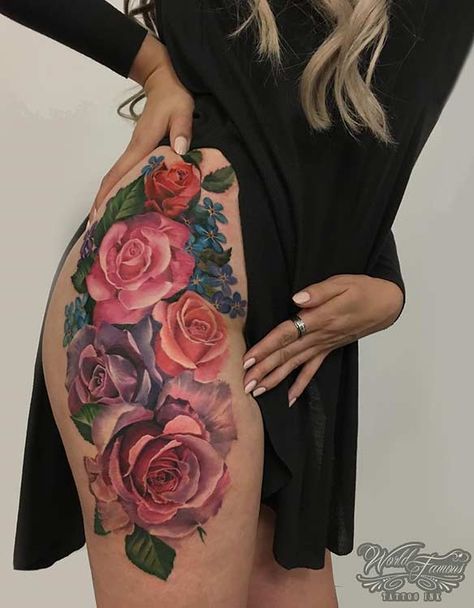 Octopus Bum Tattoo
Having the octopus design on your behind has a deep symbolic meaning. Having it on your bum takes much courage as it carries much magical information. Sometimes, the art can mean much danger and mystery you accept as a lady.
Also, people with such tattoos know how to overcome their worries. An octopus is a wise animal that knows how to shun its eaters.
The octopus bum tattoo will look beautiful if it has a deep blank ink color and is vast. Such a design can run from your lower back and up to under the butt cheeks.
Remember, women love to have this tattoo because it gives much freedom to customize. This art will also look incredible in different colors, but the details should remain intact.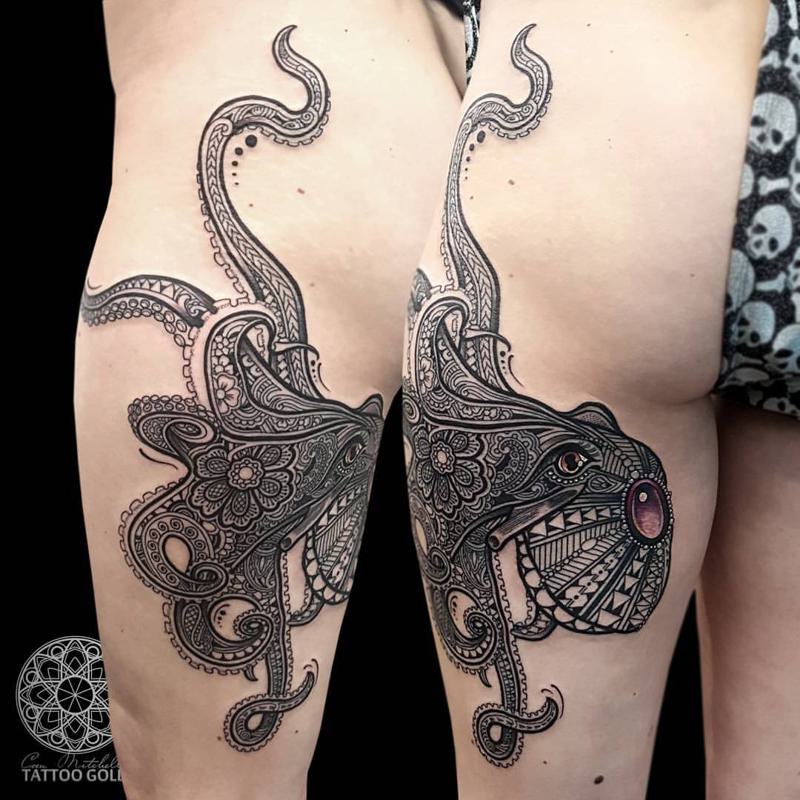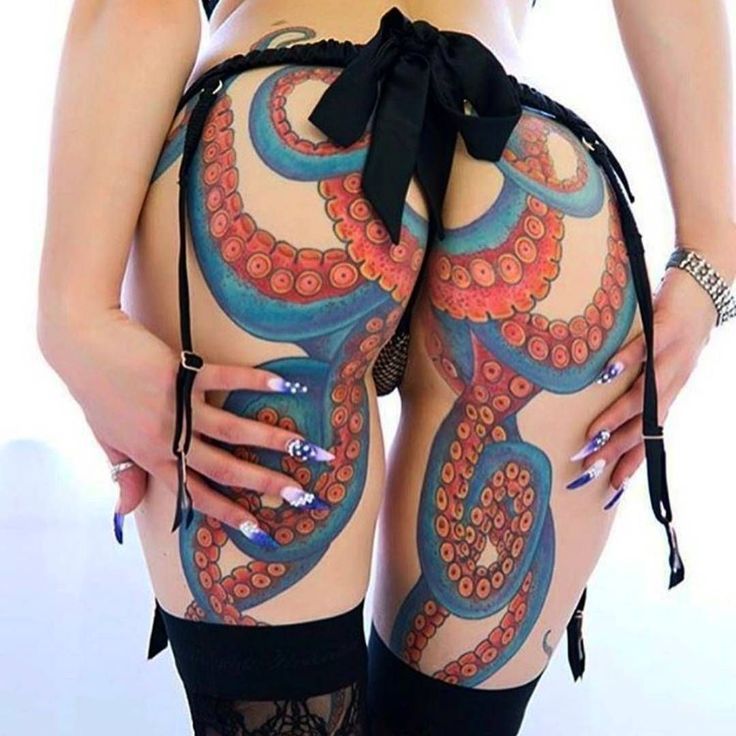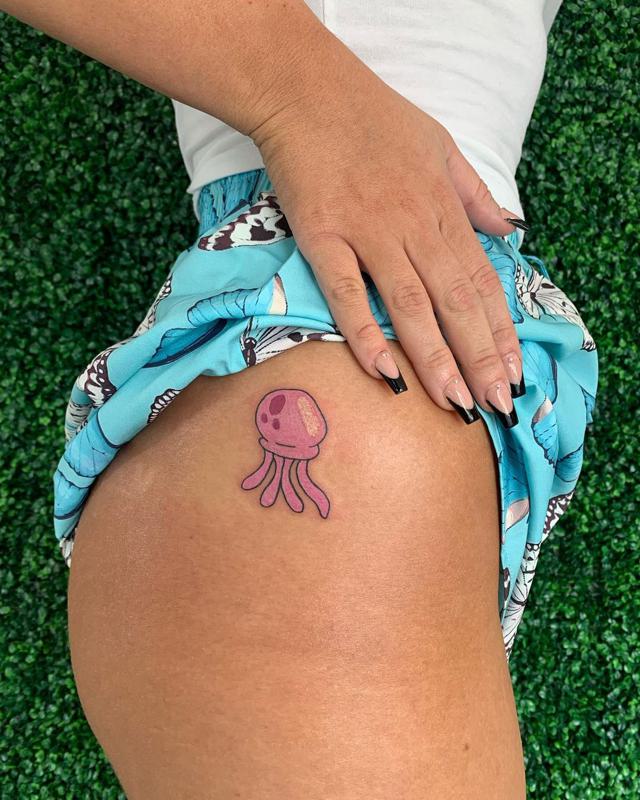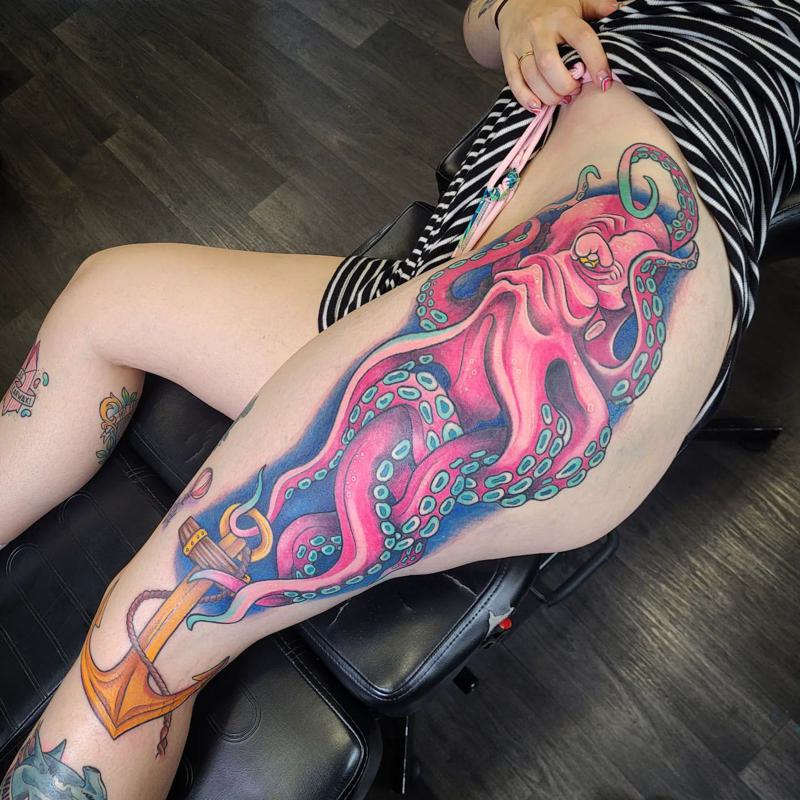 Sun and Moon Bum Tattoo
Go for this tattoo if you love to express your feelings through art. Sun and moon are both sources of truth, light, and energy but at different times. So, having this design carries a deep and positive symbolism.
Having this design shows you have a powerful life balance. As a woman, having this art means you are a strong woman handling her life challenges well. Some women use this art to honor strong family bonds.
Ask your designer to combine the art of sun on one butt cheek and the moon on the other. Also, combining them using deep black ink will make you look unique.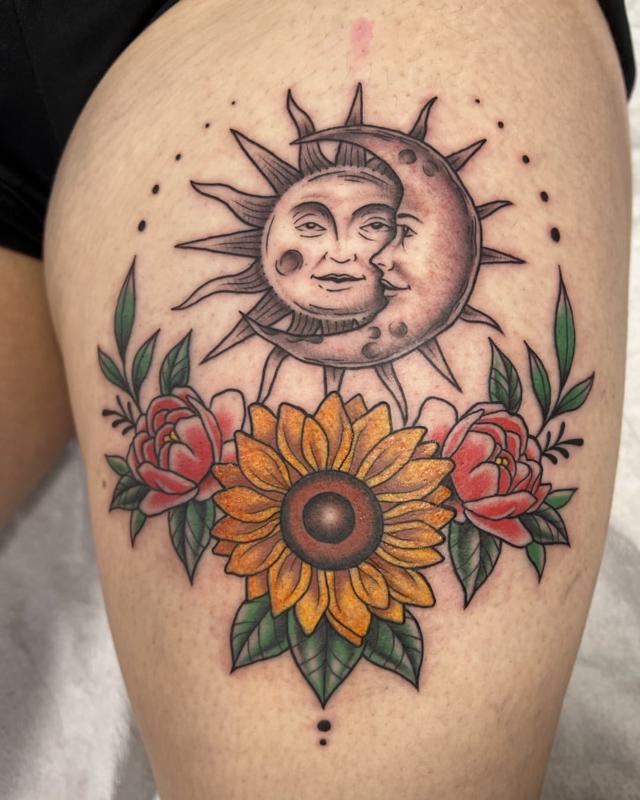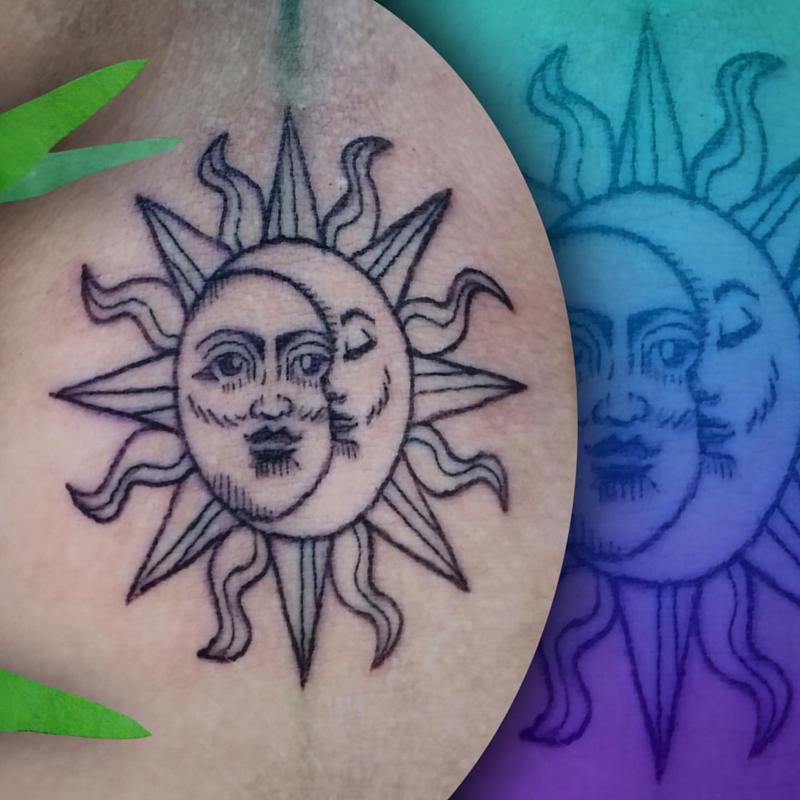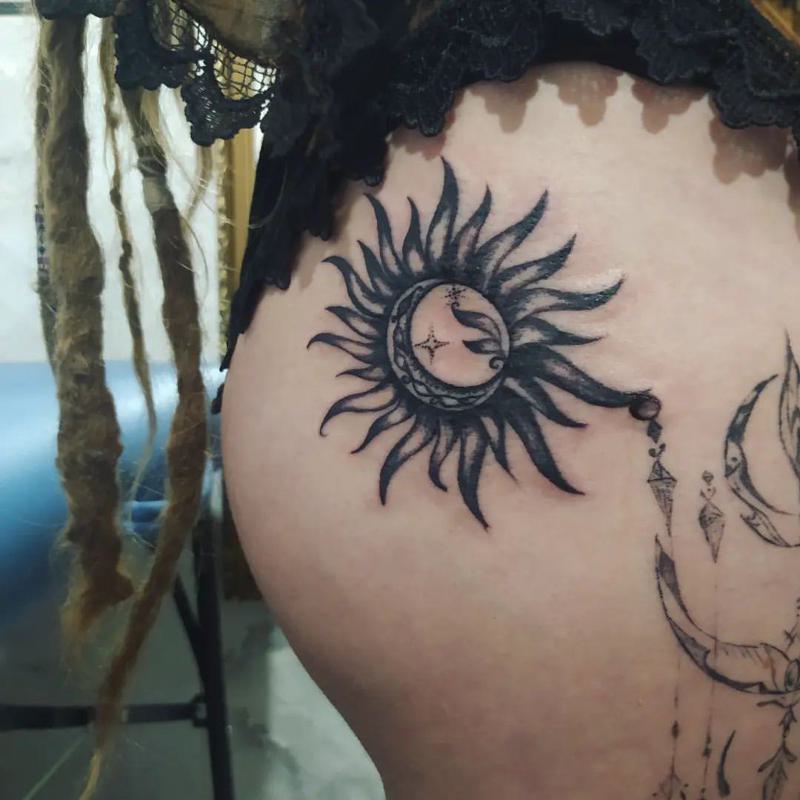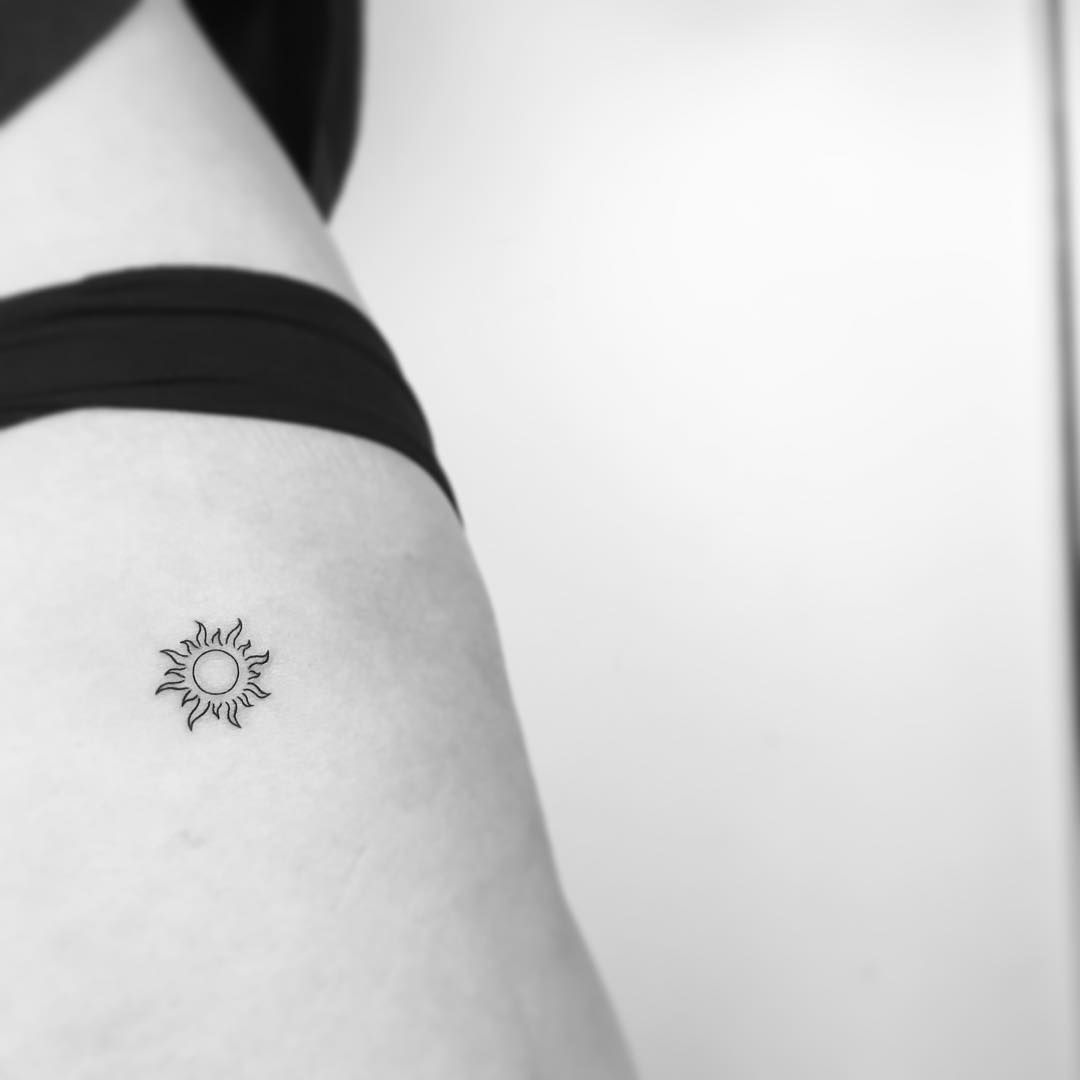 Dragon Bum Tattoo
The dragon tattoos have deep meanings when placed on any body part. So, having this fierce creature on your butt means you deserve respect.
If you are from the West, the dragon tattoo means you relate yourself to evil and greed. As for those people from the East, the art shows you have protection and luck on your side. Either way, this tattoo gives your much freedom to create actual artwork on your bum.
Focus on which style of the dragon tattoo will suit your bum size. You can have it as a large or small design, colorful or simple black art. Also, you can add some images to the dragon art to make it spectacular.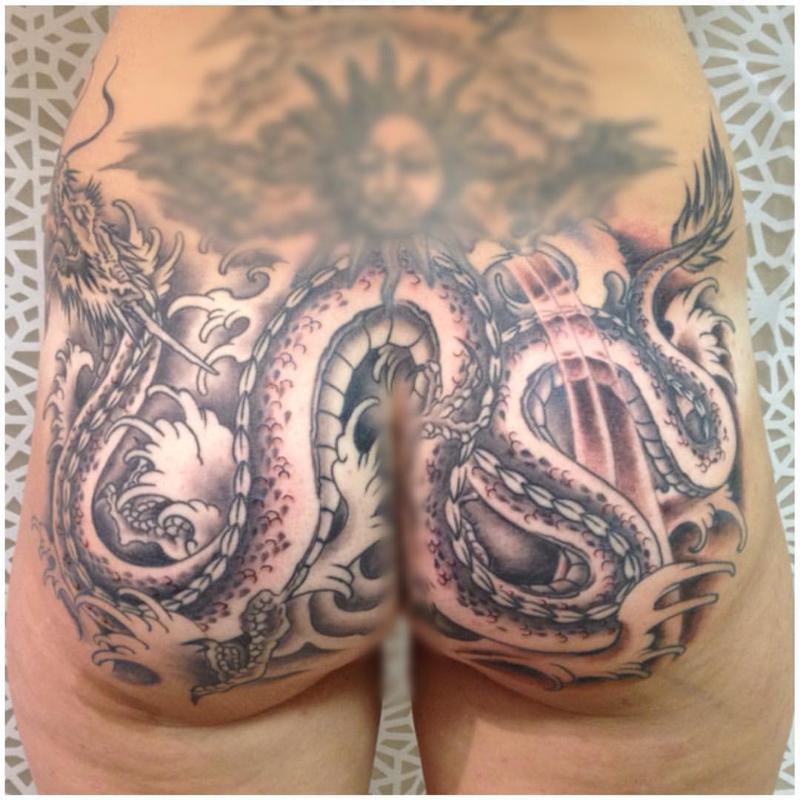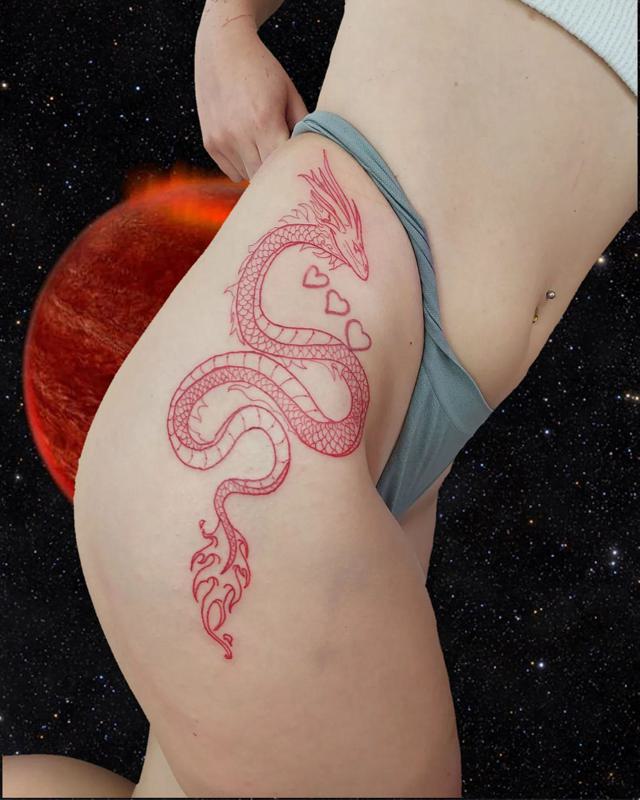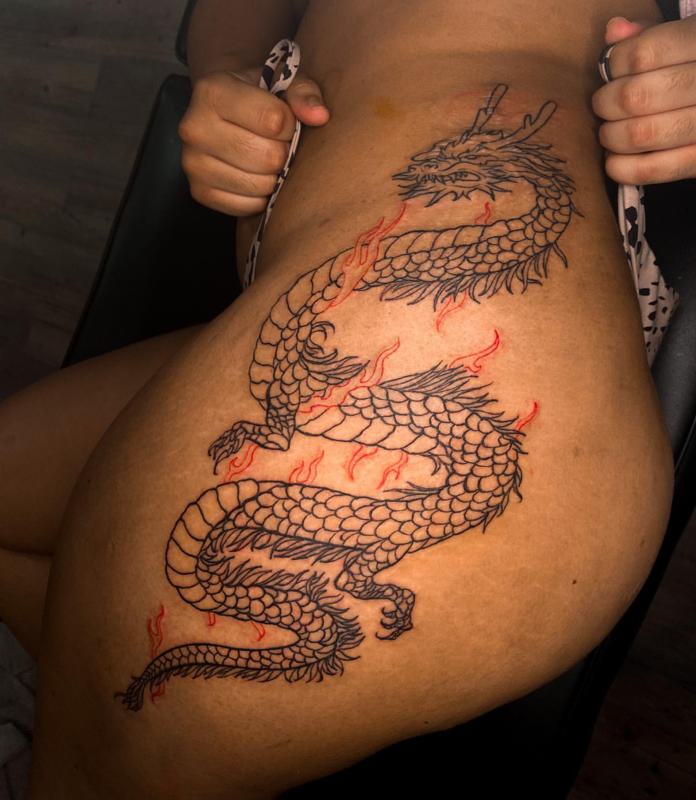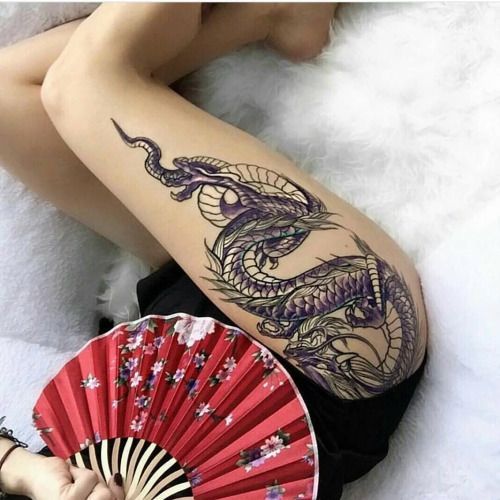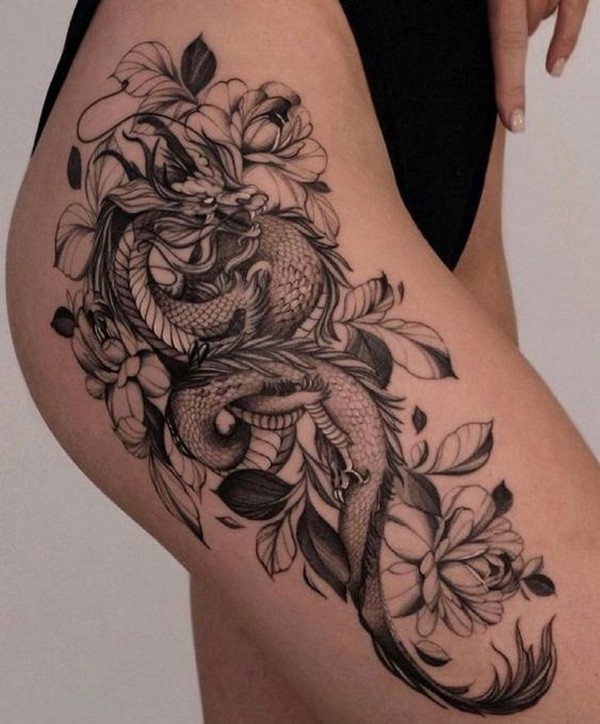 Butterfly Bum Tattoo
Butterflies are beautiful and humble creatures that attract most women's hearts. Today, these tattoo designs are trendy because of their beauty and meaning.
Having it on your bum shows you are in the growth and changing stage. You can have it to encourage you to keep pushing to achieve your life goals.
Also, the butterfly bum tattoo gives you much freedom to express the art ideas in your head. So, you can ink it in different sizes and colors. Butterflies look more beautiful when you ink them using various colors.
Some women choose to mix several butterflies on their butt to make them unique and more appealing. You may keep it simple with one butterfly and mix it with some flowers.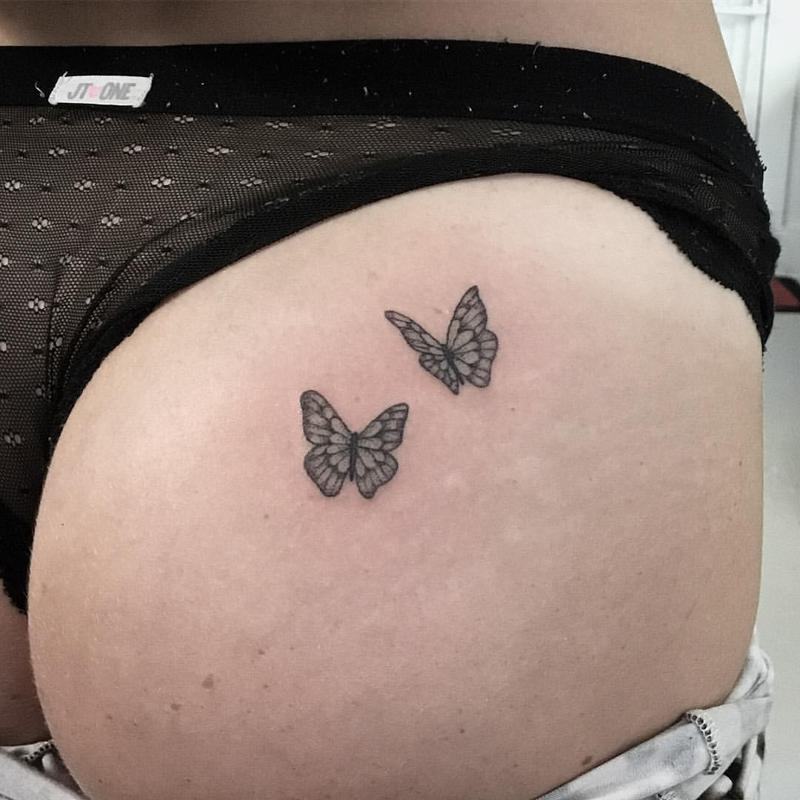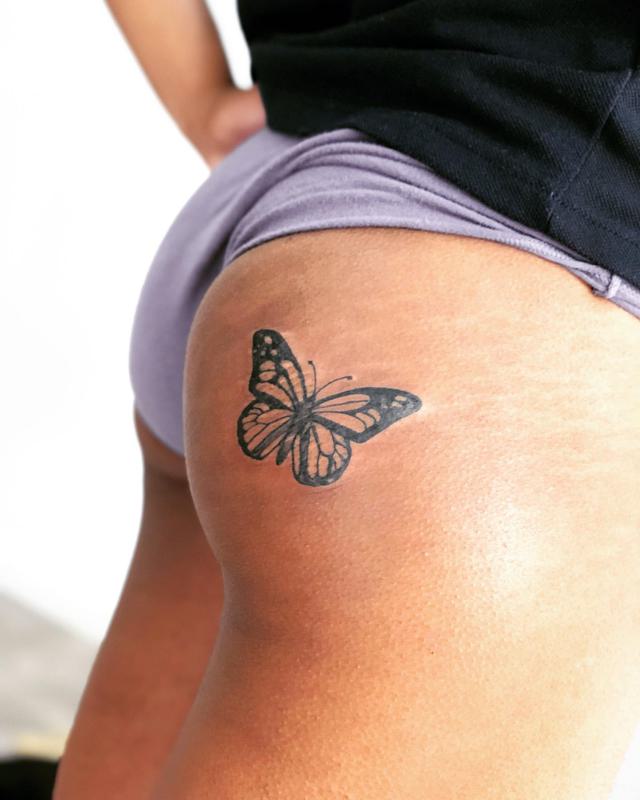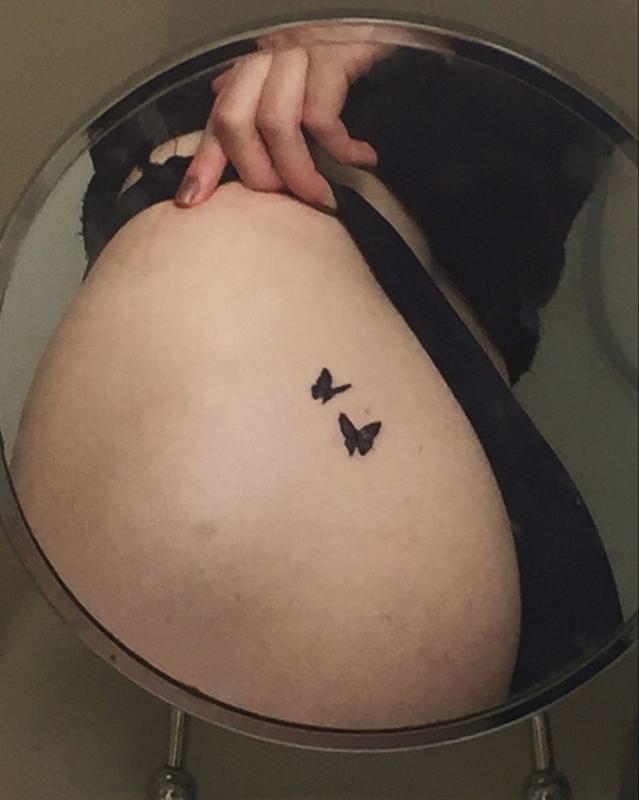 Conclusion
Getting the bum tattoos gives you much confidence as a lady. Besides, you'll have much space to make the design as beautiful as possible. The butt allows you either show off the art or cover it up.
Various designs will make your bum beautiful regardless of the size. Some, like the octopus tattoo, look great in blank ink, while others, like the colorful tattoo, need to be in different colors.
These styles here will help you stand when in most social events. The only downside is that you'll need much time to heal before you show it out.
So, do you think the bum tattoos should be colorful or pure black ink? We would love to hear your views.
FAQs
Which but cheek is better for you?
Either of the butt cheeks is excellent to have the tattoo. It will look much more beautiful when you have the design run across both sides.
How long do bum tattoos take to heal?
These tattoos take time to heal, and they feel like sunburn in the beginning. Depending on the style, the art can take 1 to 2 weeks to heal.
Is it expensive to get a bum tattoo?
Bum tattoos aren't much costly. What you'll pay varies with the art you'll pick.