One certain event that will happen in everyone's life is death. But would you have the courage to ink your skin with an art that has the message of death? This face of death tattoo, Santa Muerte, has different views depending on your culture, region, and interests.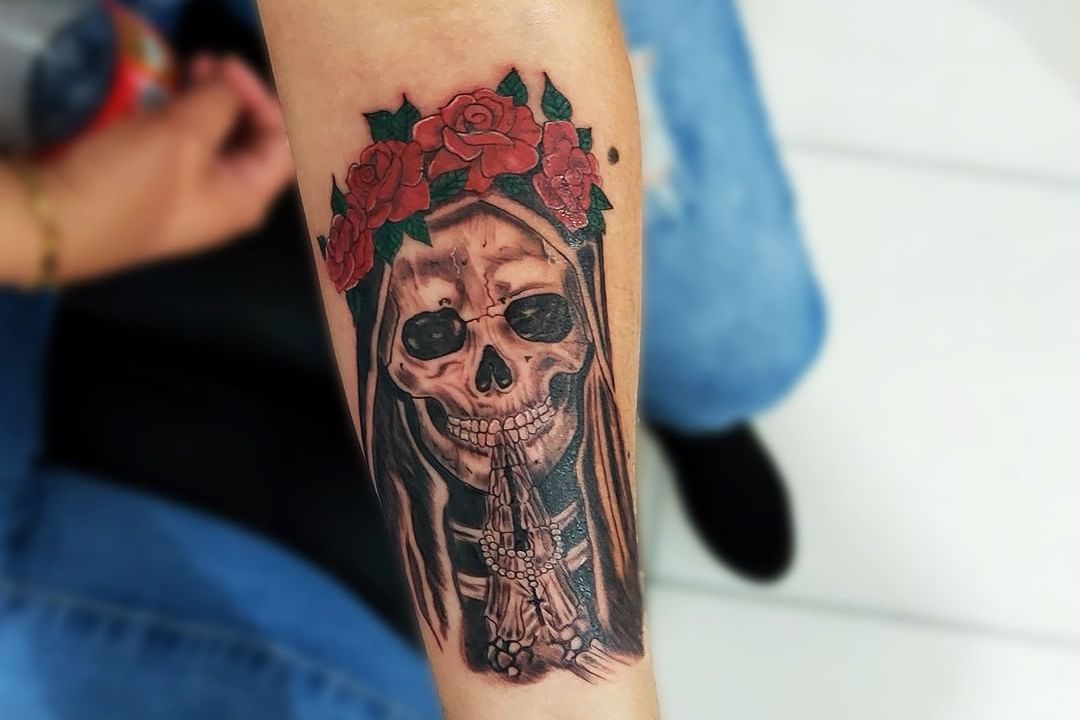 The Santa Muerte tattoo also has deep traces that go deep into the Mexican culture. We'll look at the meaning of the Santa Muerte and the various enchanting designs that you can choose to make your skin unique.
Santa Muerte Tattoo Meaning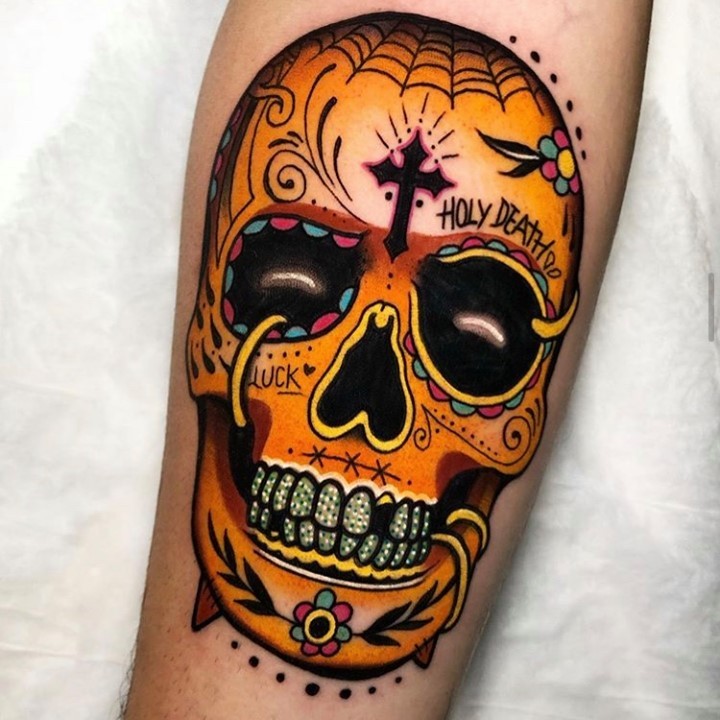 Looking at the face of death on anyone's skin will give you many reactions. Santa Muerte tattoo has roots in Mexico, where they celebrate death with much importance. It's the name of a Mexican lady saint, Our Lady of Holy Death, who personifies death.
So, this tattoo can relate to life after death, religious anarchy, health, success, and wellness. It will depend on your cultural beliefs and interests at heart. Also, there are various Santa Muerte designs that can either bring out your masculine or feminine traits.
Best Santa Muerte Tattoo Designs
Read on to see the 16 Santa Muerte art styles that carry various meanings and will make you beautiful. You'll get a challenging religious design that you'll consider to ink your skin.
Traditional Santa Muerte Tattoo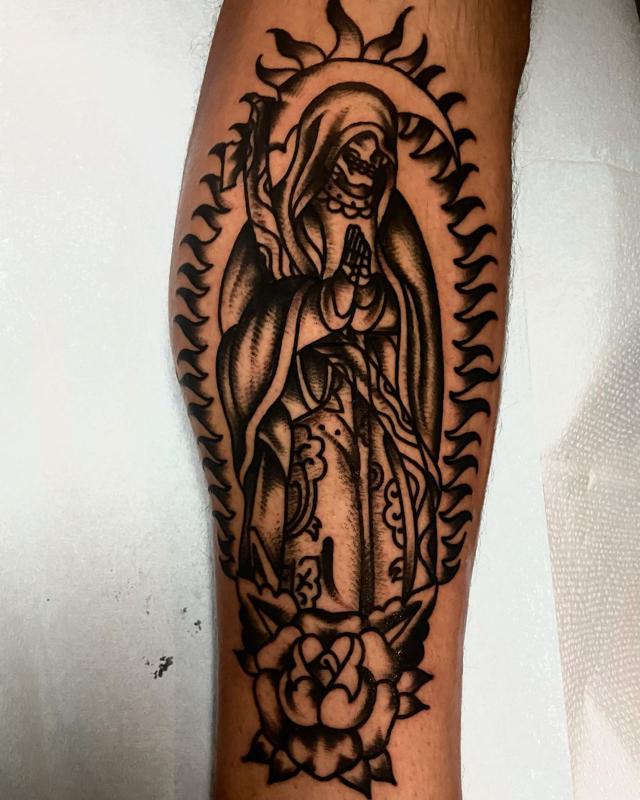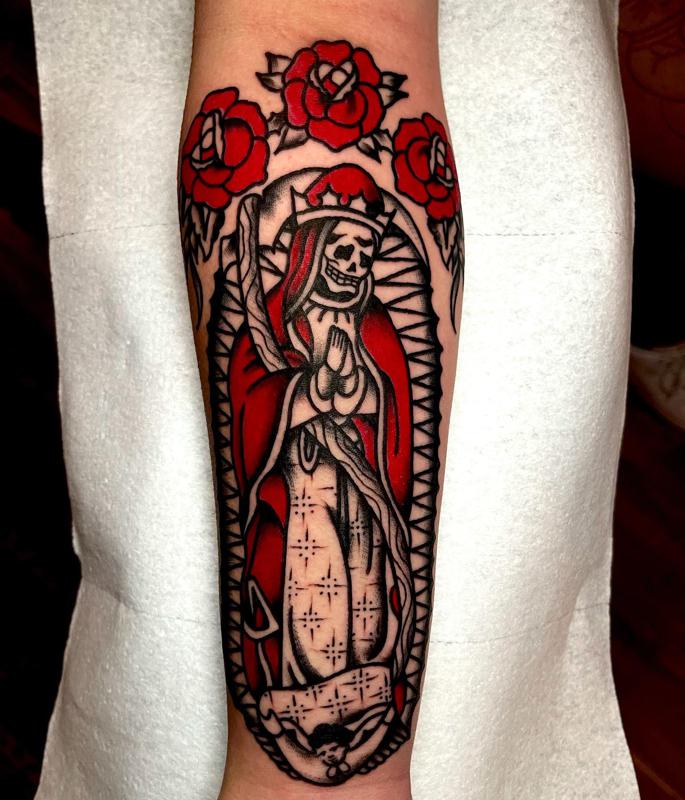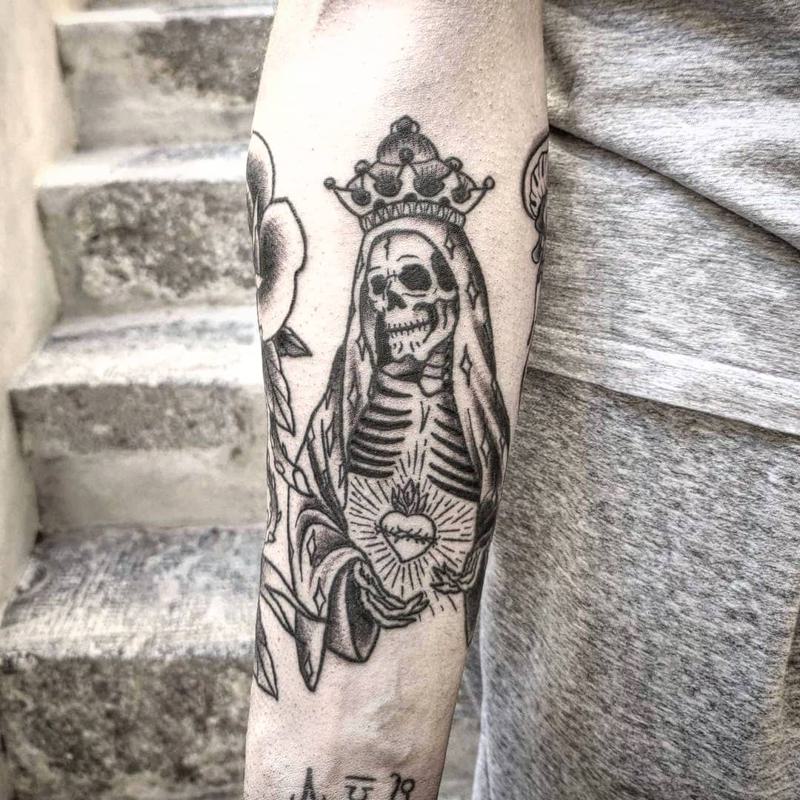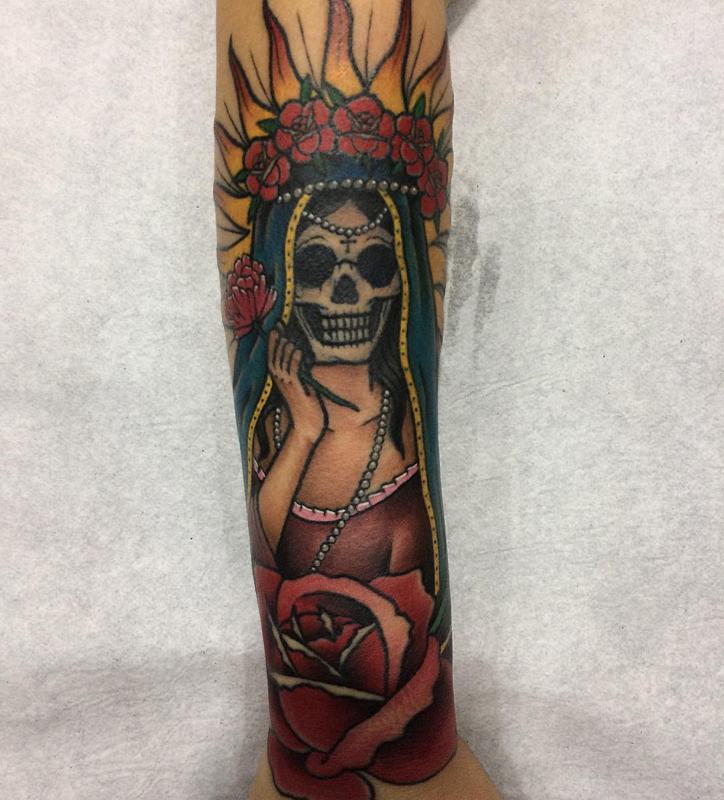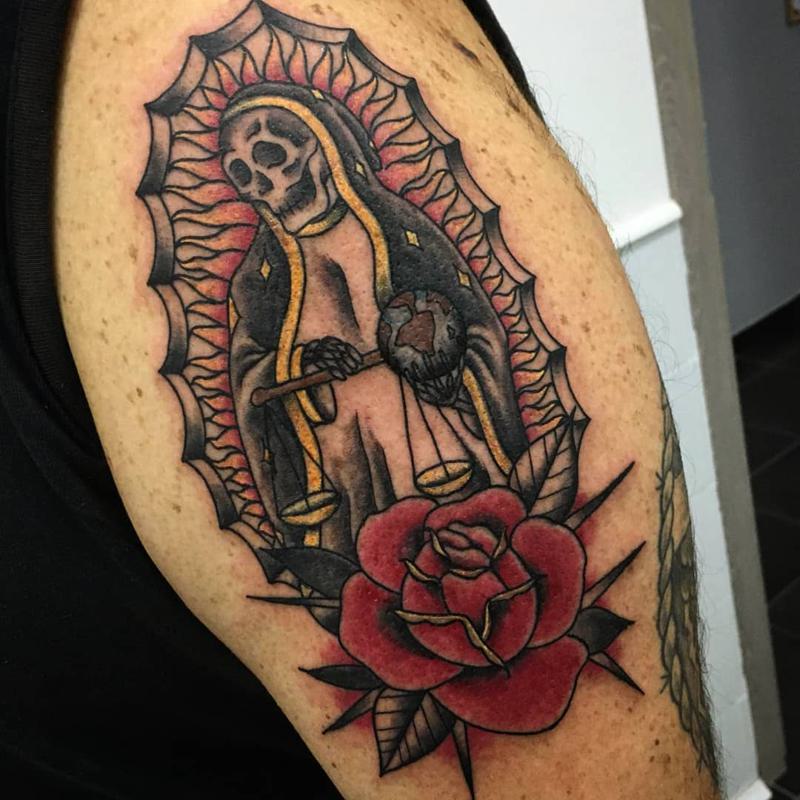 Having the traditional Santa Muerte tattoo on you relates to the sign of death. The design will have the old lady's skeleton in a cloak. If the art is new to someone, it will be scary. But as for the people who understand the art, especially Santa Muerte's worshippers, the traditional art shows she protects her most faithful people. It will look great if this design is big and a mix of various pleasing colors.
Santa Muerte Tattoos for Females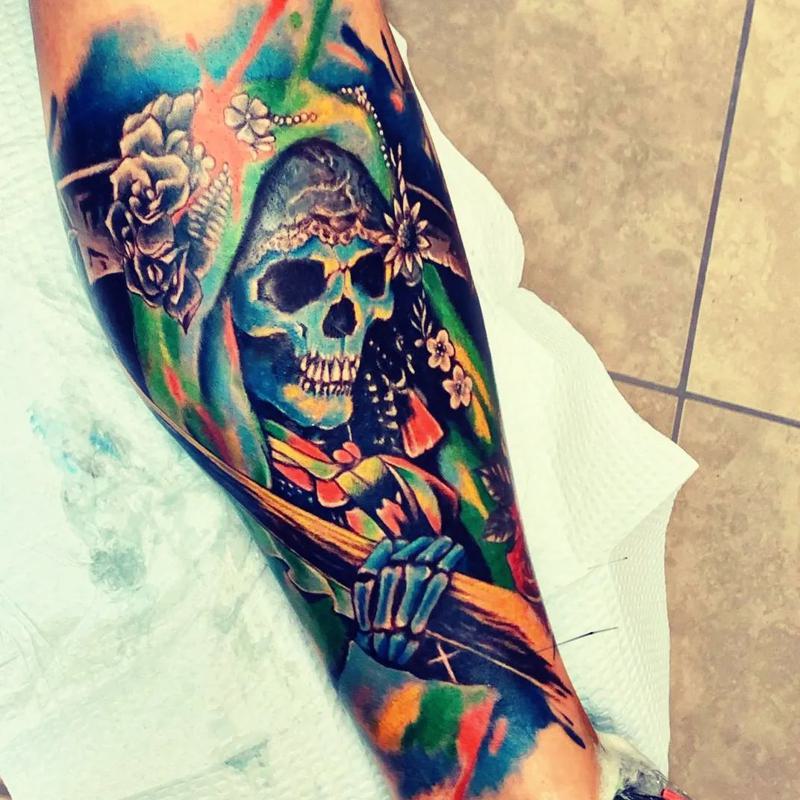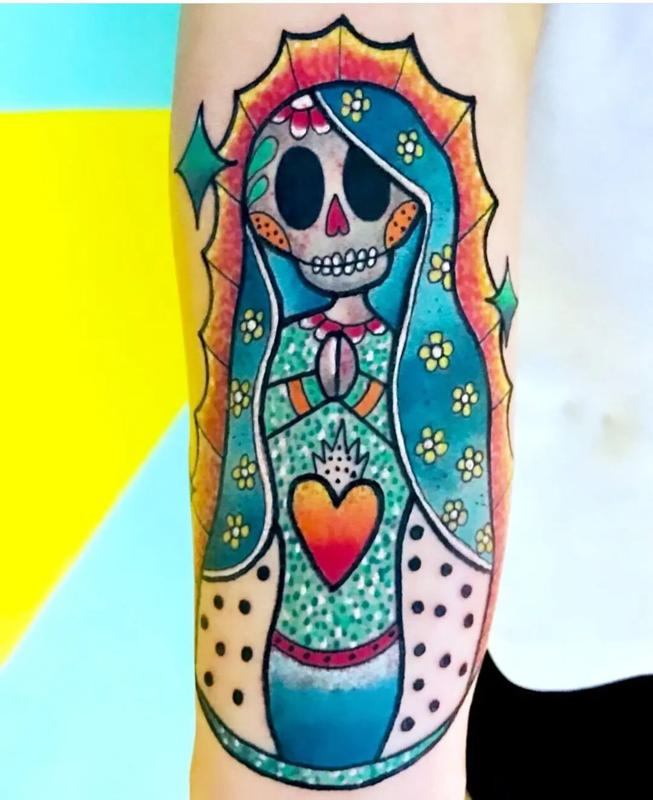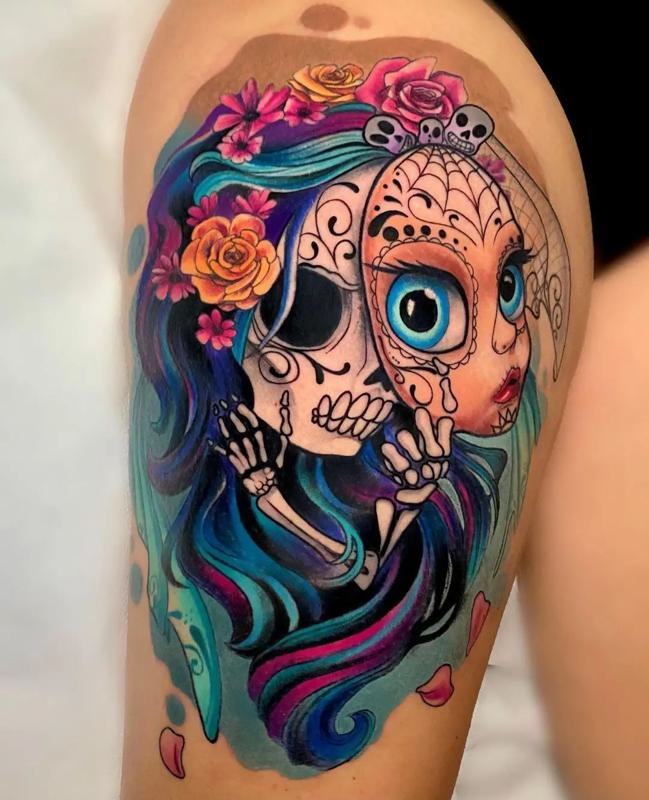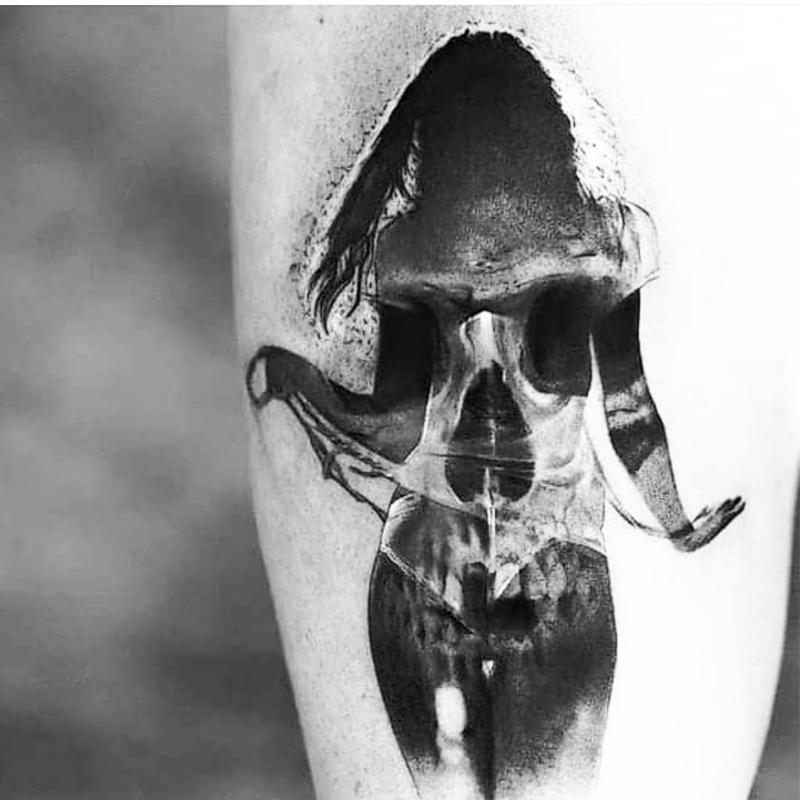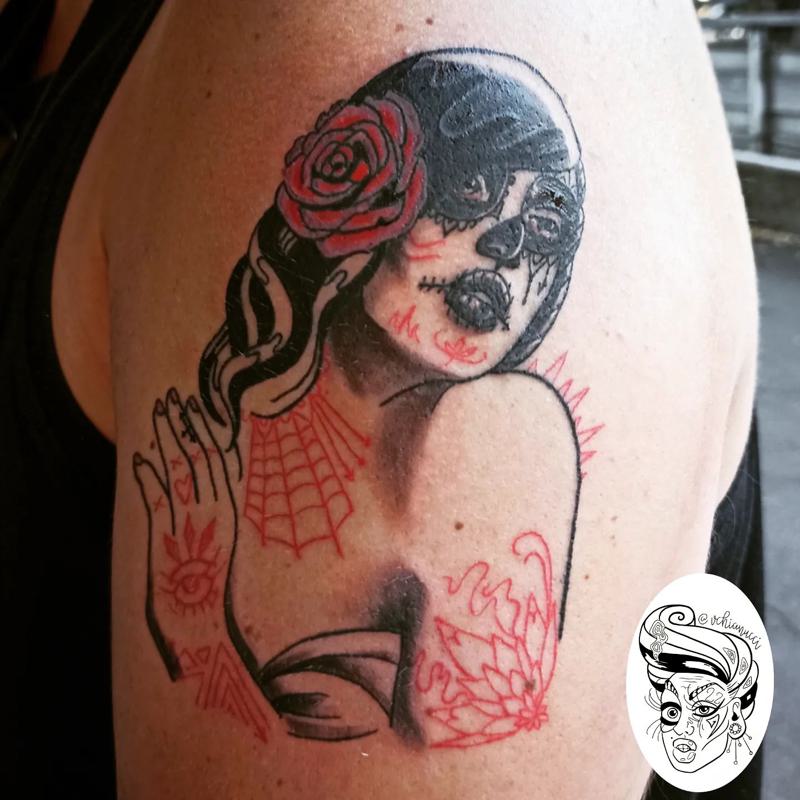 Since Santa Muerte was an old lady of purpose in the Mexican culture, the tattoo would look beautiful on ladies. Here, ensure your artist brings out the art in a perfect mix of colors to make you more attractive.
You can place the old lady's face without the skeleton. It will appear less scary and still maintain the primary meaning. As a lady, you can add a touch of red to show you have faith over fear as a woman. It will look amazing on your hips, neck, or hands.
Santa Muerte Tattoo for Men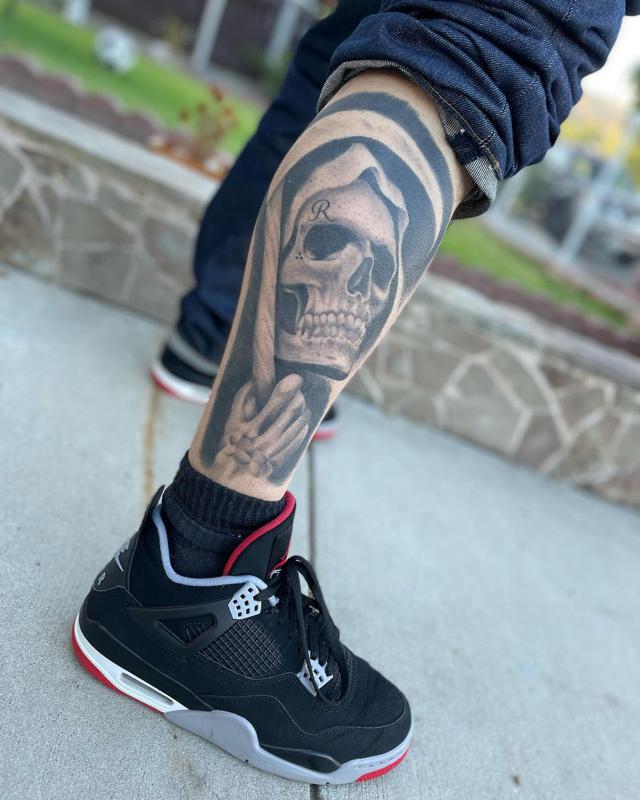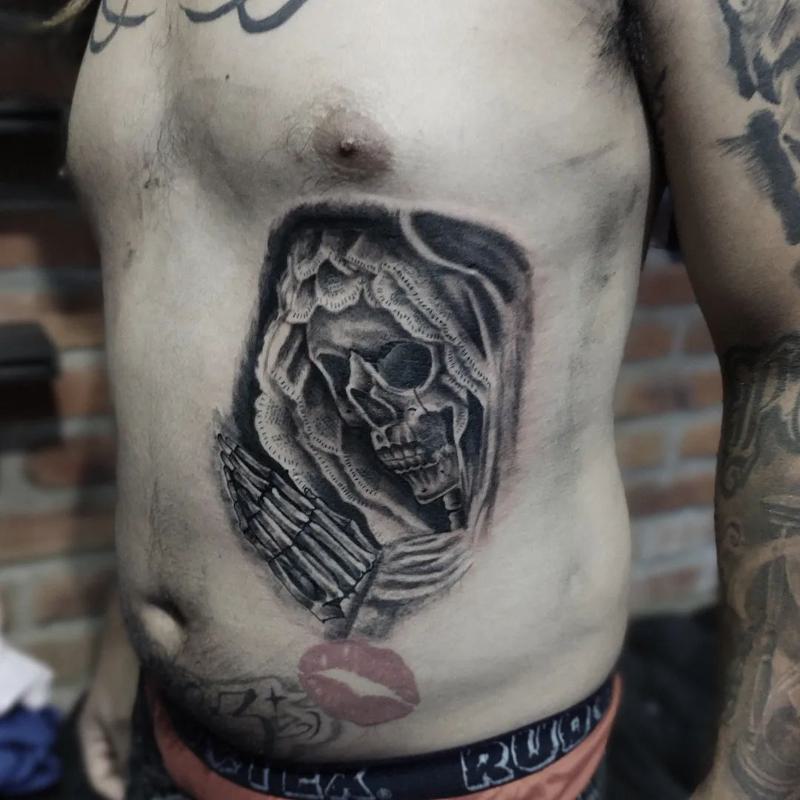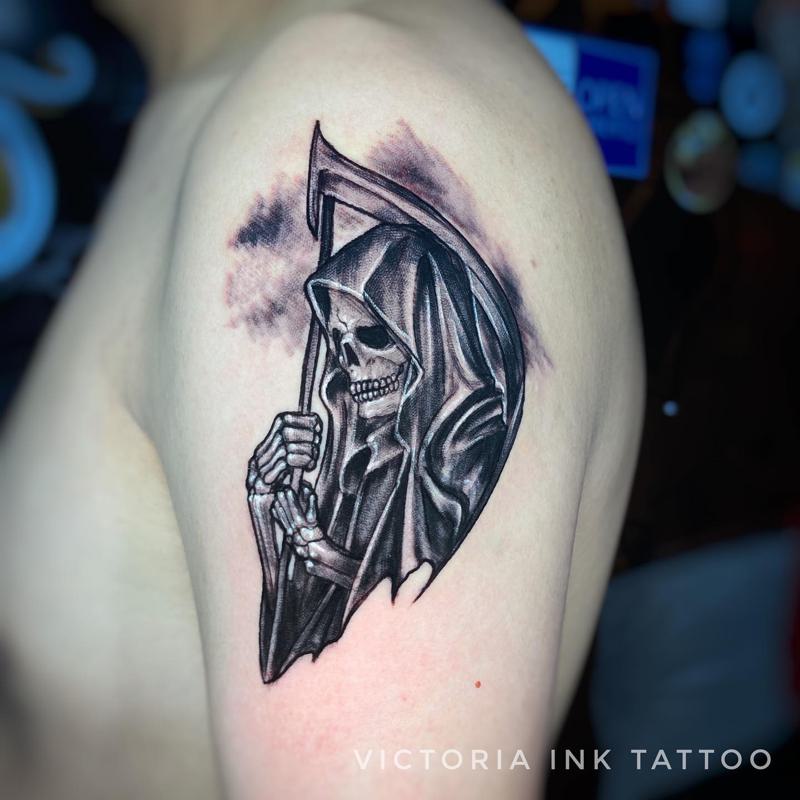 The old lady's spiritual tattoo can also bring out the man in you, depending on the art you place on your body. Go for the design that displays Santa Muerte's skeleton instead of her face. It shows you dare to face various life challenges, including death.
It will be more masculine when you place the art on your back, chest, or arm where there's space. Though, in the past, people related the art with bandits or drug dealers. Today, men use it to signify worship to Santa Muerte.
Santa Muerte Tattoo on Back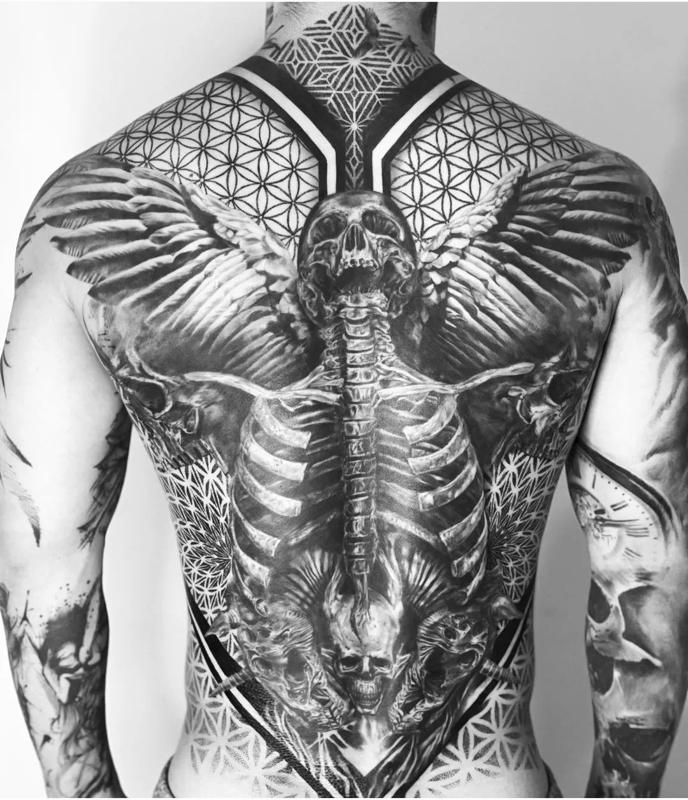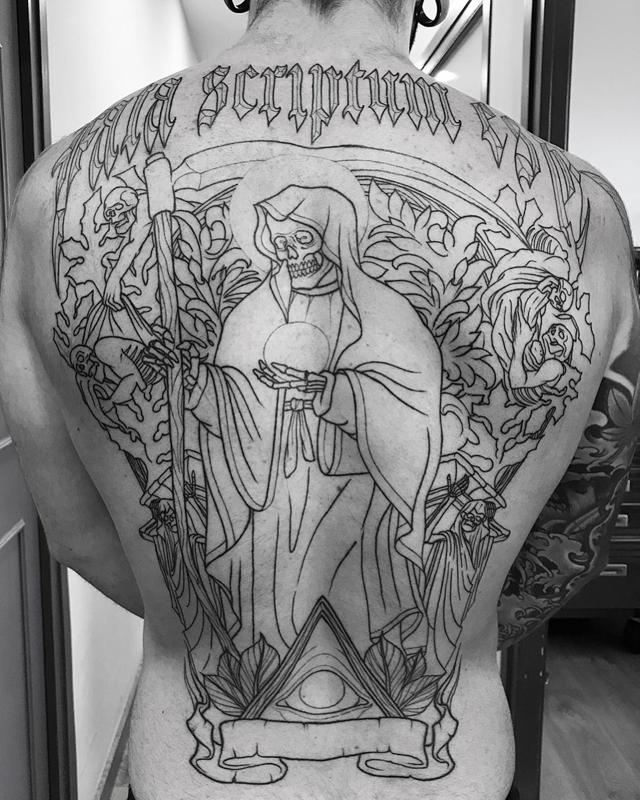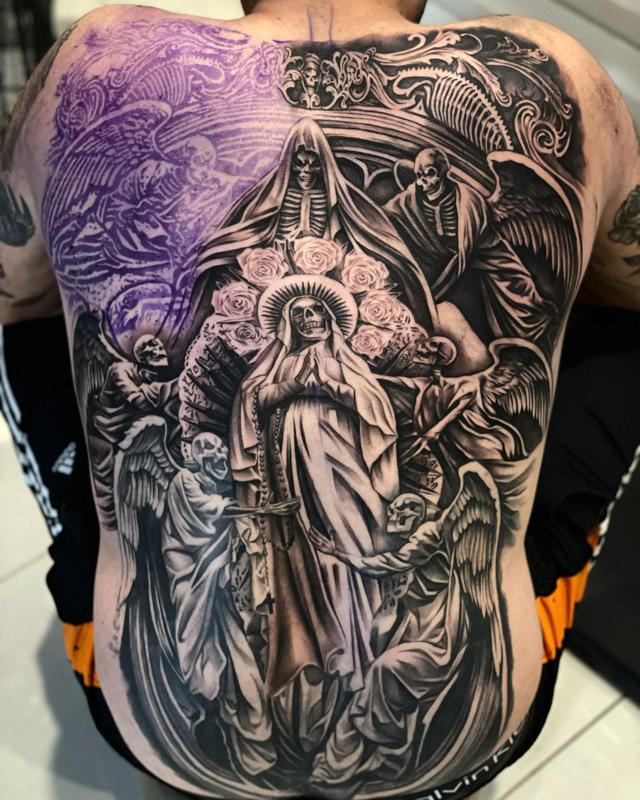 Would you love to have the Santa Muerte tattoo that won't attract much attention? Then, the back is the best location to ink it. Also, you'll have the space and freedom to customize your Santa Muerte tattoo. So, you can tell the story you know about the spiritual lady using different colors and other images.
Santa Muerte Tattoo on Chest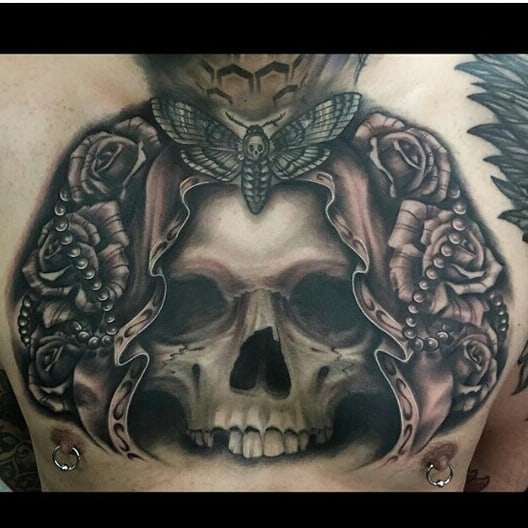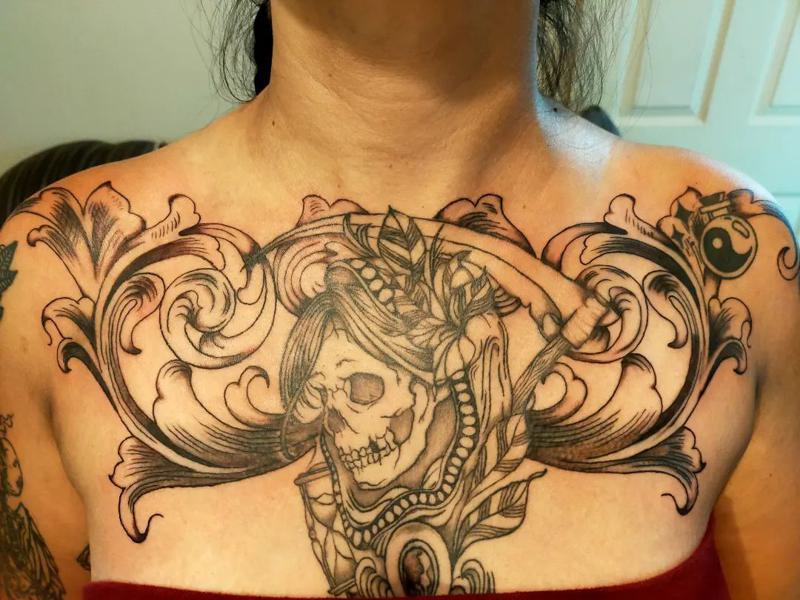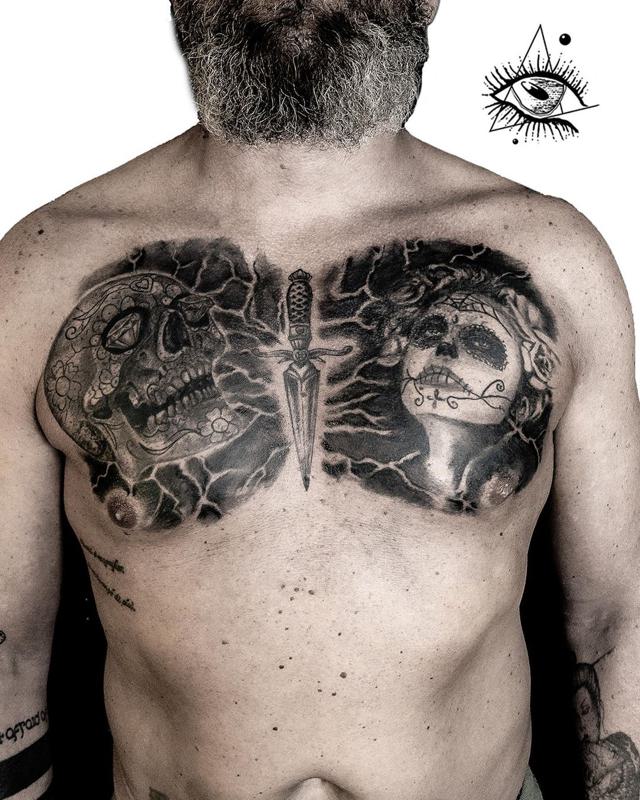 Like the back, your chest gives you much freedom to say more about what Santa Muerte means to you. This location mostly favors men as they'll have more space to ink their skins. Your tattoo can have loads of details and will need more time and money, but if the artist does it well, you'll love it.
Santa Muerte Tattoo on Hand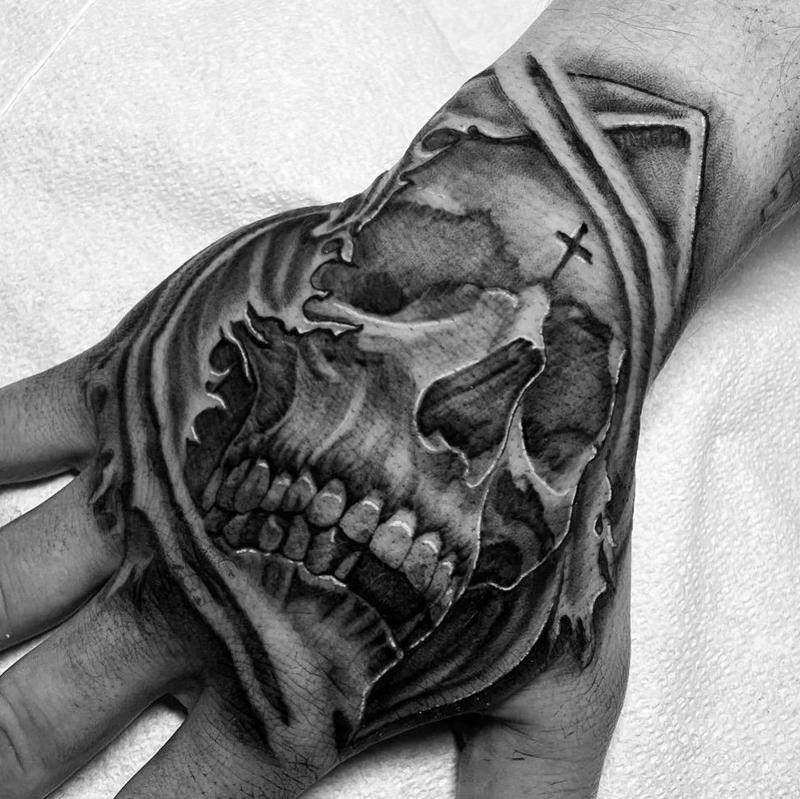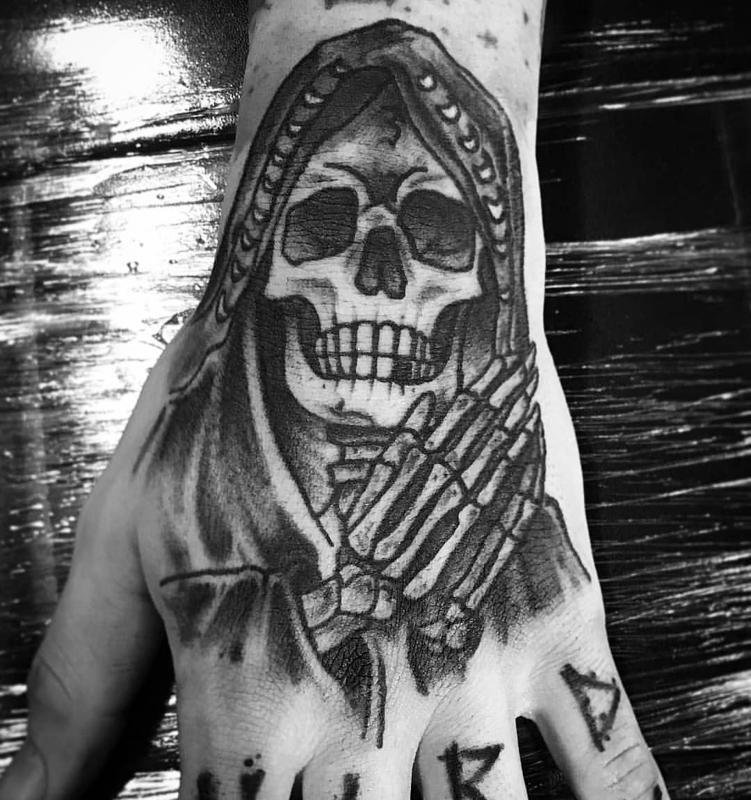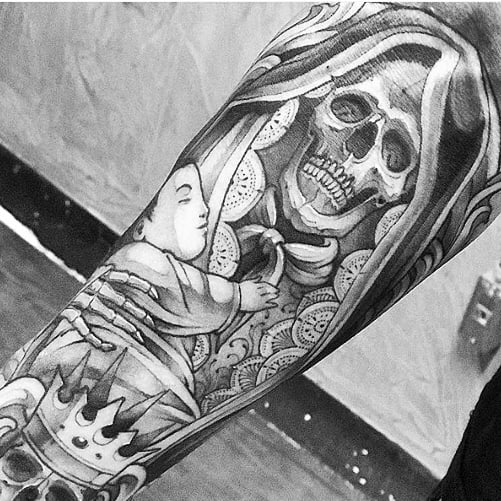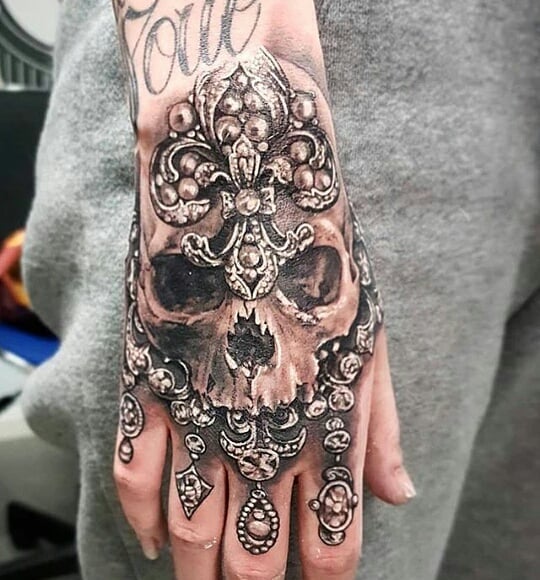 Covering your whole hand with this tattoo makes you more unique and beautiful than others. It will feel nice, especially if you come from places where there aren't any tattoo restrictions. Your artist can make it incredible if the art stretches from the biceps and down to your wrist. Here, the lady's face, whether a cloaked skeleton or a face, will be visible from many angles.
Santa Muerte Tattoo Sleeve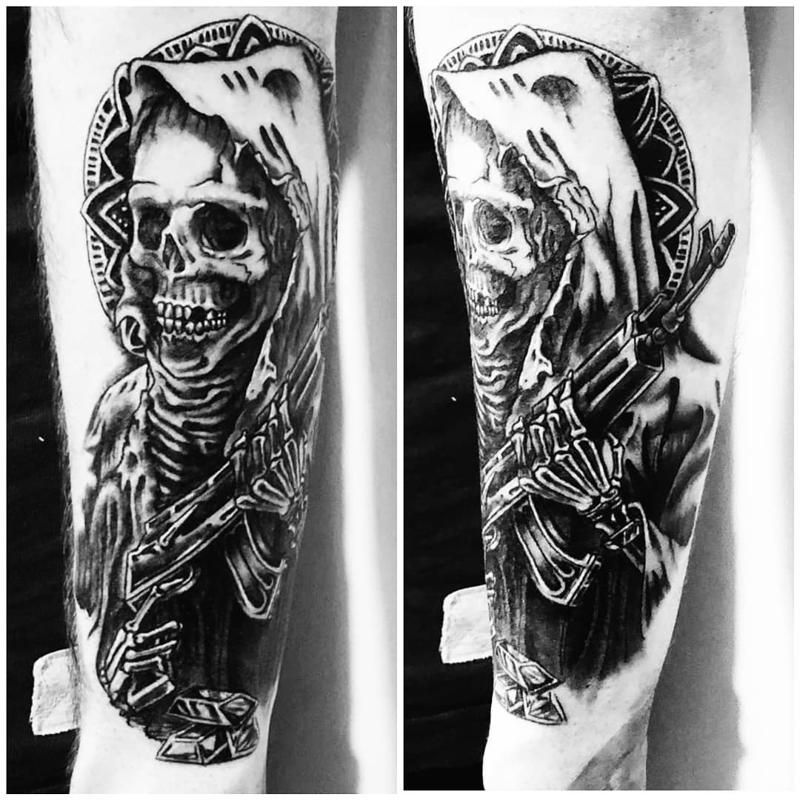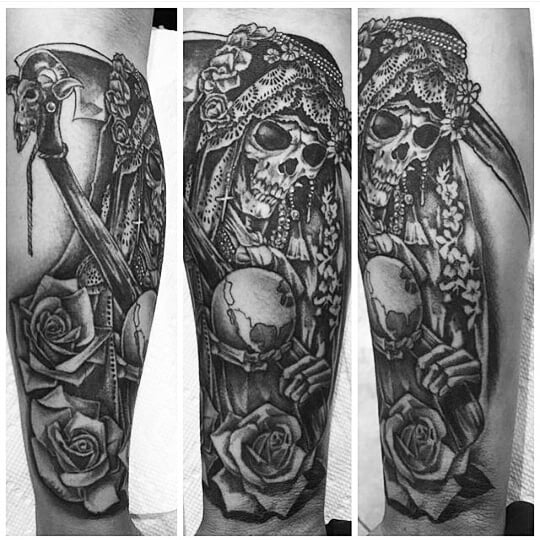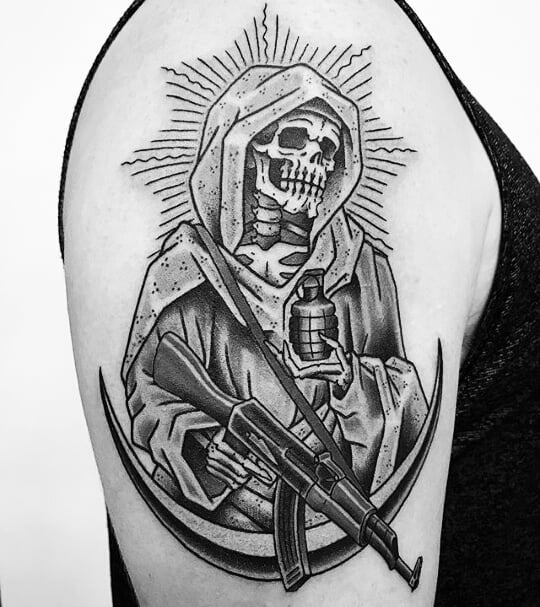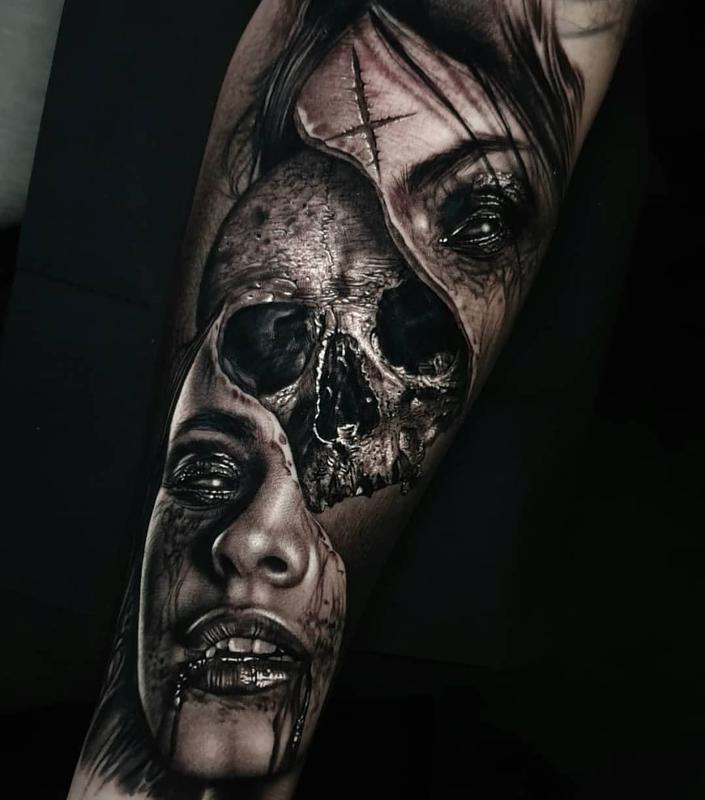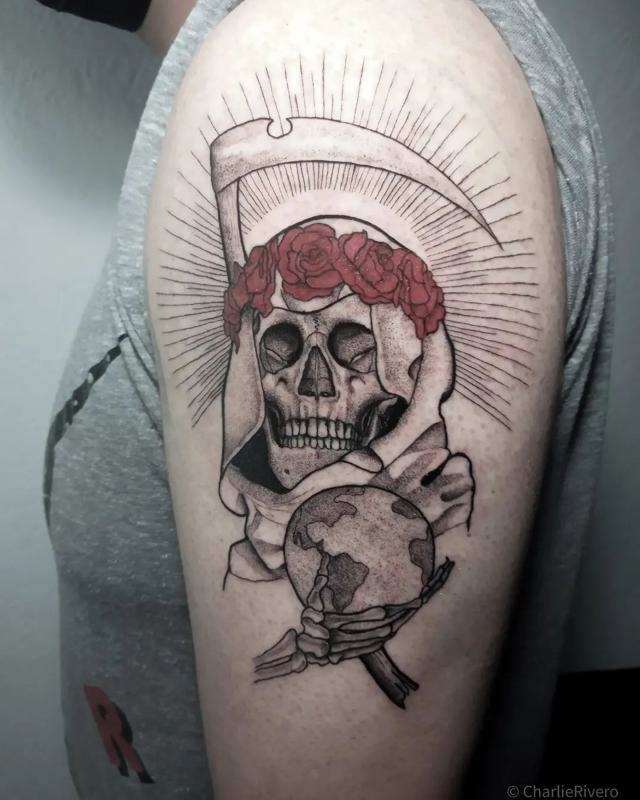 Any sleeve tattoo allows you to wrap the design all around your arm, especially the upper one. Expect Santa Muerte's face to look nice and cute on this body part. It gives you a choice to hide using your clothing or show it off. Also, the body part is the best place for the tattoo's theme with many meanings and images.
Santa Muerte Tattoo Neck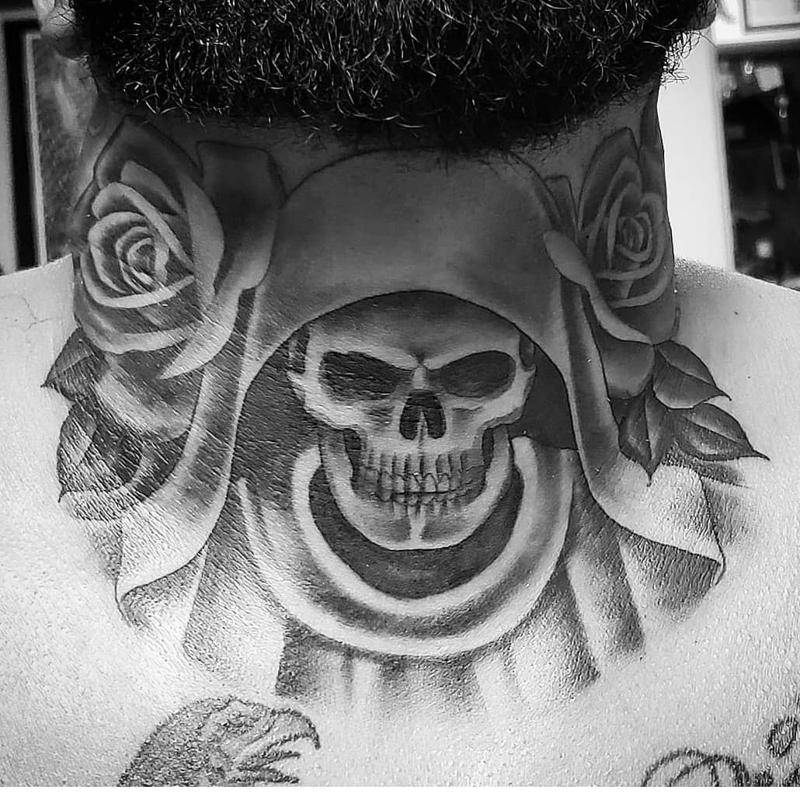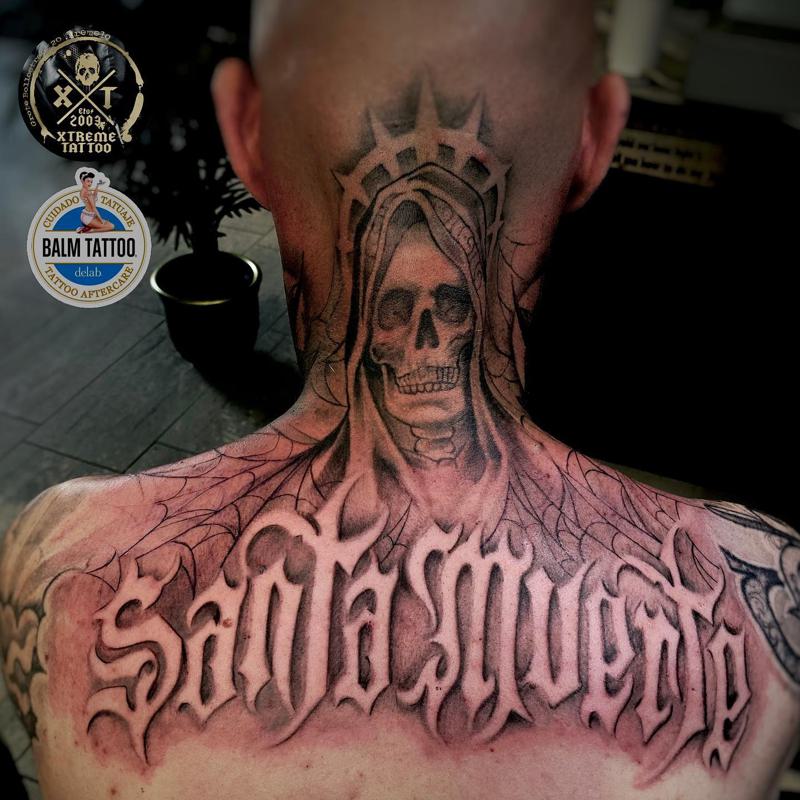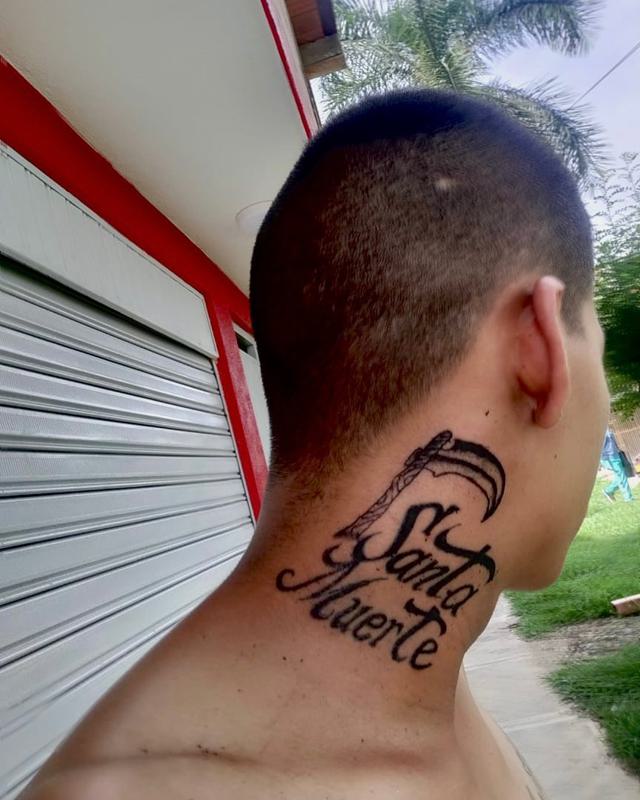 Who wouldn't want to look unique with a Santa Muerte's tattoo on their neck? Even if the art carries a deep message about death, having it on your neck will make you more beautiful.
You can have the design in a big size that will stretch to your shoulders, neck, or back. Also, the tattoo can be small if you want to keep it off from people.
Santa Muerte Tattoo on Thigh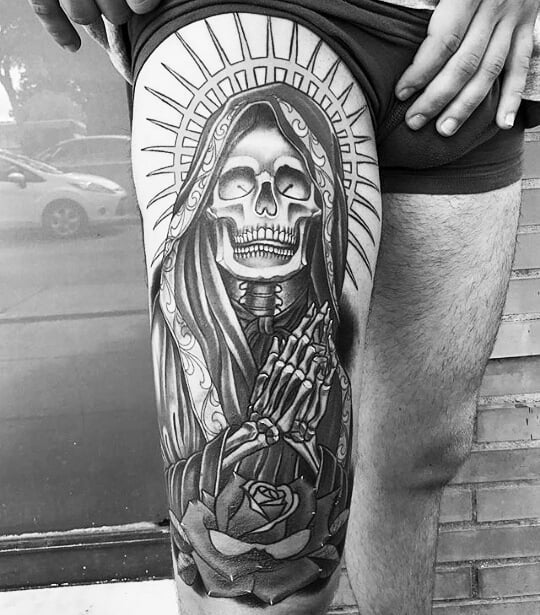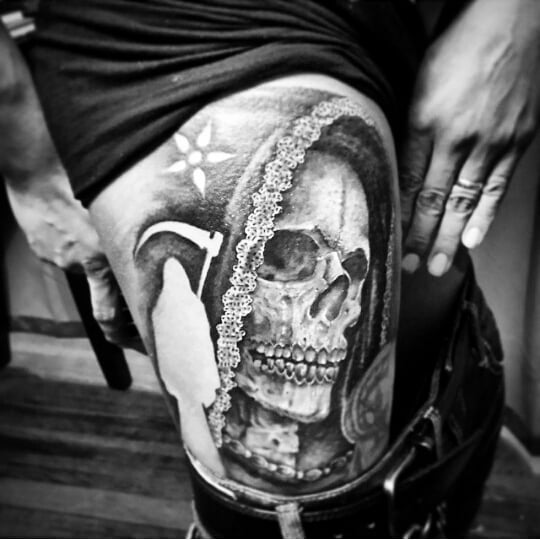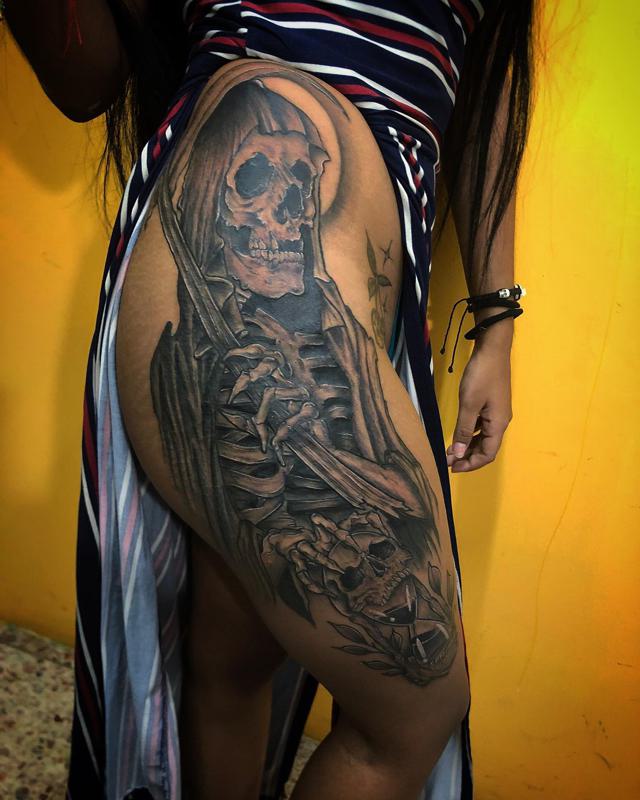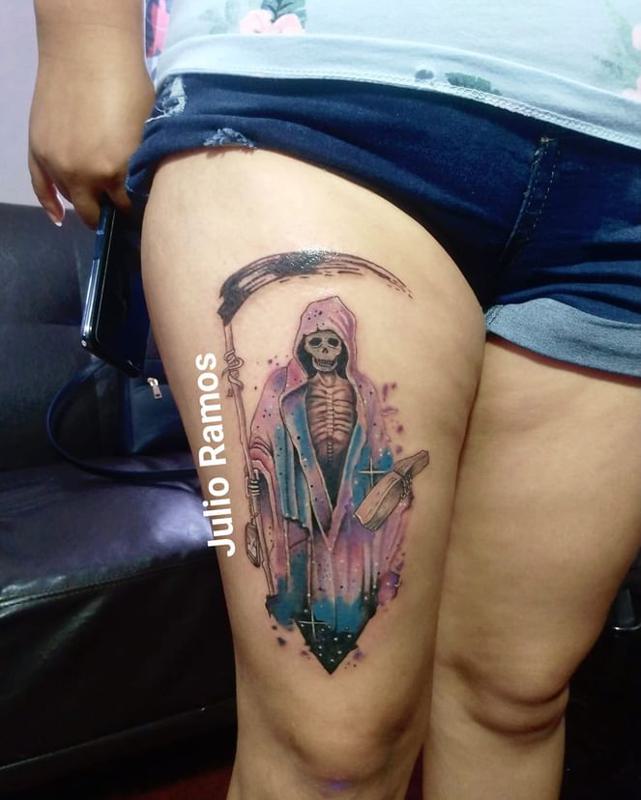 Your thigh is also the best place that will bring the details and face of Santa Muerte. Men can have it at this location but on the front. As for women, any side of your hip or thigh will speak out the tattoo's message and make you more beautiful.
It brings out the thigh shape in public during fashion events and recreational places. The thigh is a great location to ink the tattoo and hide it from much public attention. It can be that you don't want people to know the religion you trust.
La Catrina Santa Muerte Tattoo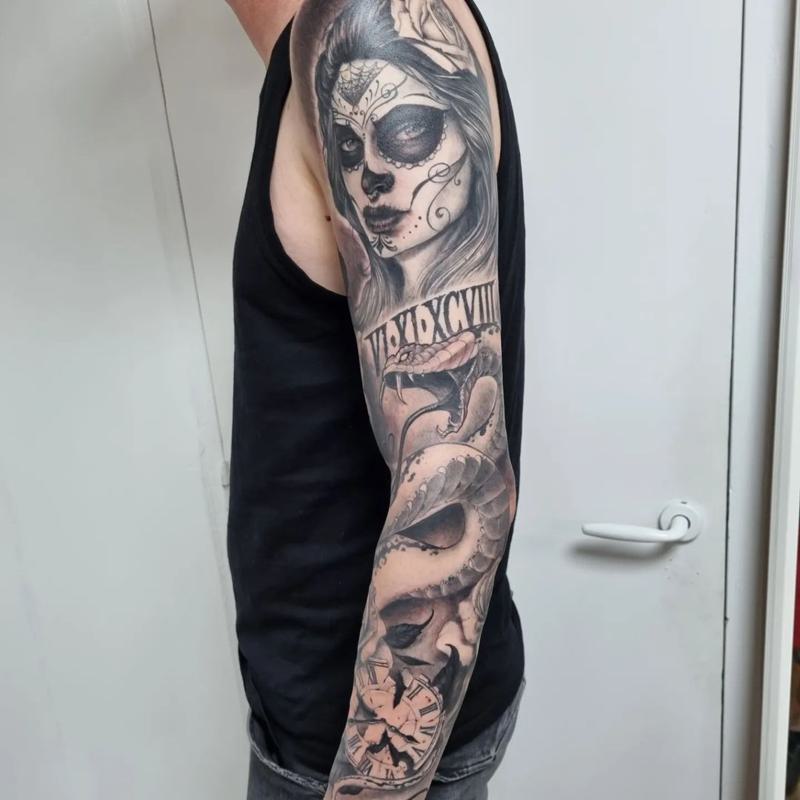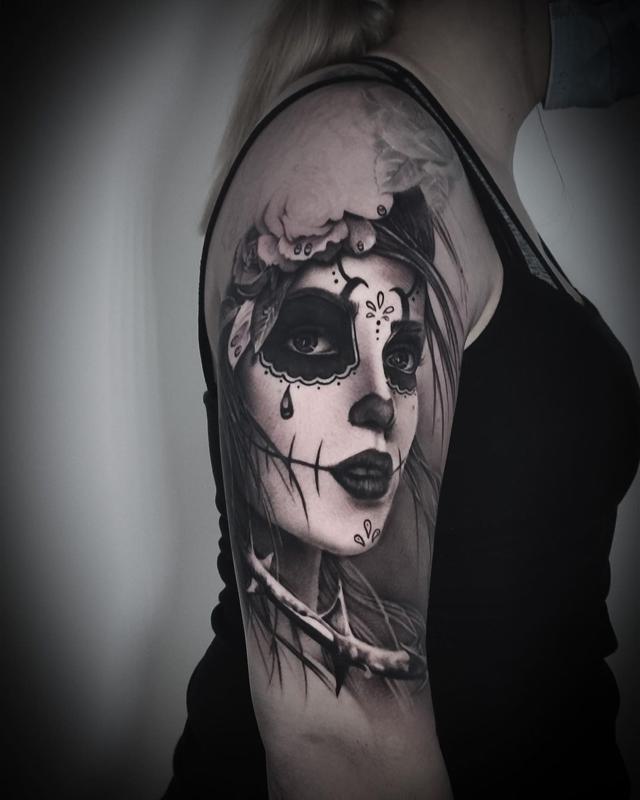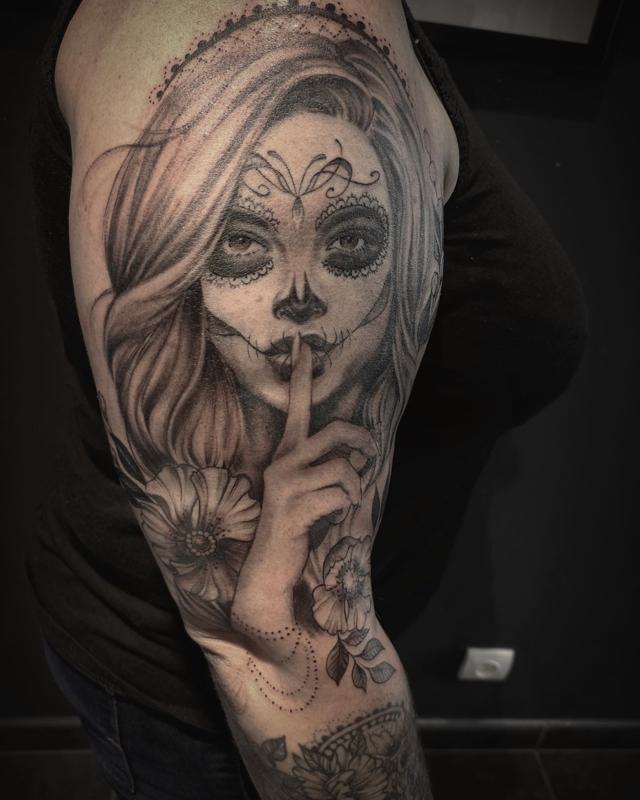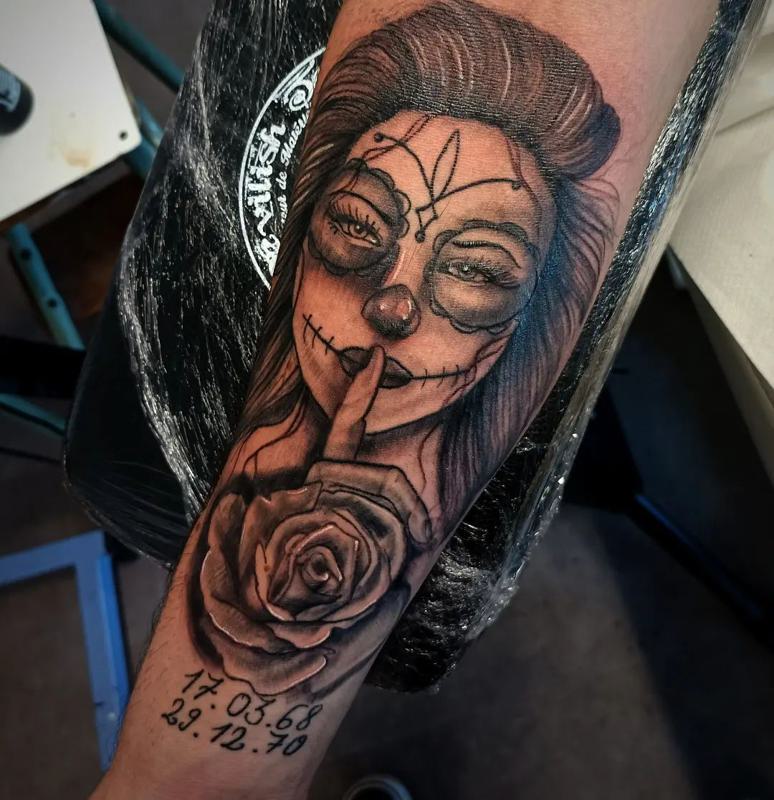 You can also ink yourself with the La Catrina design, which means a female figure in Latin. The name doesn't mean that the art is only for women. Across both genders, the La Catrina tattoo signifies that everyone will face death. It's a message that fits everyone, whether rich or poor.
Also, the tattoo will make you pull many necks during the day of the dead celebrations. As art keeps growing, La Catrina's image keeps having many details that make the design more attractive.
Significado Santa Muerte Tattoo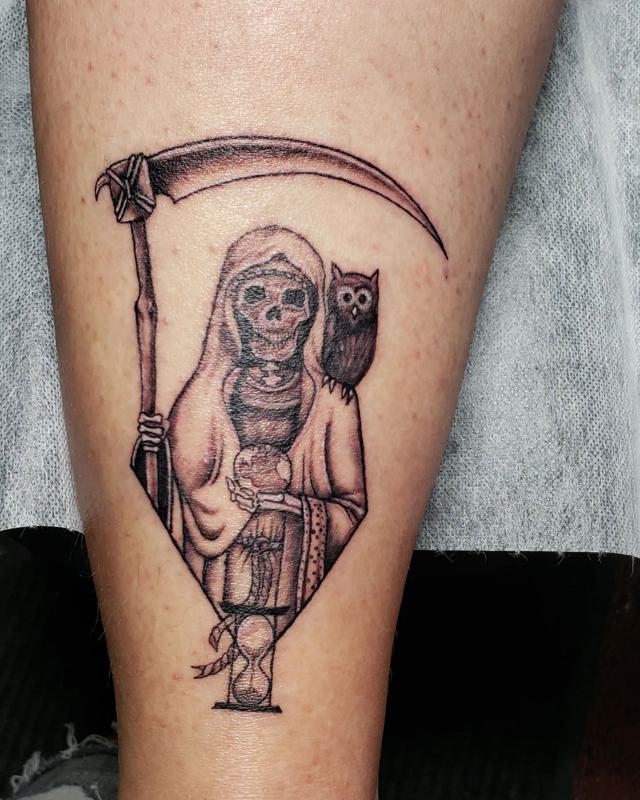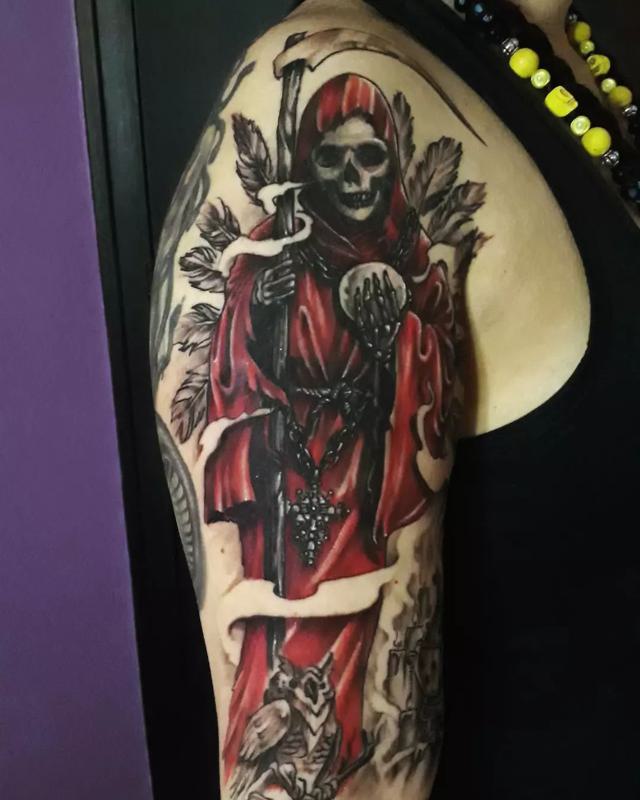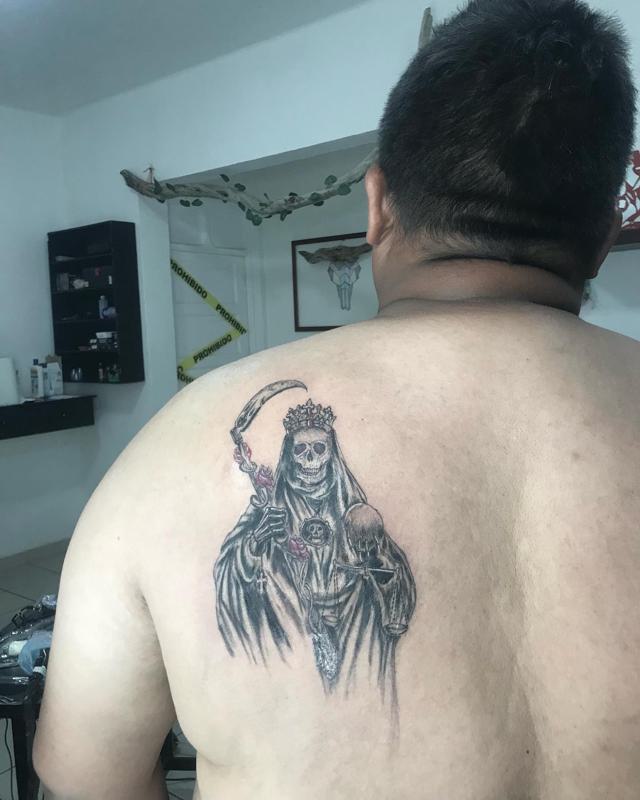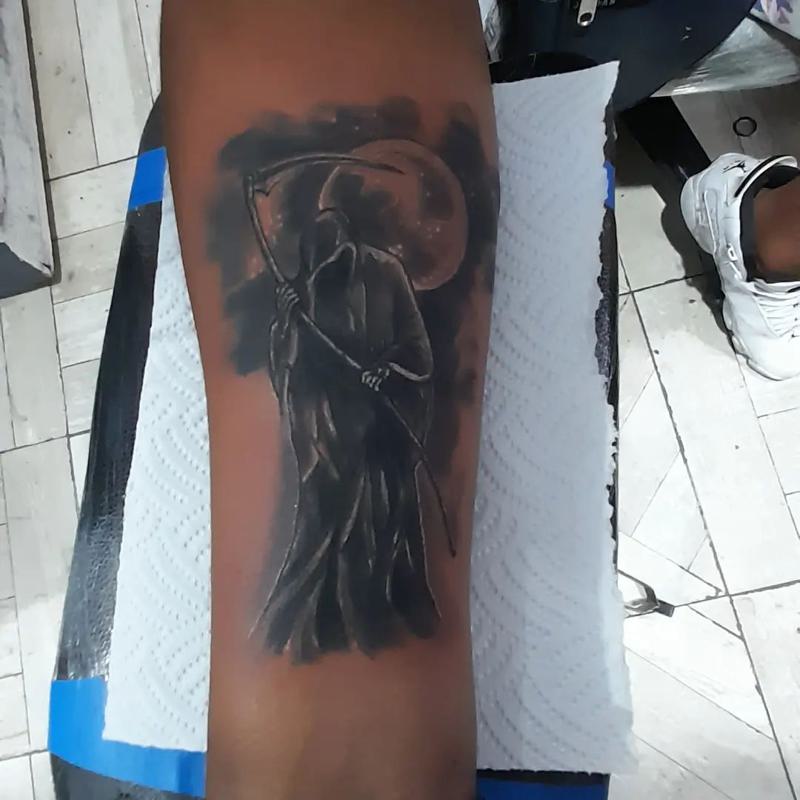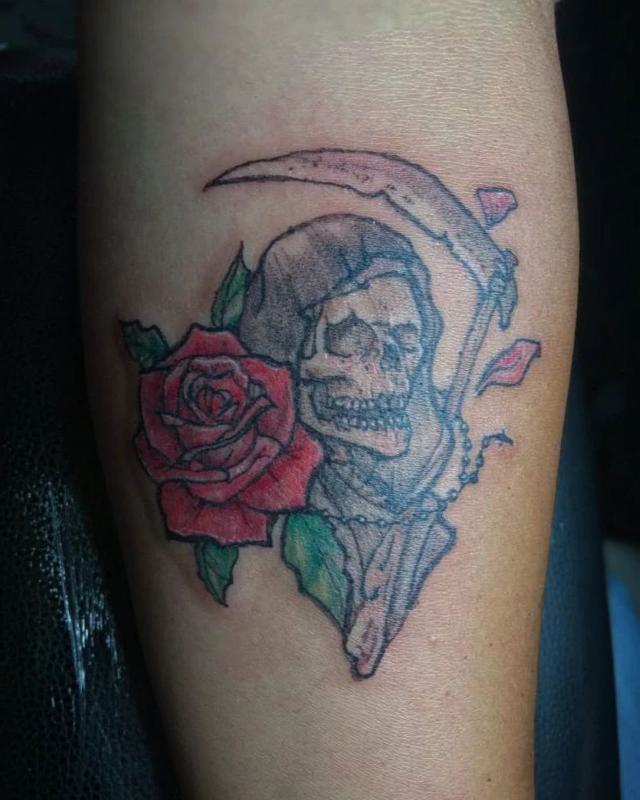 The Significado tattoo design is an art that's original and unique. It's a design that lets you express the person you are pretty well. Getting the craft on any part of your body shows your vast knowledge about Santa Muerte's beliefs. You can use them to rock the Mexican religious and fashion events because of the many meanings they carry.
Praying Hands Santa Muerte Tattoo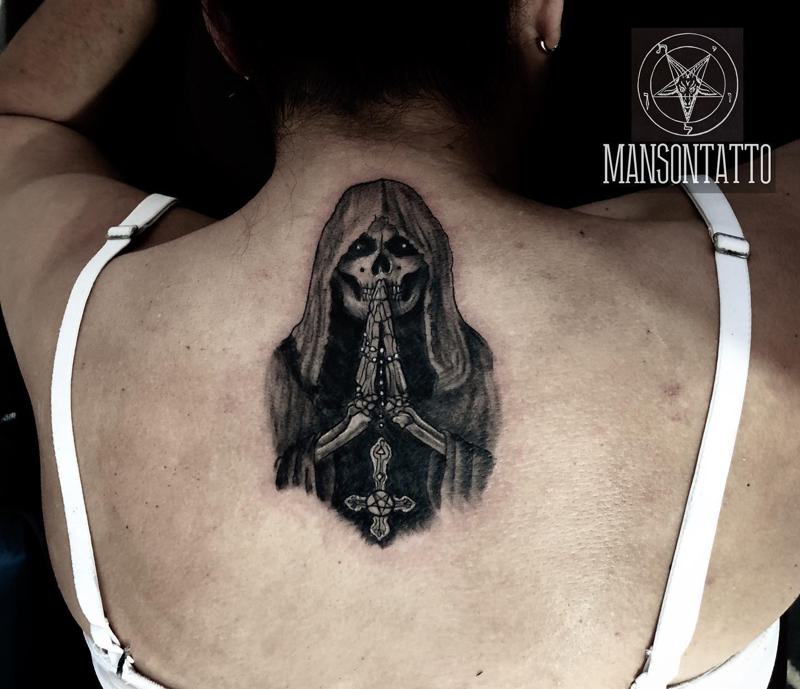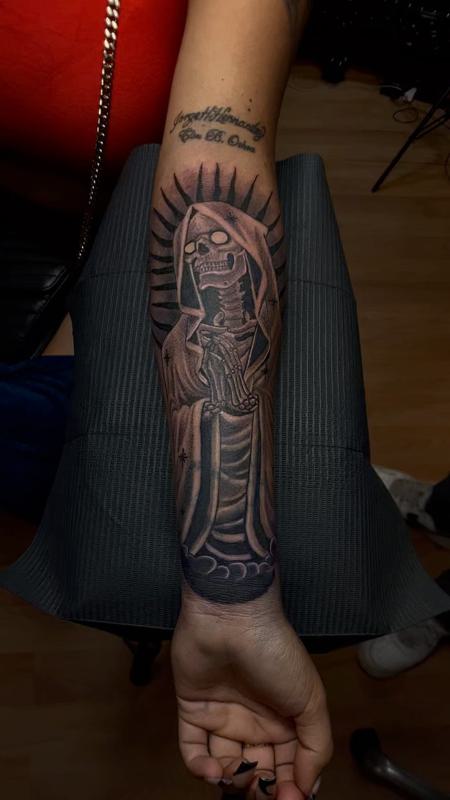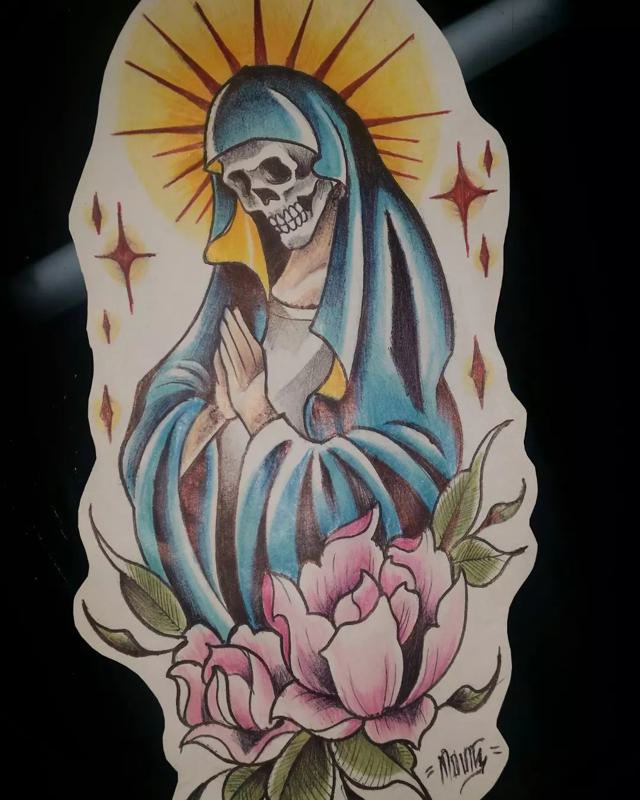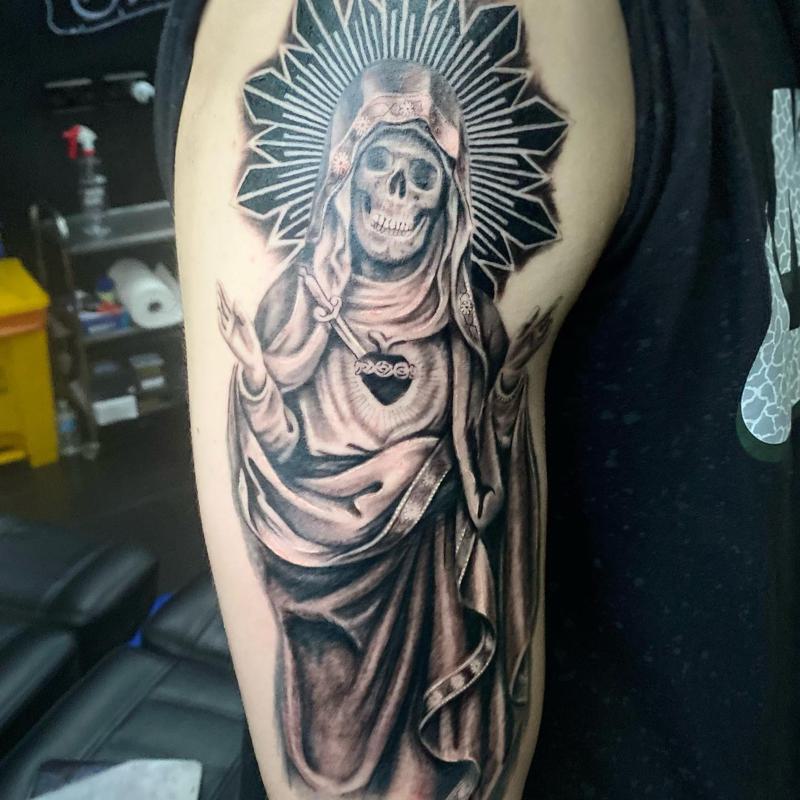 Go for this design if you are more interested in Santa Muerte's religious matters. The old lady's image while holding her hands shows that she's praying for her believers. So, getting the design on your skin portrays your levels of faith in Santa's prayers.
Such designs come with Santa holding her rosary. It's a critical aspect that signifies the depth of your faith. Remember, this design tends to look like the traditional one even with the colors, but either way, the design will make you unique.
Small Santa Muerte Tattoo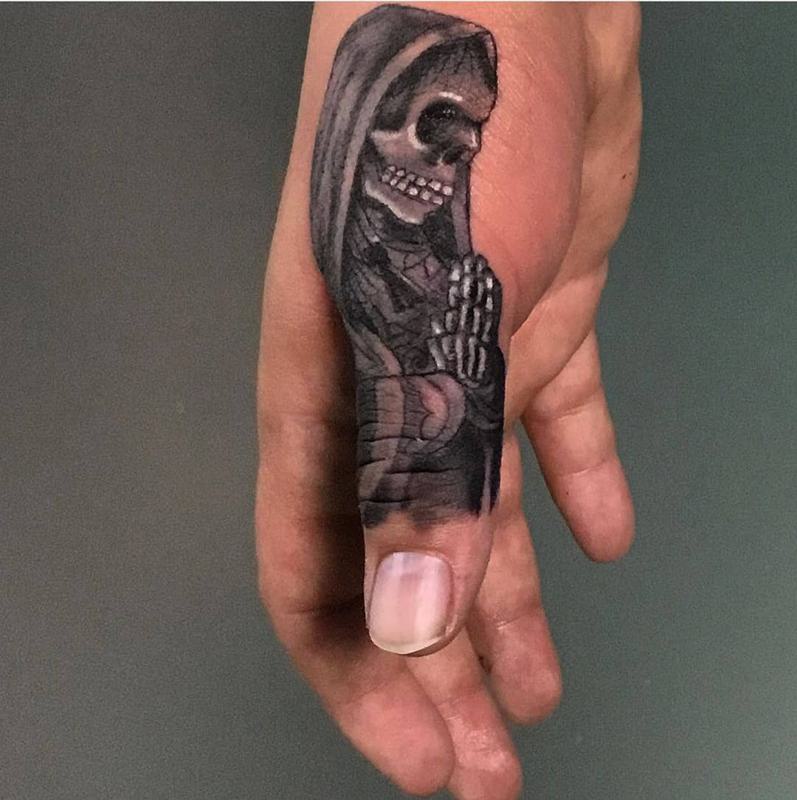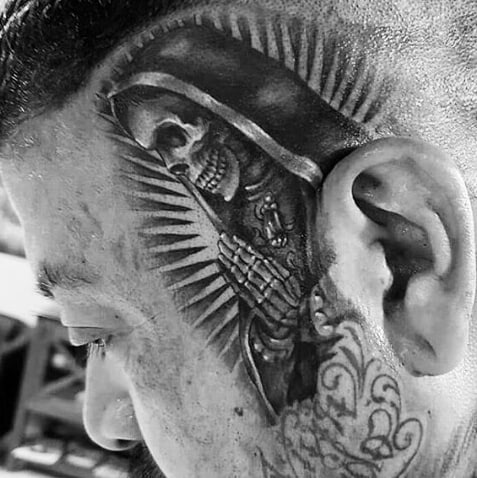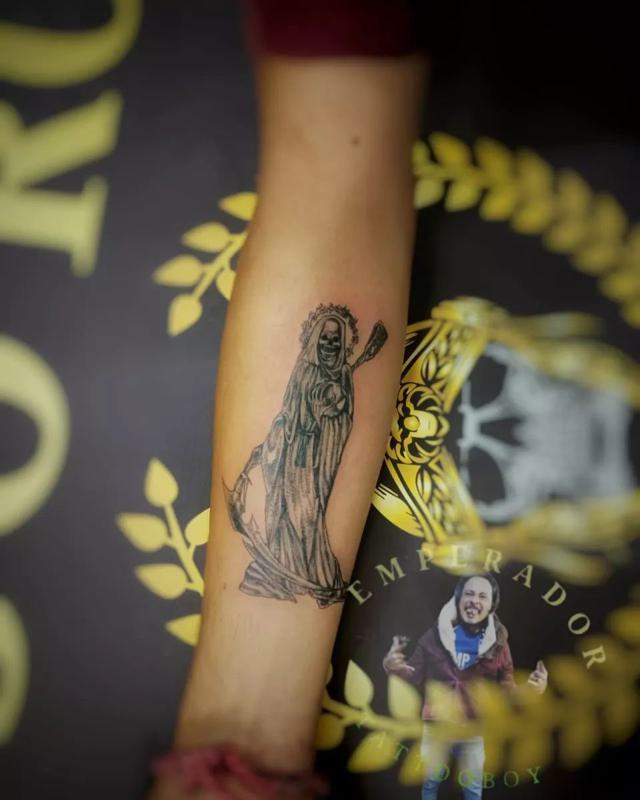 The Santa Muerte tattoo doesn't have to be ample for the message to be clear to the public. You can make them small with a unique concept that won't draw much attention. A small one can fit on any body part but will be great to place on a wrist, finger, ankle, or neck.
Some small Santa Muerte designs tend to lack details but will make your body more beautiful. Your artist can also play with the design and give it much info and meaning.
Small tattoos are the best for people who want to start their tattoo journey. Getting the design is quite painless, especially on fingers. It's also great for those with less cash and who want to ink their bodies with these designs.
Black and Grey Santa Muerte Tattoo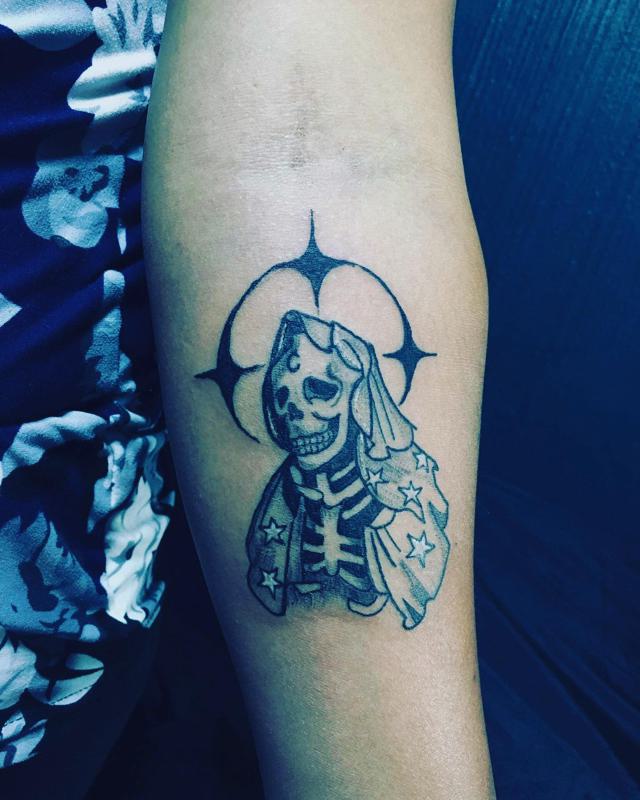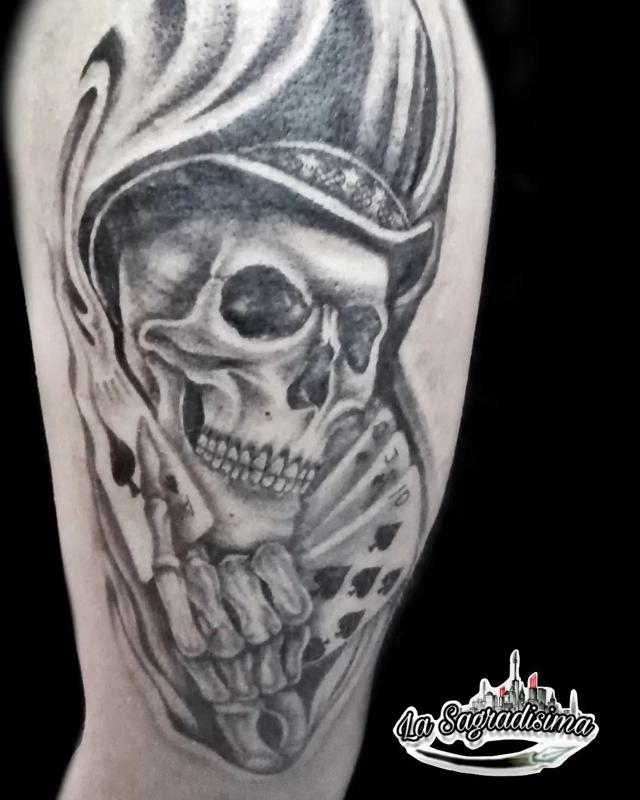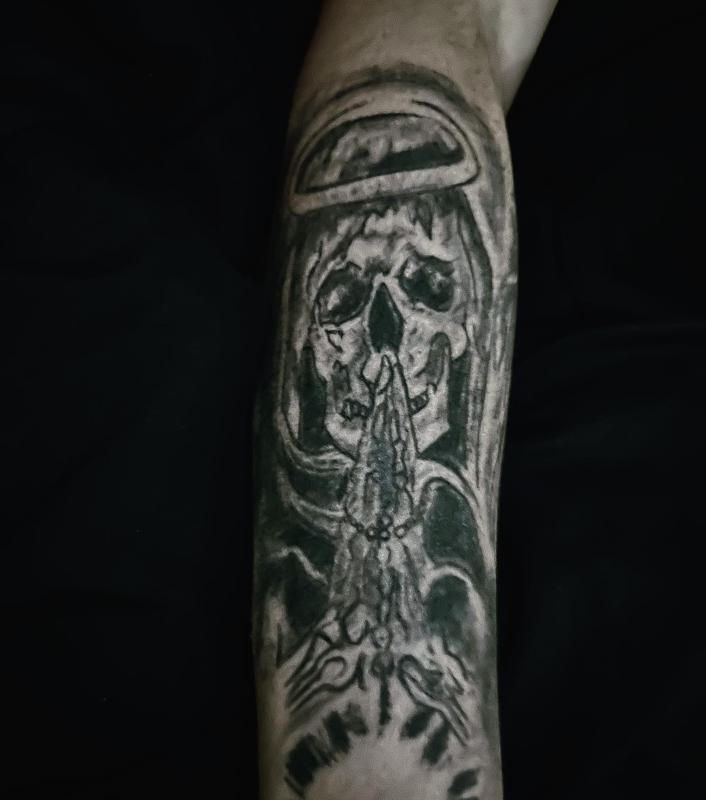 The black and grey Santa Muerte tattoo gives you that vintage look with much info on your skin. It suits people who want to ink large areas of their body and won't be afraid to show off the lady's face or skeleton.
Getting the art on you takes time and will age like fine wine on you. Remember, you won't need much ink to create this tattoo, so the costs will dwell much on the details. If you are a man, go for this Santa Muerte design because it looks more masculine with fewer colors.
Chicano Santa Muerte Tattoo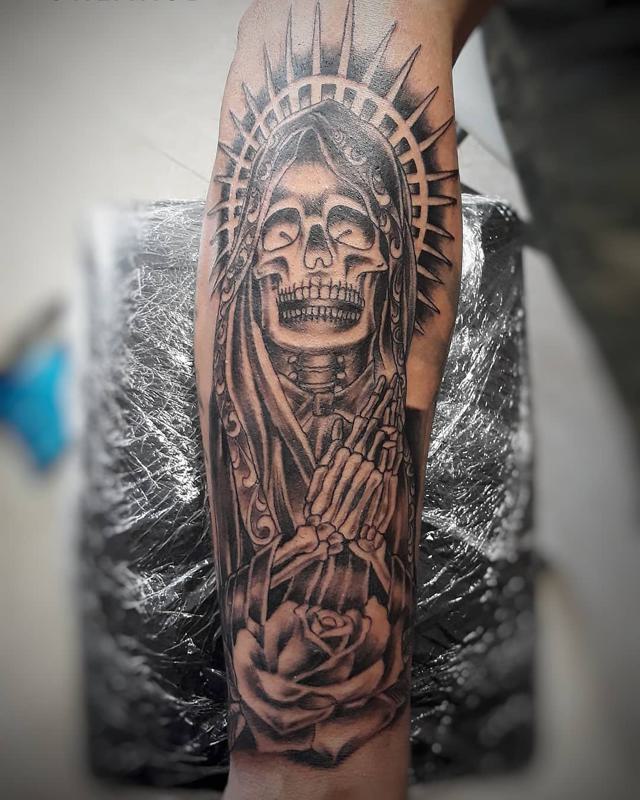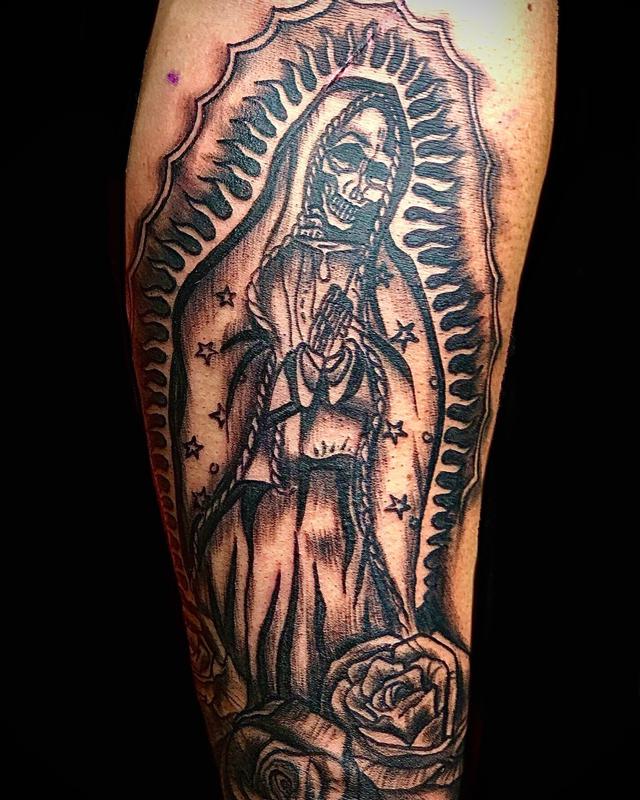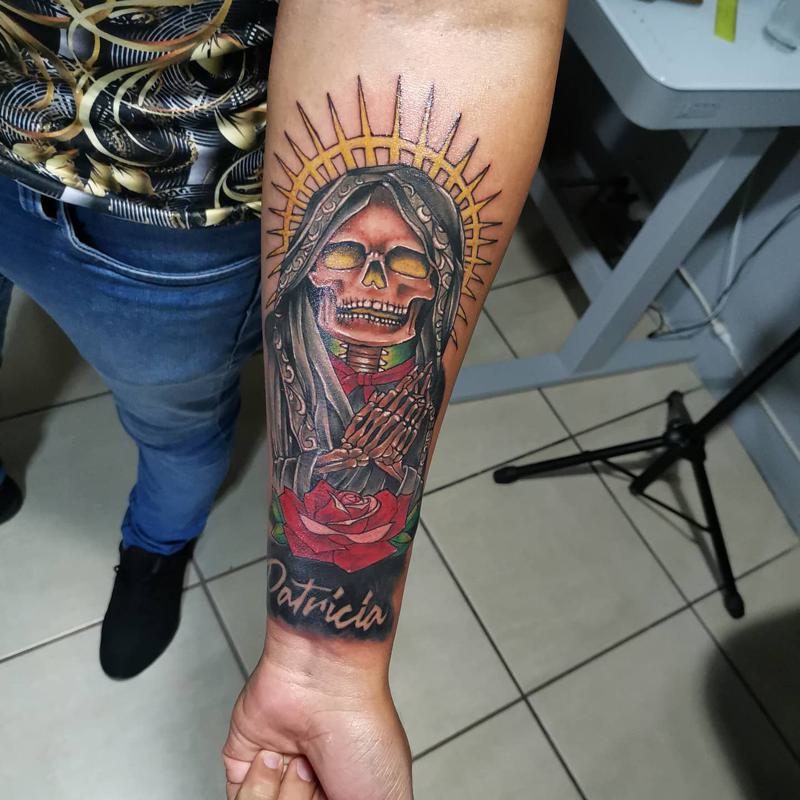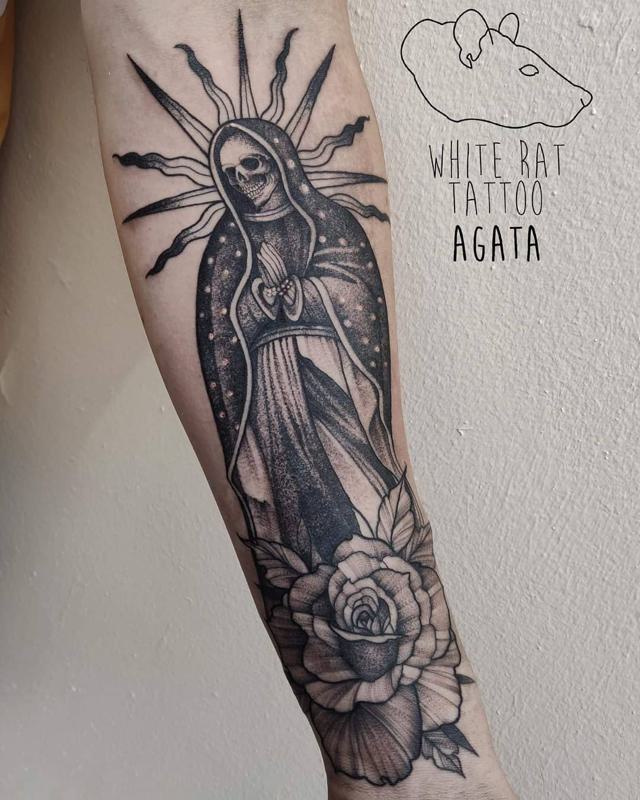 It's one of the most common designs that carries various meanings of Santa Muerte. This art has the lady's skeleton in a Mexican dress holding a scythe in either of her hands. You can have it on any body part, color, and size but depending on your interests. Keep it large on your forearm, hip, leg, or sleeve to make it more aesthetic.
Simple Santa Muerte Tattoo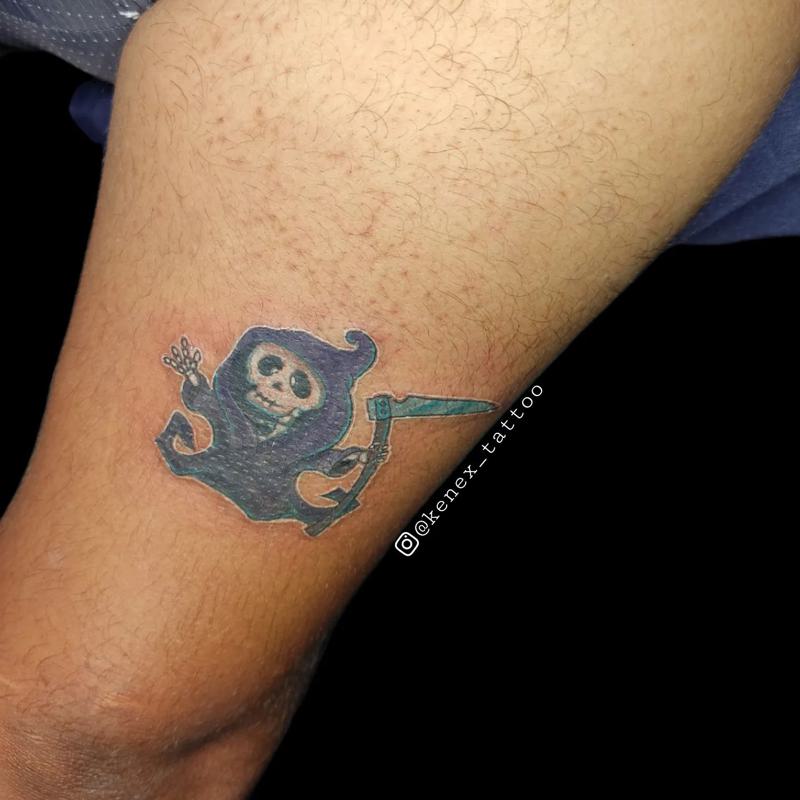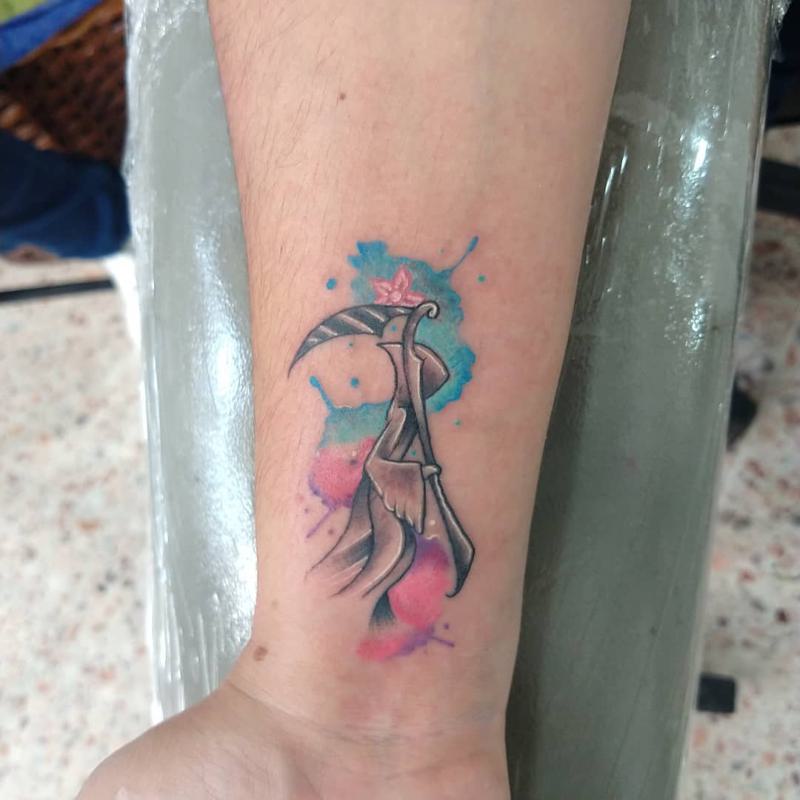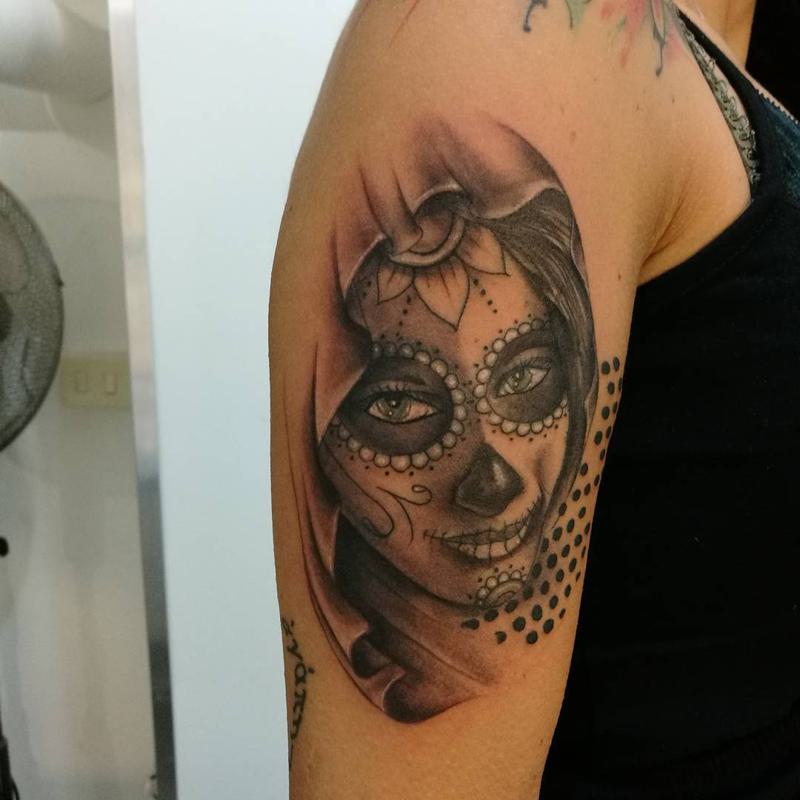 Sometimes, the tattoo doesn't need to have many details for it to look great. It's cheaper to create the design using a black shade or outline. Please pick on a design that matches your skin tone.
Still, you can choose to make the design colorful according to your mood and personality. Such tattoos are cheap, and the beauty will last for many years.
Shaded Santa Muerte Tattoos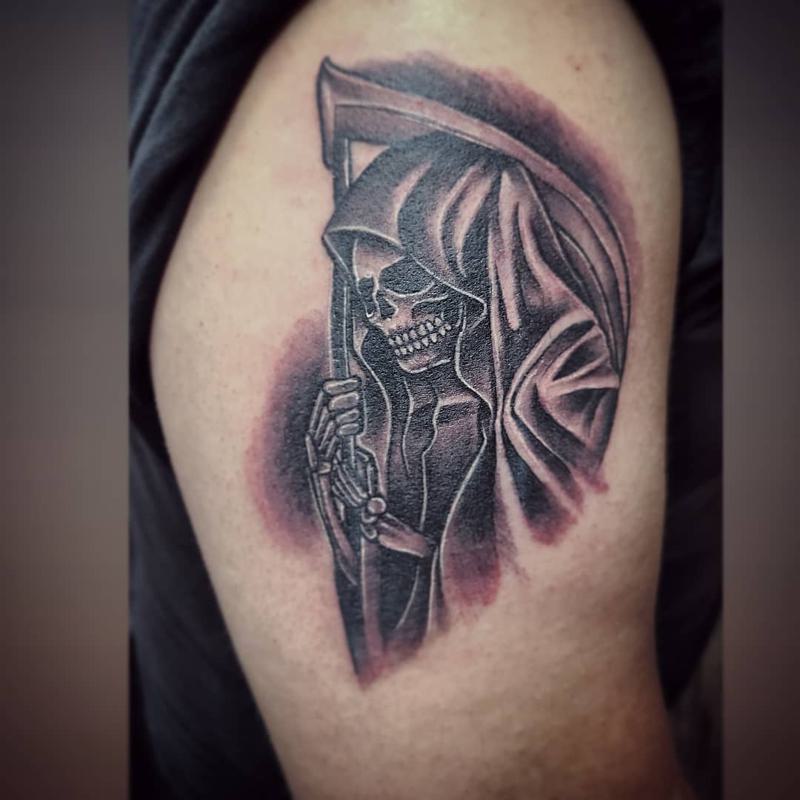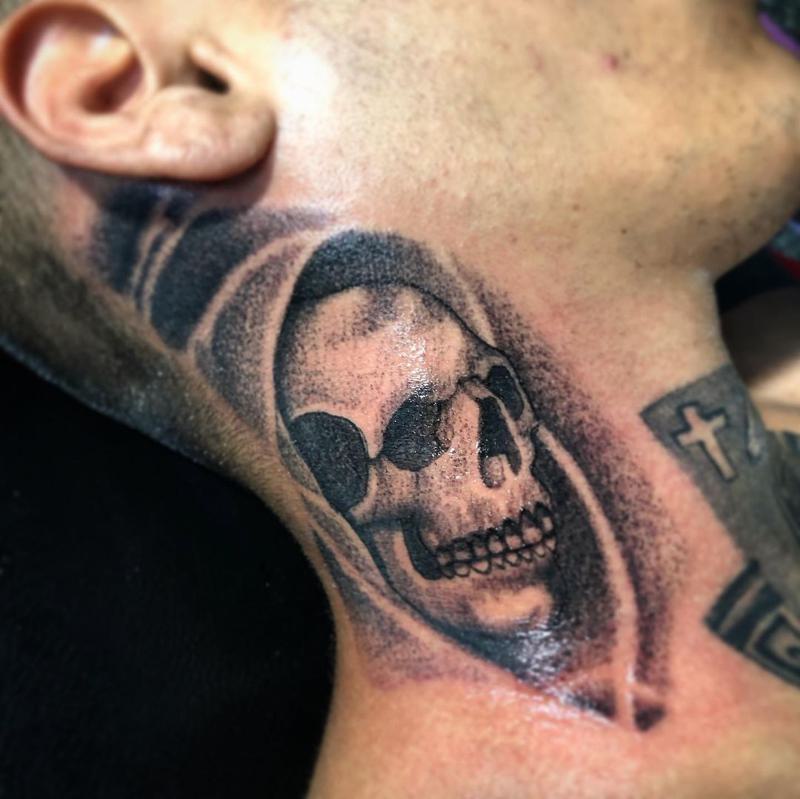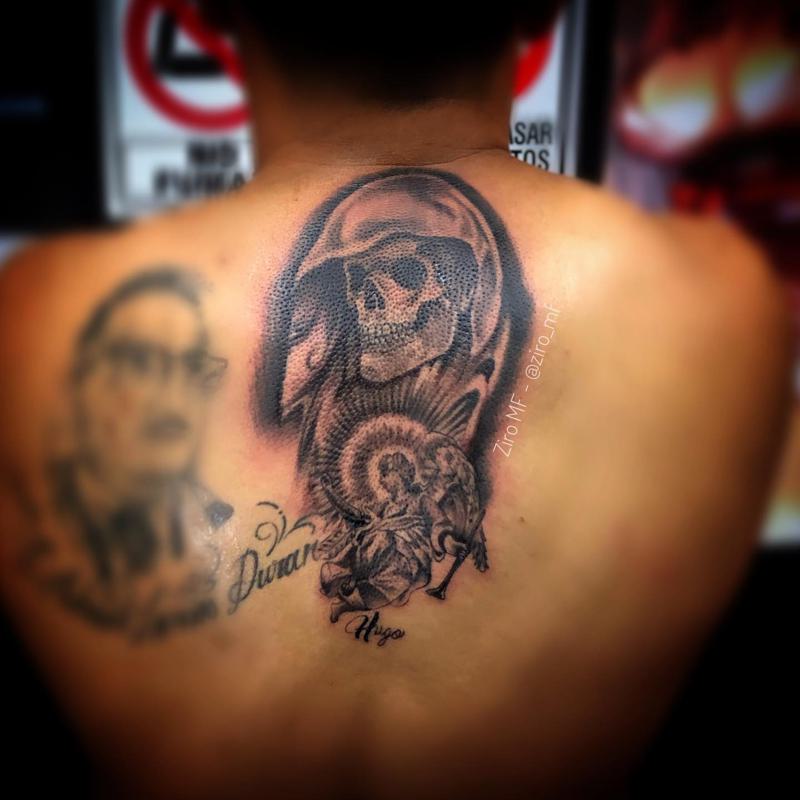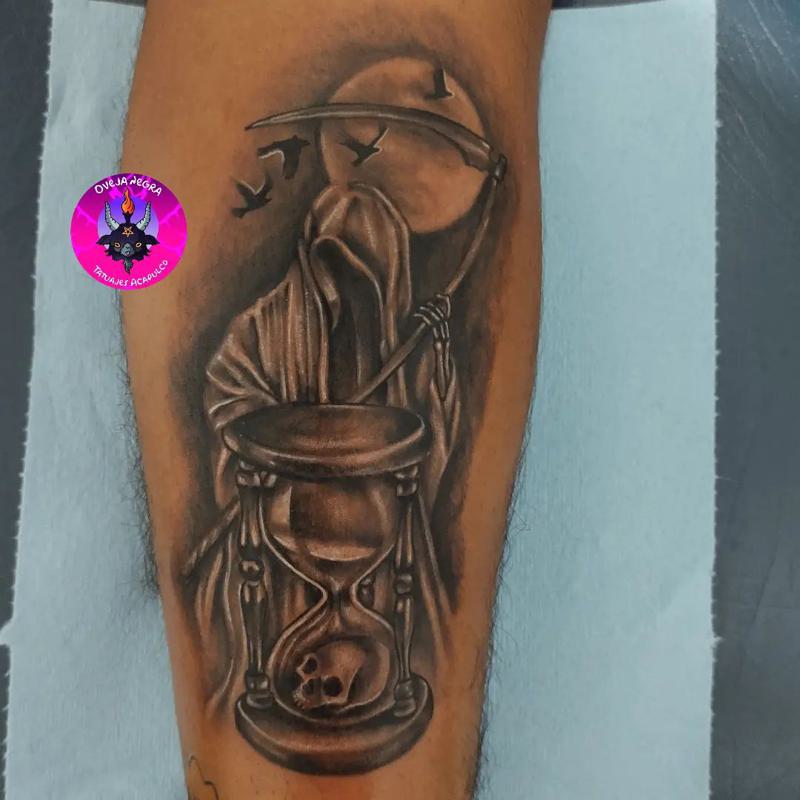 This design is for the folks who dislike colorful tattoos. The colorless or shaded art brings out the beauty of the religious leader. It doesn't matter whether you are getting a design of Muerte's skull or face; the shade will make the tattoo have a sweet, dramatic effect.
A shaded and colorless design gives your art a touch of darkness and makes it more mysterious. So, if you want the tattoo's death meaning to come out with beauty, give it a colorless or shaded taste.
Unique Santa Muerte Tattoos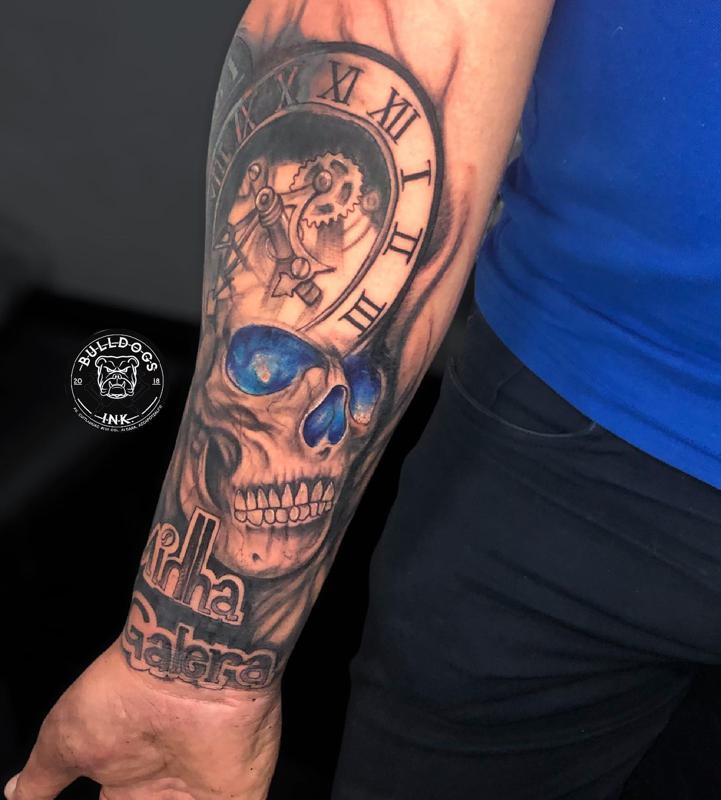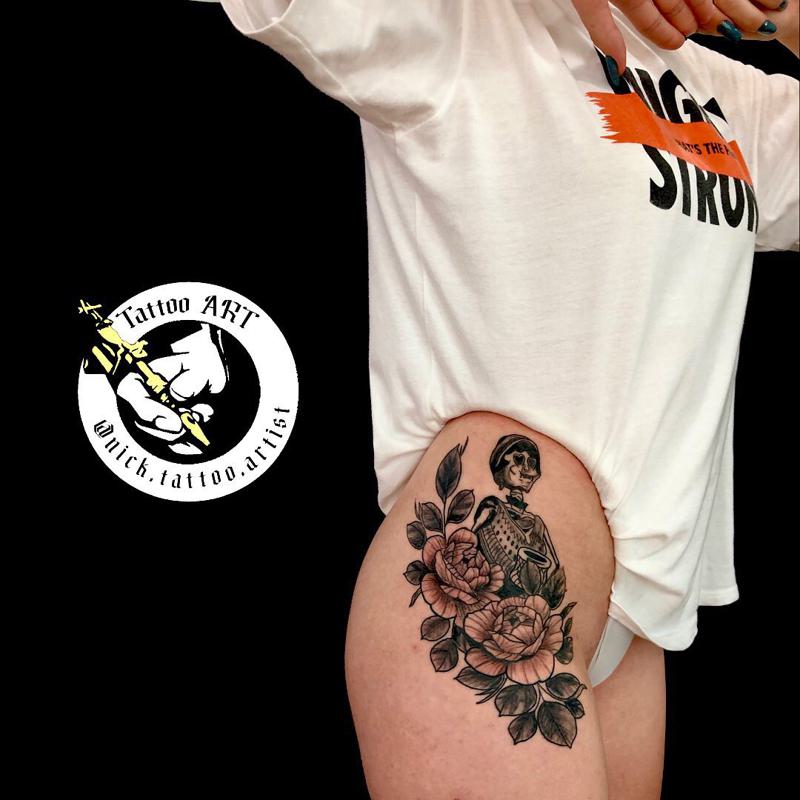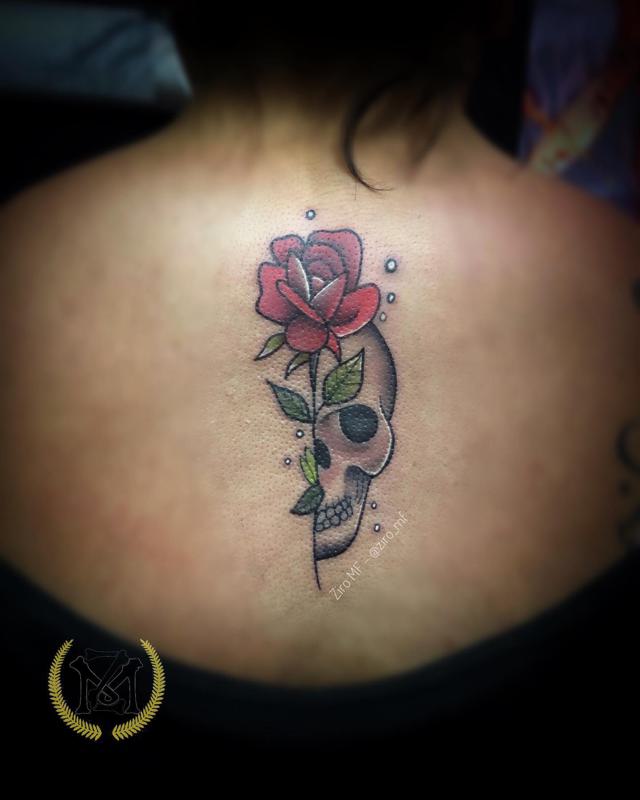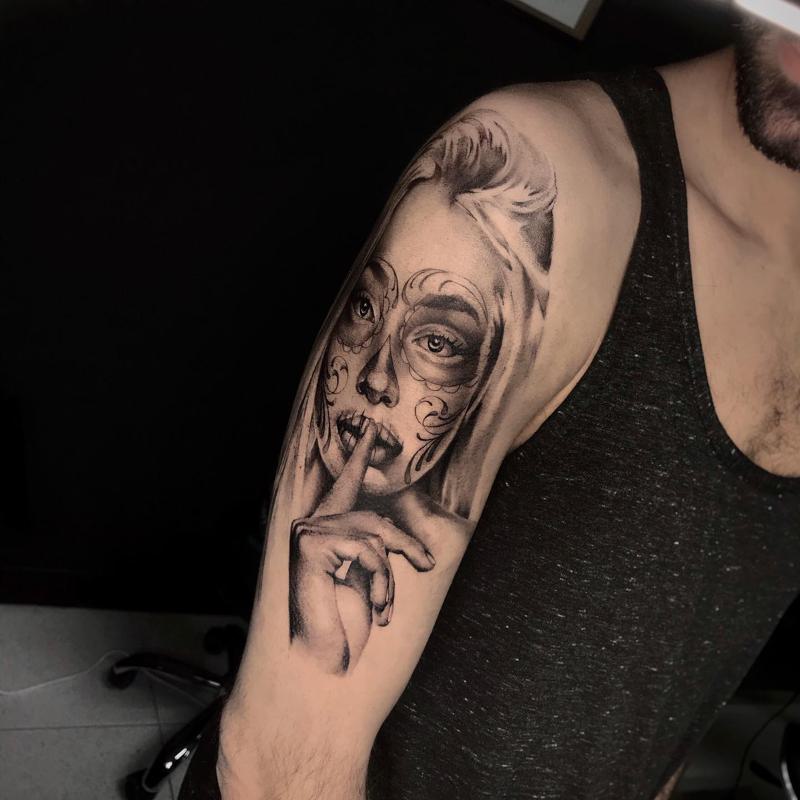 As for these tattoos, it makes you stand out from other people because no one else will have your Santa Muerte design. So, it's a design that you should be proud of every time. But if you choose to hide the art, be ready to answer questions about the meanings behind the design.
Most unique tattoos allow you to invent a new design that can impress many people. Here, you'll have much freedom to add someone else's picture or a name that you lost. Also, unique designs allow you to add some memorable quotes or dates to them. It helps keep the memory of the people you lost.
Santa Muerte Tattoo with Flowers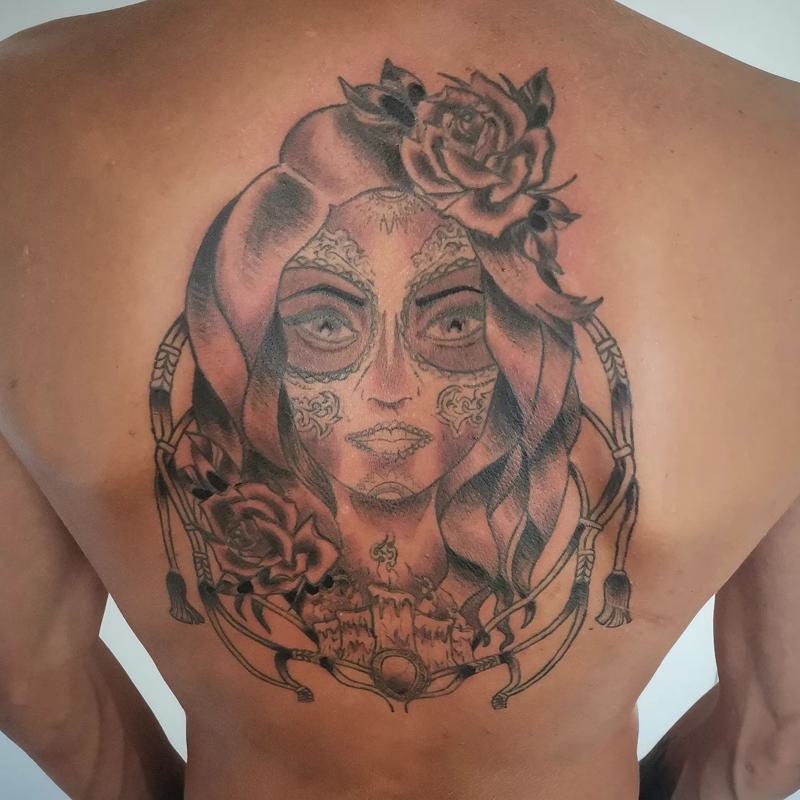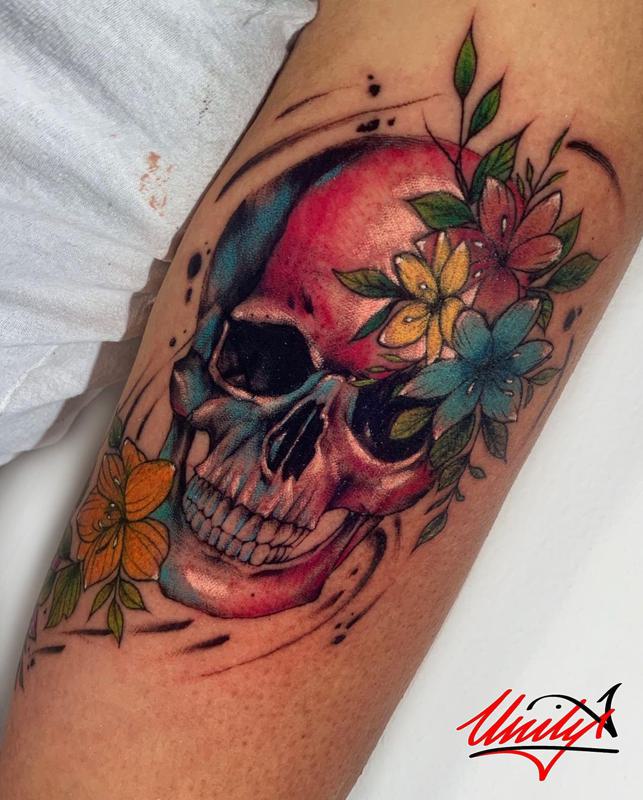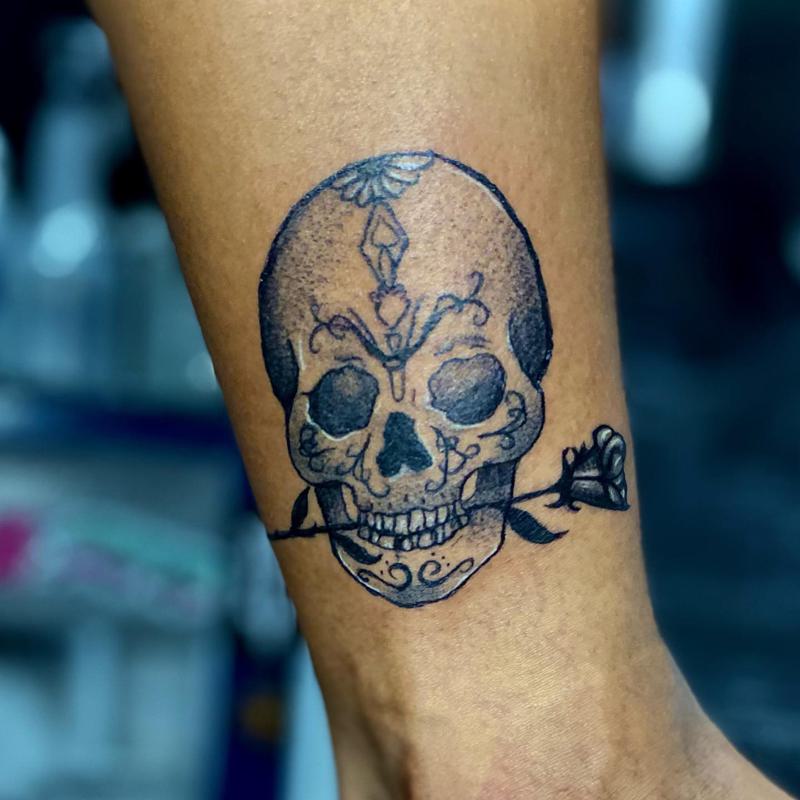 This style fits people who see Santa Muerte as a motivating figure even after a challenging moment. Most flowers show you are in a stage of rebirth after a challenging life moment. So, since Santa Muerte relates to death, mixing with flowers like roses shows the relation about a restart.
Also, with flowers, the design shows there's life after death. It can be that you lost someone or something important to you. The style will be there to remind you that you can restart all again and make everything work. Pick on a flower design that matches your heart's desires and make the tattoo colorful. But be ready to give the colors a retouch to keep the design in shape for a long time.
FAQs
Are Santa Muerte tattoos scary?
If it's your first time seeing the tattoo on paper or someone's skin, it can scare you because of the skeleton look. Also, it depends on the beliefs of your religion. But go for them if you won't fear much attention from people who would want to question you.
Are Santa Muerte tattoos costly?
Like every tattoo, the costs of getting this tattoo to vary with the size and design. Smaller ones with fewer colors are cheaper than large ones with much detail.
Which Santa Muerte tattoos are the most popular?
Santa Muerte's face comes in various exciting forms. The ones that carry a deep meaning include the traditional design with religious details and La Catrina Santa Muerte.